The Ultimate List of YA Spanish Books for Teens and Pre-Teens (Spanish Chapter Books)
Inside: Authentic YA Spanish books for teens and pre-teens.
Some of my most formative companions as a pre-teen were books. I read them over breakfast, after school, and returned to my favorites over and over. They formed such a deep part of my imagination that anyone who loved the same books felt like an instant friend.
As I raise my bilingual kids, I'm very aware of the books they're surrounded by. We've gathered a good collection of Spanish children's books, but I've just started reading chapter books with my 5-year-old. So I'm diving into the world of Spanish chapter books!
At the end of this post, I'll include links to classics translated into Spanish like Harry Potter and Magic Treehouse. However, if you're like me, the most exciting finds for me are really the authentic books, first written in Spanish. I want my kids to develop their literacy in Spanish, obviously, but on a deeper level I want them to grow up with bicultural book-companions.
When I sat down to write this, I thought authentic YA Spanish books would be very hard to come by. Thankfully, my readers saved the day by offering all sorts of titles that were new to me. If you have a chapter book in Spanish you love that's not on the list, make sure to let me know in the comments below!
Please note that this post was written with bilingual readers in mind, or students with high intermediate-advanced skills. If you are looking for learner novels for novice-intermediate skills, I have a post on Spanish books for beginners too.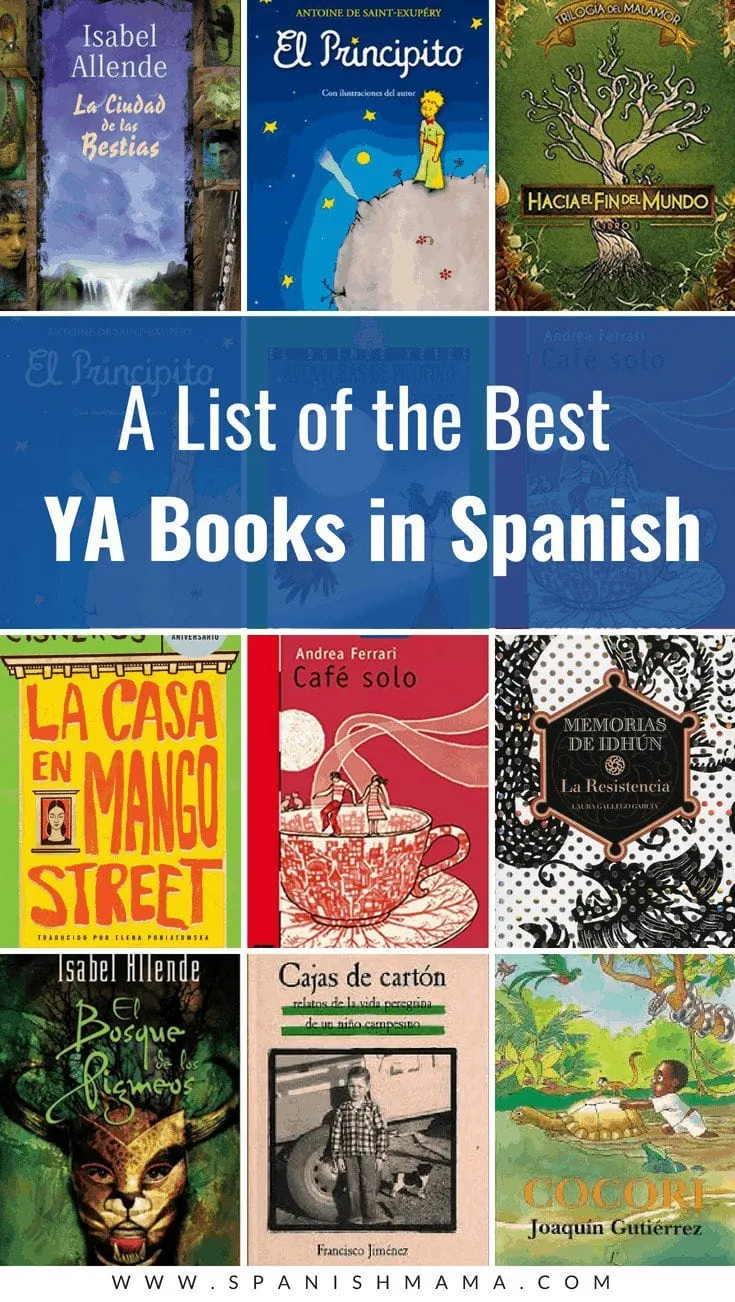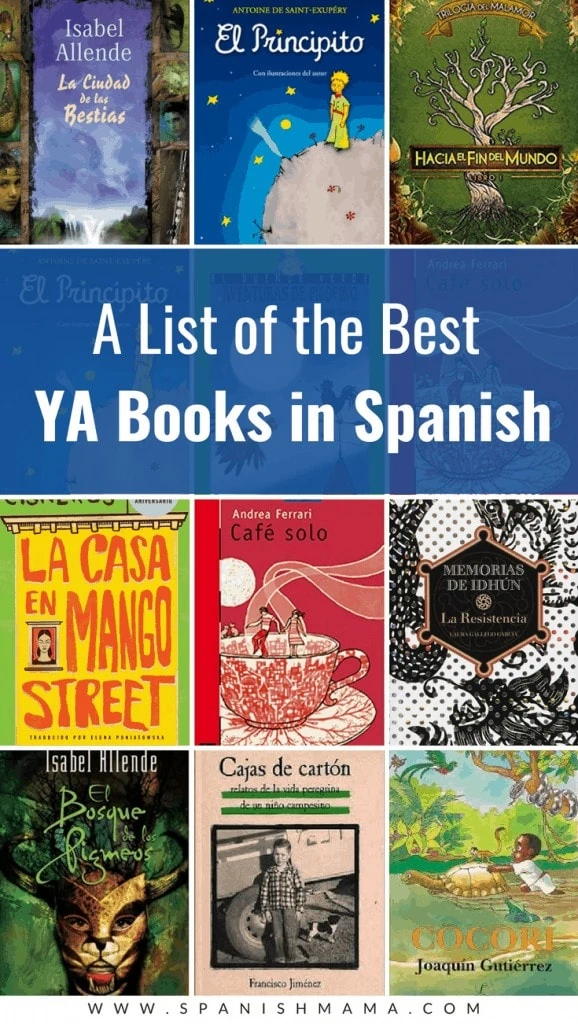 YA SPANISH BOOKS / Spanish Chapter books
I've done my best to categorize and describe the books below. Some I've read personally, and some were recommendations from other teachers and parents. Any age recommendations are based on information from Amazon.
Here are the sections if you are looking for something specific:
This post contains affiliate links. Thank you for your support!
If you'd like to take this list to the library or keep it for later, you can grab my printable YA Spanish Books Lists as well.
IMMIGRATION-THEMED Spanish Chapter Books
Cajas de Cartón: Relatos de la Vida Peregrina de un Nino Campesino by Francisco Jiménez
(Ages 10-12+)
Told in short autobiographical vignettes through the eyes of a 12-year-old, Cajas de Cartón relates the story of a Mexican immigrant family working in California in 1947. Though they experience many setbacks, their determination and hope shines through.
This is the first in a series of four books by Francisco Jimenez that document his life, though only the first two are technically YA books (Cajas de Cartón series order):
Cajas de Cartón (early life)
Senderos fronterizos (high school)
Más allá de mí (college)
Taking Hold (graduate school – I had trouble finding this one in Spanish)
Esperanza Rising by Pam Muñoz Ryan
(Ages 8-12+)
Esperanza has a good life in Mexico, with everything most girls would want. But one day, her world is turned upside and she ends up escaping with her mother to California, who is forced to labor as a field worker. In spite of everything, she discovers her own strength and happiness.
Devolver al Remitente by Julia Alvarez
(Ages 10-12+)
Tyler lives in Vermont and meets a Mexican girl, Mari, when his family hires a group of migrant workers after an accident. As everyone fights to save the farm, Tyler wrestles with his own questions about immigrants and the law, while Mari finds her way between her Mexican identity and new life in the U.S.
Yo, Naomi Leon by Pam Muñoz Ryan
(Ages 9-12+)
Naomi's quiet life her grandmother and little brother is uprooted when her mother reappears after seven years. As Naomi discovers her family's past (and why her mother left), the grandmother decides they must leave California for Mexico. (Not recommended for 10 and under.)
TRILOGIES / YA SERIES in Spanish
La Ciudad de las Bestias
El Reino del Dragon de Oro
El Bosque de los Pigmeos (Memorias del Águila y del Jaguar 3)
(Ages 10+)
La Ciudad de las Bestias is the most well-known book from this trilogy by Isabel Allende, also available as a set. The series delves into the world of magical realism, set amidst the South American rainforest. 15-year-old Alexander Cold leaves behind his life in the U.S., to accompany his eccentric grandmother on an expedition to the Amazon that will change his life forever. Along the way they are joined by Nadia Santos, another teen whose path becomes linked to theirs, as they make their way into uncharted territory.
Memorias De Idhún by Laura Gallego García
(Ages 12-18)
A fantasy trilogy that follows three teenagers born on earth, but join a resistance movement connected to another world: Idhún.
Marina and the Prince of Mist Trilogy by Carlos Ruiz Zafón
(Ages 12-18)
15-year-old Oscar disappears from school, after meeting Marina and making the fateful decision to follow a mysterious old woman in a cemetery. A gothic-horror adventure trilogy set in Spain.
Hacia el fin del mundo by José Ignacio Valenzuela
When her friends Patricia mysteriously disappears, Ángela must put her Anthropology studies in action to find her– by delving into the secrets of the "Leyenda del Malamor," in which an entire village was bewitched and never again felt love.
Manolito Gafotas by Elvira Lindo
(Ages 9-12+)
A classic from Spain, Manolito Gafotas stars the adventures of a 10-year-old boy and his friends (and arch-enemies) in a working class neighborhood.
The Tía Lola Series by Julia Alvarez
(Ages 8-12+)
This heartwarming series from Dominican writer Julia Alvarez tells the stories of Tía Lola, who arrives from the Dominican Republic to visit her relatives in Vermont. She brings music, food, dance, and a bit of magic to the family, and eventually the whole town.
Los Futbolísimos by Roberto Santiago
(Ages 10-12+)
A light mystery series centered on a group of young soccer players, who solve mysteries and learn about friendship, teamwork, and sportsmaship along the way.
El caso de la pluma perdida by René Saldaña Jr.
(Ages 9-12+)
Mickey is a kid detective, certified by an online he took two years before. The witty and smart star helps his friends and classmates find out the truth in this mystery series.
This is a series from Spain, with readers that range for ages 6 to 10+ and cover a variety of topics and genres. I'll include a few examples in the Amazon link below for 10 and up, but if you end up browsing around, the books are color-coded for the different levels:
Seria Blanca (6 and up)
Seria Azul (7 and up)
Serie Naranja (8 and up)
Serie Roja (10 and up)
MODERN YA SPANISH CLASSICS
El Polizon Del Ulises by Ana María Matute
One day, three sisters find an orphaned baby on their doorstep. While they devote themselves to bringing Jujú, as he comes to be called, he creates his own world of books and imagination.
El principito by Antoine de Saint-Esbury
Although this one was originally written in French, the Spanish version is a long-time classic for Spanish speakers as well, as one of the best-selling children's books. Accompanied by watercolor illustrations from the author himself it tells the story of a French pilot who crashes in the Sahara desert and meets a prince from another planet.
Cocorí by Joaquín Gutierrez
Cocorí is perhaps the most famous Costa Rican book for children. It tells the story of a young black boy, Cocorí who meets a white girl and receives a rose from her. She asks for a spider monkey in return. This interaction sets off the rest of the story, with some lovely life lessons and culture too. The book has had some controversy, though it continues to be read widely in Spanish-speaking schools.
La Casa en Mango Street by Sandra Cisneros
An acclaimed coming-of-age novel about a young Latina teen wanting to escape her impoverished Chicago neighborhood, told through vignettes. This is a powerful work that deals with deep themes like sexual trauma, and recommended for older teens.
MORE YA SPANISH TITLES
La casa imaginaria by Pilar Mateos
(Ages 7-10+)
In Claudia's house, the rules aren't normal: there's no bedtime, for example. But when she and her friend find the keys to a secret door, everything changes.
Me llamo María Isabel by Alma Flor Ada
(Ages 7-10+)
María Isabel is a new student at school, where the teacher insists on calling her Mary because there's already another María in class. María must make her teacher understand that her real name is important to her because she is named after her Puerto Rican grandmother.
Aventuras de Picofino (El Duende Verde) by Concha López Narváez
(Ages 7-10+)
An endearing story about a rooster who runs away from his farm to avoid being dinner, and embarks on a series of adventures.
Cartas del cielo by Lydia Gil
(Ages 8-12+)
While Celeste is still grieving over the recent loss of her grandmother, mysterious letters begin to arrive in the mail– from her grandmother! As Celeste deals with her changed life after her grandma's death, the letters guide her into a celebration of Cuban food and traditions.
Copo de algodón by María García Esperon
(Ages 9-12+)
Copo de Algodón is the princess of Tacuba in ancient Mexico, and the story of her people during the arrival of Hernán Cortes is told through her eyes in this historical novel.
Antes de ser libres by Julia Alvarez
(Ages 12+)
Anita is a 12-year-old living in the Dominican Republic, during the dictatorship of Trujillo. When her uncle disappears and the secret government police begin to hound her family, Anita must find her strength and freedom.
Diez cuentos y pico del abuelo Perico by Juan Muoz Martin
(Ages 7-9+)
One of many titles by Juan Munoz (this one is book 9 in a series), for beginning readers of chapter books.
Con cariño, Amalia by Alma Flor Ada
(Ages 8-12+)
Amalia finds comfort in her grandmother's stories and time together after her best friends moves far away. When she suffers another loss, she must find strength she didn't know she had, to go on.
CHAPTER BOOKS TRANSLATED INTO SPANISH
Below you can find lots of ideas for popular books in English that are available in Spanish. These are so well-known that I won't include a little synopsis of each one; you can just grab the titles from the covers!
Like it? Pin it!
YA Spanish books and chapter books in Spanish: