Movie Talk 101 in the Spanish Classroom: A Beginner's Guide
Inside: An overview of teaching language through Movie Talk, a CI-based strategy.
Movie Talk is a favorite teaching technique among language teachers. It's high-interest, adaptable to multiple levels (you can use the same video across different classes, a lifesaver if you have multiple preps!), and allows teachers to storytell and talk with their classes without inventing everything from scratch. For teachers who are intimidated by TPRS or other CI techniques, MovieTalk is one of the easier techniques for providing comprehensible input to your classes.
Movie Talk was first developed by Dr. Ashley Hastings in the context of ESL at the University level, and later made popular among K-12 language teachers by Michele Whaley. The technique has evolved over the years, and sometimes differs from the original intent as designed by Dr. Hastings. As he notes, however:
The essential feature of MovieTalk is comprehensible input through narration of interesting movies. As long as this feature remains front and center, I believe MovieTalk will continue to be a productive and enjoyable way to teach languages.

– Dr. Hastings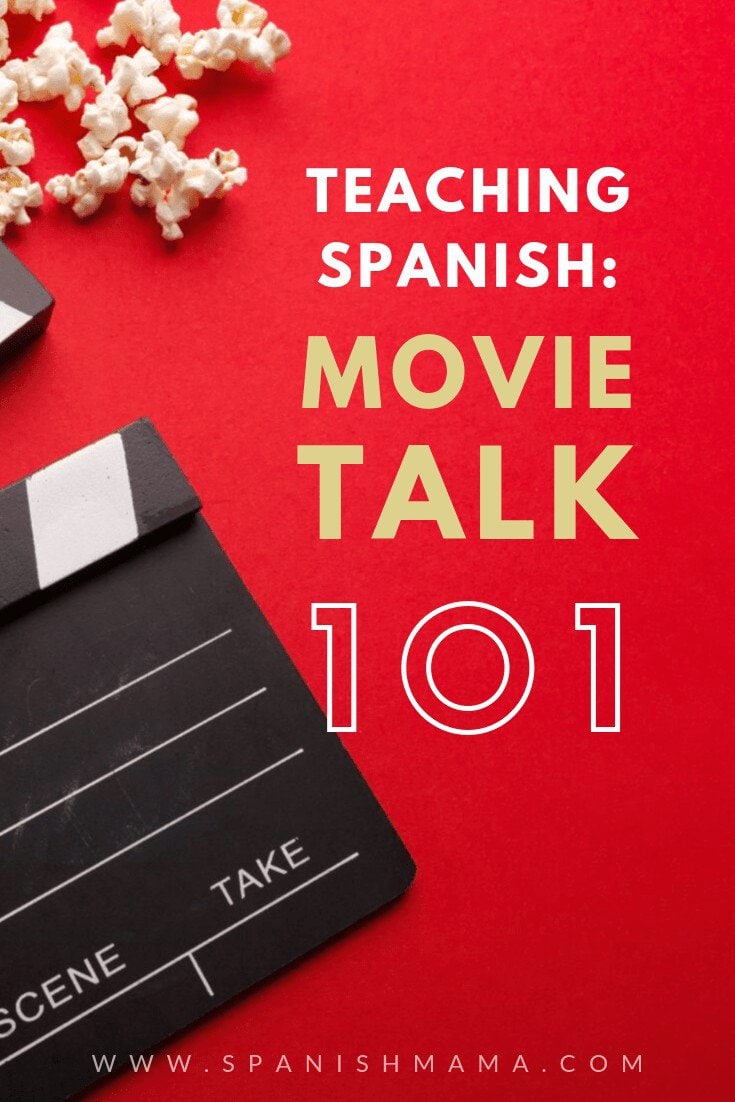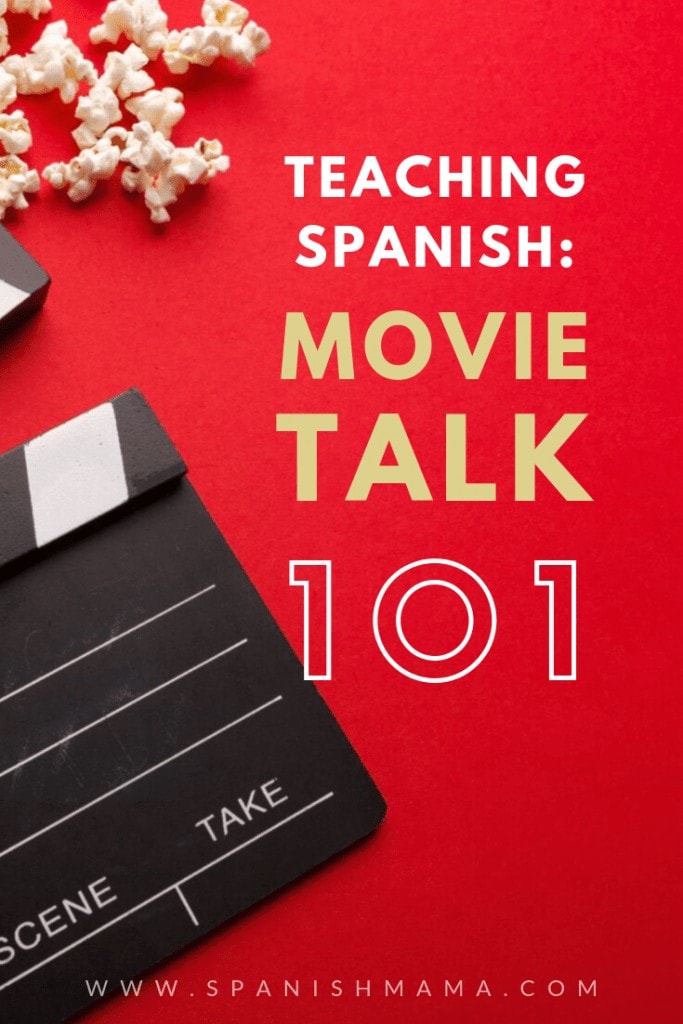 Related: More comprehension-based tips and strategies for teaching Spanish.
WHAT IS A MOVIE TALK?
So, what is MovieTalk? According to Dr. Hastings in 2013, it involves three main steps:
The teacher chooses a film that will be interesting to his/her students.
The teacher previews the film, and prepares how to show and use it.
The teacher shows the film in class, playing segments and pausing to narrate the action in comprehensible language.
Most teachers using Movie Talks in the K-12 setting modify these original guidelines, and there have been lots of add-ons from different language teachers all over. Let's take a look at each step and popular options for each one.
CHOOSING A VIDEO
Most K-12 teacher choose a short film or video clip, typically less than 5 minutes long. Look for these characteristics when picking a video to use. The best videos:
Are interesting to your students. (This is so important, if you want to keep their attention!)
Have an element of suspense or mystery, so students are wondering what will happen next.
Contain more action than dialogue.
Make sense even with the sound turned off.
Basically, you want a video that tells a good story and your students will want to watch, and one in which they want to know the ending. You can keep an eye out on social media, search in the IFLT FB page, or check out this MovieTalk database as well.
Note: The language of the video itself doesn't actually matter, since you'll be muting the sound anyway. (Though if you teach Spanish and have a video in Spanish, it can be fun for students to watch again after the Movie Talk, and see how much they can understand of the original language.)
PREPARING FOR THE MOVIE TALK
We've probably all grabbed a resource and tried it out without really previewing first – I've been there too! Anytime we use a video, we obviously want to preview of course, but with a MovieTalk it's also a matter of prepping the narration you'll be providing during the showing. Here are some pointers:
Pay attention to the storyflow and identify good places to pause and narrate.
Plan out what compelling and comprehensible language to use as you narrate the story and actio. (Decide whether you need to make an actual script for yourself, rough notes, or if it's okay to wing it as you go.)
Note any essential unknown words/phrases you might need to write and display for the students before the MovieTalk.
Note: Decide ahead of time how you will show the video. Originally, Dr. Hastings showed segments of the film, paused to narrate, and showed another segment. Some teachers use these modifications because their students get frustrated by the constant pausing:
Take screenshots of each scene you want to narrate. (After, you can show the video without pausing, and possibly stop right before the ending for one last narration/questions/predictions.) This is
Show an entire chunk of the video, then go back to show and pause with smaller sections.
SHOWING THE VIDEO
Here's the fun part! These steps describe what to do if you're showing and pausing; if you're using screenshots you'll just be clicking from slide to slide.
Begin playing the video with the sound turned down or off (if there's dialogue).
Pause after 10-20 seconds and narrate: describe what is happening, predict what will happen next,
Circle by asking questions or using PQA (personalized questions and answers) to connect to the class, or predict what will happen next. Teachers vary on how much circling and repetition is best during a MovieTalk. Go SLOW but always pay attention to your students and keep things moving if their attention is waning.
Optional: stop the narration right before the ending and guess what will happen.
Play the video from start to finish and let everyone enjoy!
See this description from Alina Filipescu for examples of circling and narration.
EXTENSIONS AND FURTHER ACTIVITIES
Just like with any story, the sky is the limit for how you can extend off of this activity. Here are some of my favorite twists and extensions:
Create a reading or embedded reading to go with the video, with some sort of activity to go with it (order the text, T/F statements, etc.) See this example from La Maestra Loca.
Match screenshots to descriptions. If you are using screenshots, show several of them at once, labeled: 1, 2, 3, 4. This could be a slap-it/flyswatter activity where you describe the picture (no-prep!), have the students listen and write down the numbers, or you could also type up descriptions, and have the students read and match.
Find more extensions from Kristy Placido and Carol Gaab in their post. Here is one of my favorites: "Possible vs. Probable. Make statements that require students to think about the likelihood of something. Example: The video shows an elderly lady not moving and reclining in her chair. Teacher says: "The grandmother is not really dead. Possible or probable?" To further the discussion, have students rate the odds 1-5 (5 = very likely, 1 = not very likely)."
Later in the process, elicit some output by showing a scene and having the students describe it in written or verbal form. A fun way to do this would be to pair students so Student A is looking at the scene, and Student B has their back to it. Student A describe it in as much detail as possible, while Student B listens and draws (give a time limit). When the time is up, compare the drawing and see which pair has the closest match!
Show a scene, and describe it with a true or false statement while playing "Grab the Marker." See the quick video below for how to play.
MOVIE TALK DEMOS
Of course, it always helps to see teaching strategies in action. Here are some videos that show the MovieTalk process in a variety of settings and for different ages.
MOVIE TALK WITH ADRIANA RAMÍREZ (ALMA):
MASCOTA ESPECIAL INTERVIEW FROM SARAH BRECKLEY:
(Perfect for classes who already know each other well from previous years!)
MOVIE TALK FROM MIKE COXON:
MOVIE TALK IN AN ELEMENTARY SPANISH CLASS WITH JULIE FROM MUNDO DE PEPITA:
MOVIE TALK IN A KINDERGARTEN CLASS, FROM CAROLINA AT FUN FOR SPANISH TEACHERS:
MOVIE TALK WITH LA MAESTRA LOCA:
I hope these resources are helpful as you explore the Persona Especial process! If you have more ideas to add, please let me know in the comments below!