Gary Soto Quotes, Books, And Biography
Inside: Learn about the life and career of Gary Soto, along with famous quotes and a list of books he has authored.
Gary Soto is a celebrated Latino author, whose work includes poetry, novels, children's literatuer, and more. He won the Academy of American Poets Prize, the American Book Award, and the Hispanic Heritage Award for Literature.
Here's an index of what's included in the post. You can click on any link to jump straight to that section:
Related: Famous Latinos & Hispanic Americans Home Page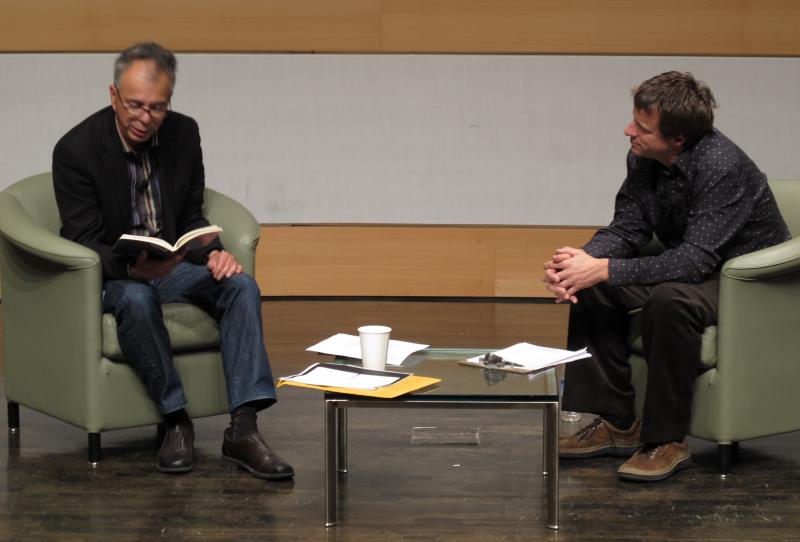 Gary soto Biography
Fast Facts about Gary Soto

Birth: April 12, 1952
Birthplace: Fresno, California
Education: Fresno City College, University of California-Irvine
Career: Author, Professor
Gary Soto was born in Fresno California to Mexican-American parents on April 12, 1952. His father died in a work-related accident at Sunmaid when Soto was just 5 five years old, leaving his mother to provide for the family. He labored as a farm worker in the San Joaquin Valley fields throughout his teen years.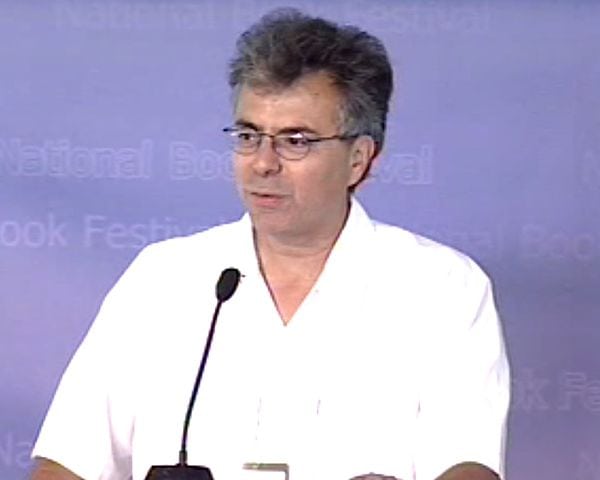 Soto attended Fresno City College and earned his Master's of Fine Arts from the University of California-Irvine.
Soto is most well-known for his collections of poetry and YA literature. He has also published novels, a memoir, and several children's books. His work often features the experiences of Chicano characters like himself.
Awards:
Academy of American Poets Prize
American Book Award
Hispanic Heritage Award for Literature
Andrew Carnegie Medal
National Endowment for the Arts Fellowship
Finalist, the National Book Award
Interesting facts:
Gary Soto himself will tell you that he didn't do very well in high school, academically– he graduated with a 1.6 GPA, to be exact. However, he still wanted to get a college education and enrolled in Fresno City College where his older brother was studying.
When suffering from a broken heart as a college student, he headed to the library for some poetry to read. This inspired him to try to writing, and he realized that the best way to become a better writer was to read more. (Read the story in his own words in this interview.)
Printables and links to learn more
Free Resources: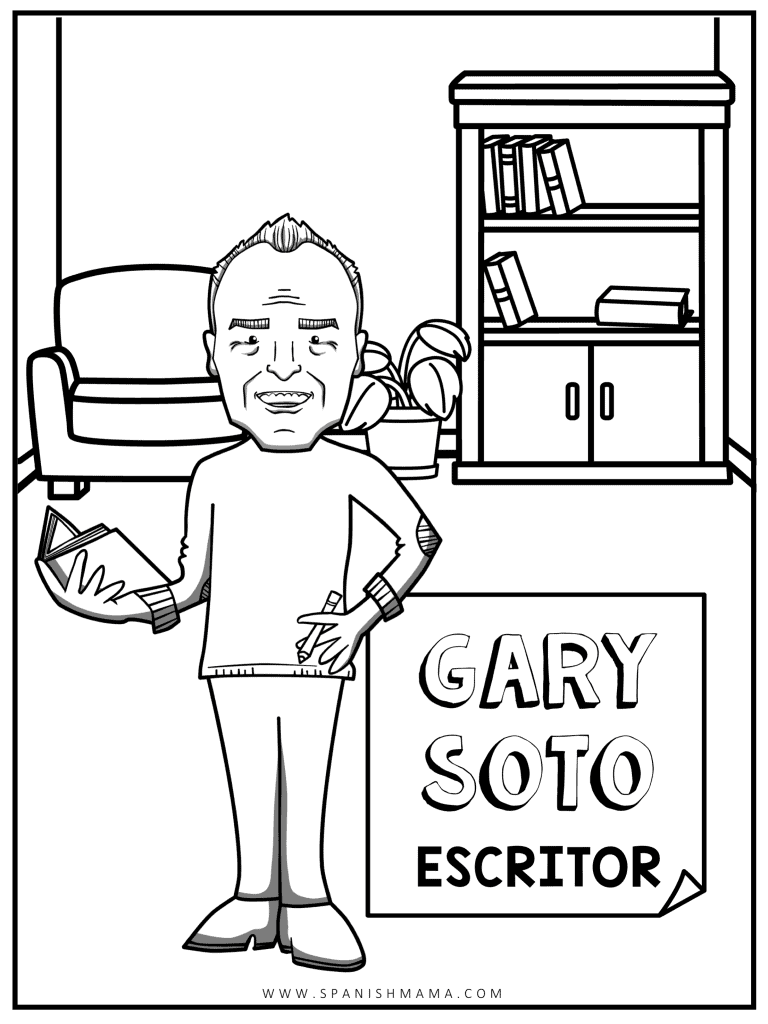 Free printable Gary Soto coloring page.

Here's a 2-page reading with questions on the author Gary Soto (upper elementary – middle school).

This site has lots of links to resources and printables for the novels Baseball in April, Novio Boy, The Afterlife, Pacific Crossing, Too Many Tamales, and Taking Sides.

Free Gary Soto poetry project.

Lesson plan with printables for the the poem Oranges by Gary Soto. Here is another teacher-created plan for the poem, and downloadable discussion prompts.

Here's an extensive elementary lesson plan to go with the book Too Many Tamales.

For working with the short story Seventh Grade, here is an entire free unit (tons of resources here), set of printable worksheets, with a bilingual "how to make tamales activity,"
You also might be interested in my sets of biography slides and project templates for learning about Latinx and Spanish-Speaking leaders, plus a free guessing game.
Gary Soto Books
As of 2021, Gary Soto has authored over 45 books that are still in print. Here's a list of the titles:
Accidental Love
A Fire in My Hands
A Summer Life
Baseball in April and Other Stories
(Béisbol en abril y otros cuentos)
Big Bushy Mustache
Buried Onions
Cesar Chavez: A Hero for Everyone
Chato and the Party Animals
(Chato y los amigos pachangueros)
Chato Goes Cruisin'
Chato's Kitchen
(Chato y su cena)
Crazy Weekend
Gabe
Gary Soto: New and Selected Poems
Help Wanted: Stories
Hey 13!
If the Shoe Fits
Facts of Life: Stories
Jessie de la Cruz: A Profile of a United Farm Worker
Instant Winner
Living Up the Street
Local News: Stories
Lucky Luis
Marisol
Meatballs for the People
Mercy on These Teenage Chimps
My Little Car
Neighborhood Odes
Nerdlandia
Nickel and Dime
Novio Boy: A Play
Off and Running
Pacific Crossing
(Cruzando el pacífico)
Partly Cloudy: Poems of Love and Longing
Petty Crimes
Ploughshares Spring 1995
Snapshots from the Wedding
Summer on Wheels
Taking Sides
(Tomando partido)
The Afterlife
The Effects of Knut Hamsun on a Fresno Boy: Recollections and Short Essays
The Elements of San Joaquin: Poems
The Old Man and His Door
The Pool Party
The Skirt
Too Many Tamales
(¡Qué montón de tamales!)
What Poets Are Like: Up and Down with the Writing Life
Why I Don't Write Children's Literature
Worlds Apart: Fernie and Me
You Kiss by th' Book: New Poems from Shakespeare's Line
Videos About Gary SotO
A short series of clips of Gary Soto talking about his journey to becoming an author, despite many challenges (52s):
This is a student-created project, but does a nice job presenting a summary o Gary Soto's life (5min 25s):
12 Gary Soto Quotes
1. "You can always spot bright people. They are reading a book."
– Gary Soto
2. "It appears these days I don't have much of a life because my nose is often stuck in a book. But I discovered that reading builds a life inside the mind."
– Gary Soto
3. "I drank that sentence and began to glow."
– Gary Soto, Partly Cloudy: Poems of Love and Suffering
4. "The black asphalt wouls shimmer with vapors I had a theory about those vapors…not released by the sun but by a huge onion buried under the city. This onion made us cry… I thought about the giant onion, that remarkable bulb of sadness.""
– Gary Soto, Buried Onions
5. "I depend upon rhythm, not rhyme and meter, for a poetry cadence that will attract the musically conscious reader. Young readers—and older ones—should look for strong images. Images can be so satisfying and breathtaking."
– Gary Soto, from Teaching Books
6. "Because nothing should be wasted
In a world where sparrows work hard
To prove there is enough."
– Gary Soto, The Elements of San Joaquin
7. "I turned to poetry to heal my little Valentine of a heart."
– Gary Soto, Cynsations
8. "After a day in the grape fields near Rolinda
A fine silt, washed by sweat,
Has settled into the lines
On my wrists and palms.
Already I am becoming the valley,
A soil that sprouts nothing
For any of us."
– Gary Soto, The Elements of San Joaquin
9. "I was the first Chicano to write in complete sentences."
– Gary Soto, from Teaching Books
10. "We know that we can use our mouths to communicate (or our hands, for that matter, such as in pointing), but to write even a simple letter—a thank you note, an invitation, a love letter, etc—takes creative effort, if not sincerity and purpose. Proper writing, not texting, makes us really think about what we say."
– Gary Soto, Interview with Gary Soto
11. "Read constantly, read widely."
– Gary Soto, Cynsations
I hope these ideas and resources were helpful to you! If you have more ideas for resources or lessons, let me know in the comments below!
Image Credits: