Dr. Helen Rodríguez-Trías Quotes and Biography
Inside: Learn about the life and career of Dr. Helen Rodríguez-Trías, along with a list of her most famous quotes.
Helen Rodriguez-Trias was a physician who worked for women and children's healthcare. She was the first Latina director of the American Public Health Association and received the Presidential Citizens Medal for her work.
If you are here specifically looking for Dr. Helen Rodríguez-Trías quotes, click here to jump to that section!
Related: Famous Latinos & Hispanic Americans Home Page
Here's an index of what's included in the post. You can click on any link to jump straight to that section: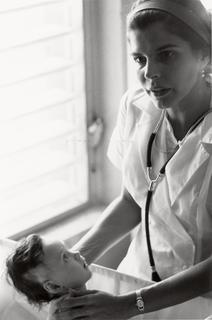 Library of Congress, Prints and Photographs Division, photograph by Jim Hansen for Lo
Dr. Helen Rodríguez-Trías Biography
Fast Facts about Helen Rodríguez-Trías

Birth: July 7, 1929
Birthplace: Puerto Rico
Death: December 27, 2001
Family: Edward Gonzalez, Jr. (2nd spouse), 4 children
Education: University of Puerto Rico in San Juan (B.S., M.D.)
Career: Pediatrician, Educator, Medical Director
Famous For: Worked to improve public health services for women and children, Presidential Citizens Medal
Dr. Helen Rodríguez-Trías was born July 7, 1929 in Puerto Rico. Her family lived in both New York and Puerto Rico during her childhood.
After studying to be a pediatrician in Puerto Rico and graduating in 1960, she began teaching and established a successful clinic for babies, and she was able to cut the infant mortality by 50%.
In 1970, Rodríguez-Trías moved to New York to head the pediatric department in the South Bronx at Lincoln Hospital. This hospital served a low-income population in a mainly Puerto Rican neighborhood and she worked for better understanding between health workers and local patients.
Dr. Helen Rodríguez-Trías also fought for women's healthcare and against the abusive practices of sterilization, particularly for low income and minority women. She helped found both the Committee to End Sterilization Abuse and the Committee for Abortion Rights and Against Sterilization Abuse.
During the 80's, she directed the New York State AIDS Institute, focusing on women with HIV. In the 90's, she returned her focus to women's rights and health. She later served as the first Latinx president of the American Public Health Association.
In 2001, President Clinton gave her the Presidential Citizens Medal and a statue was erected in her honor in the Bronx. Dr. Helen Rodríguez-Trías died of cancer in 2001.
From her colleagues:
"Helen challenged us to listen to women and to acknowledge women's realities. One of her greatest gifts to the women's health movement was her insistence that we not only listen to women's descriptions of their experience with health care, but that we build policies and programs that acknowledged those experiences and responded to them."

Cynthia Pearson
Executive Director, National Women's Health Network
Interesting facts:
Rodríguez-Trías grew up between Puerto Rico and New York, and at 10 years old her family moved to New York again. As she tells it, the teachers assumed she could not participate in the top classes, despite the fact that she spoke English well and earned good grades.
One day, when she surprised a teacher by reciting a poem by heart, the teacher moved her to more challenging classes. Had it not been for that teacher, she reflects, she might have stayed limited to the prejudices of the school and her life might have taken a different path.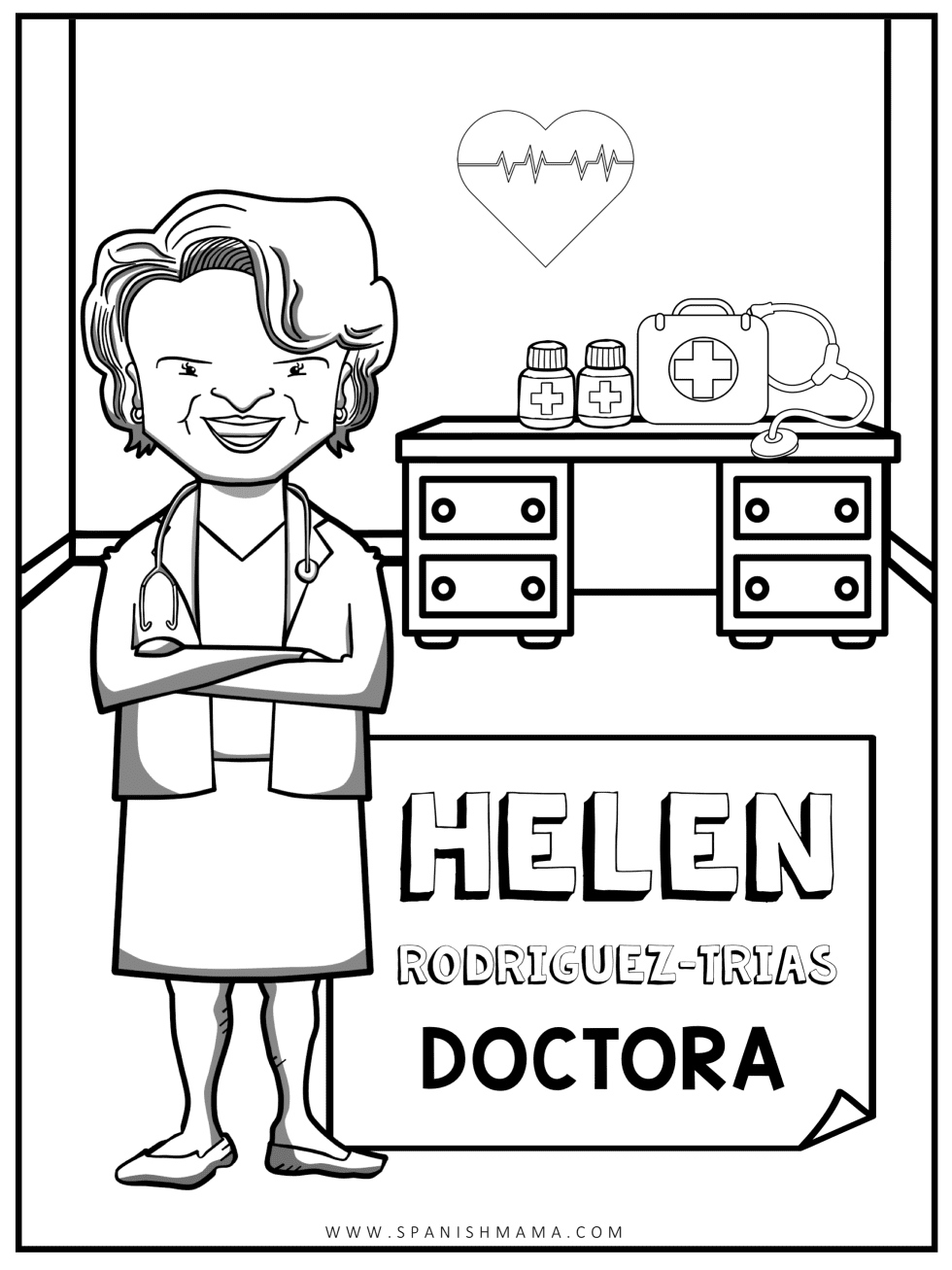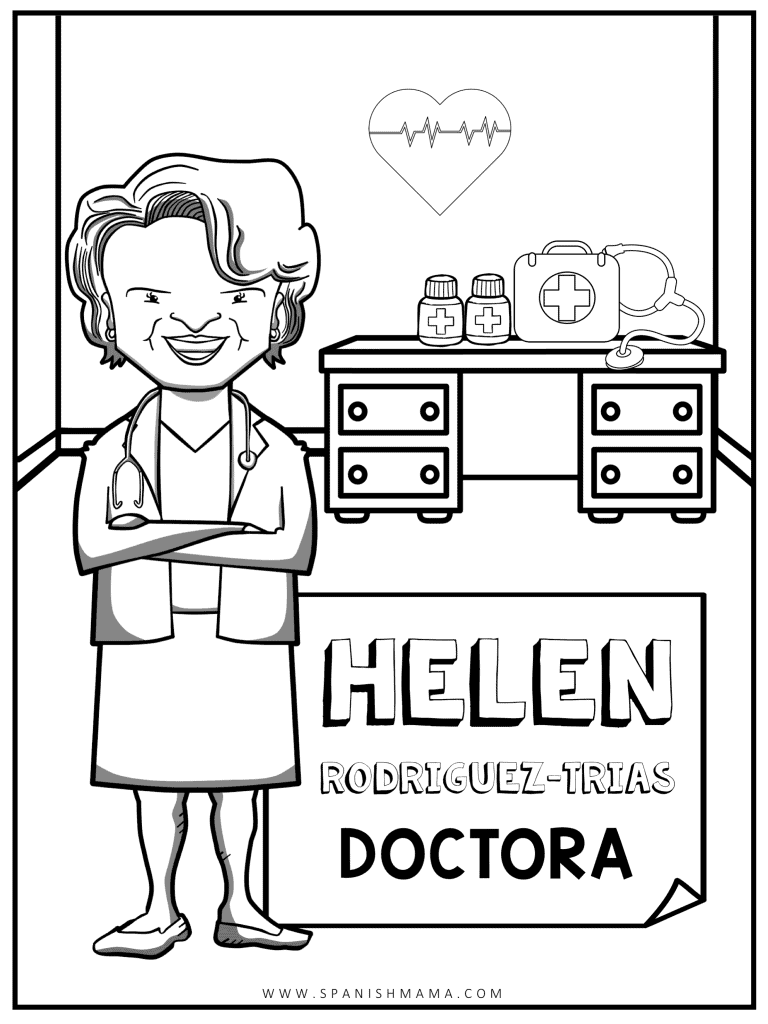 Printables and links to learn more
Free Resources:
You also might be interested in my sets of biography slides and project templates for learning about Latinx and Spanish-Speaking leaders. The guess who game is free!
Videos About Dr. Helen RODRÍGUEZ-TRÍAS
Here is a quick bio in English (1min):
A short biography in Spanish (1min 30s):
Dr. Helen Rodríguez-Tría was featured in a Google Doodle in 2018, and this is the intro to her life (2min 9s):
6 Dr. Helen Rodriguez-Trias Quotes
"I hope I'll see in my lifetime a growing realization that we are one world. And that no one is going to have quality of life unless we support everyone's quality of life."
– Dr. Helen Rodríguez-Trías
2. "I am proud that I made my contribution in moving forward that dialogue among many women, a dialogue that took place over many years. We had to listen to each other; we had to find out each other's reality. For example, I had a professional salary. I didn't know what it's like to live on welfare."
– Dr. Helen Rodríguez-Trías, NIH
3. "If we're gonna have a movement, it has to be about equity."
– Dr. Helen Rodríguez-Trías, Interview with Joyce Wilcox
4. "Dr. Helen Rodriguez-Trias wanted to be a physician because medicine 'combined the things I loved the most, science and people. I understood that medicine would give me more direct and independent ways to contribute to society, not through organizations or abstract studies, but acting directly on the individual.'"
– National Institute of Health
5. "The only way to effect change was for more women to go into the professions and instill a different perspective—a more human touch and a more respectful relationship with patients."
– HELEN RODRÍGUEZ-TRÍAS, NIH
6. "We need health, but above all we need to create a grounding for healthy public policy that redresses and salvages the growing inequities. We cannot achieve a healthier us without achieving a healthier, more equitable health care system, and ultimately, a more equitable society."
– Dr. Helen Rodríguez-Trías, NIH
I hope these ideas and resources were helpful to you! If you have more ideas for resources or lessons, let me know in the comments below!
Join the newsletter
Want to stay in touch and hear from me weekly?

Sign up now and you'll get this free game set.