50 Picture Books Every Spanglish House Needs
Inside: Bilingual books in Spanish and English, for kids.
No Spanglish home is complete without a stash of bilingual books for kids in Spanish and English. Thankfully, there are more and more available now!
I often walk in the door exhausted after a day of teaching, to kids who have heard English all day. Even though my brain just wants a break, they need these hours to be in my non-native language. So we grab one of my childhood favorites, cuddle up under a blanket, and get the best of both worlds. And really, they're not the only ones who need rich input. I do too!
I have a separate post of authentic children's books in Spanish, with a focus on Latino culture. This bilingual lists includes book originally written in English or translated from a third language. For more book lists and suggestions, be sure to see my Spanish children's books page.
This post contains affiliate links. Thank you for your support!
OUR TOP 50 PICKS OF BILINGUAL BOOKS IN SPANISH AND ENGLISH
If you'd like to take this list to library or save to reference later, you can grab the list as a free download of the best bilingual books.
Arandanos Para Sal
Blueberries for Sal is an endearing story about a little girl and a baby bear getting mixed up, while out picking blueberries with their mothers. Robert McLosky's memorable illustrations and sweet stories are not to be missed, in Spanish or English.
Se Venden Gorras
Caps for Sale My kids love this story of naughty monkeys and an unfortunate cap-peddler, based on a folktale.
El Cuento de Ferdinando
The Story of Ferdinand Set in Spain, Ferdinand tells the story of a quiet bull who accidentally gets chosen to go to Madrid for a bullfight. We love this one.
Harry, el perrito sucio
Harry the Dirty Dog is about a little dog who escapes and gets so dirty his family doesn't recognize him. Sweet illustrations and funny story that kids love.
El Conejito Andarin
The Runaway Bunny follows a baby bunny who tells his mother his imaginative plans of running away– and the mother's plans of how she would get him back. Very sweet.
Corduroy
Corduroy is a bear who want a home more than anything. He lives in a department store and thinks finding his missing button will help him find a family.
Richard Scarry's Best Word Book Ever / El mejor libro de palabras de Richard Scarry Richard Scarry's detailed illustrations and clever characters make his books a must for every home library. My kids will spend hours pouring over his books!
Diez deditos de las manos y Diez deditos de los pies / Ten Little Fingers and Ten Little Toes bilingual board book is a sweet rhyme about babies from all over the world. The poetry is really beautiful and I l always ove Helen Oxenbury's illustrations.
La oruga muy hambrienta/The Very Hungry Caterpillar: bilingual board book This classic is my kids' current favorite right now, and how they know the days of the week in both Spanish and English. Follow the life cycle of a butterfly in story format, starting with a little egg.
Abran paso a los patitos
Make Way for Ducklings was my family's favorite book growing up! The illustrations are wonderful, as is the story of a family of ducks trying to find and make a home in busy Boston.
Un Dia de Nieve
The Snowy Day tells the story of Peter, who wakes up to a day of adventures in the snow.
Freight Train/Tren de carga is just the best if you have little train-lovers like I do. They also love the colors of the train in the illustrations.
Oso pardo, oso pardo, ¿qué ves ahí?
Brown Bear, Brown Bear, What Do You See?
Oso panda, oso panda, ¿qué ves ahí?
Panda Bear, Panda Bear, What Do You See? Board Book
Oso polar, oso polar, ¿qué es ese ruido?
Polar Bear, Polar Bear, What Do You Hear? These little books introduce different animals in a series of rhymes, and are not to be missed!
Ve, Perro. Ve!: Go, Dog. Go! Another whimsical rhyming classic from P.D. Eastman, Go Do Go! is about dogs moving around in different vehicles and meeting each other. It's also a clever introduction to prepositions!
El Gran Granero Rojo
Big Red Barn is a lyrical rhyme that says good-night to the animals on a farm. Sweet and soothing language and pictures.
Un Pez, Dos Peces, Pez Rojo, Pez Azul
One Fish Two Fish Red Fish Blue Fish Dr. Suess is beloved the world over, and this one is one of our Seuss favorites.
La silla de Pedro, Peter's Chair Peter's family has a new baby, and Peter isn't sure what to think about his little sister.
Buenas noches, Gorila
Good Night, Gorilla A gorilla frees the animals in a zoo so they can sleep in the zookeeper's house.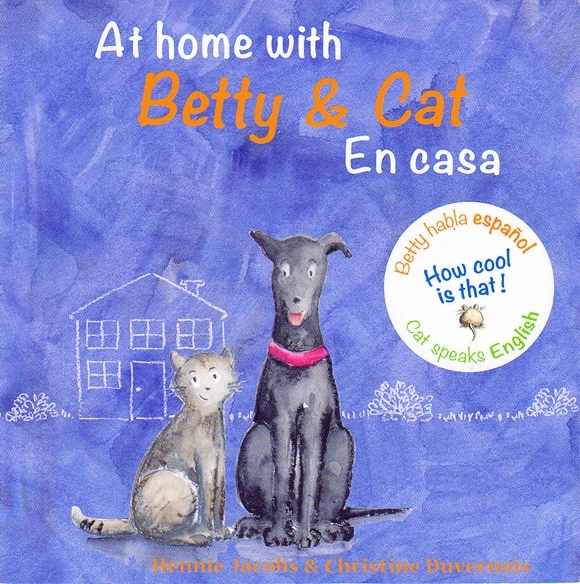 This innovative and sweet series features animal friends that each speak a different language (in this case, Spanish and English). There currently aren't available on Amazon, but you can read more here.
Peluche
Gosset I so wish more of Shirley Hughes' books were translated into Spanish! Her everyday stories of English children might be my favorites.
Sapo y Sepo son amigos / Frog and Toad Are Friends The clever stories here will have your kids re-reading these stories even when they're older. The Frog and Toad books are good early readers as well.
La Senorita Runfio
Miss Rumphius Barbara Cooney's books are just lovely, and I love this one about travel and making the world a more beautiful place.
¿Eres Mi Mama?
Are You My Mother? A baby bird searches for his mother, and finally finds her.
Mike Mulligan y su máquina maravillosa
Mike Mulligan and His Steam Shovel live in a world where diesel is taking over, and no one wants a steam shovel to work for them. But they are up for the challenge when a small town needs a cellar for their new town hall.
Un beso para osito
A Kiss for Little Bear was created as a beginning reader, but my kids like listening to the imaginative world of little bear.
De la cabeza a los pies
From Head to Toe Board Book is another Eric Carle classic that teaches body parts and movement.
La Pequena Locomotora Que Si Pudo
The Little Engine That Could is a beloved little book about a train that needs help, and finds it from a small friend.
Cinco monitos brincando en la cama/Five Little Monkeys Jumping on the Bed
Cinco monitos subidos a un árbol / Five Little Monkeys Sitting in a Tree The five little monkeys are always popular with little ones, as are the rhymes that tell about their mischievous escapades!
La araña muy ocupada
The Very Busy Spider gets asked to play by all the other animals, but doesn't have enough time while she spins her web. I love how this shows the actual progression of web-spinning.
Chica Chica Bum Bum ABC
Chicka Chicka Boom Boom introduces the alphabet as a catchy rhyme that kids love.
Buenas Noches, Luna
Goodnight Moon I just love Margaret Wise Brown, and my kids definitely have this one memorized. I don't really care for the Spanish translation, which loses some of the beauty of the original poetry.
El camioncito Azul
Little Blue Truck A little truck gets stuck in the mud, and all the animals pitch in to help.
Es hora de dormir/Time for Bed is a warm, lovely book, perfect for bedtime.
Tikki Tikki Tembo
Tikki Tikki Tembo is an old Chinese folktale about a boy who needs help and has trouble getting it because of his long name. I love the illustrations!
La Semilla de Zanahoria
The Carrot Seed A little boy plants a seed and patiently wait for it to come up, even when everyone around think it won't.
Bunny Cakes (Max and Ruby)
BUNNY CAKES (Max and Ruby) Max and Ruby are bunny siblings who decide a to make a cake for grandma's birthday.
Adivina cuanto te quiero (Spanish Edition)
Guess How Much I Love You A papa hare and his son talk just how much they love each other. My kids love to tell me how much they love me too, from this book.
Siempre te querre (Spanish Edition)
Love You Forever is sweet story of a mother's love for her son, all throughout his life.
El Pez Arco Iris (Spanish Edition)
The Rainbow Fish is a beautiful fish who learns to be kind.
¿Tu mamá es una llama?
Is Your Mama a Llama? A baby llama searches for his mama, and all the other baby animals help him.
Donde viven los monstruos
Where the Wild Things Are is an imaginative journey of wild creatures inside Max's head, who is sent to bed without supper.
La historia de Ping
The Story about Ping follows a flock of ducks on the Yhangtze River in China. Ping as a mischievous little duck brought to life with beautiful illustrations.
Harold y el Lapiz Color Morado
Harold and the Purple Crayon is a story about a boy's imagination as he colors his world purple.
Stelaluna (Spanish Language)
Stellaluna is a baby bat separated from her family and taken in by a family of birds. There's a happy ending and good lesson on differences.
La casa adormecida
The Napping House
Jorge el curioso y el conejito/Curious George and the Bunny (Spanish and English Edition)
I like the original Curious George stories best, and these two are our favorites.
El árbol generoso
The Giving Tree loves a little boy, and does her best all her life to take care of him. It's a bit of a sad ending and food for thought on what unconditional love means.
Goldilocks and the Three Bears, Grades PK – 3: Ricitos de Oro y los tres osos Keepsake stories has an entire series of bilingual folk tales and fairy tales that includes all the classics.
What are your favorite bilingual books in Spanish and English? Leave a comment below with anything you think we missed!