Learn Spanish with Kids: How to Start at Home
Inside: Tips and resources to learn Spanish with kids, at home.
"Oh, I would love for my kids to learn Spanish. Your kids are so lucky!"
I hear this one often. Really, ask anyone if they'd like their kids to speak a second language and the answer will be YES. Of course we would! But then-
We barely remember high school Spanish. I took German. We can't afford a tutor. I have no idea where to start. 
Don't let excuses like this stop you from teaching Spanish to your kids! The goals can be simple: exposure, fun, simple new phrases. And the earlier you start, the better.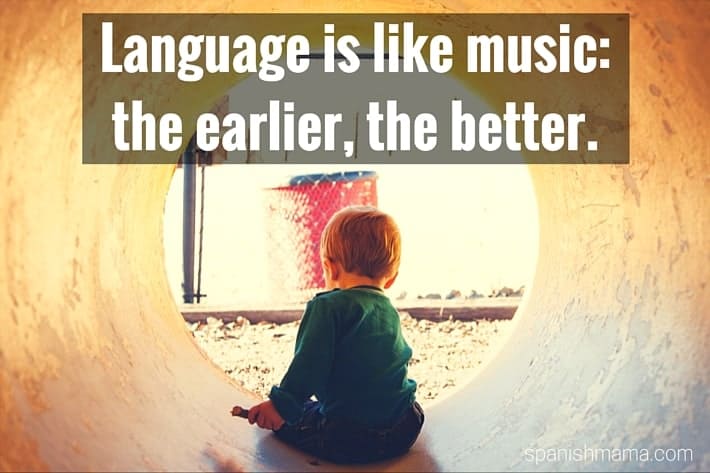 Beginning early attunes the ear to new sounds, hard-wires the brain differently, and sets words and patterns into the long-term memory. It is one of those few things where the longer you wait, the more difficult it becomes to learn. It's never too late, either: learning a foreign language has amazing effects on adults as well.
Before I share my ideas, here are some don'ts.
DON'T be self-conscious. Learning a language for adults can feel awkward, but set a relaxed, fun tone anyway.
DON'T give up if you miss a week or two. Those songs and words stay in little minds longer than we think.
DON'T make perfection the goal. Do what you can. A little bit every day is great.
Learn Spanish with Kids at Home
So, where to start?
First, take a little time to make a realistic plan. How often will you work on Spanish with your kids? Are there certain days or times when you can commit? Start small, stick to it, and then add more if you can. 
Gather some physical resources. I have tons of suggestions below, so grab a basket or make some space on a shelf. Go ahead a put the CD in your car or put some books in your child's room for bedtime.
Here are some simple, inexpensive ideas to learn Spanish with kids at home!
1. Learn Spanish with Kids Through Songs
If you only take one thing away from this post, it should be this one: learn and sing songs in Spanish. Songs are the BEST way for non-fluent parents and children to learn together. You can browse my Spanish songs for kids page, where I've collected ton of lists from YouTube, or copy one of my Spotify playlists. I also recommend these CDs:
If you learn one song a month, you will have over 10 songs memorized in a year. Watch them together, and listen in the car, or as part of bedtime. If you are a bilingual family wanting to get more Spanish time in, play music in the background. 
2. Find Spanish Resources Online
Use free apps and websites to learn and practice. DuoLingo App  is a decent supplemental app for older students who can read, or in case you want to stay one step ahead. I've also collected awesome lists of free online Spanish resources for kids, as well as free online Spanish resources for older students and adults.

3. Learn Through Books.
Invest in some books or check them out from the library. If you took some high school Spanish but don't feel comfortable producing language on your own, books in Spanish are a good start. I have a page of Spanish children's book lists, to give you a head start.
You can check out my list 50 Authentic Books in Spanish for Kids:
50 Bilingual Books in Spanish for Kids:
And Bilingual Board Books for Babies:
4. Go By Topics in Spanish

It can be overwhelming not knowing where to start. Choose a theme that interests you (food, colors, animals) and learn the words that go with it. It's okay if you only do 3 or 4 topics a year! Learn some greetings, numbers 1-10, colors, and some foods. I have boards by topic on Pinterest so you can find links, activities, printables, and more by theme. Lingo Hut is a free site where you can search by topic, and at Quizlet you can make study lists and hear the pronunciation. 
5. Use My Free Spanish Lessons and Outlines

To help you get oriented with little ones, I have a Preschool Spanish Series with 12 lessons outlined (though it can be enough to fill a year). It organizes topics like farm animals, food, numbers, etc., with lots of resources and links attached to each lesson.
I also recently partnered with Bilingual Kidspot to provide basic Spanish lessons for families learning together. I designed these for parents (homeschoolers or families supplementing school) who are not native speakers, but remember a bit of high school Spanish or are willing to do a little prep of their own. 
Also, you can check out my new Facebook Live series, with concrete teaching ideas and examples. 
I also created three units in a series I names Español in the Jungle (I set the characters and stories in the Amazon rainforest). You can also check out my fables told in simple Spanish.
6. Set Specific Language Times to Speak Spanish as a Family

Pick a certain time during the week (maybe dinnertime on Thursday nights), where the whole family is specifically trying to practice what they're learning. It could mean saying please, pass me, and thank you in Spanish, and using the food terms you know. Don't wait to use Spanish because you aren't fluent! Use what you know.
7. Use Props to Learn Spanish with Kids

Kids learn best when using real objects. If you are learning fruit, practice with the real thing. Another way to use props is to get a new stuffed animal or puppet, and introduce it as a Spanish-speaking ________. Have conversation or puppet play this way. This can sometimes help with a resistant learner or shy student who would rather act out speaking Spanish than speaking it directly.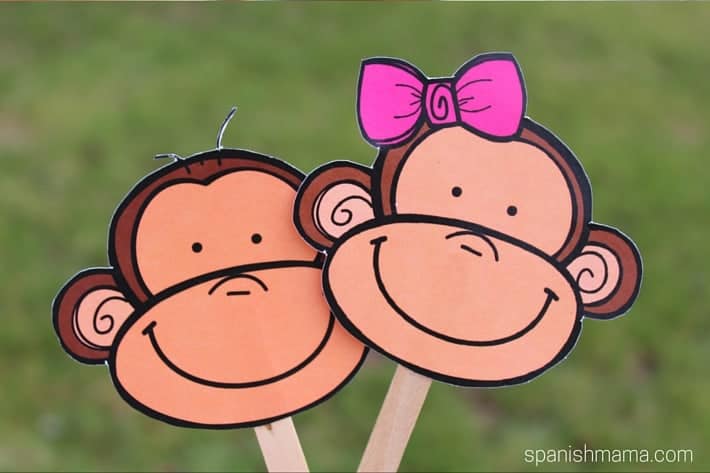 8. Play Games in Spanish

I love games! Learning Spanish with young kids should be a pleasant, successful experience, not stressful. I like using picture cards so English isn't even part of the game. Play Bingo, Go Fish, or Memory. I have some game sets by theme for sale here, or free download here. If you feel uncomfortable saying the words in Spanish, practice your pronunciation at Lingo Hut, or cue up the words at SpanishDict. For extra practice, call out the words and have your kids draw the pictures themselves.

I also recommend these flashcards from Linguacious. They include game instructions AND QR codes which pronunciation examples from native speakers!
9. Make a Notebook to Track New Words

Let your kids make notebooks where they store what they're learning, if they're old enough. Use a composition notebook or three-ring binder and record new words and activities so it's all together. I also have a Blank Pictionary and Illustrated Words Book that you can purchase to create personalized illustrated dictionaries.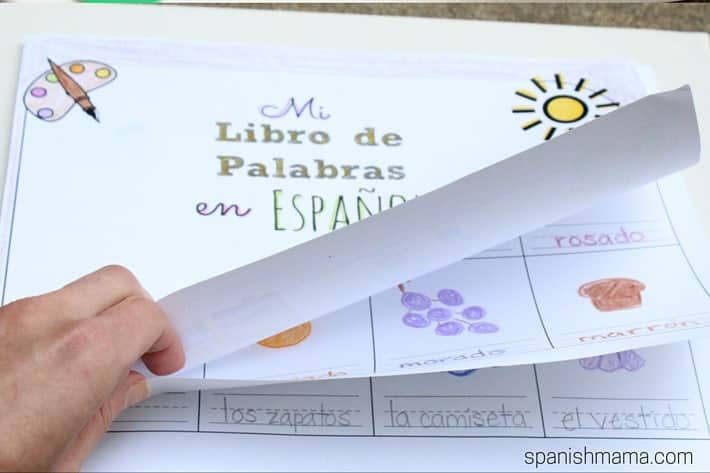 10. Learn Spanish with Kids through Movies and Shows

Utilize that screen time for Spanish time! Set your audio or subtitles to Spanish on Netflix, and set up a family movie night or let your kids watch their favorites in Spanish. Browse my list of shows in Spanish on Netflix for kids, or find a fun movie in Spanish for the family (or yourself!).
I hope this helps! It takes some work to get a Spanish routine going in your family, but it's worth it. Learn Spanish with your kids, and you'll never regret your decision to get started!
Like it? Pin it!
Join the newsletter
Want to stay in touch and hear from me weekly?

Sign up now and you'll get this free game set.