Diego Rivera Famous Paintings: 12 Works You Need to See
Inside: A collection of Diego Rivera famous paintings celebrated around the world.
Diego Rivera is considered the greatest Mexican artist of the 20th century.
As you'll see in the progression of paintings below, Rivera's work highlights ordinary working people and is characterized by large-scale art with bold colors. He was commissioned to paint to both in Mexico and the United States.
Unlike small paintings– which are often only accessed by the wealthy or elite– large public murals are available to a wide array of ordinary people. Rivera is celebrated for his large-scale fresco murals and inspiring the Mexican mural movement.
He also infused his paintings with political and historical references, influenced by his Marxist beliefs and connection to the Mexican Revolution.
Related: 26 Diego Rivera Quotes
Diego Rivera Career
Rivera was born in 1886 and painted even as a young child. He studied art in both Mexico and Europe, producing the bulk of his work from 1920 – 1950.
He was married five times, most notably to famous fellow artist Frida Kahlo. Although their relationship was very volatile, he mourned her early death deeply.
He said of Kahlo, "I did not know it then, but Frida had already become the most important fact in my life. And would continue to be, up to the moment she died, 27 years later."
Diego Rivera's early works show elements of Cubism from influences like Pablo Picasso. During his times in France and Italy, however, he was influenced by Renaissance-era frescoes and settled into a more Post-Impressionist style.
Rivera returned to Mexico and began his first commissioned works. By this time, his murals had a distinct style rooted in Mexican culture. According to the Diego Rivera Foundation,
" [They] dealt with Mexican society and reflected the country's 1910 Revolution.

Rivera developed his own native style based on large, simplified figures and bold colors with an Aztec influence…"
Diego Rivera Famous Paintings
Here is a quick list of Diego Rivera famous paintings, in chronological order:
Creation (1922)
History of Mexico (1929 – 1935)
Frozen Assets (1931)
Agrarian Leader Zapata (1932)
Detroit Industry (1932)
Man at the Crossroads (1934)
Flower Carrier (1935)
Pan-American Unity (1940)
The Flower Seller (1942)
La Gran Tenochtitlan (1945)
Dream of a Sunday Afternoon in Alameda Park (1947)
The Watermelons (1957)
Let's take a look at each work.
1. Creation
La creación, 1922 – 1923
Fresco, Mural
Creation is a large mural (over a thousand square feet) in a classical renaissance style and full of religious imagery. Rivera painted it for the Simón Bolivar amphitheater in Mexico City, and it was his first commissioned work in Mexico. From DiegoRivera.org, "Although it was widely popular, Rivera felt that the painting was too Italian in technique, and he did not like it."
2. History of Mexico
La historia de México, 1929 – 1935
Fresco, Mural
The History of Mexico is located in the grand stairwell in the National Palace in Mexico City. It depicts major events in Mexican history from the past few centuries, such as the invasion of the Spanish, independence, the Mexican-American war, and even Rivera's imagined utopian future for Mexico. It was restored in 2009.
For in-depth analysis of this extensive work, see more here.
3. Frozen Assets
Fondos congelados, 1931
Medium: Lithograph
This is another portable replica that Rivera created for the 1931 exhibition at the MoMA. In Frozen Assets, you can see three levels. From Google Arts and Culture, "Great skyscrapers are at the top, as a symbol of the economic development of the United States, supported by the working class, that appears below in the subway trains, going to work or returning home. In the middle, a refuge for the unemployed homeless seems to be full of corpses rather than persons sleeping."
4. Agrarian Leader Zapata
Líder Campesino Zapata, 1932
Lithograph
Rivera painted Agrarian Leader Zapata in 1932 as replica of a mural in Mexico, to be part of an exhibition in New York for the Museum of Modern Art. It is a portrait of Emiliano Zapata, one of the foremost leaders of the Mexican Revolution. It memorialized him as a hero to the Mexican people, despite his unpopularity with the actual Mexican government.
5. Detroit Industry
The Detroit Industry Murals, 1932 – 1933
Fresco, Mural
Rivera was commissioned to paint Detroit Industry in 1932 by Edsel Ford (the son of Henry Ford). Though it may seem an odd choice for the Marxist-oriented Rivera to work with a large automobile company, he painted this enormous work of 27 panels from the perspective of the workers.
From the Detroit Industry of Arts (who commissioned the project), "The half-face/half-skull in the central monochrome panel symbolizes both the coexistence of life and death as well as humanity's spiritual and physical aspects, while the star symbolizes aspirations and hope for civilization. This heraldic image introduces another major theme of the cycle: the dual qualities of human beings, nature, and technology."
6. Man at the Crossroads
El hombre controlador del universo, 1934
Fresco Mural
Rivera created this mural at the Rockefeller Center in New York, under the theme "Man at the Crossroads Looking with Hope and High Vision to the Choosing of a New and Better Future." The work was originally designed to portray and contrast capitalism and socialism, which drew some public criticism. In response, Rivera added Lenin in the mural and refused to remove him. Even though the Rockefeller family like his art, they destroyed the mural before it was finished and replaced it. However, Rivera re-created it a year later under the title Man, Controller of the Universe.
7. Flower Carrier
Cargador de Flores, 1935
Oil and tempera on masonite
The Flower Carrier depicts a peasant man with a heavy load of flowers on his back, presumably to go sell them. It looks as if the woman is his wife and is attempting to help him stand. While the image and the flowers are beautiful, the focus is on the man's struggle under the weight of his labor, perhaps symbolizing the everyday worker's plight within capitalism.
8. Pan-American Unity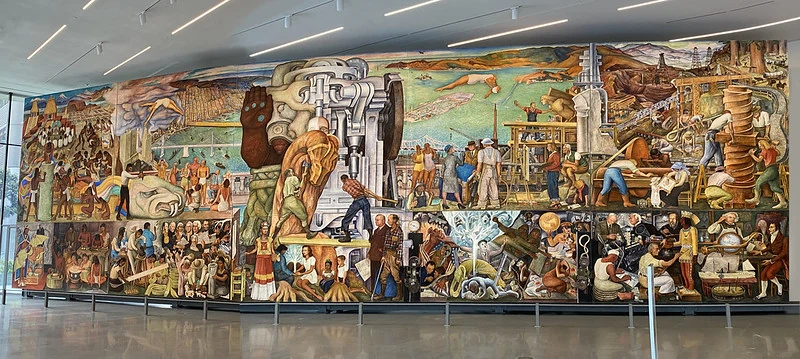 1940
Fresco Mural
Also known as The Marriage of the Artistic Expression of the North and of the South on This Continent, this mural was the last one Rivera painted in the United States. It was created for the 1940 Golden Gate International Exposition and spanned 10 panels.
9. The Flower Seller
Vendedor de flores, 1942
Oil and tempera on masonite
Another representation of a worker bearing a heavy load of flowers, this one also depicts a working-class young woman, dressed in typical clothing. From the Kansas City Public Library, "The calla lily is a flower commonly associated with the wealth of Mexican flora. However, featured here in large quantities, the lilies also stimulate the speculation that such wealth is a load carried by Mexico's working class." Cary Grant owned this painting for a time, before donating it to the Norton Simon Museum.
10. The Great City of Tenochtitlan
La Gran Tenochtitlan, 1945 – 1952
Fresco Mural
The Great City of Tenochtitlan was another addition to the National Palace in Mexico City, detailing Mexico's history. For this work, Rivera had to do extensive research into the original capital city of the Aztecs, Tenochtitlan. What you see above is only a small part of several large murals, which show a busy market before the arrival of the Spanish.
11. Dream of a Sunday Afternoon in Alameda Park
Sueño de una tarde dominical en la Alameda Central, 1946 – 1947
Fresco Mural
Dream of a Sunday Afternoon in Alameda Park portrays famous figures in Mexican history strolling through Alameda Central Park (including Frida Kahlo and La Catrina, as shown in the second image). Most people are shown wearing elegant clothing from the early 20th century, to represent the upper-class. This contrasts to a peasant family being driven away by a police officer. The busy panorama also references the colonization from the Spanish and the events of the Mexican Revolution.
12. The Watermelons
Las sandías, 1957
Oil painting
The Watermelons was Diego Rivera's last painting. He suffered a stroke and died the same year, of heart failure. Frida Kahlo's last painting, Viva la vida, also featured watermelons. She had died a few years earlier, in 1954.
Agrarian Leader Zapata (1932)Detroit Industry (1932)Man at the Crossroads (1934)Flower Carrier (1935)Pan-American Unity (1940)The Flower Seller (1942)La Gran Tenochtitlan (1945)Dream of a Sunday Afternoon in Alameda Park (1947)The Watermelons (1957)
Image Credits:
:

Image 1:"Detroit Industry" (CC BY-NC 2.0) by Thomas HawkImage 2: "Detroit Industry" (CC BY-NC 2.0) by Thomas Hawk
Image 3: "Diego and Frida" (CC BY-NC 2.0) by Thomas Hawk
Image 4: "Diego Rivera, Creation – La creación, 1" (CC BY 2.0) by Joaquín Martínez Rosado
Image 5: Diego Rivera – The history of Mexico (DS" (CC BY-NC 2.0) by Milan Tvrdý
Image 6: "Diego Rivera, Frozen Assets – Fondos co" (CC BY 2.0) by Joaquín Martínez
Image 7: ""Agrarian Leader Zapata" (CC BY-NC 2.0) by IslesPunkFan
Image 8: ""Detroit Industry" (CC BY-NC-ND 2.0) by Maia C
Image 9: ""Detroit Industry Murals" (CC BY-SA 2.0) by tr.robinson
Image 10: "Rivera, Man, Controller of the Universe" (CC BY-NC-SA 2.0) by profzucker
Image 11: "Back Break" (CC BY-NC 2.0) by Thomas Hawk
Image 12: "Diego Rivera" (CC BY-NC 2.0) by rocor
Image 13: "Diego Rivera Calla Flower Seller." (CC BY 2.0) by Joaquín Martínez Rosado
Image 14: "Tenochtitlan" (CC BY-NC 2.0) by La ciudad más hermosa
Image 15: "Diego Rivera Mural – Dream of a Sunday A" (CC BY 2.0) by Adam Jones, Ph.D. – Global Photo Archive
Image 16: "Detail of Diego Rivera Mural – Dream of" (CC BY 2.0) by Adam Jones, Ph.D. – Global Photo Archive
Image 17: "Detail of Diego Rivera Mural – Dream of" (CC BY 2.0) by Adam Jones, Ph.D. – Global Photo Archive
Image 18: "Diego Rivera – The Watermelons" (CC BY 2.0) by irinaraquel