Lesson 3: Farm Animals in Preschool Spanish
Inside: A preschool lesson on farm animals in Spanish, through comprehensible input: stories, songs, and activities for kids.
Lesson 3 Goals: I can name some farm animals.
Target Structures: dice, el caballo, el perro, el gato, la gallina, el cerdo, el pato
Review: Review the ¿Cómo te llamas? ball chant from Lesson 2, and sing the songs.
Click to see my outline of Preschool Spanish Lessons for Los pollitos dicen. (Each lesson provides enough material for multiple classes.)
Movement/brain breaks: Stretch with movement words: levántate, siéntate, manos arriba, and manos abajo, corre, and salte, Duck, Duck, Goose in Spanish, or ¡Salta, salta!
FARM ANIMALS IN SPANISH
ACTIVITY 1
The farm animals have already been introduced from Lesson 2, though always with visuals and in the context of dice. Here in Lesson 3, we'll zero in on the animals themselves. If you landed on this page just looking for activities for farm animals in Spanish, be sure to look over Lesson 2 as well.
Play Los animales Bingo (included in the free download for Unit 1.) You can call out the animal's names, or say "La vaca dice mu", etc.
ACTIVITY 2
Do ¿Qué hay en la bolsa? Have a bag ready with toy farm animals inside. We sit in a circle, and the kids take turns getting a bag. They have to put their hand in the bag and guess what animal is inside just by feeling it. Once they guess the animal, we talk about it. I circle dice and the animal names each time:
– ¿Es un caballo? ¡No! ¿Es un pollito? ¡Sí! ¿El pollito dice <muu>? ¡No! ¿El pollito dice <pío>? ¡Sí!, etc.
(Some of the students can't name the animals yet, even though they are eager for turns. I don't worry about output yet– the whole activity is designed as a way to catch their attention and get more input.)
ACTIVITY 3
Play Duck, Duck, Goose as Pato, pato, pollito. It's tricky to get the hang of it with little ones, but this has been a big hit in my little class.
Once everyone can play, save this one for a brain break during the rest of the year.
ACTIVITY 4
Use the animals videos embedded below for MovieTalks. Show the video and mute the sound or pause the video here and there. Describe and talk about what is happening using words and questions the students know. ¿Es una vaca? ¿Cómo se llama? ¿El gato corre o salta?
The kids can also watch these videos at home, and see what language they can understand. As the class progresses through each unit, they'll comprehend more and more of these videos.
ACTIVITY 5
Color and read the mini-book ¿Cómo dicen los animales? This mini-book gets in lots of dice repetitions, and can be sent home for extra reinforcement.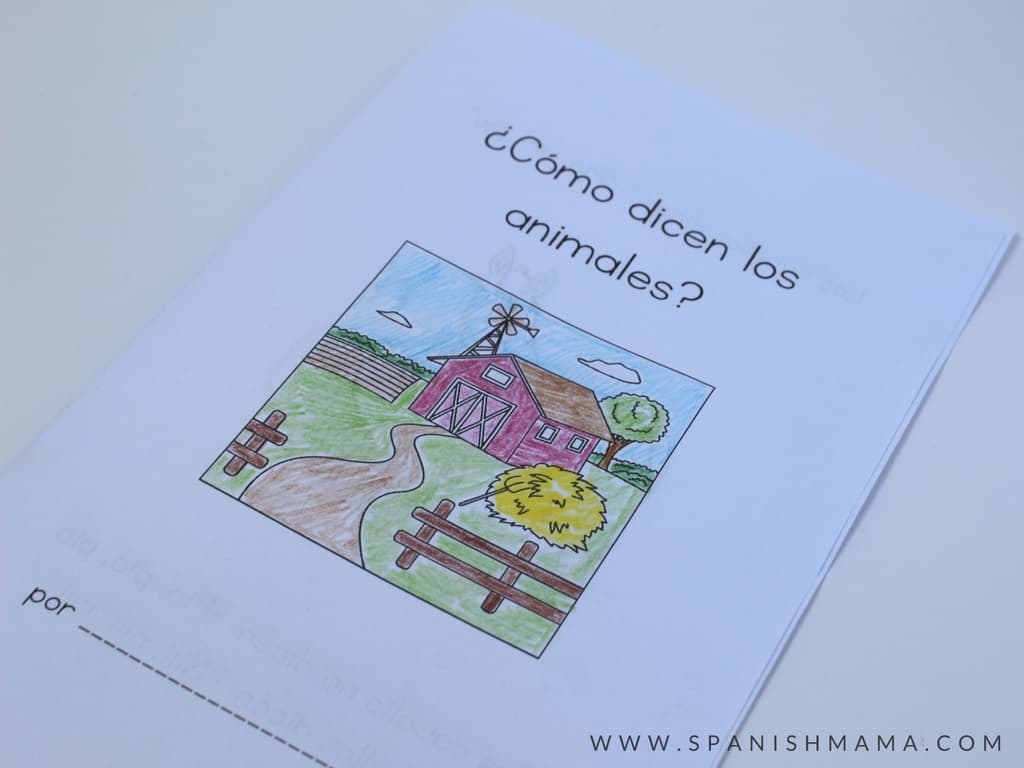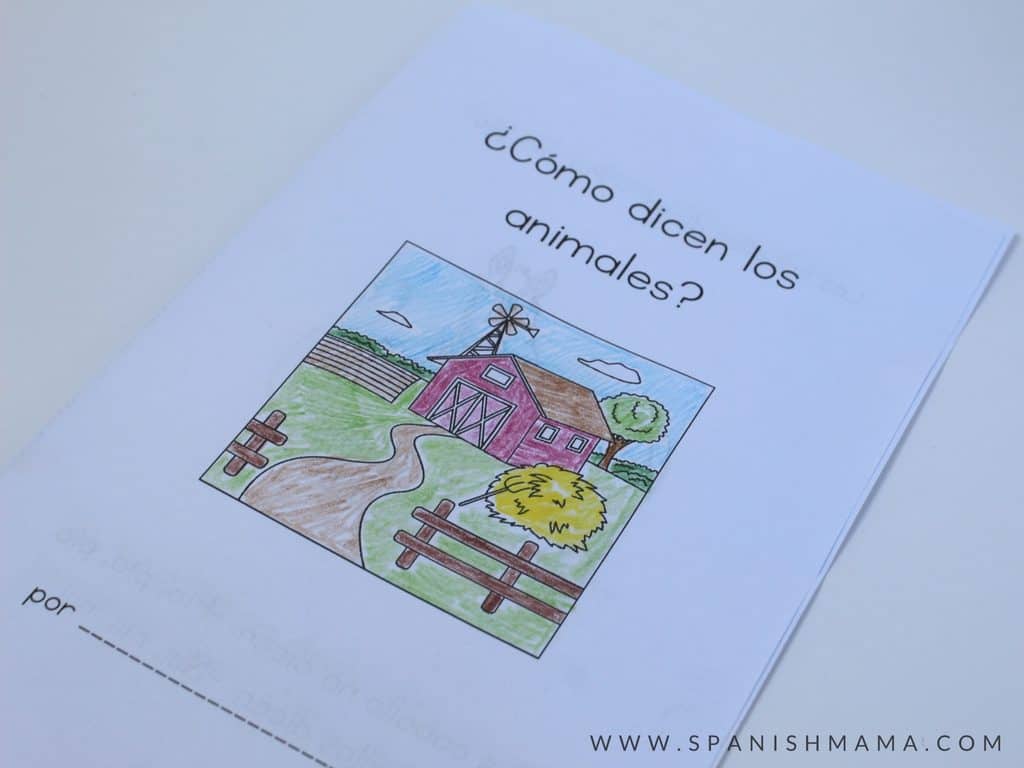 FB LIVE
I've been hopping onto Facebook recently, to chat about this series and give tips for teaching preschool Spanish. It's just me and my homemade set up, but hopefully it will help "show" how I use these lessons, myself!
SUPPLEMENTAL FARM ANIMALS IN SPANISH AND RESOURCES:
This song from Calico Spanish is great. In this version, they say "hace" instead of "dice"– I believe that's how it is in Spain:
El caballo:
El gallo y la gallina:
El gato:
El perro:
La vaca:
GET THE PRINTABLES
Free games, printables, mini-books, and more!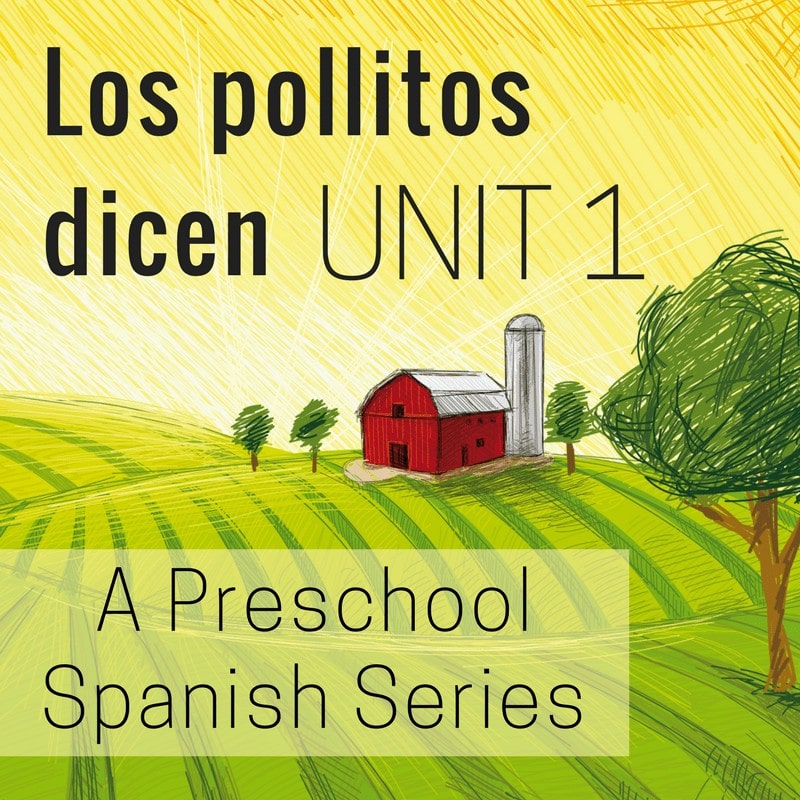 Join the newsletter
Want to stay in touch and hear from me weekly?

Sign up now and you'll get this free game set.