Free Printable Frida Kahlo Coloring Pages
Inside: Printable Frida Kahlo coloring pages for kids.
Frida Kahlo was a reknowned Mexican painter. She who was born in 1907 in Coyoacán, Mexico, and passed away in 1954. She is known for her surrealist art and self-portraits that reflect her physical and emotional pain, as well as her beloved Mexican heritage.
Kahlo had a difficult life, suffering from polio as a child and a devastating bus accident as a teenager that left her with lifelong injuries and chronic pain. She often used her artwork as a way to cope with her strong emotions.
Despite her struggles, Kahlo's work gained recognition in the 1940s and 1950s, particularly in Mexico and the United States. She became a feminist icon and a symbol of Mexican culture, inspiring many young artists and activists around the world.
Today, Kahlo's masterpieces continue to inspire people of all ages and backgrounds. Her paintings have been exhibited in museums around the world and have sold for millions of dollars. Her image has also been popularized in popular culture and fashion.
Kahlo is remembered for her courage, resilience, and artistic vision. Her paintings continue to capture the hearts and imaginations of people around the world, reminding us of the power of art to transcend pain and inspire hope.
Related: Frida Kahlo Lesson Plan Ideas
Frida Kahlo Coloring Pages
Contents:

1. Frida Kahlo Coloring Pages

2. Famous Frida Kahlo Paintings to Color

3. Frida Kahlo Quotes for Coloring

Related: Hispanic Heritage Month Activities, Crafts, Lessons Plans, and Resources
FRida Kahlo Coloring Pages
You can use markers, crayons, watercolors, or colored pencils for these printables– whatever medium you like.
Just follow your creativity and inner artist as Frida did!
Famous Frida Kahlo Paintings to COlor
Frida painted on her own terms, in the privacy of her beloved Casa Azul, and in her travels to Europe and the United States. These four paintings are school-appropriate and beautiful examples of her style.
Related: Printable Maps and Games for Spanish Speaking Countries
Writing and Coloring Pages About Frida Kahlo
Print these if you would like students to write a little about the famous Mexican painter.
Quotes Coloring Pages
Frida Kahlo has many beautiful quotes about art and life.
These zen coloring pages are perfect to print and post for some colorful inspiration!
Related: 25 Frida Kahlo quotes, in Spanish and English.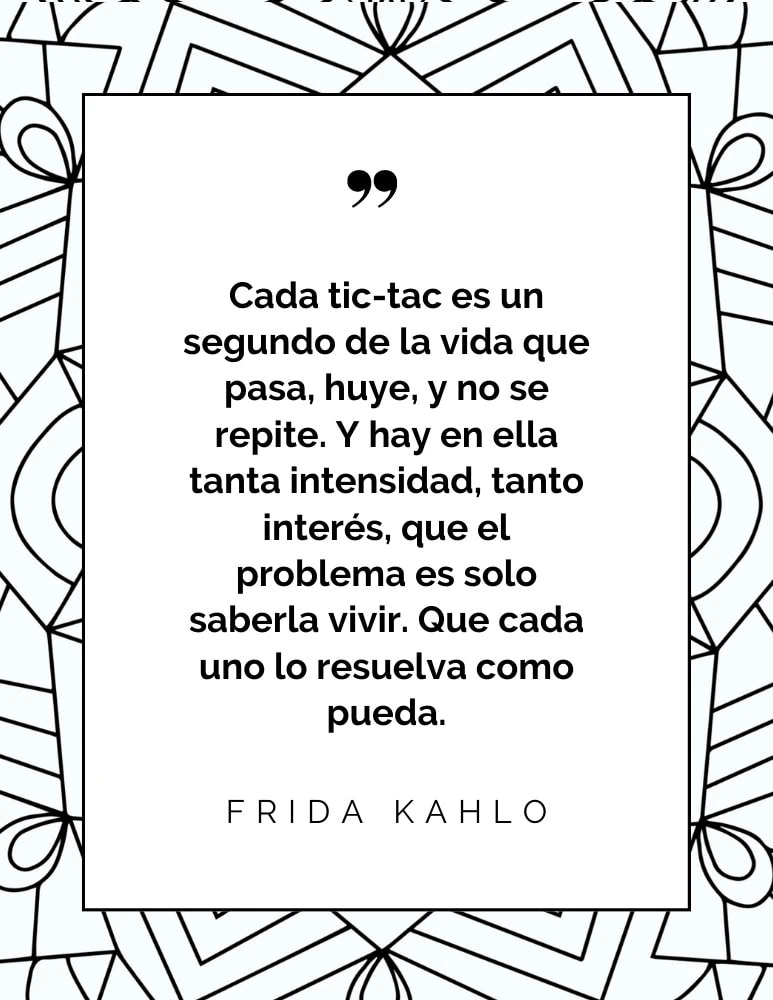 Please remember that these are for personal use only. If you would like to share them, please share the link with your friends and other teachers!
There are of course many famous paintings from the master Frida Kahlo that I don't have in this set. Some of her most famous works aren't school-appropriate, but you can research them to get know her more.
Here's a short list of some of her most famous artwork:
Two Women -1928
Self Portrait with Monkeys – 1943
Broken Column -1944
Magnolias -1945
Wounded Deer -1946
Still Life with Parrot and Fruit -1951
If you want to learn more about Frida Kahlo, especially for kids, check out this post.