5 Reading Activities for Spanish Class
Inside: Reading Activities for Spanish Class, from Ashley Mikkelsen at Srta. Spanish. 
This year, I've been working hard to shift my mindset away from grammar-focused instruction to providing my students with more comprehensible input. (Check out this post for a great explanation on what comprehensible input is, exactly!) In the journey of incorporating more comprehensible input based activities and resources in my classes, I've discovered one really key thing:
95% of my activities are geared towards reading or re-reading.
(No, that's not a scientifically measured number, but I'm pretty sure it's 100% true).
Seriously. I spend almost all of my time lesson planning thinking about ways to get my students to interact with a story or a short reading. We know that reading is important (there's research on it, if you need proof). Getting students to read meaningful language helps them acquire that language. It's why we include FVR in our classrooms as a part of weekly routines!
I keep a list of my favorite ways to interact with a text handy. Then, when I'm lesson planning it's easy to skim the list and say, what haven't we done in awhile? Boom. Reduce teacher workload, reuse routines, and recycle old activities for new!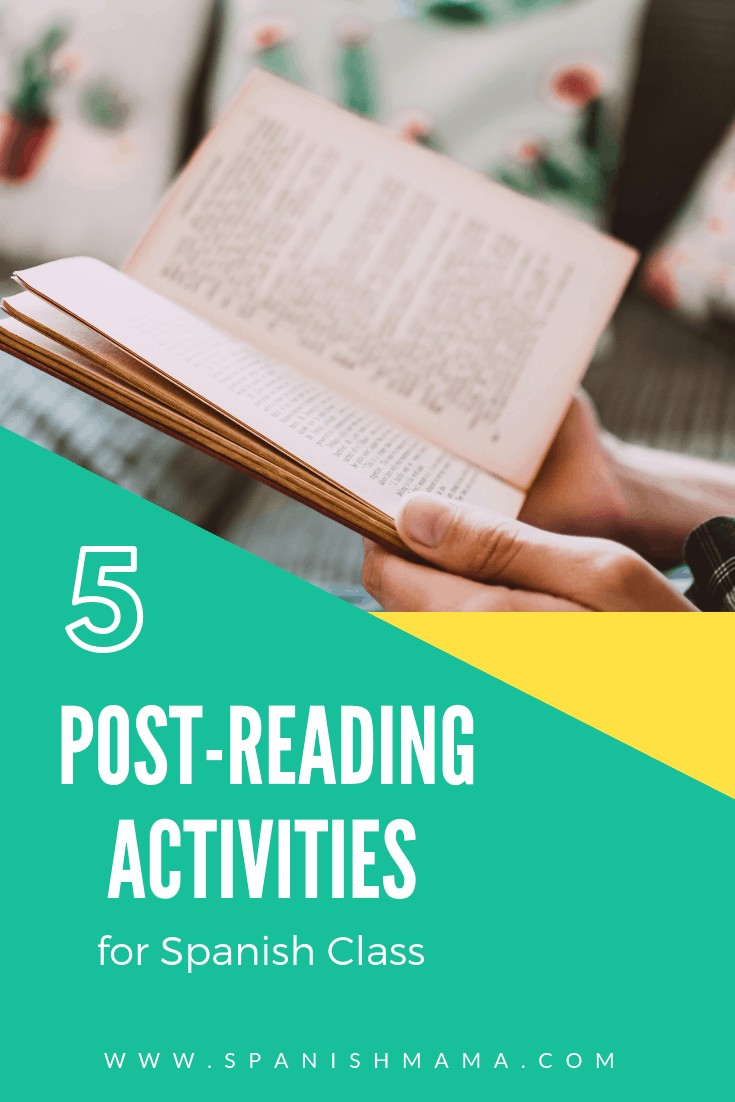 READING ACTIVITIES IN SPANISH CLASS
Here are five easy ways to read or re-read a text in your classroom! Click on the links in each activity to get more in-depth info on each one.
1. READ OUT LOUD
Read Out Loud sounds like a no brainer, but read it out loud with your students! Students follow along and read with you to show understanding. You can also reduce the anxiety by moving this activity into pairs!
2. TRUE/FALSE
A True/False Post Reading Activity is so simple. Students read a text, then create ten true or false statements about the reading. Then you can use those sentences in a variety of ways! You can have them trade, and answer each others questions, or you can use their questions to play some rounds of The Marker Game.
3. THE MOST IMPORTANT SENTENCE
Use The Most Important Sentence as a great way to get your students to analyze a text. Students read a text and pick out the X number of most important sentences, where X is a random number you've chosen. Then, they have to narrow down to the X most important sentences..then the X..then finally, the MOST important sentence! This activity is great for students to read and re-read a text, while considering what really matters to the plot. It can also be done individually, pairs, small groups, or as a whole class!
4. READ AND DRAW
There's only so much to say about Read and Draw. They read a thing, and then they draw the thing. Easy! It's a great way to show comprehension. You can later recycle their drawings for use in listening activities, or a reading and matching game!
5. CLASSIC DICTATION
Some people use Classic Dictation to introduce new stories, and some like to do this to review, but either way it's a great activity to have students hear and read the information again. I like to do this after completing The Most Important Sentence, and use the sentences they came up with as a focus for our dictation. It's a very calm, quiet day in class, but if you'd like to switch it up even more you can use those sentences in a Running Dictation activity instead!
There! I hope you got a few ideas to add to your bank to try. Have you used any of these before? What are your favorite reading activities to use in your Spanish classroom?
Not sure where to buy novels and comprehensible readers for your Spanish class? Try out these links:
Information on teaching with novels:
Why Spanish Learns Novels are So Important
How to Teach Spanish with Novels, 101
Novels Sorted by Level from Bryce Hedstrom
More sources:
TPRS Publishing – Fluency Matters
Comprehensible Novels