Spanish Nature Words and Books for Earth Day
Inside: Learn Spanish nature words and browse a collection of Spanish nature books.
Learning about nature is one of my favorite themes when teaching kids Spanish.
First, we'll look at a few Spanish nature words, some resources for exploring nature, and then I have an amazing list of Spanish nature books for kids.
Nature Books for Kids
Here are sections I include in this list: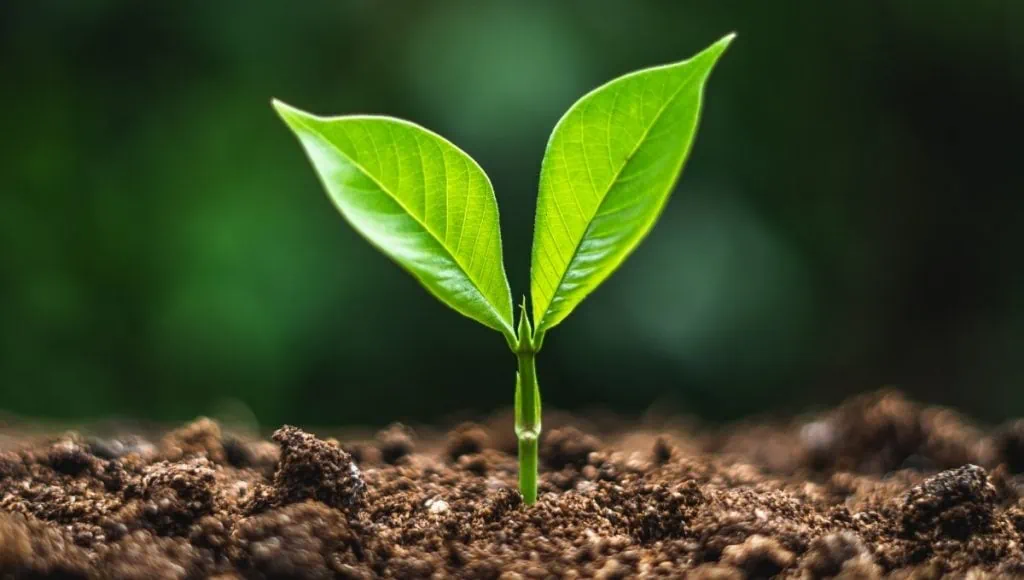 Related: Spanish Resources and Ideas for Earth Day
Spanish Nature Words
Here are some common Spanish nature words for Spanish learners to explore:
animal – el animal
bird – el pájaro
bush – el arbusto
carbon dioxide – dióxido de carbono
climate change – cambio climático
cloud – nube
conserve – conservar
contaminate – contaminar
deforestation – deforestación
eco-friendly – que no daña el medio ambiente
ecological – ecológico
ecosystem – ecosistema
endangered species – especies en peligro de extinción
flowers – flores
fruit – la fruta
garden – huerta, jardín
grow – crecer
lake – lago
ocean – océano, el mar
mountain – la montaña
plants – las plantas
pollute – contaminar
rain – la lluvia
recycle – reciclar
reforestation – repoblación forestal
river – el río
root – la raíz
seed – la semilla
sky – cielo
smog – smog, la niebla tóxica
soil – la tierra
solar energy – energía solar
species – especie
sun – sol
trash – la basura
tree – árbol
vegetables – vegetales, verduras
water – agua
Spanish Nature Word Printables and Flashcards
Here are some fun printables to help you learn Spanish nature vocabulary!
You can also download this scavenger hunt for kids to learn Spanish nature words around their home and yard, or take it to the park to explore more.
Click to Download the Spanish nature words hunt.
You can use the version with pictures for beginners, or use the print-only version with more advanced learners.
If you like the Spanish nature vocabualary flashcards (or posters) below, you can download them as well!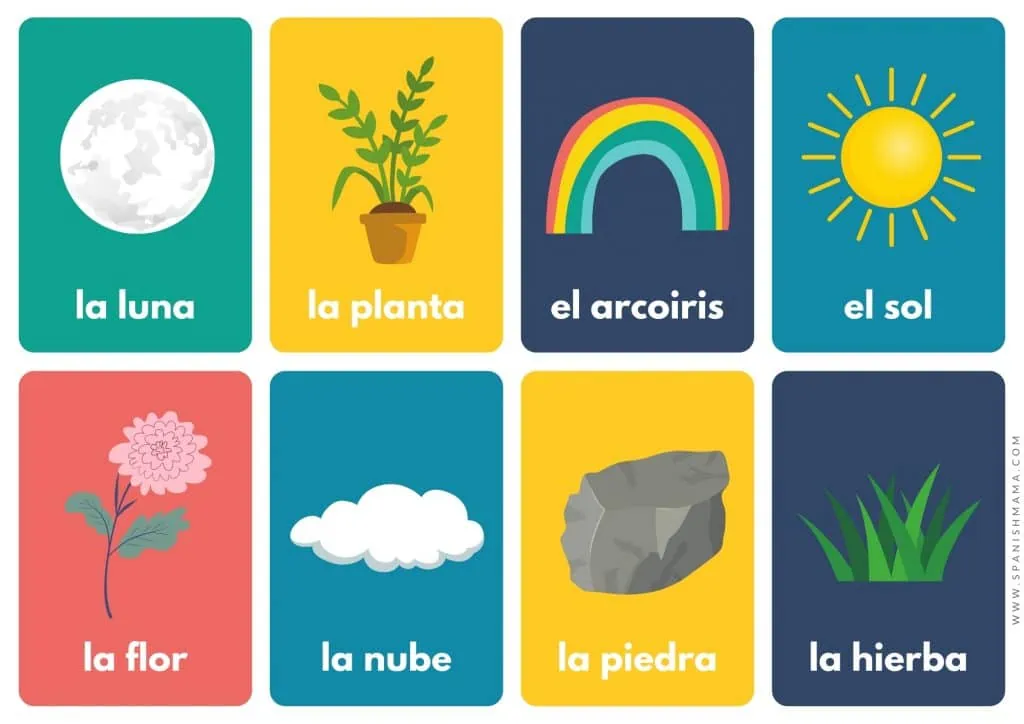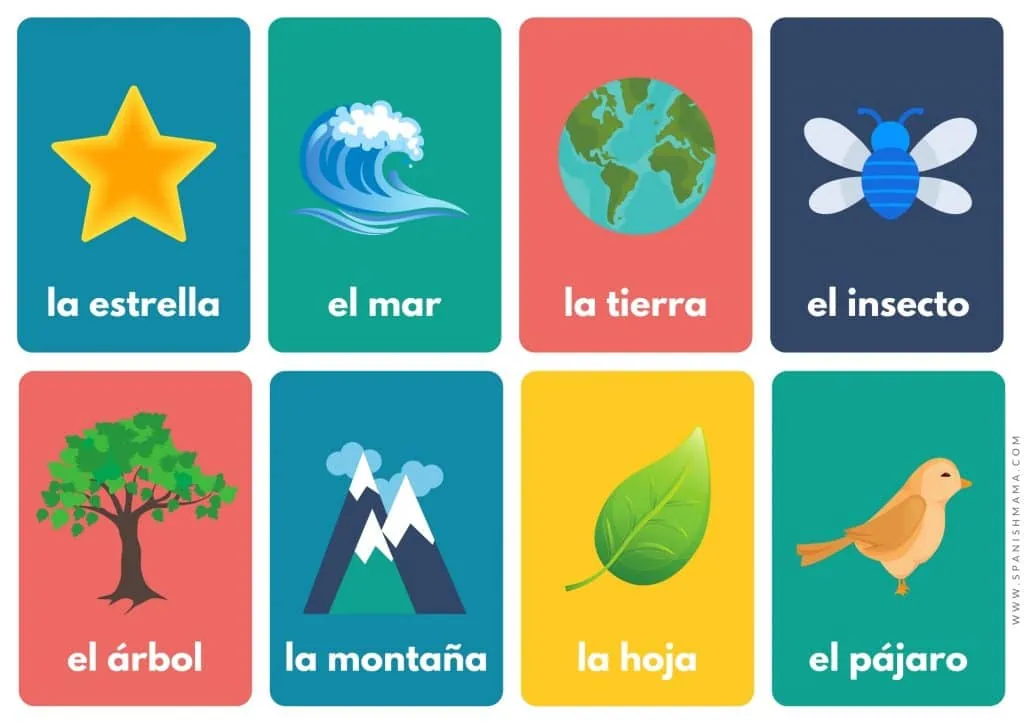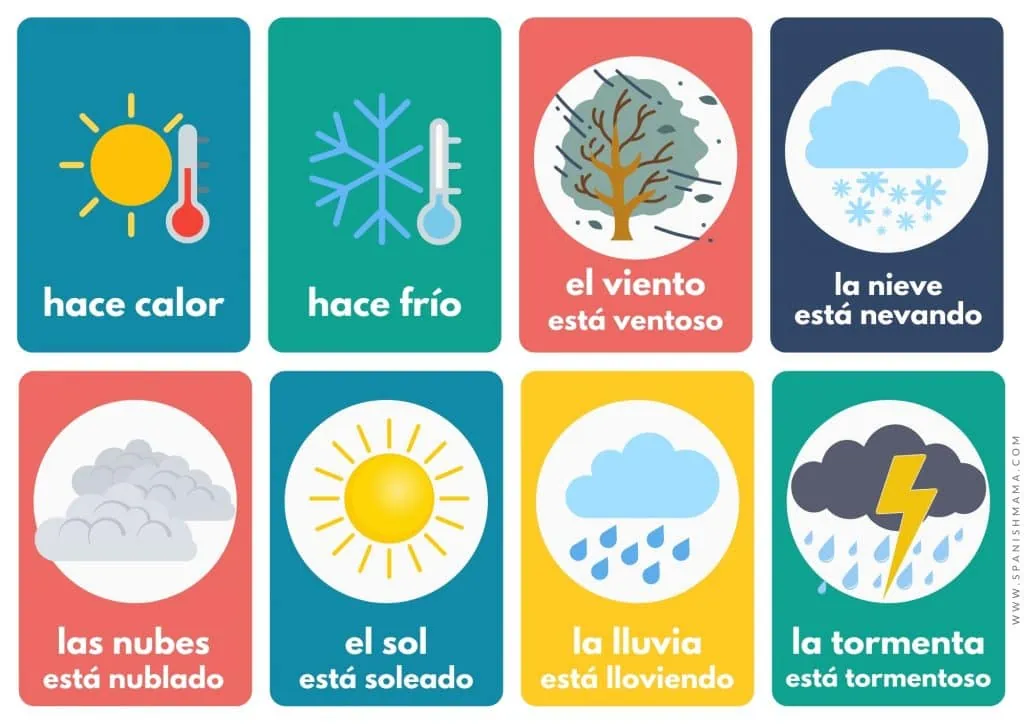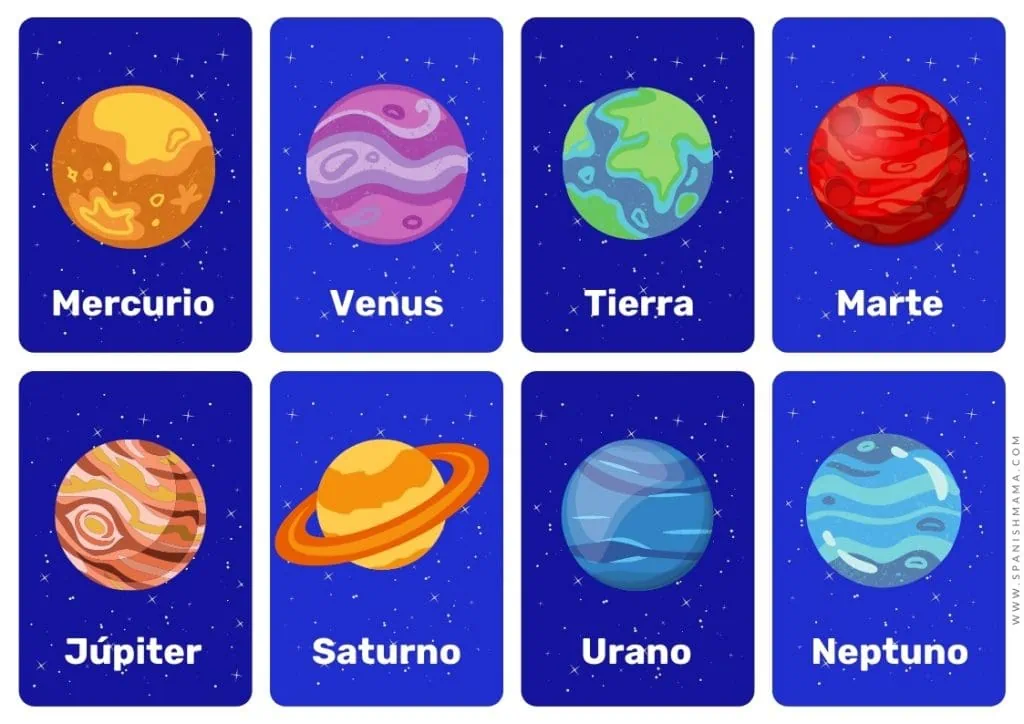 Spanish books about Trees and Rainforests
Vuelo del quetzal
This beautiful book from Alma Flor Ada and F. Isabel Campoy takes readers on a journey across the beautiful landscapes and forests of Latin America, as seen from the eyes of the quetzal.
La selva de Zonia
Travel to the Amazon rainforest and see it through the eyes of Zonia, a young Peruvian girl who lives there, in this book from Caldecott Honor and Robert F. Sibert Medal winner Juana Martinez-Neal.
Yoga en la selva
This story takes us to the jungles of India, introducing children to Yoga poses and animals along the way, through Spanish text and beautiful illustrations.
La selva amazónica
Learn all about the Amazon Rainforest in this non-fiction book from TIME for Kids, with real photographs and factual texts.
Un baño de bosque
A meditative look at the forest, that teaches us the healing properties of nature and encourage us to slow down and enjoy all that forests give us.
Llámame árbol
This story weaves together the strength of both children and trees– both begin small, and grow into their own selves as they "reach for the sky." Different children showing tree yoga poses are also included in the vibrant watercolor illustrations.
El último árbol
What happens when the trees disappear? Explore the importance of trees and how to save them through the eyes of a little boy.
Wangari y los árboles de la paz
A true story about a woman named Wangari who won the Nobel Peace Prize for her efforts to begin an ecological movement in the wake of deforestation in her home country.
Cha-cha-cha En La Selva
Explore the different animales that live in the Indian jungle, through poetic text in Spanish.
Un Recorrido por la Selva
This time, explore the Amazon rainforest, through the eyes of three children as the hike through the forest.
El loro Tico Tango
El loro Tico Tango could work as an introduction for beginning Spanish learners as it reviews colors along with names for animals, through a story about a parrot and a lesson on sharing.
Nos Fuimos Todos de Safari
Although this story doesn't take place in a forest, it does introduce readers to a different geographical landscape, this time taking readers on a safari through the grasslands of Tanzania, spotting animals along the way.
Books in Spanish About Water
¡Lluvia! Rain
It's a rainy day in the neighborhood. Though that makes a little girl with a frog raincoat happy, her grumpy neighbor only sees rain as a bother. This delightful book features illustrations from the Caldecott-winning illustrator of Última para en la calle Market, Christian Robinson. (The book does contain the word "maldito," which can vary in how it is seen according to region– just be aware.)
El agua rueda, el agua sube
From beloved bilingual author Pat Mora comes a poetic story about water, across different landscapes. Children are introduced to famous places as well as the importance of water to life.
Yo sé que el río me ama
This story is a celebration of Maya and a river, and how each cares for the other.
"Yo sé que el río me ama porque tan pronto
como que me acerco oigo que me llama."
¿Por qué debo ahorrar agua?
A perfect introduction to water conservation in Spanish, for kids, and why it's so important.
Soy el agua
A simple book for beginning Spanish readers that introduces children to the many forms and uses of water, and where it comes from.
Animales del mar
Introduce your very youngest readers to the ocean and ocean life through this board book in Spanish about the sea animals that live there.
La música del mar
After a terrible storm, a fisherman and his daughter Marina are the only ones who decide to stay on their beloved island. Marina is sad to stay behind, but her father is sure the fish will return, and prepares a surprise for her.
Hola mar
This book from the author of Esperanza renace fame will transport children to all the sensations and wonder of visiting the ocean.
Spanish books for earth Day
These four titles help teach children what día de la Tierra is about, and how we can do more to protect the earth.
El día de la tierra
Día de la Tierra
¡Feliz día de la Tierra!
¿Por qué debo proteger la naturaleza?
Hablando con Madre Tierra
This is a deep, honest story about a little boy who is teased by other children at school for his long dark hair and skin. Through his grandmother, "he learns to listen to the mountains, wind, corn, and stones," and connect to his ancient Aztec roots to find self-acceptance and connection to the earth around him.
Books about recycling and ideas for kids to reduce, reuse, and recycle:
¿Por qué debo reciclar?
Reducir, Reutilizar, Reciclar
Los guardianes de la Tierra
Spanish garden books for kids
Julieta y un día en el jardín: Un cuento de primavera de yoga para niños
Explore Julieta's garden, along with the signs of spring and the animals and insects in it, through Yoga movements.
Lola planta un jardín
Learn all about preparing and planting a flower garden with Lola, from the beloved Lola series.
Cómo crece una semilla
Learn all about how seeds grow into plants with this non-fiction book in Spanish for young readers.
La semillita
From beloved author Eric Carle, this book follows the life cycle of a flower and how it grows from a tiny seed into a beautiful flower.
Like it? Pin it!