Ellen Ochoa Quotes, Story, and resources
Inside: Ellen Ochoa quotes, along with a collection of resources for learning about her life and very successful career.
Ellen Ochoa is an engineer and the world's first Latina astronaut, with a robust career at NASA.
She flew in four space missions is in the Astronaut Hall of Fame, and is currently the Director of Flight Operations at the Space Center in Texas.
If you are here just looking for Ellen Ochoa Quotes, click here to jump to that section!
Related: Famous Latinos & Hispanic Americans Home Page
Before we dive into more quotes from Ellen Ochoa, let's take a look at her life and I'll share some resources for learning more about her.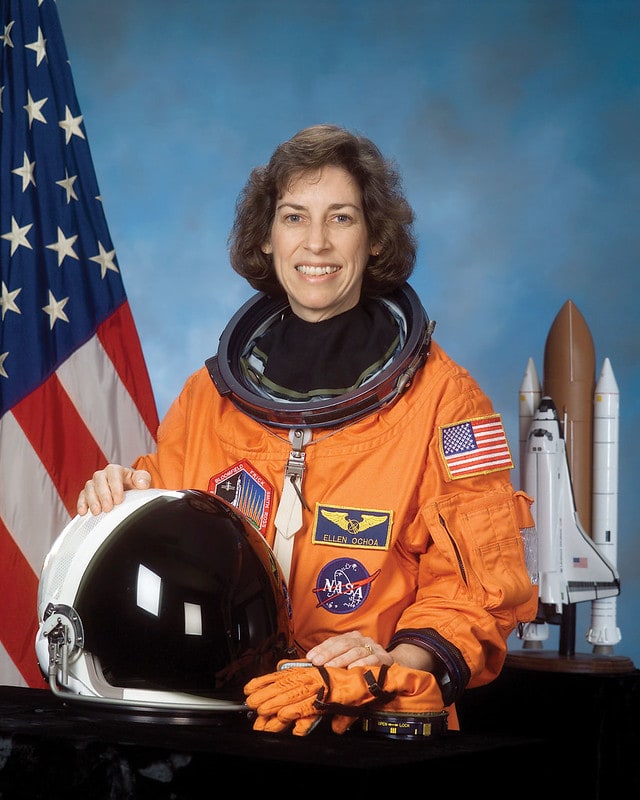 Here's an index of what's included in the post. You can click on any link to jump straight to that section!
Ellen Ochoa Biography
Fast Facts about: Ellen Ochoa
Birth: May 10, 1958
Birthplace: Los Angeles, California
Family:
Education: San Diego State University (B.S.), Stanford University (M.S.), Stanford University (Ph.D.)
Career: Engineer, Astronaut for Nasa, Director of the Johnson Space Center
Famous For: First Latina in Space
Ellen Ochoa was born May 10, 1958 in Los Angeles, California. Her parents were Mexican-American.
Ochoa studied physics at San Diego University, before earning a master's and doctorate from Stanford in Electrical Engineering.
Ochoa was invited to join NASA in 1991 (out of more than 2,000 people, only 22 were selected– one of them Ochoa!). In 1993, she was part of the Space Shuttle Discovery mission for nine days, becoming the first Latina to go to space.
She returned to space in 1994 aboard the Atlantis, in 1999 to the International Space Station, and again in 2002. Ochoa's hours in space total more than 950 hours.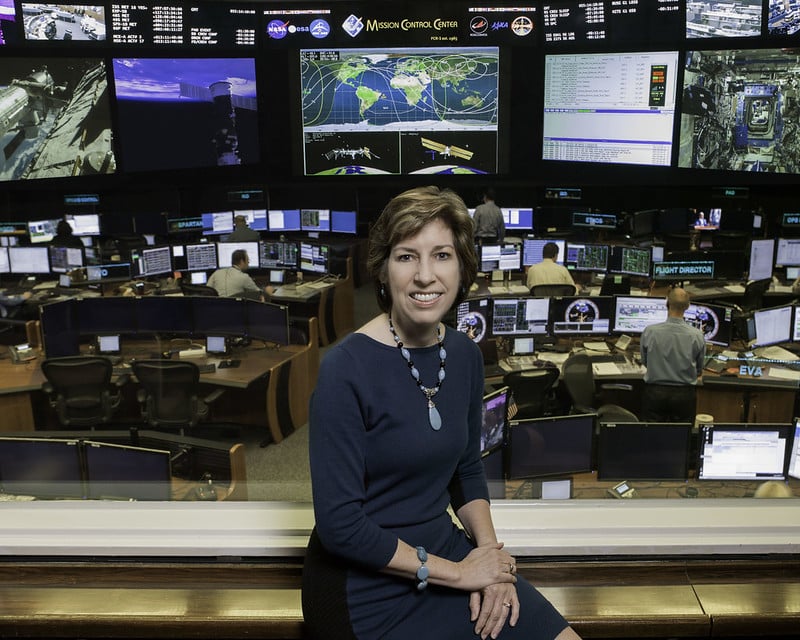 Ocha served as a mission specialist and flight engineer, before working at the Astronaut Office. She was the first Latina and the second female to be director of the Johnson Space Center. She has also been involved in working with optical systems, and holds several patents on her inventions.
Ochoa currently lives in Texas with her husband and two sons.
Awards:
NASA Exceptional Service Award Space
4 Flight Medals
Outstanding Leadership Medal
2017 US Astronaut Hall of Fame
National Academy of Inventors
Interesting Facts about Ellen Ochoa for Kids:
Ellen Ochoa is an accomplished flutist. She played in the Stanford Symphony Orchestra and in the marching band at San Diego. She brought her flute on her first space mission and played it in space!
Other astronauts had brought instruments into before, but she was the first one to float around while playing the flute.
Printables and links to learn more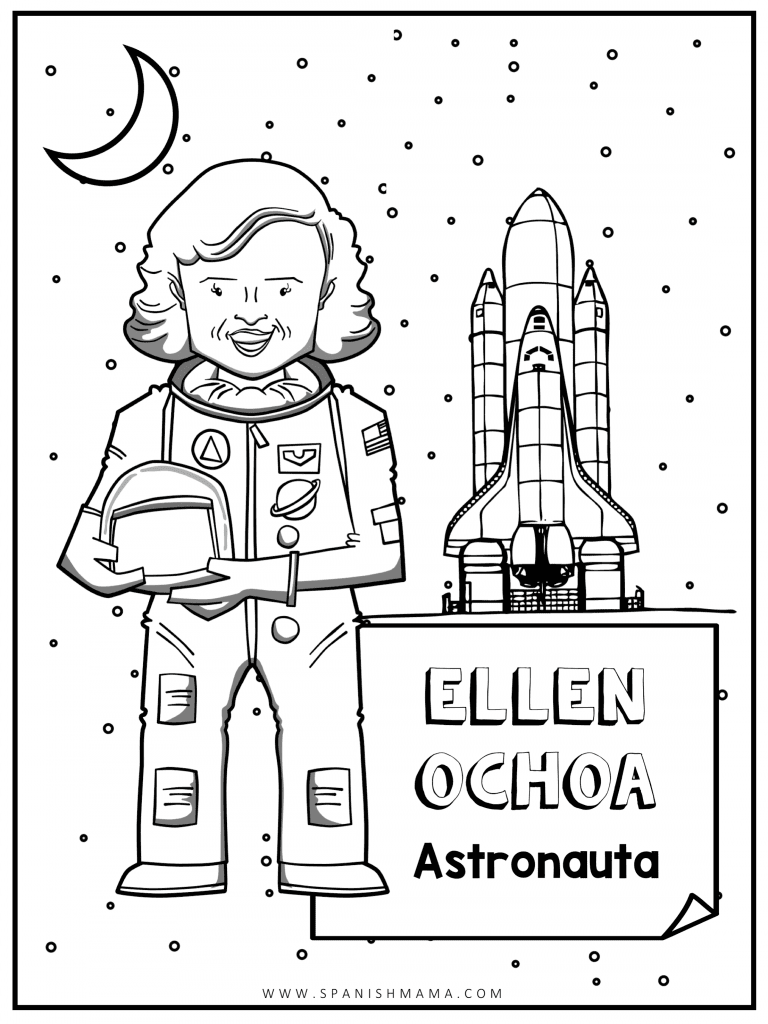 There are some great ready-to-go printable and lessons for teaching more about Roberto Clemente. Check these out:
You also might be interested in my sets of biography slides and project templates for learning about Latinx and Spanish-Speaking leaders, plus a free guessing game.
Books FOR kids to adults
These links are affiliate links.
Printable activity to go along with The Astronaut with a Song for the Stars
More in-depth printables for The Astronaut with a Song for the Stars, for interactive notebooks
Goal-setting printable with Ellena Ochoa
Videos About Ellen Ochoa
A very quick 40-second intro in Spanish for kids:
A short intro in English (1min 35s):
A 4-minute biography in English.
Interview with CNN en español (8min. 43s)
Biografia en español (1min 45s):
Ellen Ochoa Quotes
Here are some Ellen Ochoa quotes that give us a peek into her thoughts about education and life as an astronaut.
1. "I'm honored to be recognized among generations of astronauts who were at the forefront of exploring our universe for the benefit of humankind."
– Ellen Ochoa
2. "What everyone in the astronaut corps shares in common is not gender or ethnic background, but motivation, perseverance, and desire – the desire to participate in a voyage of discovery."
– Ellen Ochoa
3. "Usually, girls weren't encouraged to go to college and major in math and science. My high school calculus teacher, Ms. Paz Jensen, made math appealing and motivated me to continue studying it in college."
– Ellen Ochoa
4. "What I really hope for young people is that they find a career they're passionate about, something that's challenging and worthwhile."
– Ellen Ochoa
5. "I'll tell you, being involved in human space flight, it is an emotional endeavor. I think it brings in the highest highs and the lowest lows."
– Ellen Ochoa
6. "I tell students that the opportunities I had were a result of having a good educational background. Education is what allows you to stand out."
– Ellen Ochoa
7. "Astronauts are very professional and when they're preparing for launch, they prepare for it as the most serious endeavor of our lives."
– Ellen Ochoa
8. "This was the last astronaut job that was not (yet) done by a woman. Now with this milestone we can focus on the fact that what is important to succeed in life, it does not matter whether you are a man or a woman."
– Ellen Ochoa
9. "A hallmark of the Latino community is to help one another, if students are interested in a way to give back and help their communities, becoming a teacher is probably one of the very best ways of doing that."
– Ellen Ochoa
10. "Sally made it possible for anyone to become an astronaut."
– Ellen Ochoa
I hope these ideas and resources were helpful to you! If you have more ideas for Ellen Ochoa lessons, let me know in the comments below!
Image Credits:
"Ellen Ochoa" (CC BY-SA 2.0) by Oregon State University
"Johnson Space Center Director Ellen Ocho" CC BY-NC-ND 2.0) by NASA Johnson
Join the newsletter
Want to stay in touch and hear from me weekly?

Sign up now and you'll get this free game set.