A Kid-Friendly Introduction to  Day of the Dead
Inside: Day of the Dead kid ideas, including information, lessons, books, and crafts. 
Do you want to introduce your children or young students to Día de Muertos?
November 1st honors the souls of children (Día de los Inocentes), and November 2nd remembers the souls of adults. It's celebrated across Latin America, but is primarily a Mexican holiday.
Day of the Dead is a festive, bright holiday that celebrates life and the loved ones who have passed on.
Even so, it is essentially about death, which is a sensitive topic– especially with children. The images of skulls and skeletons can also seem scary.
This post focuses on friendly ways that young children can learn about Day of the Dead traditions.
Contents:

1. A Kid-Friendly Explanation of Day of the Dead
2. 7 Day of the Dead Crafts for Kids
3. Día de Muertos Book Recommendations
4. Videos to Learn More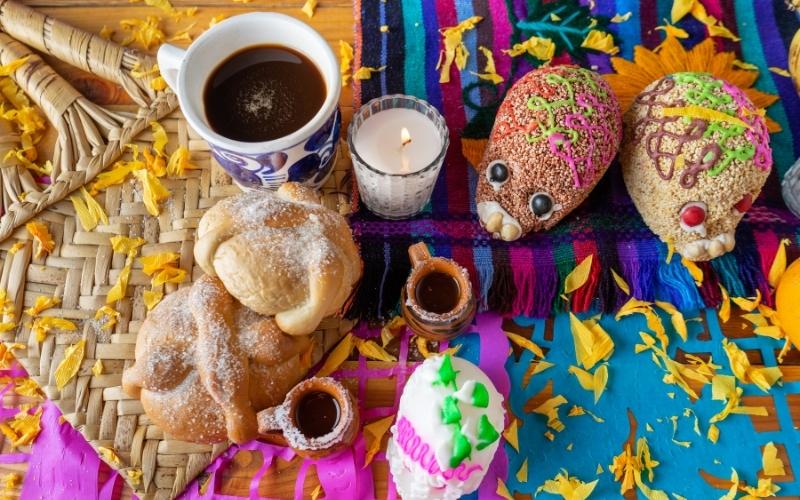 Related: 50 Día de Muertos Activities for Teachers and Students
What is Día de Muertos? (A Summary for Kids)
Day of the Dead is a celebration in Mexico and some other Latin American countries. It's a special day to honor and remember family members who have passed away.
When is it?
Day of the Dead is celebrated on November 1st and 2nd. Even though it's close to October and Halloween, don't get them mixed up– they are two different holidays!
It does have the same dates as All Souls Day and All Saints Day.
How do families celebrate?
Many families visit cemeteries, to place flowers in the graves. It's an especially festive day in Mexico. There might be parades, with people wearing costumes and faces painted like skulls. Children can paint their faces too!
One of the most cherished rituals is creating a homemade altar. Some people believe that once a year, souls from the afterlife come and visit their families, at midnight. The altar welcomes them after their long journey to earth.
11 elements you might see on an altar:
Candles (velas)
Symbol of light and life, lights the way
Papel picado (decorative papers)
Represents union between earth and the arterlife
Pan de muerto (a sweet bread)
Element of earth, hospitality
Marigolds (flores de cempasúchil)
Orange is the color most easily seen, scent guides the spirits to the altar
Plates of Food
Favorite foods to welcome hungry souls
Sugar skulls (calaveras), and skeletons (calacas)
Symbolizes death as part of life
A Glass of Water
To welcome thirsty souls after a long journey
A Photograph of the Family Member(s)
To remember relatives and loved ones
Favorite objects
To make visiting souls feel happy and honor them
Religious Symbols
A cross, rosary, pictures of saints, or others
Incense
The smell wards off bad spirits and welcome good ones
Altars can be simple or very elaborate. Families want to make the visiting souls feel happy. They often put things on the table that their relatives enjoyed.
Even though Day of the Dead has some things that might look scary, it is supposed to be happy holiday that celebrates the circle of life. This is why people use bright colors for the decorations. Skeletons are arranged doing fun things and looking silly, and there are yummy things to eat as well.
Some questions for kids to think about:
What is similar and different about Halloween and Day of the Dead?
What smells would you experience?
What parts of the altar would make people feel happy?
If appropriate:
How does our family remember people we miss?
7 Day of the Dead Kid Crafts
These are simple craft for kids, to give them a hands-on introduction to Day of the Dead.
1. Make Papel Picado
This is the easiest decoration, and it brightens up any room instantly!
All you need is tissue paper and scissors. Fold the tissue paper (as you would for paper snowflakes) and cut out designs.
There are tons of tutorials on YouTube– I liked this one with easy-to-follow instructions.
2. Monarch Butterflies Craft
Some people believe that monarch butterflies carry the the spirits of their deceased relatives (this is prevalent among the Purépecha, an indigenous group in Mexico).
The monarch's fall migration to Michoacán, Mexico and other nearby places just happens to fall around the the dates for Día de Muertos. Butterflies also commonly represent the cycle of life and rebirth.
Here is an example of a symmetry'-based Monarch butterfly craft with paint.
3. Color Sugar Skulls
For another super-simple option, you can print out my sugar skull coloring pages. These include simple coloring pages, and color-by-code to practice the colors in Spanish.
There are some other symbols to color as well!
4. Make Paper Flowers
Flowers are a big part of the decorations for Day of the Dead. You could choose an array of colors, as shown in this tutorial, or use yellow and orange to represent marigolds.
Again, there are lots of videos on this, but this one was kid-friendly.
5. Make a Happy Calaca
In Mexico, skeletons are often dressed up and posed doing funny things. If you would like to do calaca craft with kids, here are some skeleton outlines you can print and use. You can see in the pictures below I drew on a smile and eyebrows to make the skeleton look extra friendly.
6. Make an Ofrenda Together
If you know your kids/students well and how sensitive they are, you may want to make a homemade altar together. As an alternative, I have a free coloring sheet where kids can draw an altar.
If you have a family member you want to honor, add some of their favorite things to your altar (something that represents their profession or favorite hobbies, favorite foods, etc.)
I really like this shoebox altar idea as well!
7. Sugar Skull Balloon
Grab a white balloon and sharpies for this one (and obviously– sharpies mean this isn't best for little ones!). Draw an outline in black sharpie, and add colorful designs.
Related: Frida Kahlo Art Projects for Kids
Day of the Dead Kid Books
Books are the perfect way to introduce your kids to this holiday.
Here are a few free eBook I found for you:
PDF eBook from Spanish Playground (in Spanish)
Day of the Dead Kid Videos
Of course, movies are a very kid-friendly route to taking in the vibrant colors of the day. Coco, from Pixar, is a perfect introduction for families. Set in Mexico, young Miguel visits the magical Land of the Dead and meets many of his ancestors.
The Book of Life is another feature film that introduces us to Dia de los Muertos, as a celebration of life.
10 Facts about Day of the Dead for Kids
A two and a half minute video with 10 simple facts for children.
Day of the Dead with Tica's Travels
This is a nice field trip-style video that has kids sharing their family traditions and footage of authentic ceremonies.
Día de los Muertos
This is a really lovely film about a journey to the afterlife that *may* work for older students. Be aware that it is about a little girl who visits her mother's grave and gets to spend time with her, which may be too sensitive to show in an Elementary classroom.