Inside: Learn all about the famous Tejana singer with this Selena Quintanilla biography and famous quotes.
(Image source: Positively Bright)
La reina de la música Tejana — the Queen of Tejano Music– changed the landscape of American music irrevocably. Even in her tragically short life, she reached astonishing success and was an inspiration to millions.
The story of Selena Quintanilla is gripping, both to her devoted fans and those just learning about the Latina star. In this post, I'll share a brief bio and lots of good resources for learning more about her.
If you are here specifically looking for Selena Quintanilla quotes, click here to jump to that section!
Related: Famous Latinos & Hispanic Americans Home Page
Before we dive into more quotes from Selena Quintanilla, let's take a look at her life.
Here's an index of what's included in the post. You can click on any link to jump straight to that section!
Selena Quintanilla Biography
Selena Quintanilla was born in Texas on April 16, 1971. At an early age, Selena began singing in the family band, Selena y Los Dinos. Her father was a musician and managed the band, while her brother and sister played instruments. They played at weddings and local events or parties.
The band began experiencing some success during Selena's teen years, though all the traveling affected her studies. Her first album with a major record company came out in 1989. Her success in the male-dominated genre of Tejano music surprised many people.
She had seven albums that hit number 1 for Latin songs, and won a Grammy in 1993. Her later albums moved to more of a pop infusion, with more music recorded in English.
Selena  was  known for both her music and the outfits she designed herself, and she was sometimes called the Tejano Madonna. She had a clothing line and boutiques, and her style reflected a fusion of Mexican and American culture.
Tragedy occurred when Selena was shot in 1995, by the president of her fan club, when she was only 23. Millions of her fans were shocked by the terrible tragedy, and the album released after her death was by far the most popular record from her. George W. Bush– the the-governor of Texas– declared April 16th, her birthday, "Selena Day."
Billboard magazine named Selena Quintanilla the best Latina artist of all time. In 1997, Jennifer Lopez starred in the film Selena, a biographical tribute to the singer's life. Netflix also released a series based on her life in 2020, called Selena: The Series.
Awards:
2 Grammys
67 Tejano Music Awards
14 Latin Billboard Awards
10 Lo Nuestro Awards
Star in the Hollywood Walk of Fame
Interesting Facts about Selena Quintanilla for Kids:
Growing up in Texas, Selena learned only English. When she began to sing for the band, her father taught her Spanish phonetically (so she could read and pronounce the words even if she didn't know the meaning yet). She later did become fluent in Spanish!
Selena once said, "I feel very proud to be Mexican. I didn't have the opportunity to learn Spanish when I was a girl, but it's never too late to get in touch with your roots."
Printables and links to learn more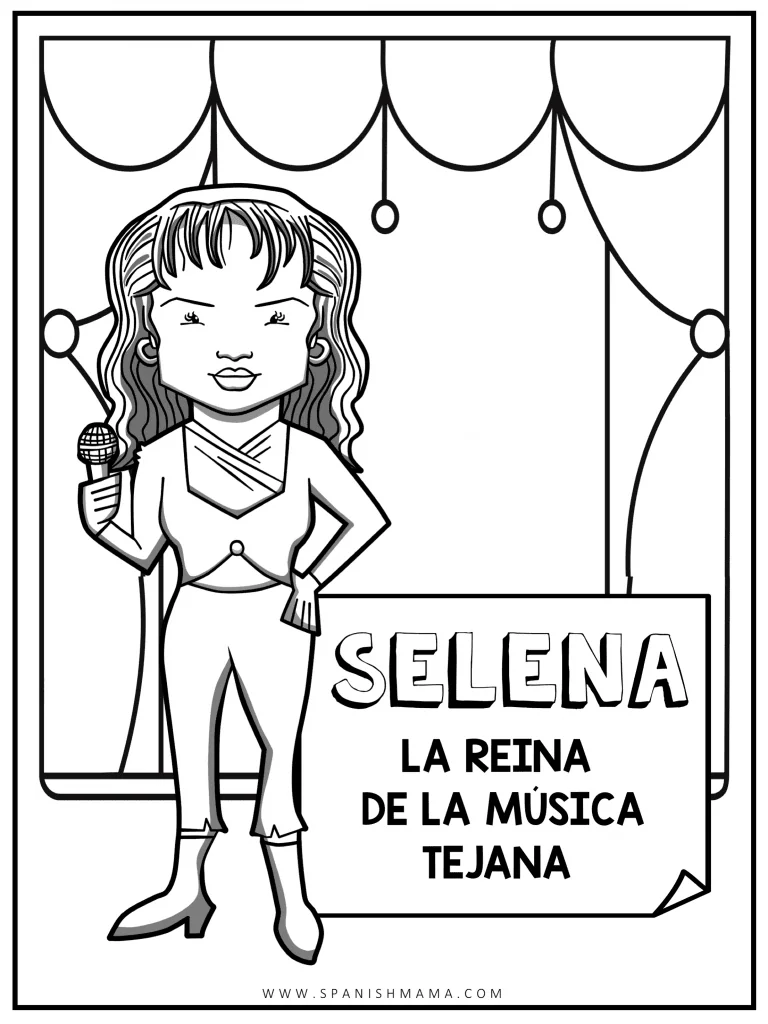 There are some great ready-to-go printable and lessons for teaching more about Roberto Clemente. Check these out:
Free Selena Quintanilla coloring page
An extensive activity pack with a reading passage, graphic organizers, and writing templates for elementary students.
Printable Selena worksheet for young Spanish learners on TpT
Comprehension questions in Spanish to go with the video Selena from Draw My Life (video is 4min. 15s).
Short elementary reading passage about Selena in English.
A reading passage about the woman who killed Selena Quintanilla, in English. I am not sure if this is something you will want to investigate with your high school students or not, but here is the link.
You also might be interested in my sets of biography slides and project templates for learning about Latinx and Spanish-Speaking leaders, plus a free guessing game.
Books FOR kids to adults
These links are affiliate links.
Here is a PDF lesson plan to go with the book "Queen of Tejano Music: Selena."
Videos About Selena Quintanilla
First, to get to know Selena, you have to see her perform and hear one of her most famous songs. Here's a live performance of Como la flor (and featuring one of her iconic outifts!):
A short Selena Quintanilla biography in English (2min 43s):
A 12-minute biography in Spanish:
This bio in Spanish might be more comprehensible to Spanish students (5min. 34s):
10 Famous Selena Quintanilla Quotes
Here are some Selena Quintanilla quotes that give us a peek into how she thought about herself, her music, and her family.
---
"We went through a hard time, and we had to turn to music as a means to putting food on the table. And we've been doing it ever since. No regrets, either."

– Selena Quintanilla
"Tejano music was hard for us because I was a girl. My dad had a lot of problems while trying to set up shows for us or presentations because there are a lot of men who don't think that women can get the attention of the public. But… wrong!"

– Selena Quintanilla
"The reason I'm really appreciative of everything that's going on around me is because of the fact that I never expected it, and I want to keep that attitude."

– Selena Quintanilla
"Music is not a very stable business, you know, he comes, and he goes, so does money. But your education stays with you for the rest of your life."

– Selena Quintanilla
"We got laughed at. My father was told that we would never make it. It's gradual, a growing process. It's not like it came overnight."

– Selena Quintanilla
---
I hope these ideas and resources were helpful to you! If you have more ideas for Selena Quintanilla lessons, let me know in the comments below!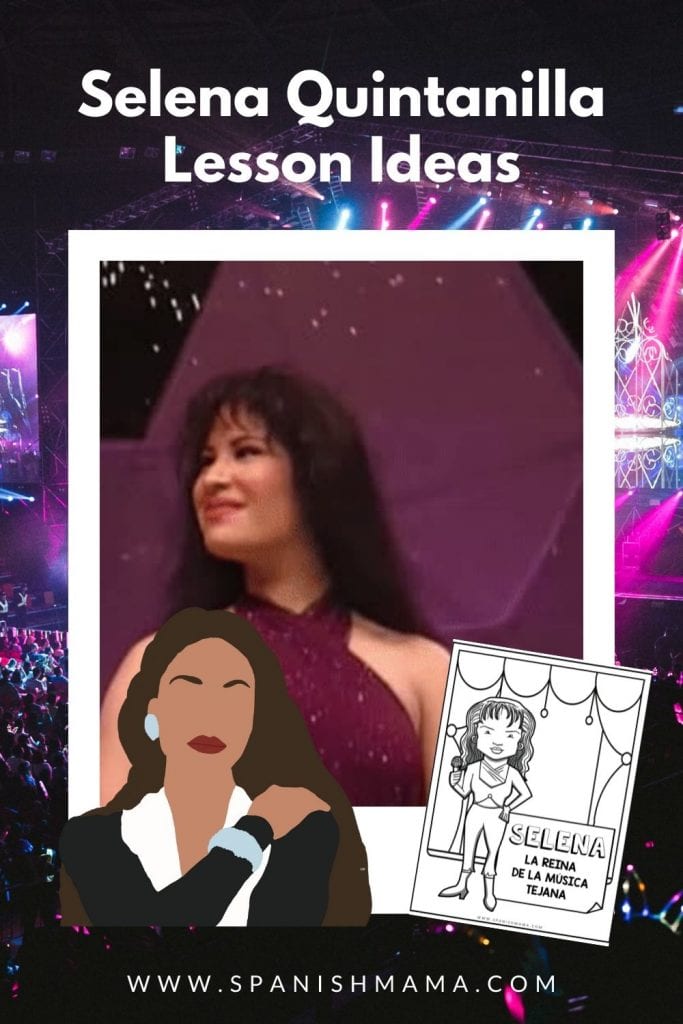 Join the newsletter
Want to stay in touch and hear from me weekly?

Sign up now and you'll get this free game set.