Inside: A list of famous France Cordova quotes, along with her biography and lesson resources for teachers.
France Córdova is an astrophysicist who became the youngest person and first woman named chief scientist at NASA. She is also the director of the National Science Foundation and has served as president of several Universities.
If you are here specifically looking for France Cordova quotes, click here to jump to that section!
Related: Famous Latinos & Hispanic Americans Home Page
Here's an index of what's included in the post. You can click on any link to jump straight to that section:
France Córdova Biography
France Córdova was born August 5, 1947 in Paris, France (hence her name!). Her father was Mexican-American and her mother was Irish-American mother, and she was the first born of their 12 children.
After living in Europe, her family moved to California. She attended Catholic school most of her school years, and then attended Stanford to major in English. Córdova had spent time in Oaxaca, Mexico studying linguistics and planned to study anthropology at Harvard.
Watching the moon landing in 1969, however, piqued her interest in astronomy and she ended up working in a lab at MIT. Later, she moved back to California and worked for a professor, realizing she needed to go back and study physics and astronomy. She earned a Ph.D from the California Institute of Technology in 1979.
Córdova worked in a Space Laboratory, served as president and chancellor of several universities,, and became NASA's chief scientist in 1993. She became head of the National Science Foundation in 2014.
France Córdova is known for her work and research with X-rays, gamma rays, and space instruments. In her own words,
While I was a graduate student, I used x-ray satellite data to discover pulsing soft x rays from a class of binary stars called cataclysmic variables. And I was among the leaders in multiwavelength astrophysics.
Awards:
NASA Distinguished Service Medal (1996)
National Science Board (2008)
American Academy of Arts & Sciences
Interesting Facts
Through Córdova had the benefit of growing up in professional communities and attending good schools, she had a lot of responsibilities at home as the eldest of 12 children and a father who was often ill.
At Cordova's high school, girls were discouraged from pursuing STEM-related studies. In fact, Córdova and four other female students had to make a special petition to be allowed in the high school class. She was the first woman from her high school to attend Stanford University.
Printables and links to learn more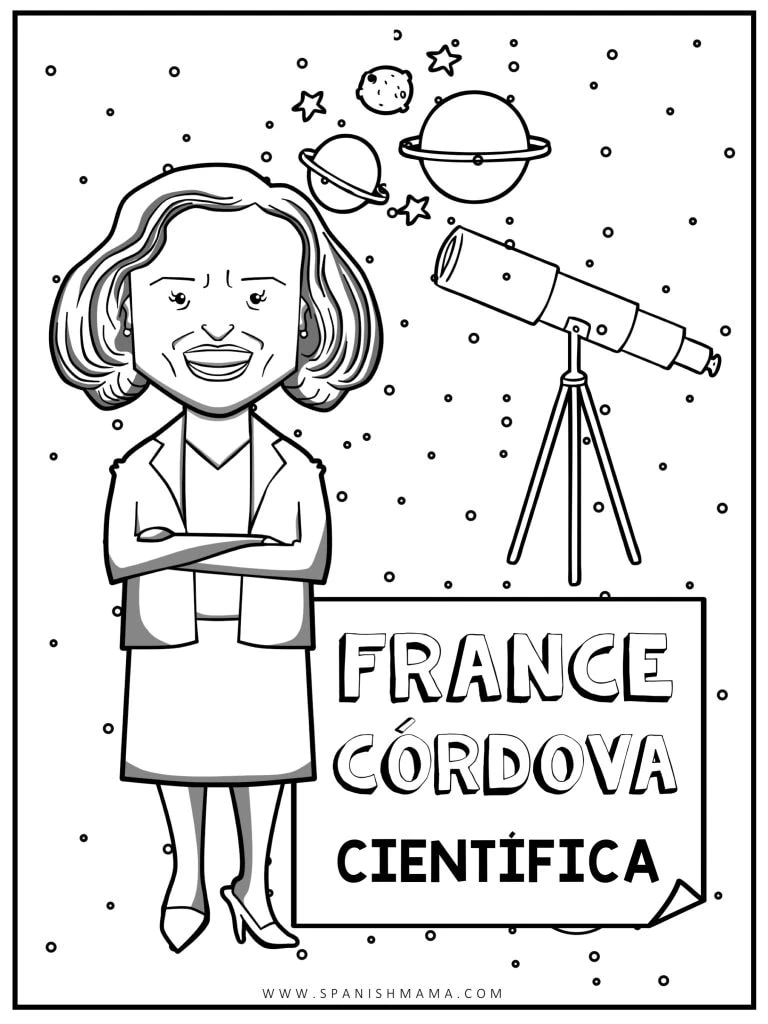 Free Resources:
Videos About France Córdova
France Córdova talks about some of the obstacles she overcame (1min 58s):
This is a more in-depth bio in English that explains some of her work and research (7min 10s):
An interview with France Córdova, where she talks about being competitive (1min 3s):
10 FRANCE CÓRDOVA Quotes
"So when the opportunity came up to interview for the position of chief scientist I was frankly very surprised and my first response was going to be "No" because just wanted to hunker down and do research, that's where I got my biggest pleasure from, but when I talked to other, especially when I talked to women in science, they thought that you can't be an advocate for women in science and not take up the challenge of having a bigger platform from which to advocate for women in science and for other things I cared about."

– France Córdova
"In today's world, because it's so dependent on science and technology, if you don't appreciate it or at least know enough, it's hard to make decisions that are very, very important…we [the National Science Foundation] inform public policy…it's very important, to move forward as a country, that we have a good science basis for making the kind of policy decisions that are required."

– France Córdova
"We really need to put the focus on our own population, our own young people, and encourage more of them to go into these amazing careers…we're discovering the real problem now is on persistence. People get into STEM, women and underrepresented minorities, but it's sometimes hard to stay in STEM."

– France Córdova
"…you collect knowledge along the way as you go, and even if the knowledge that you're collecting seems kind of useless or irrelevant at the time, like, "What am I going to do with this? Why am I learning that?"—and I have many examples in my own life—they all turn out to be very useful things in your backpack for later on. And our own set of knowledge, our own backpacks, makes us unique contributors when we confront crises."

– France Córdova
"And that no matter what we do, even if it's very narrowly focused, we also have to have one ear out and one eye open to our larger place in the world we live in, and think about what role that our particular skill sets can help to lighten that, to make it a better pathway for people."

– France Córdova
I hope these ideas and resources were helpful to you! If you have more ideas for resources or lessons, let me know in the comments below!
Join the newsletter
Want to stay in touch and hear from me weekly?

Sign up now and you'll get this free game set.