Hispanic Heritage Month Photo Challenge & IG Story Templates
Inside: Free Instagram story templates in Spanish and photo challenge. 
Hispanic Heritage Month celebrates Americans with Hispanic roots. I like teaching about the famous ones, sure.
But what I really love is honoring the everyday people, with their myriad of connections and roots in Spanish-speaking places.
I'm from the U.S., technically without my own "Hispanic heritage." When I married my Peruvian husband, our cultures began to blend of course. Spanglish become our official home language; U2 and Maná shared equal space on the airwaves. He learned to love The Office and I learned that Karaoke was a legitimate date night option.
What cemented it all was our first baby. My job changed from just embracing Latino culture to passing on Latino culture.
Both of my kids were born in the US, which meant that preserving their Hispanic heritage wouldn't just happen by accident. And as much as their natural confidence, rhythm, and athletic ability are straight from their papi, I've been the one who checked bilingual books out from the library, made sure to put José Luis Orozco CDs in the van, and researched all the fingerplays and rhymes I could find. I think it's just my personality, or the teacher in me– these things are always in the back of my mind!
Whether you have Hispanic roots, yourself, or are connected through teaching, children, partners, travel, or close friends, you probably can relate to this beautiful bicultural, bilingual mess of life. So I'm inviting you to celebrate Hispanic Heritage Month with a fun Instagram challenge!
INSTAGRAM CHALLENGE: #PROJECTHHM
I wanted a fun way to keep HHM it in the spotlight and connect with our amazing online community. So, together with Allison from Mis Clases Locas and Frances from Discovering the World Through My Son's Eyes, we're launching a fun Instagram Challenge TOMORROW, September 20!
Each day you can follow the daily post challenge, and tag us with the hashtag #projectHHM. The challenge will run for 15 days. Here are the photo ideas- be creative and have fun!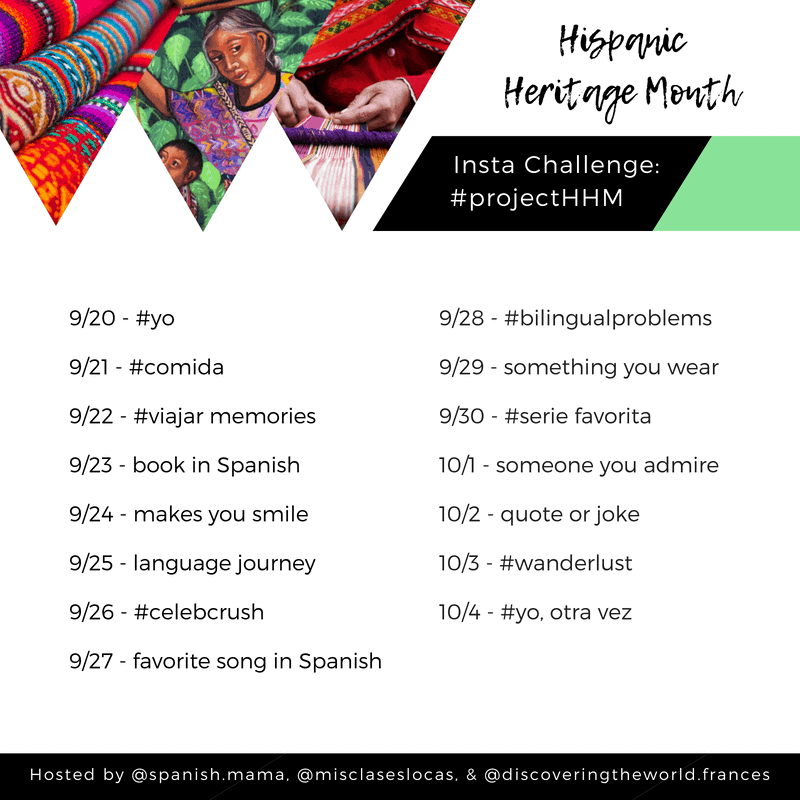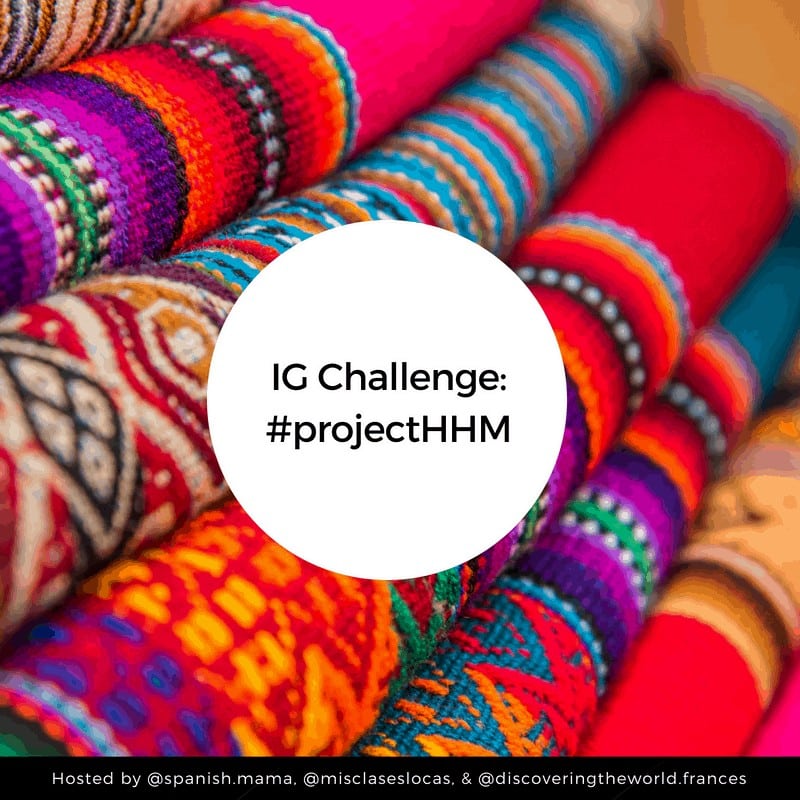 If you want to use the IG Story Templates, grab them here:
I can't wait to see what everyone comes up with! The intersection of Latino culture with U.S. culture is a rich one. I will be featuring a few photos here, throughout the next two months. Remember to use the hashtag so I can find you!
Right now, make sure to follow the three accounts that are hosting #projecHHM:
For extra fun, we will sharing Instagram story templates that go with each day's theme, and help us get to know each other better. I will be uploading here each day, or you can watch our IG stories and screenshot from there.