Expressing Thanks and Saying Happy Thanksgiving in Spanish
Inside: Ways to say Happy Thanksgiving in Spanish, thank you in Spanish, and you're welcome in Spanish.
Greetings are key to speaking Spanish and navigating Spanish-speaking culture. I think being polite, warm, and expressive is right up there with syntax and grammar, in fact!
Below I've got lots of options for saying thank you (including free downloadable posters!), but let's start with Thanksgiving itself.
HAPPY THANKSGIVING IN SPANISH
Thanksgiving isn't a holiday usually celebrated outside the U.S., Canada, and Puerto Rico, but if you'd like to wish Spanish-speakers a Happy Thanksgiving in Spanish, you can say it like this: Feliz día de acción de gracias.
Acción de gracias is old phrase with religious connotations. And churches will sometimes have a services that's called Culto de acción de gracias— literally, a meeting for the action of giving thanks. I've heard the variant of Feliz día de acción de gracia, but it doesn't seem to be as common
As an alternative, if you want to say Happy Turkey Day, you can say Feliz día del pavo!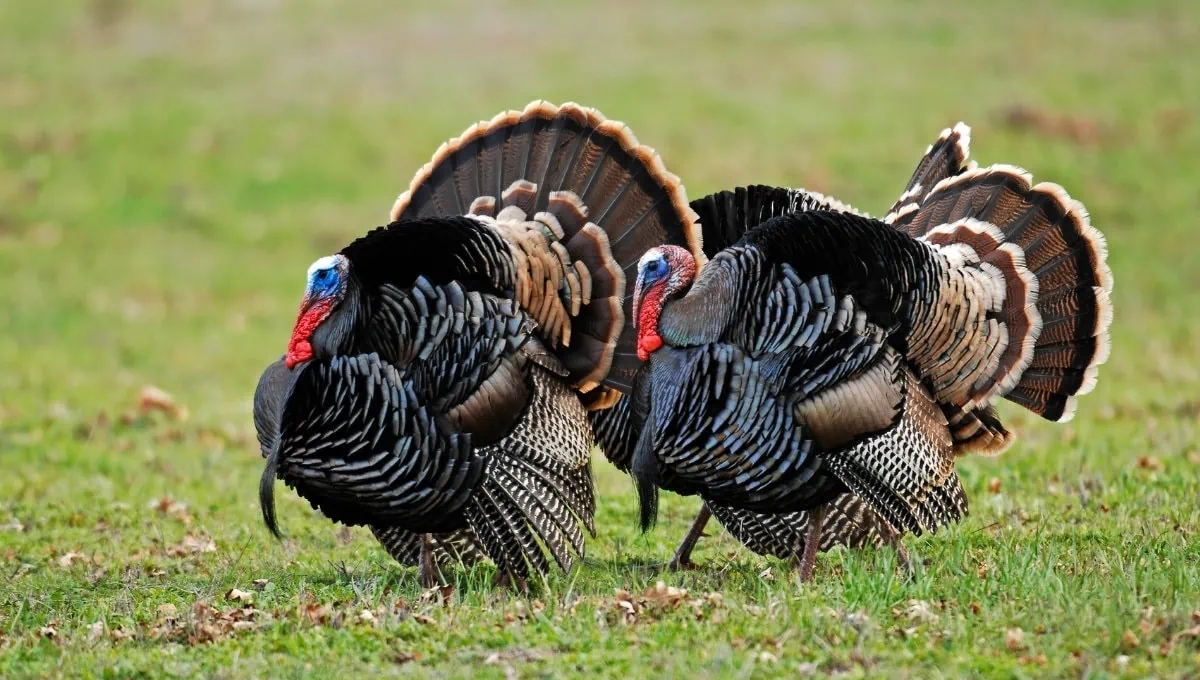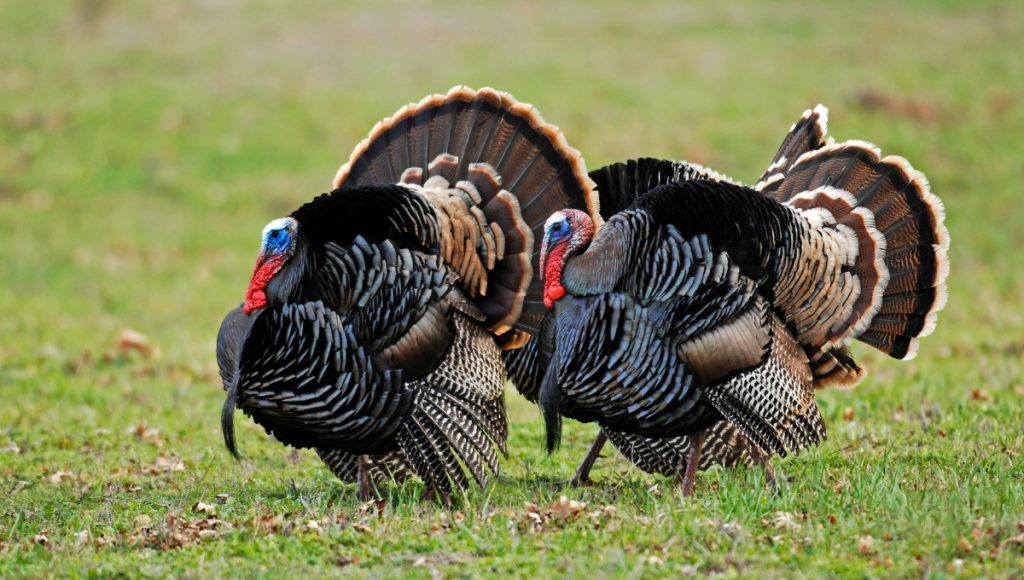 Related: Free Printable Thank You Cards in Spanish
WAYS TO SAY THANK YOU IN SPANISH
Gracias is one of the most commonly-known Spanish words, but there are lots of variations if you want to use richer language to express gratitude itself.
There's a certain formality of speech in things like thank-you's and you're welcome's, and plenty of ways to say both. I've gathered a list of each for you, and tried to stick to phrases that are fairly universal.
Here are some common phrases and variations of thank you:
muchas gracias
mil gracias
te agradezco
muy agradecido
muy amable
estoy agradecido
gracias por todo
gracias de todo corazón
te doy gracias
gracias de antemano
de nuevo gracias
muchísimas gracias
WAYS TO SAY YOU'RE WELCOME IN SPANISH
Here are some ideas for saying you're welcome:
de nada
encantando
por nada
no hay de que
fue todo un placer
con mucho gusto
no es nada
a la orden
es un placer
encantado de ayudarte
con muchísimo gusto
(There seems to be lots of regional slang for you're welcome: graciela, no hay pedo, and mereces, are a few examples.)
DOWNLOADABLE SPANISH POSTERS
If you'd like to post these graphics in your classroom, you can download them for free! I even included versions with lighter backgrounds to save printer ink.
THANK YOU IN SPANISH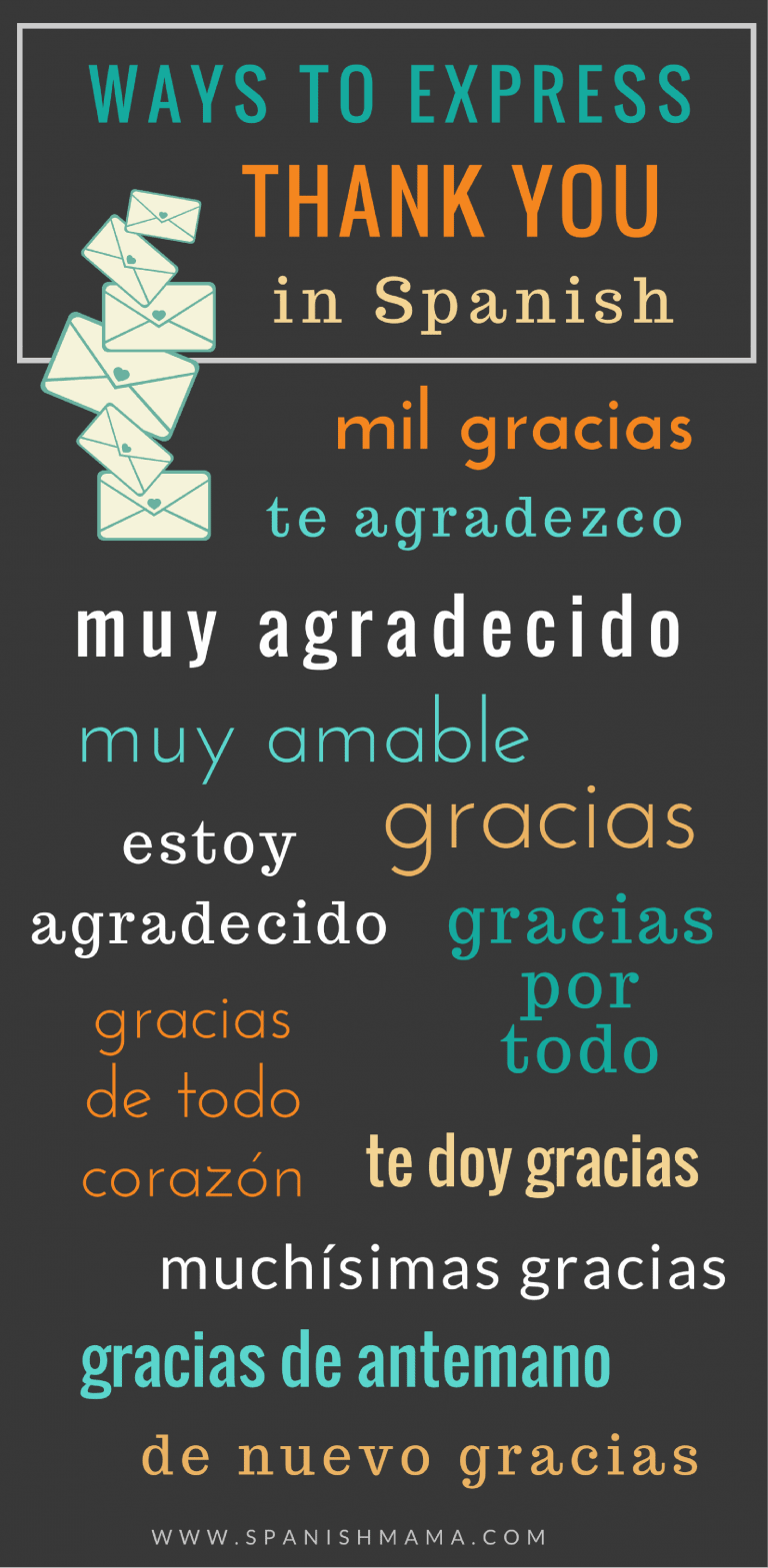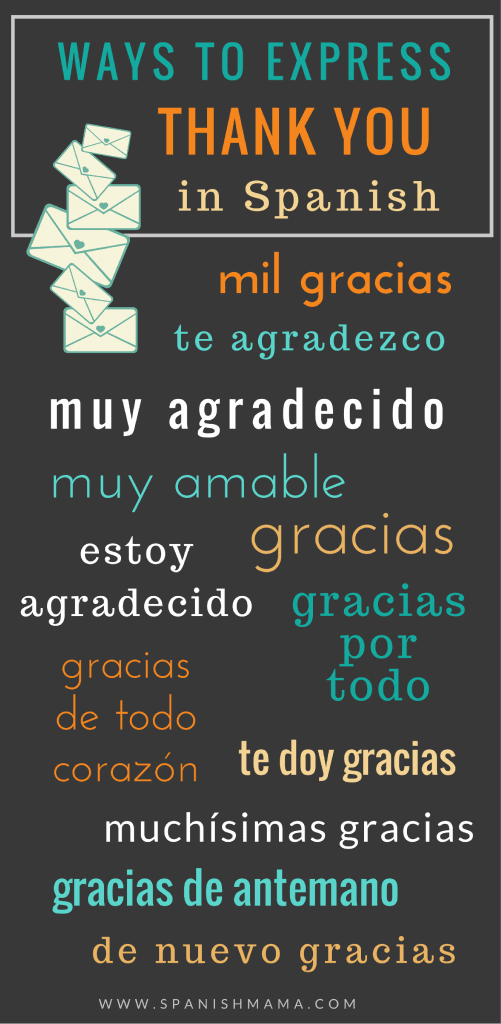 YOU'RE WELCOME IN SPANISH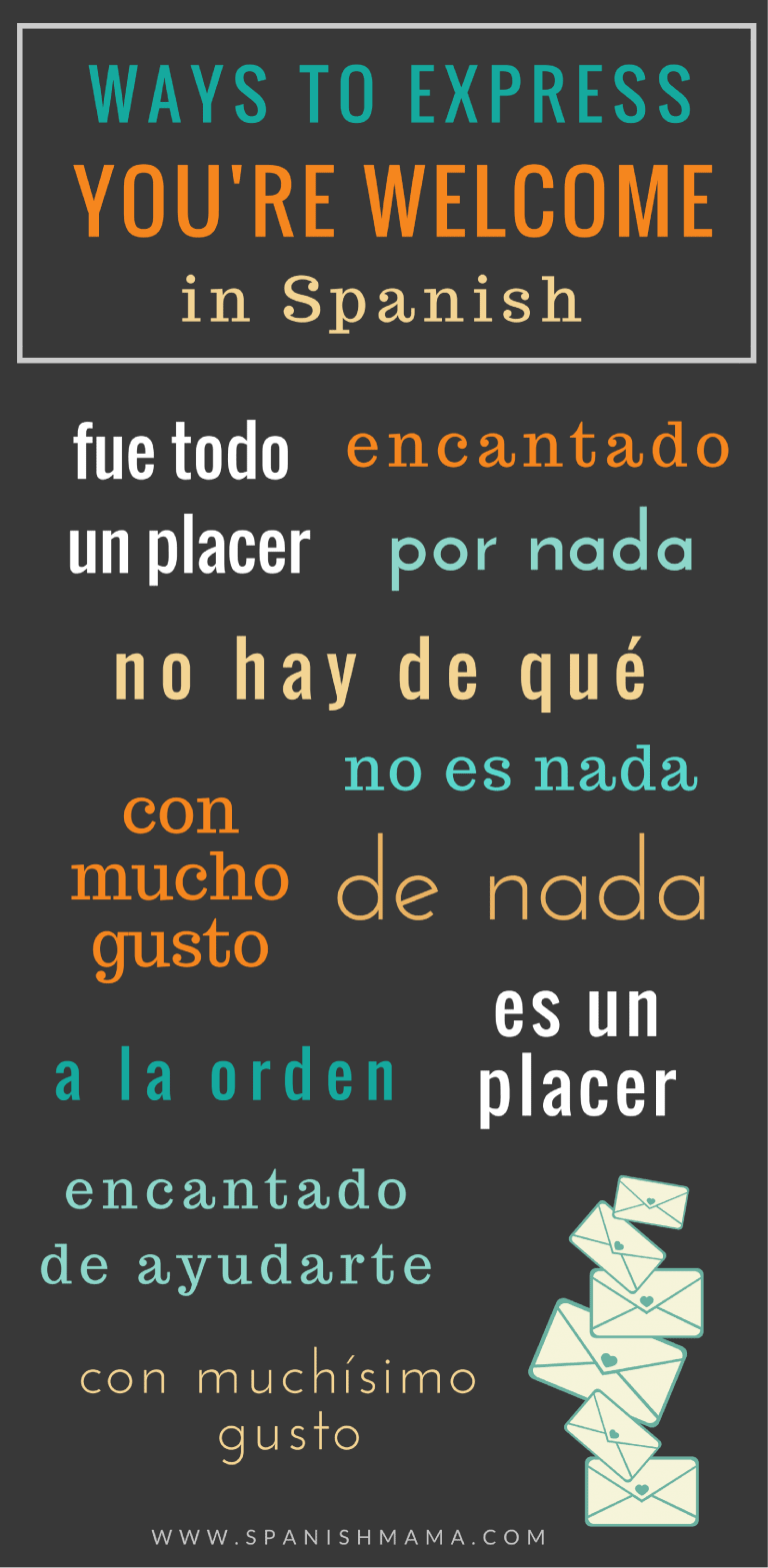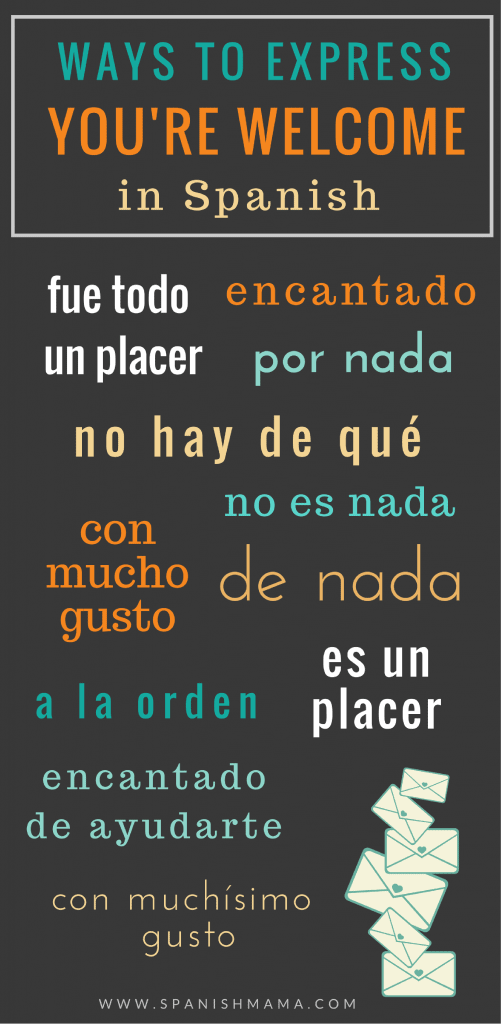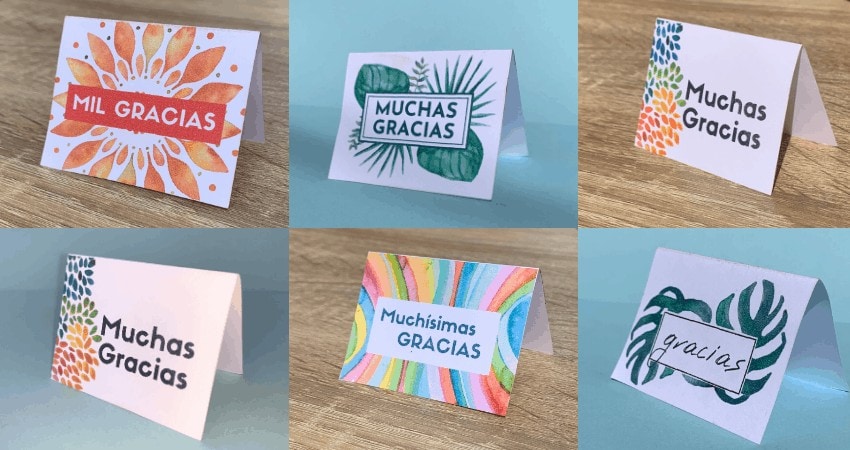 Want to put all these phrases to use right now? You can check out my free printable thank you cards here, or buy a pack of black and white cards for coloring and writing in Spanish class.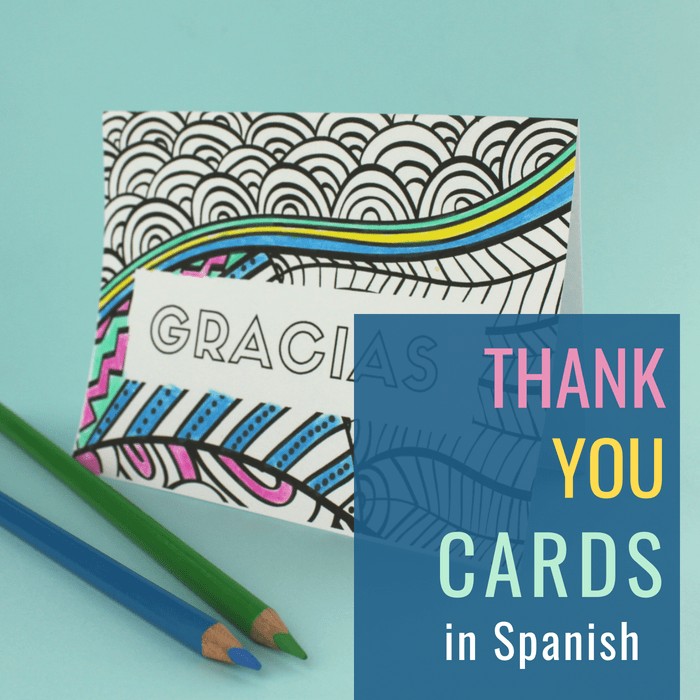 Do you have some more thank you phrases in Spanish to add to my list? Let me know in the comments below!