Thanksgiving in Spanish Class: A Mega-Collection of Classroom Ideas
Inside: A round-up of ideas for Thanksgiving in Spanish classrooms.
Are you wondering how to handle the week of Thanksgiving in Spanish class? If half of the students are gone anyway, should we hand out a bunch of worksheets and call it a week? I'm not one to judge; I know it's what an exhausting time of year it is.
Thanks to embracing comprehensible input, I no longer view holidays as isolated themes– time to teach some random vocabulary that won't come up again until the next year. Nope! As long as we make in comprehensible, any theme can work for any student.
That said, I do think it's okay to accept that a few days of the year won't be as content-packed as the others. If you're going to do something like a craft, holidays are a good time to do them.
But let's not re-invent the wheel. I've gathered some awesome resources to make the most of the week, with a little bit of everything, for everyone. Grab a cup of something hot and let's save you some lesson-planning time.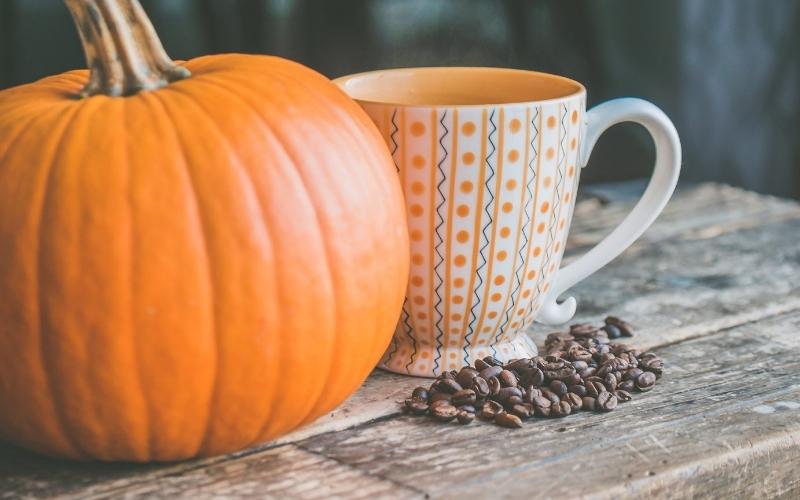 Some ideas for a typical Thanksgiving week:
Monday: Work with a song, MovieTalk, and/or discussion. Pick one of the videos and infographics below, and plan your classes around it– even if you have different levels! Just adjust your own language to each group.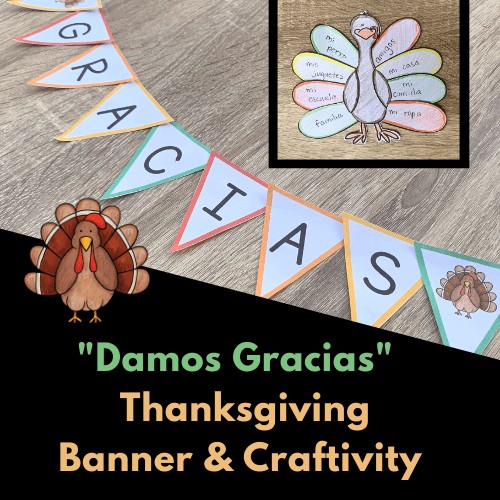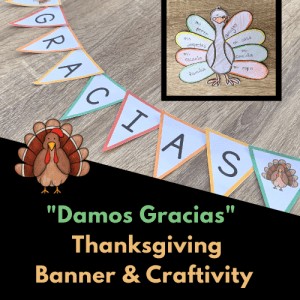 Tuesday: Craft day or hands-on day, if you're planning to do one. From Monday, you probably used terms like turkey or gracias ,so you can bring them around again today. Have students do the tried-and-true thankful hand-turkey, or write thank you notes. With younger classes, a mini-book might work well.
Wednesday: Game day. Go easy on yourself this day; it's probably a weird half-day. Celebrities, Mafia, or Categorías are all perfect for crazy schedules and distracted students! If you have younger ones, Ponle el sombrero en el pavo or Pavo, pavito might be fun.
Read on for more specific suggestions on Thanksgiving videos, songs, printables, and more in Spanish.
SPANISH THANKSGIVING ACTIVITIES
Here's what's included:
Printables and Lesson Ideas for Kids
Printables and Lesson Ideas for Older Students
Gracias-Themed Books in Spanish
Spanish Thanksgiving Songs
Thanksgiving Themed Movietalk Videos
Bulletin Board Examples for Thanksgiving
General LESSON IDEAS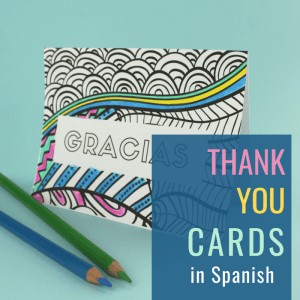 Ask or tell a funny Thanksgiving story: a turkey who tries to avoid ending up one the dinner table, a family member who tries to enact a vegan Thanksgiving, or mishaps on the way to spend the holiday at the cousins' house.
Choose a song and just focus on a few keywords (like gracias!). Do a really easy listening activity like Draw, Listen, Check.
Lots of teachers do the traditional turkey or leaf crafts. This of course is easy to adapt to the Spanish classroom: students write things they're thankful for, in Spanish, on the leaves or feathers.
If you can, take it up a notch to make it more input-based: generate some options and talk about them. Brainstorm things that students are thankful for, boil them down to common themes among the students, and categorize in "necessities" and "luxuries." Make it Comprehensible has a great explanation for how to set up and guide this sort of discussion so the students are getting lots of input.
Retell the original Thanksgiving story. Use a picture book, draw as you go (a la Story Listening), or use a video from below as your visual.
Printable and Ideas for Kids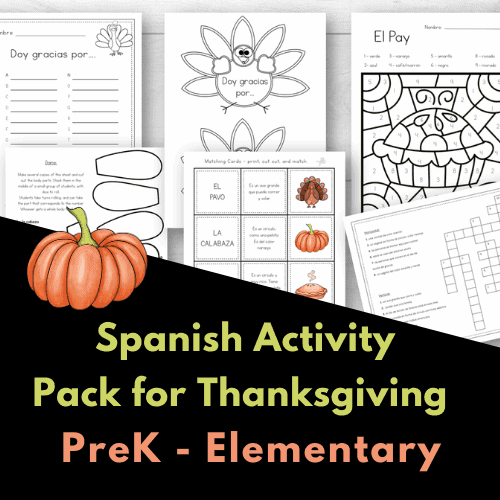 Printable and Ideas for older students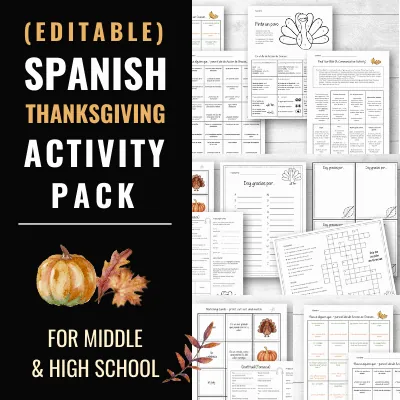 SPANISH THANKSGIVING BOOKS
Free Activity Sheet to go with a reading of the Celebra día de acción de gracias con Beto y Gaby from Santilla
This post contains affiliate links. Thank you for your support!
SPANISH THANKSGIVING SONGS FOR CLASS
I have a whole post just on Thanksgiving songs for kids, if you're teaching a younger crowd. This first song is nice because it uses the "Doy gracias por…" refrain that is part of many of the mini-books and crafts teachers like to do.
DÍA DE ACCIÓN DE GRACIAS
If you're looking for older kids, I love Mercedes Sosa and Gracias a la vida is a classic. Gracias has good repetitions of "gracias por…", and Fonseca's positive song Gratitud fits in perfectly if you're doing a grateful-for theme. Or try this great Latino Thanksgiving playlist.
GRACIAS A LA VIDA BY MERCEDES SOSA
Here is a version that includes Shakira:
GRATITUD – FONSECA
#AUTHRES
There are lots of infographics, songs, and video clips you can throw in during Thanksgiving week. These are fun to to prompt discussion and give the students a chance to see what they can understand from an authentic resource.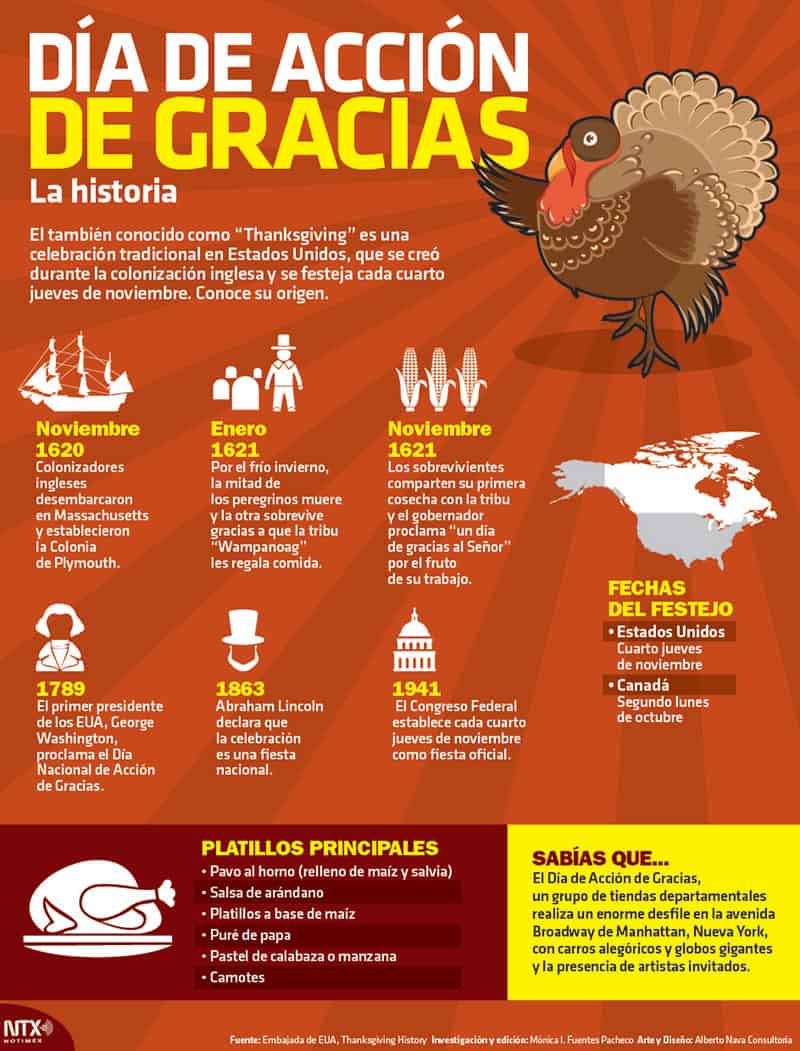 Credit: Infografias en Castellano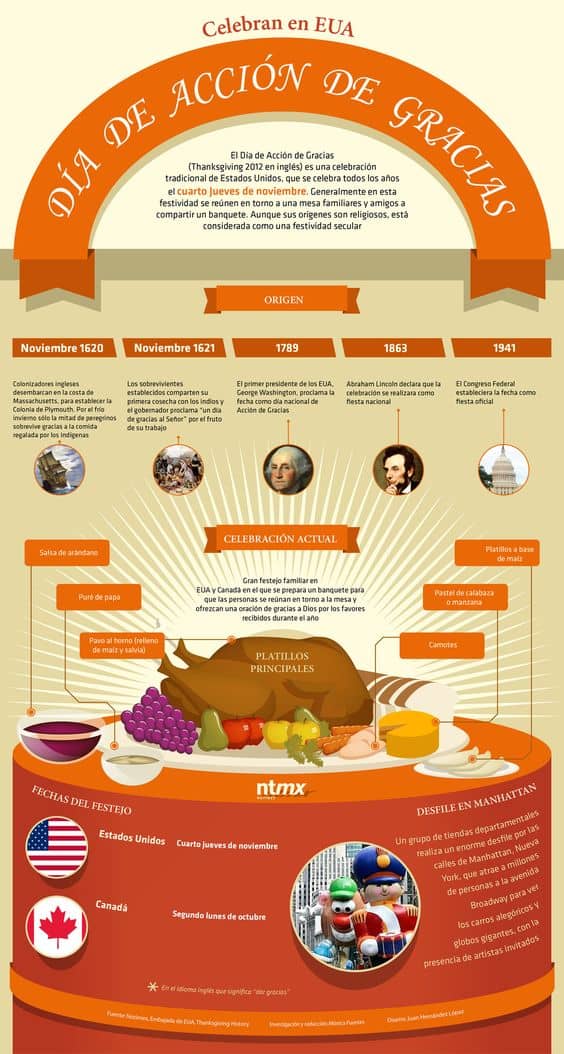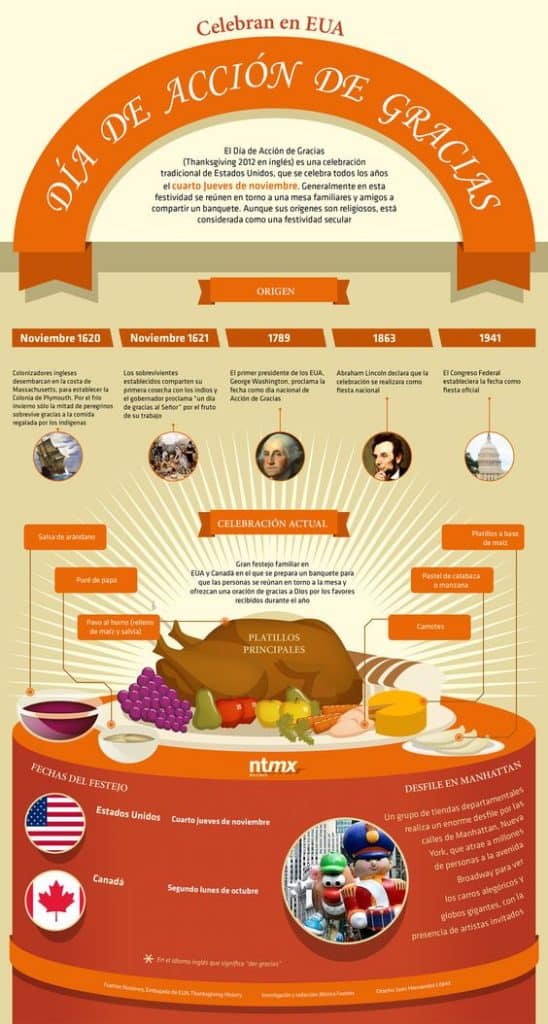 Credit: http://trocitosgraficos.tumblr.com/image/36286671704
Visit my Thanksgiving in Spanish page on Pinterest to find lots more Thanksgiving in Spanish realia!
THANKSGIVING MOVIETALKS FOR SPANISH CLASS
These would make great MovieTalks for a Thanksgiving in Spanish day. You narrate the stories in language the students understand, discuss, possibly type up a reading, and voila– you have a high-interest, language-packed activity.
FARMER VS. TURKEY
A TINY HAMSTER THANKSGIVING
SALT, SUGAR, COOKING TERMS
Doy Gracias Story
"What are you thankful for? This video takes you through a Thanksgiving Day with a family narrated by a child in Spanish who realizes what he is thankful for."
#AUTHRES MOVIES
How Latino immigrants are adopting the holiday of Día de acción de gracias:
Report on Free Birds in Spanish:
La historia de Thanksgiving, en español:
BULLETIN BOARDS FOR THANKSGIVING
Here is some Instagram inspiration for bulletin boards too!
THANKSGIVING IN SPANISH
Like it? Pin it!