Inside: A list of Lin-Manuel Miranda quotes, along with lesson resources and a biography.
When talking about Lin-Manuel Miranda's career, how do you sum it up concisely?
With someone this multi-talented, it's probably easiest just to make a list when describing all he does and has done:
actor
composer
producer
rapper
singer
songwriter
teacher
Of all his successes so far, Miranda is most well-known and beloved for In the Heights and Hamilton, two broadway musicals that experienced runaway success– especially the genre-bending Hamilton that won him a Pulitzer.
In this post, we'll take a look at his life, career, and quotes, as well as a collection of resources for learning more with kids.
If you are here specifically looking for Lin-Manuel Miranda quotes, click here to jump to that section!
Related: Famous Latinos & Hispanic Americans Home Page
Here's an index of what's included in the post. You can click on any link to jump straight to that section:
Lin-Manuel Miranda Biography
Lin-Manuel Miranda was born on January 16, 1980, in New York City, to parents of Puerto Rican descent. Miranda began acting and writing at a young age, in school productions. He attended Wesleyan College and graduated in 2002.
Manuel's first show, In the Heights, premiered on Broadway in 2008 and Miranda himself starred in the leading role. It won four Tony Awards, including Best Musical and Best Musical Score.
Hamilton came to Broadway in 2015, and was an immediate hit. It won 11 Tonys, a Grammy, and a Pulitzer Prize. It blends both traditional Broadway sounds with hip-hop. This fusion comes naturally to Miranda, for whom– according to the New York Times— "He deeply loves musical theater and Broadway, and has since he was a child, and he deeply loves hip-hop and pop music as a whole, and has since he was a child."
And from the Chicago Critic, "This ingenious work dares to take the Broadway musical into new, uncharted territory that combines history with contemporary language, current musical styles to make history come alive in a most engaging manner…. (it) grabs us and keeps us flowing with spectacular movements and dances with provocative rhymed vernacular and haunting, emotionally-charged music."
Between the two musicals, Miranda has participated in many other projects. He has contributed to other Broadway shows, worked with Disney as a composer, singer, and actor, and even worked as an English teacher for a time.
Miranda continues to perform and write, and he currently lives in New York with his wife and two sons.
Awards:
Pulitzer Prize
3 Tony Awards
3 Grammys
Star on the Hollywood Walk of Fame
Genius Grant from the MacArthurs Fellows Program
Printables and links to learn more
Free Elementary Resources: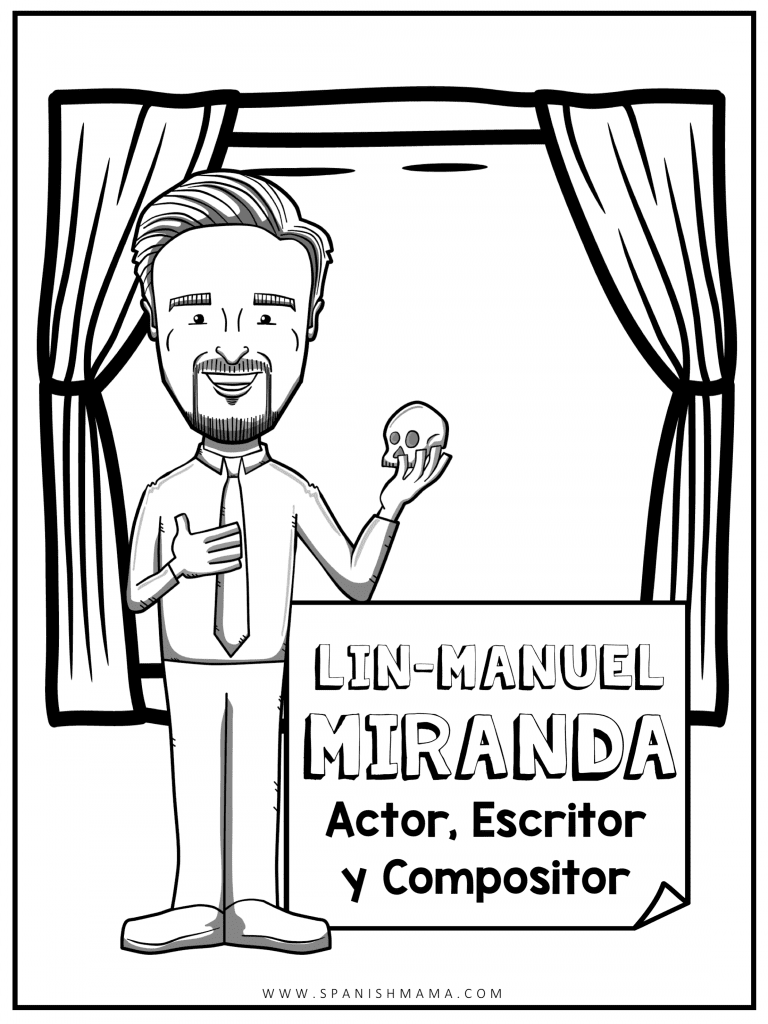 Free Middle – High School Resources:
You also might be interested in my sets of biography slides and project templates for learning about Latinx and Spanish-Speaking leaders, plus a free guessing game.
Lin-Manuel Miranda Books
These links are affiliate links.
Videos About Lin-Manuel Miranda
A fast-paced bio of Lin-Manuel Miranda from 2019 (if using in school, preview for some words like "moron"). (5min 46s).
Short Spanish biography (1min 41s):
Biography of Miranda that is more extensive, though all the text is not narrated (8min 41s):
Alexander Hamilton song:
Song in Spanish from Vivo:
10 Lin-Manuel Miranda Quotes
---
"Give your time, give your heart, give your service, give someone something you made.

It feels incredible."

– Lin-Manuel Mirando
"I wish you clarity today. Clarity of thought, clarity of expression, a direct line between what you feel and what to do about it."

– Lin-Manuel Miranda
"Because of phones, we always have the ability to jump out of ourselves. But unless you learn how to be in your head, you'll never learn how to create."

– Lin-Manuel Miranda
"Free up that heart of yours
Make room for new mistakes
Newfound hurts
Newfound wisdom
There are life-changing moments
just waiting for you to make a path,
to move beyond your comfort zone,
new moments,
longing to share the stage with that heart of yours."

– Lin-Manuel Miranda
---
"Across centuries and continents, via twin strands of coincidence and providence, generations and generations
got it on
to create the inimitable recipe
that is you.
The gift of being alive, that's all yours.
What do you wanna do with it?"

– Lin-Manuel Miranda
I hope these ideas and resources were helpful to you! If you have more ideas for resources or lessons, let me know in the comments below!
Join the newsletter
Want to stay in touch and hear from me weekly?

Sign up now and you'll get this free game set.