OPOL: 5 Families Share How They Make It Work
Inside: 5 multilingual families share how they use the OPOL (one parent one language) system in raising bilingual kids.
When it comes to raising bilingual kids, there are different paths you can take.
One of the most popular methods is OPOL, or the "one parent one language" method. It sounds just like the name: each parent speaks a different language to the kids.
This approach is often used by families in which just one parent speaks the minority language. In some families, each parent speaks a distinct minority language to the children, who learn the community language at school or with peers.
(OPOL) allows parents to use their dominant language with their child which may also be their language of emotion (see here for a post on the topic). With this dual input, children very quickly produce sounds, syllables, and words in each language, and are remarkably good at knowing which language to use with which parent. – Psychology Today
On a personal level, I've always been curious about OPOL. Does the other parent feel left out? What if the kids hear you speaking a different language together? What if you just forget which language to use?
Well, today we get the inside scoop from five Spanish and English speaking families, all using the one parent, one language approach. If you're sorting through bilingual methods or need some encouragement for your own family, this is a must-read.
So many times it's just helpful to hear from everyday families and how they're making it work!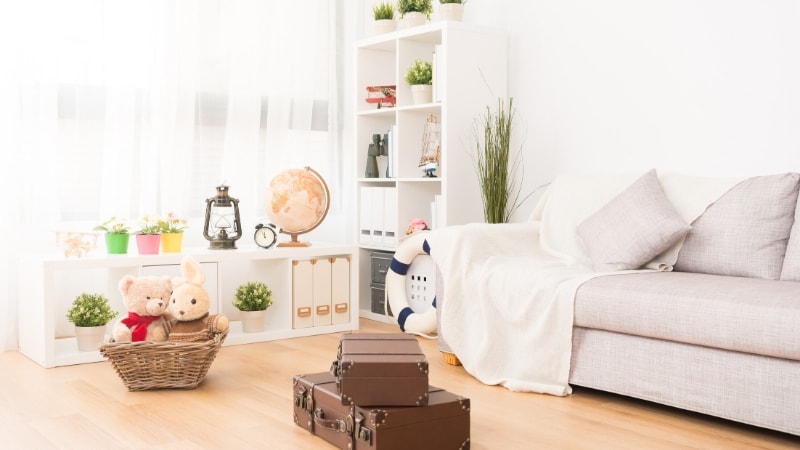 Related: How 5 Families Successfully Raised Bilingual Kids
Here are the prompts each family responded to (you can click on the title to jump to that section of the interview):
Let's hear from our OPOL families!
MEET OUR OPOL FAMILIES
Spanish Mama: Please introduce yourself and your family.
Martha: Hi, I'm Martha. I live with my husband and 3 children, ages 2, 4 and 6, and our 2 dogs. I was born in the US but both my parents are from South America so I grew up speaking Spanish and didn't actually start learning English until I went to kindergarten.
Padgy: I was born and raised in New Jersey to parents who immigrated from the Dominican Republic. My husband and I have a 4-year-old son and another boy due in November 2020. Currently we are living in North Carolina. We utilize the OPOL approach due to the fact that my husband does not speak Spanish (A+ for effort though). He is very supportive of the bilingual journey.
Sandra: We are – Dad – Will, Mom – Sandra, Capri – 6, Skye – 3 (plus 4 stepchildren that are ages 18+ that live out of our home now). I was born in the US and both my parents are from South America (Argentina & Peru) so I grew up speaking Spanish, although I am more comfortable expressing myself in English now. You can follow me at @immersionmama to see more about our bilingual family!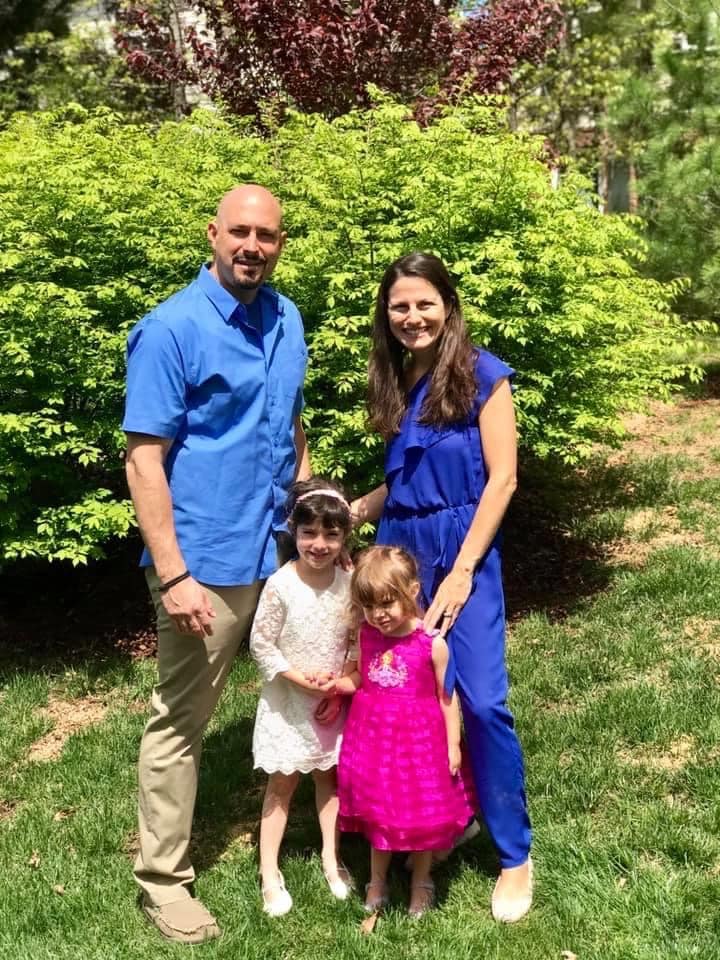 Sandra's Family
Rebecca: Hi, we're a family of three: myself, my husband, and our 8.5 year old daughter. We live in Washington, DC.
Gina: Mami – Gina, first generation Cuban American. Spanish was my first language & I didn't learn English until I went to preschool. English is my main language, though. Daddy – Anthony. Mom is American from Alabama, Dad is Italian from Sardinia. We have 2 children, a 3.5 year old girl & a 9 month old boy.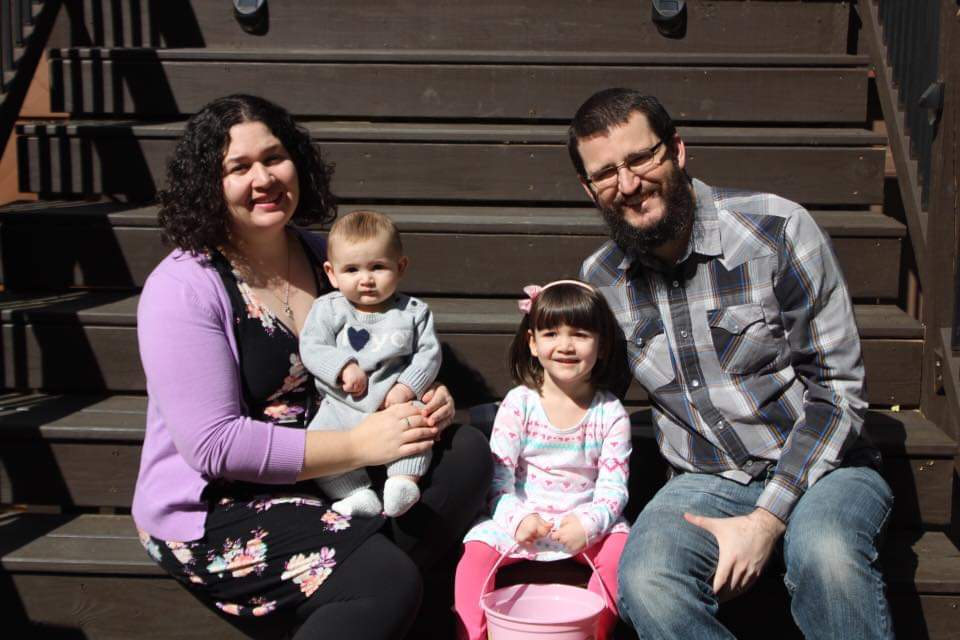 Marcela: We are a family of 4, Mom, Dad, and 2 boys (Amadeus 4, Johannes 2). Mom is from Honduras and Dad is from Korea.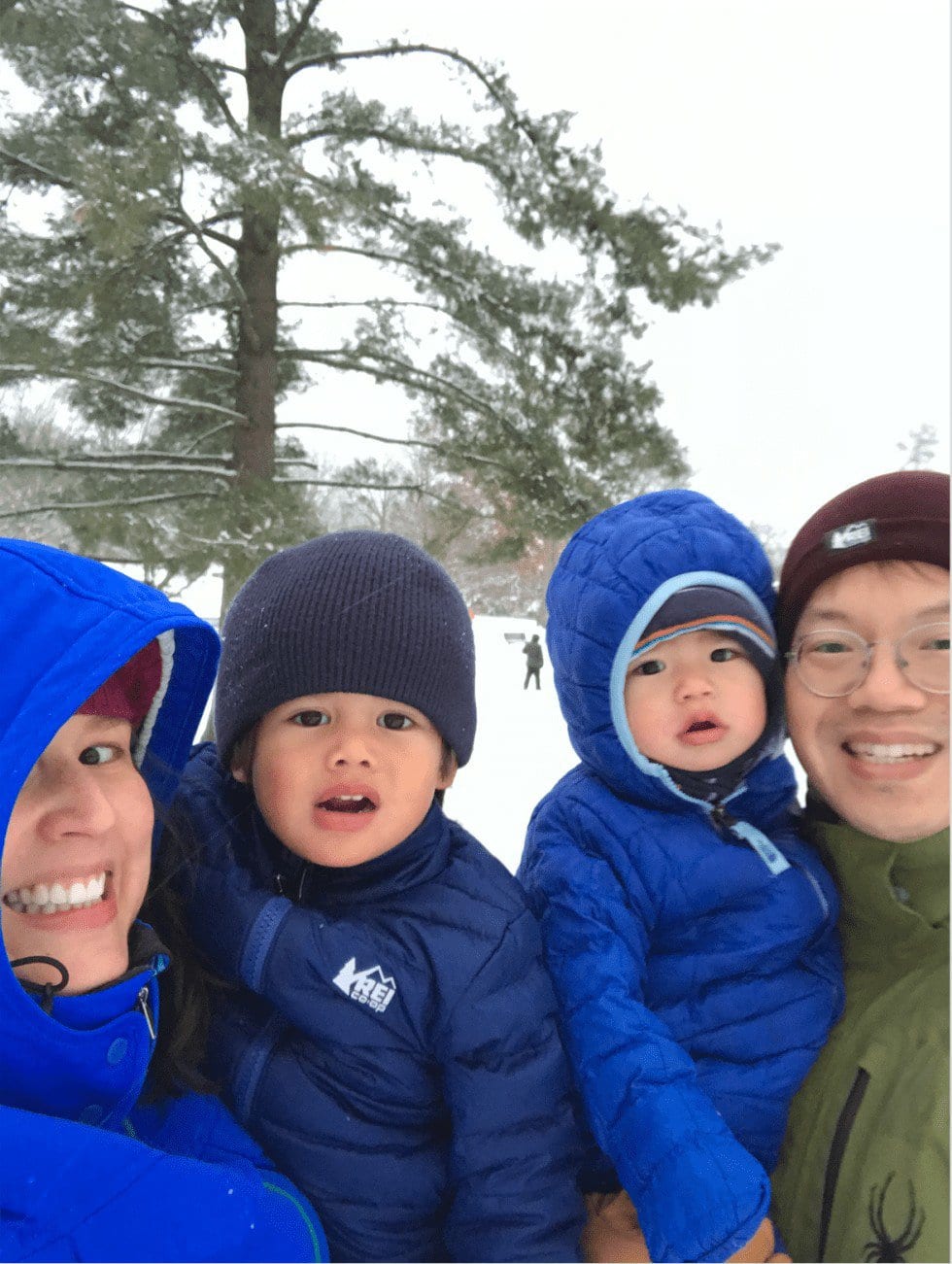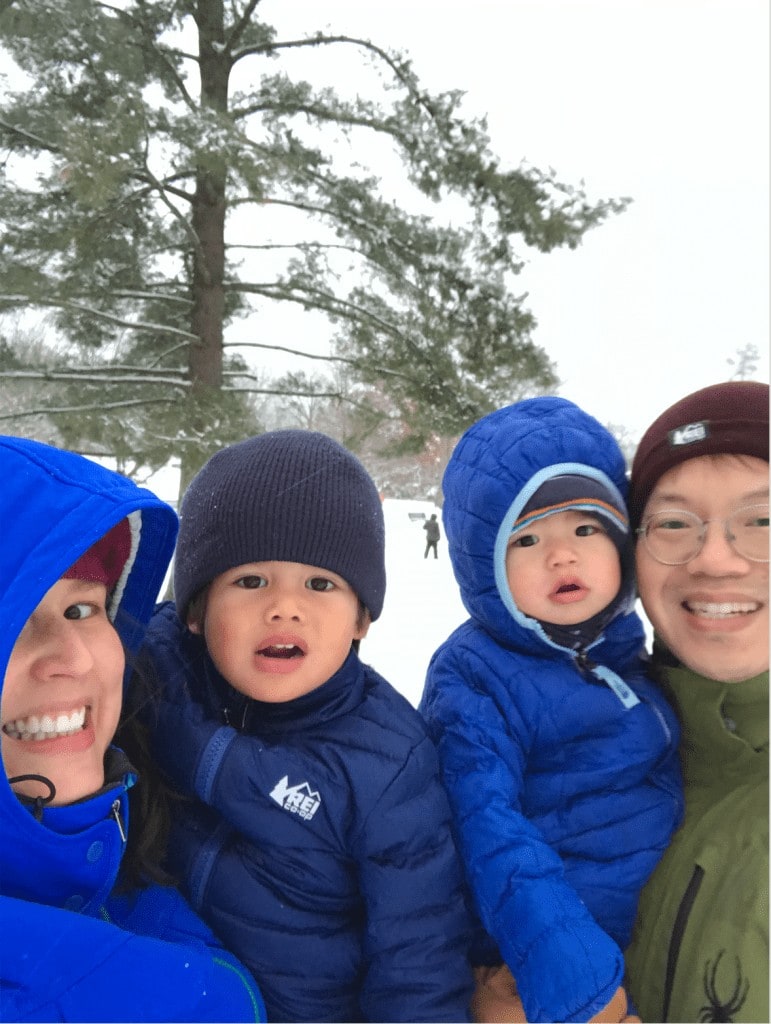 Marcela's Family
THE SPANGLISH MIX
Spanish Mama: What does language look like in your OPOL home and what guidelines have you set up?
Martha: We follow On Parent One Language and I'm pretty strict about it. I'm their only Spanish source except when they see some of my extended family. I read to them in Spanish, we listen to music in the car in Spanish, my GPS is set to Spanish in my car, if they watch tv with me I change the audio to Spanish.
Our only exception is dinner time with my husband; we speak English at dinner. We didn't start that until my now six year old was almost 4.
Padgy: In our home, I speak to my son predominately in Spanish, but I do slip into the comfort of speaking English at times. The approach is more laid back in that I allow my son to speak to me in English from time to time. He understands everything I say to him in Spanish, but he is much more comfortable speaking English. A guideline that we have established as a family is that if a show is available in Spanish on Netflix or Disney+ it will be watched in Spanish. My son has learned how to check for the languages and will change it on his own. We also read books in Spanish and I recently found a basic Spanish BINGO game that I hope will become a new family favorite.
Sandra: The "rule" is when we are home during the day or out just with Mom (we homeschool), conversations with Mom are only in Spanish.
Rebecca: From birth we have raised our daughter OPOL and felt very strongly about her being as bilingual as possible. I have always spoken to her in Spanish and my husband in English. She had a Spanish speaking nanny as a baby and attended a Spanish language daycare as a toddler. She actually spoke Spanish with more fluency at a young age. She was able to understand English, but her speaking it was a bit slower for those first few years. Now she attends a bilingual grade school. We are still OPOL, but now her Spanish lags behind her English skills somewhat.
Gina: OPOL-ish. Daddy speaks a fair amount of Spanish to the kids though he's not fluent & Mami also speaks a lot of English to them. We definitely speak more English than Spanish at home, but our "rules" are: media should be in Spanish as much as possible – songs, movies, books, etc, & Daddy speaks as much Spanish as he knows to the kids.
Marcela: We do more English than I'd like because it's the common language between us parents, however, I'm very intentional about talking to my boys in Spanish and exposing them to all kinds of books, shows, music, etc.
CHALLENGES FOR OPOL FAMILIES
Spanish Mama: What challenges have you faced?
Martha: In the beginning I was very self conscious about speaking Spanish to my daughter in public. I used to just whisper in her ear. It took me about a good three years to get over that. Now I'm fine with it and speak to her in in Spanish in a normal volume no matter who's around. Honestly my brain is so used to speaking to my kids in Spanish that trying to speak to them in English requires very conscious effort now.
In the early years my husband struggled with it. When our oldest first started talking she spoke mostly Spanish since she was home with me all day. He was afraid she would struggle with English. My mother in law had issue with my speaking only Spanish to my daughter when she started talking. She asked me if I could speak to her in English when she was around so she could understand. I said no and that I'll just translate for her. She didn't like that but I felt I had to stand my ground. My biggest fear was/is that by speaking English to the kids, my brain will default to just speaking to them in English since that is the language I'm most used to speaking. Luckily I've trained my brain to speak to my kids in Spanish and speaking to them in English is simply not natural for me.
Padgy: Due to being in the military, the biggest challenge I have faced on our bilingual journey is separation. I was deployed for 9 months when my son was 2-3 years old. During that time, his language abilities blossomed and I was not there to enforce Spanish. I believe that if we had not been apart during such a critical time, he would be further along in his bilingualism.
Sandra: My 6 yr old is bilingual and spoke only Spanish when she was little, my 3 yr old not so much. She asks if we can just speak English whereas my 6 yr old never asked that.
Rebecca: Although I speak Spanish, I am not fluent and was unsure I would be able to speak only in Spanish to her. My Spanish has increased so much by reading children's books and my vocabulary grew along with hers. I also had some push back from her about only speaking Spanish when she was around 4 years old. She was very upset that I would speak English to others, but Spanish to her. I just told her over and over that we speak Spanish because it's part of our culture (my family is from Puerto Rico). Eventually she stopped complaining about it.
Gina: Since I am the sole fluent speaker in the house, it is difficult to get our daughter to learn all of the parts of speech. For example, I will ask her "te gusta?" and she'll reply "si, te gusta". Also, it is way too easy for me to slip back to English & get to the end of the day feeling like I barely spoke Spanish at all to them.
Marcela: It's hard once your child can communicate in English much more than Spanish (he gets English at daycare) because you just want to talk to them. You want to have conversations and he's more comfortable in English so I have to work extra hard for the Spanish.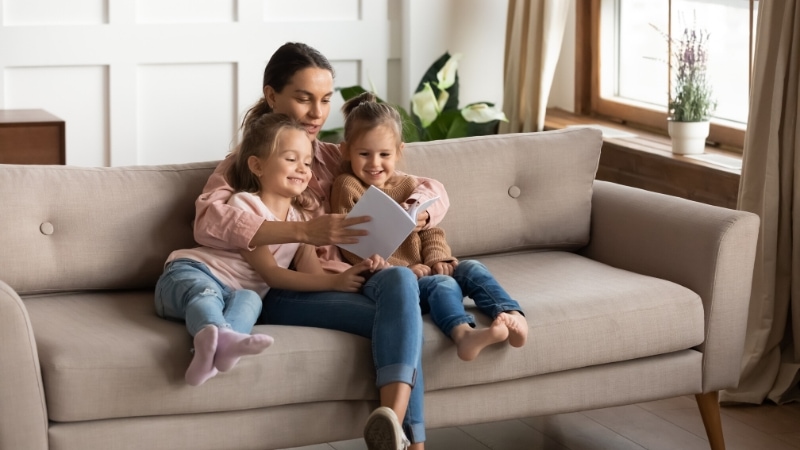 ONE PARENT ONE LANGUAGE SUCCESSES
Spanish Mama: Where/how do you feel you have been most successful in your OPOL approach?
Martha: Being consistent and making Spanish our language, meaning the language between the kids and I. It's just second nature for us to speak to each other in Spanish. I've also been really happy that my two oldest have started reading in Spanish as well as English.
Padgy: I have been the most successful at comprehension because although he does not speak Spanish frequently, he understands everything that I say. Also, there are times when I cannot understand what he is trying to say in English and he will switch to Spanish. For example, in the car a couple of days ago he was saying what I thought was "three," after a bit of frustration he said, "àrbol mommy." I realized he was saying "tree" not "three."
Sandra: Both girls fully understand Spanish. We incorporate yearly travel to my parent's countries of origin so that they stay connected with family
Rebecca: Getting my daughter into bilingual schools has been a huge factor in keeping her language skills developing. Also, I'm happy that my language skills have increased over the years too. I'm proud that we've been able to keep OPOL for so long. I think once she's in middle school though, it might be more difficult.
Gina: Media en Español is key. My daughter is running around singing songs by Selena & pretend plays that she's princesa Cenicienta.
Marcela: I think he knows languages can be fun, so far he only asks for English when he knows that a certain book is printed in English and I'm saying it in Spanish so he doesn't like that but he also does the same thing if the book is in Spanish (then he wants it read in Spanish)
RESOURCES FOR BILINGUAL KIDS
Spanish Mama: What resources have helped you?
Martha: Pandora Spanish radio stations. Etsy for bilingual Montessori materials. Multiple groups and pages on Facebook, including Spanish Mama. Barnes and noble and Amazon for bilingual and Spanish books. Spanish audiobooks on iTunes and Spotify.
Padgy: Well of course, Spanish Mama has been a valuable resource! I frequent the website for book suggestions, songs, and to find other bilingual resources. I am a member of a couple Facebook groups that focus on child language acquisition because it is important to know that you are not alone on this journey. Also, an excellent book I read when my son was a year old is "Maximize Your Child's Bilingual Ability" by Adam Beck.
Sandra: Girls are only allowed to watch movies and shows in Spanish. We read books in Spanish and listen to music in Spanish. Superlibro is GREAT – Bible stories in Spanish.
Gina: Blogs like yours & Mommy Maestra, buying Spanish books to read to the kids, Disney + en Español, Youtube.
Rebecca: Children's books have been great, as well as google translate. Now my daughter is reading chapter books and Spanish chapter books at her reading level have been more difficult to find. But between the public library and online bookstores, we're still reading in español.
Marcela: You! 🙂
ADVICE FOR OTHER OPOL FAMILIES
Spanish Mama: What is your best advice to other families thinking of raising bilingual kids?
Martha: Don't give up and be as consistent as possible. It's hard work but so worth it. Stick to your guns. The community language will just naturally happen and it WILL surpass the secondary language at some point. Little kids are sponges. The younger you start the better. Prepare yourself while you're pregnant if you can. I used to listen to kids music in Spanish just so I could learn them and be able to sing them to my daughter when she was born.
Padgy: DO NOT QUIT! This is such a difficult journey and you will encounter obstacles along the way. The key is to keep pushing forward because our kids deserve the gift of learning another language.
Sandra: I know it can get discouraging and difficult because it is a discipline. But stay with it, it will be worth it! They will retain the information in their brain even if they don't speak it at the time. They will remember it and draw from it when they are in a situation when they need to use it, such as in a Spanish-speaking countries.
Rebecca: I would suggest talking about it with your partner and deciding together. Also, don't be nervous if your language skills aren't perfect. Remember that you'll be speaking to a baby, not your boss. Once the child reaches school, it might be more difficult to maintain, but don't worry about that now.
Gina: Don't worry about what your kids may miss out in English. I used to be concerned that my daughter wouldn't know the same movies, games, or songs as her peers out in the world if I focused on Spanish with her. Then I remembered my own upbringing as a first generation child of immigrants. I didn't know the same movies, songs, & games as the other children & I loved my childhood & "turned out fine". So don't worry about what they might miss out in English, worry about what they would miss out if you don't impart your culture & language to them. My husband's dad is from Italy & regrets not teaching his children Italian. When my daughter was a little younger, before she could comprehend the difference between Spanish & English, other adults sometimes had a hard time understanding her as she would mix both languages, or ask for certain things in Spanish only. I used to worry about this, too, but at the same time there are plenty of monolingual children who are difficult to understand at age 2 & even beyond. Most other adults in her life are very supportive of me raising her bilingual. The struggle will be worth it.
Marcela: Just do it. I know that my kids might not grow up to be fluent but the benefits to his brain are still there, the exposure to the culture is there, the connection to his family is there. I just want him to know that English isn't the "norm." There are many languages and cultures and he has a wonderful legacy and mixture of 2 very different worlds that not a lot of people get to have.
MIL GRACIAS to the wonderful families who contributed to this post!
It's such an honor to get a peek into how other families are making the bilingual connection happen.
I would love to feature you in this series! Email me at [email protected] for more information – put "OPOL Family" in the subject line to help me find you!