Inside: A list of Oscar de la Hoya quotes, along with his biography and resources for learning more with kids.
In our series of Famous Latinos & Hispanic Americans we have covered activists and artists so far. This time, let's take a look at a famous Latino athlete.
Oscar de la Hoya, known as The Golden Boy, is a Mexican-American boxer who competed in the U.S. for 16 years. He won 10 world titles, along with an Olympic gold medal.
If you are here specifically looking for Oscar de la Hoya quotes, click here to jump to that section!
One more note for teachers: If you search through Oscar de la Hoya's social media accounts, you will find some unsavory quotes or tweets. The quotes included in this post are fine to share in class.
First, let's take a look at Oscar de la Hoya's biography.
Here's an index of what's included in the post. You can click on any link to jump straight to that section!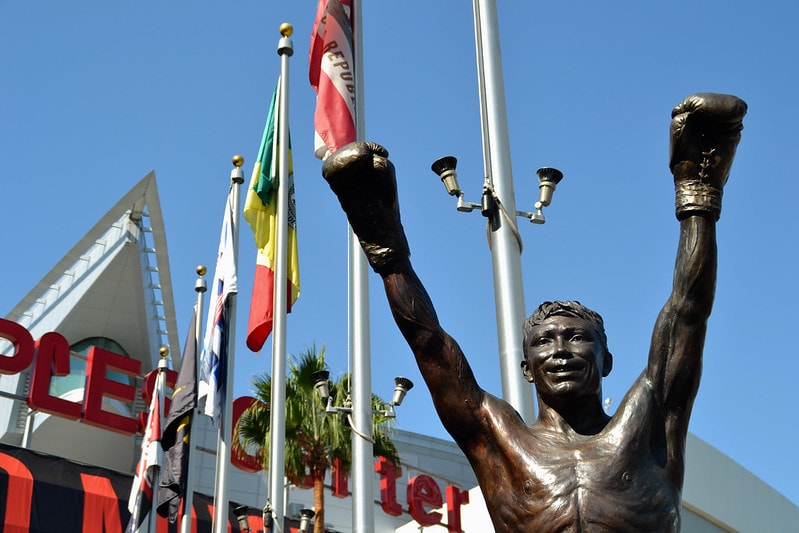 Oscar de la Hoya Biography
Oscar de la Hoya was born in California on February 4, 1973. His parents migrated from Mexico to the U.S. before he was born.
Oscar de la Hoya was born into a family of boxers, and began himself at age 6. By age 15, he had won a title in the National  Junior Olympics and then went on to be the youngest American medalist in the Goodwill Games.
De la Hoya continued to experience success in the 90's, though the experience was offset by his mother's illness during this time. He won a gold medal at the 1992 Olympics, fulfilling his mother's wish before she passed. This medal earned him the nickname Golden Boy for taking the medal at such a young age.
De la Hoya became a professional boxer in 1992 and continued to compete until 2009, becoming the top American boxer by most standards. He rose to extreme popularity in televised fights, and had a large fan base. He even released a popular bilingual album, Oscar, and was nominated for a Grammy.
In 2009, he retired from boxing. Oscar de la Hoya has six children, three of whom are from his current marriage to Millie Corretjer in 2001.
Awards:
10 World Titles
Olympic Gold Medal
Boxer of the Year (1991)
Interesting Facts about Oscar de la Hoya
Oscar de la Hoya lost his mother to cancer when she was only 39. According to him, her dying wish was for him to win a gold medal. When he did, he said, "I won the gold for my mom. Now the championship will be for me."
De la Hoya also said of his mother and family, "We grew up humble. We learned to amuse ourselves by being around family, and the heart of our family was my mother."

Free Printables and links to learn more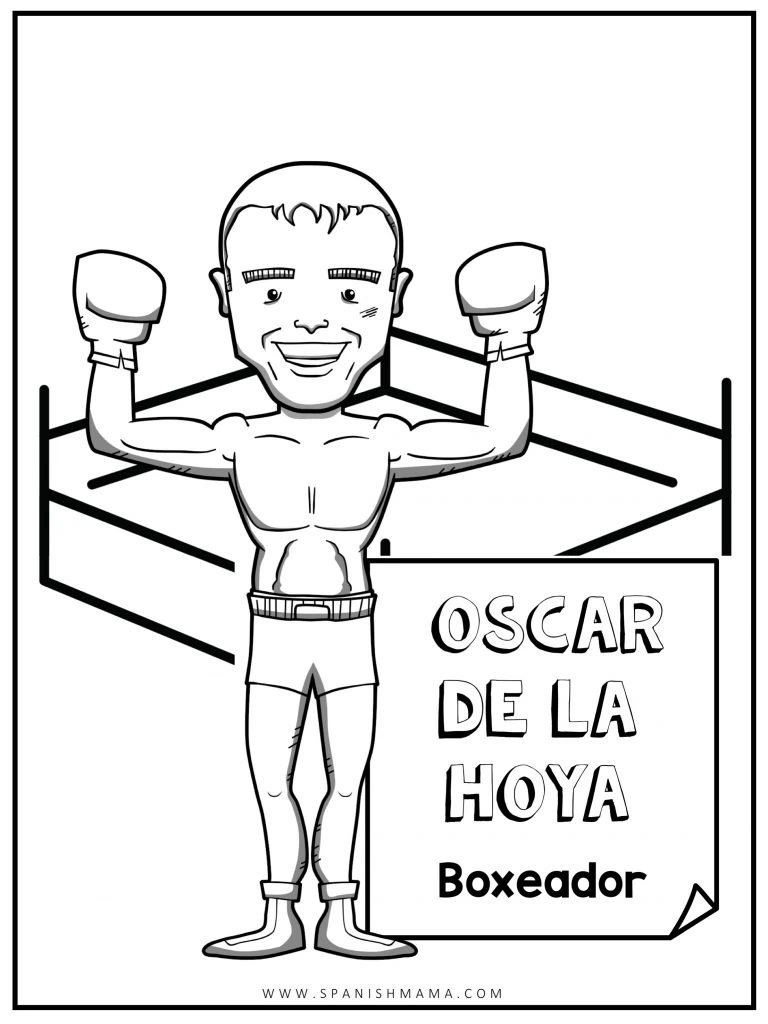 Oscar de la Hoya chose to became a Mexican citizen in 2002 and always carried both an American and Mexican flag into the ring. This is an interesting article/interview that explores his Mexican-American identity in his own words, and you can choose Spanish or English for the text.
Videos About OScar De La Hoya
Again, to teachers: if your students are enjoying learning about Oscar de la Hoya, all kinds of things will come up! This short biography is a safe bet for summarizing his story for kids.
Short biography in English (3min 8s) that focuses on his career:
An in-depth biografia in Spanish (43min long):
10 Oscar de la hoya Quotes
---
"Everything I have in this world, I owe to the sport of boxing, and I won't ever forget that."

– Oscar de la Hoya
"When people say I can't or I musn't, I always say I can and I will."

– Oscar de la Hoya
"Boxing is a never-ending story. New fighters keep coming along. Opponents keep popping up. The next superstar is always on the way."

– Oscar de la Hoya
"I don't care if you're a world champion six times over or a four-round fighter who just got knocked out in thirty seconds of your first professional fight. To step inside that ring, you have to have guts."

– Oscar de la Hoya
"You get to be famous or have some notoriety and there are so many people who want a piece of you."

– Oscar de la Hoya
---
I hope these ideas and resources were helpful to you! If you have more ideas for resources or lessons, let me know in the comments below!
Join the newsletter
Want to stay in touch and hear from me weekly?

Sign up now and you'll get this free game set.