Awesome Spanish Songs for Upper Elementary Classes
Inside: Spanish songs for upper elementary students: a clean & comprehensible playlist.
Many Spanish teacher struggle to find good resources for upper elementary students. For students in 4th-6th, especially, most song options either feel baby-ish or have themes that are too mature.
So my latest challenge is finding songs that are appropriate, fun, and comprehensible for these ages!
You can also explore my page Songs in Spanish for Kids to Adults.10 Reasons to Learn SpanishThe benefits of foreign language learning and studying Spanish.
SPANISH SONGS FOR UPPER ELEMENTARY
If you have any suggestions, or cautions about the song I've chosen, let me know! I'd like to hit twenty song for this list.
1. UN POCO LOCO – COCO
Here's a catchy song from the ever-popular Coco. The entire song may not be comprehensible, but the line "un poco loco" certainly will be.
2. SOY YO – BOMBA ESTEREO
Soy Yo actually features a protagonist who's upper-elementary-aged, with a positive message and video. AND it has good high-frequency words!
3. VIVIR MI VIDA
One of the best songs for novices out there, this one works for elementary students too! If you ever teach voy a + infinitives, there's no better song: reír, bailar, vivir, gozar, llorar. If you use this one, be sure to grab Vivir Mi Vida FREE Activity Sheet .
4. FRONTERAS – GABY MORENO
This is one of my eternal favorites. The music, video, and lyrics are just beautiful. Tons of high-frequency words, especially in the yo from: rio, bailo, tengo, voy a, puedo, sueño, pertenenzco.
5. YO CONTIGO, TÚ CONMIGO – ALVARO SOLER
Minions + awesome music + high-frequency words = yes please!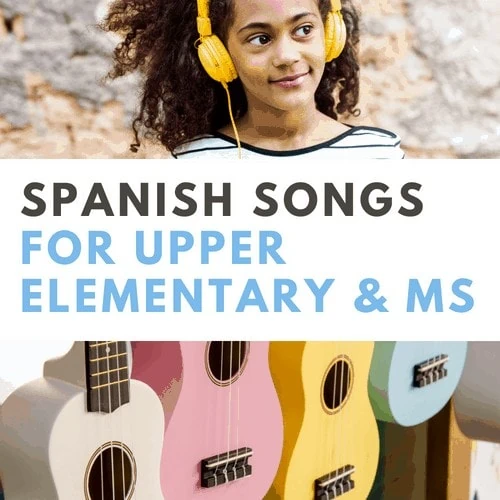 6. MADRE TIERRA – CHAYANNE
Happy, positive music with environmental themes. I recommend using a choreographed video like the one below, since the dancing in the original video won't work for class.
7. OPTIMISTA – CALONCHO
This is an upbeat song that features two kids in the video. Be aware that they're shown (esp. at 2:03) with toy guns, with the idea of fighting an imaginary monster.
8. PUEDO IR AL BAÑO – SR. WOOLY
Not by an "authentic band," but I promise this will be a huge hit with your classes. Seriously.
9. NUQUI (TE QUIERO PARA MI) – CHOCQUIBTOWN
I love ChocQuibTown, and this video is as gorgeous as the music.
10. ME VOY ME VOY (VÁZQUEZ SOUNDS)
Featuring young teens and a female lead singer, this one is comprehensible with repetitions in the past tense. According the the blurb under the official video in YouTube, the video is a metaphor: "Luchar por un mundo mejor, nos lleva a salir de nuestro universo."
11. MI NIÑA DULCE
I *think* this works as a 4-6th grade introduction to cumbia! If the shirtless band members are too much in the first video, the 2nd might be better. This song is VERY fast– consider slowing it down in the settings button in the lower right corner.
12. YO VOY GANAO – SYSTEMA SOLAR
Colorful and gorgeous video to go with this upbeat song about fishing.
13. QUERIDO TOMMY – TOMMY TORRES
For the most, I think most teachers are looking for non-romantic when it comes to 4-6th grades. However, if you don't mind a bit of a love story, this song is SO good and models letter-writing.
14. LOS POLLITOS DICEN
This one IS meant for little kids, but it's also authentic. So I use it even with high schoolers, always assuring them that we're learning it because it's a classic in Hispanic culture. It almost always go over really well, and I have a freebie to go with it that doesn't feel baby-ish at all: Los pollitos dicen Free Activity Sheet.
15. WAKA WAKA – SHAKIRA
Waka Waka is a Shakira classic that stay appropriate and will definitely appeal to any spots-lovers in your classroom. Your students will always know how to say "Esto es..." after this one!
16. EL MISMO SOL – ALVARO SOLER
I wouldn't use the original video (and beware kids might look it up at home– a bit of sensual dancing). The lyrics are great, though!
17. OJALÁ QUE LLUEVA CAFÉ – JUAN LUIS GUERRA
The language in this song may not be quite as comprehensible, but it's a fun way to introduce merengue. Kid World Citizen has a fun post on this!
18. PUEBLA – ALVARO SOLER
Alvaro Soler for the win again! This song has happy, positive music, lyrics, and animation, all about bringing the happy vibes and dancing from Puebla to his hometown, Barcelona.
19. LOS CAMINOS DE LA VIDA
This is a classic that is appropriate for elementary, with a good comprehensible chorus.
20. INTERNACIONALES
Great storyline & world culture, with somos repeated over and over! (You briefly see a man with a cigarette at minute 2:33.)
21. HOLA AMIGO – BASHO & FRIENDS
Basho and Friends is one of the few people creating learner songs that feel "older." He has a ton of options on his YouTube, and you should find that your older elementary students enjoy his style.
22. LIMÓN Y SAL
The original video is kind've weird, so I would show this one. Julieta's music is great because she has such a clear voice & accent.
23. LA BAMBA
Here's a great one if you want to mix current songs with old classics.
What songs did I miss? Leave your suggestions in the comments below!
LIKE IT? PIN IT!