30 of the Best Spanish Cartoons and Shows on Netflix
Inside: The best Spanish cartoons and shows for kids, on Netflix.
As more parents all over begin to appreciate the social and cognitive effects of language learning, they're turning to sources like Netflix to help their kids learn Spanish. And cartoons can be a great source of Spanish input for little learners!
Now, we all know to limit screen time for kids, right? However, videos and shows really can be an incredible resource for authentic and rich language. Changing the audio to Spanish is a great way to maximize the screen time you allow, and make Spanish learning time extra-special.
In our situation, I'm not a native Spanish-speaker and can't provide a totally fluent environment for my kids, by myself. (My husband is fluent, but not at home as much as I am.) So we rely on music, books, and shows to round out the input. Sometimes it's funny to hear my three-year-old bust out a phrase I know I've never used (¡Ay, cielos! from Pooh).
Netflix has a ever-expanding amount of cartoons and movies with audio in Spanish, and here are my top picks. They do pull and add shows, so this list may change. Lucky for us, most Netflix original series are available in multiple languages and stay there for good!
(Not sure how to adjust the audio? Read here how to change Netflix language settings and audio – if you are learning Spanish with your kids, turn on the subtitles and everyone can get some Spanish immersion together!)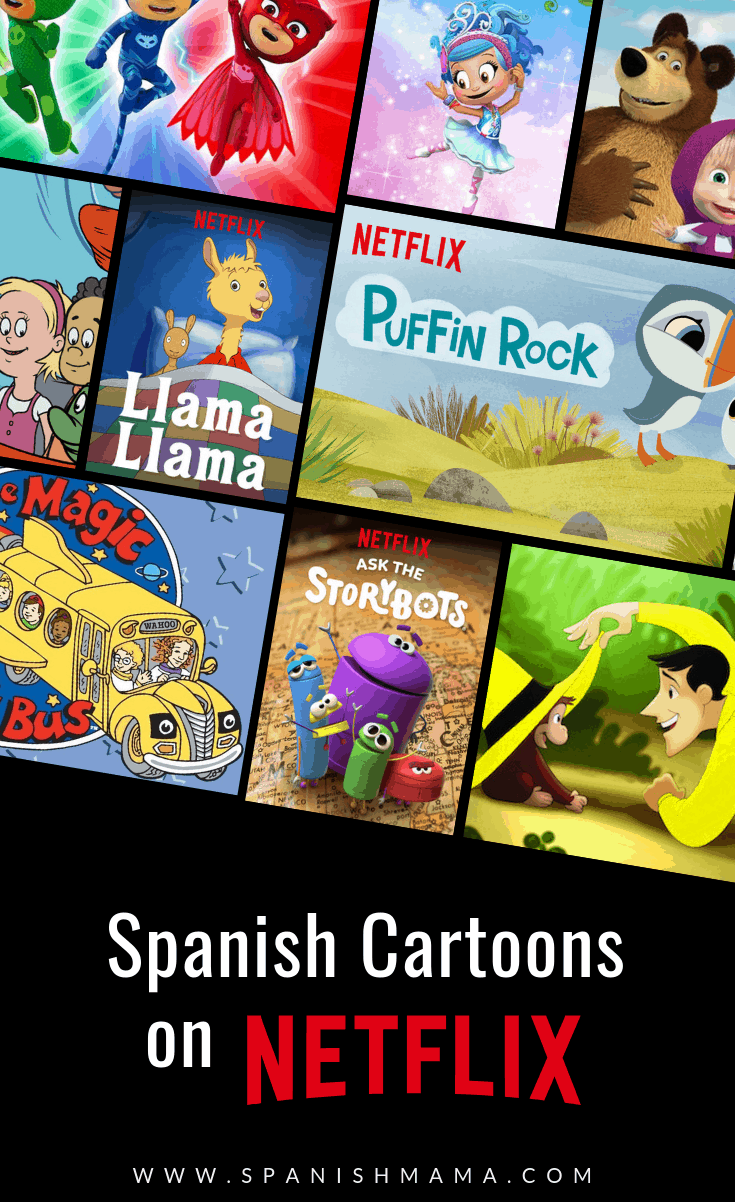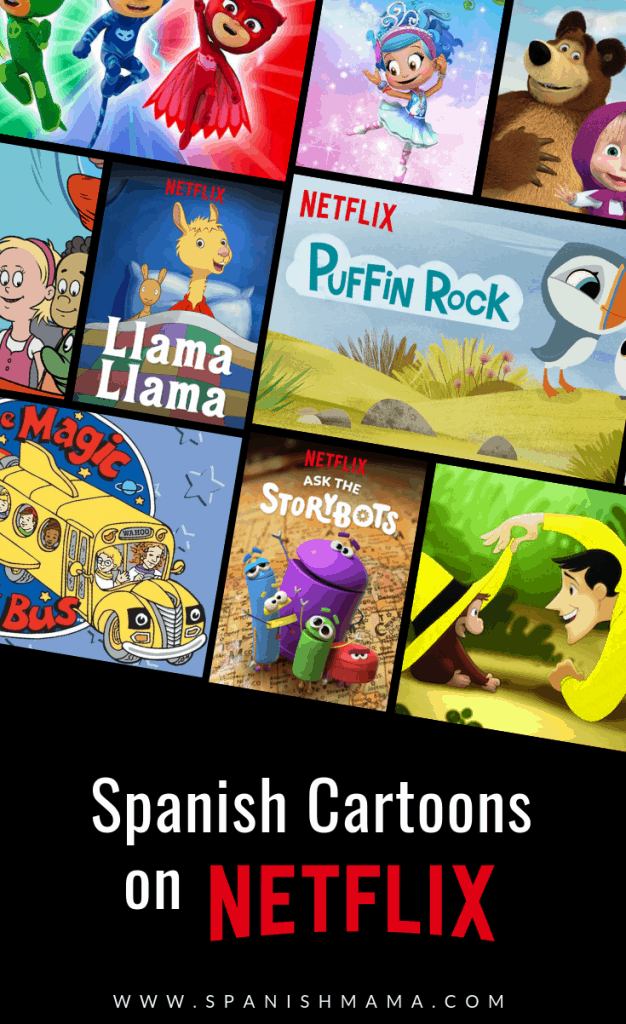 If you are looking for something for yourself, here's a list of great Spanish shows on Netflix. Or check out G and PG Spanish Movies for Kids.
I've included trailers for each show so you can take a peek before trying it out, but many trailers were only available in English. Remember that shows produced by Netflix itself almost always come available in a wide variety of languages!
SPANISH CARTOONS ON NETFLIX FOR KIDS
1. PUFFIN ROCK
This is one of our all-time favorite Spanish cartoons. It's nature-based, with lovely graphics and sweet story-lines. The audio is very clear and understandable, and would be perfect for learners who understand a fair amount of Spanish, but aren't fluent yet.
2. THE MAGIC SCHOOL BUS RIDES AGAIN
Here's something older kids will appreciate too! Netflix brought back the classic Mrs. Frizzle (this time it's her daughter!), and the new version is available in Spanish as well. Learn all about the world and science through the crazy field trips she take her classes on.
3. CURIOUS GEORGE
Originally aired on PBS, Curious George is about a monkey who is always getting into trouble, and a perennial favorite with kids. It's also good for beginners, with it's slower pacing. 
4. LLAMA LLAMA
The popular children's book series has arrived to Netflix- WITH Spanish audio!
5. MASHA AND THE BEAR
Originally produced as a show for kids in Russian, Masha and the Bear is a lovable series based on the adventures of a young girl named Masha, and her bear friend. There is more action than dialogue on this show, which may make it more comprehensible for beginners. 
6. THE CAT IN THE HAT
PBS brings us a series based on the beloved Cat in the Hat series by Dr. Suess, where kids can learn about the world, nature, traditions, and more. 
7. ASK THE STORYBOTS
Kids are full of questions- and the Storybots are always ready to explore and find the answers, in Spanish too!
8. KAZOOPS
Monty and his best friend (a pet pig) go on adventures through time and space in this family-centered Spanish cartoon.
9. WORD PARTY
Four animal friends teach young kids new words in this series created by Jim Henson, available in both English and Spanish.
10. 72 CUTEST ANIMALS
Kids will love this nature series that introduces 72 animals, in a competition to see who is the cutest one of all. 
11. LUNA PETUNIA
Enter the magical world of Amazia, where Luna Petunia has adventures and friends in this popular series. 
12. PJ MASKS
Three friends form the superhero team PJ Masks in this show, who fight crime at night to make sure people don't have a bad day, the next day. 
13. CHIP AND POTATO
An adorable little pup named Chip begins new adventures in kindergarten, accompanied by her her secret mouse friend Potato. 
14. TRUE AND THE MAGIC KINGDOM
Eight-year-old True is the guardian of the magical place called the Magic Kingdom, which she does with help from her best friend Bartleby.
15. BEAT BUGS
Five bugs explore their own back yard and learn about the larger world around them, set against hit songs from the Beatles. 
16. SUPER MONSTERS
Two kids are getting ready for kindergarten– but they're not just any kids! Their parents are the most famous monsters, and the kids have special powers of their own too. 
16. MOTOWN MAGIC
Ben uses his magic paintbrush to paint the streets of his city and make it colorful, accompanied by Motown classics.
17. LITTLE BABY BUM
Although not technically a Spanish cartoon, this is a series of popular children's songs and nursery rhymes available in Spanish. Listening to songs is really one of the most effective ways to learn a language, and would be perfect for little ones.
17. OCTONAUTS
The octonauts are a team of underwater creatures who save the day when other ocean animals need help. 
18. POCOYO
Pocoyo  is a preschool educational series that was originally created in Spanish. This is a great show for absolute beginners, as the phrases tend to be more isolated and easy to catch.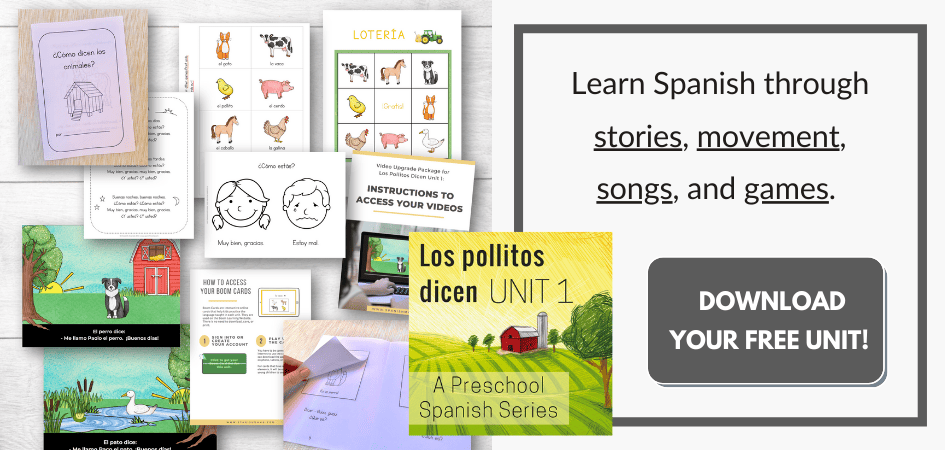 22. JUSTIN TIME GO!
Follow the adventures of Justin, who travels through his imagination all over the world and history, having adventures with his two imaginary friends. 
20. MY LITTLE PONY
In the magical land of Equestria, unicorn and pony friends have adventures and learn about friendship together. 
21. LALALOOPSY
A group of ragdoll friends have adventures together. 
22. PORORO
Pororo is a penguin who has adventures on his island with his other animal friends. 
23. TREEHOUSE DETECTIVES
Solve mysteries with this brother-sister bear duo, who explore the natural mysteries of the world and what's happening in their own backyard.
24. CARE BEARS AND COUSINS
A lovable team of stuffed-bear friends teach kids about caring and friendship. 
25. VEGGIETALES IN THE HOUSE
An unlikely but humorous group of talking vegetables teach Bible stories and Biblical values in this classic series for kids. 
26. LEGO FRIENDS
A group of five friends experience adventures together in their hometown, based on the popular Lego figures. 
27. YOOHOO TO THE RESCUE
YooHoo and his friends travel all over the world helping animals in need. 
28. JULIE'S GREENROOM
Produced by Jim Henson, Julie Andrews stars in the show about a group of puppets that create their own musical. 
29. MIGHTY LITTLE BHEEM
Little Bheem is not your normal baby as he explores the world around – he has supernatural strength! This series is based on a mythological Indian character. 
30. CHARLIE'S COLORFORMS CITY
Kids learn about sizes, shapes, and colors, through the stories in this series available in Spanish. 
WHAT SPANISH CARTOONS DO YOUR KIDS LOVE?
Let me know in the comments below if I missed your family favorite!