Back to School Spanish Activities: The Ultimate Round-Up OF Ideas
Inside: Back to school Spanish activities and plans.
This post gather all kinds of ideas and activities for back-to-school in Spanish class from Spanish teachers, so you don't have to reinvent the wheel.
This is a big post! Here are the main topics to help you find exactly what you need (you can click to jump to those sections):
1. First Day Activities
2. Planning the First Weeks of Spanish Class
3. Decorating and Organizing Your Classroom
4. Classroom Management
5. Ideas for Setting up Interactive Notebooks
6. Building Relationships in Spanish Class
7. Staying in the Target Language from the Beginning
8. Teacher Self-Care and Prep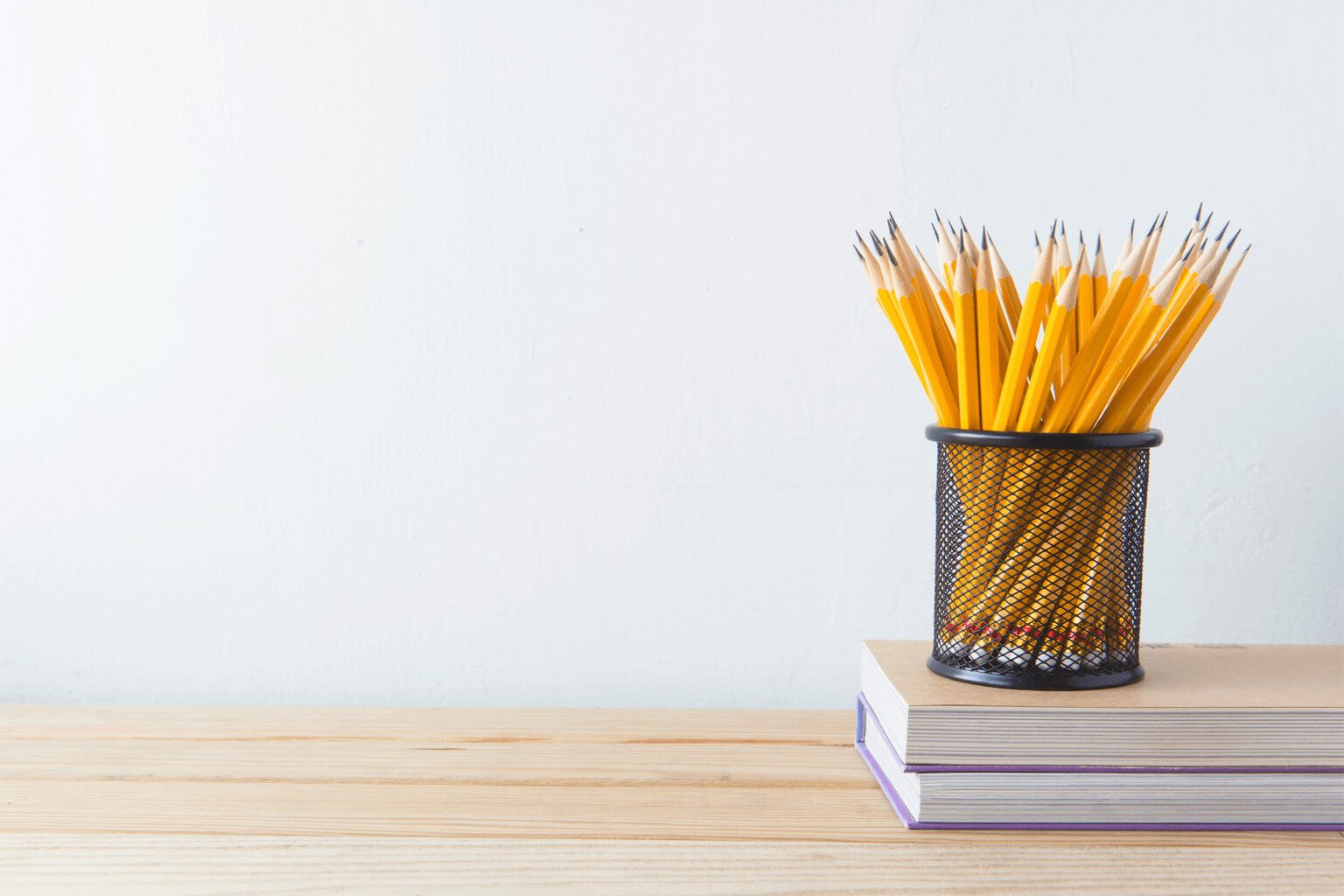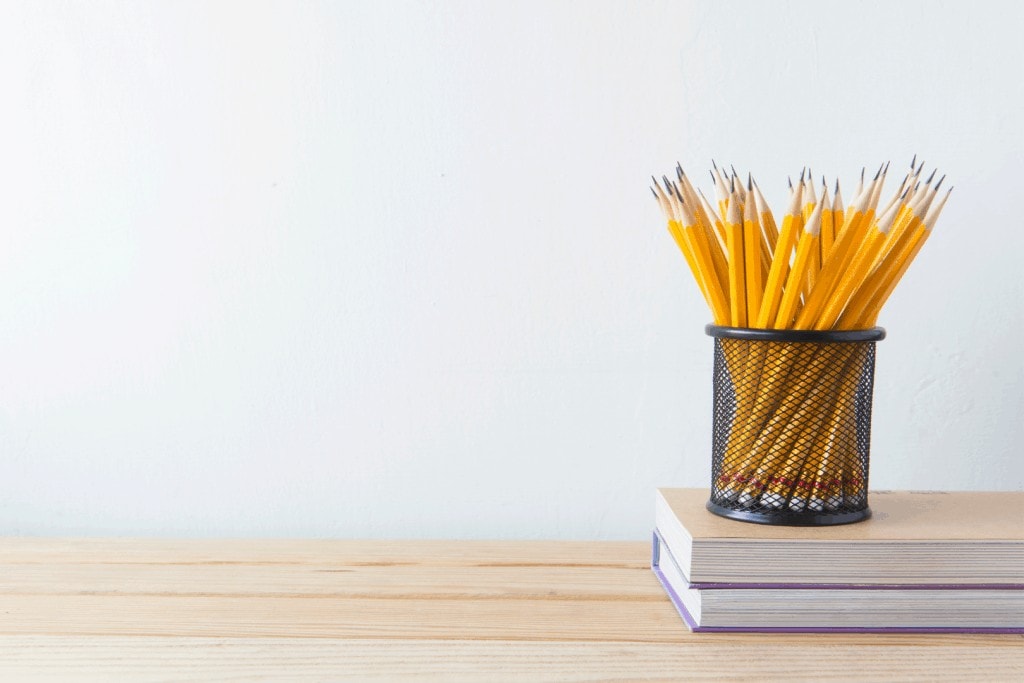 Related: Icebreakers for Spanish Class
BACK TO SCHOOL SPANISH ACTIVITIES: THE FIRST DAYS

I have a whole post just on First Day in Spanish Class lessons, but here are a few of my favorite first day activities!
Do a Meet the Teacher Presentation:
Play a game to learn names:
Card Talk Simple Activity and Slides from Palmyra Spanish. Have students write their names onto large cards (so you can start to learn them!) and they draw several things they like/don't like. This is a great way to get to know your students, and quickly have simple conversation about their interests.
With younger students, you can do something simple like tossing a ball to students and asking "Como te llamas?" You can use my free templates below for them to write their names and decorate them on the first day.
Start with a game or low-key icebreaker:
---
BACK TO SCHOOL SPANISH PLANS: THE FIRST WEEKS
Beyond that important first day, what about your first unit? Take a look at what some other teachers have planned.
---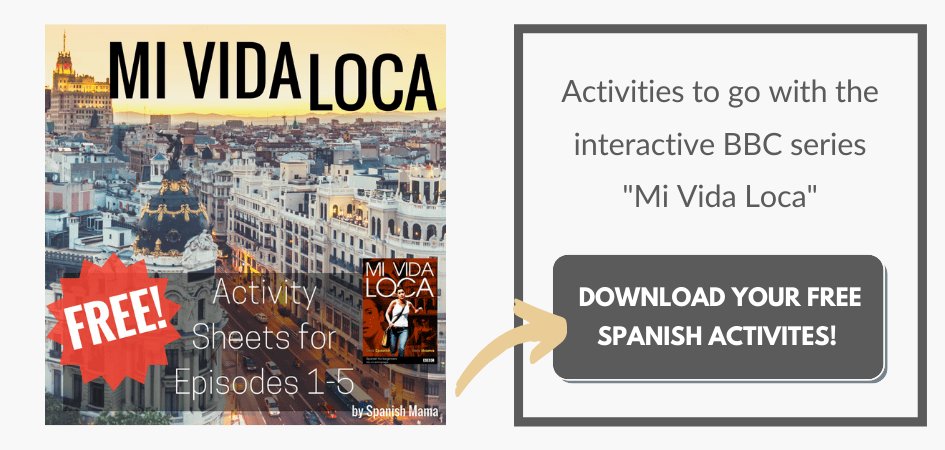 Creating Your SyllabUS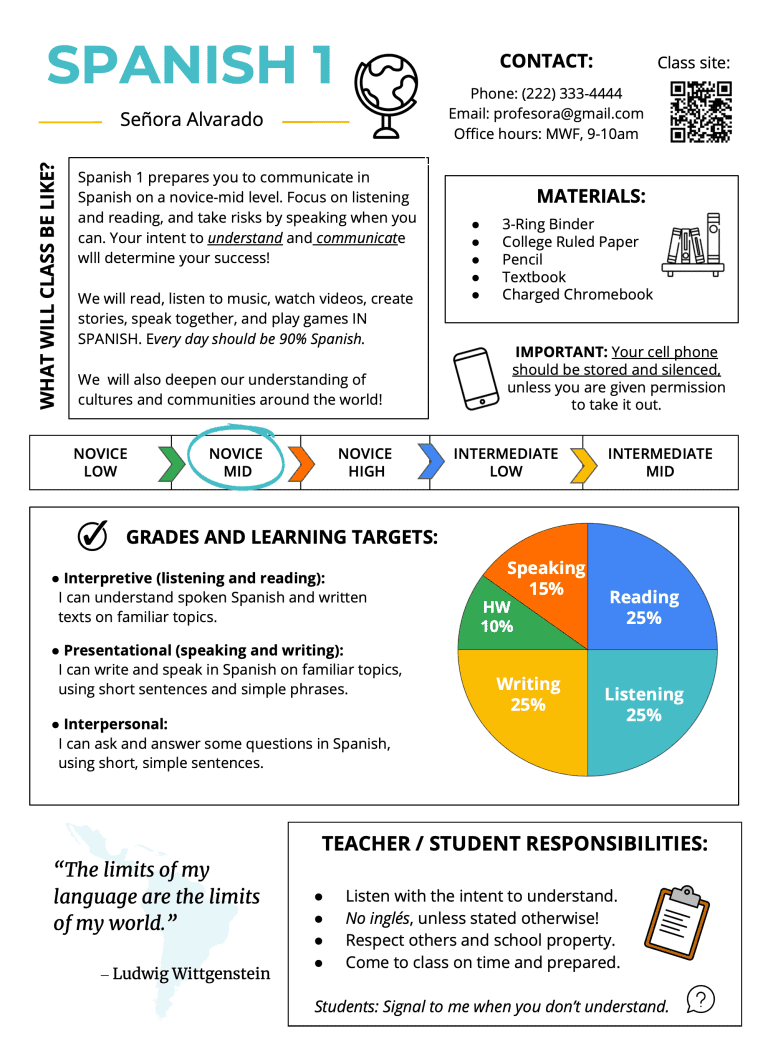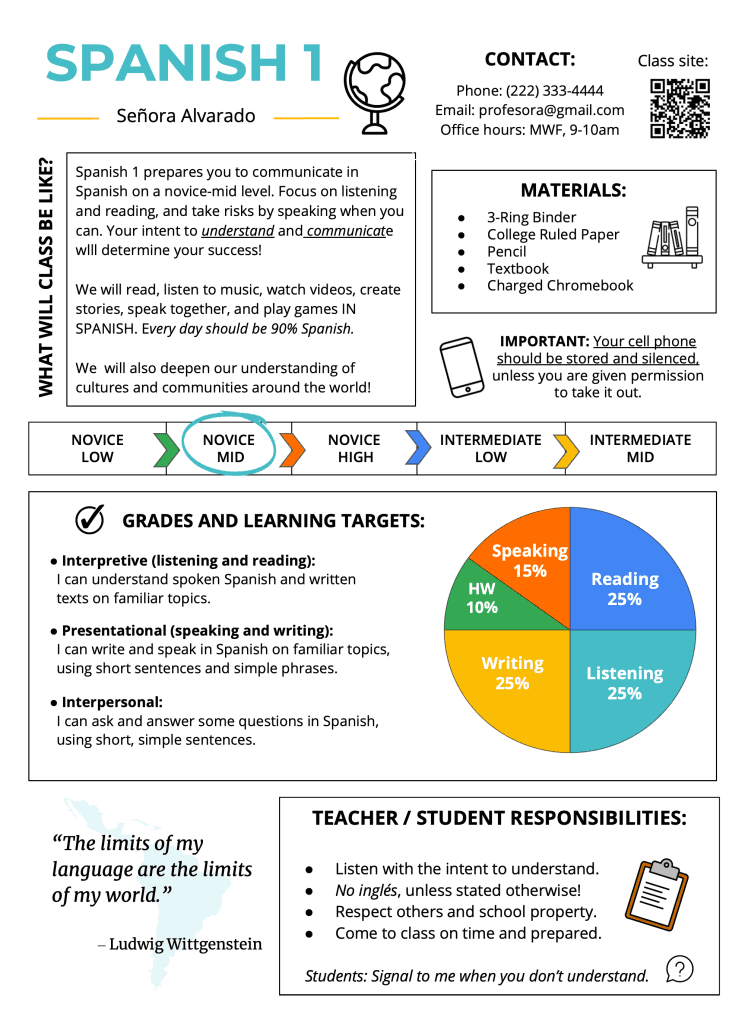 I have a whole post going through each part of the Spanish class syllabus. I link to a Pinterest board as well with a ton of visual samples!

Example Spanish syllabus from Maris Hawkins
If you need to create or tweak your scope and sequence, I also have a post with examples from preschool to high school, including both traditional setups and teachers who put together their own setup of novels, songs, culture, and self-created units.
DECORATING AND ORGANIZING Your Classroom
CLASSROOM MANAGEMENT
First, see my big post on Spanish Classroom procedures! It's a good one.
Here are some areas to think through and prepare before school starts.
General links for classroom management guidance:
BACK TO SPANISH CLASS WITH INTERACTIVE NOTEBOOKS
Back-to-Spanish Class with Interactive Notebooks from Spanish Mama
Digital AP Notebooks from Aventuras Nuevas
Creating Digital Interactive Notebooks from Señora Jota Jota
BUILDING RELATIONSHIPS
This is a really good episode from Growing with Proficiency, featuring Adriana Ramírez and Dahiana Castro, on starting the year strong with good classroom relatioships:
Free webinar on building a positive class environment during remote learning in Spanish class:
TARGET LANGUAGE
Here are two excellent interviews (the first is with Alina Filipescu and Jason Fritze):
A conversation on staying in the TL with Rebecca Blouwolff, the NECTFL 2019 teacher of the year:
90% Target Language Use in the Elementary Classroom:
TEACHER SELF-CARE AND PREPARATION