Christmas in Peru: Traditions, Music, Food and Art
Inside: Description of traditions and information on Christmas in Peru.
Christmas has been around for a long time in Peru, a now-largely Catholic nation. I have only celebrated Christmas once there, but much of it felt familiar–we had a Christmas tree, exchanging of gifts, and carols.
CHRISTMAS IN PERU: TRADITIONS, MUSIC, AND FOOD
Many Christmas carols in Peru–villancicos in Spanish– will be familiar to English speakers, as well. I love to sing these as a family– songs from my childhood, and my husband's, in whichever language the situation calls for. We both grew up Presbyterian, oddly enough: Pocho, in the high jungle, the Alto Mayo, and me in North Carolina. Even though we weren't speaking the same language, we were learning the same music, liturgy and traditions.
Here is a mix of Christmas and cumbia from the well-known Los niños cantores de huaraz if you want to hear what Christmas often sounds like in Peru!
Of course, Christmas feels different because of the weather. In the US, December ushers in winter cold and thoughts of snow. When I lived in Peru, we were in the jungle and so December was warm like all the other months. There might have been more rain, but I missed the sensory experience Christmas usually brought. On the coast, December is early summer, though high in the Andes you might find some Christmas snow.
Another big difference is that Peruvians celebrate Noche Buena (Christmas Eve) as the main event. After arriving home from Mass or a Christmas Eve service, the whole family (kids included!) sets off firecrackers or watches fireworks at midnight.
Then everyone eats a big turkey dinner together, with applesauce, potatoes, bread, and other vegetables. The most traditional part of this is panetón with hot chocolate made from chocolate bars and milk.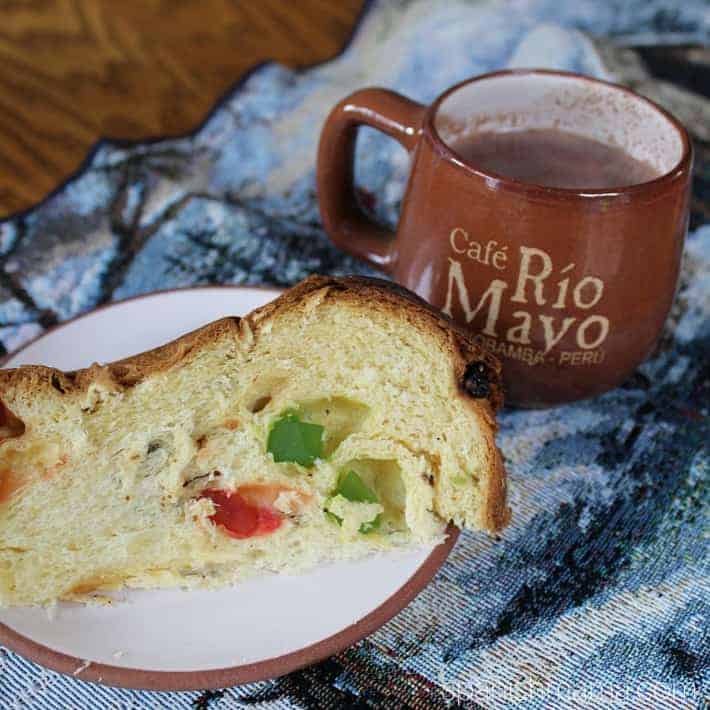 It's just not Noche Buena without panetón, similiar to the Italian panettone. Then presents are opened, either after dinner or the next morning. Many families will stay up until early the next morning, dancing and continuing the festivities. It's a little different to what I'm used to here, so I suspect our family will just try to follow all the traditions of both countries! The other night we excitedly brought out panetón and hot chocolate, for Janio's cultural expansion, and his rewarding response was "yuck." I can't imagine why chocolate didn't suit his taste buds (2-year-old are not known for being predictable) but we'll try again next year.
In our family now, we've started to blend our Peruvian and American traditions. We bought a beautiful nativity set that comes out every year. I grew up with a Nativity set that we loved to carefully set out each December, and now my kids do the same.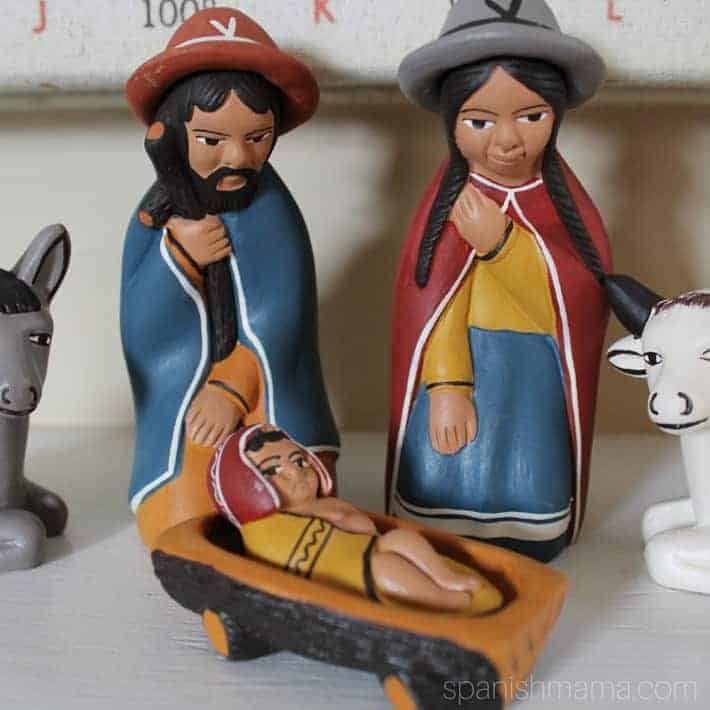 We found some beautiful ornaments in the shops in Lima to give our tree some Peruvian flair. I love that trees are often made up of ornaments representing important moments and times in our lives, and now our tree includes pieces of both continents.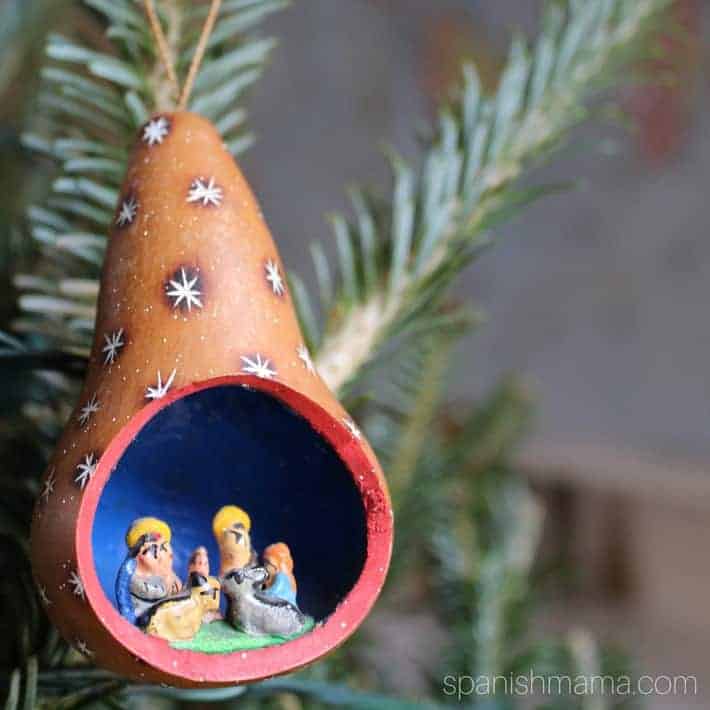 I made this ornament as well, by tearing up an old map of Peru, and decoupaging the pieces onto an old ornament. Looking closely, you can see the different cities we've lived in or visited there.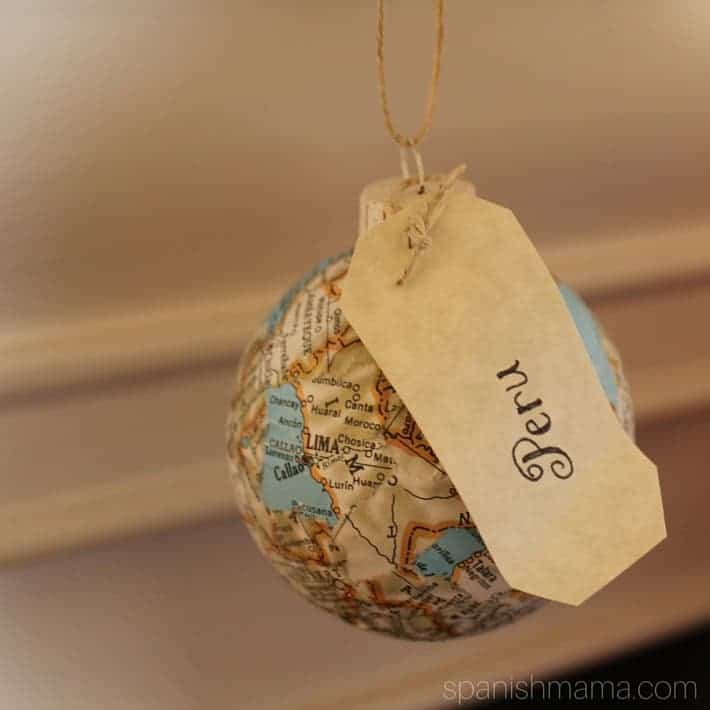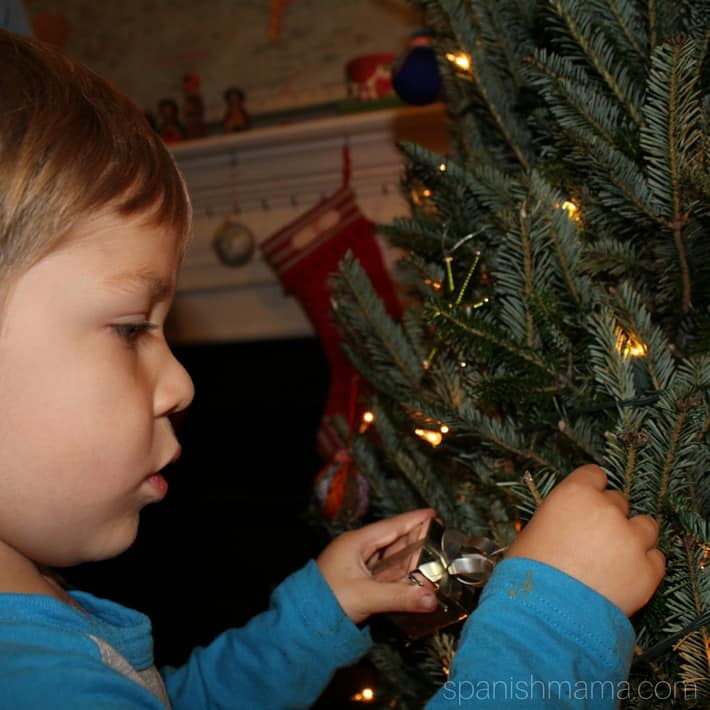 If you are interested in Christmas in various Hispanic countries, you might enjoy my post Christmas in Spanish – Speaking Countries: A Collection as well.
Visit my Peru Pinterest board to learn more about Perú!