Famous Hispanic Artists and Painters from Latin America and Spain
Inside: A list of the most famous Hispanic artists (Spanish-speaking artists) and Latin American artists (or Latinx artists).
As part of my (upcoming!) series on famous Latin Americans and Hispanic leaders, this post zeroes in on the most iconic and beloved artists in the Spanish-speaking world.
You'll notice that this list– and most others, if you search "famous Hispanic artists,"– is mostly male, with Spain dominating the names.
As noted in Artsy.net,
"Influential" is a difficult term. It implies storied history, reach, and effect. In the 20th century, Latin American artists were, for the most part, not included in dominant accounts of art history."

– Alex Santana, The Most Influential Latin American Artists of the 20th Century
This applies to female artists as well, of course. After my initial list of famous painters, I've also included a list of Latina artists, followed by an extra list of artists from Central and South America.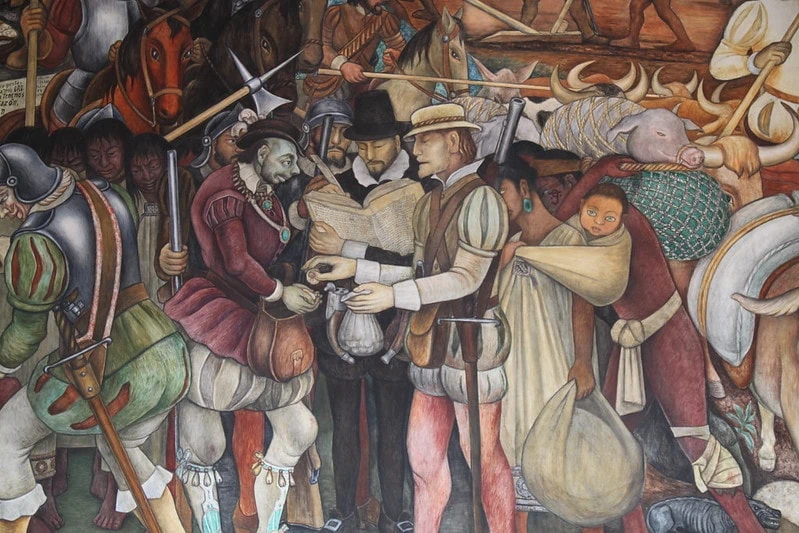 Here are the names I selected, along with the nationalities and birth dates of each person. You can click on each name to jump to that biography, or simply scroll through the post!
Famous Hispanic Artists And Latin American Artists
These are the names you will find in almost any list of influential and famous Hispanic artists.
More Famous Latina Artists and Painters:
To jump to this section and browse samples of their work, click here.
Remedios Varo (Mexican born in Spain, 1908 – 1963)
Tarsila do Amaral (Brazil, 1886 -1973)
Leonora Carrington (Mexican born in the UK, 1917 – 2011)
María Izquierdo (Mexico, 1902 – 1955)
Luz Donoso (Chile, 1921 – 2008)
Margarita Azurdia (Guatemala, 1931 – 1998)
Anita Malfatti (Brazil, 1889 – 1964)
Clemencia Lucena (Colombia, 1945 – 1983)
Amelia Pelaez (Cuba, 1896 – 1968)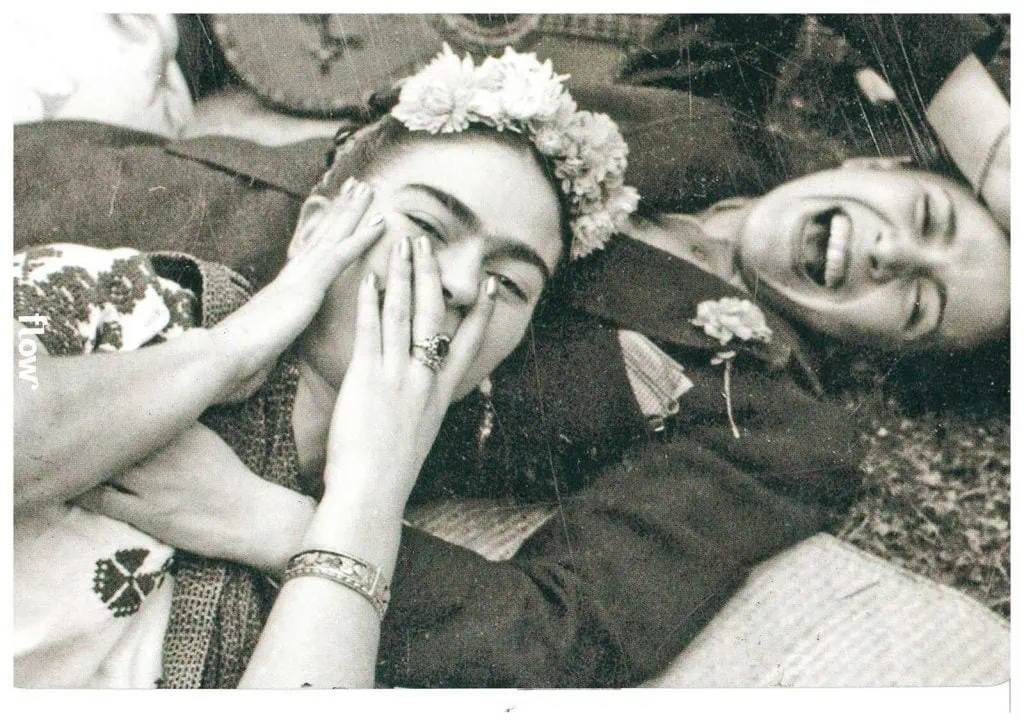 Other Notable Spanish-Speaking Artists:
David Alfaro Siqueiros
Joaquín Torres García
Miguel Pou
Xul Solar
Rufino Tamayo
Candido Portinari
Tony Capellán
Antonio Berní
10 Famous Hispanic Artists
First, let's take a tour of the most renowned and recognized names in the art world.
Pablo Picasso is considered one of the most iconic artists of the 20th century, one of the main forces behind modern art as we know it. He is also famous for co-creating Cubism.
Born in Spain in 1881, Picasso was a child prodigy who created approximately 50,000 works of art over his lifetime. These included paintings, drawings, sculptures, ceramics, and more.
Though trained in classical methods, Picasso broke away from those traditions to produce an astonishingly diverse and innovative body of work.
Read more about the life and extensive work of Pablo Picasso.
---
Frida Kahlo
Interest in Frida Kahlo's life and work has soared in recent decades, as a Mexican artist and feminist icon. Even her self-expression and colorful, vivid personal style have sparked special interest in recent times.
Born in 1907, Kahlo experienced several tragic events while growing up: Polio at age 6, and an accident at age 18. Her paintings, many of which are self-portraits, reflect this suffering and an introspective look into her life.
Throughout her life, Kahlo moved in politically active circles. In 1929, she married artist and activist Diego Rivera, a relationship that would prove tumultuous. Though an early death in 1954 cut Kahlo's career short, her work remains among the most celebrated of Mexico and a hallmark of surrealist painting.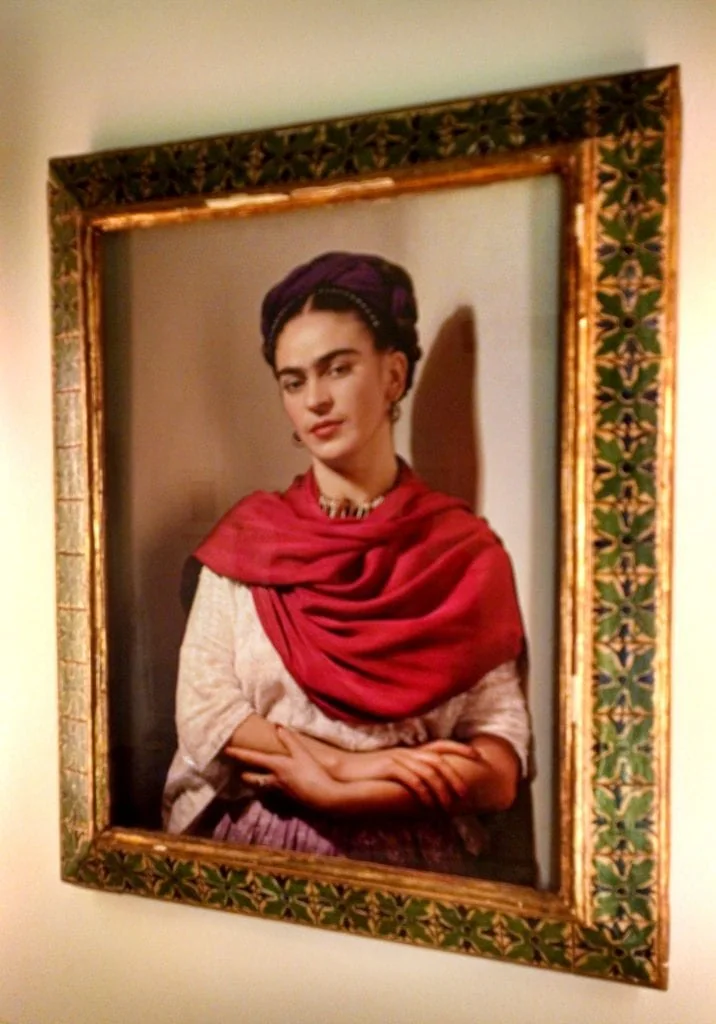 "The only thing I know is that I paint because I need to, and I paint whatever passes through my head without any other consideration."

– Frida Kahlo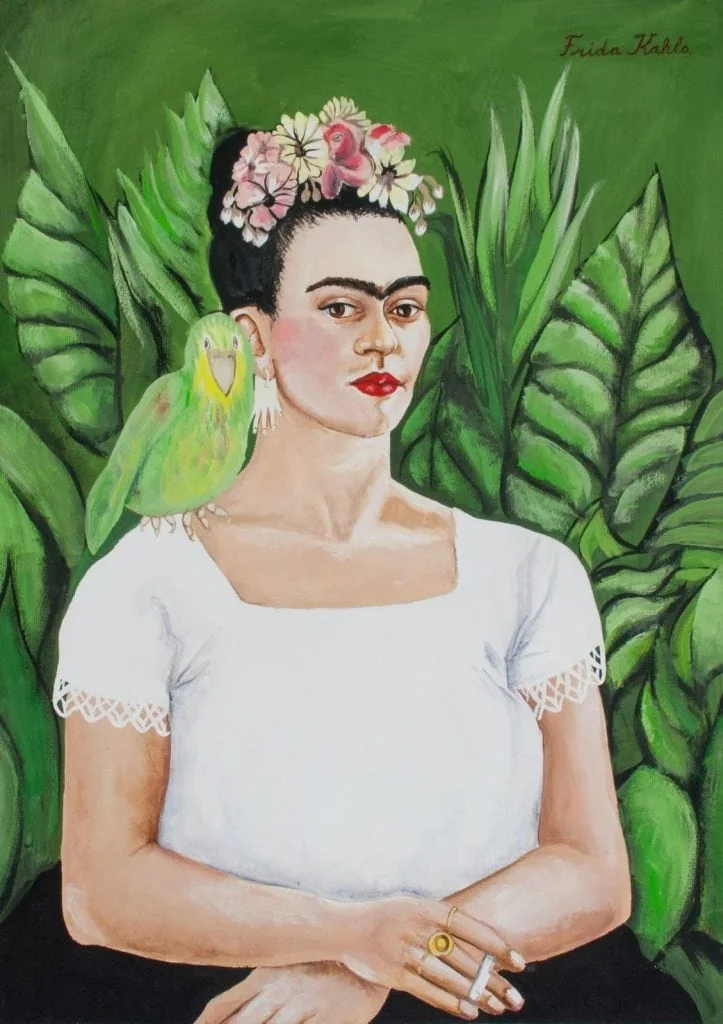 See here for more on the life and work of Frida Kahlo, along with analysis on 100 of her paintings (you can hear audio of her voice as well!).
---
Diego Velázquez
Diego Velázquez, a Spanish painter, was born in 1599 in Madrid. He served as a royal painter under King Philip IV for 40 years, often commissioned to do portraits of members of court.
Veláquez's work stood out from the Baroque-style painting of his peers, paving the way for realist and impressionist painters in the 19th century. He remains one of the all-time most famous and influential Hispanic painters.
'Because one wants to do this thing of just walking along the edge of the precipice, and in Velázquez it's a very, very extraordinary thing that he has been able to keep it so near to what we call illustration and at the same time so deeply unlock the greatest and deepest things that man can feel."

– Francis Bacon
Explore more about Diego Velázquez here.
---
Salvador Dalí
Born in Spain in 1904, Dalí was a prolific painter, sculptor, photographer, filmmaker, and illustrator. He felt the death of his mother at age 16 deeply, who had always been sympathetic to his character and interests. He met his wife Elena in 1929, a partnership that helped to support the practical aspects of his art career.
One of the most important figures in the modern art movement, Dalí once said, "Begin by learning to draw and paint like the old masters. After that, you can do as you like; everyone will respect you."
Dalí certainly "did as he liked," and his innovative work reflected his own flamboyant and unconventional personality and style. An unruly art student who bucked the norms, he nevertheless went on to produce a vast array of Surrealist art and become one of the most famous Hispanic artists of the 20th century.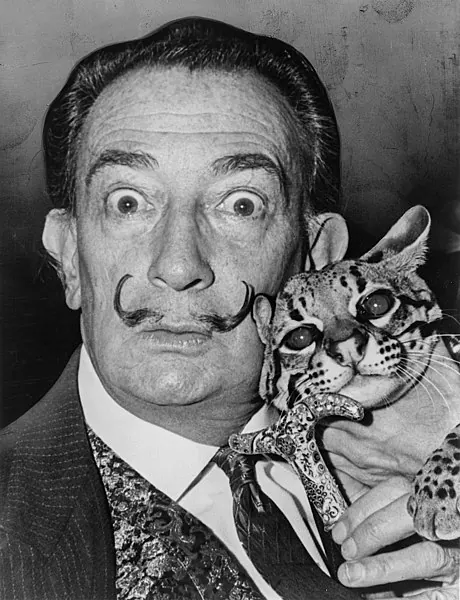 "Mistakes are almost always of a sacred nature. Never try to correct them. On the contrary: rationalize them, understand them thoroughly. After that, it will be possible for you to sublimate them."

– Salvador Dalí
Do a virtual tour of the Salvador Dalí museum here, in and explore the site in Spanish or English.
---
Jean-Michel Basquiat
Jean-Michel Basquiat was born in New York City in 1960 to a Haitian father and Puerto Rican mother. Before his teens he fluent in Spanish, English, and French
Basquiat gained notoriety first as a graffiti artist, under the pseudonym SAMO and part of the underground art movement in the 70s.
Soon after, his paintings began to be exhibited and sold on the international scene. (In 2017, his work set a record for most expensive painting sold by a U.S.-born artist, at $110.5 million.)
Basquiat's work reflects themes such as poverty, systematic racism, colonialism, and classism. His unstable childhood and skyrocket to fame at a young age were difficult, and probably led to his drug dependency. He died of an overdose in 1988, at only 27 years old.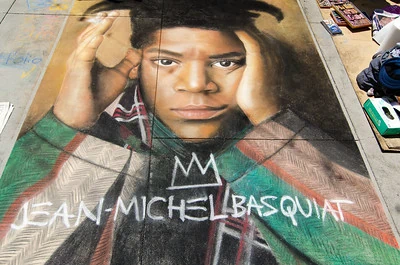 "I start a picture and I finish it. I don't think about art while I work. I try to think about life."

– Jean-Michel Basquiat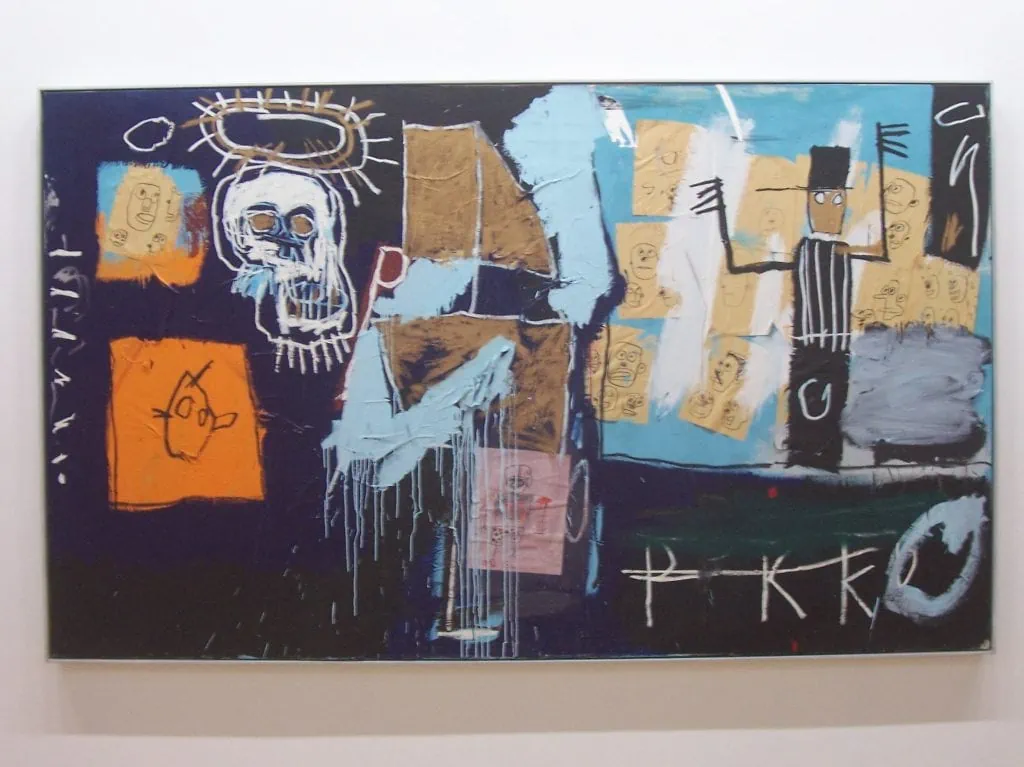 ---
Diego Rivera
Diego Rivera was born in 1886 in Mexico. Showing talent at an early age, Rivera studied both in Mexico City and Europe. However, his deep concerns were the struggles of the indigenous and working-class peoples, along with interest in Marxist ideologies.
Rivera, who married fellow artist Frida Kahlo, is most famous for his murals, which pay tribute to Mayan and Aztec imagery. He completed several commissions from the Mexican government and participated in exhibitions in the U.S. (where his nods to Marxist figures did not go over well). Rivera is remembered for helping to propel Mexican art onto the international scene.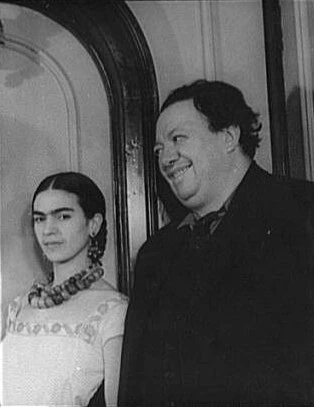 "Never before had a woman put such agonizing poetry on canvas as Frida did."

– Diego Rivera
"The role of an artist is that of a soldier in a revolution.

– Diego Rivera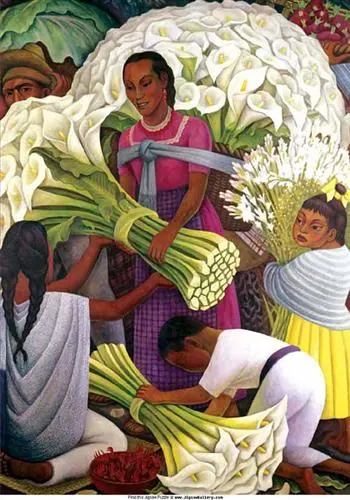 ---
Francisco Goya
Born in Spain in 1746, Francisco Goya was one of the most successful artists of the 18th and 19th centuries. He became a court painter for the Spanish court in 1786 and was commissioned many times to do royal portraits. His work reflects the Romantic movement, and his style reflected a bridge between the "Old Masters" and a newer, modern period.
Goya's later work included scenes from the Peninsular War with Napoleon in 1807, as well as more politically motivated pieces. After rising to the highest position for a royal court painter, he moved to France until his death, disappointed by political and social movements within Spain.
---
José Clemente Orozco
José Clemente Orozco was a Mexican painter born in 1883. Born to a working class family, who often struggled to make ends meet, Orozco also came of age during the beginnings of the Mexican Revolution. Just as he was beginning formal studies in art, he suffered an accident that resulted in the loss of his entire left hand.
After working a time as a caricaturist, Orozco began painting murals in 1922. These murals and frescoes would become his great legacy, featured and commissioned both in and out of Mexico.
Orozco's intricate murals feature themes of suffering, along with political messages on workers, peasants, and social justice. Together with Diego Rivera and David Alfaro Siqueiros, he helped bring about an movement of globally renowned Mexican muralists.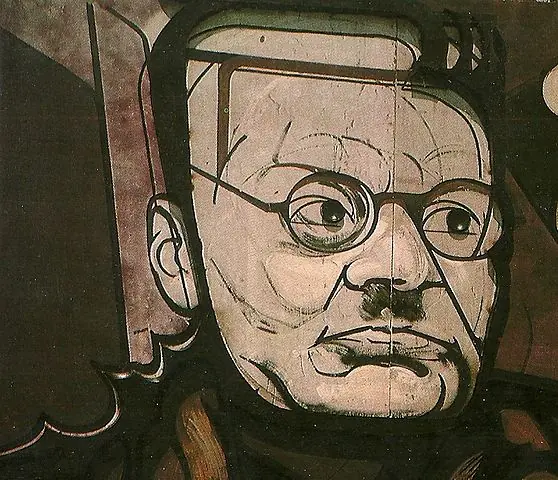 "Errors and exaggerations do not matter. What matters is boldness in thinking… in having the temerity to proclaim what one believes to be true without fear of the consequences… If the creative impulse were muted, the world would then be stayed on its march.."

– José Clemente Orozco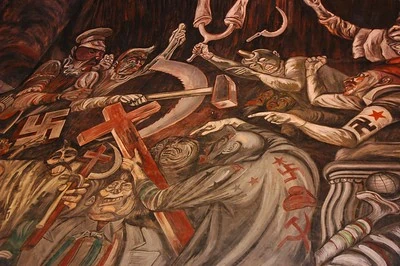 ---
Fernando Botero
Fernando Botero, born in Colombia in 1932, is the only living artist on this list– and among the most famous Latin American living artists. A sculptor and painter, he is characterized by his exaggerated style of round shapes and figures, known as "Boterismo."
Botero studied extensively and lived both in Europe and the United States, but considers his work uniquely Colombian. His paintings and sculptures have achieved international fame.
---
Joan Miró
Joan Miró, a Catalan artist born in Barcelona in 1893, was a sculpture and painter, and ceramist. His work is considered to be surrealist, along with elements of Fauvism and Expressionism. Influenced by the ideas of Sigmund Freud, Miró's style reflects his interest in accessing and creating from the subconscious mind.
Miró is famous not only for his innovative style, but also for the variety of elements he used and his diverse skills in different art forms.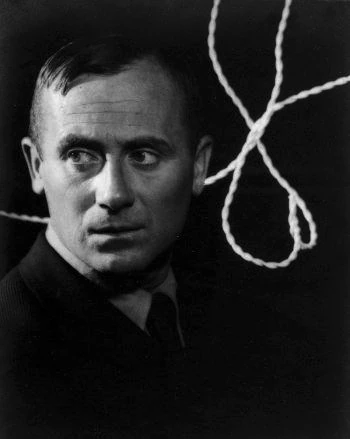 "A form gives me an idea, this idea evokes another form, and everything culminates in figures, animals, and things I had no way of foreseeing in advance."

– Joan Miró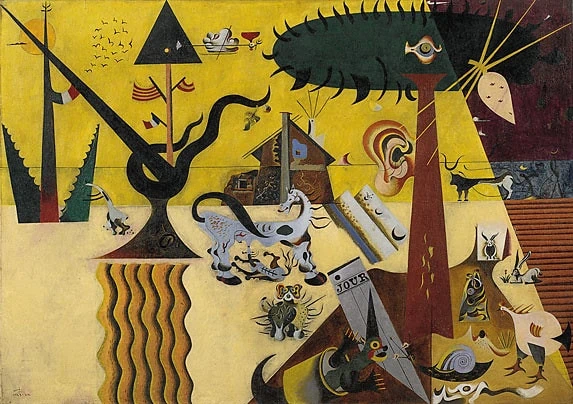 More Latina Artists and Painters
To see more in-depth explorations of many of the female Hispanic or Latina artists, this is an excellent article.
Remedios Varo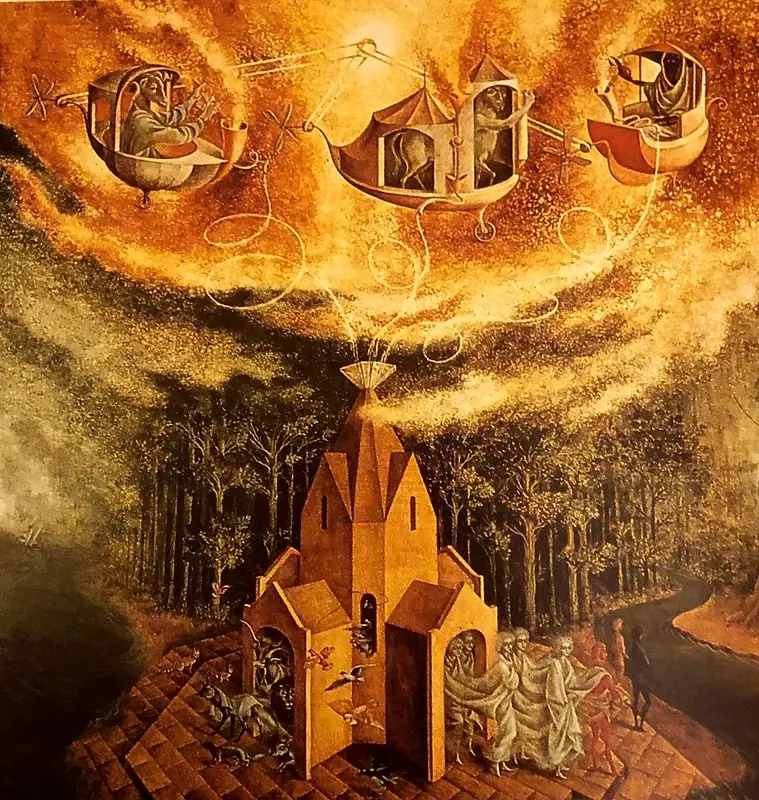 Tarsila do Amaral
Leonora Carrington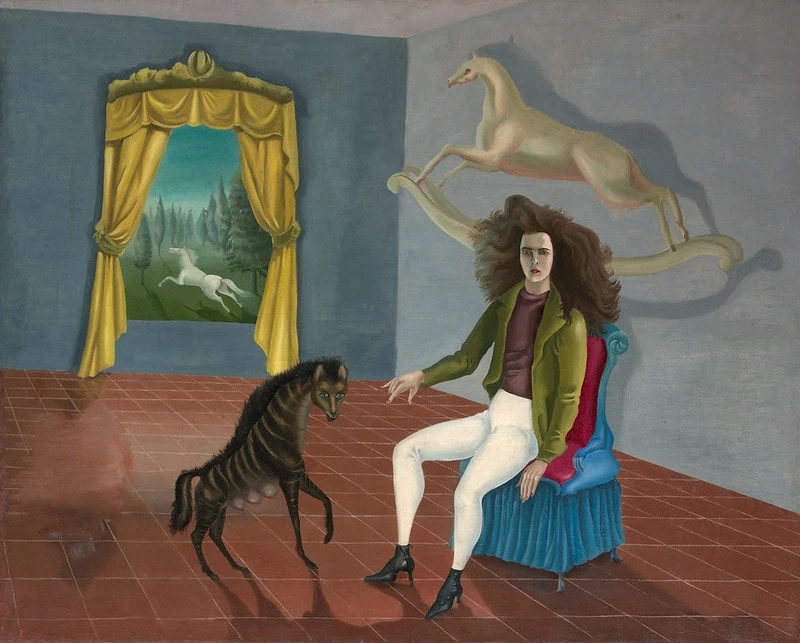 María Izquierdo
See more examples of her work here.
Luz Donoso
Margarita Azurdia
Anita Malfatti
Amelia Pelaez
I hope you have enjoyed out little art tour! If you have more Latinx or famous Hispanic artists I missed, please let me know in the comments below.