Inside: Day of the dead activities, crafts, videos, and lesson plans for the Spanish classroom.
After the unprecedented box-office numbers of Pixar's Coco, celebrating Día de muertos is more familiar than ever to the average student. Doing Day of the Dead activities in Spanish class is twice as relevant and meaningful, too!
Though not celebrated in every Spanish-speaking location, Día de Muertos has deep roots in many parts of Latin America, and especially Mexico. It's a mixture of pre-Hispanic customs, and the Christian traditions brought in by the Spanish. According to National Geographic,
"Today Mexicans from all religious and ethnic backgrounds celebrate Día de los Muertos, but at its core, the holiday is a reaffirmation of indigenous life… Day of the Dead originated several thousand years ago with the Aztec, Toltec, and other Nahua people, who considered mourning the dead disrespectful. For these pre-Hispanic cultures, death was a natural phase in life's long continuum. The dead were still members of the community, kept alive in memory and spirit—and during Día de los Muertos, they temporarily returned to Earth."
As a new Spanish teacher, I used to be unsure of how to treat holidays. I wanted to include culture, but teaching low-frequency words like "marigold," "candle," or "skeleton" seemed a poor use of time. Now I'm discovering part of the reason comprehensible input is magic: I can use any theme or topic to give my students whole, living language.
And thankfully, there is no need to reinvent the wheel. There are TONS of resources out there, in Spanish and English, and these are my favorites! Below you can browse my giant collection for Day of the Dead activities, and of course let me know what I'm missing.
DAY OF THE DEAD ACTIVITIES & IDEAS
Here's what you can find in this post (in this order):
This post contains affiliate links. Thank you for your support!
BOOKS FOR DAY OF THE DEAD
Here are some titles in English and Spanish for learning more about Day of the Dead traditions:

Day of the Dead Books
Day of the Dead Books
DAY OF THE DEAD LESSON IDEAS
Pre-teach key unfamiliar vocabulary. Infographics or videos are a nice way to introduce words like calavera, vela, etc. Here is a free Pear Deck for introducing the basics.
Choose a short film for a MovieTalk. (You can find my favorites embedded below). If you teach various levels, make it easy on yourself by choosing one film to use for all the classes and adjusting the language for each group.
Watch a short non-fiction film. I've linked to many videos below, and here are TeachVid activities: video 1 and video 2. Here's a free set of slides to learn from videos and a Google form for students to use when answering (credit: McKenzie Joy). Here's another free Google Form with the videos embedded.
Create an ofrenda with your students (see how other teachers have done Day of the Dead ofrendas with their students).
Research and compare Día de Muertos traditions across Latin America. This post has info, links, and YouTube videos.
Watch Coco (or buy the DVD).  There are some great free and paid resources on TpT to go with Coco. I loved this free Coco PPT from Arianne Dowd, and this EdPuzzle. You can also extend the lesson by studying the song La llorona.
Watch El Libro de la Vida. For The Book of Life, you can use: A basic guide with questions from Kara Jacobs, and/or this free guide for novices from Mis Clases Locas.
Day of the Dead
Create a story with your class, using Day of the Dead as a theme. Remember that you don't have to come up with a story from scratch. You can always choose an authentic story like the one below, and re-tell it to your class in simplified language.
Google Arts and Culture has some amazing resources as well, for exploring Day of the Dead. I really like the video that introduces the holiday with vivid images, and there's even an interactive altar!
INFOGRAPHS
Infographs are a great way to use authentic language in short bits (with illustrations and graphic for support) while learning about Day of the Dead. These are fun to to prompt discussion and give the students a chance to see what they can understand from an authentic resource.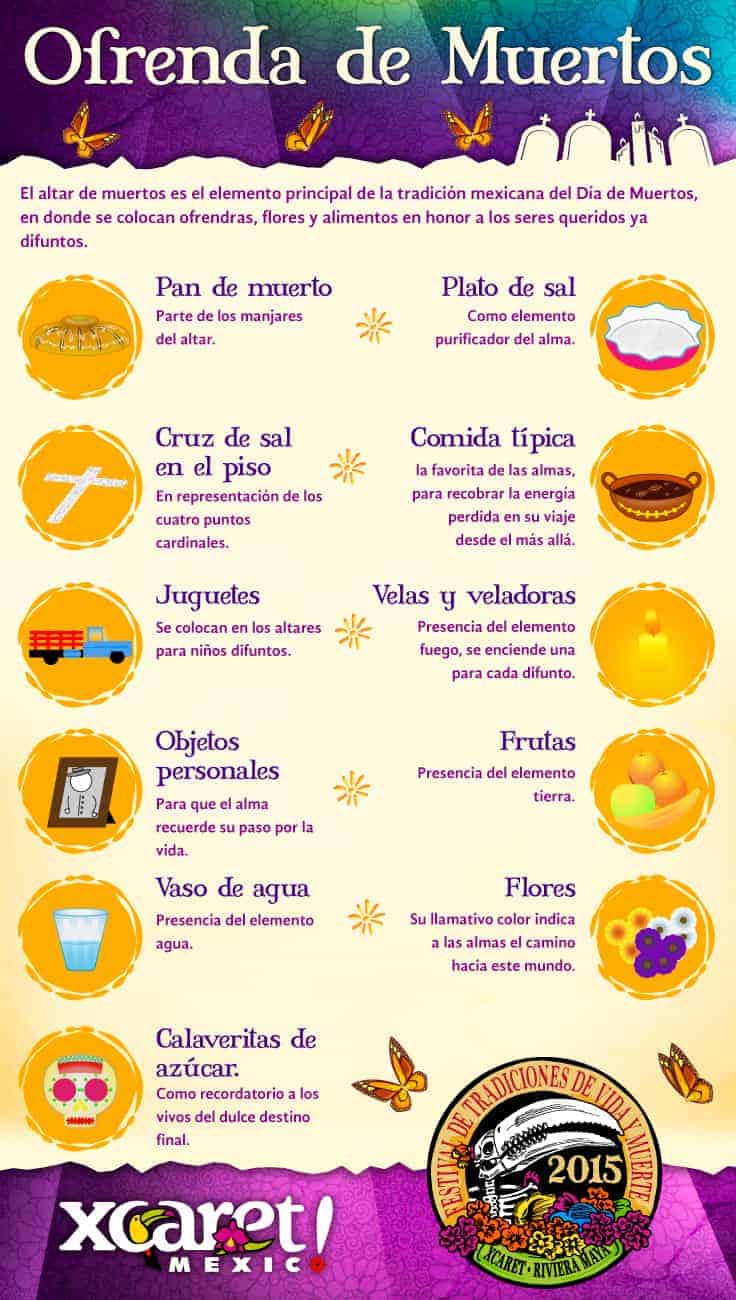 Credit: Xoximilco blog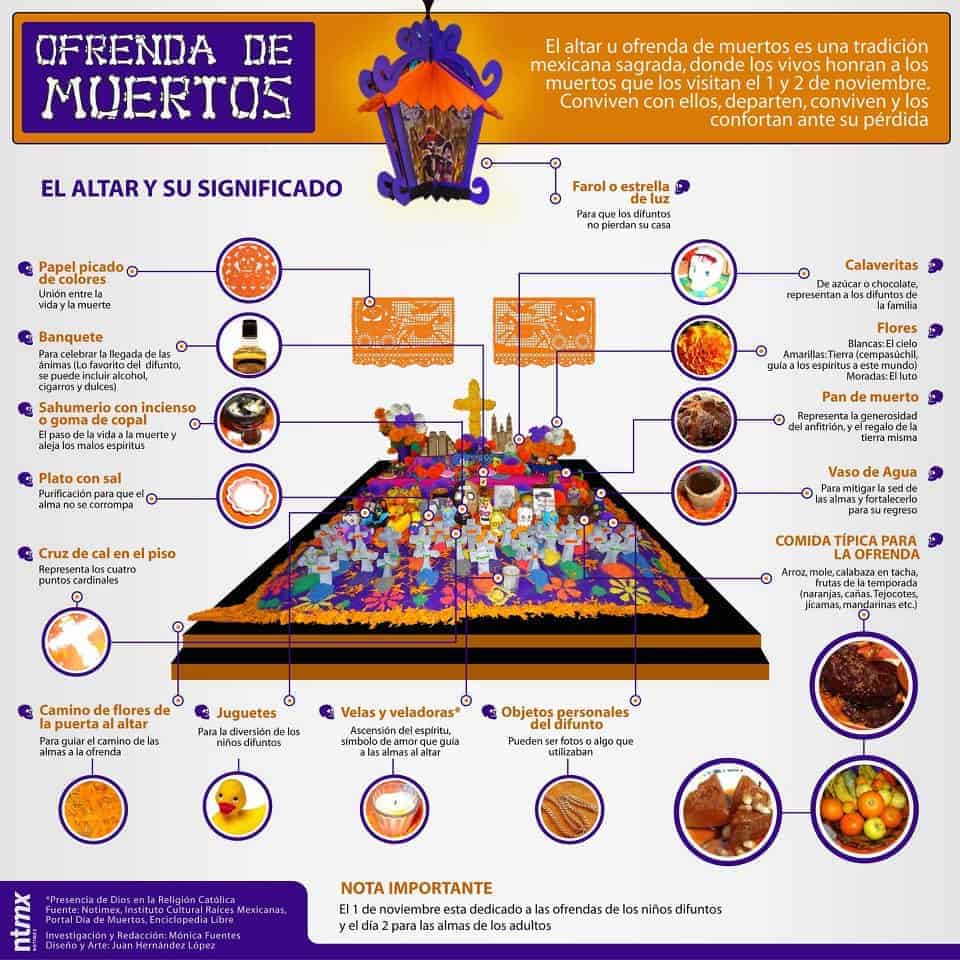 Credit: Enter to the Matrix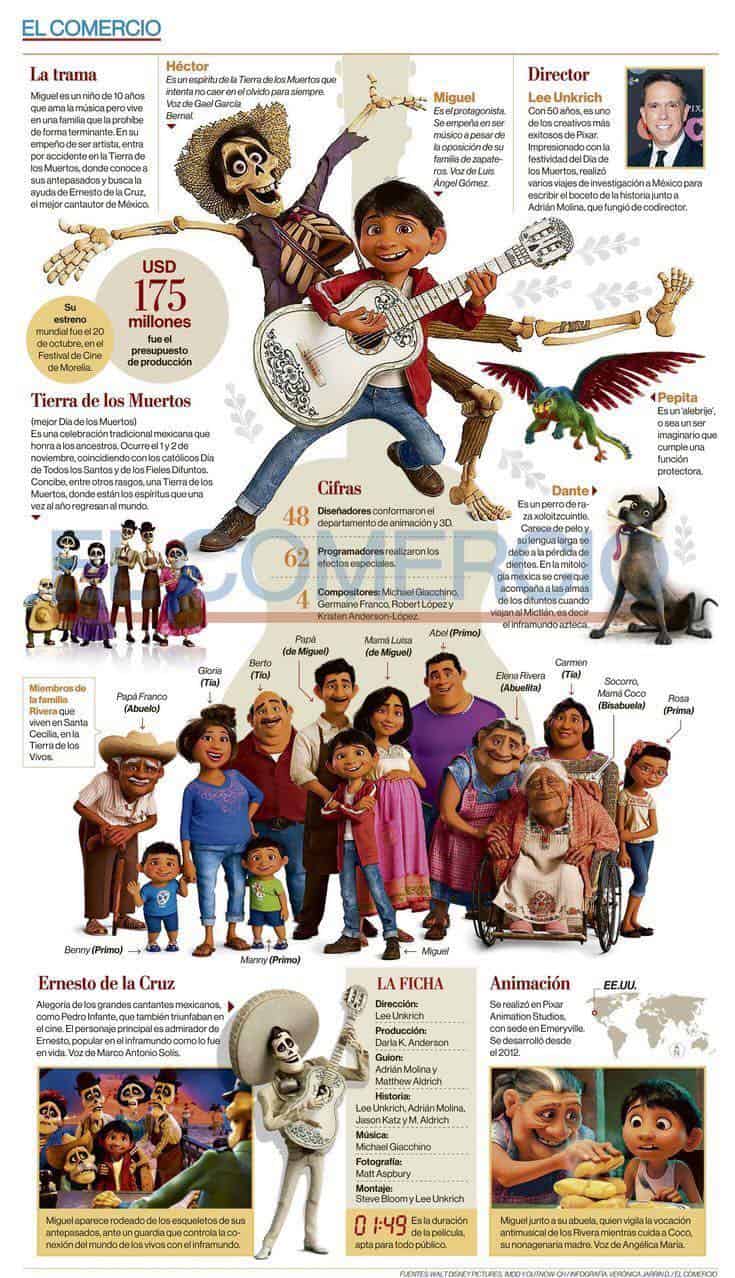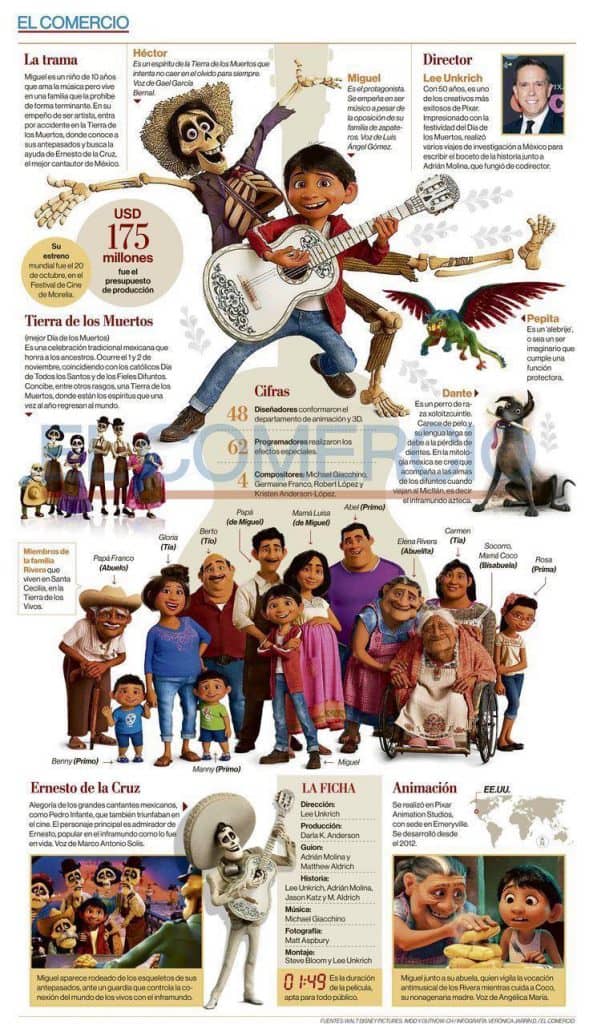 Image Credit: El Comercio
Visit my Día de Muertos page on Pinterest to find lots more Día de muertos realia!
DÍA DE MUERTOS CRAFTS AND PRINTABLES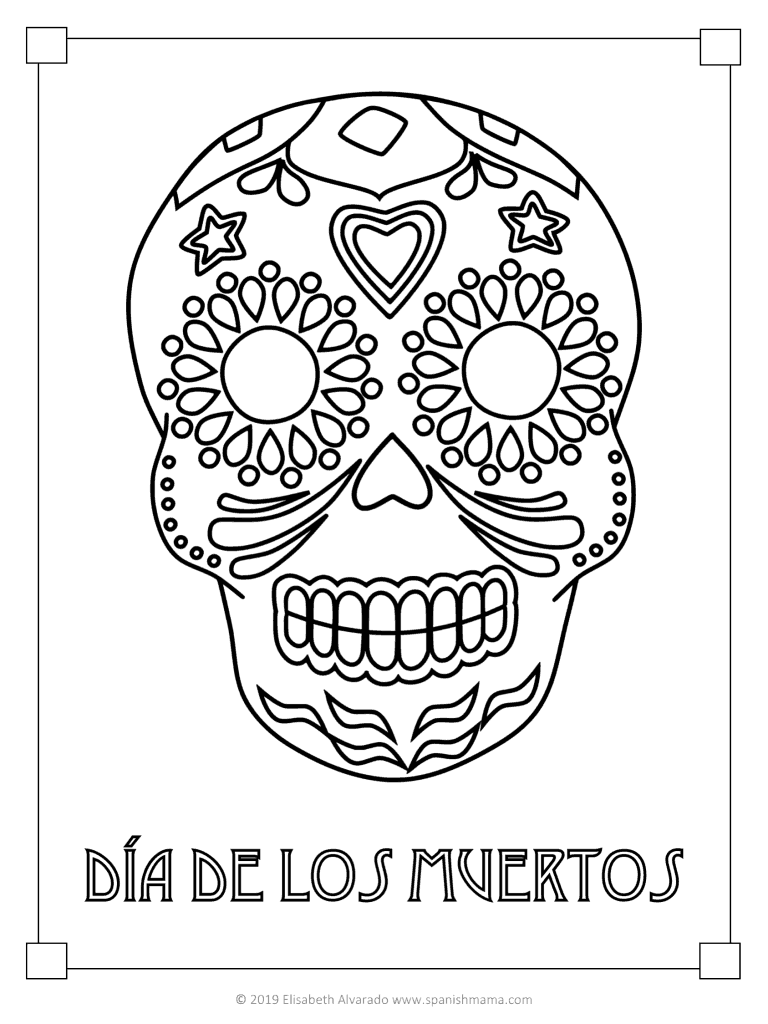 Printable Sugar Skulls, Masks, and Coloring Pages
Free printable for papel picado from Live Colorful.
Calaca Finger Puppets from Calico Spanish
Easy Day of the Dead Crafts from Spanish Playground
Free color-by-number Calaveras from Spanish Playground
Sugar-Skull Your Seflie (for Teens) from Crafty Chica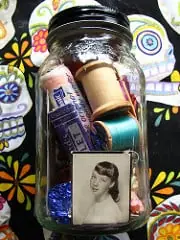 Mini-Altars in a Jar
(Source: Creative Commons Licensed (BY-NC-ND) Flickr photo by Jessica Wilson)
Stone Sugar Skulls from Alisa Burke
Día de Muertos Coloring Pages from Rockalingua
Shoebox Altar from Discovering the World Through My Son's Eyes
SONGS FOR DAY OF THE DEAD
Here are two songs that work for different levels. You can also see my entire post on Day of the Dead songs, with many more options!
Calaverita – La Santa Cecilia
This song would work well for older students. And check out these amazing resources from Kara Jacobs and Elena Lopez for La Santa Cecilia!
Chúmbala Cachúmbala
This song could work for younger students, with kid-friendly illustrations and music. I have an activity pack on TpT for $3 that goes with this song as well!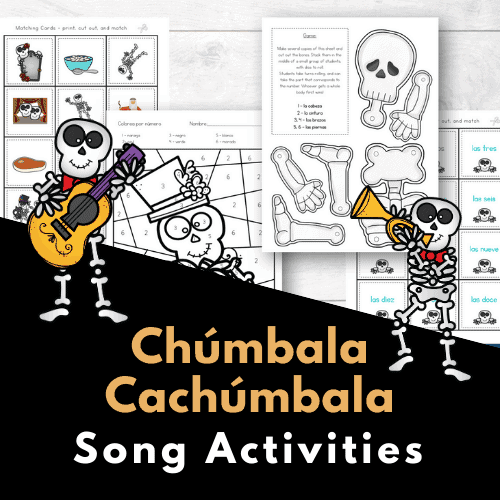 SHORT FILMS FOR DAY OF THE DEAD
These would make great MovieTalks for a Día de los muertos. You narrate the stories in language the students understand, discuss, possibly type up a reading, and voila!– you have a high-interest, language-packed activity in story-form.
Día de Los Muertos
I was already planning on using this sweet short film when I came across some amazing resources from Williamson CI & TPRS for doing a MovieTalk. Click here to access a PPT with text and screenshots, activities, and online games. There are also great embedded readings on customs in various countries as well. This is my favorite resource I've come across so far, and it's free!
Another FANTASTIC resource is from Elena Lopez, who put together more resources for "La niña recuerda."
Día de Muertos
Elena Lopez has wonderful resources for this one, too, complete with questions, textivate activities, Kahoot, and more.
Dante's Lunch
Again, Elena Lopez to the rescue with tons of comprehensible free activities for "La Cena de Dante."
El Ruido Escalofriante
This is a great "scary story" told in comprehensible Spanish!
AUTHENTIC VIDEOS FOR DÍA DE MUERTOS
Day of the Dead: Preparaciones y Celebraciones in Oaxaca, Mexico (English)
Introduction to Day of the Dead (English):
Celebración de Vida – Celebración del Día de Muertos (Spanish – you may need to slow the speed of the audio to make this more comprehensible)
Ofrenda de Día de Muertos (No audio– just an in-depth demonstration of the altar-creation process):
Día de Muertos (English – this is a 53-minute film from PBS that explores Día de Muertos on a more in-depth level. "In contrast to all the glamorous fanfare Dia de los Muertos now receives, Artbound offers a more intimate look at this ritual through the story of artist Ofelia Esparza, who continues the tradition of building altars to remember the dead. Journey with her as she travels back to Mexico in search of her ancestral roots.")
El Día de Muertos, en México (Spanish with slower, more comprehensible audio):
Kites in Guatemala (No audio– subtitles in English):
10 Datos Interesantes del Día de Muertos (Spanish):
Making Flores de Cempasuchitl (Spanish):
Catrina Mexicana Tutorial (Spanish):
Cómo Vestir Una Catrina (Spanish):
Calaveritas Vestidas (Spanish):
Here are more related posts on Day of the Dead activities:
What other ideas and resources do you love for teaching about Día de los Muertos? If I missed a favorite activity, let me know in the comments below!
Like it? Pin it!
Join the newsletter
Want to stay in touch and hear from me weekly?

Sign up now and you'll get this free game set.