Sugar Skull Coloring Pages and Masks for Día de Muertos
Inside: Looking for sugar skull coloring pages? Grab this set of free printable downloads with calaveras and other printables for learning more about Day of the Dead.
As you learn about Dia de Muertos traditions, sugar skulls are iconic images. I've created these designs for you to print and color with kids of different ages.
Some of the artwork is more simple, and others are more detailed sugar skulls for older children or teenagers to color.
The larger two sugar skull designs at the end of the download could be printed, colored, and cut out to use as sugar skull masks as well.
I've included free coloring pages that feature papel picado and monarch butterflies, in case teachers have kids or students uncomfortable with images of skulls.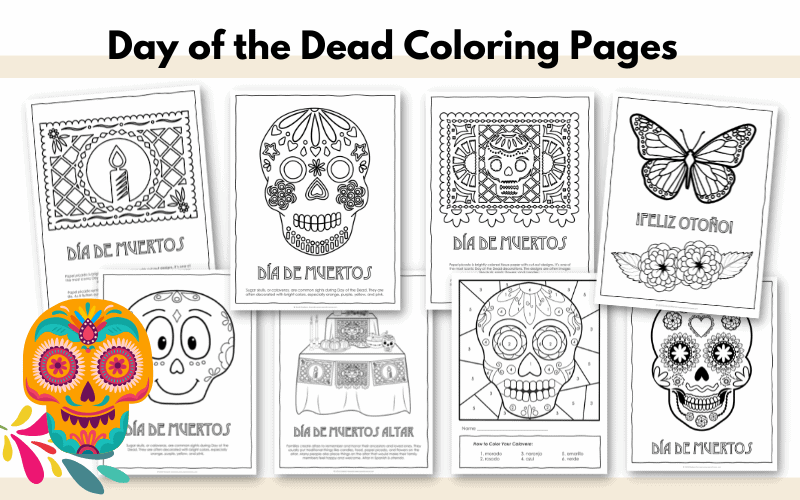 Free printable SUGAR SKULL COLORING PAGES for Kids
To access the sugar skull coloring sheets, click on the button below and you will be sent to the file in Google Drive.
Below I also have images of real-life sugar skulls, background information, and ideas for how to color them.
Click the button below to download all the pages as a PDF.
If you would like to have an editable copy, click on the link to force a copy from the PDF. That will create your own Google slide doc, and you can edit my text or overlay your own (including making your own text for the color-by-number sheet!).
How to Color Your Sugar Skulls
You can use crayons, colored pencils, watercolors, or whatever medium you like. I think bright markers will show off the colors nicely.
As part of processions or visits to graveyards, many people paint their faces.
"…sugar skulls can be decorated in all kinds of colors, but when people paint their faces as if they were sugar skulls themselves, the colors they use hold a special meaning. Red is used to represent our blood; orange to represent the sun; yellow to represent the Mexican marigold (which represents death itself); purple is pain (though in other cultures, it could also be richness and royalty); pink and white are hope, purity, and celebration; and finally, black represents the Land of the Dead."

– Day of the Dead.Holiday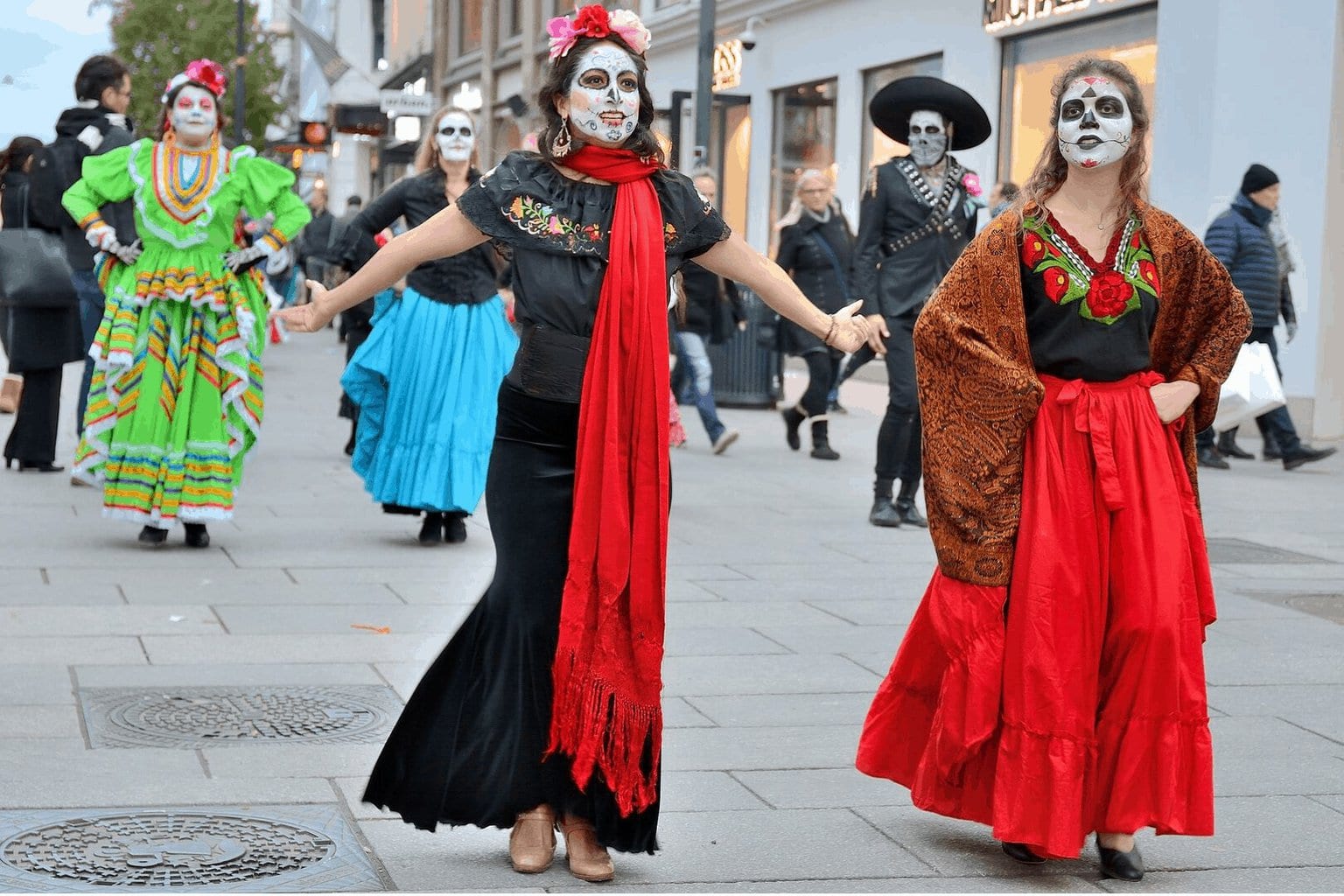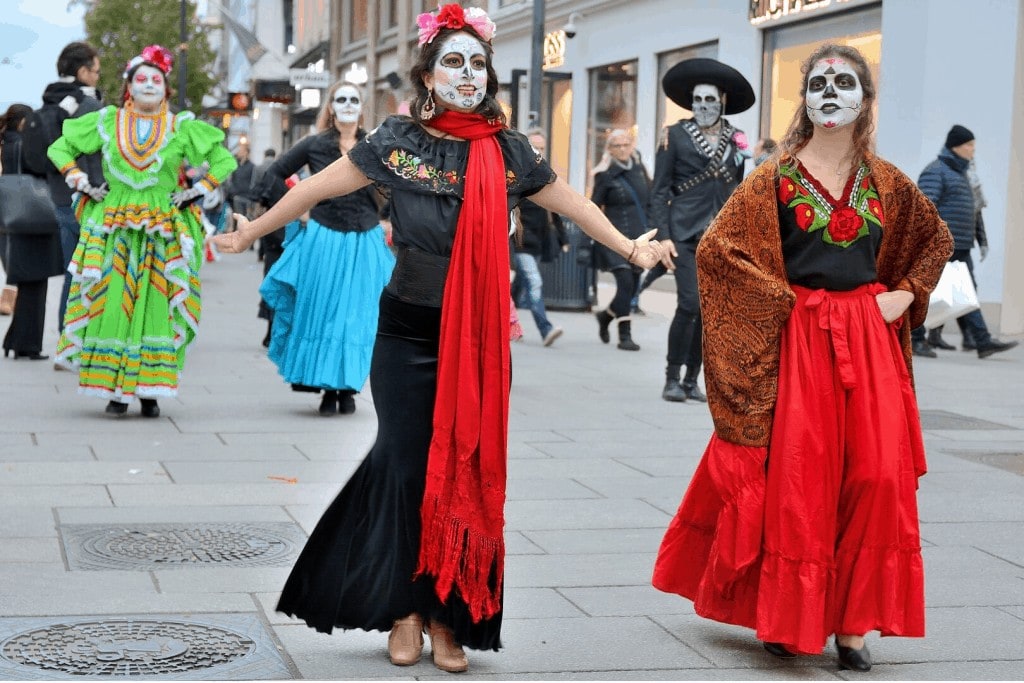 You can keep those representations in mind as you color your sugar skulls too!
Why Sugar Skulls?
Sugar skulls are among the most recognizable images for Día de los Muertos (calaveras in Spanish). They are sometimes literal sugar skulls, mini replicas made out of sugar.
They can be placed on altars created in memory of family who has passed on, or gifted between family and friends as well.
"…skulls are placed as decorations to recognize the person who has passed. His or her name is written on the sugar skull's forehead and, depending on the age of the deceased, the size of the skull might vary — baby skulls are dedicated to those who passed at a young age and larger skulls are for adults.

The colors of the skulls differ, too. Some are covered in ribbons and icing, others are dipped in glitter and decorated with bright adornments like hats and bows. While you'll find a variety of versions, you won't find any that lack color, because color reflects life, and the Day of the Dead celebrates just that."

– from PopSugar Latina
If you put up a display of calaveras in your school, be sure to post a paragraph or two explaining their significance and how Día de Muertos differs from Halloween.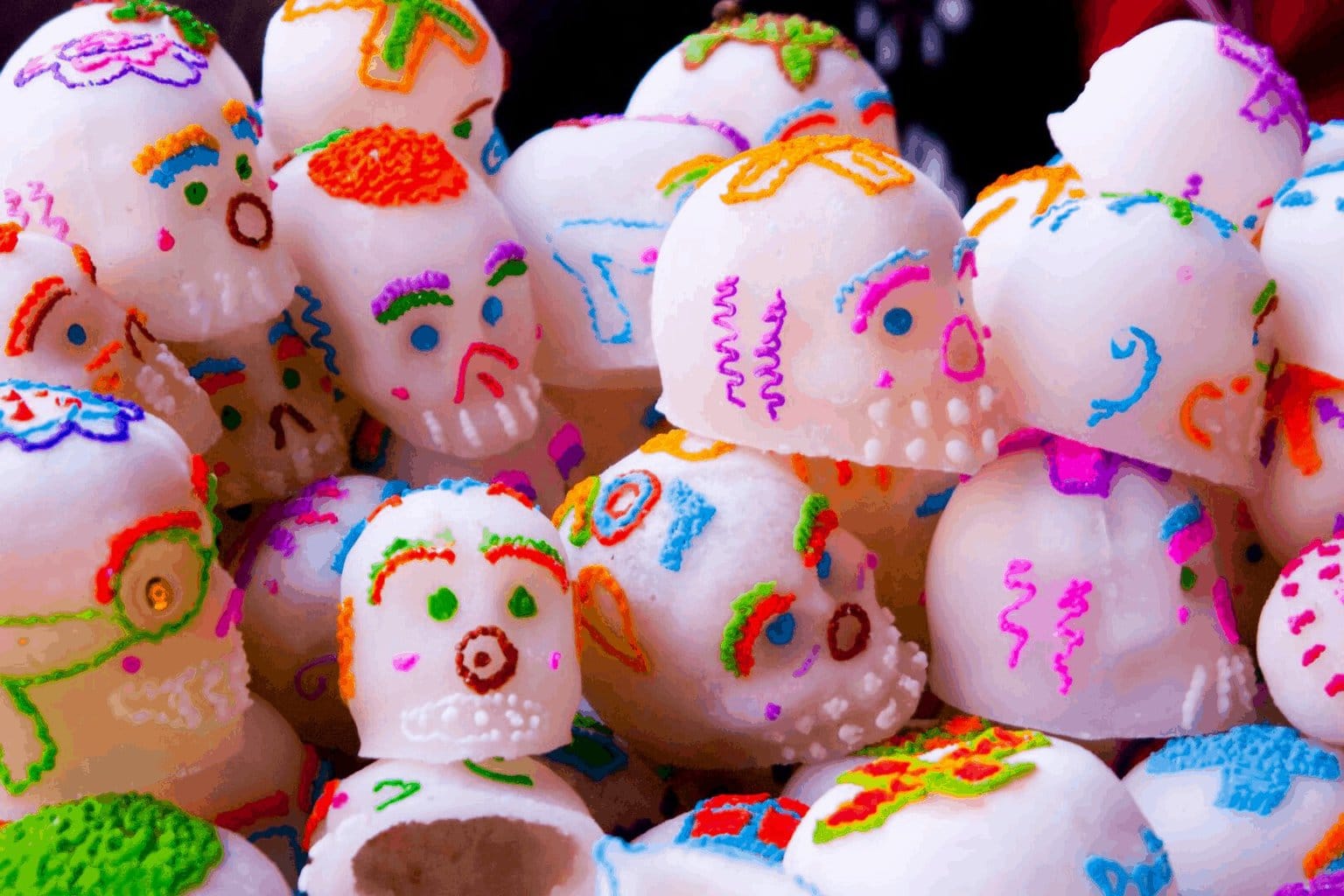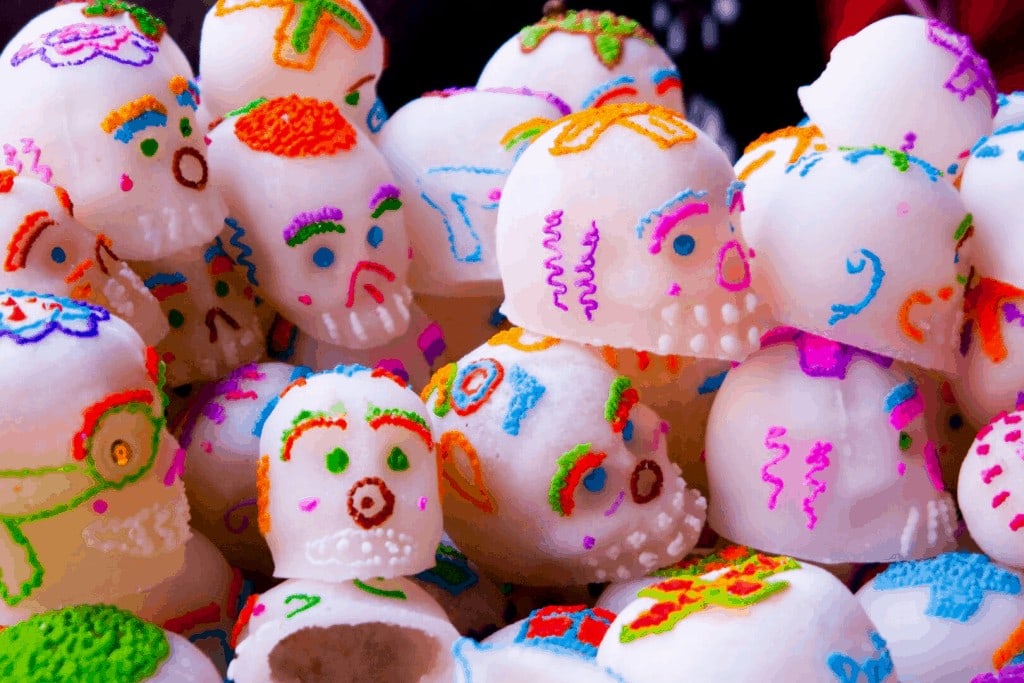 Related: Day of the Dead Activities and Crafts for Class.
Images of Real Life Calaveras
Here is a tour of real-life calaveras to give you some artistic inspiration.
Sugar skull by Mondragon Family
6th Annual Folk Art Festival 2011
National Museum of Mexican Art – Chicago, IL
Photo by Maria Campos-Vera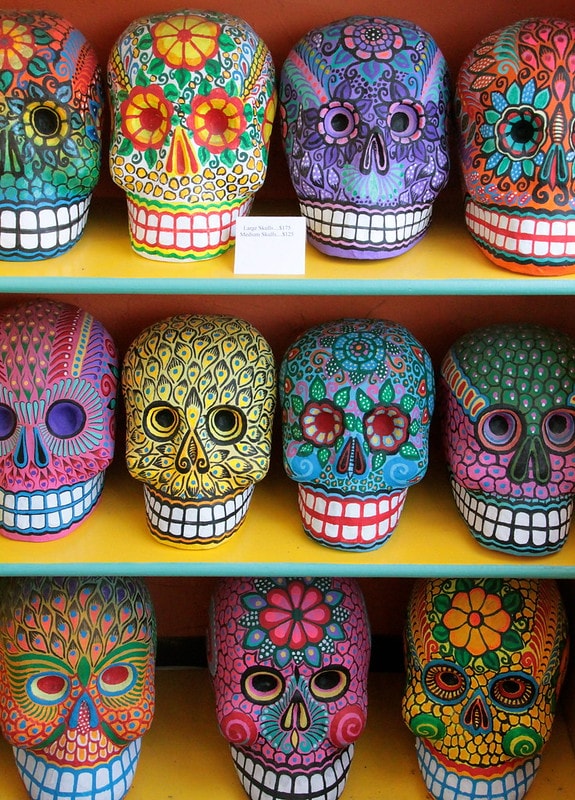 Examples of painted skulls.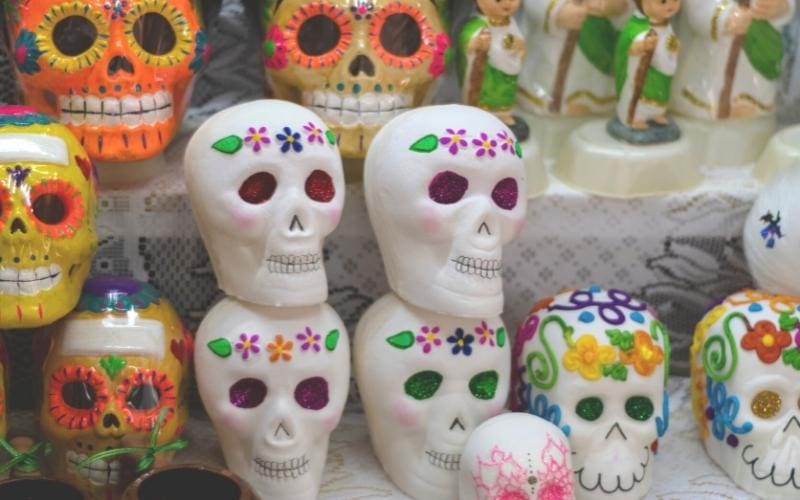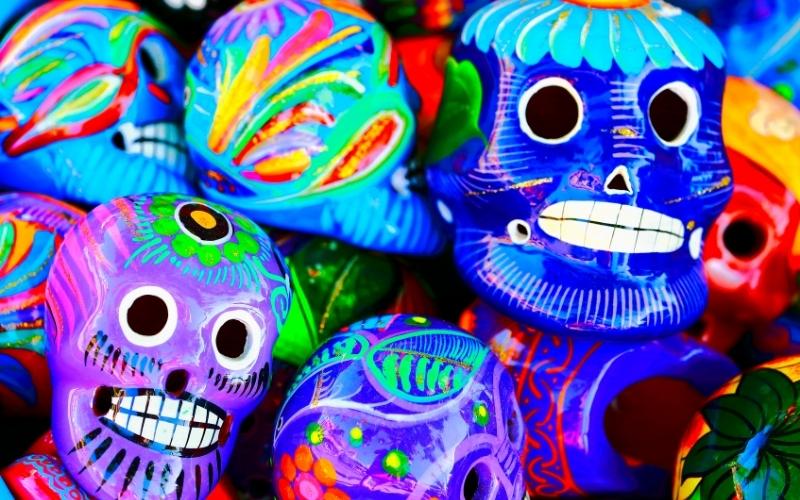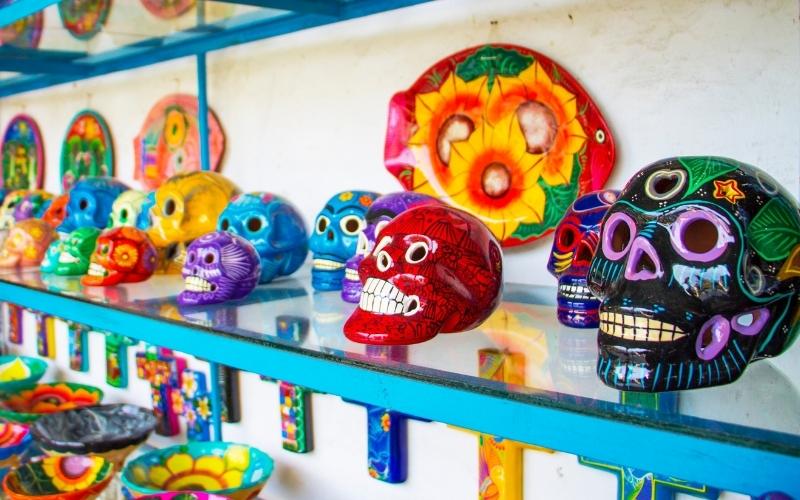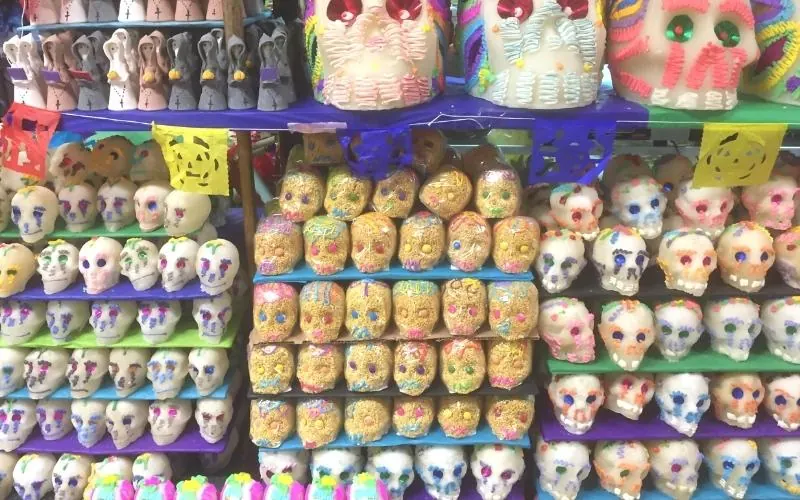 What Does Day of the Dead mean?
Day of the Dead, or Día de Muertos is one of the most well-known Mexican holidays. It's also celebrated in many parts of Latin America, though sometimes under slightly different names.
Día de Muertos stems from pre-Hispanic traditions of honoring ancestors and their ongoing presence in the life of the living, and was later mixed in with the Christian customs brought by Spaniards.
Although it's sometimes confused with Halloween since it falls on November 1 and 2, the meaning behind Day of the Dead is very different.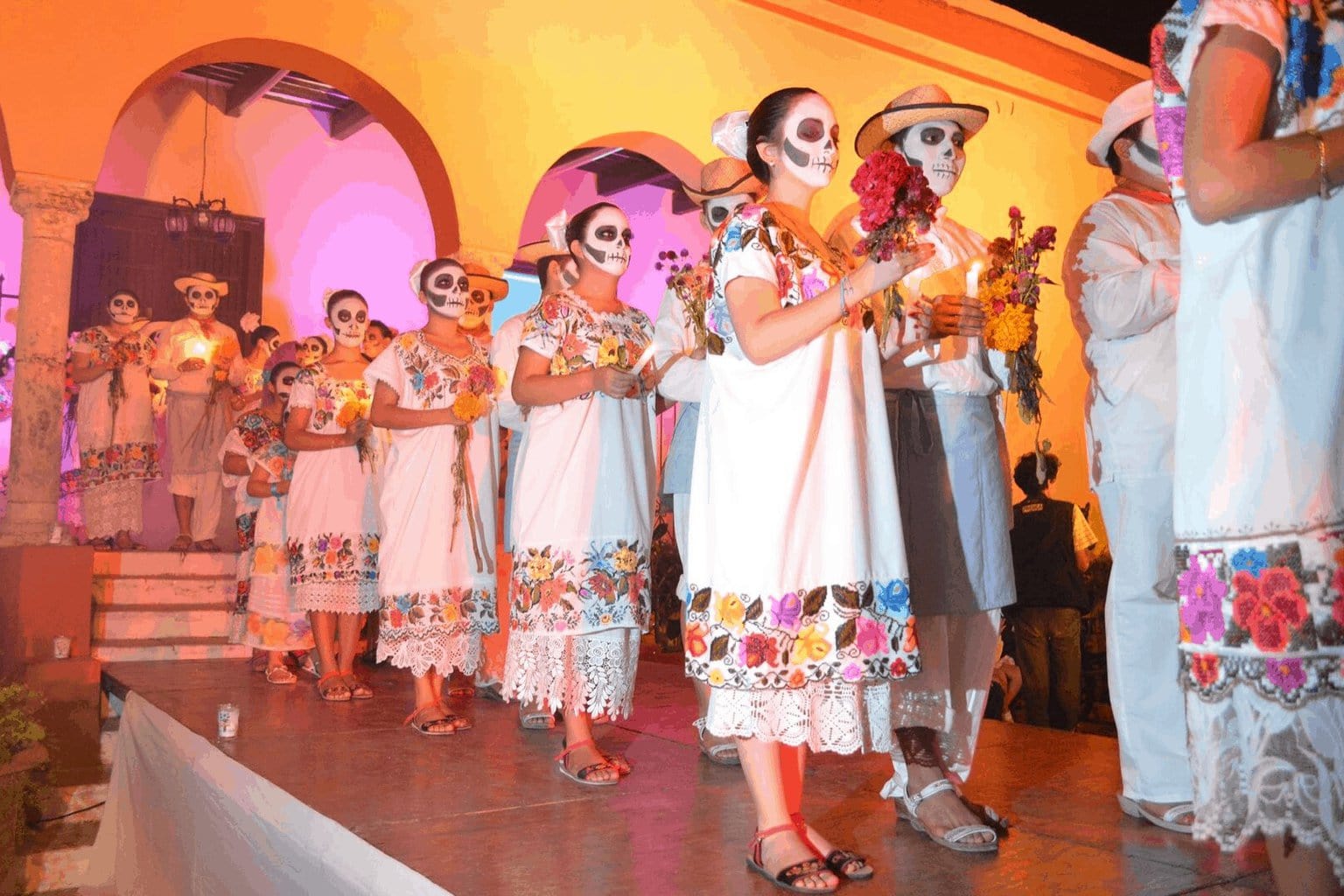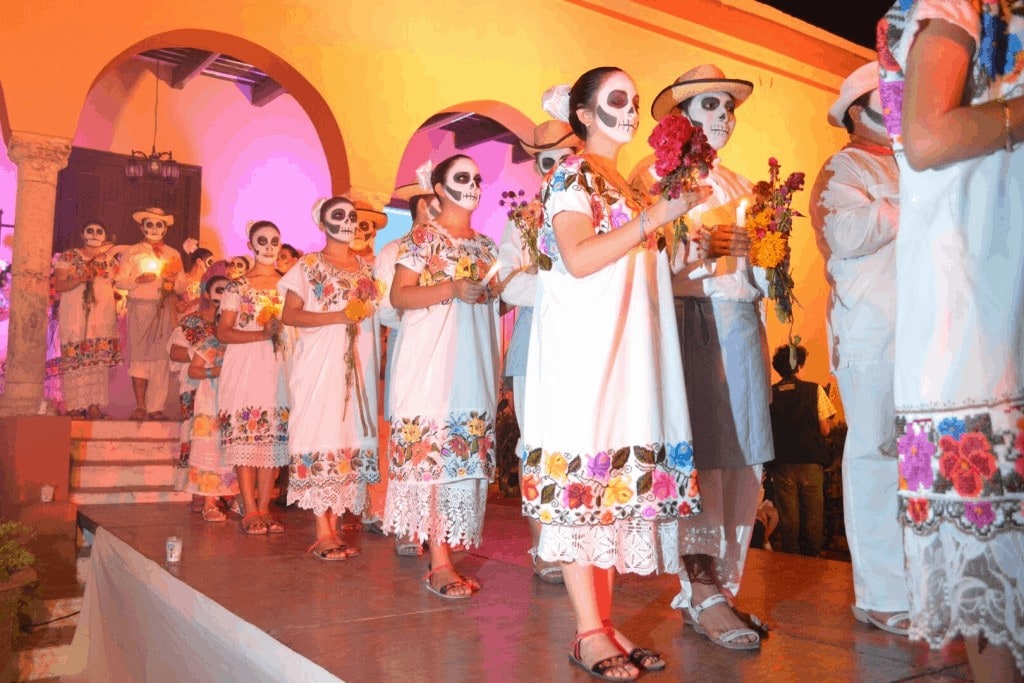 Related: Día de Muertos vs. Halloween- Don't Get Them Confused!
Day of the Dead is not meant to celebrate spooky or scary things. Rather, it's a celebration the lives of those who have died.
Even though you'll see many symbols of death like skulls or graveyards, those things are not meant to communicate fear or darkness.
Instead, bright, vivid colors are a staple of Day of the Dead images and decorations.
If you are looking for more ways to learn about Day of the Dead, I have this post: Day of the Dead Activities and Crafts for Class. It's a great resource for diving deeper into the meaning of this mostly Mexican holiday and has many ideas for making it meaningful to students.
I hope these Day of the Dead coloring pages are helpful for your home or classroom! You may be interested in these related posts as well: