Love and Friendship Songs for Kids in Spanish
Inside: Friendship songs in Spanish for kids and songs about love.
If you need some songs for Valentine's Day in Spanish class, there are tons of Valentin's song options for older Spanish students. (After all… Spanish love songs are famous for their sentiment!) For younger students, it's best to have some options that focus on friendship and family. Today I've got some fun options your little ones will love!
VALENTINE'S AND FRIENDSHIP SONGS IN SPANISH FOR KIDS
1. MI CORAZONCITO
The language may be complicated for beginners, but even little ones will enjoy the chorus in this song, which lends itself to movement and dancing along! Good for teaching the word "corazón."
2. TE QUIERO
I love this sweet song from Fun for Spanish Teachers, which uses simple phrases to teach "te quiero" and "tú eres mi corazón." Perfect for novice learners!
3. SKIDAMARINK
Skidamarink is highly comprehensible with a slow pace, and teaches the phrase "te quiero" in the sweet context of animal friends.
4. TIBURONES DE SAN VALENTÍN
If your kids are nuts over Tiburón Bebé like mine are, they will love this one with a Valentine's twist! You can introduce all sorts of phrases like "querido," "te amo," and "Feliz San Valentín" through the comprehensible lyrics as well.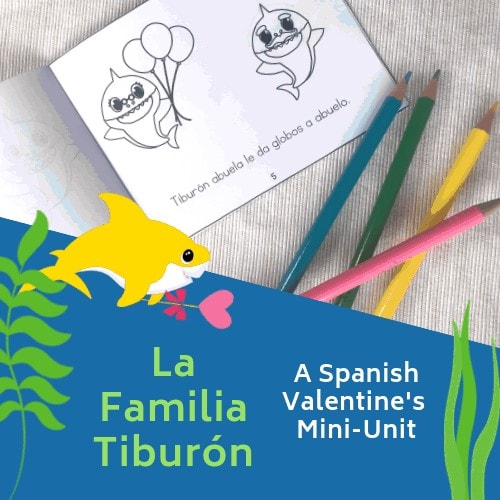 5. MIS AMIGOS
These lyrics are more advanced, but it does have lots of repetitions of "mis amigos"! The animation is also nice for talking about what friends can do together.
6. DÍA DEL AMOR Y LA AMISTAD
Here's a bilingual song that introduces what Valentine's day is all about.
7. MI MASCOTA, MI AMIGO
If you want to talk about animal friends and pets, here's your song! My kids reacted a little to the kids kissing their pets, so that's your call, but the song is easy to follow for kids.
8. AMIGUITO, BAILA CONMIGO
Although the lyrics don't say much about friendship, this is a fun song that teaches a dance between friends and review lots of movement and direction words.