Dolores Huerta Biography (With Teaching Resources)
Inside: Learn about the lift and work of Dolores Huerta, and find resources for teaching and creating a Dolores Huerta lesson plan.
Dolores Huerta has dedicated six decades to the fight for the rights of farm workers. Co-founder of United Farm Workers with César Chávez, she has fought for livable wages, safer working conditions, and protections for laborers.
She advocates for change through non-violent tactics, though boycotts, marches, protests, and especially community organizing. One of the Huerta's greatest strengths has been in negotiations with companies on behalf of workers: her nickname "The Dragon Lady" comes from her fierce moral character.
Even those who don't know her story can probably quote her:
And she coined the rallying cry that is now ubiquitous in picket lines, presidential campaigns and sporting events: "Sí se puede." Yes we can.

– Dolores Huerta's "One Life" at the National Portrait Gallery: Yes she could, Washington Post
Though her accomplishments have sometimes been overshadowed by the legacy of Chavez, Huerta is a legend in her own right among civil rights activists. We should all know about the life and work of this remarkable Latina leader!
Related: Famous Latinos & Hispanic Americans Home Page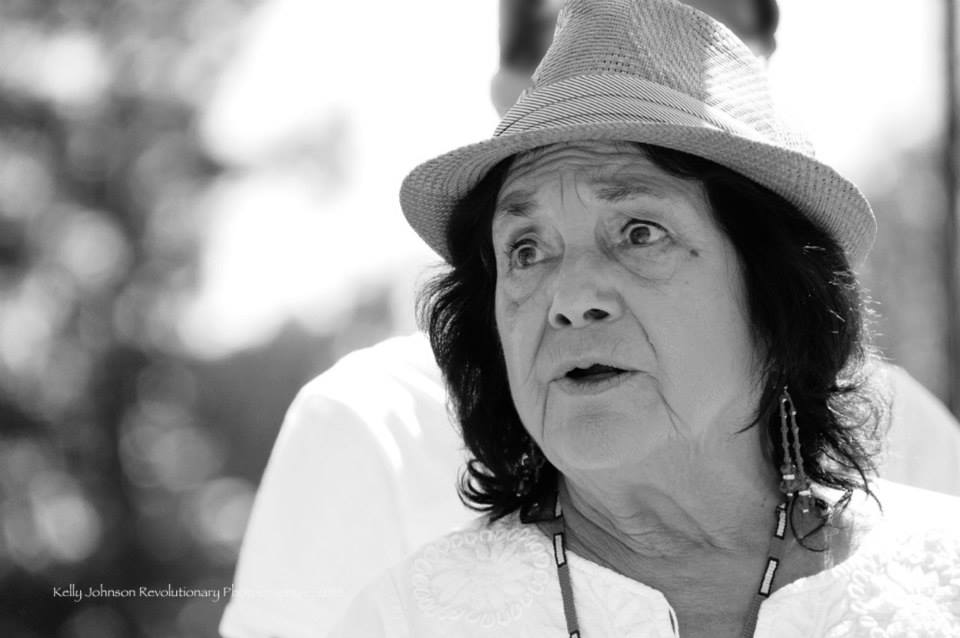 Here's what's included in the post. You can click on any link to jump straight to that section.
Contents:

1. Quick Facts About Dolores Huerta
2. Dolores Huerta Biography
3. Top 5 Quotes from Dolores Huerta
4. Lesson Plans and Kids' Resources
5. Books About Dolores Huerta
6. YouTube Videos


dolores huerta Quick Facts
Fast Facts About Dolores Huerta
Birth: April 10, 1930
Birthplace: New Mexico, US
Family: Ralph Head (1st spouse), Ventura Huerta (2nd spouse), Richard Chávez (3rd partner), 11 children
Education: Teaching Degree from the University of the Pacific's Stockton College
Career: Teacher, Community Organizer
Famous For: Activism, Co-founder of United Farm Workers (UFW), 1965 Delano Grape Strike, 2012 Presidential Medal of Freedom recipient, member of National Women's Hall of Fame
Dolores Huerta Biography
Huerta was born April 10, 1930, in Dawson, New Mexico.
Her father, Juan Fernández, was a miner. He was also a member of the New Mexico State legislature and a volunteer union activist.
When her parents divorced, she moved with her mother and brothers at the age of 3 to the agricultural town of Stockton, California,. Huerta's mother Alicia began working as a waitress, eventually opening up her own restaurant and later working in hotel management.
Alicia was very involved in community activism and Huerta has described her as a feminist ahead of her own time.
Huerta met her first husband, Ralph Head, during her time at Stockton High School. They had two children together but eventually divorced.
Teaching Career
After receiving her teaching credential from Delta College in Stockton, Huerta taught elementary school for a time.
While teaching, she witnessed the living conditions of her students' families, and they difficulties they faced. Many of the workers in Stockton had come from Mexico as part of the Braceros Program and faced terrible working conditions with few protections.
Moved by the poverty she saw, Huerta decided she could help her community more by organizing and working to improve conditions.
According to Huerta herself, "I quit because I can't stand seeing kids come to class hungry and needing shoes. I thought I could do more by organizing farm workers than by trying to teach their hungry children."
Early Activism
In 1955 she joined a local chapter of the Community Service Organization (CSO).
Here's how Huerta herself described the conditions in the fields, from an interview with the Nob Hill Gazette:
"Number one … the workers were not provided toilets. And if you can imagine what that was like for the women. Here, you have people picking the food that's going to go to your supermarket, and they didn't have bathrooms. They didn't have hand-washing facilities. They didn't have cold water. They didn't have rest periods at all. And the wages were miserable. I mean, they were terrible."
One of the main efforts of the CSO was mobilizing voters, and Huerta worked with her mentor Fred Ross, Sr., to organize voter registration drives. Her mother Alicia aided in the voter efforts. She also founded an association to help migrant workers receive documents and assistance in 1961, regardless of immigration status.
Dolores Huerta and César Chávez
Huerta met Chávez through the CSO . He was a humble personality and a champion of nonviolent protests, and leading marches and hunger strikes, the longest of which lasted 72 days. With her tough personality, they two formed a good working partnership.
The two saw the need for an actual union and together founded the National Farm Workers Association (NWFA). This union would later change names and become known as United Farm Workers Union (UFW).
Huerta was an integral part of the 1965 Delano Grape Strike, which lasted five years and involved over 5,000 people. The workers, largely Filipino-Americans, were paid less than other groups and working under terrible conditions.
Eventually,the movement grew to 17 million people who participated in boycotting the sales of grapes. In 1970, the the workers won out and Huerta negotiated the terms between the workers and the grape growers. Her sharp negotiating skills earned her the nickname "The Dragon Lady." Over her lifetime, she would negotiate dozens of agreements like this one.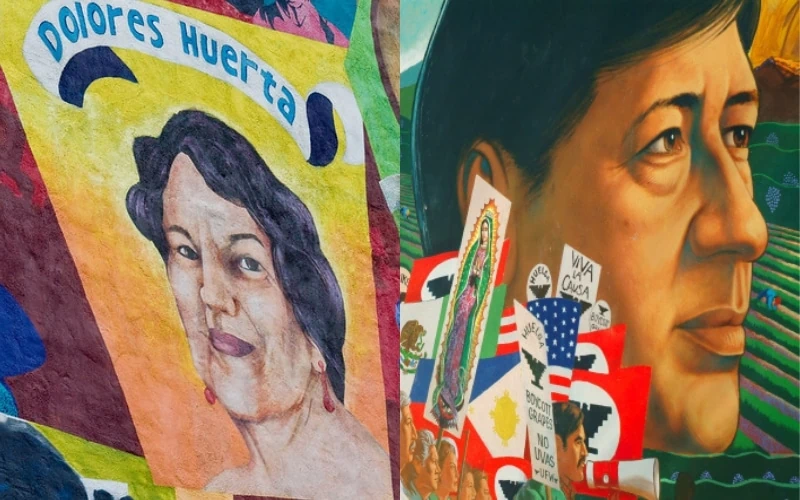 Family Life
At the time they founded the UFW, Huerta was in the midst of her second divorce and caring for seven children, but she moved to Delano to work. This was a difficult decision, as she had to leave several of the younger children behind.
Huerta later married Cesar's brother Richard Chávez, and they had four children. They were together until his passing in 2011.
Both she and her children have been candid in several interviews about the cost of her activism to her children– and also that the sort of scrutiny is generally directed at mothers, not fathers.
"It must have felt, as one of her grown children noted, not without some bitterness, that "The movement became her most important child."

In another sense, of course, Huerta's activism and her love for her children complemented and reinforced each other. The farm workers' movement was a labor movement but also a social one, a catalyst for an emerging wave of Brown Pride…

…While mainstream media sent the message that brown was ugly, inferior, or unwanted, Huerta's kids were raised in an empowering counterculture. As one of Huerta's daughter recalls, "our mother was constantly telling us how beautiful our dark skin was."

– Eileen McGinnis, Trade-Offs from the Radical Motherhood of Labor Activist Dolores Huerta
Several of her children have followed her footsteps and become activists in their own right.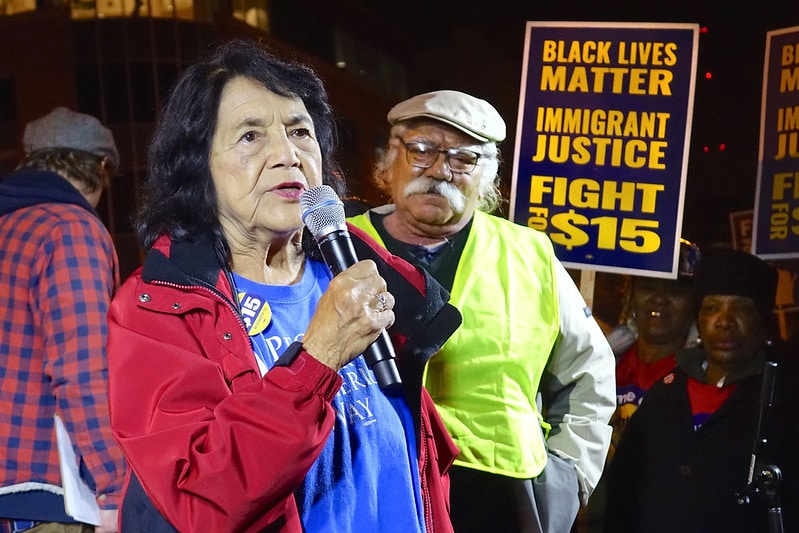 Later Activism and Legacy
Dolores Huerta continued working and organizing. She organized a national lettuce boycott in the 1970s, which helped bring about the 1975 Agricultural Labor Relations Act, a landmark case for securing rights for workers. This was the first law in the United States that allowed farm workers to organize.
The 1980s and 1990s marked a period of struggle, complicated by anti-union sentiment and the influx of undocumented workers who were difficult to organize and secure rights for. While they were able to make advances with many rights in California, these changes did not come about in many other states or on a national level.
She is famous for the phrase "Sí se puede" ("yes we can"), and has continued fighting for workers until now, through United Farm Workers.
She has been arrested on multiple occasions. In 1988, while protesting the use of dangerous pesticides, she even suffered a severe police beating that left her in the hospital. Later, she successfully sued the city of San Francisco.
Huerta had met Gloria Steinem before, and focused on women's issues throughout the 1990s and 2000s. Her early leadership as a woman opened the doors for many woman after her.
After receiving a $100,000 prize from the Puffin Award, she established the Dolores Huerta Foundation. The DHF is dedicated to helping people continue to organize and help low-income communities develop.
Huerta continued her work well into the 2000's and received the Presidential Medal of Freedom in 2012 from President Obama. She was the first Latina inducted into the National Women's Hall of Fame, and has received numerous awards and honorary doctorates.
Dolores Huerta Awards:
Presidential Medal of Freedom from President Obama
Ellis Island Medal of Freedom
National Women's Hall of Fame (1993)
Puffin Awards for Creative Citizenship (2002)
Eleanor Roosevelt Human Rights Award from President Clinton
The documentary film "Dolores," directed by Peter Bratt, was released in 2017 by PBS.
Interesting Dolores Huerta Facts for Kids:
Dolores Huerta knew what is was like to feel discrimination. When she was in high school, a teacher accused her of cheating on her papers because they were so well-written. The teacher thought that someone from a Latino background could not have written such a good paper.
This sort of experience, along with what she witnessed across her community, inspired her to fight for change and be sympathetic to others.
Both Washington and California have declared April 10 "Dolores Huerta Day."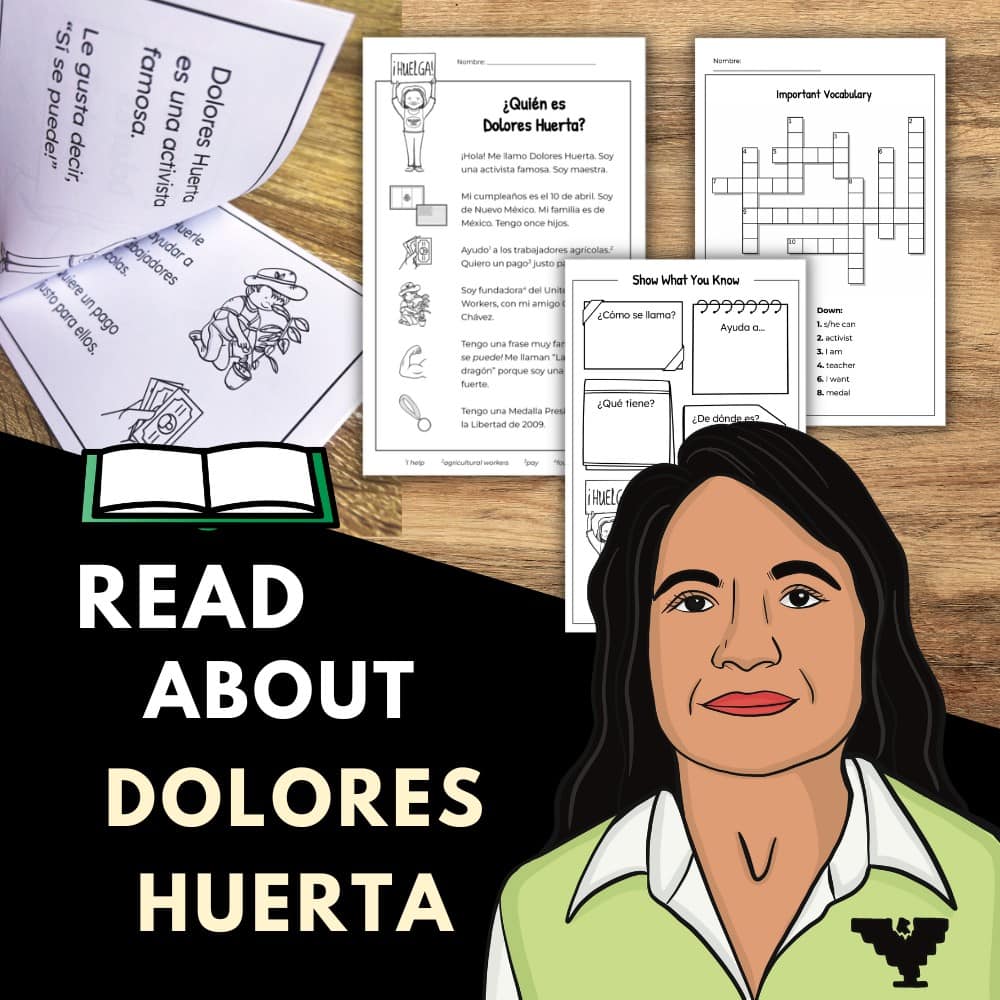 Resources for Kids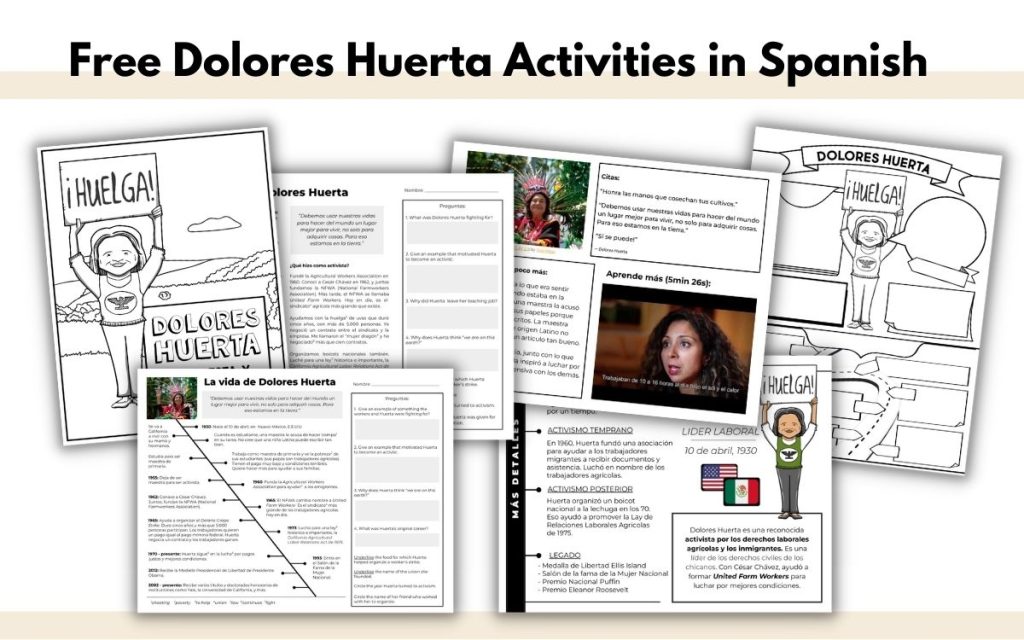 Online Resources:
You also might be interested in my sets of biography slides and project templates for learning about Latinx and Spanish-Speaking leaders, plus a free guessing game.
Top 5 Quotes from Dolores Huerta
Here are some excellent Dolores Huerta quotes to share with your students.
1. "We must use our lives to make the world a better place to live, not just to acquire things. That is what we are put on the earth for."
– Dolores Huerta
2. "The thing about nonviolence is that it spreads. When you get people to participate in nonviolent action – whether it's a fast, a march, a boycott, or a picket line – people hear you, people see you, people are learning from that action."
– Dolores Huerta
3. "We as women should shine light on our accomplishments and not feel egotistical when we do. It's a way to let the world know that we as women can accomplish great things!"
– Dolores Huerta
4. "Giving kids clothes and food is one thing, but it's much more important to teach them that other people besides themselves are important and that the best thing they can do with their lives is to use them in the service of other people."
– Dolores Huerta
5. "Every single day we sit down to eat, breakfast, lunch, and dinner, and at our table we have food that was planted, picked, or harvested by a farm worker. Why is it that the people who do the most sacred work in our nation are the most oppressed, the most exploited?"
– Dolores Huerta
Books for Dolores Huerta Lessons
These links are affiliate links.
Videos About Dolores Huerta
Here's a very brief summary of Dolores' life and work. It's mostly illustrations and high-interest. (1:01  min, in English)
Preview this one before showing to your elementary students. It has a more mature tone, but it is so well done! The video is very high-interest and some teachers may want to use it. (2:37  min, in English)
This short video from the Smithsonian is in English, with Spanish subtitles. (5m. 20s)
This is a 25-minute video on Huerta's life, in Spanish.
This is the trailer for a PBS documentary on her life:
---
I hope these ideas and resources were helpful to you! If you have more ideas for Dolores Huerta lesson plans, let me know in the comments below!
Image Credits:
Image 2: "Dolores Huerta" (CC BY 2.0) by Tom Hilton
Image 3: 0006" (CC BY 2.0) by SLR Images