Inside: A collection of resources for creating a Dolores Huerta lesson plan or biography.
The name Dolores Huerta looms large in the space of women who have dedicated their lives to activism. This post will give you an overview of her life and achievements, plus many more resources for learning more about her remarkable life.
Dolores Huerta is a renowned activist for the rights of farm workers, and a leader for Chicano civil rights. With César Chávez , she helped form United Farm Workers to fight for better working and living conditions. Today, it is the largest union that continues to fight for the rights of agricultural workers.
Related: Famous Latinos & Hispanic Americans Home Page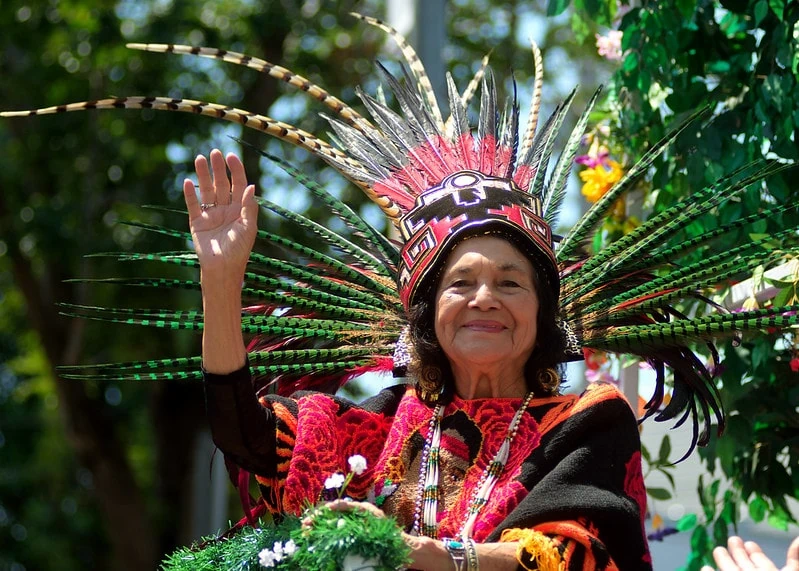 Here's what's included in the post. You can click on any link to jump straight to that section!
dolores huerta Biography
Fast Facts About Dolores Huerta

Birth: April 10, 1930
Birthplace: New Mexico, US
Family: Ralph Head (1st spouse), Ventura Huerta (2nd spouse), Richard Chávez (current partner), 11 children
Education: University of the Pacific's Stockton College
Career: Teacher, Community Organizer
Famous For: Co-founder of United Farm Workers, Activism, 2012 Presidential Medal of Freedom recipient, member of National Women's Hall of Fame

Huerta was born April 10, 1930. Her parents divorced when she was young, and Huerta was mainly raised by her grandfather and her mother in California.
She worked as a teacher for a time, during which she saw how many children did not have enough food. Moved by the poverty she saw, Huerta decided she could help her community more by organizing and working to improve conditions.
According to Huerta herself, "I quit because I can't stand seeing kids come to class hungry and needing shoes. I thought I could do more by organizing farm workers than by trying to teach their hungry children."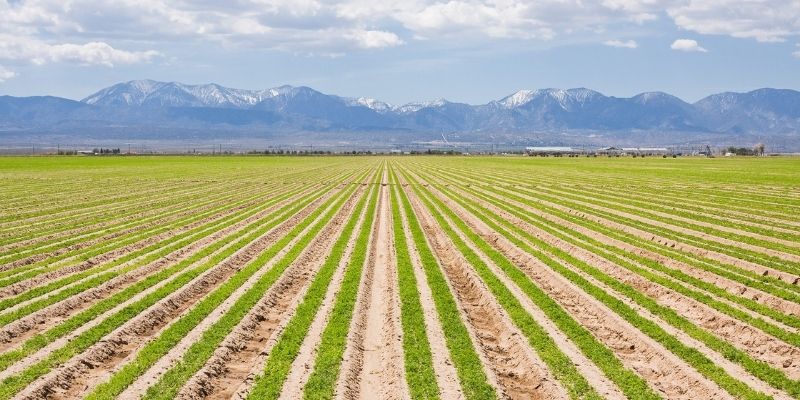 In 1955 she co-founded a local chapter of the Community Service Organization. In 1960, Huerta founded an association to help migrant workers receive documents and assistance.
When she met activist César Chávez, the two united to create the National Farm Workers Association, which later become the United Farm Workers Union.
Huerta was an integral part of the 1965 Delano Grape Strike, which lasted five years and involved over 5,0000 people. The workers, largely Filipino-Americans, were living in poor conditions while not even being paid minimum wage.
Eventually, the workers won out and Huerta negotiated the terms between the workers and the employers. Her sharp negotiating skills earned her the nickname "The Dragon Lady." Over her lifetime, she would negotiate dozens of agreements like this one.
Dolores Huerta continued working and organizing. She organized a national lettuce boycott in the 70's, which helped bring about the 1975 Agricultural Labor Relations Act, a landmark case for securing rights for workers.
She is famous for the phrase "Sí se puede" ("yes we can"), and has continued fighting for workers until now, through United Farm Workers. In 1988, she even suffered a severe police beating and successfully sued the city of San Francisco.
Huerta continued her work well into the 2000's and received the Presidential Medal of Freedom in 2012 from President Obama. She was the first Latina inducted into the National Women's Hall of Fame, and has received numerous awards and honorary doctorates.
Dolores Huerta was married twice and divorced twice, and has eleven total children.
Dolores Huerta Awards:
Presidential Medal of Freedom
Ellis Island Medal of Freedom
National Women's Hall of Fame
Puffin/Nation Prize
Eleanor Roosevelt Award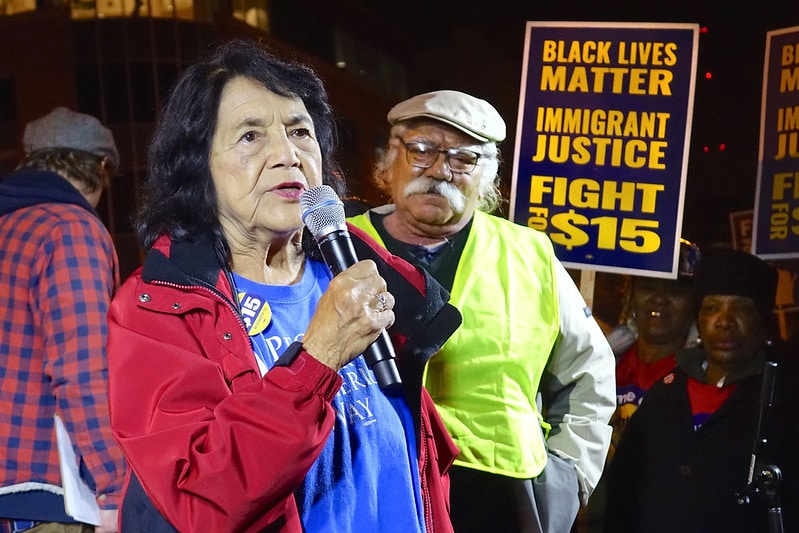 Interesting Dolores Huerta Facts for Kids:
Dolores Huerta knew what is was like to feel discrimination. When she was in high school, a teacher accused her of cheating on her papers because they were so well-written. The teacher thought that someone from a Latino background could not have written such a good paper.
This sort of experience, along with what she witnessed across her community, inspired her to fight for change and be sympathetic to others.
Both Washington and California have declared April 10 "Dolores Huerta Day."
Printables and links to learn more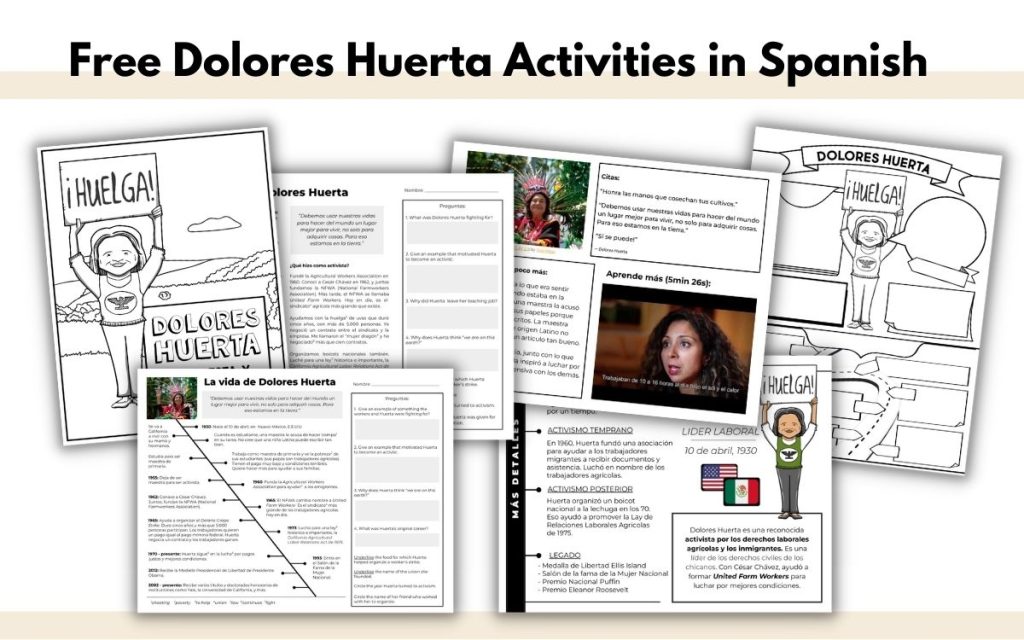 You also might be interested in my sets of biography slides and project templates for learning about Latinx and Spanish-Speaking leaders, plus a free guessing game.
Books for Dolores Huerta Lessons
These links are affiliate links.
Videos About Dolores Huerta
This short video from the Smithsonian is in English, with Spanish subtitles. (5m. 20s)
This is a 25-minute video on Huerta's life, in Spanish.
This is the trailer for a PBS documentary on her life:
Top Quotes from Dolores Huerta
Here are some excellent Dolores Huerta quotes to share with your students.
1. "We must use our lives to make the world a better place to live, not just to acquire things. That is what we are put on the earth for."
– Dolores Huerta
2. "The thing about nonviolence is that it spreads. When you get people to participate in nonviolent action – whether it's a fast, a march, a boycott, or a picket line – people hear you, people see you, people are learning from that action."
– Dolores Huerta
3. "We as women should shine light on our accomplishments and not feel egotistical when we do. It's a way to let the world know that we as women can accomplish great things!"
– Dolores Huerta
4. "Giving kids clothes and food is one thing, but it's much more important to teach them that other people besides themselves are important and that the best thing they can do with their lives is to use them in the service of other people."
– Dolores Huerta
5. "Every single day we sit down to eat, breakfast, lunch, and dinner, and at our table we have food that was planted, picked, or harvested by a farm worker. Why is it that the people who do the most sacred work in our nation are the most oppressed, the most exploited?"
– Dolores Huerta
---
I hope these ideas and resources were helpful to you! If you have more ideas for Dolores Huerta lesson plans, let me know in the comments below!
Image Credits:
Image 2: "Dolores Huerta" (CC BY 2.0) by Tom Hilton
Image 3: 0006" (CC BY 2.0) by SLR Images
Join the newsletter
Want to stay in touch and hear from me weekly?

Sign up now and you'll get this free game set.