Inside: The best classic Spanish songs, with YouTube videos.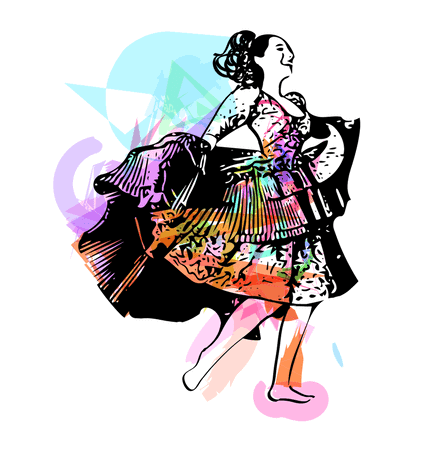 Some songs run in your veins. They take you home, your heart swells with memories, and maybe you can't help but go grab your dancing shoes. In honor of Hispanic Heritage Month, I've gathered a list of those songs here: those traditional songs in Spanish everyone should know.
Reggaeton and bachatas are totally my guilty pleasures, but there are those songs that stick around for decades and even centuries. We're talking the classic songs in Spanish, that connects us to the present and the past. Music and rhythm is so entrenched in Hispanic history and culture, you won't have to look far.
If you're looking for Spanish folk songs for children, I've got a list of those as well! Or see my Songs in Spanish collection, to find lists like the best love songs in Spanish.
20 CLASSIC SPANISH SONGS
There are many genres and variations within the category "songs in Spanish," as the Spanish language spans so many countries. In this post you'll find a tour of various styles, regions, and time periods, but all songs that are established classics.
So grab your dancing shoes, maybe a box of tissues in case the nostalgia kicks in, and let's go!
1. GUANTANAMERA – CELIA CRUZ
2. BAMBOLEO
3. LOS CAMINOS DE LA VIDA
4. MÉXICO LINDO Y QUERIDO
5. LA BAMBA
6. EL CONDOR PASA
7. SÓLO LE PIDO A DIOS
8. LAS MAÑANITAS
9. BÉSAME MUCHO
10. LA GOTA FRÍA
11. MI FORMA DE SENTIR
12. SI VAS PARA CHILE
13. EL REY – VICENTE FERNANDEZ
14. BIDI BIDI BOM BOM – SELENA
15. CIELITO LINDO
16. LLORARÁS – OSCAR D´LEON
17. QUIZÁS, QUIZÁS, QUIZÁS
18. ERES TÚ
19. LA REBELIÓN
20. HOY – GLORIA ESTEFAN
Now you tell me what I missed! Comment with your favorite traditional songs in Spanish below.
Like it? Pin it!
We are so excited for our sixth annual Hispanic Heritage Month series and giveaway! Through the month (September 15 – October 15), you'll find great resources to share Hispanic Heritage with kids, plus you can enter to win in our great giveaway and link up your own posts on Hispanic Heritage!
September 15
Embracing Diversity on Multicultural Kid Blogs: 10 Fun Facts About Dominican Republic
September 18
Spanish Mama: Nazca Lines – Exploratory Art Project
September 19
Hispanic Mama: Fun Ways to Celebrate Hispanic Heritage Month with Your Children
September 20
Inspired by Family
September 21
Spanish Mama
September 22
Mundo Lanugo
September 25
Spanish Playground
September 26
All Done Monkey
September 27
Discovering the World Through My Son's Eyes
September 29
Pura Vida Moms on Multicultural Kid Blogs
October 2
Discovering the World Through My Son's Eyes on Multicultural Kid Blogs
October 5
Spanglish House
October 6
Mama Tortuga
Don't miss all of the great posts from previous years as well: 2012, 2013, 2014, 2015, 2016
Join the newsletter
Want to stay in touch and hear from me weekly?

Sign up now and you'll get this free game set.