Inside: Learn about the biography of Mario Molina, along with famous Mario Molina quotes.
Mario Molina was a scientist who received the 1995 Nobel Prize for Chemistry, along with two other chemists. His work helped to create laws about dangerous gases that damage the ozone layer.
If you are here specifically looking for Mario Molina quotes, click here to jump to that section!
Related: Famous Latinos & Hispanic Americans Home Page
Here's an index of what's included in the post. You can click on any link to jump straight to that section:
Mario Molina Biography
Mario Molina was born in Mexico City on March 19, 1943. His father was a lawyer, professor, and Mexican ambassador to several countries, so Molina grew up in a supportive educational environment. He showed an early interest in science, saying:
When I was in elementary school, I was very interested in science already. I must have been ten or eleven years old. I started experiments with chemistry sets at my home in Mexico. I was able to borrow a bathroom and convert it to a laboratory. My parents supported it. They were pleased. My friends just tolerated it.

– Mario Molina
At age 11, he was sent to Switzerland to study and learn German. Later, Molina studied chemical engineering at the University of Mexico, and polarization kinetics in West Germany. He returned to Mexico to work as a professor, and in 1972, Molina moved to California to continue his studies and began working at the University of California.
There, along with chemist F. Sherwood Rowland, Molina studied the ozonosphere. They discovered some gases that were depleting the ozone layer (CFC gases).
. A few months later they published their 1974 landmark paper in Nature (4), where they brought to light the problem of the thinning of the ozone layer resulting from the use of CFCs: "The CFC–ozone depletion hypothesis.

– Proceedings of the National Academy of Sciences of the United States of America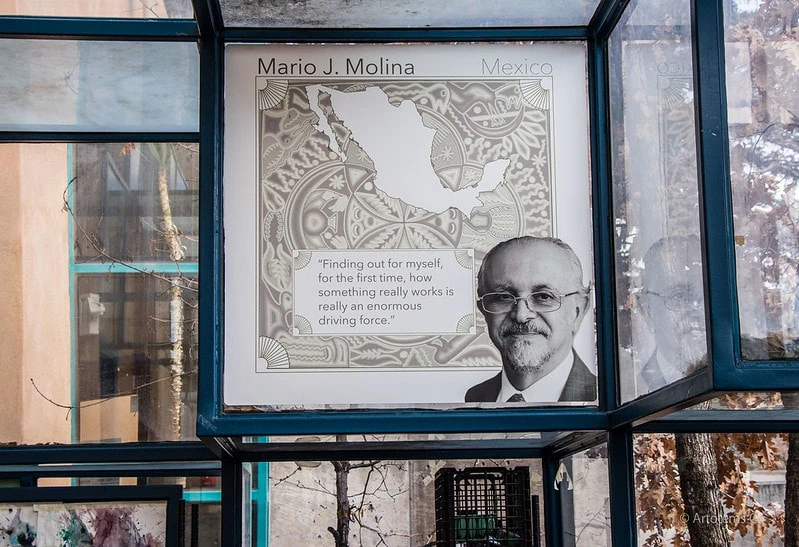 20 years later, Rowland and Molina won the Nobel Prize in Chemistry in 1995. Molina continued his work as a scientist and teacher, including 25 years at MIT, and used the money from his prize to fund more research and support students.
He also served on the President's Council of Advisors on Science and Technology under several presidents. Molina returned to California and worked at the University of California San Diego until his death in 2020. His legacy continues to today, across the world and in his home of Mexico. The Science History Institute notes,
Not forgetting his roots, he has also been studying strategies for making the air in cities cleaner. Mexico City has been the case study for this project and is also the home of the Centro Mario Molina, which is dedicated to finding solutions to the challenges related to climate change, sustainable development, and the efficient use of energy.
Awards:
Nobel Prize (1995)
Presidential Medal of Freedom (2013)
NASA Exceptional Scientific Achievement Medal (1989)
Books About Mario Molina
Printables and links to learn more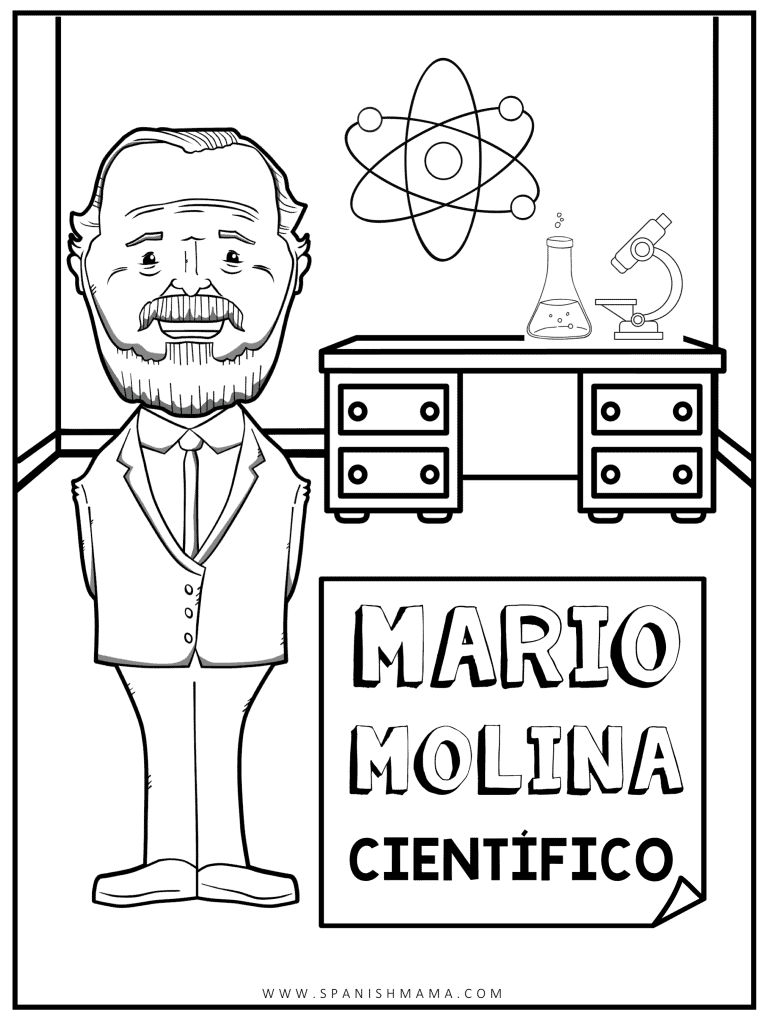 Free Resources:
Videos About Mario Molina
A brief bio of Mario Molina in English (2min 13s):
Here is a very brief, animated bio in Spanish (1min 25s):
Here is a good student-friendly biography in Spanish, with lots of visuals (6min 34s):
A more in-depth Molina biography in Spanish (10min):
10 Mario Molina Quotes
"Climate change, like depletion of the ozone layer,
is proof of the damage human activities exert on earth at the global level.
Solutions require the commitment of all sectors of society.
Mitigation strategies and adaptation measures need the collaboration
of the scientific community, economists, technology and energy experts, entrepreneurs, decision makers and the general population."

– Mario Molina
"The scientists I looked up to at the beginning were not Latino. They were famous scientists of many years ago, like Madame Curie. Later, I realized that there were also, but a very few, Latino scientists. There were good ones, but very few, because there wasn't as much a tradition to be a scientist in our culture. But this is changing."

– Mario Molina
"Climate change and ozone depletion are two global issues that are different
but have many connections. In the ozone depletion case, we managed to work with decision makers effectively so that an international agreement called the Montreal Protocol was achieved that essentially solved the ozone depletion problem."

– Mario Molina
"..the planet is just too small
for these developing countries to repeat the economic growth
in the same way that the rich countries have done it in the past.
We don't have enough natural resources,
We don't have enough atmosphere.
Clearly, something has to change."

– Mario Molina
"The first education to be a good chemist is to do well in high school science courses. Then, you go to college to really become a chemist. You want to take science and math. Those are the main things."

– Mario Molina
I hope these ideas and resources were helpful to you! If you have more ideas for resources or lessons, let me know in the comments below!
Join the newsletter
Want to stay in touch and hear from me weekly?

Sign up now and you'll get this free game set.