Jennifer Lopez Quotes, Movies, And Biography
Inside: A list of famous Jennifer Lopez, quotes, along with her biography and a list of movies she has starred in.
Jennifer Lopez is one of the most successful and well-known Latina artists and actors. In 2007, she was number 1 of the "100 Most Influential Hispanics" by People en Español, and in 2012 number 1 on the Forbes Celebrity 100 list.
If you are here specifically looking for Jennifer Lopez quotes, click here to jump to that section!
Related: Famous Latinos & Hispanic Americans Home Page
Here's an index of what's included in the post. You can click on any link to jump straight to that section:
Jennifer Lopez Biography
Fast Facts about: Jennifer López
Birth: July 24, 1969
Birthplace: New York, U.S.
Family: Ojani Noa (1st spouse), Cris Judd (2nd spouse), Marc Antony (3rd spouse), 2 children
Education: Preston High School
Career: Actress, singer, dancer
Famous For: Highest paid Latin actress, 2012 Forbes Most Influential Celebrity
Jennifer Lopez was born in the Bronx, New York on July 24, 1969. She started out as a dancer, and won a national contest that landed her a spot on a TV show. By the 1990's, Lopez began to appear on the national scene as a dancer and an actress.
After a series of smaller roles, Lopez's first big film was Selena, in 1997. This was followed by many other films, such as Maid in Manhattan, Shall We Dance?, Gigli, and The Wedding Planner.
Lopez released her first musical album in 1999, which was hugely successful. Her 2001 album J. Lo. was number 1 on the charts, while her movies in the 2000's continued to top chart as well.
Jennifer Lopez was also a judge on American Idol, performed at the inauguration of President Biden, and performed in the Super Bowl Halftime show with Shakira in 2020.
Awards:
MTV Video Music Award
GLAAD Vanguard Award
Billboard Icon Award
Golden Globe Award
Jennifer Lopez Films
Here is a list of movies Jennifer Lopez has appeared in, in order of production. She has also appeared in many TV shows.
My Little Girl (1986)
Nurses on the Line: The Crash of Flight 7 (1993)
My Family (1995)
Money Train (1995)
Jack (1996)
Blood and Wine (1997)
Selena (1997)
Anaconda (1997)
U Turn (1997)
Out of Sight (1998)
Antz (1998)
The Cell (2000)
The Wedding Planner (2001)
Angel Eyes (2001)
Enough (2002)
Maid in Manhattan (2002)
Gigli (2003)
Jersey Girl (2004)
Shall We Dance? (2004)
Monster-in-Law (2005)
An Unfinished Life (2005)
El Cantante (2006)
Bordertown (2007)
Manufacturing Dissent (2007)
Feel the Noise (2007)
The Back-Up Plan (2010)
Sellebrity (2012)
What to Expect When You're Expecting (2012)
Ice Age: Continental Drift (2012)
Parker (2013)
Jennifer Lopez: Dance Again (2014)
The Boy Next Door (2015)
Lila and Eve (2015)
Home (2015)
The Latin Explosion: A New America (2015)
Ice Age: Collision Course (2015)
Second Act (2018)
Hustlers (2019)
Wonder Boy, Olivier Rousteing, né sous X (2019)
Marry Me (2022)
Shotgun Wedding (2022)
Printables and links to learn more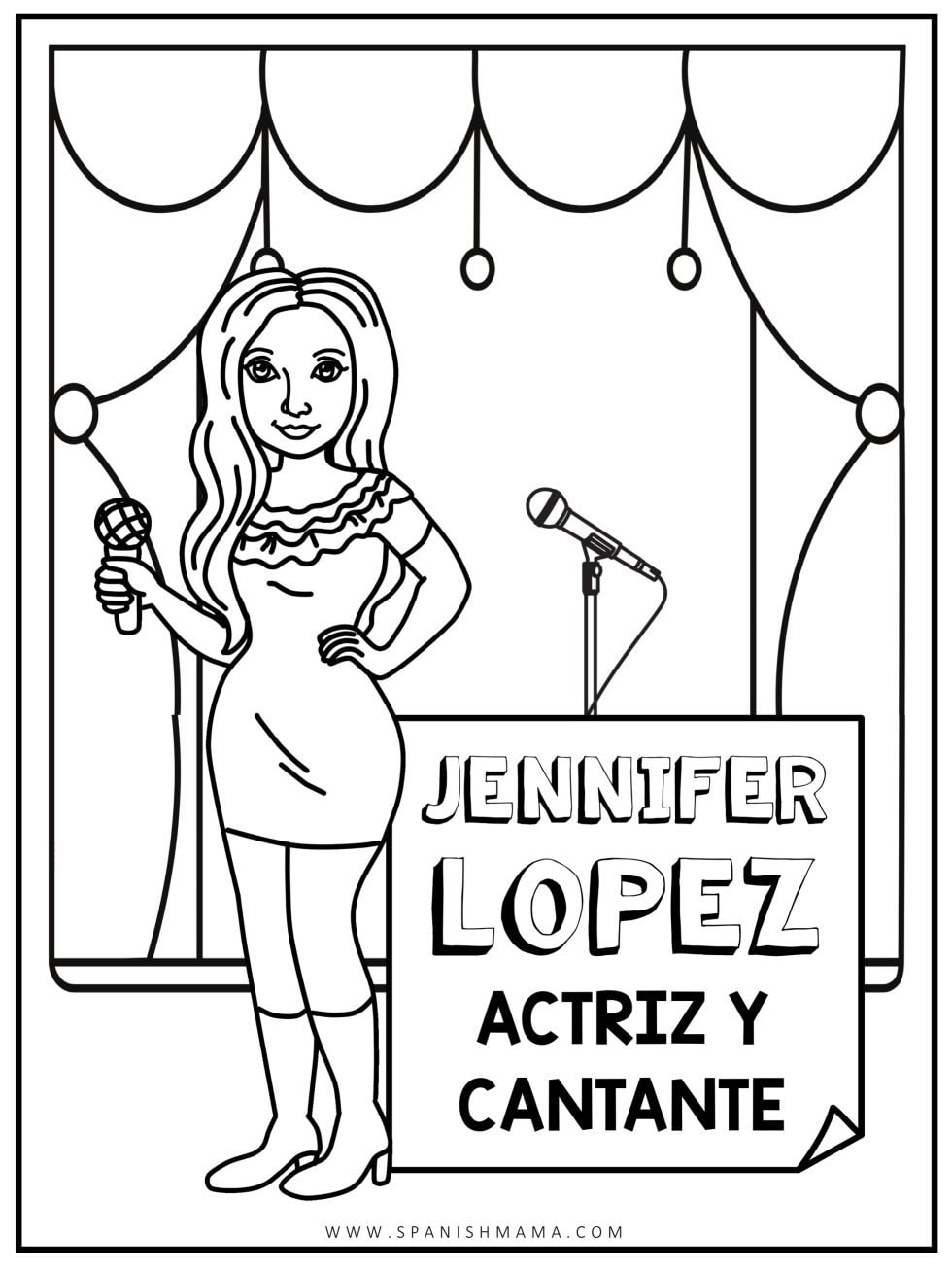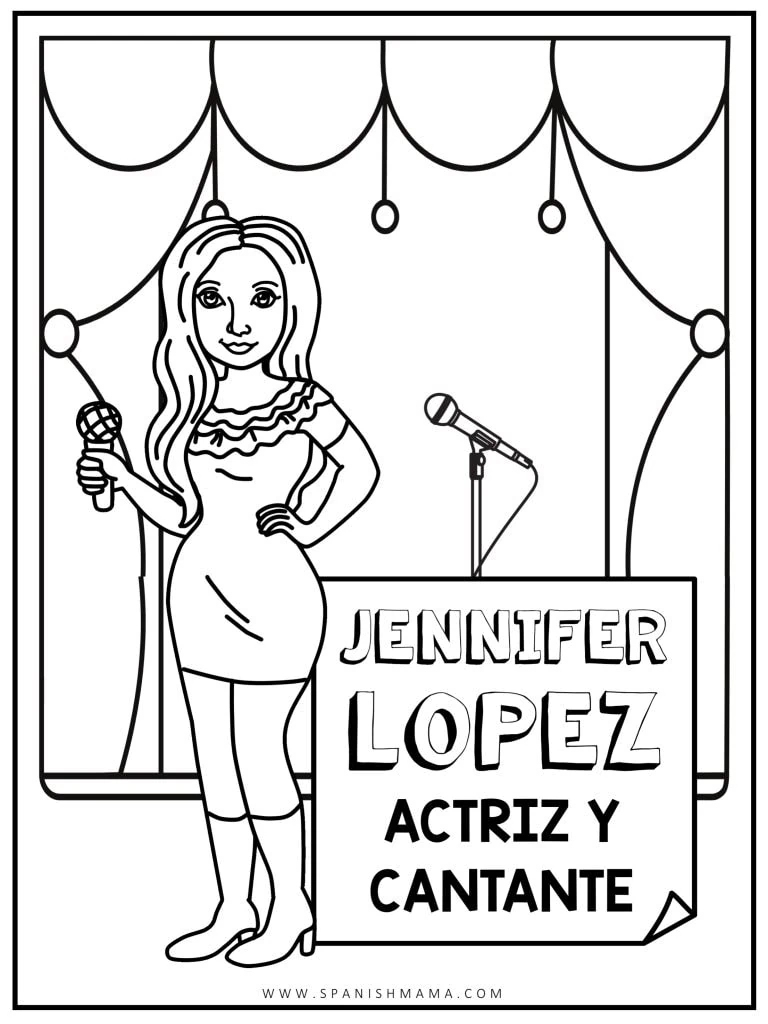 Free Resources:
You also might be interested in my sets of biography slides and project templates for learning about Latinx and Spanish-Speaking leaders, plus a free guessing game.
Videos About JEnnifer Lopez
A brief bio explaining how Jennifer got her start and catapulted into fame (1min 46s):
Are you really interested in the story of Jennifer Lopez? This MTV special is not best for classroom use, but it's a much more in-depth biographical look at her life (1min 38s):
A more in-depth Lopez biography in Spanish (8min 10s):
20 Jennifer Lopez Quotes
"I'm not here to be perfect and I'm not here to be anything but my best, whatever that means for me."
– Jennifer Lopez
2. "Things don't always turn out exactly the way you want them to be and you feel disappointed. You are not always going to be the winner. That's when you have to stop and figure out why things happened the way they did and what you can do to change them."
– Jennifer Lopez
3. "Ultimately, we can never change someone else's behavior—we can only change our own."
– Jennifer Lopez
4. "There is no way you can have a big ego and survive in this [show]business. You can't learn if you think no one else has anything to say that's of value."
– Jennifer Lopez
5. "Don't push your weaknesses, play with your strengths."
– Jennifer Lopez
6. "I only do what my gut tells me to. I think it's smart to listen to other people's advice, but at the end of the day, you're the only one who can tell you what's right for you."
– Jennifer Lopez
7. "The best partner you can have is someone who makes you want to be the best form of yourself."
– Jennifer Lopez
8. "You've gotta do things that make you happy. As women, we tend to give away a lot. We take care of a lot of people, and we can't forget to take care of ourselves, if that means once a week you're going to go off without the kids or without anybody and just go shoe shopping or get a facial even if your sister thinks that's selfish, you've just got to do it."
– Jennifer Lopez
9. "You have to be okay on your own before you can have a healthy relationship with another person."
– Jennifer Lopez
10. "I know it's hard for women to tap into that feeling of self-worth. We need to get the message out that you are valued, you are a goddess and don't forget that."
– Jennifer Lopez
11. "Beauty is only skin deep. I think what's really important is finding a balance of mind, body, and spirit."
– Jennifer Lopez
12, "As you get older and as you experience and go through different things you realize you have to set boundaries. You have to for your life. You have to say this is OK and this is not OK. This is what I do for a living and this is my life. It's the only one I get and so I have to set boundaries."
– Jennifer Lopez
13. "You have to remember the value of your individuality—that you have something special and different to offer that nobody else can."
– Jennifer Lopez
14. "It's the messy parts that make us human, so we should embrace them too — pat ourselves on the back for getting through them rather than being angry for having gotten into them in the first place."
– Jennifer Lopez
15. "Doubt is a killer. You just have to know who you are and what you stand for."
– Jennifer Lopez
16. "I'm very comfortable with being productive. I like doing things, and I like creating things. As far as being powerful, I guess I'm comfortable with it. It's not really how I think of myself."
– Jennifer Lopez
17. "Confidence – It all has to do with how you feel about yourself – it's about projecting the attitude, I'm happy with who I am."
– Jennifer Lopez
18. "There is a force in the world and an energy that you can put out, and when you put out love it comes back to you. I think that's my basic philosophy."
– Jennifer Lopez
19. "Whenever it feels uncomfortable to tell the truth, that's often the most important time to tell it."
– Jennifer Lopez
20. "Your mistakes are not what define you. What defines you is what you do after your mistakes and how you learn what is meant to be learned from those moments."
– Jennifer Lopez
I hope these ideas and resources were helpful to you! If you have more ideas for resources or lessons, let me know in the comments below!
Image Sources:
Image 1: "Jennifer Lopez" (CC BY 2.0) by Tatiana_0000
Image 2: "Jennifer Lopez | Pop Music Festival | 23" (CC BY 2.0) by Ana Kley
Image 3: "GLAAD 2014 – Jennifer Lopez – Casper-58" (CC BY 2.0) by DVSROSS