The Best Spanish Numbers Songs for Kids
Inside: Spanish numbers songs for kids.
Songs are perfect for learning the numbers in any language!
This lists includes my top recommendations for Spanish numbers songs, from young kids to older students. YouTube videos are great, so if you are learning at home with your kids they can get the pronunciation down pat.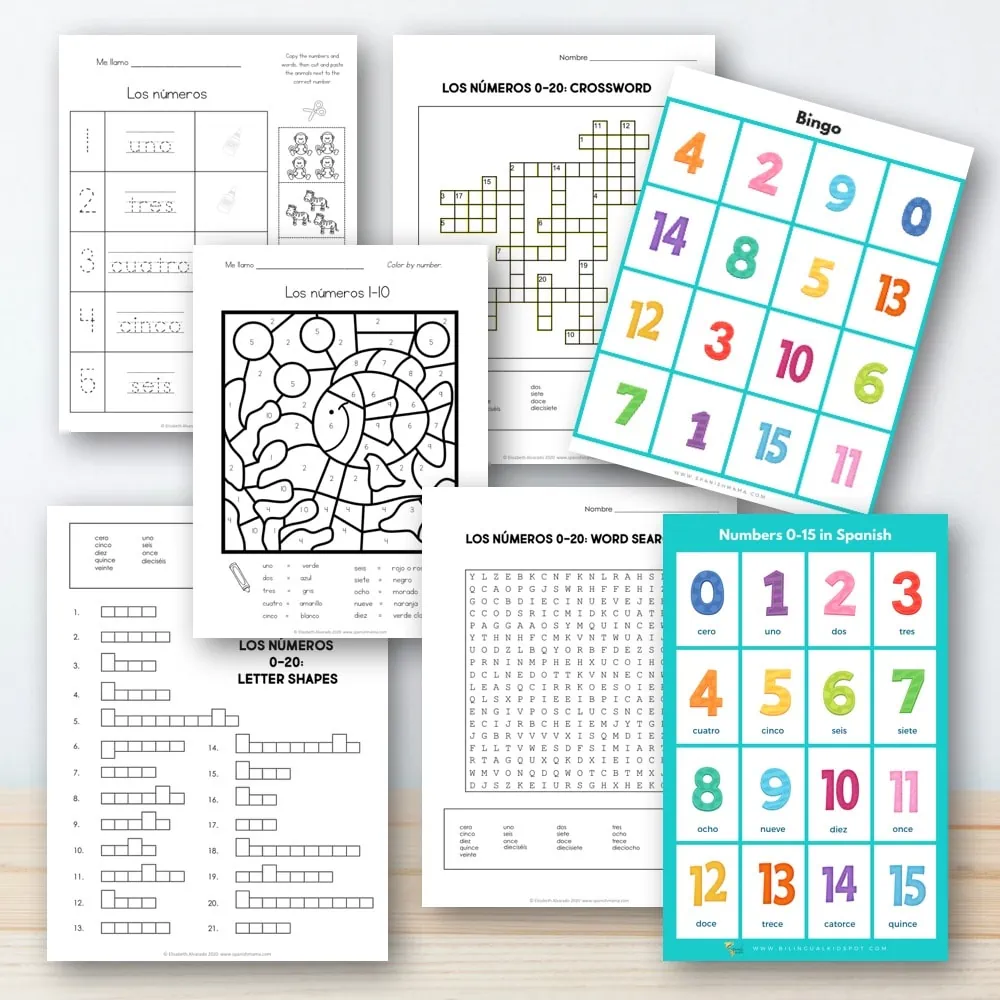 Don't forget that I have free printables for all ages to learn the numbers in Spanish (Bingo, crossword puzzles, color-by-number, etc.).
There are also fun games you can play to practice numbers, like Mano nerviosa. This is great for moving beyond rote counting to quickly remember each number.
I've divided this post into different types of numbers songs, so you can quickly find what you need.
Click to any title to jump to that section!

1. Spanish Number Songs to 10

2. Spanish Number Songs to 20

3. Numbers in Spanish Videos to 100

4. Nursery Rhymes in Spanish for Numbers

5. Spanish Math Songs (Counting by 2's, 5's, 10's, etc.)

SPANISH NUMBERS SONGS to 10
If you never get around to the fancy language programs or classes, learning lots of songs in Spanish throughout the preschool and elementary years WILL PAY OFF, even in high school! As they learn vocabulary and phrases in context, it will make high school Spanish easier one day.
Siete Pasos, 1-7 – Super Simple
Super Simple Songs are always great, and this distraction-free song is perfect for absolute beginners.
Canción de Los Números 1-10 – Toobys
This might be my favorite Spanish numbers song for kids! We love Toobys for the slow, simple illustrations and great music!
¿Cuántos Dedos? – Super Simple Español
Another option for 1-10, this time emphasizing counting on your fingers.
NUMBERS SONGS to 20
Cuenta y Muévete 1-20 – Super Simple Español
This is more of a chant set to music than a song, but it's great for learning to say each one. I can see it being a great warm-up for Spanish class with kids!
Contar hasta 20 – Toobys
This is a cute video about a monkey, coconuts, and numbers in Spanish. Because there's extra language in it, this might be best for bilingual kids learning the numbers.
NUMBERS SONGS to 100
LOS NÚMEROS 1-100
This one is not technically a song, but models counting from 1-100.
LOS NÚMEROS Del 1-100
It takes a while to sing to 100, but here's a song for you to practice just that!
Nursery Rhymes with Numbers
CINCO MONITOS – Toobys
The traditional 5 Monkeys Jumping on the Bed song, with cute animation.
(I have a free printable for the song Cinco monitos, if you want a hands-on puppet activity!)
UNA VEZ PESQUÉ UN PEZ – Little Baby Bum
Here are numbers 1-5 Numbers in context of a classic Spanish nursery rhyme.
DIEZ EN LA CAMA – Toobys
Who doesn't love the song Ten in the Bed? This song is great practice for counting down backwards.
NUMBERS IN SPANISH 1-20
Spanish Math Songs
This section is especially for math lovers or bilingual kids looking for practice!
Cuenta de 2 EN 2 – Pinkfong
To practice counting by 2's, here's a song to count to 20 by 2's. The actual skip-counting part is just in the middle, but it's a super catchy clapping bit that kids will love.
Cuenta de 5 EN 5, y 10 en 10 – Pinkfong
Just like the video above, but practice counting by 5's to 50, or below by 10's to 100.
Spanish Numbers from 10 – 1000
Practice counting by 10's in Spanish, to get all the way to 1000!
Tablas de multiplicar – Do re mi Kids
This is a loooong song– 26 minutes– as it goes through all the multiplication tables to 12. The channel also has a playlist of each number in a separate song, and some are really fun. You can see those here.
What songs in Spanish does your family love for numbers? Did I miss any good ones? Leave in comments below or on my Facebook page so other readers can enjoy too!