Inside: How to find online Spanish books for free.
We all know that reading is one of the top ways to improve your language skills. And there's good news for Spanish learners: more and more books in Spanish are available these days. Though I've already got lots of physical book lists for you (and a Spanish audio book list!), this post will concentrate on online books to read and enjoy for free.
This post contains affiliate links. Thank you for your support!
ONLINE SPANISH BOOKS
For parents of bilingual kids, or homeschool families, online books can be a great way to supplement your Spanish collection.
For teachers, you can print some of these books as you set up a classroom library, or project them onto the board and use them in a whole-class setting.
And now, let's get started! If you have more suggestions, please let me know in the comments below.
1. MAGUARÉ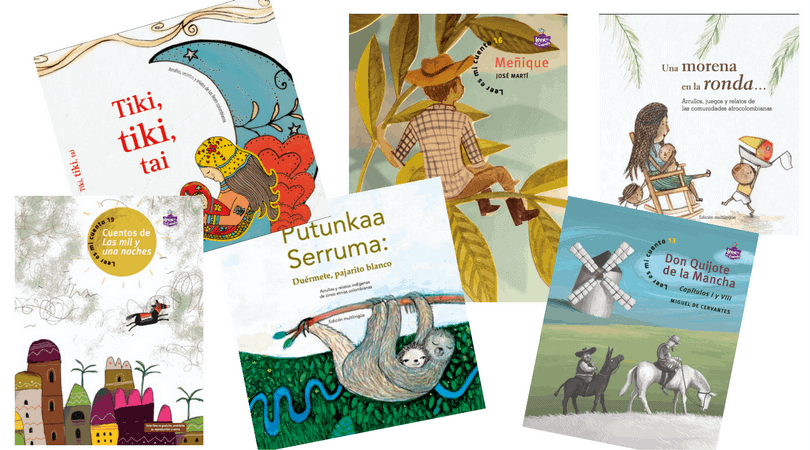 Sponsored by the Colombian Ministerio de Cultura, Maguaré is a one-in-a-million find for Spanish materials. You can access over 100 picture books, poems, and tongue twisters. (A few are set to music or include audio as well).
All the books are available as free downloads, and a few even have the option to print in black and white for kids to color. Definitely bookmark this site if you are looking for high-quality printable Spanish books!
Recommended for intermediate Spanish learners and up.
2. BOOKBOX
BookBox has many Spanish picture books read aloud on their YouTube. You can listen and read the text at the same time!https://www.youtube.com/embed/videoseries?list=PLfs5ju_X8bFbuTMgAFUjHQ3A0HAFgFu58
Recommended for intermediate Spanish learners and up.
3. READING A-Z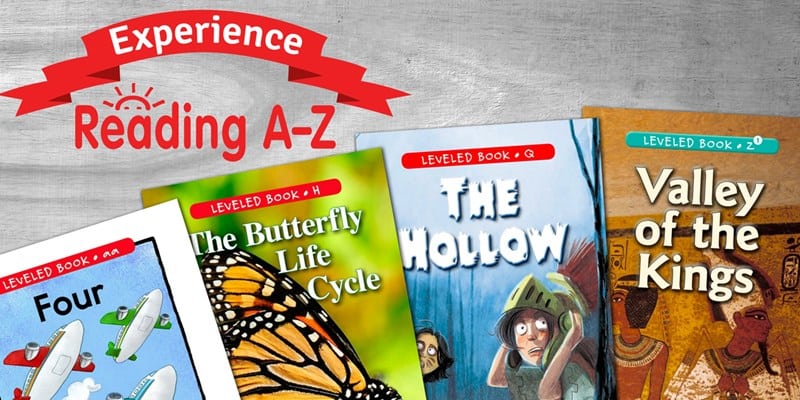 Reading A-Z is a huge resource of leveled readers, with an extensive collection in Spanish as well. (And when I say huge– we're talking hundreds of books!) Their site is extremely user-friendly and the books are organized by level, skill, topic, and type.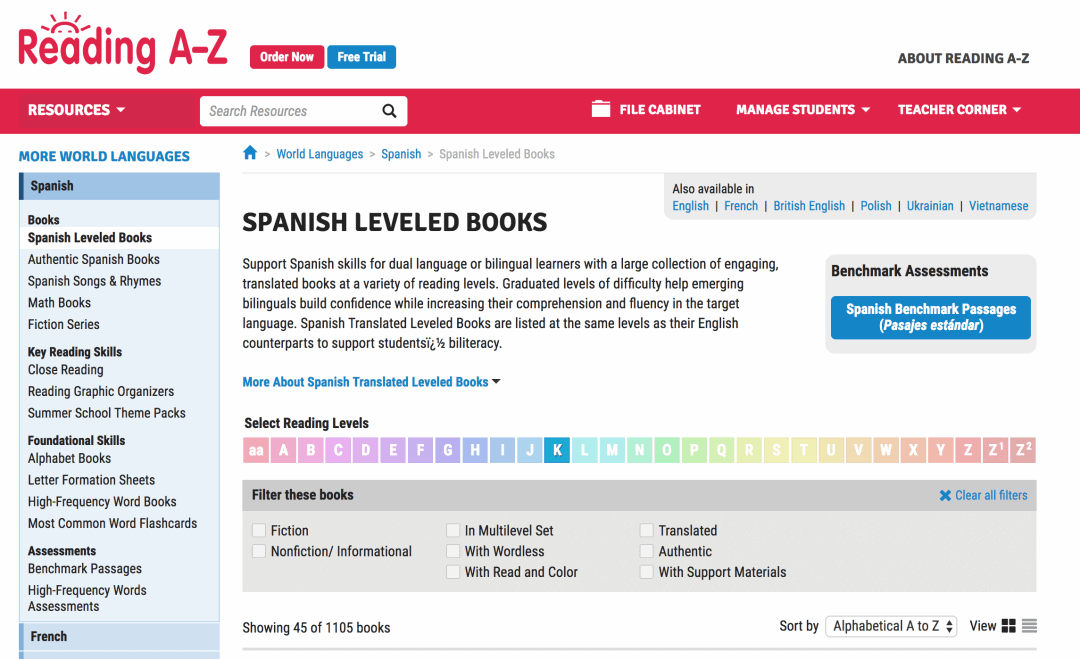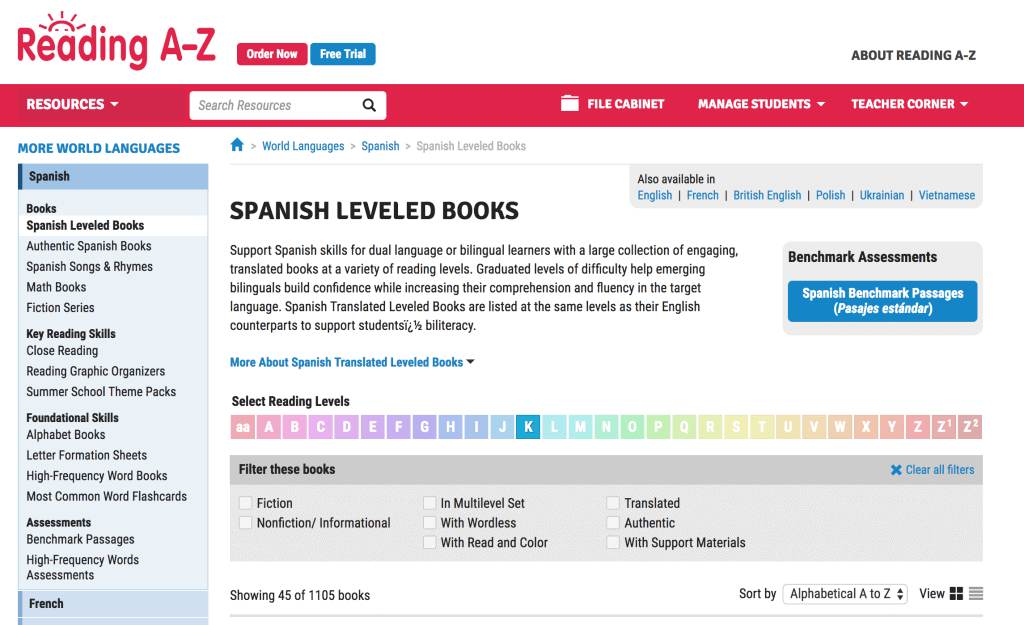 If you are looking for books to print, Reading A-Z does require a subscription. However, if you are just looking for online Spanish books, this may be the perfect fit for you.
Recommended for novice Spanish speakers and up.
4. READ CONMIGO
Although you have to sign up with an email, Read Conmigo offers free online books in Spanish, targeted for ages PreK – 5th grade. Currently, they have over 45 bilingual titles. Though the books are not printer-friendly, you have the choice to download onto your phone, a computer, or onto a Kindle. They also have an App available, if you'd like a kid-friendly version on-the-go.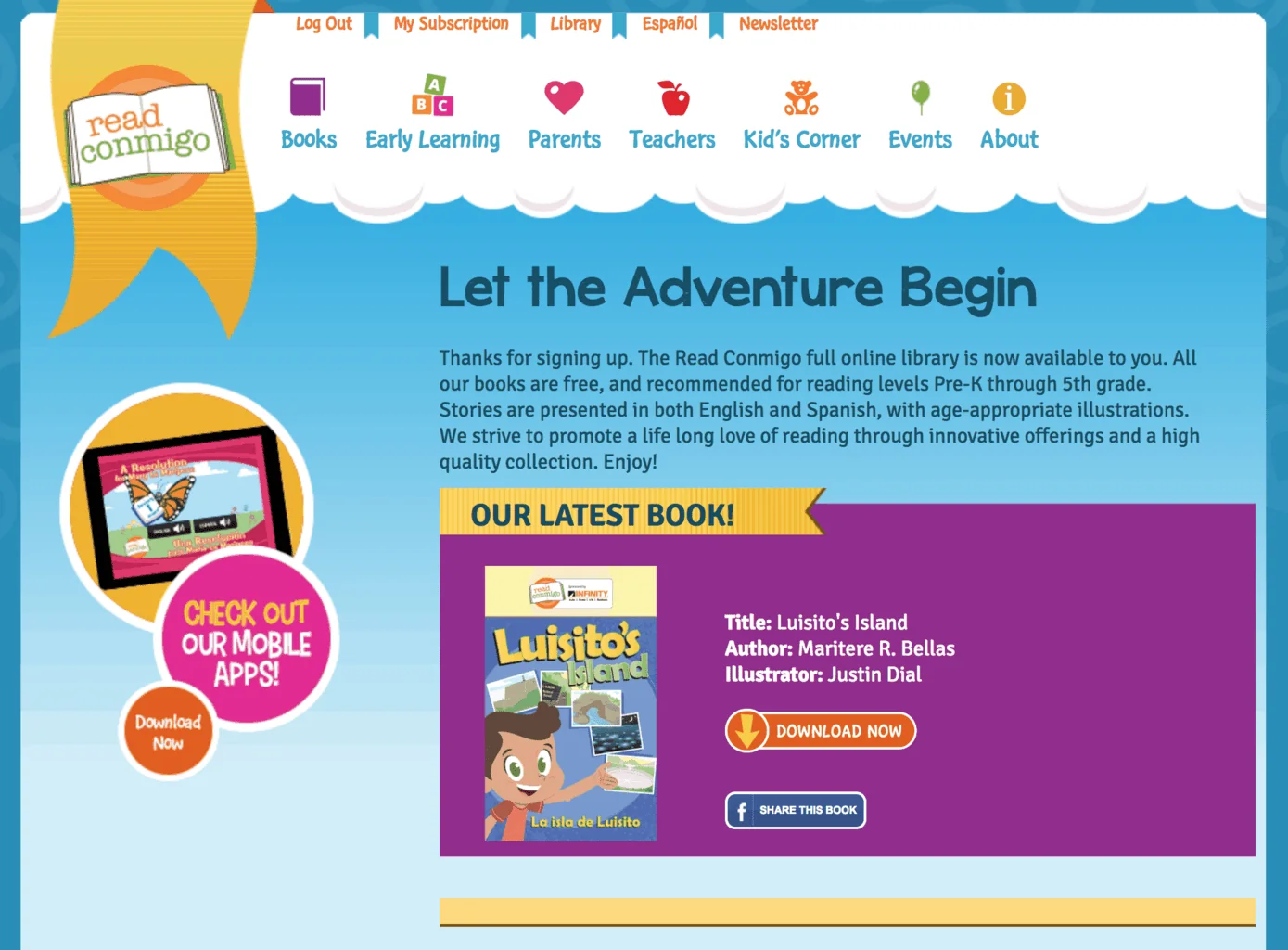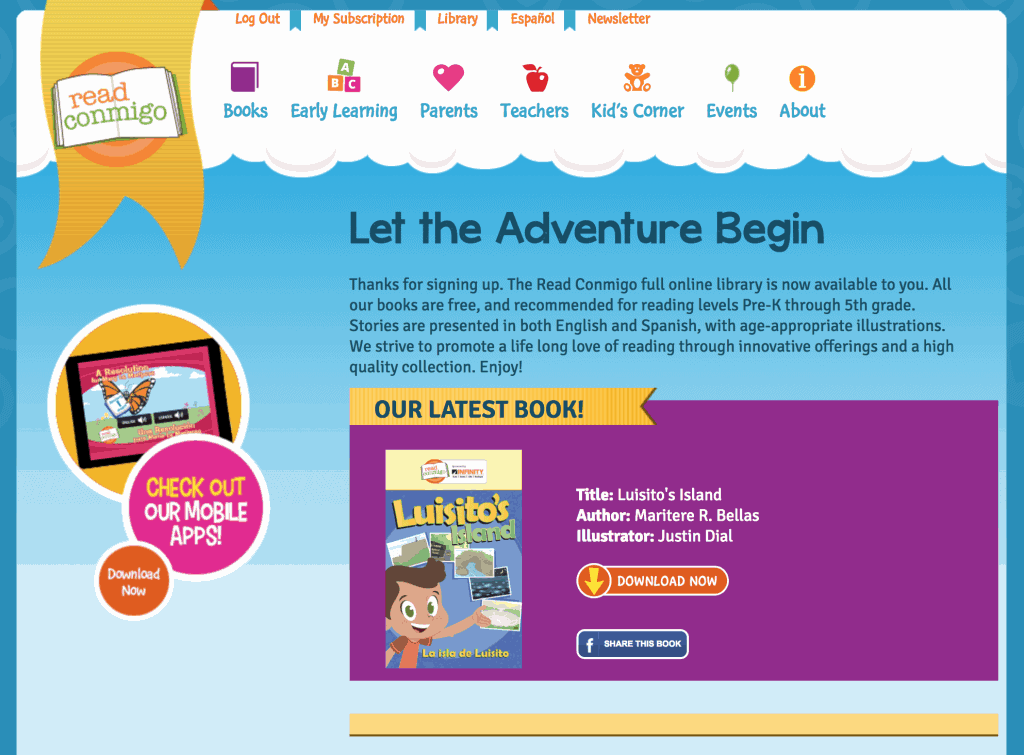 Recommended for novice Spanish speakers and up.
5. INTERNATIONAL CHILDREN'S DIGITAL LIBRARY
The International Children's Library currently has 100+ books in Spanish for kids. They have lots of search options, for looking by age and topic, once you get the hang of it.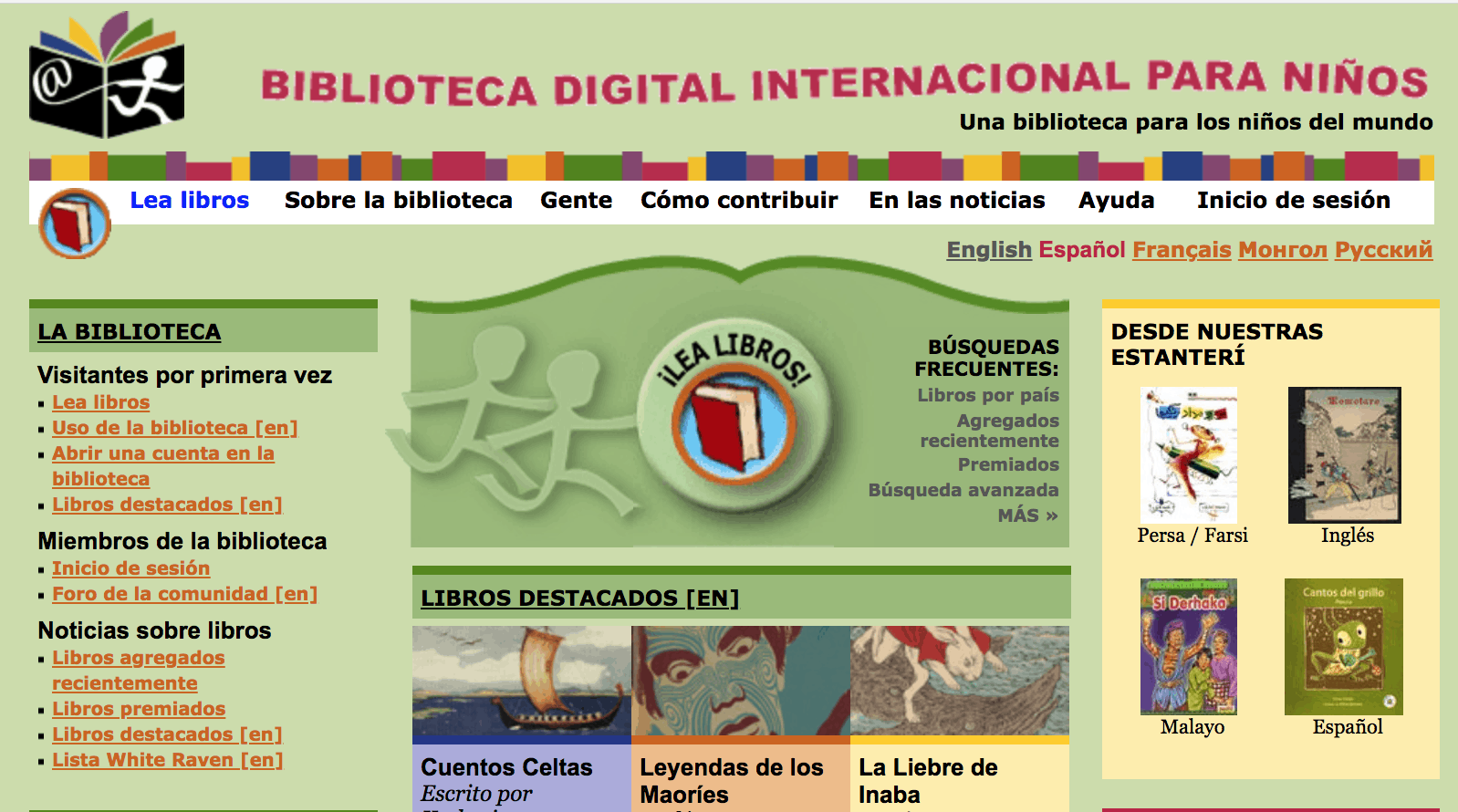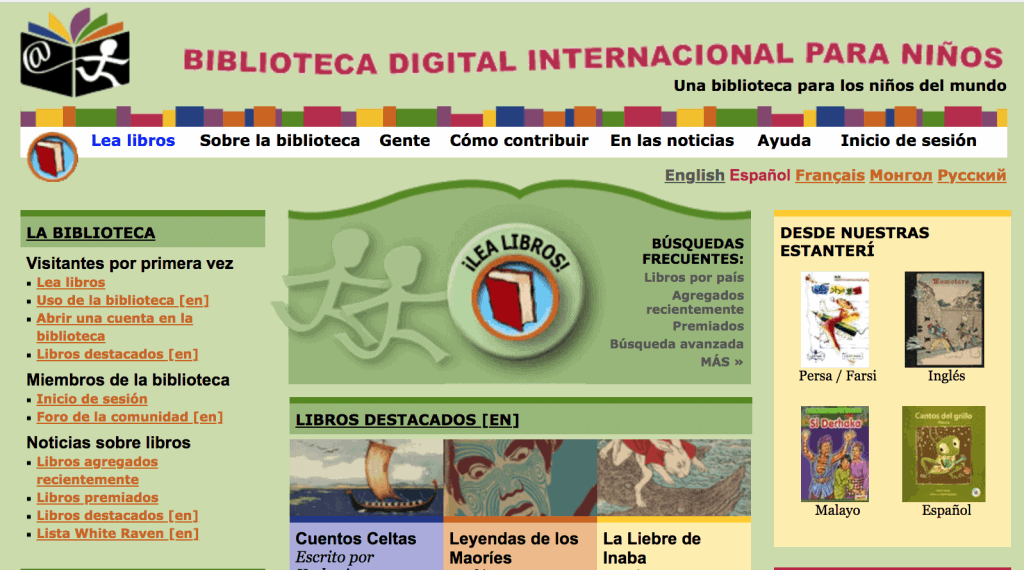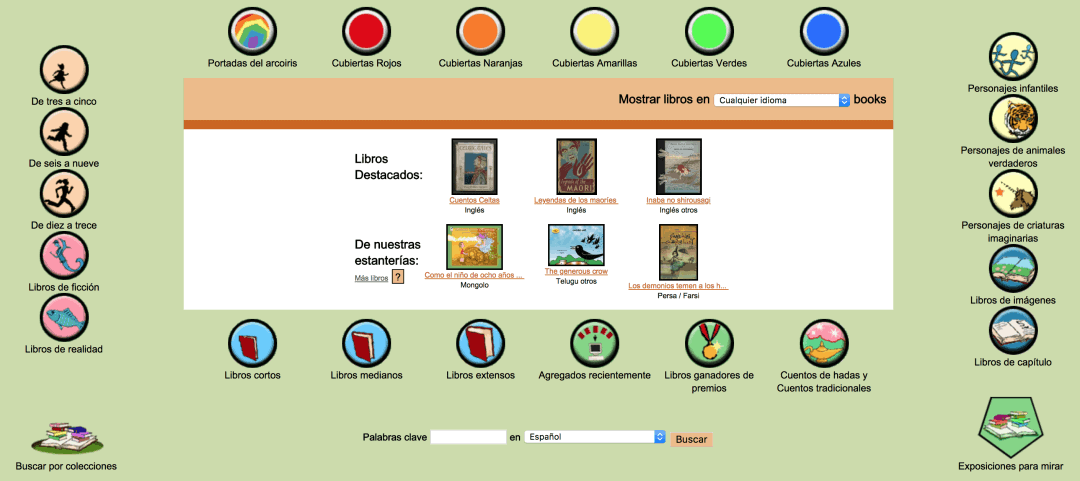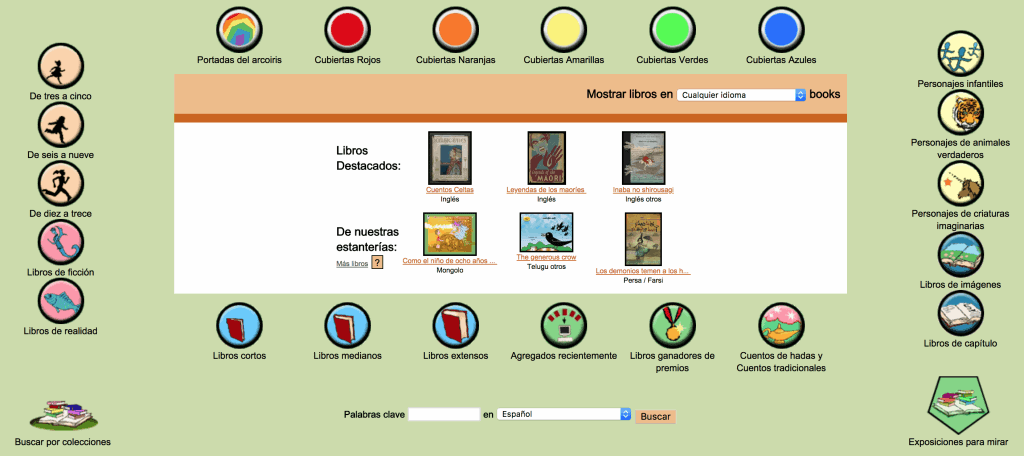 Recommended for intermediate Spanish speakers.
6. CHILDREN'S BOOKS FOREVER
Children's Books Forever also has a small collection of online books, in a variety of languages. They are available for free and are printable.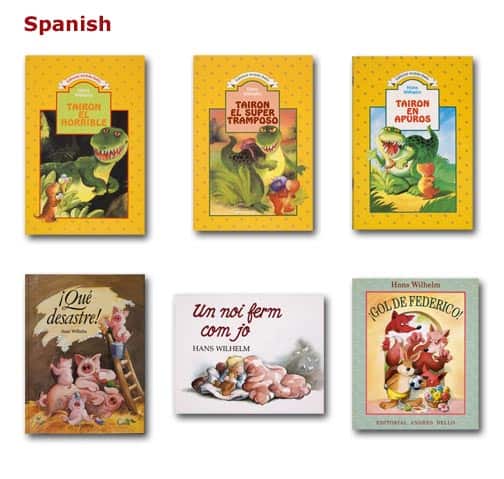 Recommended for intermediate Spanish speakers.
6. UNITE FOR LITERACY
Although I include this one on my list of audio books in Spanish, Unite for Literacy is such an asset for beginners I'm including it here too. All the books are written in very basic Spanish, with non-fiction themes like colors, toys, art, animals, and more. The site includes many other languages, in addition to Spanish!
Recommended for noviceSpanish speakers.
8. GRIMM STORIES

Technically, this site is full of online stories, not books. Grimm Stories offers dozens of fairy tales in Spanish, from the Brothers Grimm and Hans Christian Anderson. All are available as a PDF for easy printing!
Recommended for intermediate Spanish speakers and up.
9. FABLES IN SIMPLE SPANISH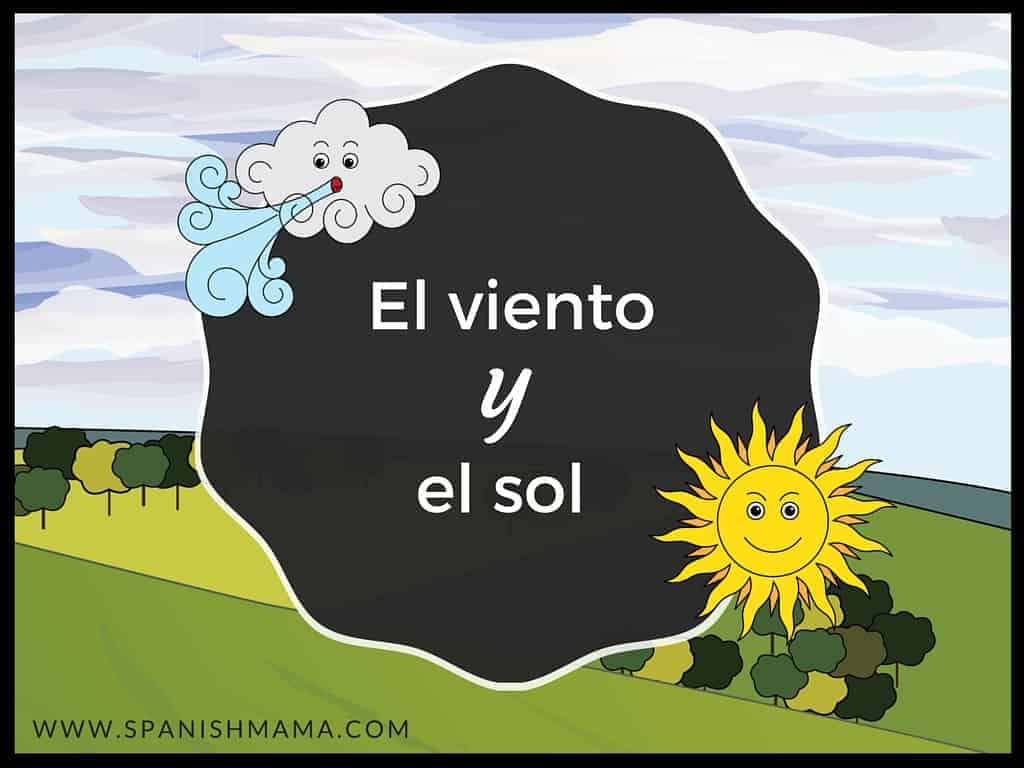 If you are looking for online Spanish stories in told on a novice level, I have a few options on my site as well. You can check out my Fables in Spanish page, where I've retold famous fables in beginner language. My preschool Spanish lessons also include free beginner stories. A few a narrated; we're working on turning all of them into read-aloud videos!El gato y el perroA preschool Spanish story for kids learning the opposites in Spanish.https://imasdk.googleapis.com/js/core/bridge3.444.1_en.html#goog_733746901Volume 90%
Recommended for novice Spanish learners.
9. EL HUEVO DE CHOCOLATE
El Huevo de Chocolate is an extensive site in Spanish with all sorts of links: guessing games, fables, folk tales, books, and more. The books section and stories section contain text from mostly classic works in Spanish. The comic sans font and design make the site less user-friendly, but if you are on the search for more authentic texts in Spanish, definitely check them out.
Recommended for intermediate Spanish speakers and up.
Spanish Audiobooks for Kids
Like it? Pin it!
Join the newsletter
Want to stay in touch and hear from me weekly?

Sign up now and you'll get this free game set.