25 Best Mexican Movies on Netflix Right Now
Inside: The best Mexican movies on Netflix available for streaming in 2019. Teaching to Proficiency×
Mexican cinematography may be known for it's golden age between the 1930's and 1960's, but it's also been enjoying a recent surge in filmmaking and production, with 184 films produced just in 2018.
Netflix keeps adding new Mexican movies and shows to their repertoire as well, including international hits like Roma and Coco. Here you can browse titles from a variety of genres, all currently available on Netflix to watch.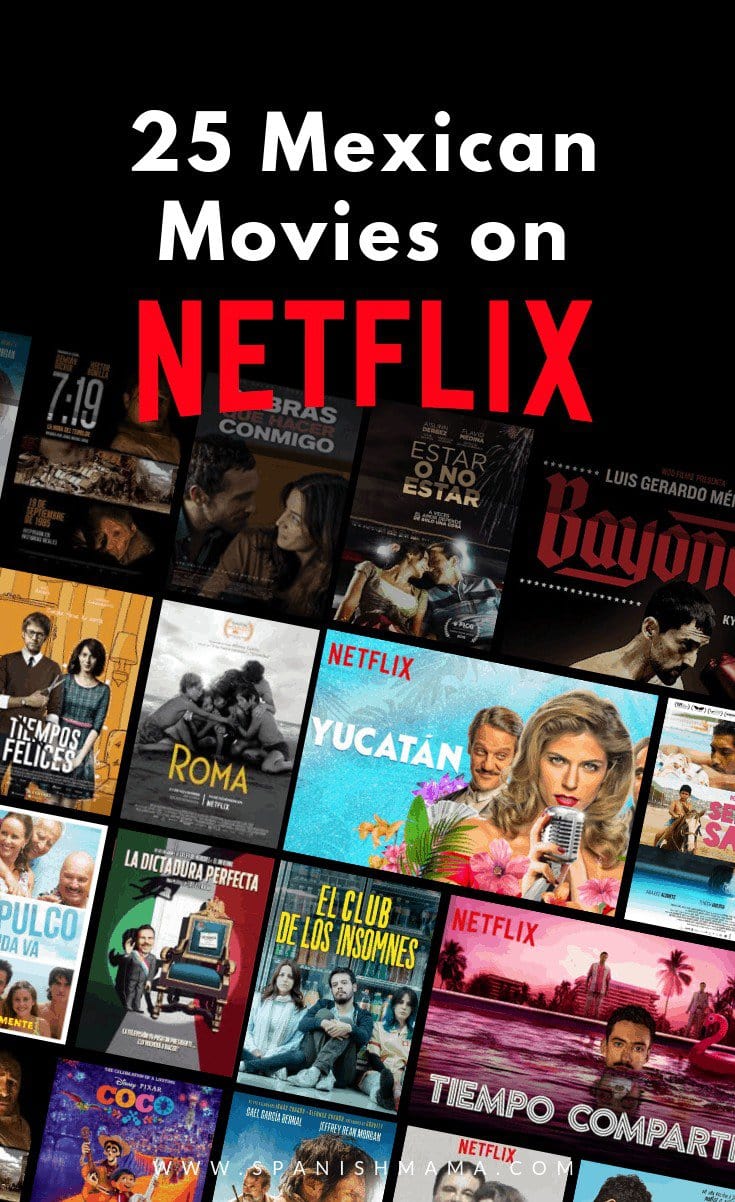 You also might like: Spanish TV series on Netflix or Spanish TV series on Netflix.
25 BEST MEXICAN MOVIES ON NETFLIX
As always, let me know in the comments below if I missed one of your favorites! Keep in mind that Netflix regularly adds and pulls movies, and that some titles aren't available in certain countries.
Let's get started!
1. ROMA
This film has been making waves since it was released in 2018 and then scooped up three Oscars. Set in 1970's Mexico City, it follows Cleo, a young woman who works for a wealthy family, whose life changes when their father leaves. Her own life is turned upside down too, when she finds out she's pregnant. It's hard to pin down the genre of this understated movie, filmed in black and white with a pacing that almost feels like a documentary at times. Moving and beautiful.
Info:  Drama  |  R |  2018  |  1hr 15min
2. YUCATÁN
Though technically a Spanish film, I'm including it here as so many of the scenes feature the Yucatan Peninsula in Mexico. On board a cruise ship set for Mexico, a group of con artists do their best to outwit and rob an elderly man who has won the lottery. This movie has a little bit of everything from your classic heist film: chase scenes, tuxedos, singers, romance, and some good twists.
Info:  Comedy  |  TV-MA |  2018  |  2h 9min
3. COCO
Miguel has dreams of being a musician. The only problem? Music is the one thing that's forbidden in his family. When Miguel winds up visiting the Land of the Dead, he uncovers old family secrets, including the reason his grandmother forbids music. This has to be one of the most beautiful Latino movies made, with good music, stunning visuals, and heart-warming tale of family, love, and memory. Keep the tissues nearby.
Info:  Family, Adventure, Comedy  |  PG |  2018  | 1h 45min
4. MR. PIG
This one is in English, but it's set in Mexico and directed by Diego Luna, which roots it deeply enough in Mexican culture that I'm including it. A older pig farmer in financial trouble goes to Mexico in search of a home to spend his remaining years with his beloved pig Howard. His estranged daughter follows him, they end up on a road trip together through Mexico (with the pig). and with the chance the rediscover one another.
Info:  Drama  |  TV-MA |  2018  | 1h 40min 
5. ELVIRA, TE DARÍA MI VIDA PERO LO ESTOY USANDO
Elvira's husband leaves one night to buy something at the drug store, and doesn't come back. Reeling from shock, confusion, and fear, she takes matters into her own hands and launches a search to find him and figure out what happened. This movie kept surprising me, right until the end. It's not your classic rom-com at all, but a good watch.
Info:  Drama, Comedy  |  PG-13 |  2014  |  1h 48min
6. DESIERTO
A group of emigrants try to cross the U.S.-Mexico border in this gritty film. Crossing the border is already an arduous, dangerous trip, but it turns deadly when the groups encounters a self-proclaimed border patrol guard- who wants nothing less than to see them all killed.
Info:  Drama, Thriller  |  R |  2016 | 1h 28min
7. LA DICTADURA PERFECTA
Governor Vargas faces a ruined political when the biggest television network in Mexico, TV MX, uncovers details about his criminal activity. To save himself, he cuts a deal with a producer and reporter from the network to create a new image and build up a new reputation that will bring him political stardom.
Info:  Comedy, Drama  |  TV-MA |  2014  |  2h 23min
8. TIEMPO COMPARTIDO (TIME SHARE)
Two families find out their reservation at a tropical timeshare resort has been double-booked and they must share their apartment. This soon becomes the least of their worries when they begin to suspect that the resort has dark plans to destroy their families.
Info:  Mystery, Horror, Thriller  |  TV-MA |  2018  |  1h 36min
9. ACAPULCO LA VIDA VA
Three older friends meet up for a vacation in Acapulco, under the premise that Mariano will try to find his long-lost love Carmen, who lives there. One friend is married, but ill, and goes everywhere with his medicine, and the other apparently plans to spend his time trying to get with younger women at the resort. All three, however, have secrets they're not telling one another.
Info:  Drama  |  TV-MA |  2016  |  1h 29min
10. SEMANA SANTA
Dalia takes a vacation to the beach with her boyfriend and son. During the trip, each relationships is tested and secrets come out that threaten to keep everyone apart. It's slow-moving, understated, and portrays a lot of dysfunctional relationships, but the storytelling itself is nonetheless compelling.
Info:  Drama  |  NR |  2016  | 1h 25min
11. 7:19
A group of strangers are trapped in the rubble of a building after the strongest earthquake to hit Mexico City occurs, one workday morning in 1985. As they struggle to stay alive during the search in the aftermath, each person's story unfolds and they must try to overcome differences to survive together.
Info:  Drama  |  NR  |  2016  |  1h 34min
12. LO MÁS SENCILLO ES COMPLICADO TODO
For years, Renata has secretly been in love with her older brother's best friend. Just when she's old enough to finally have a chance with him, he meets a gorgeous new friend. Renata will do anything to separate them and sabotage their relationship.
Info:  Comedy  |  PG |  2018  | 1h 33min
13. ESTAR O NO ESTAR
Augusto, a single man in his 40's, moves back to his hometown– a small Mexican town. He meets two women: a friendly neighbor, Ludivinia, and a local Russian waitress with whom he falls madly in love, Nástenska.
Info:  Drama, Romance  |  R |  2015  | 1h 40min
14. EL CLUB DE LOS INSOMNES
Santiago suffers from terrible insomnia, triggered by the same nightmare every night. He visits the same mini-market every night to escape his sleeplessness, and forms a friendship with the woman who works there, an aspiring photographer. When fellow insomniac Estela- a veterinarian whose just found out she's pregnant– begins to join their nightly hangouts, everything changes for the trio.
Info:  Drama  |  NR |  2018 |  1h 20min
15. BAYONETA
A Mexican boxer lives in retirement in Finland– until a second chance at the ring offers him the chance to confront his tormented past.
Info:  Sports Drama  |  TV-MA |  2019  |  1h 41min
16. LA PENA MÁXIMA (PENALTY KICK)
As Mexico makes its way into qualifying for the world cup, Mariano becomes convinced that his physical presence in the stadium is vital for the team's victory. When family obligations clash with game schedules, he has to decide just how far he'll go in order to support his team.
Info:  Comedy  |  13+ |  2018  |  1h 29min
17. TIEMPOS FELICES (HAPPY TIMES)
A man wants out of his relationship with a clingy girlfriend, but lacks the guts to actually tell her so. He hires a company to do the deed for him, but their methods turn out to be slightly unorthodox.
Info:  Comedy  |  NR |  2015  |  1h 20min
18. Y TU MAMÁ TAMBIÉN
Two teen friends face a summer without their girlfriends, who are backpacking Europe. When they meet a 20-something family friends who's recently found out about her husband's infidelity. After making up a story about a road trip to a made-up beach, the boys are forced to make a plan when she decides to go with them. What follows is a mixture of road-trip, coming-of-age, and friendship themes in what's been a highly acclaimed film. Heads up that this one has strong sexual situations.
Info:  Drama  |  R |  2018  | 1h 46min
19. AQUÍ ENTRE NOS
An epileptic man and a woman caring for her suicidal mother meet and begin an intense affair– the way many romances begin. As real life sets in, they have to decide if they will give each other a real chance to fall in love.
Info:  Romance  |  R |  2016  |  1h 28min
20. THE DAY I MET EL CHAPO
A three-part documentary that recounts the chilling events of how Kate Del Castillo was contacted by then-fugitive and drug lord El Chapo for an interview. The story is her account of what happened and what it was like to meet him.
Info: Documentary, Biography  |  PG-13 |  2018  |  3h
21. VERONICA
A psychologist goes out of her normal practices to accept a troubled teenage patient for one-on-one treatment at her remote cabin. As they talk together and the days go by, assumptions and roles get challenged and overturned. (Contains some disturbing scenes.)
Info:  Psychological Thriller  |  TV-MA |  2017 | 1h 21min
22. COMO AGUA PARA CHOCOLATE
A luscious, sensual tale of food and passion in the tradition of magical realism this iconic work by Mexican author Laura Esquivel was adapted to screen by Esquivel herself. A young woman, Tita, falls in love with Pedro but isn't allowed to marry him. He ends up married to her sister, and Tita directs all of her emotion into the food she prepares.
Info:  Drama, Romance  |  R |  1993  | 1h 45min
23. SABRÁS QUÉ HACER CONMIGO
An epileptic man and a woman caring for her suicidal mother meet and begin an intense affair– the way many romances begin. As real life sets in, they have to decide if they will give each other a real chance to fall in love.
Info:  Romance  |  R |  2016  |  1h 28min
24. MACHO
Internationally recognized fashion designer Evaristo Jiménez is well-known to be a gay designer. In fact, he's secretly straight and also a total womanizer, whose rendezvous include a long list of married women- which means a long list of husbands looking for revenge, and so his manager concocts an elaborate plan to cover up his misdeeds. Heads up – it says NR, but is definitely R as the preview suggests.)
Info:  Comedy  |  NR |  2016  |  1h 42min
Join the newsletter
Want to stay in touch and hear from me weekly?

Sign up now and you'll get this free game set.