Peruvian Tallarines Verdes Recipe
Inside: Recipe for Peruvian Tallarines Verdes
I love Peruvian Food. It's probably one of the things we miss the most about Peru, in fact! The dish Tallarines Verdes involves yet another delicious Peruvian blender sauce, and resembles pesto. I grew in the southern U.S., where we made sauces in a pan, starting with butter and flour. Most Peruvian recipes simply use the blender to make sauces, with a base of fresh cheese and milk.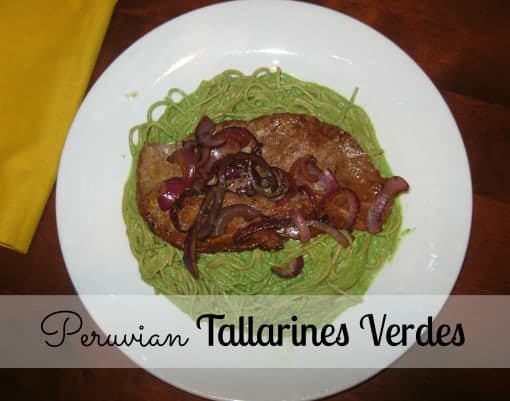 Tallarines Verdes is not only yummy, it's also a great way to sneak an enormous helping of spinach and fresh basil onto the dinner table. My husband is not a vegetable lover so much, but he can't get enough of this plate. Here's what you need: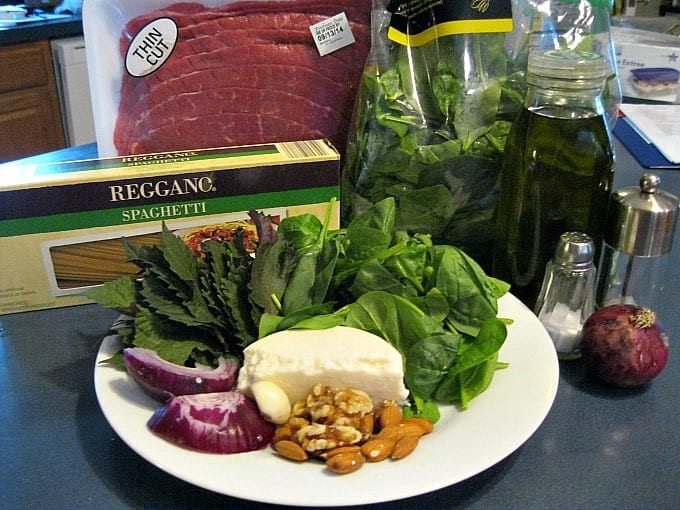 We like to have Tallarines Verdes with thin-sliced beef and red onions, but you could also serve it with chicken or as a vegetarian dish by itself.
RECIPE FOR PERUVIAN TALLARINES VERDES
(based on recipe from Peru Delights)
Ingredients
1lb. spaghetti
1/4 cup red onion, diced
1 small garlic clove, diced
5 cups fresh spinach
1 cup fresh basil leaves
3/4 cup evaporated milk*
1/2 fresh cheese (queso fresco)
1/4 cup pecans (or walnuts/almonds)
1/4 olive oil salt and pepper
1/2 cup Parmesan cheese (optional)
Directions
1. Cook the spaghetti according to directions. (I avoid gluten, so I simply made rice for myself instead of pasta.) 2. Saute the beef and onions together. 3. While the spaghetti is cooking, dice the onion and garlic, and saute together in one tablespoon of oil. (The original recipe keeps the garlic raw.) 4. Drain the pasta and use the hot water to pour over the spinach and basil leaves. You don't need to cook them, just for them to "wilt." Pour off excess water. 5. When the onion and garlic are cooked, put in blender together with the spinach, basil, milk, cheese, nuts, salt and pepper and the rest of the olive oil. Blend thoroughly. 6. Mix the sauce with the pasta and serve with beef and red onions on top. Sprinkle with Parmesan cheese if desired.
*So many Peruvian recipes call for evaporated milk! It really does produce a thick, rich sauce but I prefer to stick to whole non-processed foods. I simply replaced it with my healthy fresh-from-the-farm milk, added extra cheese, and no one complained! I also forgot to picture either type of milk in the original ingredients picture.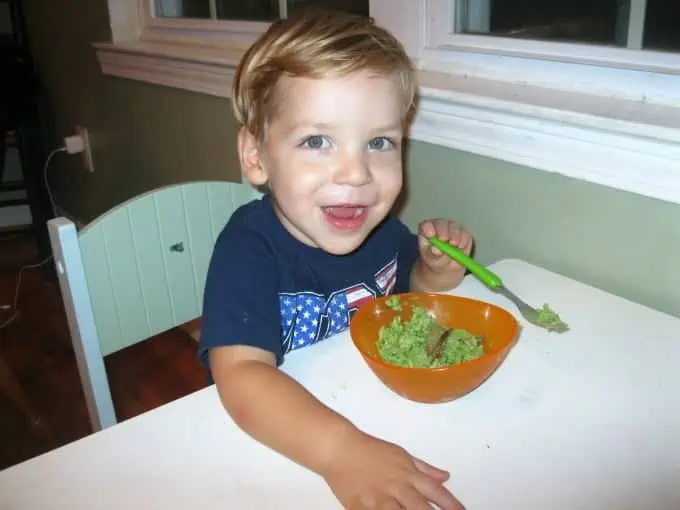 So good! This is Janio after dinner, eating his tallarines. He thought the blender full of green sauce was one of our green smoothies, and could not understand why he couldn't drink that instead of his water. This resulted in a full-blown tantrum and being sent from the table. Ah, real life. Here he is, all recovered apparently!