Spanish Christmas Books for Kids
Inside: Christmas Spanish books for kids.
When I was growing up, my mom created little Christmas traditions we kept up for years. One of them was "the book basket." We had a stack of annual favorites, and she would read a little bit from each one, finishing the last page or chapter of each on Christmas Eve. Every year she'd get choked up in the same parts, and even my dad would tear up on the last page of classics like A Certain Small Shepherd and The 24 Days Before Christmas.
We rolled our eyes at our sentimental parents, of course. But of course, here I am with kids of my own, boo-hooing my way through sweet books too. Now that I've got bilingual kids, I've been on the hunt for Christmas books in Spanish, so I can carry on the family traditions with our own bilingual, bicultural twist.
In this post I'm sharing my favorite titles in Spanish, and would love to hear your suggestions as well! For more book lists and suggestions, be sure to see my Spanish children's books page.
This post contains affiliate links. Thank you for your support!
CHRISTMAS SPANISH BOOKS FOR KIDS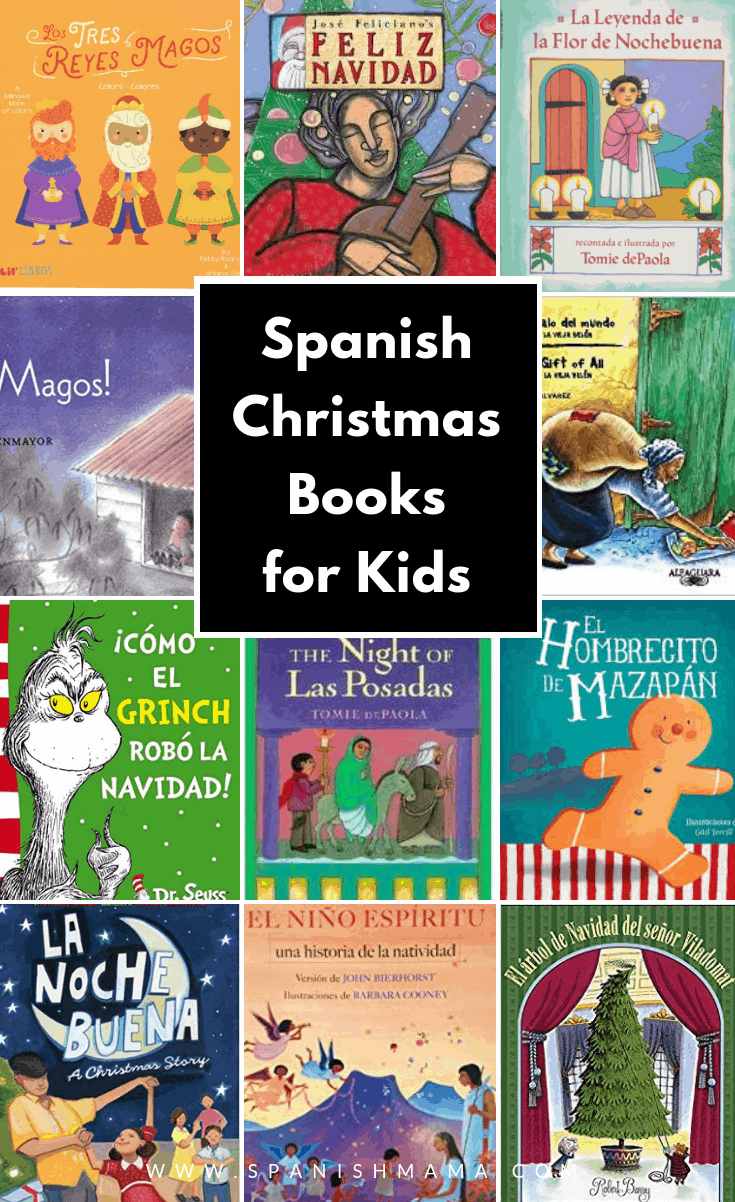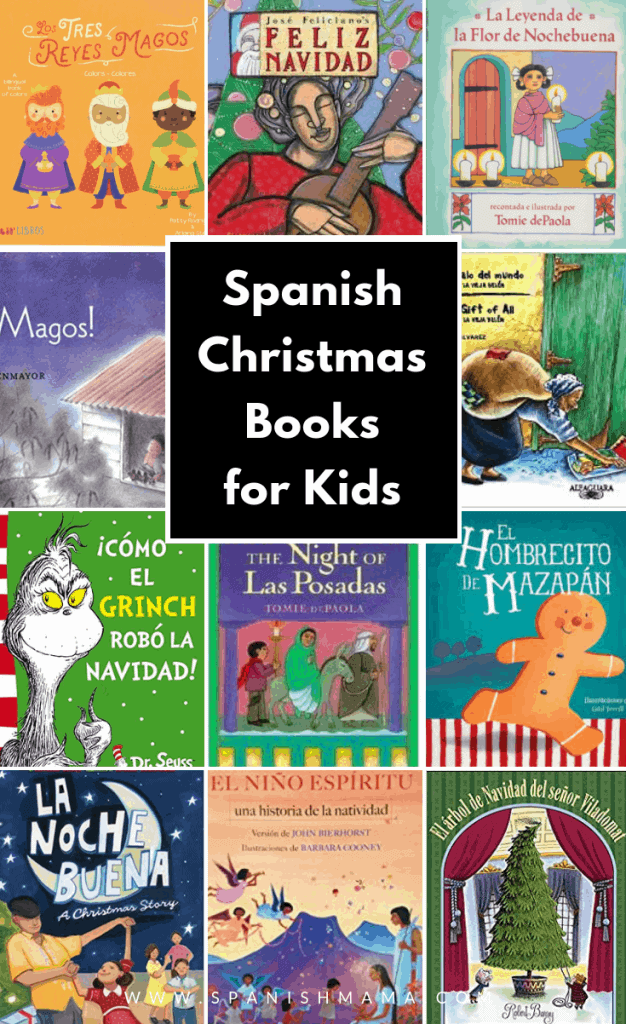 CHRISTMAS TRADITIONS
El Niño Espíritu by John Bierhorst and Barbara Cooney
(Mexico)
The nativity story, as told by Spanish missionaries to the Aztecs and one that dates back to the 16th century. Cooney is an award-winning illustrator who brings the story to life with period illustrations.
Feliz Nochebuena, Feliz Navidad by Maricel Presilla
(Cuba, Puerto Rico)
A tour of the author's Christmas memories from growing up in the Caribbean, centered on the delicious food and recipes, and the people who made them.
¡Ya Llegan los Reyes Magos! by Georgina Lazaro
A beautiful book that introduces traditions surroundings Los Reyes Magos, from a child's perspective.
The Night of Las Posadas by Tomie dePaola
(Santa Fe, New Mexico)
Though this one isn't in Spanish, Tomie dePaola stories and paintings are just irresistible. This story tells about a small town's procession of Las Posadas. Mystery and miracle follow, to save the posadas on Christmas night.  
CONTEMPORARY CHRISTMAS STORIES
¡Qué Montón de Tamales! by Gary Soto
(Mexico)
As María helps her mother in their family tradition of making tamales for nochebuena, she tries on her mother's ring. It slips off and gets lost in the mountains off masa they are preparing! María enlists the help of her cousins to eat all the tamales and find it.
La Noche Buena: A Christmas Story by Antonio Sacre
(Cuba, Miami)
This year, Nina leaves behind a snowy landscape to spend Christmas with her grandmother in Miami– where it's hot and humid. There, she learns about another side of Christmas, full of new food, dancing, music and family.
El Árbol de Navidad by Alma Flor Ada
A family decorates their Christmas tree together, as told by rhyming cumulative text with each added ornament. I love the folk illustrations in the story as well.
Arturo and the Navidad Birds by Anne Broyles
(Central America)
Arturo is visiting his grandmother, and she tells him the story behind each ornament as they decorate together. When Arturo accidentally breaks a bird ornament, he is filled with guilt and tries to make another. A sweet bilingual story that won second place in the International Latino Book Awards for picture books.
TRANSLATED CLASSICS
Los renos rebeldes de Navidad by Jan Brett
We love Jan Brett at our house, and I was so excited to see this one in Spanish! She retells a Ukranian folk tale in Spanish in this gorgeous book, about a young girl in charge of Santa's reindeer.
¡Cómo el Grinch robó la Navidad! by Dr. Seuss
It's hard to get more classic than the Grinch for Christmas, and now you can enjoy this story in Spanish!
El Árbol de Navidad del Señor Viladomat by Robert Barry
Señor Viladomat has accidentally bought a tree that is too big for his house. What he does with the chopped-off end part brings Christmas cheer to many neighbors, both animal and human
La Navidad del Camioncito Azul by Alice Schertle
Everybody's favorite little blue truck is back for Navidad, with a counting-Christmas-trees twist. 
The Legend of the Poinsettia by Tomie dePaola
(Mexico)
Written in English, this recounts the Mexican folktale behind the poinsettia (or flor de la Nochebuena), and Holy Night. As always with dePaola, gorgeous paintings vividly accompany the story set against a group of children waiting for Christmas.
There are several other versions available for this classic folk tale:
El Regalo de La Flor de Nochebuena retold by Pat Mora
Milagro de la Flor de Nochebuena retold by Brian Cavanaugh
Zetta the Poinsettia by Alma Hammond
BILINGUAL OR ENGLISH BOOKS
Feliz Navidad by Jose Feliciano
A bilingual introduction to Jose Feliciano's classic songs, with lift-up flaps for little fingers.
El Mejor Regalo del Mundo: La Leyenda de la Vieja Belen by Julia Alvarez
(Dominican Republic)
Julia Alvarez is one of my favorite Latina authors, and you won't want to miss this delightful bilingual re-telling of the Dominican folk character La Vieja Belen.
Tres Reyes Mago: Colors – Colores by Patty Rodriguez
This sweet and simple board book introduces colors to kids in the context of the Christmas story.
The Santero's Miracle by Rudolfo Anaya
(New Mexico)
This bilingual story takes place in a small village, where Andrés is visiting his grandpa. When a big snow hits, Andres worries his family won't be able to join them for Christmas. A sweet story of a surprise miracle and family. 
Miracle on 133rd Street by Sonia Manzano
A sweet story about a roast too big to fit into Mami's oven. What started as a simple cooking problem ends up being an opportunity for the neighborhood to come together and spread the Christmas spirit.
Twas' Nochebuena by Roseanne Greenfield Thong
A retelling of The Night Before Christmas that introduces the tradition of Nochebuena, along with Christmas vocabulary in Spanish:
"'Twas Nochebuena and all through our casa,
every creature was kneading tamale masa…"
N is for Navidad by Susan Middleton Elya
A bilingual alphabet book that introduces different Latino Christmas traditions and words.
A Piñata in a Pine Tree by Pat Mora
El Regalo de Navidad by Francisco Jiménez
(US – Immigration Theme)
Renowned author Francisco Jiménez recounts one Christmas from his childhood, the year in which all he wanted was a red ball. His parents explain that they have no money, and are on the constant move. A poignant surprise waits for us in this tale.
El Hombrecito de Mazapán by Louise Martin
The classic tale of the gingerbread boy, told in Spanish.
A Doll for Navidades by Esmeralda Santiago
The author recounts one childhood Christmas when all she wanted was a doll, in this heartwarming story about love and family.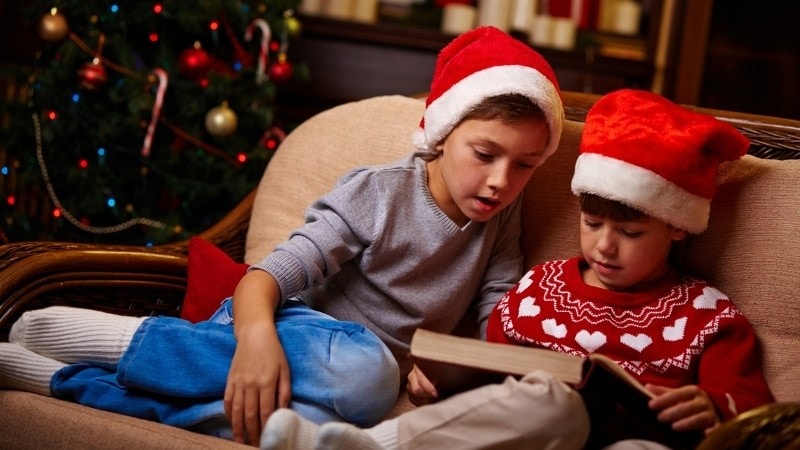 Hope these Christmas books in Spanish for kids are helpful to you and create some happy family memories! If you have some favorites that I missed, of course let me know in the comments below!