Spanish Easter Traditions: Ideas & Resources for the Classroom
Inside: A round-up of classroom iresources for Spanish Easter traditions.
La Pascua– Easter in Spanish– is a big deal across the Spanish-speaking world, whose history is closely connected to the Catholic church. The month of Lent culminates in Semana Santa, which commemorates the last week in the life of Jesus. In Spain and many Latin American countries, Easter is a bigger deal than Christmas, with deeply rooted traditions.
I've included a mix of religious and non-religious activities. In my opinion, it's important to acknowledge the religious roots because they makes sense of many cultural traditions. I think you can do this without pushing religious beliefs, but I've tried to include non-religious options if you have to be careful to stay secular. 
Let's not re-invent the wheel for ideas in the classroom! I've gathered some awesome resources, for all ages. 
#Authres for Easter in Spanish
There are lots of infographs you can use with Easter. These are fun to to prompt discussion and give the students a chance to see what they can understand from an authentic resource.

This is only a portion of the original infograph. See the original here. 
Visit my Easter in Spanish board on Pinterest to find lots more realia!
An Interactive Video on Semana Santa
This one is so cool! You'll learn all about foods and celebrations all over the Spanish-speaking, and the students get to pick which ones to study first. 
Semana Santa, Spanish Easter 
Procesiones y Semana Santa
Bilingual Intro to Holy Week
Videos on Cascarones (Eggs for Easter)
See how cascarones de huevos are prepared in a Mexican market. 
How to make confetti eggs, in Spanish (from an adult and from a kid):
Semana Santa Classroom Resources
Make alfombras with DIY Sand Alfombras 
Browse these photos of real-life Guateman alfombras.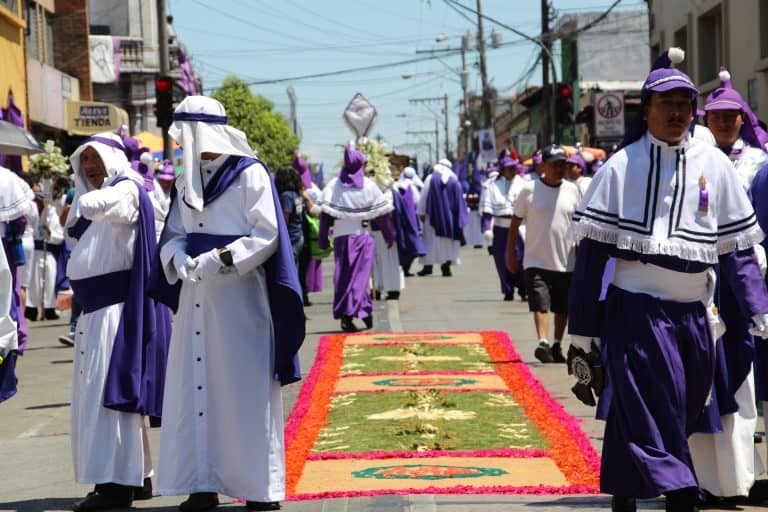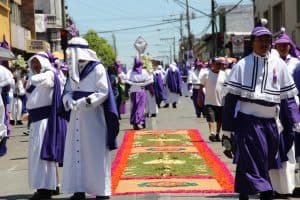 Semana Santa vocab at a glance. (Visiting this site downloads an audio file– you can choose to block it.)
Semana Santa Webquest in English
La semana santa en Guatemala from Estudia Feliz. This story includes preterite and imperfect as a teacher recounts her experience while traveling there, and she has more printable resources on her site. 
Semana Santa in Spain
Be aware that the outfits worn on these processions look like the KKK. The capes are meant to symbolize rising to heaven. You will definitely want to preview, and discuss with your classes before using them. (Good opportunity to discuss how culture shapes our reaction to images and symbols.) 
Semana Santa in Guatemala
Hope these activities and resources have helped you learn more about Spanish Easter traditions, and given you new ideas for classroom activities. If I missed a favorite resource, let me know about it in the comments below!
Join the newsletter
Want to stay in touch and hear from me weekly?

Sign up now and you'll get this free game set.