Spanish Easter Traditions: Ideas & Resources for the Classroom
Inside: A round-up of classroom iresources for Spanish Easter traditions.
La Pascua– Easter in Spanish– is a big deal across the Spanish-speaking world, whose history is closely connected to the Catholic church. The month of Lent culminates in Semana Santa, which commemorates the last week in the life of Jesus. In Spain and many Latin American countries, Easter is a bigger deal than Christmas, with deeply rooted traditions.
I've included a mix of religious and non-religious activities. In my opinion, it's important to acknowledge the religious roots because they makes sense of many cultural traditions. I think you can do this without pushing religious beliefs, but I've tried to include non-religious options if you have to be careful to stay secular.
Let's not re-invent the wheel for ideas in the classroom! I've gathered some awesome resources, for all ages.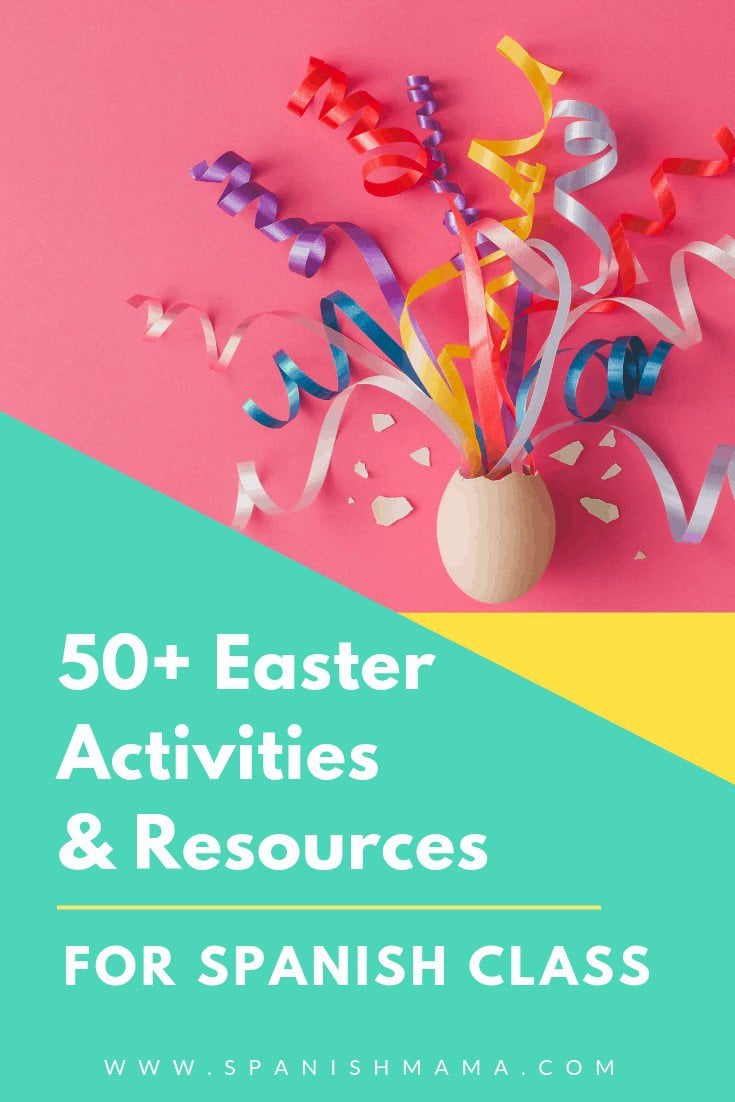 SPANISH EASTER TRADITIONS & ACTIVITIES
Here's an overview of ideas for teaching about or celebrating Easter traditions in Spanish. As you scroll down, you'll see the videos, links, and expanded resources you might want to use. This is just the condensed version:
Learn about cascarones (eggs) by making them, watching how-to videos, or seeing how they're made and used throughout Latin America.
Learn about Semana Santa and how it is celebrated in different Spanish-speaking countries.
Re-use those plastic eggs for a variety of activities! Do scrambled sentences inside, use for maracas, or make a matching activity.
Read infographs and watch videos to learn about the cultural traditions surrounding Pascua. Compare/contrast traditions with those in the US. 
If you are here looking for specific information and activities for Spanish Easter traditions, you can jump to specific sections here:
Otherwise, keep scrolling and browse away to learn more!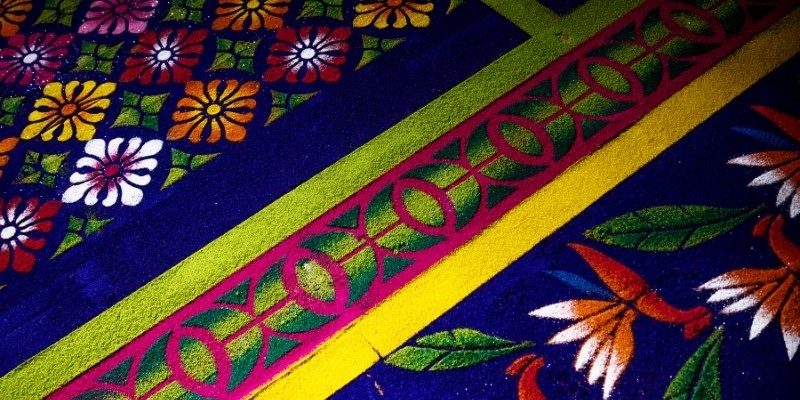 BOOKS ABOUT PASCUA
Libros de Pascua
Free Kids PRINTABLES for Pascua
Printable vocabulary coloring sheet from Spanglish Baby: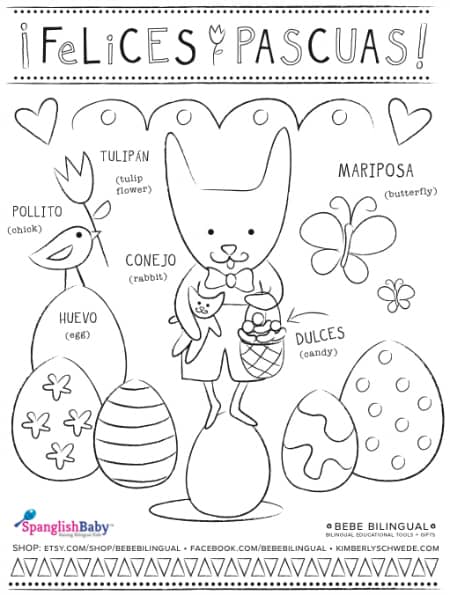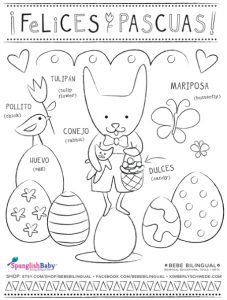 Conejo Finger Puppets (scroll alllll the way down to the songs section to see the Conejito song!)
Conejo Finger Puppets Search from Spanish Playground
Sopa de letras for Pascua or la primavera from Café con Leche.
Mini-book for emergent readers about Pascua from Primary Learning Fiesta.
Activity pack about La Pascua from Teaching Asante Sana. (It includes a bunch of cute activities:1 sopa de letras, 1 writing prompt, 1 board game, and 1 dice game!)
Conversation Questions from Spanish Playground
Semana Santa Coloring Pages (Religious)
Easter-themed centers resources in Spanish from DivulgaTEA (vocabulary cards, syllable work, letter-matching, puzzles, sequence practice, and more.)
Directed Drawing for an Easter egg from MM Bilingual
Printable memory game with Easter-themed vocabulary in Spanish from Fichitas Bonitas.
SEMANA SANTA Resources For Spanish Class
Make alfombras with DIY Sand Alfombras
Browse these photos of real-life Guateman alfombras.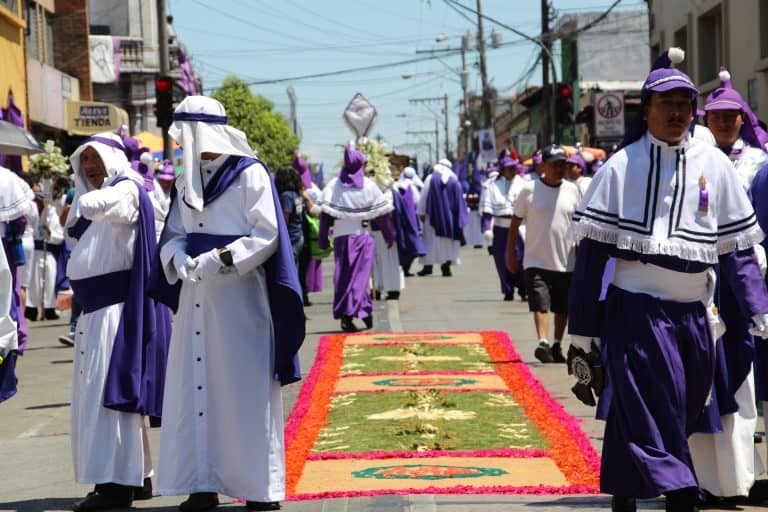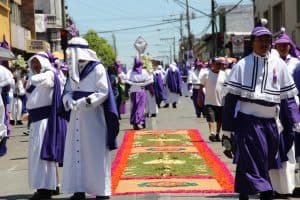 Semana Santa Slides (with Pear Deck) Take your students on a trip to Spain with this free presentation from the Cultural Classroom.
More free resources on Semana Santa in Simple Spanish, via Google Slides from Beginning Language Resources. You can also grab this free worksheet to go with the slides!
Semana Santa vocab at a glance. (Visiting this site downloads an audio file– you can choose to block it.)
La semana santa en Guatemala from Estudia Feliz. This story includes preterite and imperfect as a teacher recounts her experience while traveling there, and she has more printable resources on her site.
PPT Presentation on Semana Santa (in English) from Mrs Edgars Daily Apple.
Here's a free editable one-page reading that compares Carnaval to Semana Santa from Spanish 1 Superstore.
Infographs FOR EASTER IN SPANISH
There are lots of infographs you can use with Easter. These are fun to to prompt discussion and give the students a chance to see what they can understand from an authentic resource.



VIDEOS ON SPANISH EASTER TRADITIONS
The following videos are designed for Spanish learners who want to know more about traditions in Spain and Latin America.
EASTER HOLIDAY
Dreaming Spanish delivers interesting, novice-level language that's perfect for beginners!
AN INTERACTIVE VIDEO ON SEMANA SANTA
This one is so cool! You'll learn all about foods and celebrations all over the Spanish-speaking, and the students get to pick which ones to study first.
SEMANA SANTA, SPANISH EASTER
PROCESIONES Y SEMANA SANTA
BILINGUAL INTRO TO HOLY WEEK
ACTIVITIES WITH EGGS
Make cascarones! You can have your students paint them or color with markers, fill them with confetti, and maybe even take everyone outside to break them on each other.
Throw Away Your Textbook has some good tips for doing cascarones, as does Mundo de Pepita.
Use plastic eggs to do this scrambled sentence activity from Señora Chase. The nice thing about this one is that you can tie the sentences into whatever theme/story/song you are working on, but it feels Easter-y/Spring-ish because of the eggs.
Use another version of scrambled sentences Totally Comprehensible Latin, with whole sentence strips inside the eggs. This is a dictation & listening activity that can be done in pairs. It takes a little work upfront, but then you only have to supervise once it get going!
Presentation and worksheets about cascarones from Las Maestras Magnificas.
5 Ways to Use Leftover Plastic Eggs from Secondary Spanish Space: lots of fun ideas here!
Make maracas from plastic eggs with this SUPER-EASY craft.
VIDEOS ON CASCARONES (EGGS FOR EASTER)
See how cascarones de huevos are prepared in a Mexican market.
How to make confetti eggs, in Spanish (from an adult and from a kid):
AUTHENTIC VIDEOS ON SEMANA SANTA
Here are authentic videos that introduce Semana Santa celebrations in different parts of the Spanish-speaking world.
SEMANA SANTA IN PERU
SEMANA SANTA IN GUATEMALA
And here are Questions in English to go with the above video from Sra. Stephanie.
SEMANA SANTA IN SPAIN
Be aware that the outfits worn on these processions look like the KKK. The capes are meant to symbolize rising to heaven. You will definitely want to preview, and discuss with your classes before using them. (Good opportunity to discuss how culture shapes our reaction to images and symbols.)
VIDEOS ON ALFOMBRAS
Las Alfombras en Honduras (introduced in English):
Detailed video of the Alfombras de Aserrín process:
Alfombras from Guatemala:
EASTER SONGS IN SPANISH
DE COLORES
A famous & traditional song that works well with spring vocabulary.
EL CONEJITO BLANCO
So cute, and non-religious for those who need that!
EASTER MOVIETALKS OR VIDEOS FOR KIDS
Hope these activities and resources have helped you learn more about Spanish Easter traditions, and given you new ideas for classroom activities. If I missed a favorite resource, let me know about it in the comments below!