Julia Alvarez Quotes, Books, And Biography
Inside: Learn about the life and career of Julia Alvarez, along with famous quotes and a list of books she has authored.
Julia Alvarez is a bilingual author who has written essays, poems, and novels, both for adults and children. She is regarded as one of the top Latina writers and one of the most important voices on the Latinx immigrant experience in the United States.
If you are here specifically looking for Julia Alvarez quotes, click here to jump to that section!
Related: Famous Latinos & Hispanic Americans Home Page
Here's an index of what's included in the post. You can click on any link to jump straight to that section: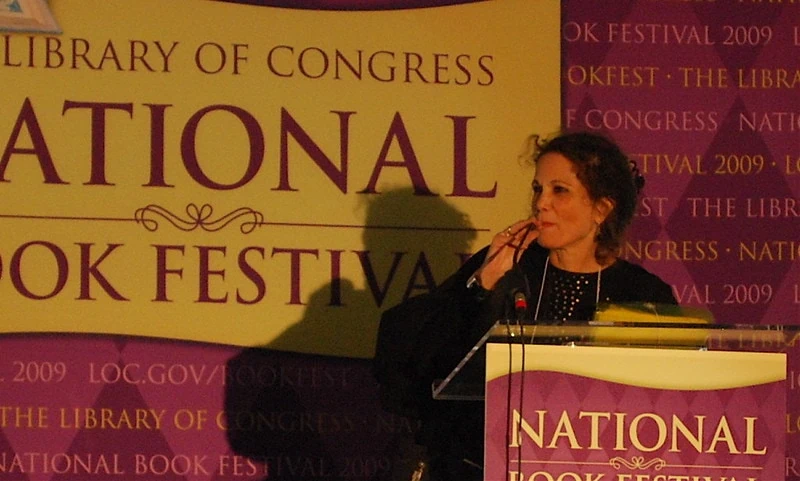 Julia Alvarez Biography
Fast Facts about Julia Alvarez

Birth: March 27, 1950
Birthplace: New York City
Family: Bill Eichner (spouse)
Education: Connecticut College, Middlebury College (B.A.), Syracuse University (M.F.A)
Career: Writer
Famous For: Successful novels and other publication, In the Time of Butterflies
Julia Alvarez was born in New York City on March 27, 1950, but spent most of her childhood in the Dominican Republic.
Her family moved back to the US when she was 10. At that time, the Dominican Republic was under the dictatorship of General Rafael Trujillo, and Alvarez's parents had been involved in a secret movement to overthrow him. The family fled the country and moved to Queens, New York.
Alvarez faced challenges with having to learn English and adjust to a new life, but she graduated in 1967 and enrolled in Connecticut College. She later transferred to Middlebury College and received her Master's from Syracuse University in 1975.
Alvarez published her first collection of poetry in 1984, and her first novel in 1991, which was received well by readers and critics (How the García Girls Lost Their Accents.) She published her first picture book for children in 2002. In her work, she often explores the immigrant experience, identity, and the feeling of being pulled between two cultures.
Awards:
National Endowments for the Arts (Grant)
Hispanic Heritage Award for Literature
Lamont Prize (Academy of American Poets)
Fitzgerald Award for Achievement in American Literature
Printables and links to learn more
Free Resources: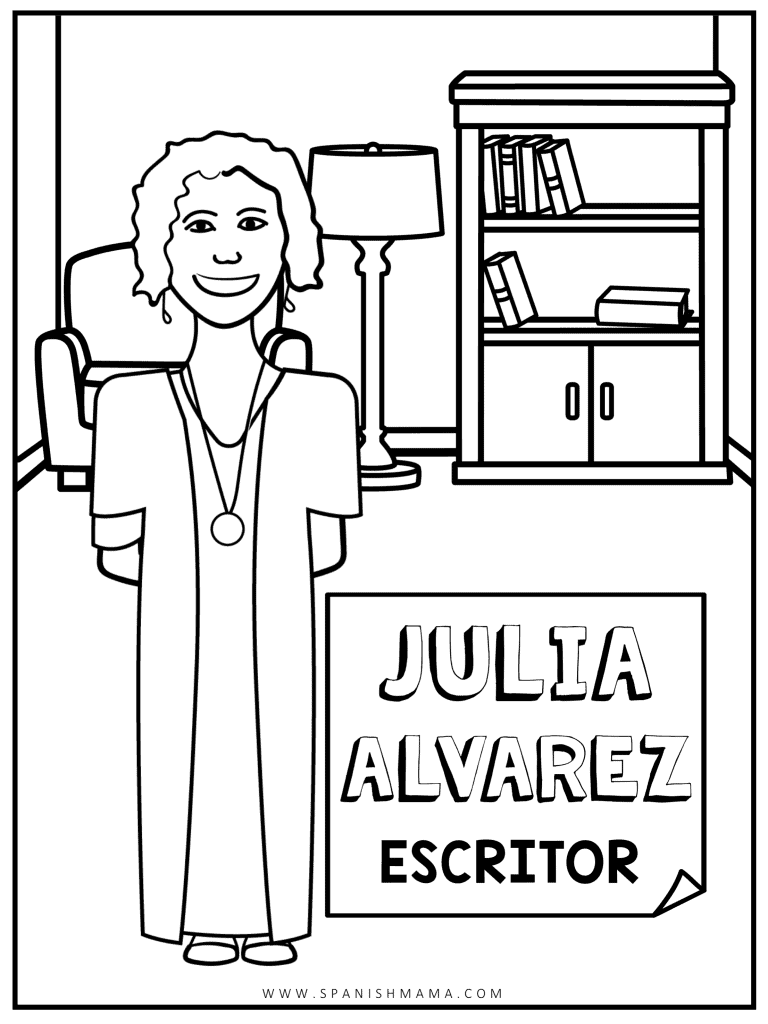 Free printable Julia Alvarez coloring page.

If you are looking for free worksheets, quizzes or quides, try these resources on TpT.

Free teaching guide for Return to Sender from the UNM Latin American and Iberian Institute.

Free lesson plans for teaching with In the Time of Butterflies (this has lots of downloads) from EDSITEment! Here are Pre-AP plans as well.

PBS Learning Media has a lesson series on the immigrant experience and includes Julia Alvarez. You can see their video featuring her here, and a video on the general midcentury experience of moving from Puerto Rico to New York. (Alvarez is not from Puerto Rico, but there are many parallels to her experience.)
You also might be interested in my sets of biography slides and project templates for learning about Latinx and Spanish-Speaking leaders, plus a free guessing game.
Julia Alvarez Books
Here are some of the most popular and well-known titles authored by Julia Alvarez.
The Tía Lola Series In Order:
How Tía Lola Came to (Visit) Stay (De como tía Lola vino (de visita) a quedarse)
How Tía Lola Learned to Teach (De como la tía Lola aprendio a enseñar)
How Tía Lola Saved the Summer (De como tía Lola salvo el verano)
How Tía Lola Ended Up Starting Over (De como tía Lola terminó empezando otra vez)
Afterlife
A Cafecito Story (El cuento del cafecito)
A Gift of Gracias: The Legend Altagracia
A Wedding in Haiti: The Story of a Friendship
Before We Were Free
El mejor regalo del mundo: la leyenda de la Vieja Belen (The Best Gift of All: The Legend of La Vieja Belen)
Finding Miracles
Homecoming: New and Selected Poems
How the García Girls Lost Their Accents
In the Name of Salome
In the Time of Butterflies
Once Upon a Quinceañera: Coming of Age in the USA
Return to Sender (Devolver al remitente)
Saving the World
Something to Declare
The Other Side (El otro lado)
The Best Gift of All (El mejor regalo del mundo)
The Secret Footprints (Las huellas secretas)
The Woman I Kept to Myself
Where Do They Go?
¡Yo! A Novel
Videos About Julia Alvarez
Julia Alvarez share some of her lift story with a special emphasis on her arrival and adjustment as an immigrant (3min 8s):
Hear Alvarez share her experiences of learning to write in English as a Spanish speaker (1min 38s):
This is an amateur biography of Julia Alvarez that spends time on why her family fled the Dominican Republic (3min 26s):
17 Julia Alvarez Quotes
1. "I write to find out what I am thinking. I write to find out who I am. I write to understand things."
– Julia Alvarez
2. "For me, the writing life doesn't just happen when I sit at the writing desk. It is a life lived with a centering principle, and mine is this: that I will pay close attention to this world I find myself in. 'My heart keeps open house,' was the way the poet Theodore Roethke put it in a poem. And rendering in language what one sees through the opened windows and doors of that house is a way of bearing witness to the mystery of what it is to be alive in this world."
– Julia Alvarez
3. "It's like my whole world is coming undone, but when I write, my pencil is a needle and thread, and I'm stitching the scraps back together."
– Julia Alvarez
4. "But the sensibility of the writer, whether fiction or poetry, comes from paying attention. I tell my students that writing doesn't begin when you sit down to write. It's a way of being in the world, and the essence of it is paying attention."
– Julia Alvarez
5. "The point is not to pay back kindness but to pass it on."
– Julia Alvarez
6. "Reading and thoughtfulness and openness are the best way, I should think, to begin to address the richness that is in each of us."
– Julia Alvarez
7. "Each of us will have to make the choices that allow us to be the largest versions of ourselves."
– Julia Alvarez
8. "As a young writer, I was on guard against the Latina in me, the Spanish in me because as far as I could see the models that were presented to me did not include my world. In fact, 'I was told by one teacher in college that one could only write poetry in the language in which one first said Mother. That left me out of American literature, for sure."
– Julia Alvarez
9. "A book does not discriminate against any reader. All are welcome at the table of literature."
– Julia Alvarez
10. "Everyone needs a strong sense of self. It is our base of operations for everything that we do in life."
– Julia Alvarez
11. "Don't plan it all. Let life surprise you a little."
– Julia Alvarez
12. "It's always gratifying to hear from a passionate reader, and as a longtime educator, I'm especially pleased and heartened when that reader is a young student who is inspired to write me and let me know that my book has helped him or her find her way."
– Julia Alvarez
13. "How we lie to ourselves when we've fallen in love with the wrong man."
– Julia Alvarez
14. "I grew up in a dictatorship, where you couldn't talk about difficult situations – there was this culture of silence. We would run into a problem and have no one to talk to."
– Julia Alvarez
15. "Literature is about being a complex, contradictory human being."
– Julia Alvarez
16. "Schools provide safe spaces to talk about controversial issues, and literature presents characters portraying human experience in all its richness and contradictoriness."
– Julia Alvarez
17. "A novel is not, after all, a historical document, but a way to travel through the human heart."
I hope these ideas and resources were helpful to you! If you have more ideas for resources or lessons, let me know in the comments below!
Image Sources: