Inside: An overview of doing a music tournament with Spanish students, and how to turn the popular NCAA basketball bracket into a beloved Spanish class tradition.
By the time March rolls around, both teachers and students are feeling like it's been a long year. (And with no end in sight yet!)
Enter Locura de Marzo, from Sr. Ashby.
OR, if you prefer, March Music Madness from Spanish Plans.
Let me give you a quick overview of the basic idea, and then I'll point you to resources for whichever bracket you choose to do.
Contents:

1. What is Locura de Marzo?
2. What is the difference between Locura de Marzo and March Music Madness?
3. Where to Start with Locura de Marzo
4. What to Start with March Music Madness
5. All Locura de Marzo Winning Songs
6. All MMM Winning Songs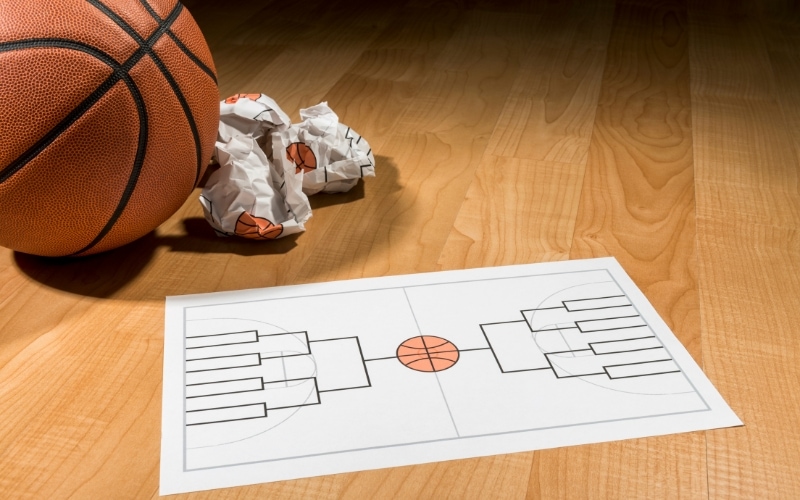 What is Locura de Marzo?
The term "Locura de Marzo" literally translates to "March Madness," named after the college basketball tournament that takes place in March in the U.S.
March Madness is a big deals in many region of the U.S., so Spanish teachers have been using that energy to drum up interest in authentic Spanish music.
The gist is this: teachers across the world coordinate to pick 16 Spanish songs. Throughout March, students listen to the songs and vote between two of them. The winning song advances, and the losing song is eliminated.
Though some teachers do the brackets with middle school or younger, the songs are generally selected with high school students in mind.
Some teachers keep the results just to their classes, and other participate in a global bracket. One Spanish teacher might study the songs in-depth with their students, and another just gives their class a quick listen.
In my experience, music has been provided a deep cultural connection and every year the classes are heavily invested in seeing their favorite songs advance.
The next question might be: how much work do I have to put into this?
And lucky for you, there are tons of done-for-you resources to use.
What is the difference between Locura de Marzo and March Music Madness?
Most years, Locura de Marzo has crowdsourced choosing a variety of popular songs. March Music Madness focuses on new songs (hits from the previous year).
March Music Madness is the longest-running tournament, with the first bracket from 2014.
Locura de Marzo
Who created it:
Señor Ashby
Where to find this year's songs:
The annual Locura de Marzo competition can be found on Señor Ashby's website.
He's got the list of songs, a printable bracket, and more.
The best part is the button that says "Shared Google Drive." This is a goldmine of free resources for each song (think Google Slides, crosswords, lyric sheets, cloze activities, questions, for each canción).
You can also see the music videos lined up by week, to show in class.
Facebook Group:
You can find tons of teacher support and collaboration in this FB group. The teachers there also create fantastic supplementary resources you can grab.
Sr. Ashby created an intro video with more instructions here:
If you're just getting started, Sra. Chase has some videos in her blog post that demonstrate chatting about the tournament together.
And I kid you not, there's even a promo video to gets your classes excited!
March Music Madness
Who created it:
Justin Buehler
Where to find this year's songs:
You can get an overview of March Music Madness here on the Spanish Plans website.
See the Spotify list for 2023 here:
Locura de Marzo Winners:
2022: "Acontracorriente", Alvaro Soler y David Bisbal
2021: "Al Aire", Morat
2020: "Un Año", Sebastian Yatra
2019: "Lo Mismo", Alvaro Soler
2018: "Robarte un Beso", Carlos Vives
2017: "Waka Waka", Shakira
Whether or not you choose to do an annual bracket, both tournaments offer great playlists to use in class. Here are 100+ songs from the past few years:
March Music Madness Winners:
2022: "Tacones Rojos", Sebastian Yatra
2021: "Muchacha", Gente de Zona y Becky G
2020: "Destino", Greecy y Nacho
2019: "Calma", Pedro Capó, Farruko
2018: "Robarte un Beso", Carlos Vives, Sebastian Yatra
2017: "Sofia", Alvaro Soler
2016: "Vivir Mi Vida", Marc Antony
2015: "Tengo tu love", Sie7e
2014: "Tengo tu love", Sie7e
Locura de Marzo and March Music Madness have become such hits that they were the basis of an article from Rachel Cardarelli at Bryant University.
"Each Spring, thousands of middle and high school students enrolled in Spanish classes vote for their favorite songs in the annual Locura De Marzo competition. This alternative March Madness competition gives us an opportunity to build and test models to predict which songs will win which furthers the Hit Song Science literature."
How's that for some real-world connection, tied into your lesson plans?
I'd love to hear your experiences in the comments below!