Frida Kahlo Art for Kids (With Coloring Pages, Lessons, and Projects)
Inside: A collection of activities, self-portrait projects, biography, and a list of Frida Kahlo art for kids and students.
Frida Kahlo is a famous Mexican artist, and perhaps the most famous female painter of all time.
She is especially known for her self-portraits and traditional Mexican clothes. Her paintings are bold and full of emotions, and kids will be drawn to her colorful art full of pets and plants.
She is a great introduction into surrealism and Mexican culture as well.
This post includes all kinds of resources and information for learning more about Frida Kahlo, especially with kids or in a school setting.
There's a lot, so here's an index of what's included in the post. You can click on any link to jump straight to that section:
1. Frida Kahlo Art for Kids (Paintings)
2. Frida Kahlo Biography for Kids
3. Frida Kahlo Lesson Plans
4. Frida Kahlo Art Projects
5. Frida Kahlo Children's Books
6. Videos About Frida Kahlo for Kids
"The boldness, imagination, and vision with which Kahlo approached her work and life made her an icon and legend—in art, and in for women or anyone exploring their individuality. She lived a bold life in her paintings and in her skin."

The State of Women
Frida Kahlo Art for Kids
Many of Kahlo's paintings aren't meant for young children, and I recommend you proceed with caution even in high school.
However, there are definitely paintings that are school-friendly!
Here are titles of some famous Frida Kahlo art for kids that should be perfect for school or home:
Self-Portrait with Bonito
Viva la Vida, Watermelons
Self Portrait as Tehuana
The Bus
Self-Portrait Dedicated to Dr. Eloesser
Self-Portrait Dedicated to Dr. Leon Trotsky
Self-Portrait in Red and Gold Dress
Self-Portrait with Monkey
Here are some examples:
Self Portrait with bonito – Frida Kahlo
Viva la vida – Frida Kahlo
Self Portrait as Tehuana – Frida Kahlo
Related: Famous Latinos & Hispanic Americans Home Page
Frida Kahlo Biography For Kids and Students
To teachers and parents: many Frida Kahlo biographies include descriptions that are too detailed to use with kids or at school. The following biography is written specifically so that teachers can use the info in class. It is not written on an elementary level— more of high school level, but teachers can use the text and simplify as needed for their students.
I allude to to her accident, miscarriages and infidelity; use or omit those references at your discretion.
If you want a complete bio of her life, this piece from the Smithsonian is great.
Frida Kahlo was born as Magdalena Carmen Frida Kahlo Calderón on July 6, 1907. Her father, Wilhelm Kahlo, was a Frida Kahlo was born with the full name Magdalena Carmen Frida Kahlo y Calderón on July 6, 1907. Her father, Wilhelm Kahlo, was a photographer and a German immigrant to Mexico. Her mother, Matilde Calderon y Gonzalez, was of mixed Spanish and indigenous descent.
Kahlo's family lived in Coyoacán, Mexico, in the Blue House, or Casa Azul. She was the third of four daughters.
At 6 years old, Frida Kahlo contracted polio, which kept her in bed for nine months. This left her right leg and foot permanently damaged and she walked with a limp. However, her father encouraged her interest in sports and she led an active childhood. She swam, boxed, played soccer, and wrestled. This was very unusual for a girl in those times.
When Kahlo was 15 years old, she entered the famous National Preparatory School in Mexico City. That year, 1922, was the first year girls were allowed to attend the school. This year was the first time she met her future husband Diego Rivera, when he was painting a mural at the school.
Among her peers, Kahlo was known as a vivacious and opinionated student, interested in philosophy, science, and literature. She joined a group of students called the "Cachuchas," who were interested in politics.
Tragically, Kahlo suffered a terrible bus accident in 1925. A metal rod was driven into her midsection, and she had multiple fractures, a crushed pelvis, and her leg and foot were broken. She was rushed to the hospital, where doctors thought she might not make it.
Kahlo did survive, but her recovery was long and incredibly difficult. After being released from the hospital, she would spend months in a body cast and many more in bed.
To help her pass the time, Kahlo's parents set her up with painting materials and a mirror. This was when she began painting self-portraits. It was also the beginning of other themes that would mark her career as an artist: physical suffering, introspection, and explorations of identity and trauma.
By 1927 Kahlo was healing and able to leave her room. She reconnected with her friends, became more interested in politics, and joined the Communist Party.
Kahlo also met Diego Rivera again. At first, he visited her to "talk about her paintings," but the two fell in love and were married in 1929.
They were very different physically: Rivera was over six feet tall and more than 300 pounds, while Kahlo was tiny by his side, at only 5 feet 3 inches, less than 100 pounds, and 21 years younger than him. Her parents described it as a "marriage between an elephant and a dove."
Their marriage turned out to be a passionate but tumultuous union. The two artists traveled to the United States in 1930 (Kahlo received a visa after leaving the Communist Party), where they worked, travelled, and Rivera painted a series of murals.
Kahlo drew attention as she dressed in traditional Tehuana dress that highlighted her Mexican identity, using vivid colors and long skirts, sometimes with elaborate headpieces made of flowers. They moved back to Mexico because she felt homesick.
Kahlo suffered during the early years of their marriage with a series of traumatic miscarriages, and found out she was not able to have children. Rivera was not faithful to Kahlo, and she was often ill during these painful times in the marriage. Kahlo had several affairs as well, and the two separated and reunited several times.
Her paintings reflected this time of her life and the suffering she endured both internally and physically. They also reflect her passion for live and love. Her unique and vivid work was drawing attention, and she was invited to do a show in New York in 1938, traveling to Paris as well.
Rivera and Kahlo divorced during this time, but remarried in 1940. Kahlo's became progressively more ill over the next decade with her spinal issues and several other sicknesses. She lived in the Casa Azul, tending to her garden. Despite her illness, she tenaciously kept painting and working.
Her work became increasingly recognized, though she struggled to make a living from it. She taught at the painting school La Esmeralda for a time, and received a prize for her painting Moses. Her painting The Two Fridas was purchased by the Museo de Arte Moderno, and she had an exhibit in 1953.
By this time she was so ill she had to travel to the exhibit in an ambulance and was given a bed to lie down in. In 1953 she developed gangrene and had to have the lower half of one leg amputated. Even so, she remained politically active, participating in protests.
Frida Kahlo died in 1954 at her own home, at only 47 years old. The cause of her death is uncertain, though official records list it as pulmonary embolism.
To this day, Kahlo's fame only continues to grow, and her legacy is ever-expanding. Like many artists, she is more appreciated now than during her own lifetime.
Her home, the Casa Azul, was opened as a museum in 1958. In 2002, Frida the movie was released, starring Salma Hayek. It won six academy awards and only increased Kahlo's fame.
Related: 25 Frida Kahlo Quotes
Frida Kahlo Lesson Plans
To introduce Frida Kahlo in the classroom, here is a collection of resources and lessons for teachers and parents.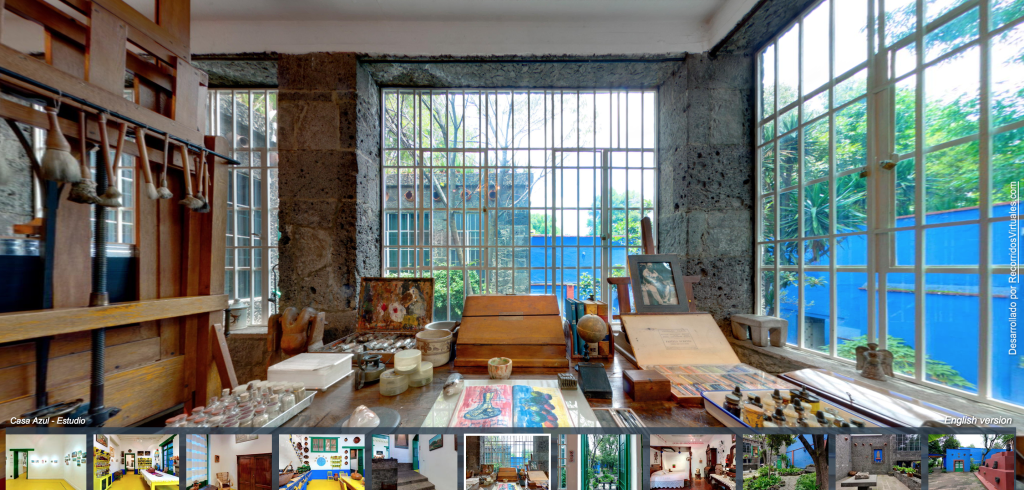 Free Resources in English:
Do a virtual tour of the Casa Azul (Blue House), shown above.
Worksheet to go with TEDEd YouTube video about her life. (TpT)
Studying the Biographies of Frida Kahlo and Diego Rivera – an extensive plan from a teacher on teaching both artists, using books, writing projects, and art. 
Reading, questions, and conversations cards about Frida Kahlo in English. (TpT)
Lesson plan from PBS to go with the film Frida Kahlo Personal or Political?, with materials for teachers and students. 
Free Spanish Resources from TpT:
2-page reading of Kahlo's biography with questions and preterite/imperfect section (for Spanish 3+).
Detective Code to learn about one of Kahlo's most famous paintings, "Self Portrait with Thorn Necklace and Hummingbird." (TpT)
More Frida Kahlo Lesson Plans and Resources:
Frida Kahlo Art Projects for Kids
What better way to learn about Frida Kahlo than through art? There are many free activities out there, and these were my favorites.
First, I have Frida Kahlo coloring pages right here that you can have for free! The coloring pages include pictures of Frida Kahlo and some of her famous paintings.
Frida Kahlo Children's Books
Videos About Frida Kahlo
It was really hard to find a video that works for young kids, There are tons of amazing biographies about here, but most include a part or two that may not work for you. As always, preview!
Almost school-friendly Frida Kahlo biographies:
(Both do include the Two Fridas painting, and the painting of the deer with arrows in it at minute):
For young children:
This video in Spanish is a great introduction for younger viewers. It focuses more on her paintings and the themes in her work than her life story. (Minute 2:41 describes Rivera as "gordo," heads up.) Here is a worksheet to go with the video.
For high school:
This TEDEd video is excellent with interesting and eye-catching graphics. Be aware that it includes a self-portrait with some nudity at minute 1:10. Otherwise it's a great synopsis of her life (4min 6s):
For mature high schoolers:
This video would be extremely useful for Spanish teachers especially, as her life story is illustrated step by step and includes written phrases in Spanish.
You could turn the sounds off and narrate in comprehensible language for your students, and also just choose certain clips to show.
Notes: minute 1:19 features an artist with a cigarette, at minute 3:08 Kahlo is drawn with Rivera and her hand looks low on his belly (just anticipating students, hah), at minute 3:32 indirectly explains that she had to have a therapeutic "interruption" to her pregnancy, minute 3:36 reference marital affairs, minute 4:00 references another abortion, 4:15 mentions more affairs, minute 5:12 mentions suicide,
I hope these resources were helpful to you! If you have more ideas for resources or lessons, let me know in the comments below!