Inside: A list of Joan Baez quotes, along with a biography and learning resources.
Joan Baez is an American folk singer, songwriter, and political activist. She performed at the March on Washington in 1963, and was a central figure in anti-war protests as well. In 2017, she was inducted in the Rock and Roll Hall of Fame.
If you are here specifically looking for Joan Baez quotes, click here to jump to that section!
Related: Famous Latinos & Hispanic Americans Home Page
Here's an index of what's included in the post. You can click on any link to jump straight to that section:
Joan Baez Biography
Joan Baez was born January 9, 1941, in New York. Her father was Mexican and her mother was of Scottish descent. She attended Boston University but dropped out to dedicate herself to the folk music scene. She played a central role in the growth of folk music during the 1960's.
Baez's performance at the Newport Folk Festival in 1959 propelled her into fame, and she released her first self-titled album in 1960. Baez dated Bob Dylan for a time, and she helped bring him into the spotlight as she invited him to sing with her.
From Rolling Stone,
"Joan has that rock & roll attitude toward life and freedom and love," says singer-songwriter Bob Neuwirth, who has known Baez since her folk-club days in Cambridge, Massachusetts, in the Sixties. "She has a kind of bravery that could just kick down the doors." Baez was a fixture at marches and protests, especially in the Sixties, preaching a philosophy of nonviolence.

– Joan Baez's Fighting Side: The Life and Times of a Secret Badass
Baez was active in the Civil Rights movement and became a figurehead of the protests and marches. She sang the famous song "We Shall Overcame" at the March on Washington in 1963, at the side of Martin Luther King Jr. She was also part of the antiwar movement, attending protests against the war in Vietnam, writing anti-war songs, even physically blocking draft offices, visiting Vietnam herself, and refusing to pay taxes that helped fund the military.
In the 1980's and later, Baez continued to sing but also worked with human rights organizations and fought for LGBTQ+ rights.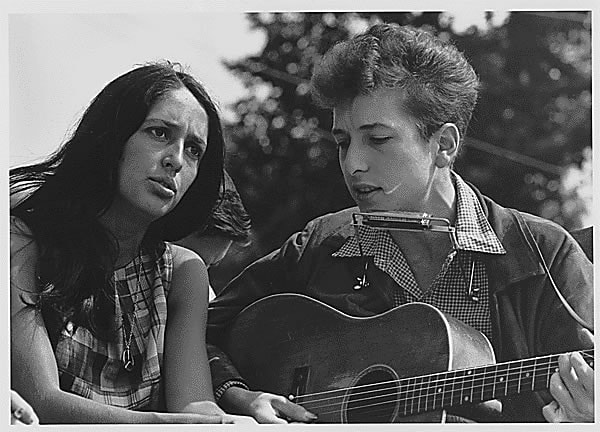 Awards:
Rock and Roll Hall of Fame (2017)
Lifetime Achievement Award (2007)
Kennedy Center Honors (2020)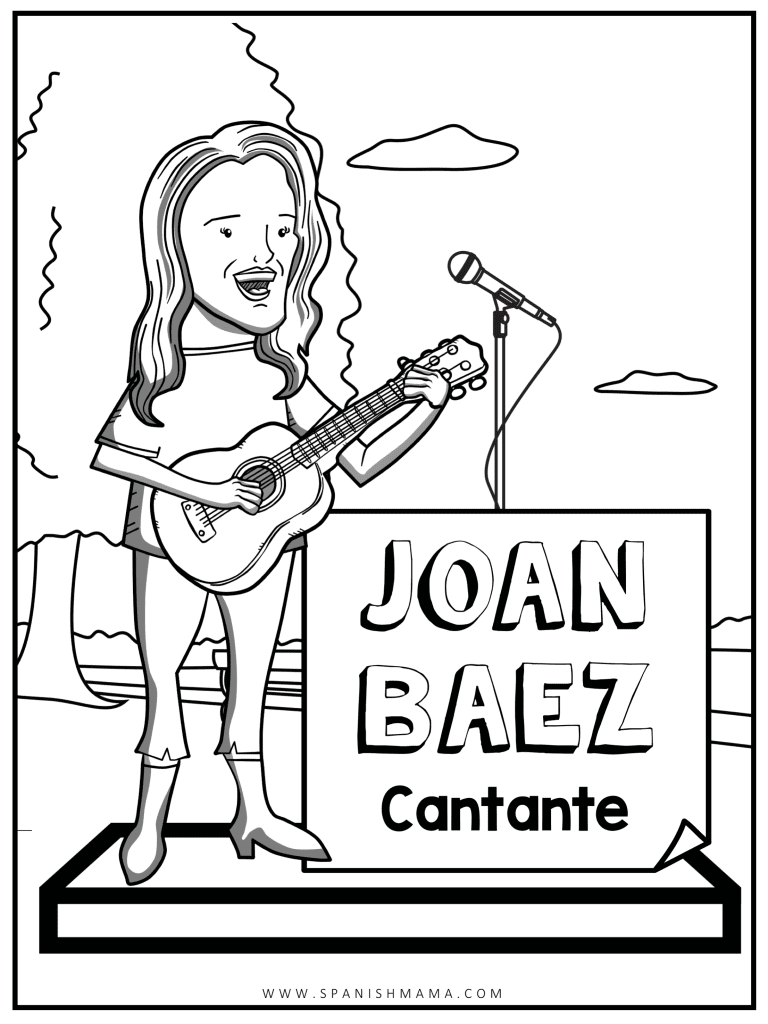 Printables and links to learn more
Free Elementary Resources:
Free Middle and High School Resources:
You also might be interested in my sets of biography slides and project templates for learning about Latinx and Spanish-Speaking leaders, plus a free guessing game.
Joan Baez Books
Jorge Ramos has written over 12 books, including one for children. (Most are available in both Spanish and English.)
These links are affiliate links.
Videos About Joan Baez
A quick English biography of Joan Baez, narrated by Katie Couric (7m 49s):
This is a shorter Joan Baez biography (2min 22s) that highlights her involvement in the Civil Rights movement and Anti-War protests:
Joan Baez singing Diamond and Rust with Bob Dylan (4min 46s) — this is one of Baez's most-viewed songs, but it does have a mild swear word at the beginning, so heads up if you want to show the song in class:
Joan Baez and Mereces Sosa singing "Gracias a la vida" (5min 38s):
12 Joan Baez Quotes
---
"It seems to me that those songs that have been any good, I have nothing much to do with the writing of them. The words have just crawled down my sleeve and come out on the page."

– Joan Baez
"You don't get to choose how you're going to die. Or when. You can decide how you're going to live now."

– Joan Baez
"I would say that I'm a nonviolent soldier. In place of weapons of violence, you have to use your mind, your heart, your sense of humor, every faculty available to you…because no one has the right to take the life of another human being."

– Joan Baez
"Only you and I can help the sun rise each coming morning. If we don't, it may drench itself out in sorrow. If we don't, it may drench itself out in sorrow. You special, miraculous, unrepeatable, fragile, fearful, tender, lost, sparkling ruby emerald jewel, rainbow splendor person. It's up to you."

– Joan Baez
"From the start I had an aversion to anything commercial. They said I was an impossible diva because I insisted on a black stage with one light and a microphone."

– Joan Baez
"If you're gonna sing meaningful songs, you have to be committed to living a life that backs that up."

– Joan Baez
I hope these ideas and resources were helpful to you! If you have more ideas for resources or lessons, let me know in the comments below!
Join the newsletter
Want to stay in touch and hear from me weekly?

Sign up now and you'll get this free game set.