Inside: A list of Oscar de la Renta quotes, along with a biography and learning resources.
Oscar de la Renta was an internationally recognized fashion designer. Several U.S. first ladies wore his gowns at inaugural events and other places, from Jacqueline Kennedy to Laura Bush.
If you are here specifically looking for Oscar de la Renta quotes, click here to jump to that section!
Related: Famous Latinos & Hispanic Americans Home Page
Here's an index of what's included in the post. You can click on any link to jump straight to that section:
Oscar de La Renta Biography
Oscar de la Renta was born on July 22, 1932, in the Dominican Republic.
At 18, he moved to Spain to study painting but was more interested in the world of fashion. De la Renta got his first fashion job in 1961 in Paris, as assistant to Lanvin-Castillo's head designer, Antonio del Castillo.
In 1963, he moved to New York to work for Elizabeth Arden. He launched his own label in 1965, mostly comprised of casual-luxury clothing.
De la Renta continued his line of high fashion over the next decades, and expanded into perfumes and even furniture design. He also launched a less expensive line. He was an international success, and was both the first American and the first Dominican to design for a French Couture House.
De la Renta died October 20, 2014, at the age of 82. His designs have been worn by mutiple first ladies, actresses such as Penélope Cruz , Anne Hatheway and Sarah Jessica Parker, and royalty like Meghan Markle.
Awards:
American Fashion Critic's Award
CFDA Lifetime Achievement Award (1990)
CFDA Womanswear Designer of the Year Award in (2000)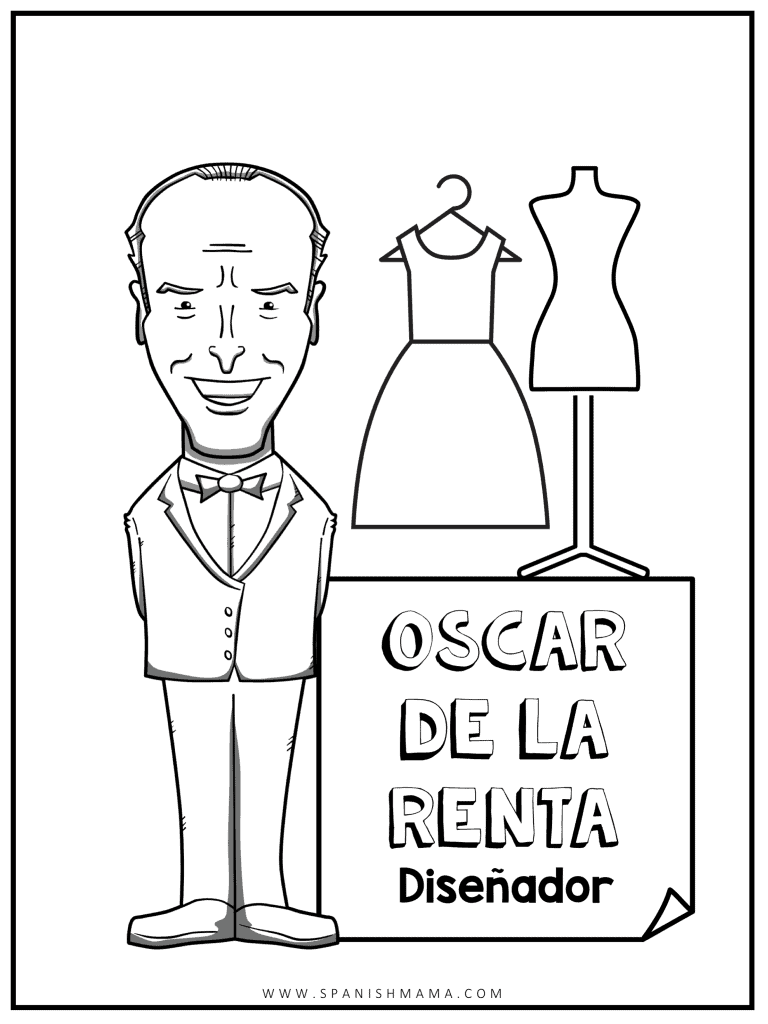 Printables and links to learn more
Free Resources:
You also might be interested in my sets of biography slides and project templates for learning about Latinx and Spanish-Speaking leaders, plus a free guessing game.
Videos About Oscar De La Renta
An overview of the life and career of Oscar de la Renta, presented by The Bush Center (4min 50s):
An Oscar de la Renta biography, presented by the William J. Clinton Presidential Center (8min 48s):
A quick biography of Oscar de la Renta in Spanish (1min 30s):
Another look at the work of Oscar de la Renta in English (3min 22s):
12 Oscar de la Renta Quotes
"Walk like you have three men walking behind you."

– Oscar de la Renta
"There is always an emotional element to anything that you make."

– Oscar de la Renta
"Being well dressed hasn't much to do with having good clothes. It's a question of good balance and good common sense."

– Oscar de la Renta
"The qualities I most admire in women are confidence and kindness."

-Oscar de la Renta
"We're dealing with sophisticated customers. What's most important to these women is individuality. I have to create things she'll want to wear, no matter who she is."

– Joan Baez
"Silk does for the body what diamonds do for the hand."

– Oscar de la Renta
I hope these ideas and resources were helpful to you! If you have more ideas for resources or lessons, let me know in the comments below!
Join the newsletter
Want to stay in touch and hear from me weekly?

Sign up now and you'll get this free game set.