Rita Moreno Quotes And Biography
Inside: A list of Rita Moreno quotes, along with a biography and learning resources.
Rita Moreno broke barriers as a Latina singer and actor. She is not only the first Latina to win an Oscar, but also one of only three people in the world to be a PEGOT— someone who has received a Peabody, Emmy, Grammy, Oscar, and Tony Award.
If you are here specifically looking for Rita Moreno quotes, click here to jump to that section!
Related: Famous Latinos & Hispanic Americans Home Page
Here's an index of what's included in the post. You can click on any link to jump straight to that section: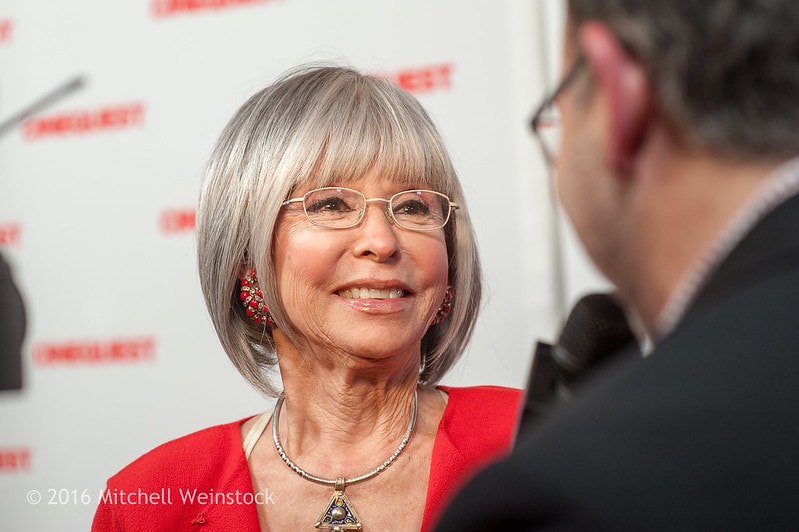 Rita Moreno Biography
Fast Facts about Rita Moreno

Birth: December 11, 1931
Birthplace: Puerto Rico
Family: Leonard Gordeon (spouse)
Education: Left High School at age 16
Career: Actress, Singer, Dancer
Famous For: One of only three people in the world to be a PEGOT— the recipient of a Peabody, Emmy, Grammy, Oscar, and Tony Award.

Rita Moreno was born in Puerto Rico on December 11, 1931. Her name when she was born was Rosita Dolores Alverío, and she moved to New York with her mother at 5 years old.
Moreno's career began at a very early age. She began dancing professionally at the age of 9, and acted in her first movie at only 11 years old. Her first appearance on Broadway was in 1945, at 14 years old.
Though she was cast in many roles, minorities such as Rita Moreno struggled to find roles that were not stereotypical or what she later called "degrading".
When she got to Hollywood, she was cast as one ethnic stereotype after another—not just spicy Latinas but simple Native American maidens and the Burmese ingénue in "The King and I."

…"One of the most heartbreaking things that happened to me, and it happened so frequently, is I would go to my agent and say, "I heard that such-and-such a movie is going to be made, and I think I'd be really good in the part. Would you please talk to the producer? I'll be happy to audition." It never worked. They wouldn't even see me."

– Rita Moreno Has Time Only for the Truth, The New Yorker
In 1961, Moreno was cast as Anita in West Side Story, which was a huge success and earned her an Oscar for her supporting role. Though she was thrilled with the award, she struggled to land another top role for years after that, and returned to Broadway in 1964.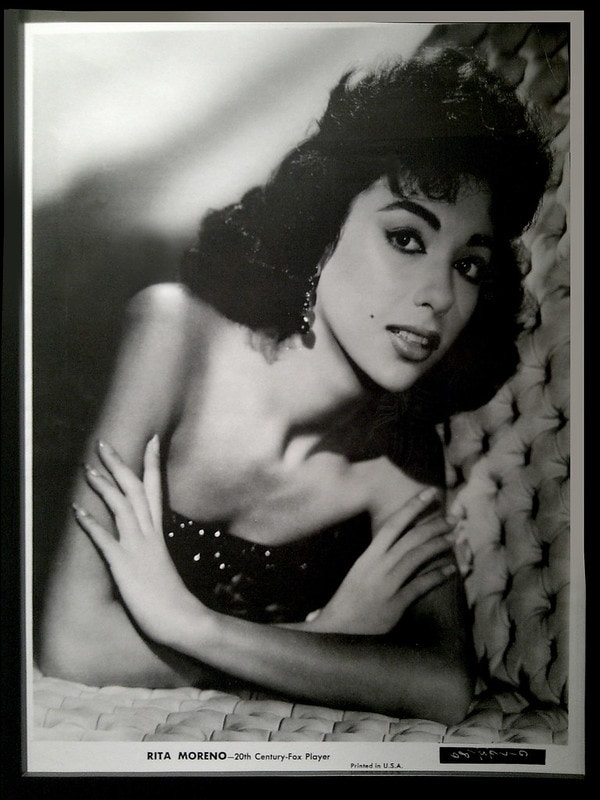 Recently, Moreno has not slowed down her career, even as she is well into her eighties. She played the grandmother in the show One Day at A Time, and is involved in the remake of West Side Story. Moreno also participated in the 2021 documentary of her life, Rita Moreno: Just a Girl Who Decided to Go for It (2021).
Awards:
Peabody
2 Emmys
Tony
Oscar
Grammy
Presidential Medal of Freedom
Star in the Hollywood Walk of Fame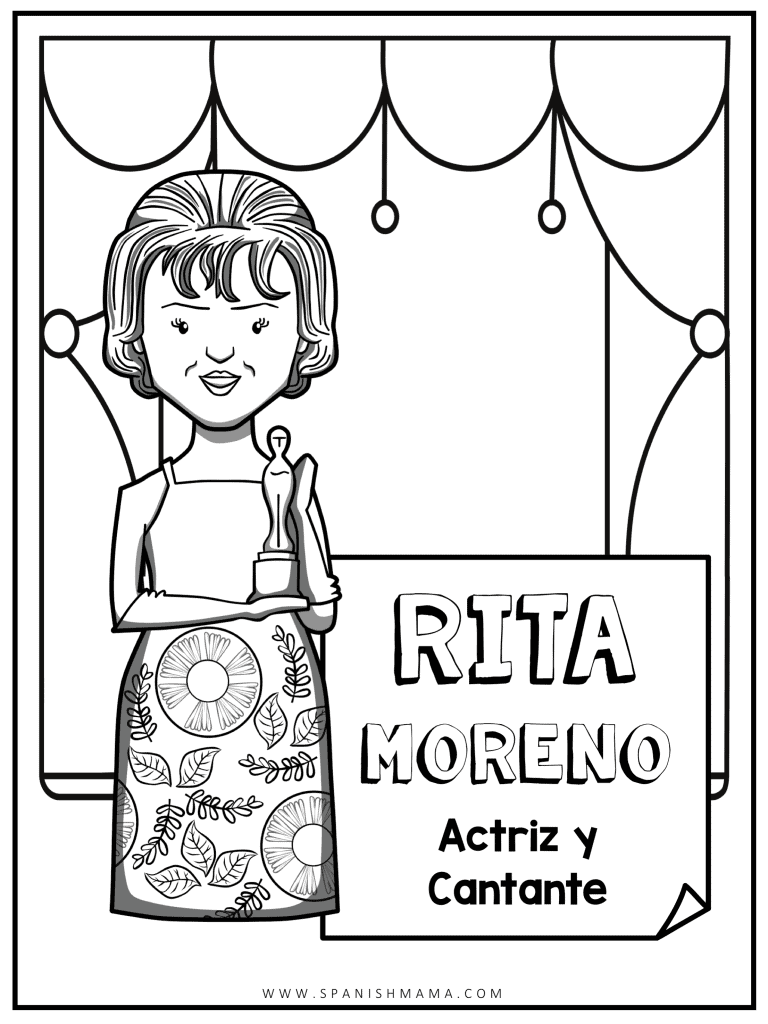 Printables and links to learn more
Free Elementary Resources:
Free printable Rita Moreno coloring page.
Kids can read more about's Rita Moreno's biography here.
Free Middle and High School Resources:
Free Resources (discussion questions, handouts, worksheets, etc.) for West Side Story from Teach With Movies
A free teacher-created movie viewing guide for West Side Story.
You also might be interested in my sets of biography slides and project templates for learning about Latinx and Spanish-Speaking leaders, plus a free guessing game.
Rita Moreno Books
These links are affiliate links.
Videos About Rita Moreno
A quick English biography of Rita Moreno, narrated by Katie Couric (2m 39s):
This is a slightly edgier but also more updated biography in English (7min 28s) that highlights her Latinx heritage:
A quick illustrated biography of Moreno in Spanish (1min 25s):
This is part 1, of a 4-part series in Spanish that takes a more in-depth look at Rita Morena, with interviews:
10 Rita Moreno Quotes
1. "My middle name really is perseverance. I've always believed that I had talent, even when I felt like a very inferior sort of person, which I spent a lot of time living my life feeling that I wasn't worthy. But even then I knew that I had something special, and maybe that's what it takes. Maybe people need to have that kind of particular core driving them. But I felt I had talent."
– Rita Moreno
2. "Retirement is just not in my DNA."
– Rita Moreno
3, "People tell me I look good these days. I look good because I feel good. I know people who are older than I am who are twenty-five… It's all about attitude. To me, age is just a number."
– Rita Moreno
4. "You don't die if someone doesn't like you."
– Rita Moreno
5. "There was nobody that I could look up and say "That's somebody like me". Which is probably why I'm now known in my community as 'La Pionera', or the Pioneer. I really don't think of myself as a role model. But it turns out that I am to a lot of the Hispanic community. Not just in show business, but in life. But that's what happens when you're first, right?"
– Rita Moreno
6. "I'm so happy. I'm one of the happiest people I know. I truly am."
– Rita Moreno
7. "C'mon, we're actors. We love the attention. We love the applause. We sure don't like to be rejected."
– Rita Moreno
8. "Smell the roses. Smell the coffee. Whatever it is that makes you happy."
– Rita Moreno
9. "A lot of young Latino actors have said to me, "Why can't we get an Oscar? Why can't we be nominated?" And the terrible truth is that if you don't get the right parts, you're not going to be. Are you going to get an Oscar nomination for one of those Judd Apatow movies? Not likely, no matter what nationality you are. And I think that until we as Latino actors get to do roles that have really serious meaning, it's going to be impossible to get nominated."
– Rita Moreno
I hope these ideas and resources were helpful to you! If you have more ideas for resources or lessons, let me know in the comments below!
Join the newsletter
Want to stay in touch and hear from me weekly?

Sign up now and you'll get this free game set.