The Best Spanish Colors Songs for Kids
Inside: Spanish colors songs for kids on YouTube.
Last week in my Saturday songs series I shared our favorite songs for numbers. This week is all about colors! I really love these options and they will get your kids identifying the colors in Spanish in no time. 
Do keep in mind that the names for some colors vary, and may vary from song to song (naranja vs. anaranjado, café vs. marrón, etc.).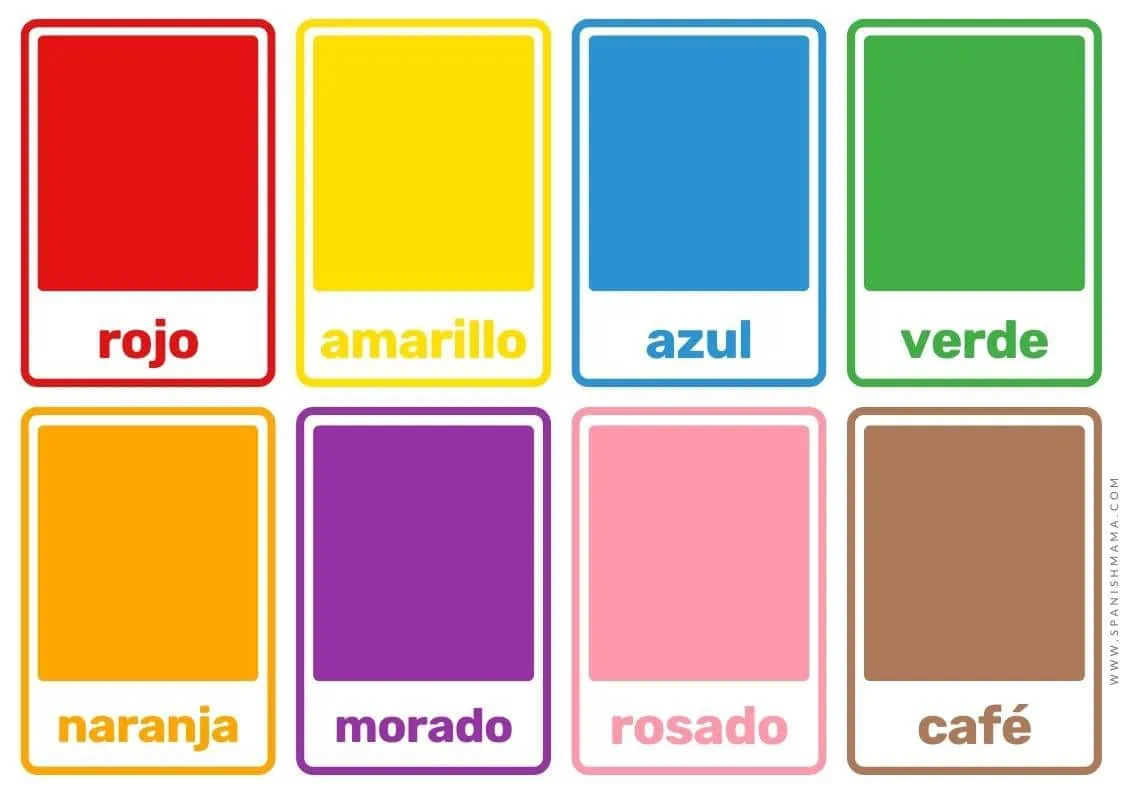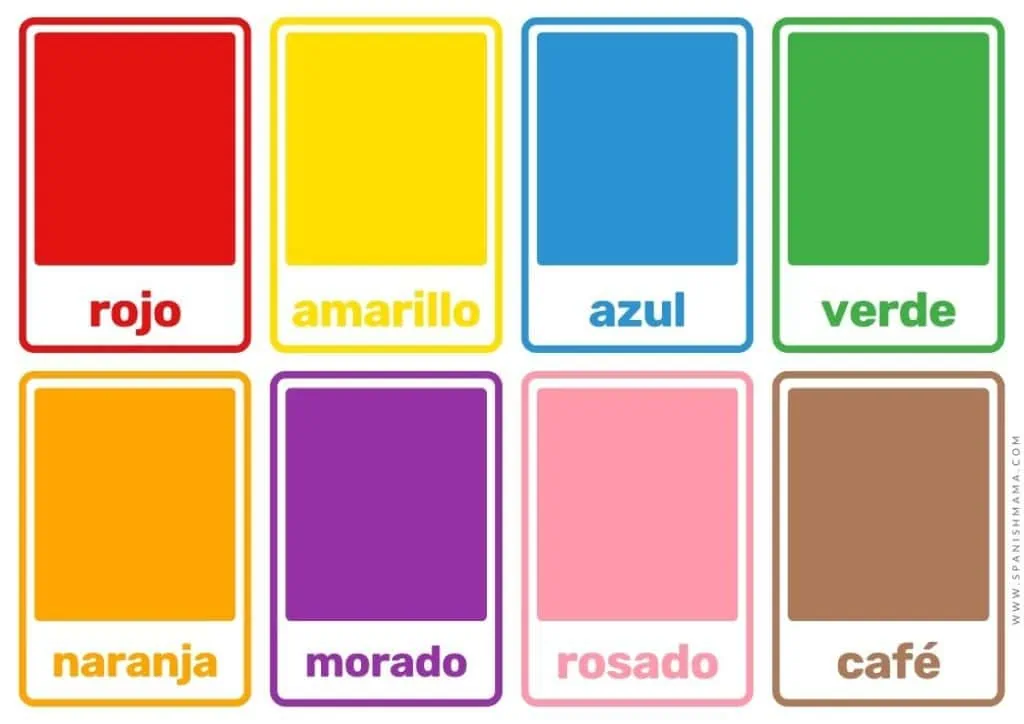 TOP SPANISH COLORS SONGS
Table of Contents

1. Spanish Colors Songs for Beginners

2. Spanish Colors Songs for Bilingual Kids

3. Spanish Colors Songs for Older Students
If you are looking for further activities to teach the colors, you might want to check out my preschool lesson for the colors in Spanish. I've got stories, videos links, and games, all for little ones.
Spanish Colors Songs for Beginners
These songs are for kids who are just learning Spanish for the first time.
1. Rojo, Amarillo, Verde, Azul – Super Simple Español
This is the simplest song I could find. No English, and no other words, just the four main colors!
2. CANCIÓN DE LOS COLORES – Canta Con Jess
My kids are crazy about trains, so they like this one. It also includes a similar tune to the graphic I have below. It just goes over rojo, azul, amarillo, and verde. It also teaches the phrase ¿Qué color es?

3. ARCOIRIS
Sweet, simple song about the colors that also includes "me gusta." It has a little bit more language than just naming the colors.
Spanish Colors Songs for BIlingual Kids
For kids who are already bilingual or learning Spanish and English together, these songs are more complex.
1. CANCIÓN DE LOS COLORES – Toobys
Toobys for the win again! There are wonderful graphics and music in this song, which talks about what colors different objects are.
2. VEO ALGO AZUL – Super Simple Español
Written as a sort of "I spy" game, this is a highly comprehensible song that also includes an interactive guessing part.
3. VEO ALGO ROSADO – Super Simple Español
This is another version of the song above!
4. ARCO IRIS
This is a bilingual song that goes through the rainbow of colors. It's a very sweet song, and my kids love anything in rainbow order.
5. COLORES, COLORES
This song goes through the colors, with a profession for each color (it would have been nice to show women doing some of the things, but still a nice song).
Spanish Colors Songs For Older Students
Lots of colors songs are geared to young kids, of course. Here are some for older classrooms!
1. LOS COLORES WITH BASHO & FRIENDS
If you have older kids that don't like anything that feels "babyish," Basho & Friends is always a good option. 
2. DE COLORES
This one isn't actually a "Spanish colors song," but an authentic folk song. I love this version by Joan Baez.
If you prefer a song to sing without videos, this one sung to the tune Frère Jacques is easy to learn as well!
The lyrics go like this, to the tune of Frère Jacques:
Ro-jo red, ro-jo red,
A-zul blue, a-zul blue,
Amarillo yellow, amarillo yellow,
Ver-de green, ver-de green.

Blan-co white, blan-co white,
Ne-gre black, ne-gro black,
Anaranjado orange, Anaranjado orange,
Ro-sa pink, Ro-sa pink.
Ca-fé es brown, ca-fé es brown,
Gris es gray, gris is gray
Morado es purple, morado es purple,
Los colo-res, los colo-res.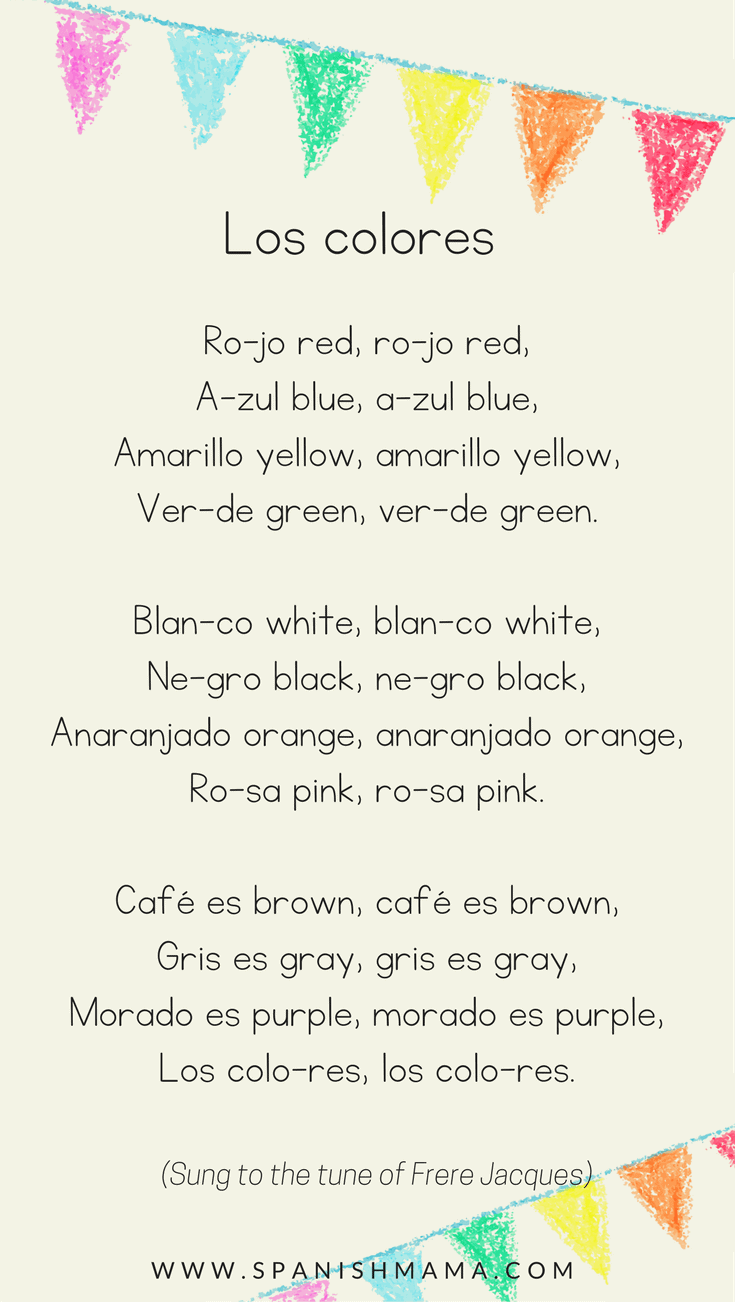 Did I miss any of your favorite Spanish colors song? Leave suggestions in the comments below!