Printable Clothing Vocabulary Game

Studying La ropa in your classroom? Here's a free printable dice game from my newest Game Pack in my TpT store. I am working on a series of game packs that teach vocabulary through images. I like to teach and practice vocabulary this way,rather than translating between English and Spanish words. Leave English entirely out of the picture with this dice game, and differentiate as needed. Some groups may simply need to say the name of the clothing they land on, while others might be required to say a sentence: "Yo llevo un abrigo en invierno," or "Los zapatos son rojos." Enjoy and please share if my printables have been useful to you!
Click the image to download:

The full game pack also includes cards for play Go Fish, I have… Who has?, Memory, Slap-it, and more. Using these cards, your students can stay in the Target Language the entire time as they learn. You can find it here: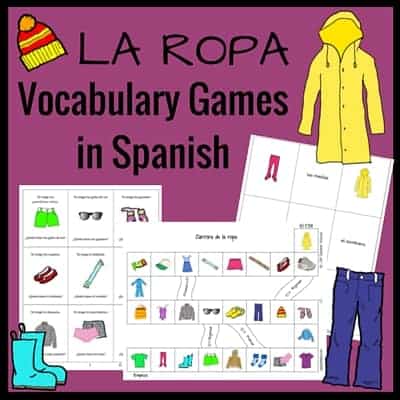 Follow my Pinterest board on La ropa as well for more ideas!
Follow Spanish Mama's board La ropa / Clothing on Pinterest.
Join the newsletter
Want to stay in touch and hear from me weekly?

Sign up now and you'll get this free game set.