Sandra Cisneros Quotes, Books, And Biography
Inside: A list of Sandra Cisneros quotes, along with her biography and a list of books she has authored.
Sandra Cisneros is an author whose novel The House on Mango Street launched her into international fame. As a bilingual writer, her work often reflects the mix of culture many Latinos and others experience in the U.S.
If you are here specifically looking for Sandra Cisnero quotes, click here to jump to that section!
Related: Famous Latinos & Hispanic Americans Home Page
Here's an index of what's included in the post. You can click on any link to jump straight to that section: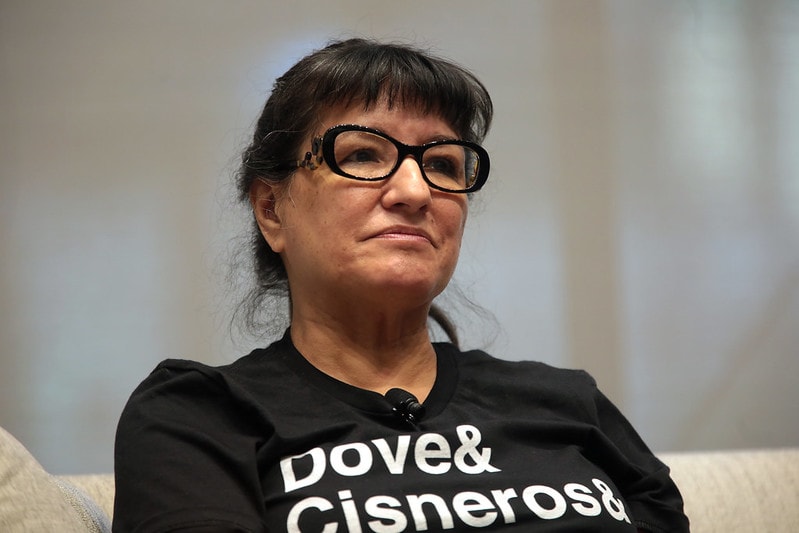 Sandra Cisneros Biography
Fast Facts about Sandra Cisneros

Birth: March 27, 1950
Birthplace: New York City
Education: Loyola University of Chicago (B.A.), University of Iowa (MFA)
Career: Novelist, Poet
Famous For: Novel The House on Mango Street, American Book Award
Sandra Cisneros was born in Chicago on December 20, 1954, to Mexican parents. She was the only girl in a working-class family of seven children, and during much of her childhood, her family traveled between Mexico and the US.
Cisneros found refuge in books from an early age, and had the dream of becoming a published author one day. She began writing in high school and majored in English at Loyola University of Chicago, before receiving her M.F.A at the University of Iowa Writer's Workshop in 1978.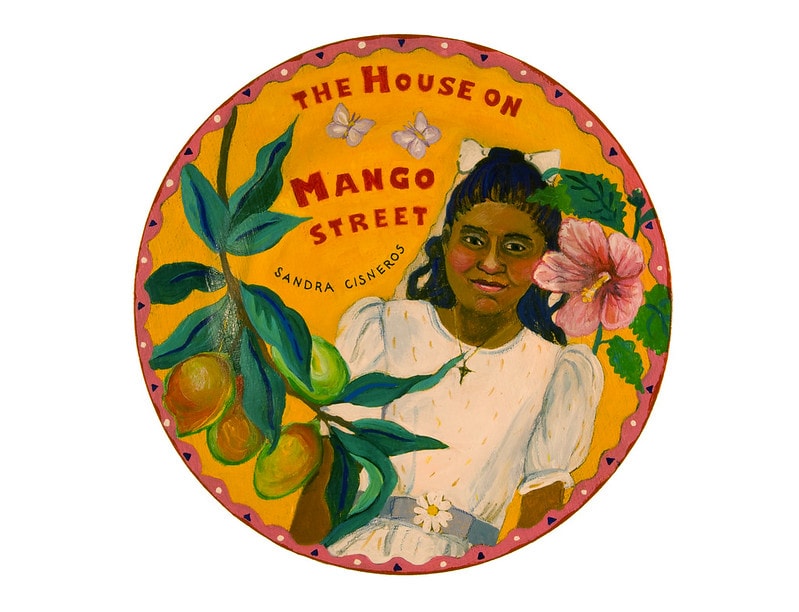 She began teaching at a high school for "dropouts," the Latino Youth Alternative High School, while writing on the side. Thanks to winning a National Endowment for the Arts Fellowship in 1982, she was able to travel to Europe to write. There she authored The House on Mango Street, still her bestselling work to this day and internationally recognized.
Cisneros continued to write, including novels, poetry, memoirs, and children's books, which have been translated to many languages. She has continued to work in universities as well as directing the Alfredo Cisneros Del Moral Foundation and Macondo Foundation.
Awards:
National Medal of Arts (2015)
MacArthur Foundation Fellowship (1995)
National Endowment for the Arts Fellowship (1982)
American Book Award
Interesting Facts:
Sandra Cisneros' mother emphasized education and got each of her seven children a library card even before they could read.
I always tell people that I became a writer not because I went to school but because my mother took me to the library. I wanted to become a writer so I could see my name in the card catalog.

– Sandra Cisneros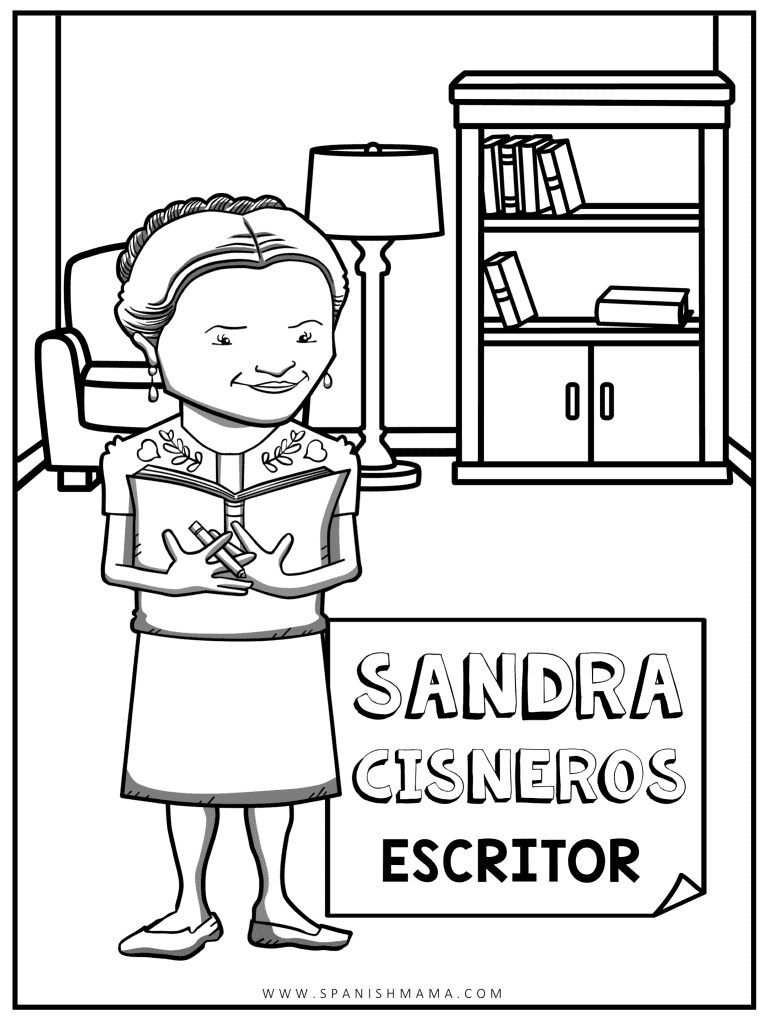 Printables and links to learn more
Free Resources:
Lesson Plan Lesson Plan For Teaching Four Stories From Sandra Cisneros' "Woman Hollering Creek And Other Stories" (for High School and Up)
You also might be interested in my sets of biography slides and project templates for learning about Latinx and Spanish-Speaking leaders, plus a free guessing game.
Sandra Cisneros Books
Here are some of the most popular and well-known titles authored by Julia Alvarez.
A House of My Own: Stories from My Life (Una casa propia: Historias de mi vida)
Bad Boys
Bravo Bruno!
Caramelo
El arroyo de la Llorona y otros cuentos
Hairs (Pelitos)
Have You Seen Marie? (¿Has visto a María?)
Loose Woman
Martita, I Remember (You/Martita, te recuerdo)
My Wicked Wicked Ways
Puro Amor
The House on Mango Street (La casa en Mango Street)
Vintage Cisneros
Woman Hollering Creek
Videos About Sandra Cisneros
This is a similar biographical video that begins telling about Cisnero's life at minute 0:45. (3min 37s):
A biographical look at at Sandra Cisnero's life and career (4min 46s):
27 Sandra Cisneros Quotes
1. "I think of reading as like a medicine cabinet."
– Sandra Cisneros
2. "I try to be as honest about what I see and to speak rather than be silent, especially if it means I can save lives, or serve humanity."
– Sandra Cisneros
3. "I am obsessed with becoming a woman comfortable in her skin."
– Sandra Cisneros
4. "And the story goes she never forgave him. She looked out the window her whole life, the way so many women sit their sadness on an elbow. I wonder if she made the best with what she got or was she sorry because she couldn't be all the things she wanted to be. Esperanza. I have inherited her name, but I don't want to inherit her place by the window."
– Sandra Cisneros, The House on Mango Street
5. "I wanted to be a writer. I wanted to mother books."
– Sandra Cisneros, IOWA Public Radio
6. "I was silent as a child, and silenced as a young woman; I am taking my lumps and bumps for being a big mouth, now, but usually from those whose opinion I don't respect."
– Sandra Cisneros
7. "One press account said I was an overnight success. I thought that was the longest night I've ever spent."
– Sandra Cisneros
8. "I felt as if I was a spy in the house of my family and in the university. I did not speak because I had such low self-esteem about what I had to say. I was often silent. I was a witness. Listening is very good training for being a writer. 'The House on Mango Street' allowed me to find my voice."
– Sandra Cisneros, IOWA PUBLIC RADIO
9. "I feel comfortable in Spanish, I chat like a parrot, but I don't have the confidence in Spanish that I do in English."
– Sandra Cisneros
10. "Once people are not here physically, the spiritual remains. We still connect, we can communicate, we can give and receive love and forgiveness. There is love after someone dies."
– Sandra Cisneros, The House on Mango Street
11. "I am obsessed with becoming a woman comfortable in her skin."
– Sandra Cisneros
12. "People know when you're speaking from el corazón. You have that pain."
– Sandra Cisneros
13. "The beauty of literature is you allow readers to see things through other people's eyes."
– Sandra CIsneros
14. "I think my family and closest friends are learning about my need to withdraw, and I am learning how to restore and store my energy."
– Sandra Cisneros
15. "Revenge only engenders violence, not clarity and true peace. I think liberation must come from within."
– Sandra Cisneros
16. "I do want to inherit the witch in my women ancestors-the willfullness, the passion, ay, the passion where all good art comes from as women, the perseverance, the survivor skills, the courage, the strength of las mujeres bravas, peleoneras, necias, berrinchudas. I want to be una brava, peleonera, necia, berrinchuda. I want to be bad if bad means I must go against society- el Papá, el Papá, the boyfriend, lover, husband, girlfriends, comadres-and listen to my own heart, that incredible witch's broom that will take me where I need to go."
– Sandra Cisneros, A House of My Own
17. "I have to say that the traditional role is kind of a myth. I think the traditional Mexican woman is a fierce woman."
– Sandra Cisneros
18. "And the nice thing about writing a novel is you take your time, you sit with the character sometimes nine years, you look very deeply at a situation."
– Sandra Cisneros
19. "I think people should read fairy tales because we're hungry for a mythology that will speak to our fears."
– Sandra Cisneros
20. "I have a similar wound inside my heart right now. Just as tender and raw, except I have no ointment to salve it. I think it requires poetry. Maybe all pain in the world requires poetry. Write two poems and call me in the morning. That's my prescription for you today, world, and for me."
– Sandra Cisneros
21. "I'm not afraid to say what I'm afraid of. Does that make me fearless?"
– Sandra Cisnero
22. "I've put up with too much, too long, and now I'm just too intelligent, too powerful, too beautiful, too sure of who I am finally to deserve anything less."
– Sandra Cisneros
23. "How come nobody told me an aria, a piece of stained glass, a painting, a sunset can be God too?"
– Sandra Cisneros, A House of My Own
24. "When you leave you must remember to come back for the others. A circle, understand? You will always be Esperanza. You will always be Mango Street. You can't erase what you know. You can't forget who you are."
– Sandra Cisneros, The House on Mango Street
25. "I think we are all gifted as children, but we aren't gifted with the same gifts."
– Sandra Cisneros, The House on Mango Street
26. "I am a woman, and I am a Latina. Those are the things that make my writing distinctive."
– Sandra Cisneros
27. "I have to understand what my strengths and limitations are and work from a true place."
– Sandra CIsneros
I hope these ideas and resources were helpful to you! If you have more ideas for resources or lessons, let me know in the comments below!
Image Sources:
Image 2: "Sandra Cisneros" CC BY-SA 2.0) by Gage Skidmore
Image 3: "Julie Frankel" (CC BY-ND 2.0) by Reading In Public
Join the newsletter
Want to stay in touch and hear from me weekly?

Sign up now and you'll get this free game set.