Spanish Classrooms Tour: A Peek into 30+ Rooms
Inside: A peek into dozens of Spanish classrooms, of all kinds, shapes, and sizes!
A well-designed room won't make or break your teaching. Oh, but it can make a difference in how you and your students feel.
Some of you have very limited options, and very tight budgets. There's some serious classroom eye-candy here, but the goal isn't Pinterest-perfect.
This is just a way to get new ideas for making your space functional and beautiful!
Spanish Classroom Tours
This post is long and packed with pictures of real classroom.

Click on the titles if you'd like to jump to a specific section:

1. Middle and High School Classrooms

2. Preschool and Elementary Classrooms

3. Spanish Classroom Libraries
I have to say– as I put together this post, I was reminded of the eagerness of our nation's teachers to share with other teachers (thank you to each and everyone who shared pictures!!), and how much they keep in mind the wellbeing of their students.
More than perfection, I think this collection of photos communicate how much teachers care about their students. Those August nights and weekends spent cutting out letters for bulletin boards might go unnoticed most of the time, but I'm happy to get to showcase them here.
You all are a special group of people!
MIDDLE AND HIGH SCHOOL SPANISH CLASSROOMS
We'll start with picture from upper school classrooms across the nation. A lot of the rooms feature flexible seating, classroom libraries, or are even deskless.
AWESOME FLEXIBLE SEATING
I don't even know what these chairs are called, but I know they've got to be popular. Amy Marshall's classroom and blog are pretty classy and fun-looking. #iwantthesechairs

From here, the featured classrooms all have multiple photos. Click the arrows on the photos to see more all of them! They are easier to navigate on desktop than on your phone, so keep that in mind if you're looking to see the ideas in detail.
MINIMALIST + READING CHOICE
I can't resist the simplicity of this room, allowing for all kinds of options during reading time. It doubles as the art room, too!
Gisele says: "I love , love my room but most importantly it serves my students – they love the flexible seating and when we have our FVR days they are allowed to create pods and sit wherever they feel comfortable. That is what matters to me and I am amazed at how much more reading they engage in when they have choices. I have a collection of cushions, rugs, and lounging chairs that they can arrange in "pods" in the classroom. Oddly enough they remind me of forts that children create during playtime."
Profe: Gisele Conn
Site: Brain Based Learning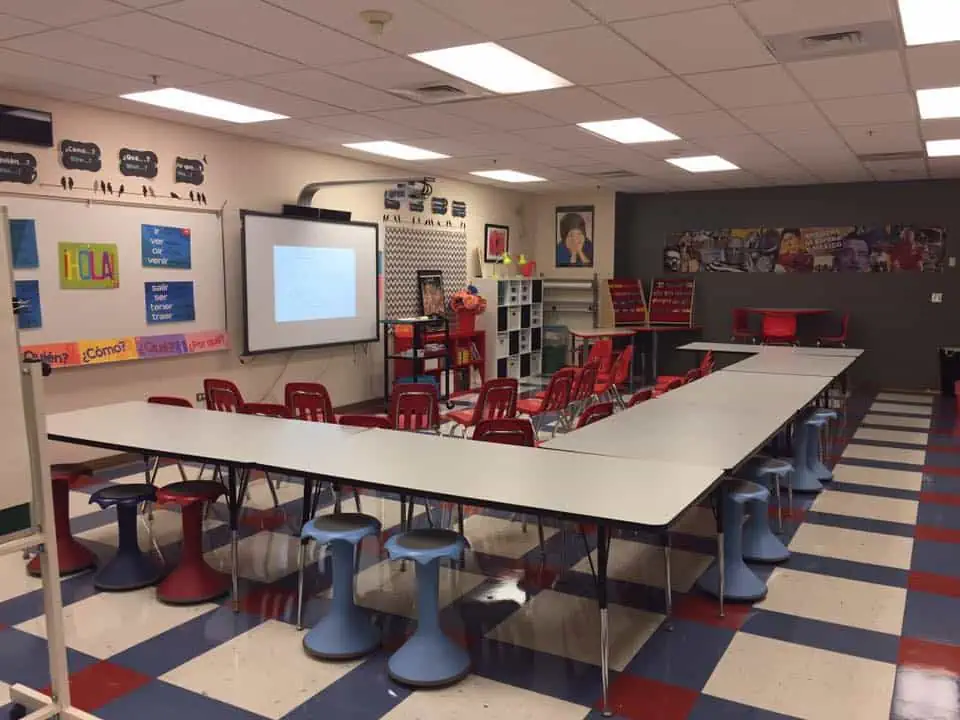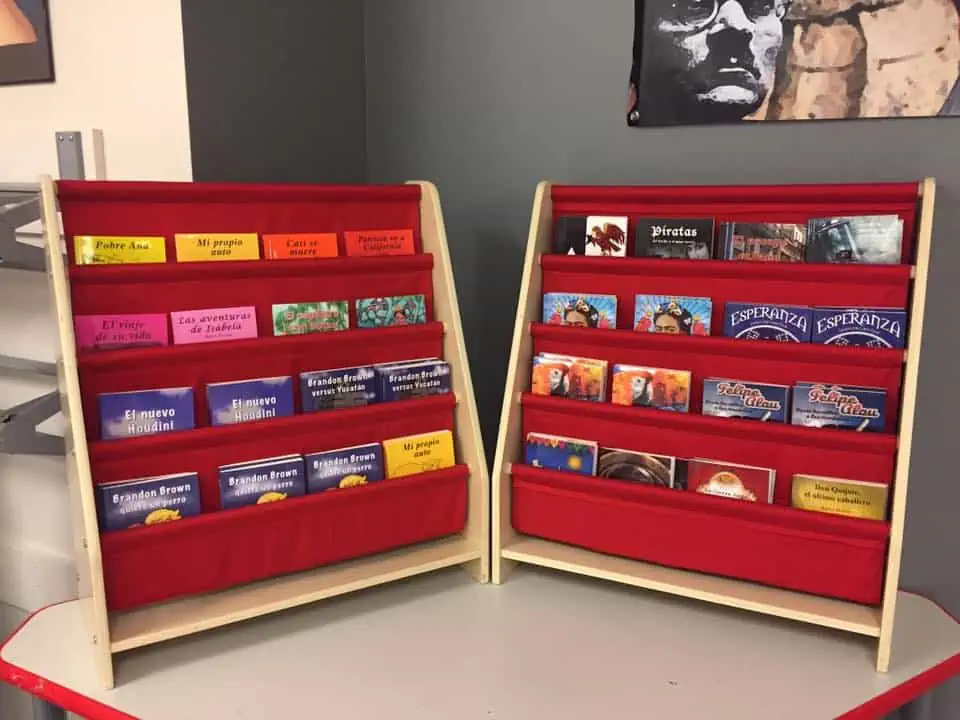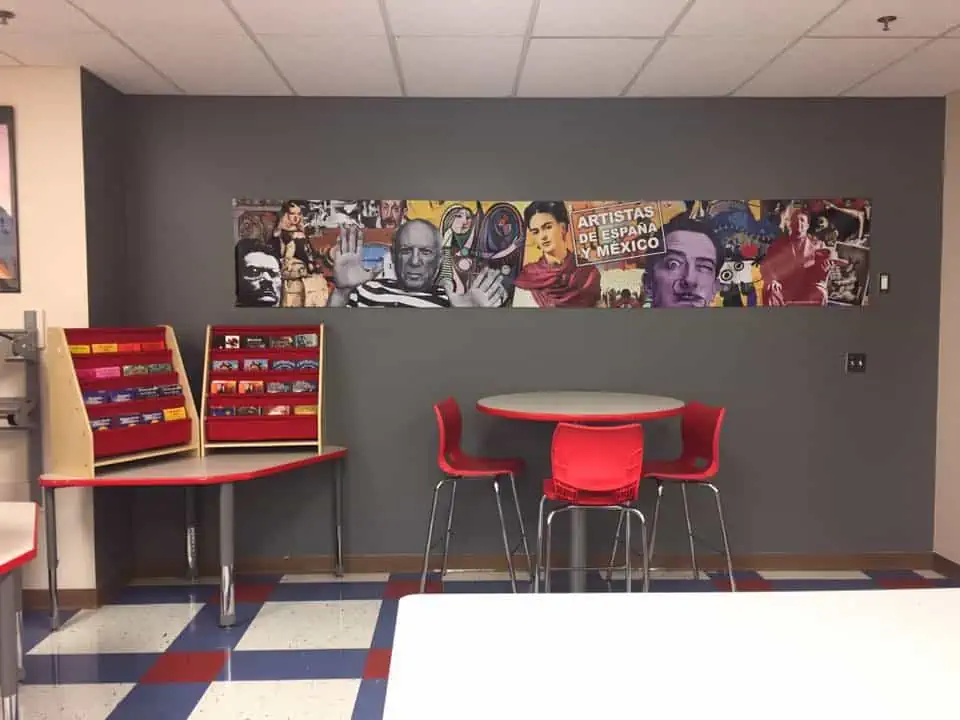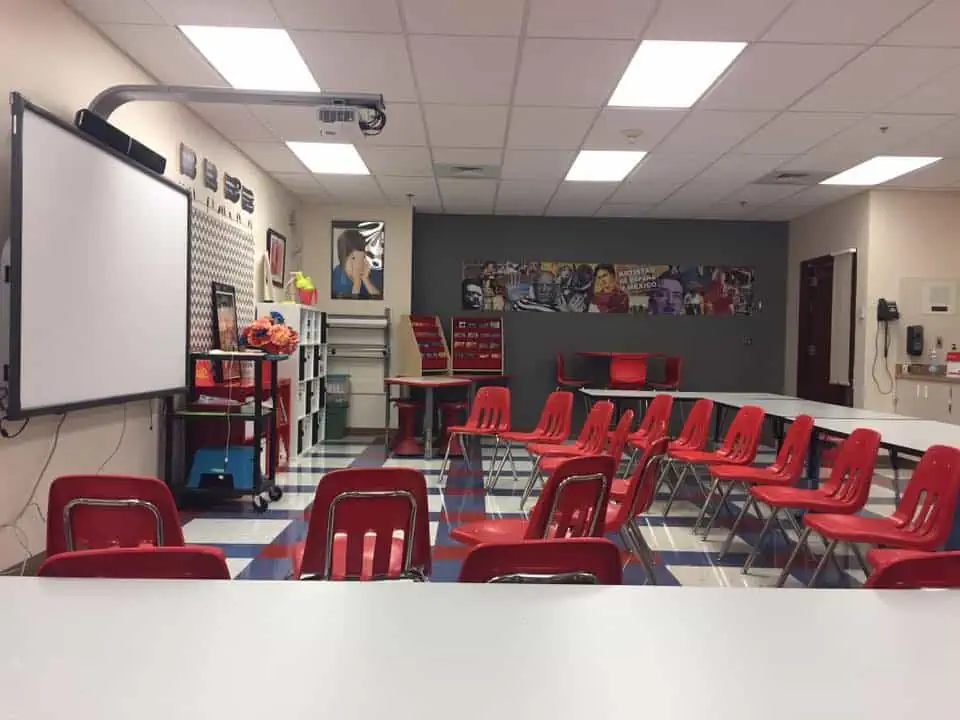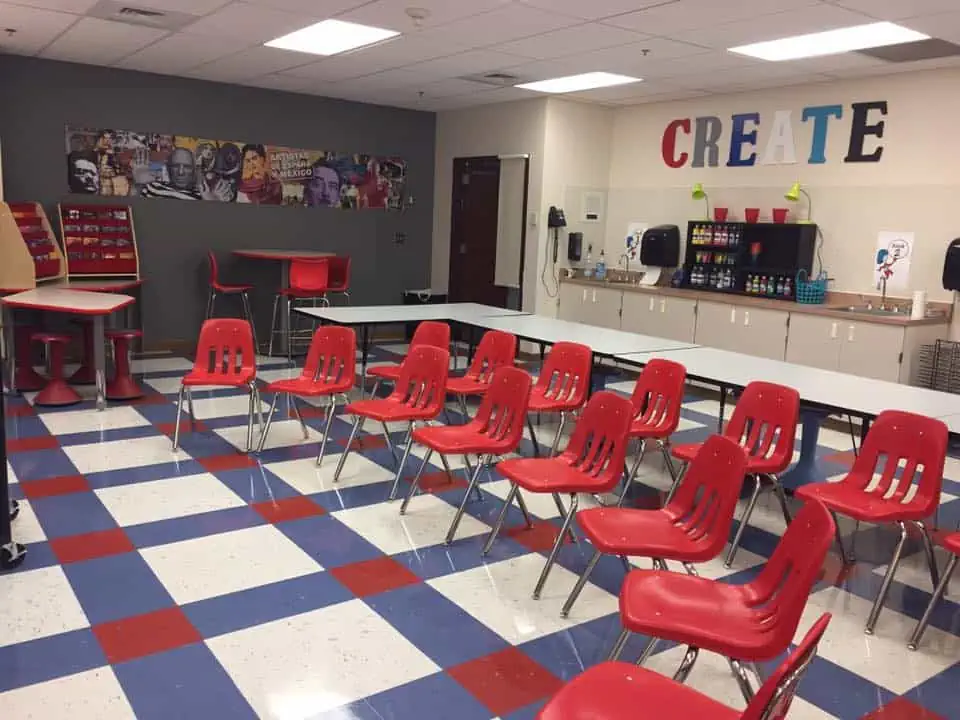 FRIDA KAHLO-Themed room
This light and airy space looks like such a peaceful and beautiful place to learn. I love the Frida hanging, and how just sticking to a few colors can maintain a minimalist look overall. Definitely a must-see room!
Profe: Alexandra Moralez
IG: profe.moralez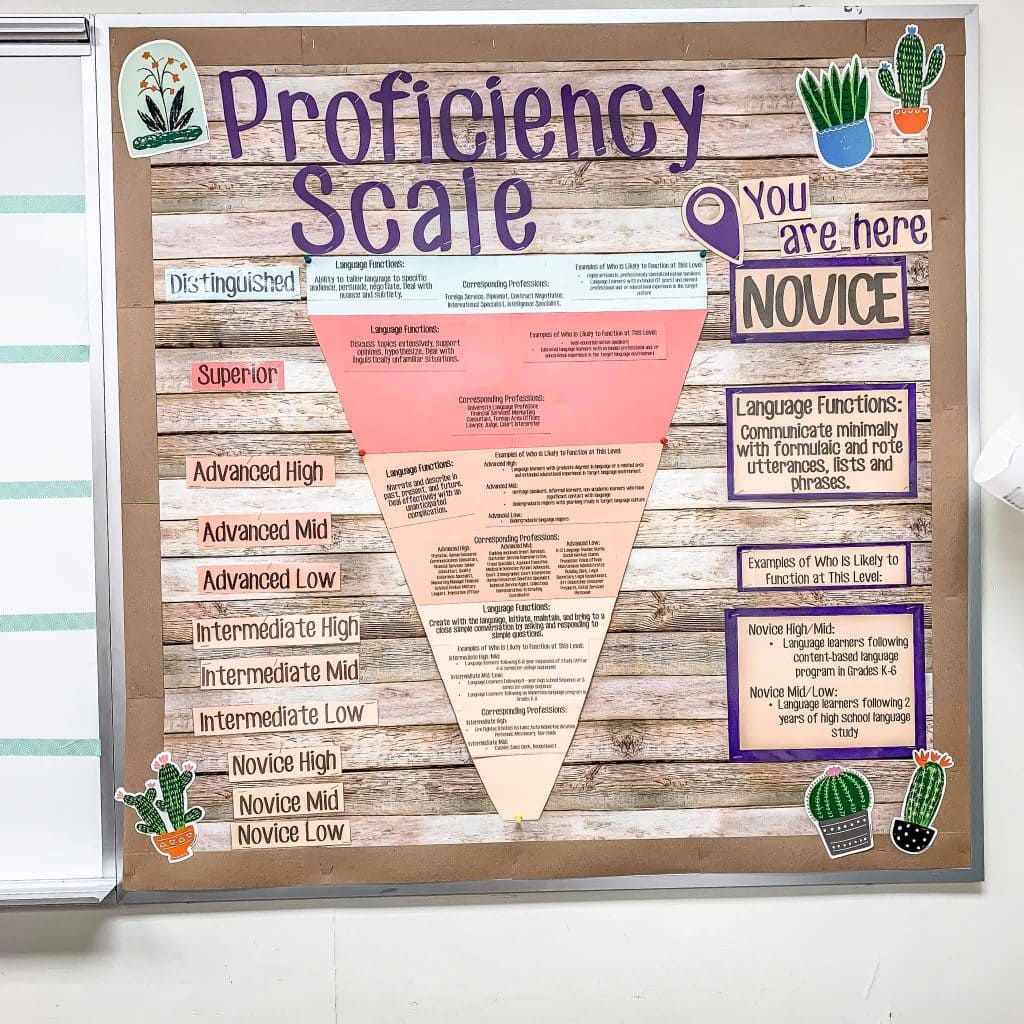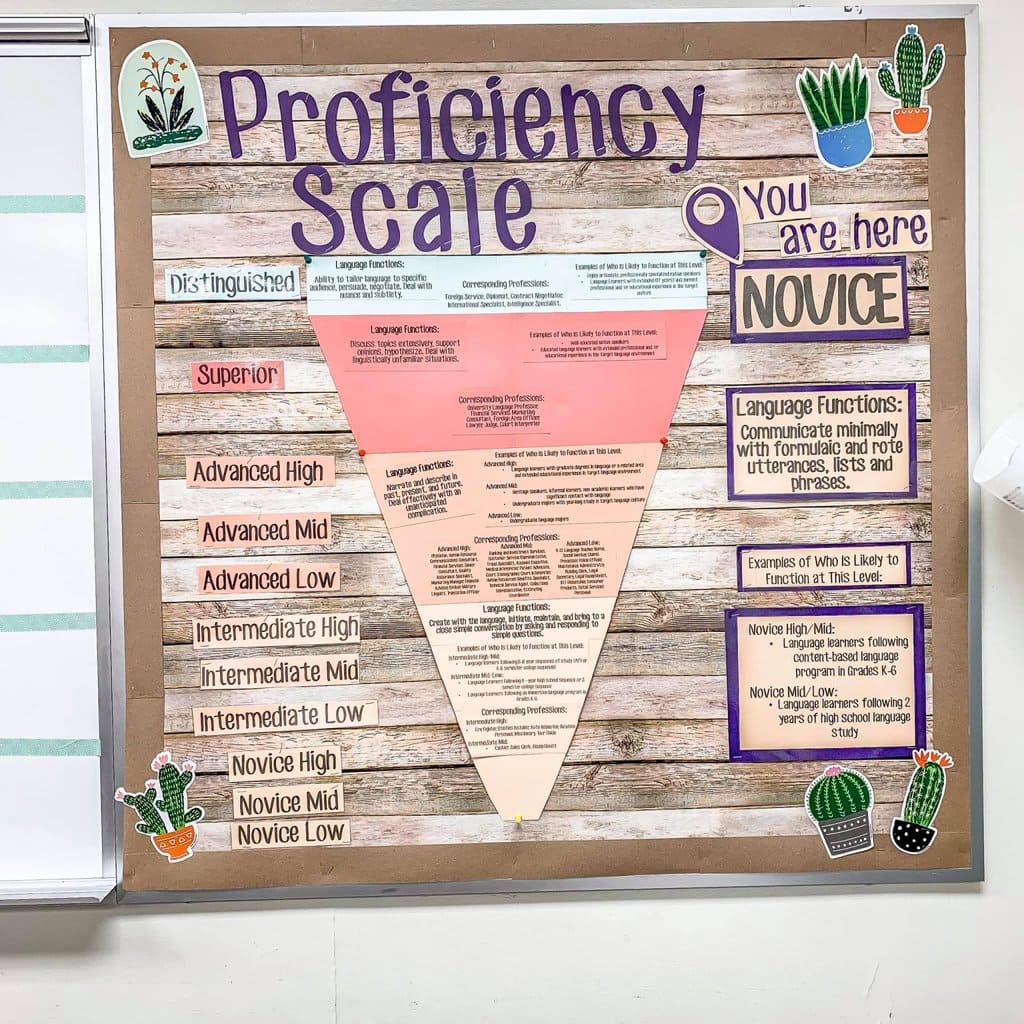 Credit: Alexandra Moralez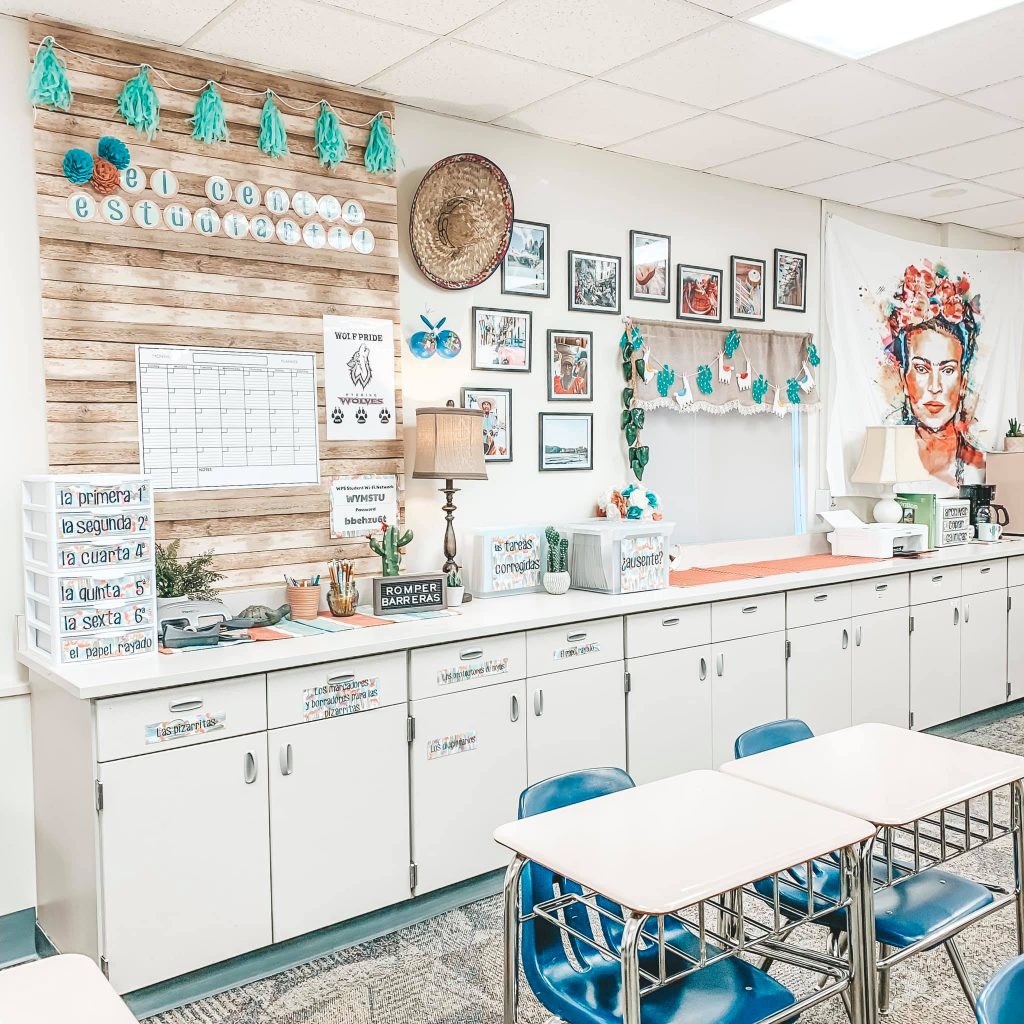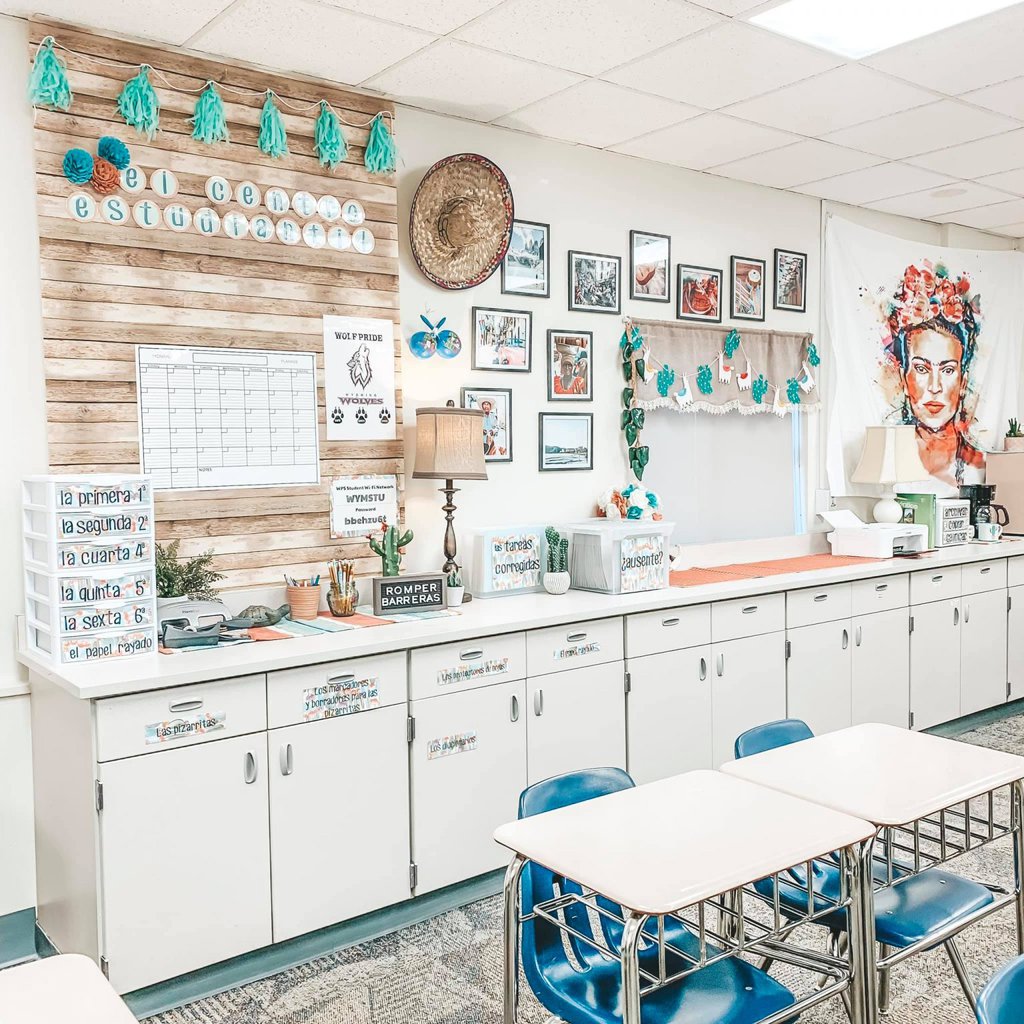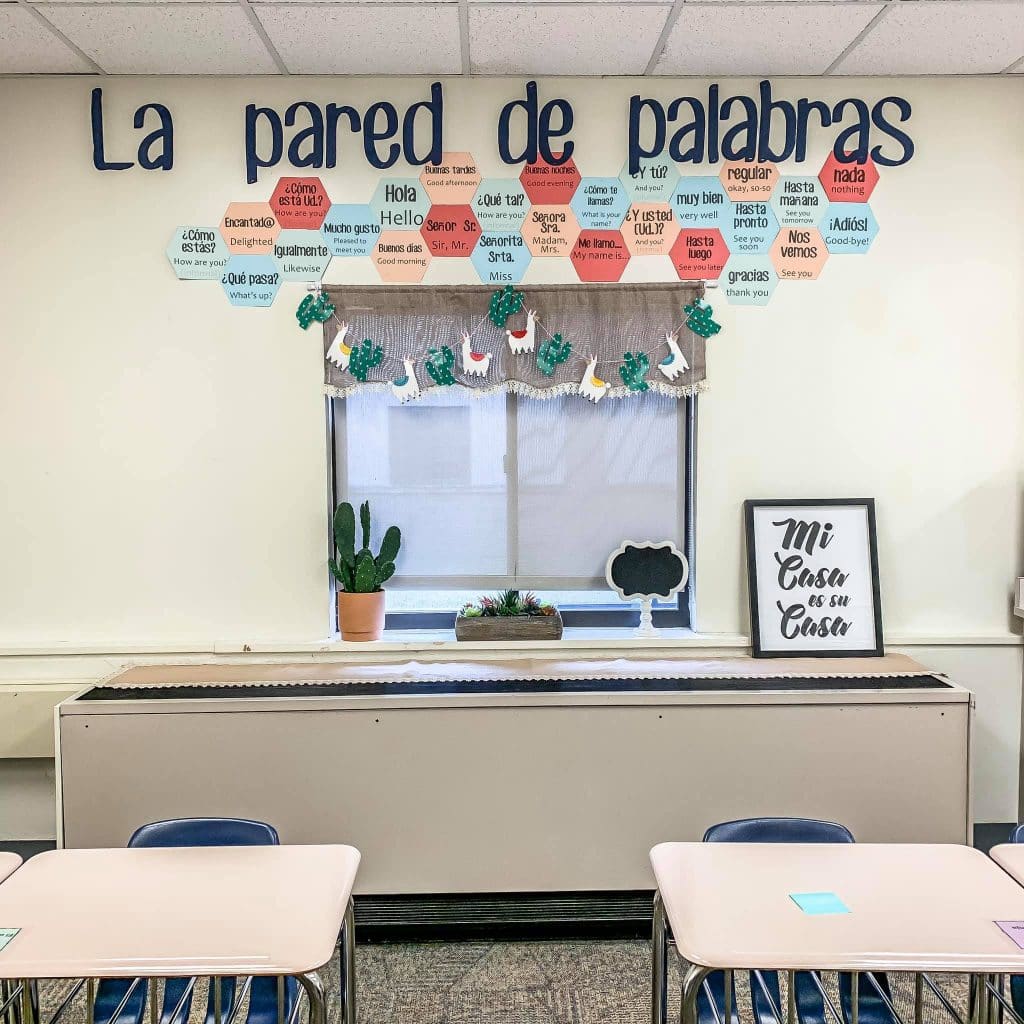 Credit: Alexandra Moralez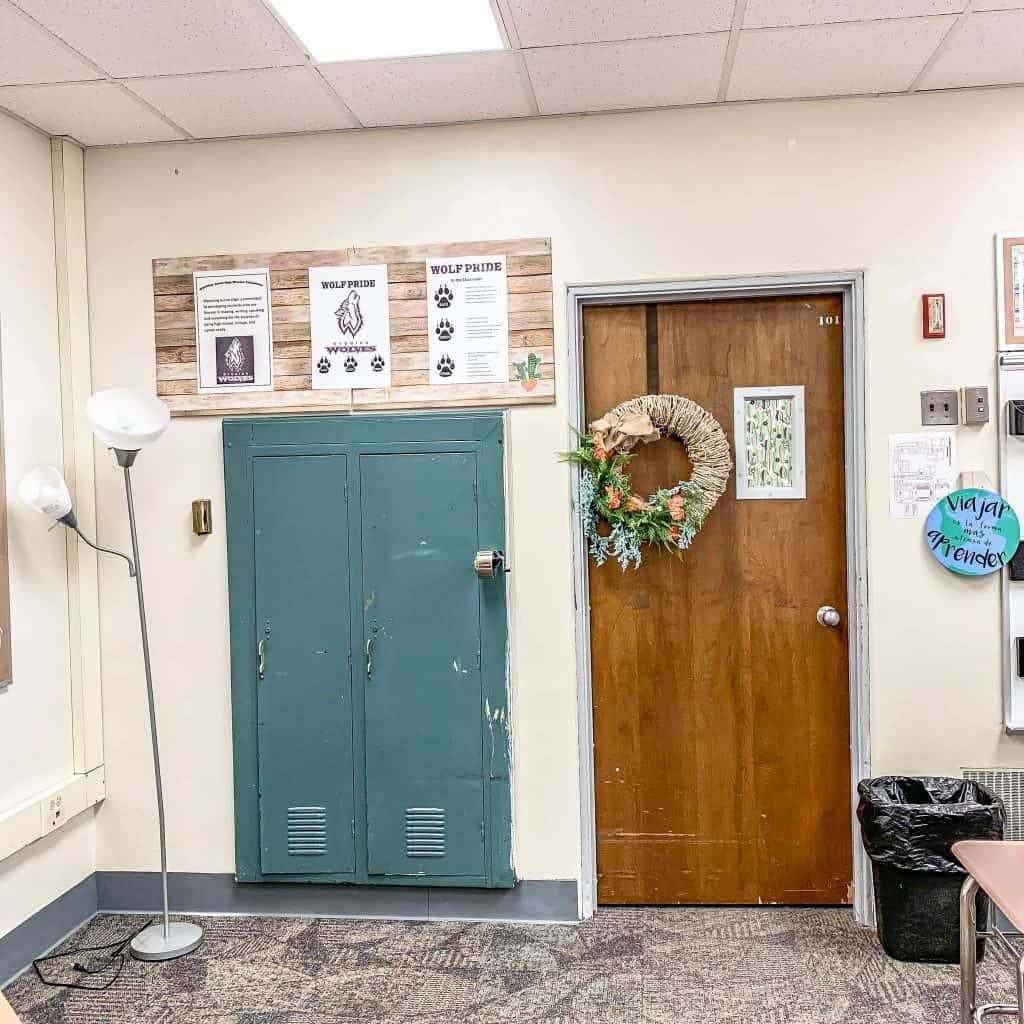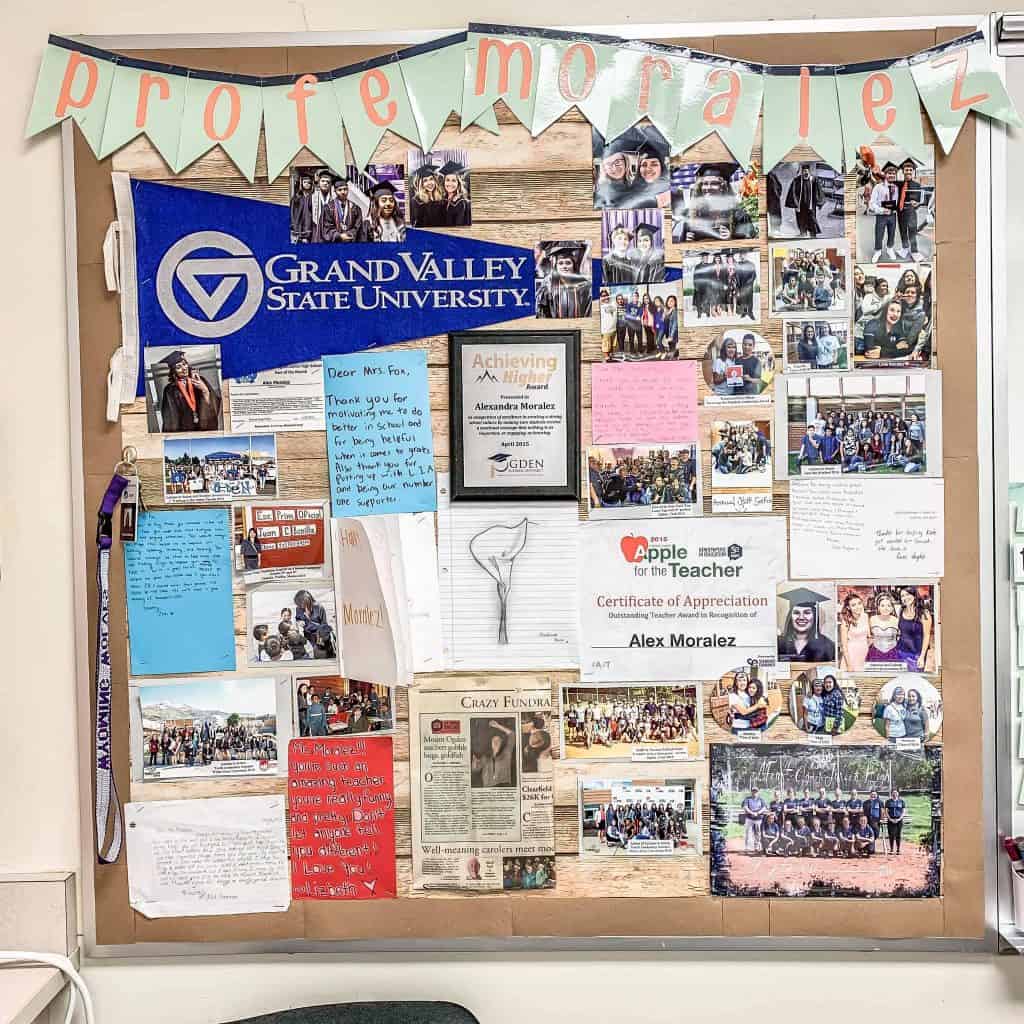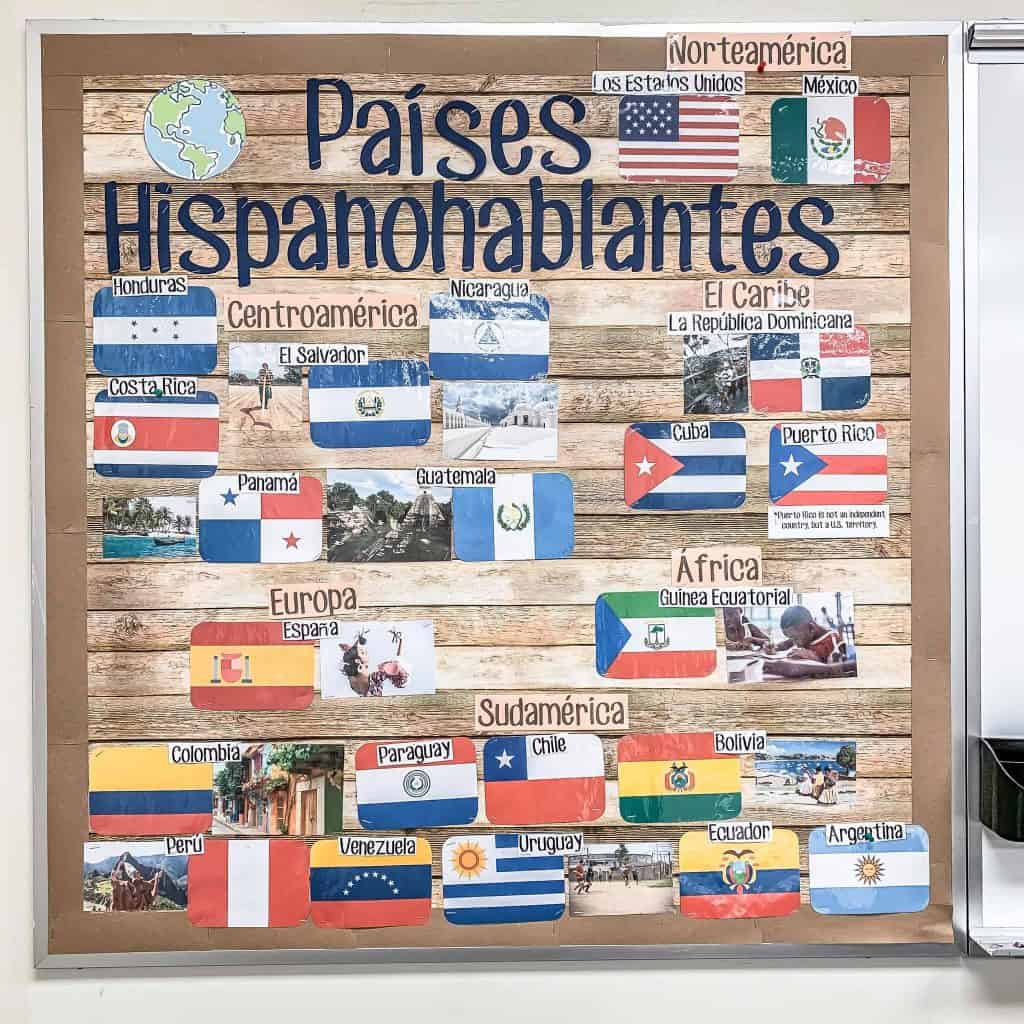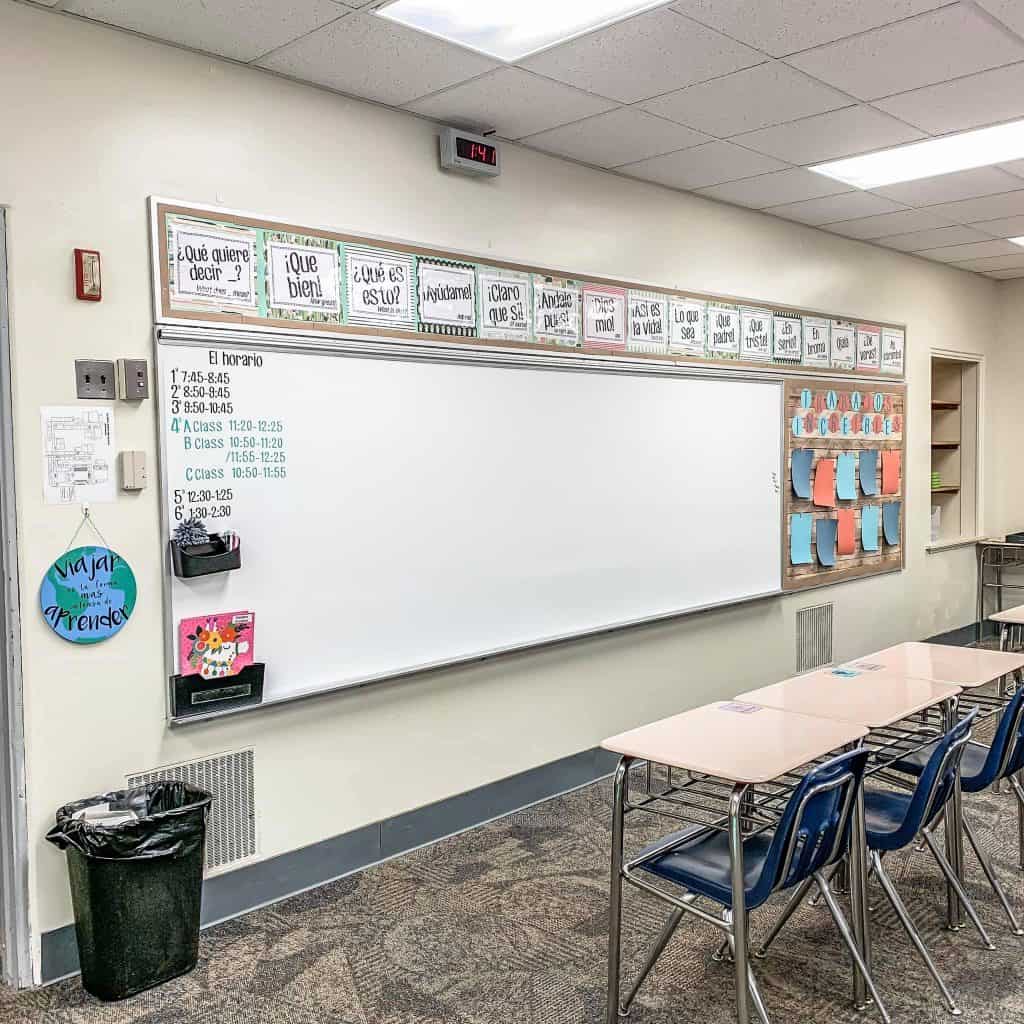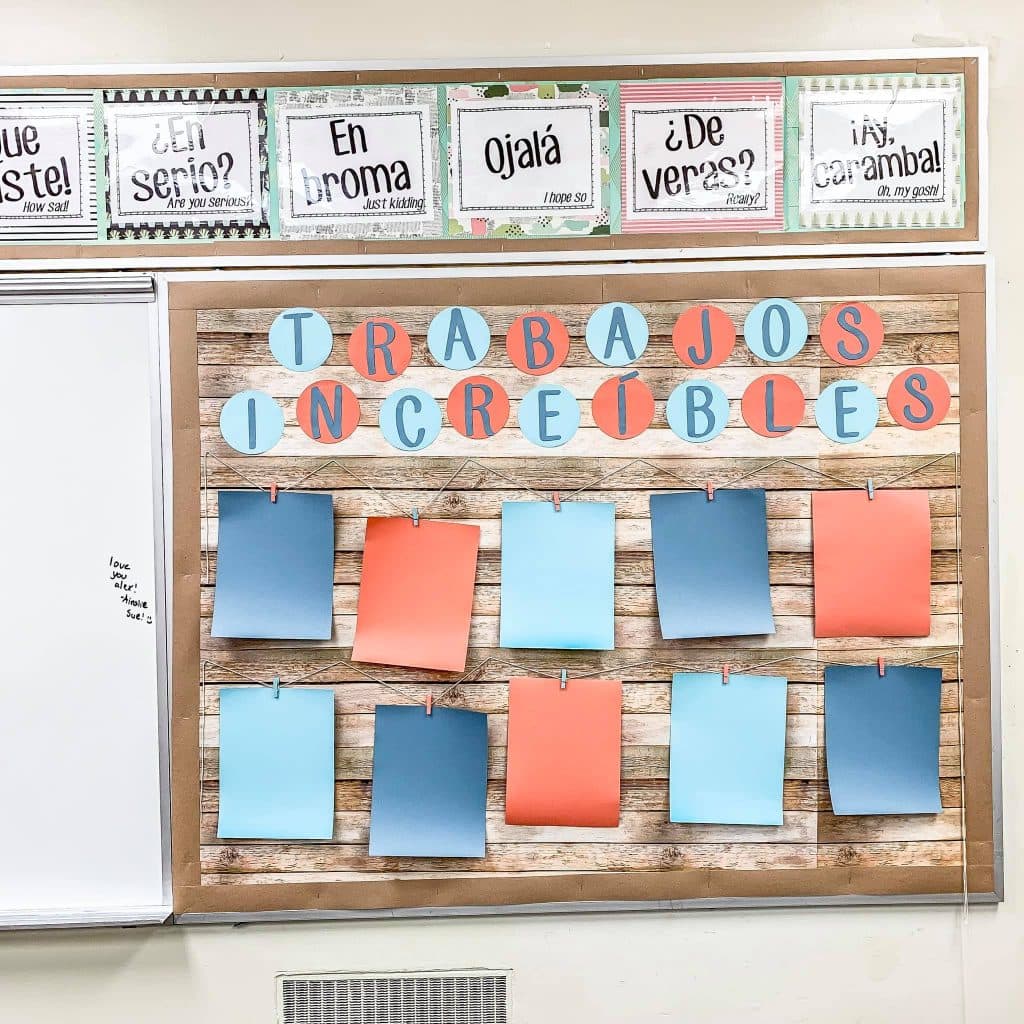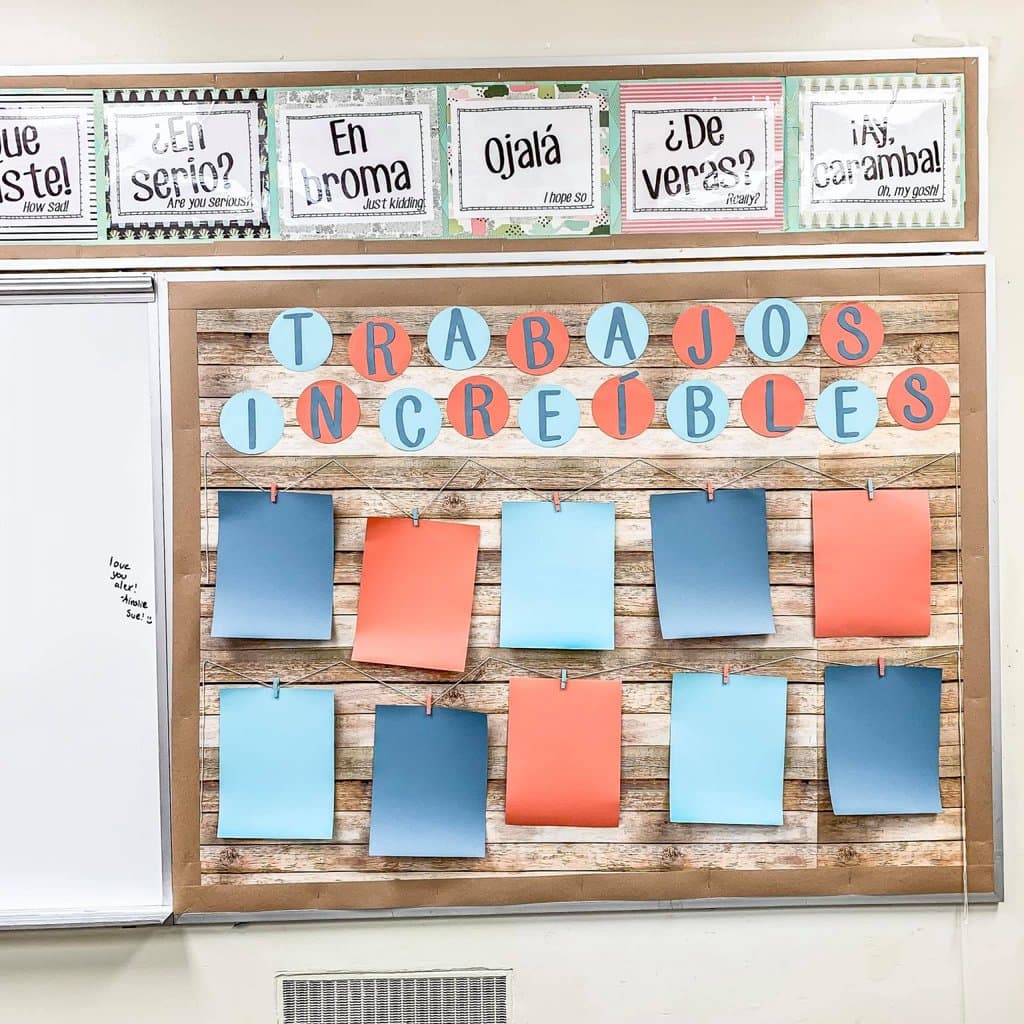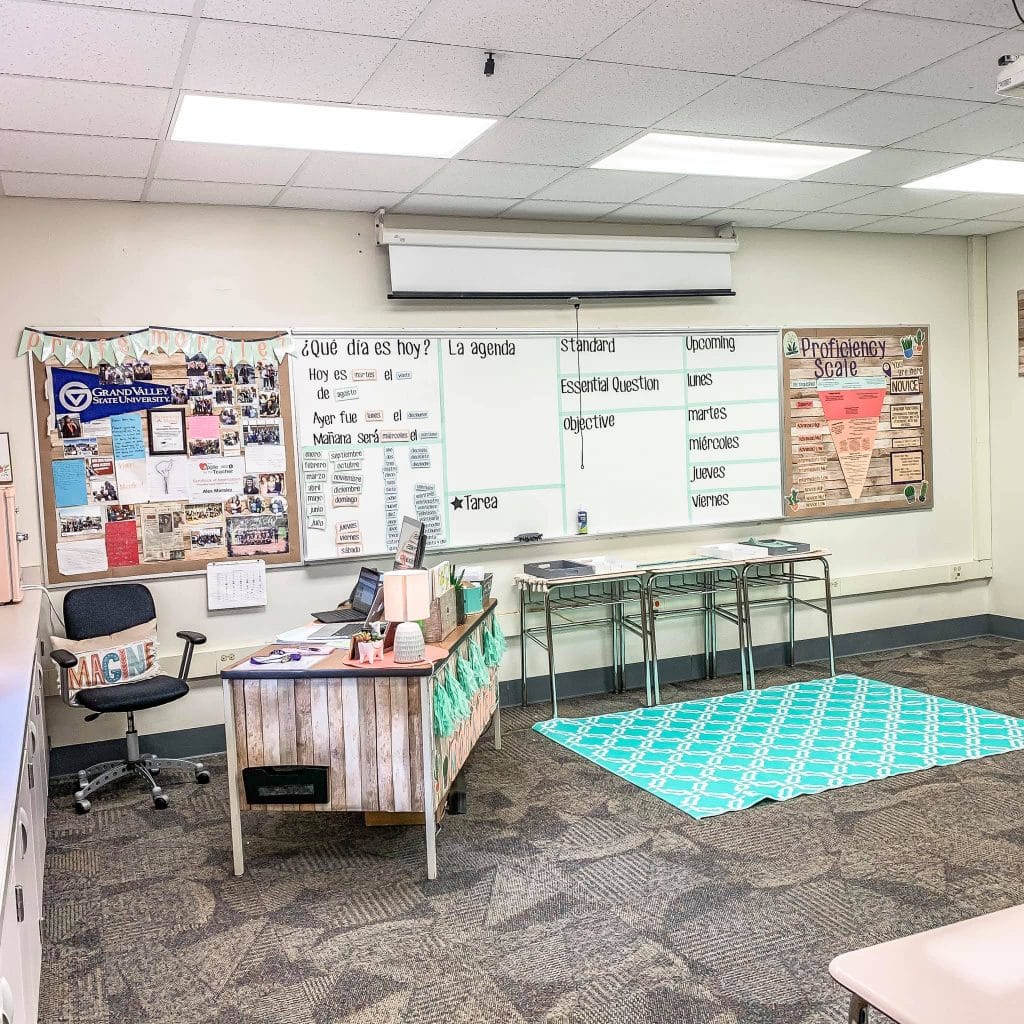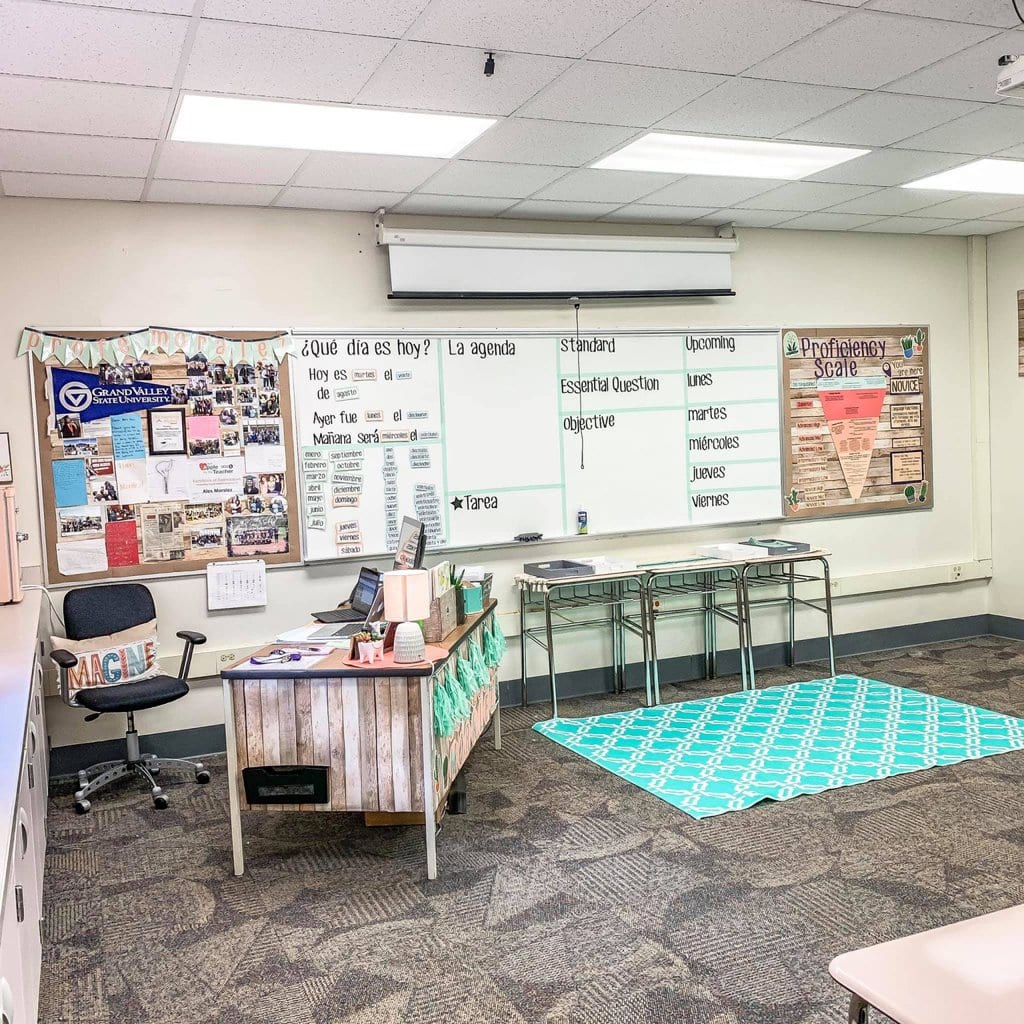 Credit: Alexandra Moralez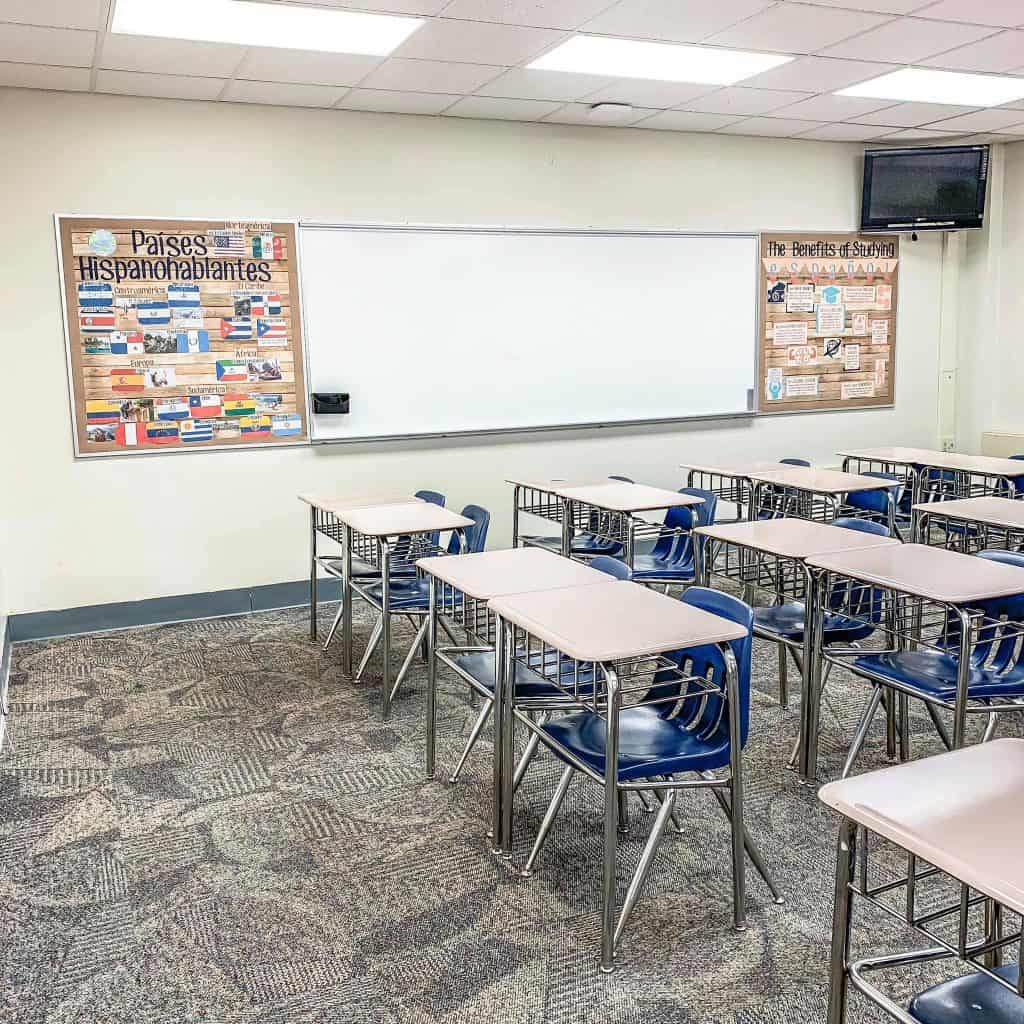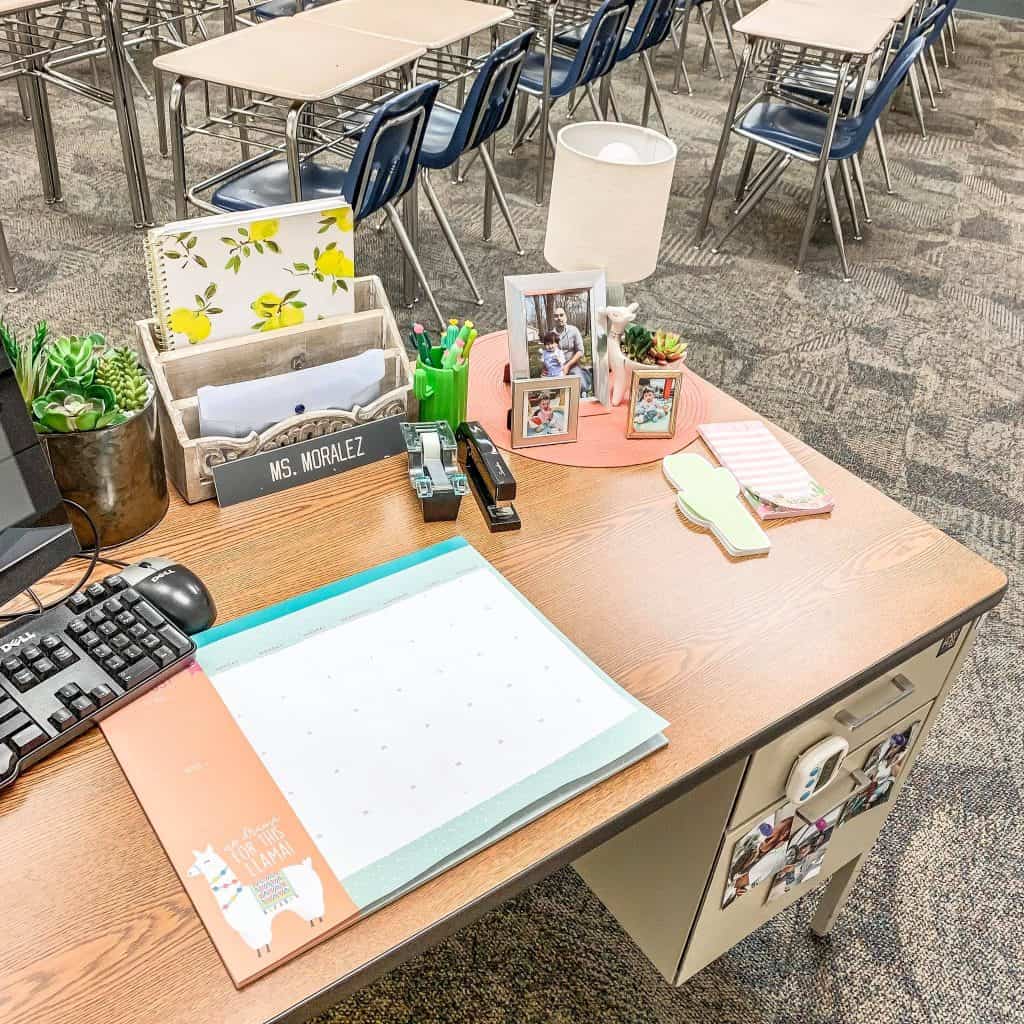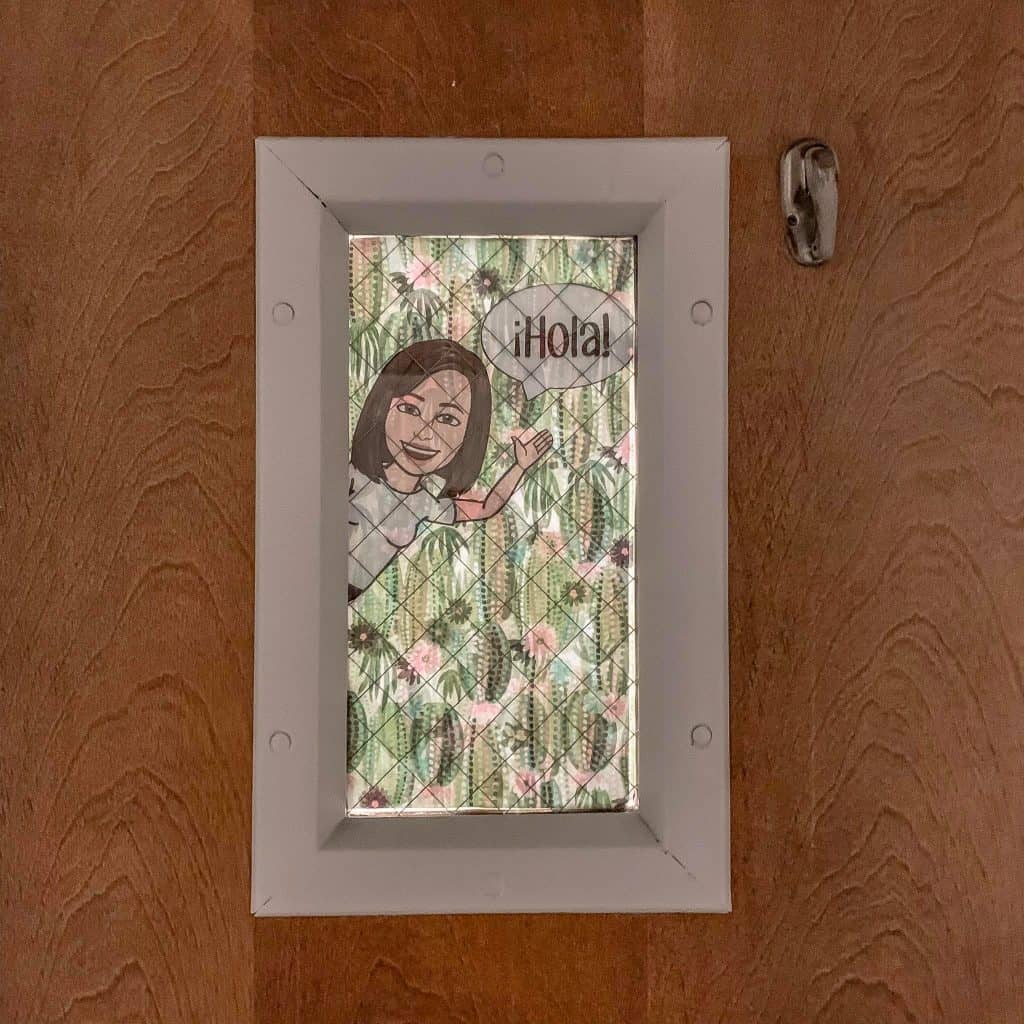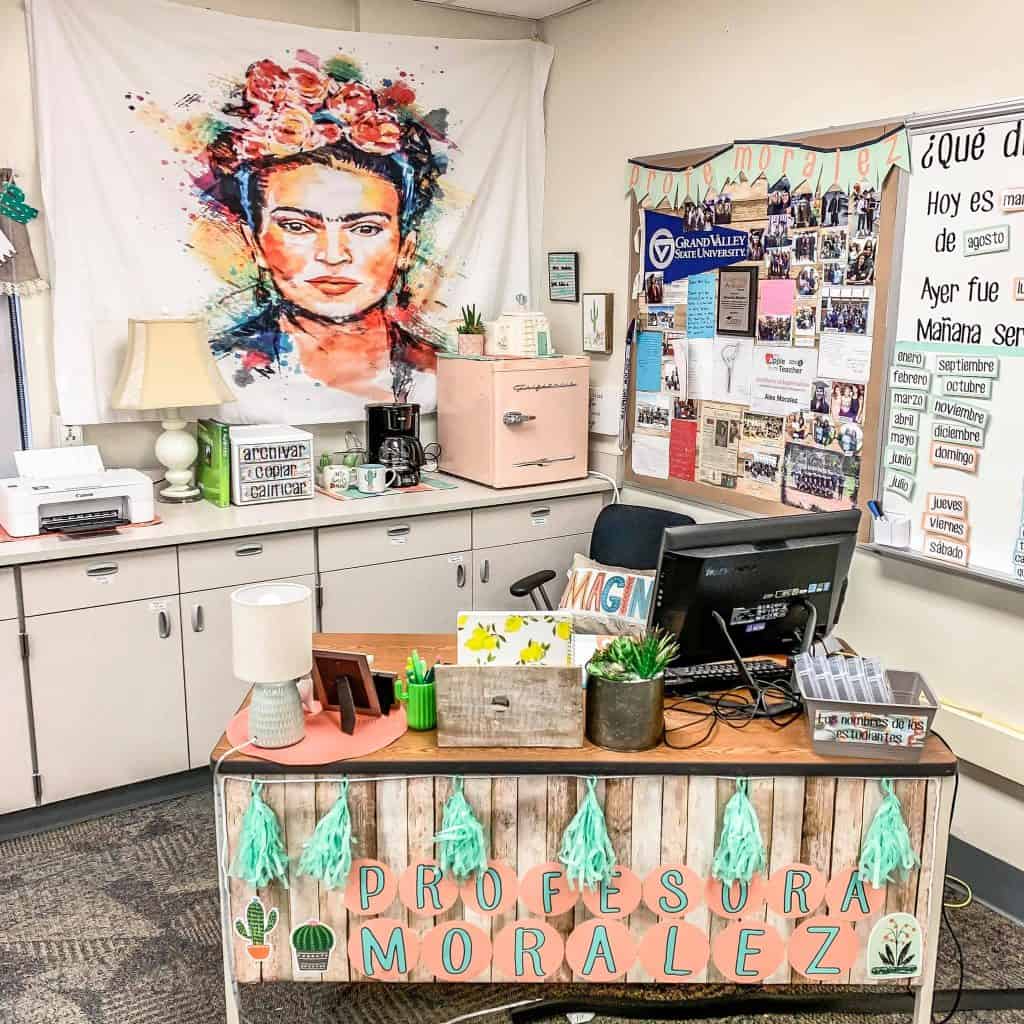 SUmmer Transformation
Get a 360 tour of this amazing classroom, complete with Spanish "tiles" and framed art!

Profe: Señor Tinetti
DESKLESS + RAINBOW THEME
See what it looks like to nail the black and rainbow look, with a library corner to die for. She keeps her classroom deskless, which is key for her famous baile viernes days!

Profe: Allison Weinhold
Site: Mis Clases Locas
MAKING A MOBILE WORK
This classroom is proof that you can take a portable and still make it look awesome, with plenty of culture too.

Profe: Luis Miguel Ramírez, Liberal Arts & Science Academy – Austin, TX
Site: proferamirez.weebly.com
PINK + LLAMAS
This is what happens when your Spanish teacher is a Peruvian fashionista. Follow Sra. Davila-Madwid on Instagram for more teaching ideas and classroom eye candy!

Profe: Mariza Davila-Madwid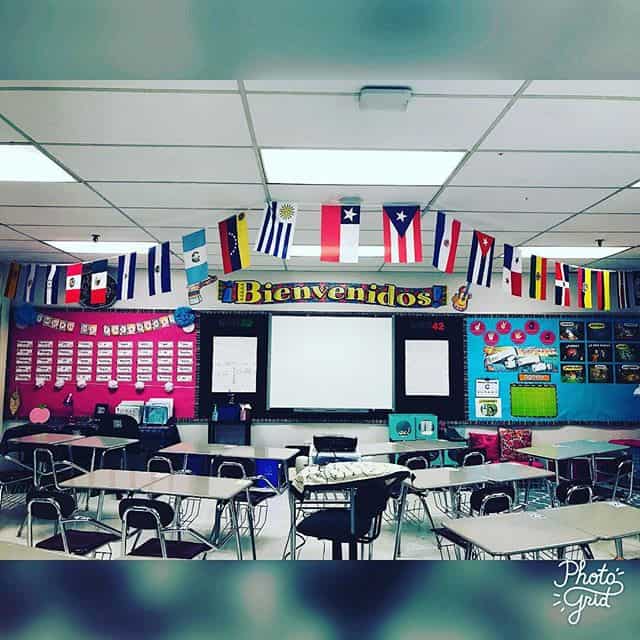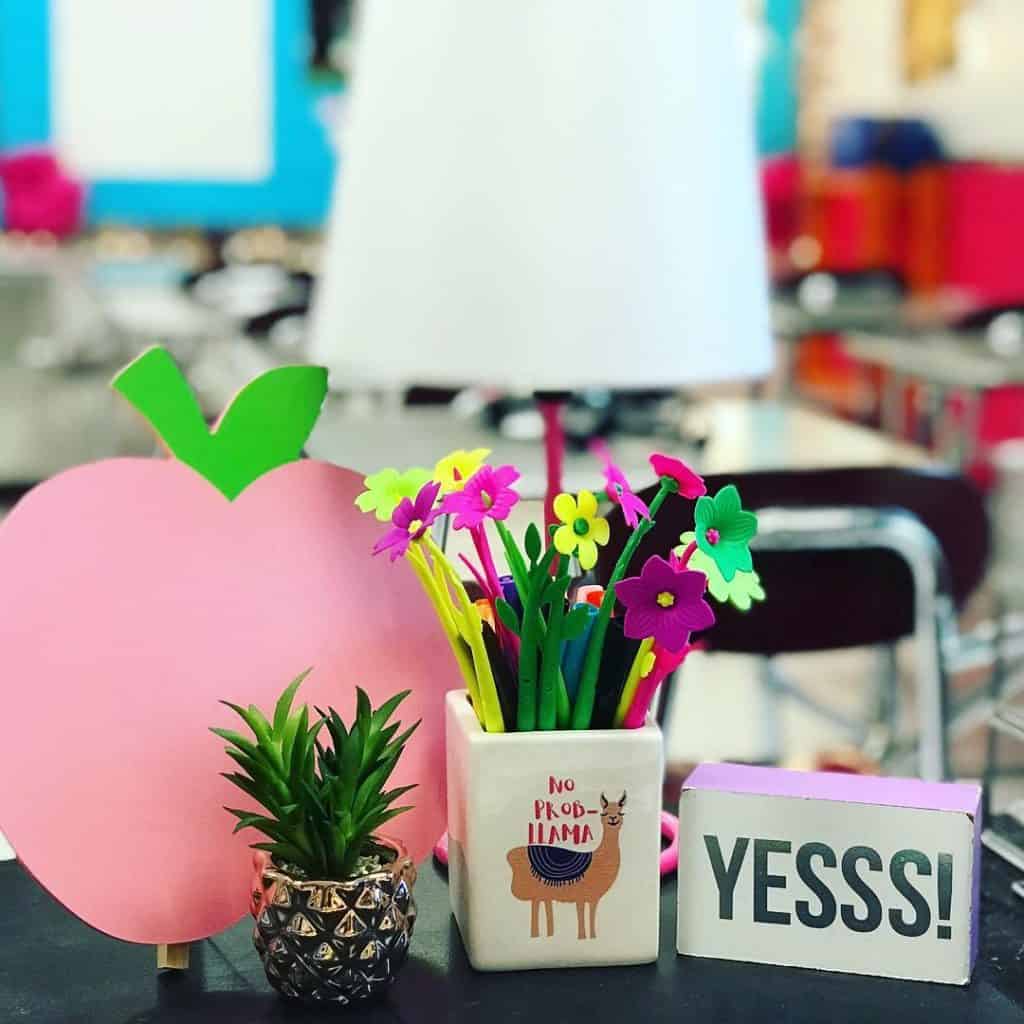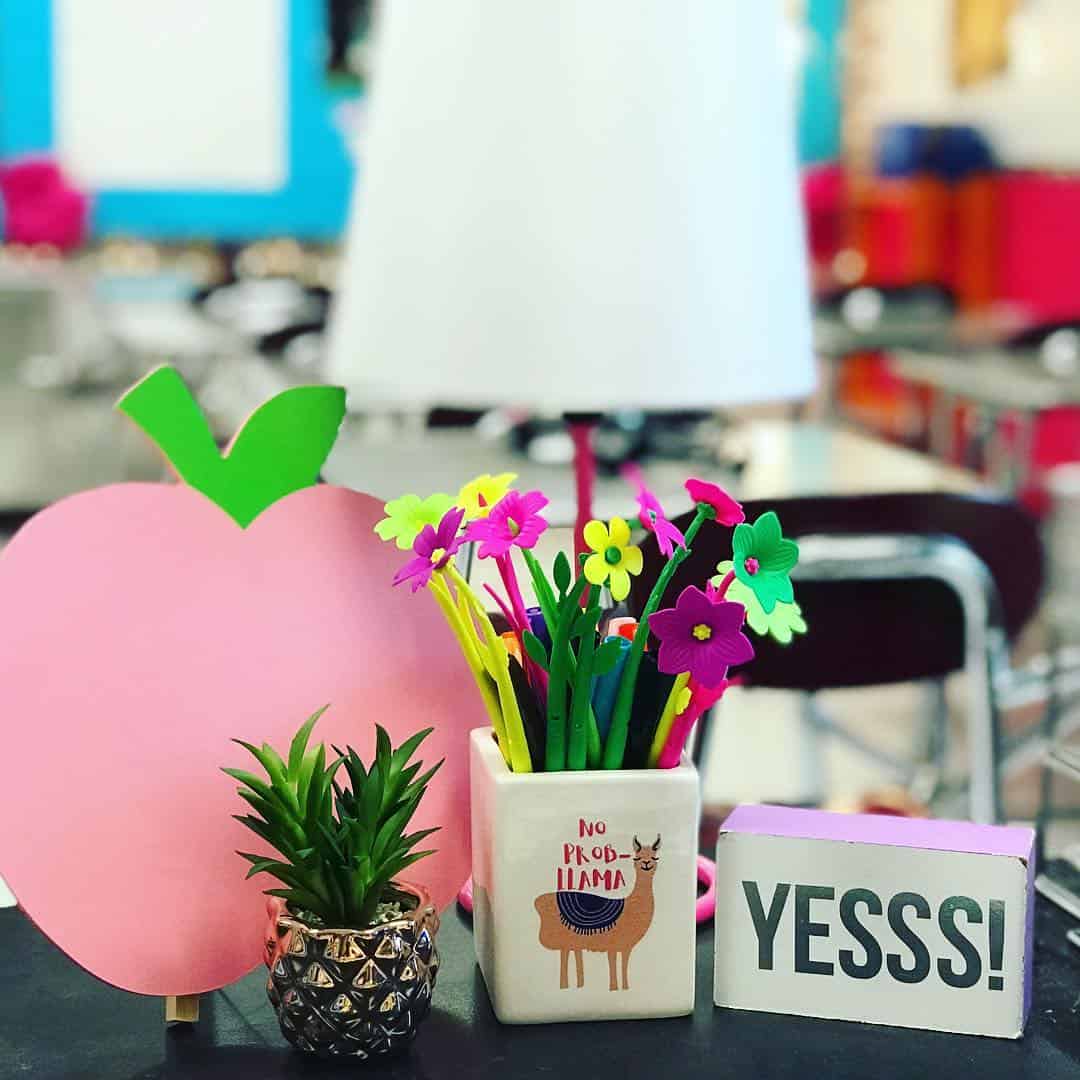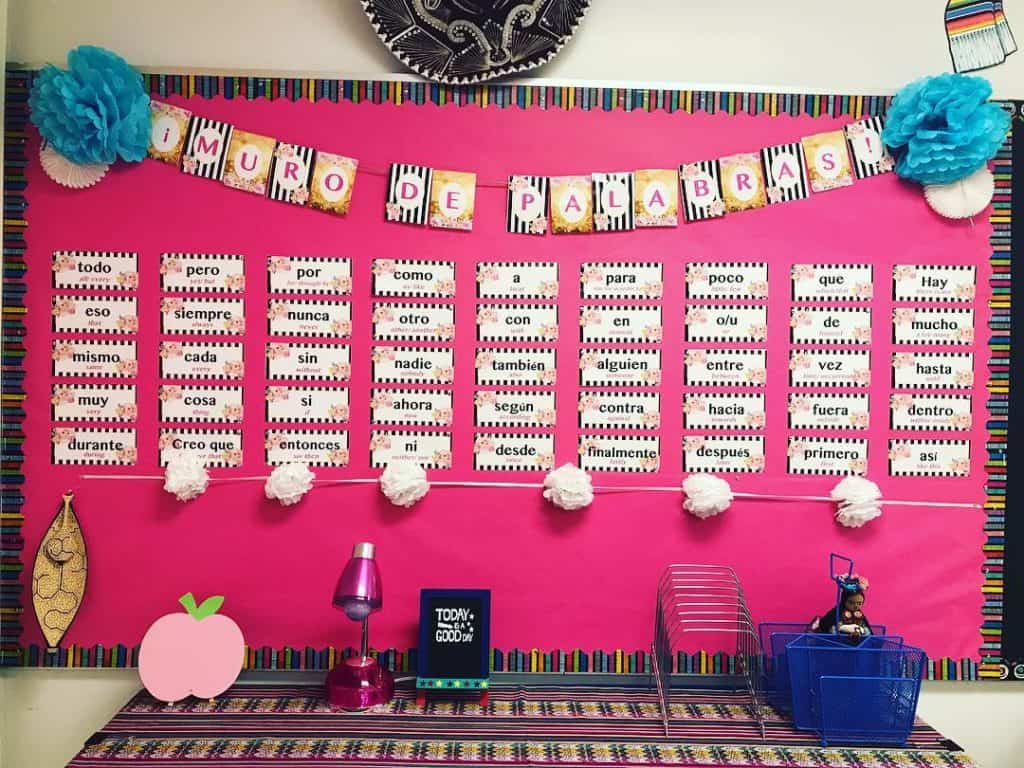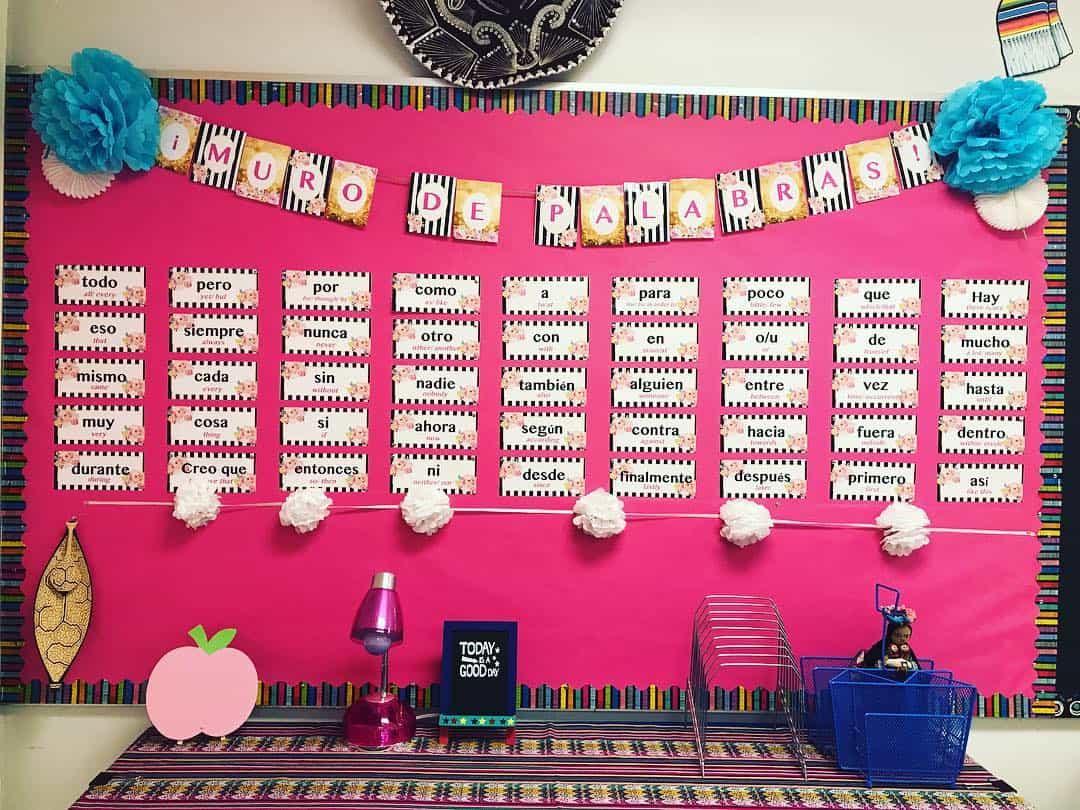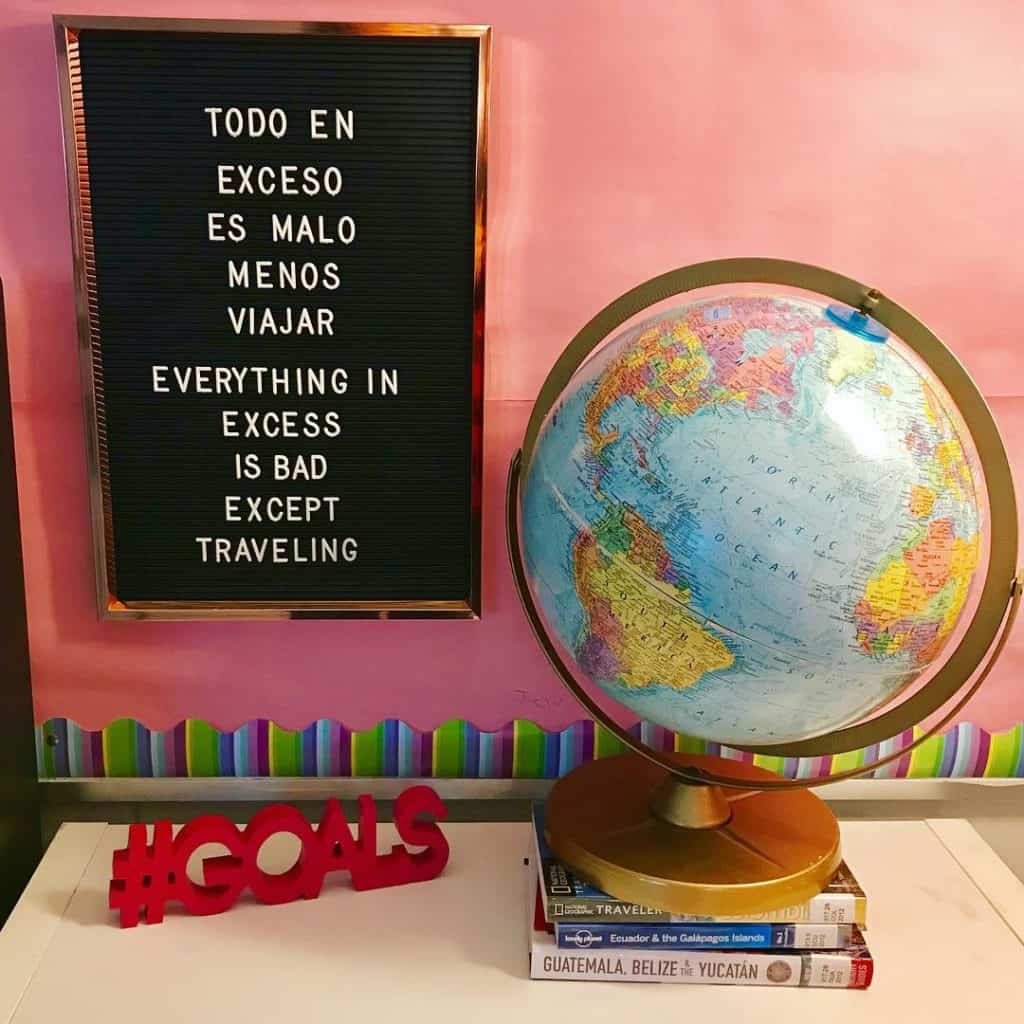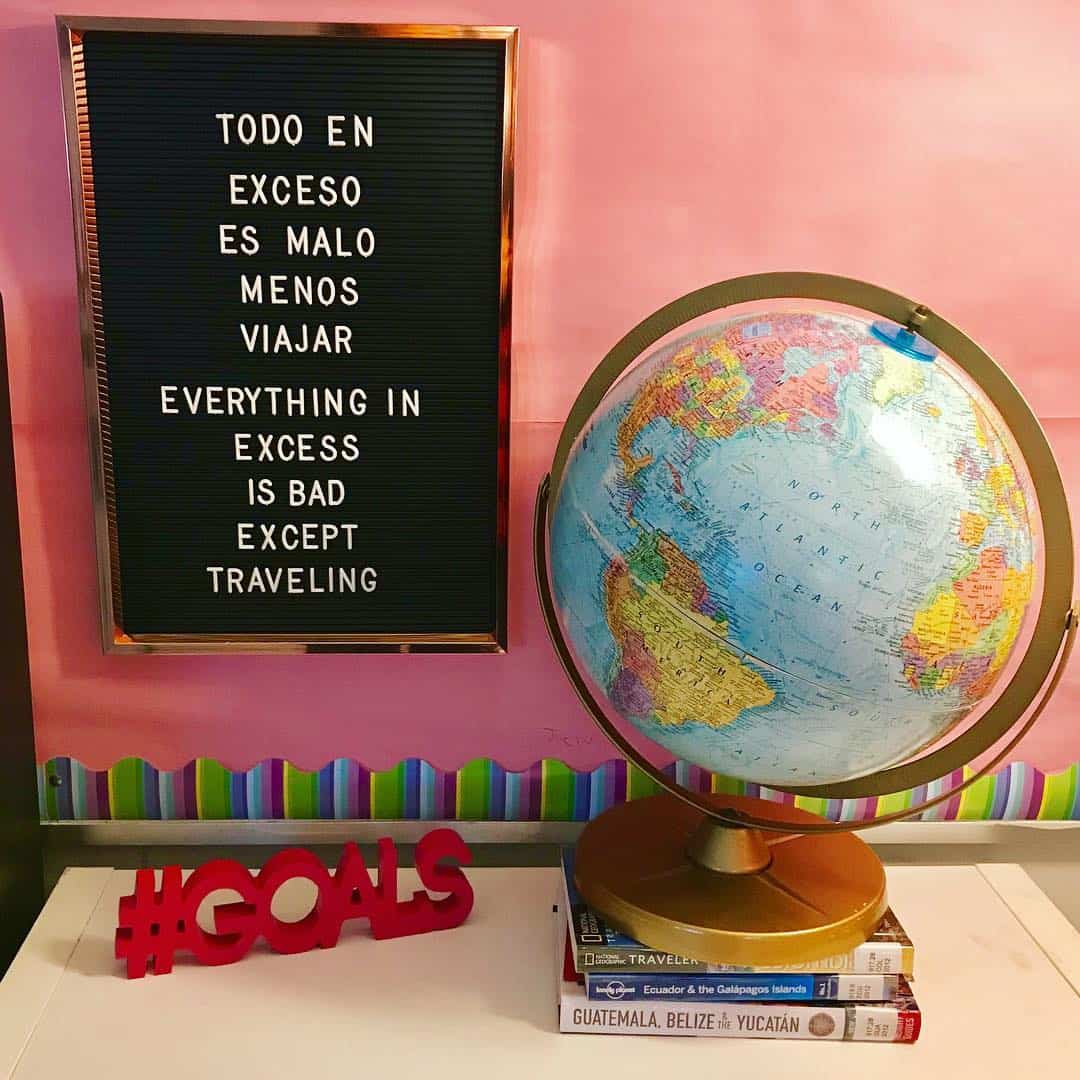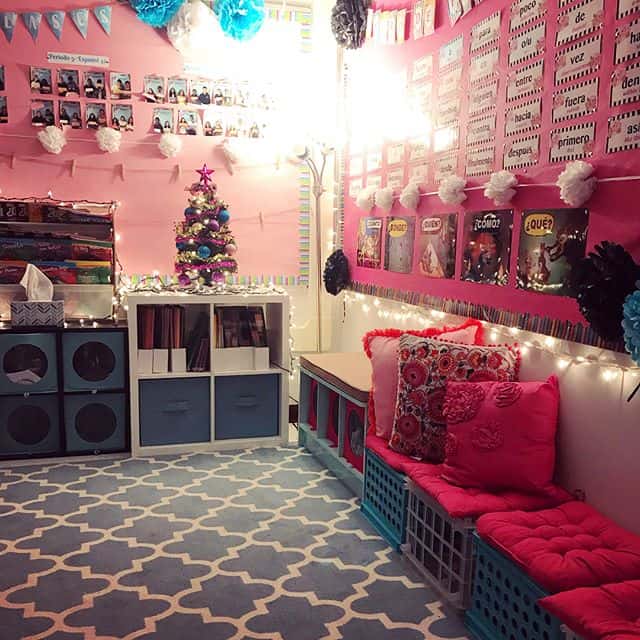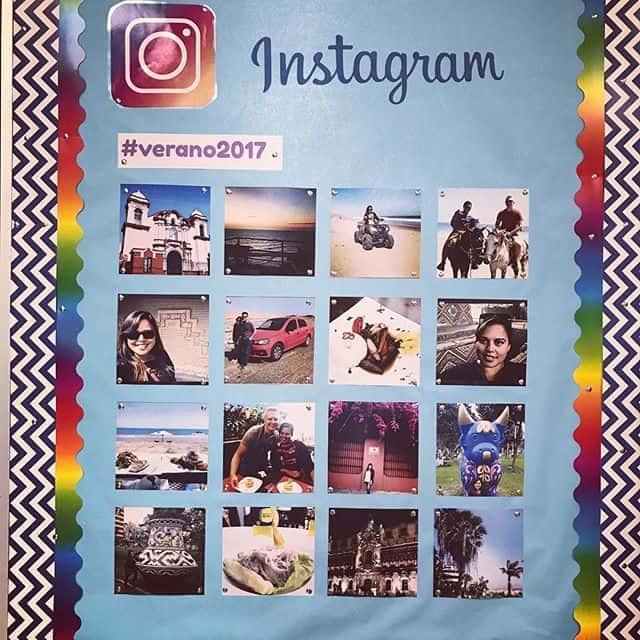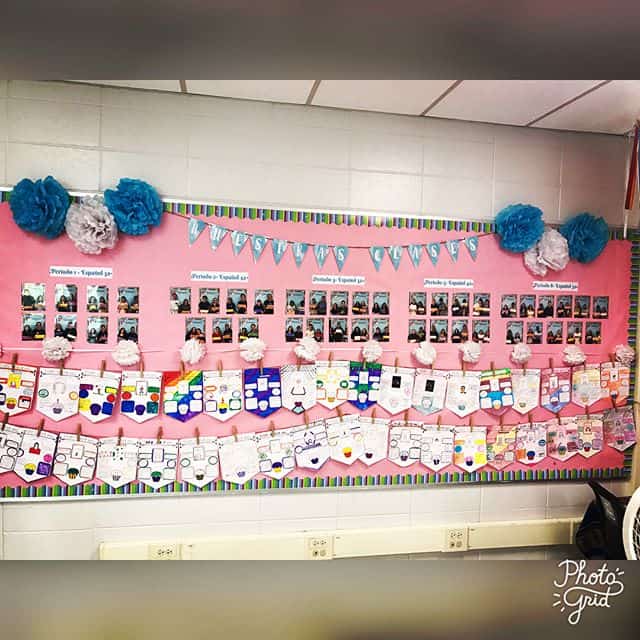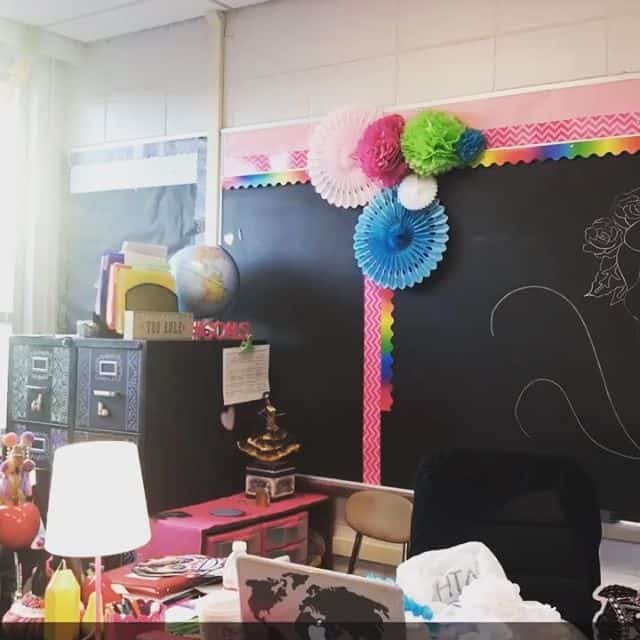 TEACHING TO PROFICIENCY
Profe Jen Shaw works hard to teach to proficiency, and uses the CHAMPS method in her room. You can see how her decor and visuals make those goals clear to her students, while providing a pretty workspace.

Blog: Spanish with Sra. Shaw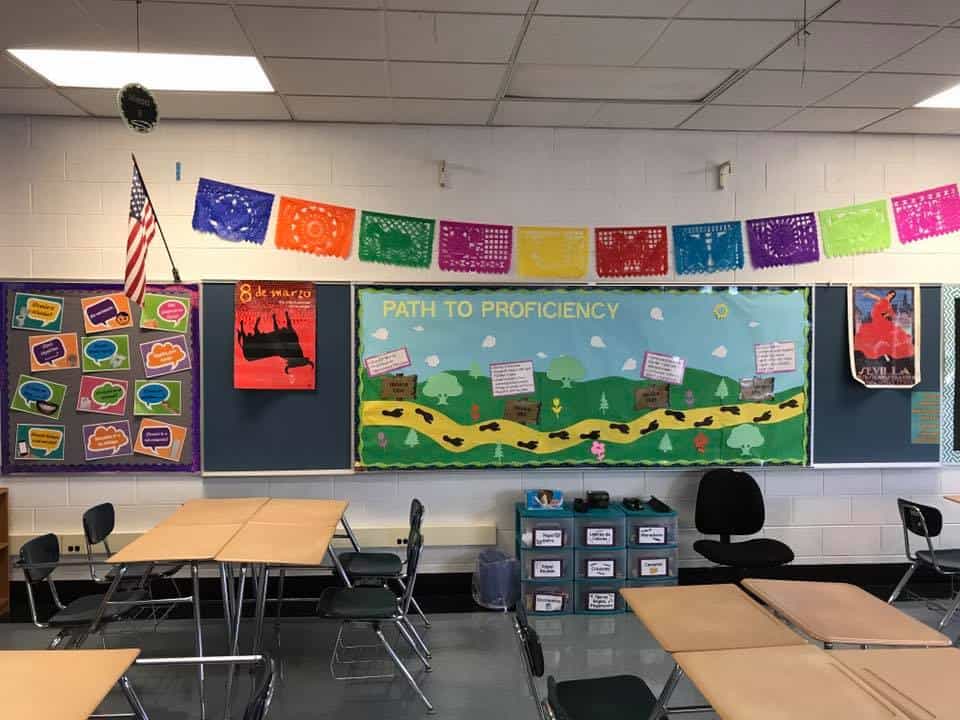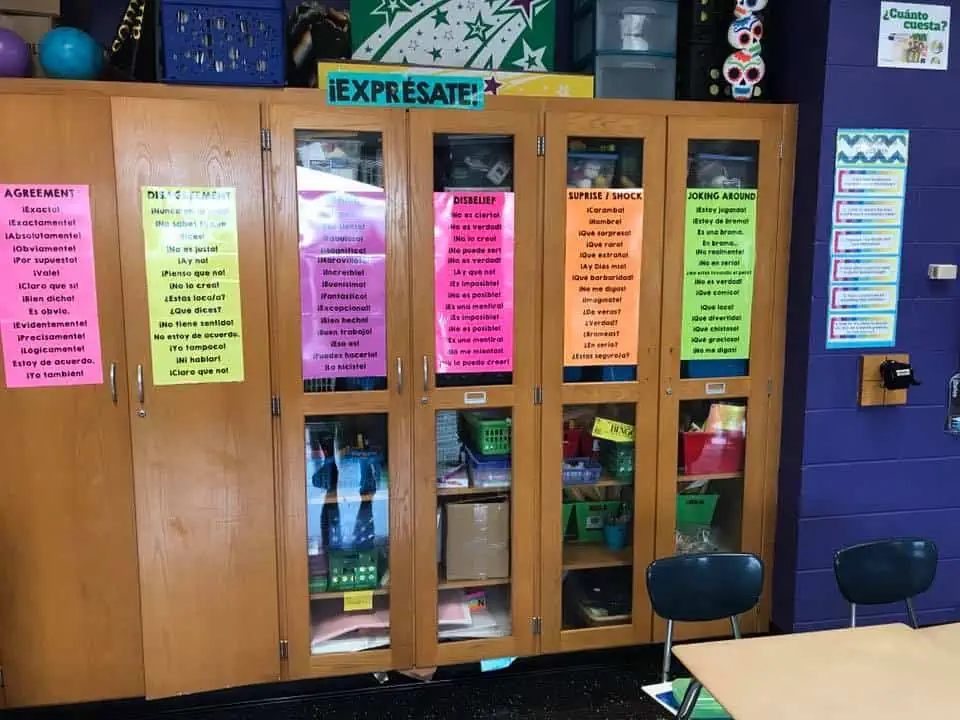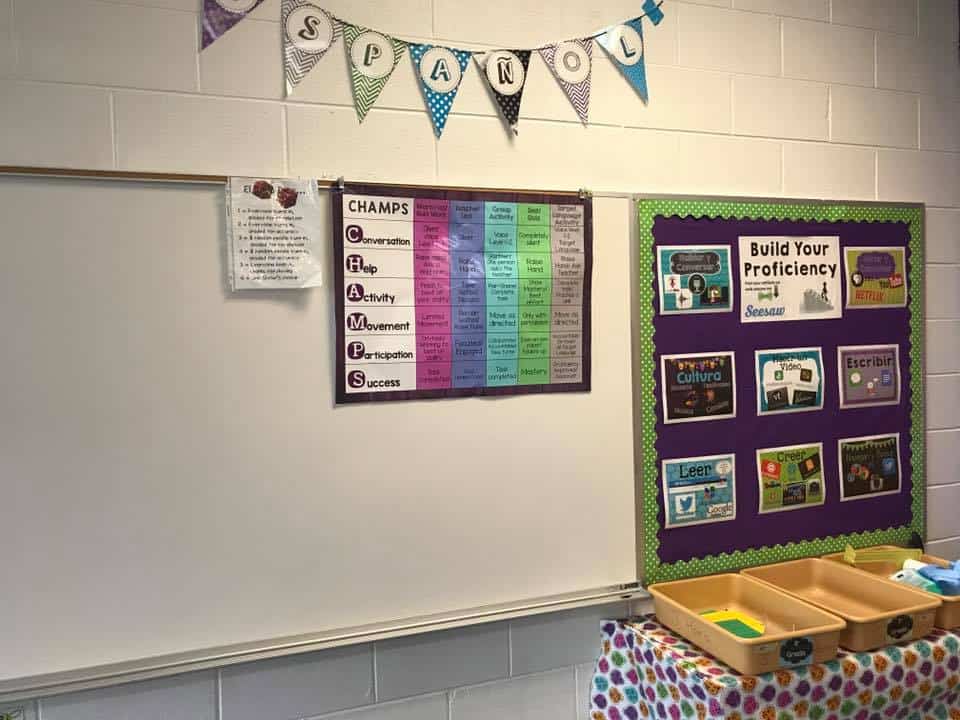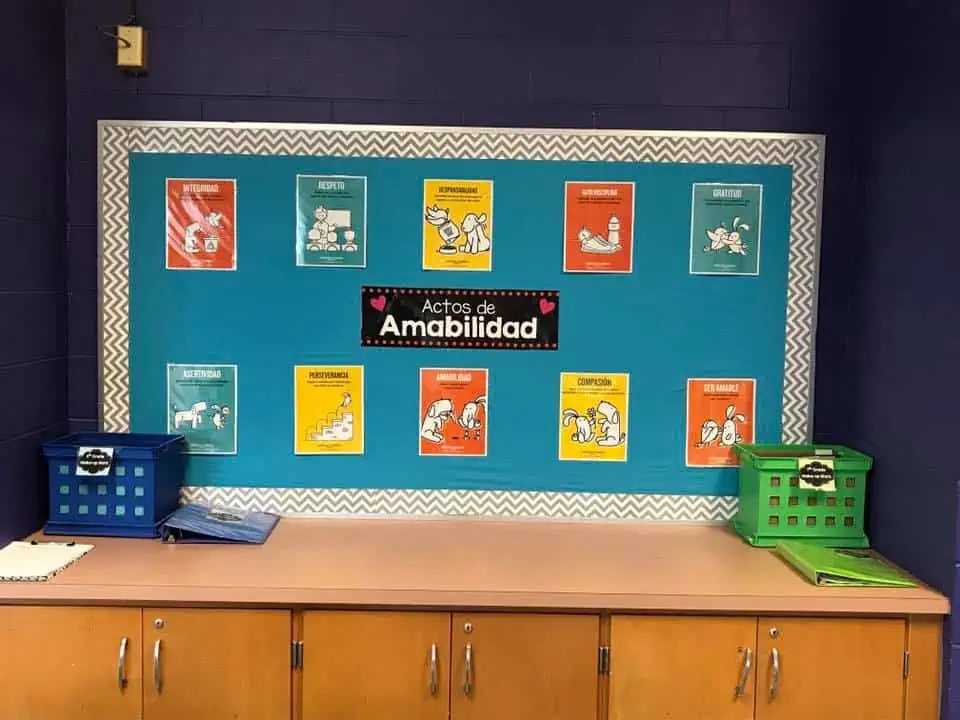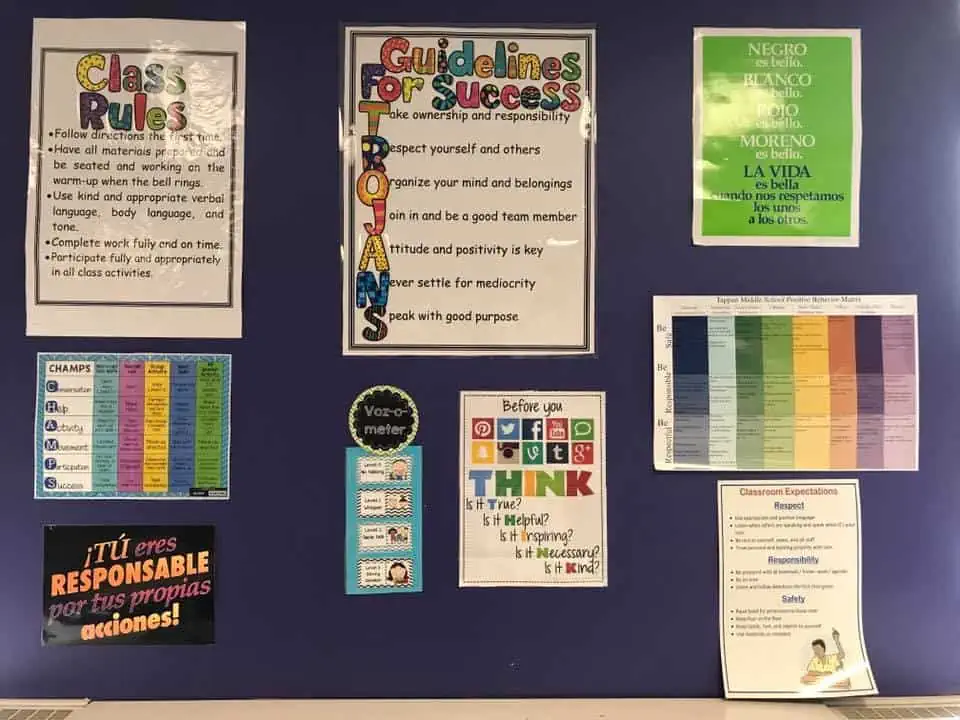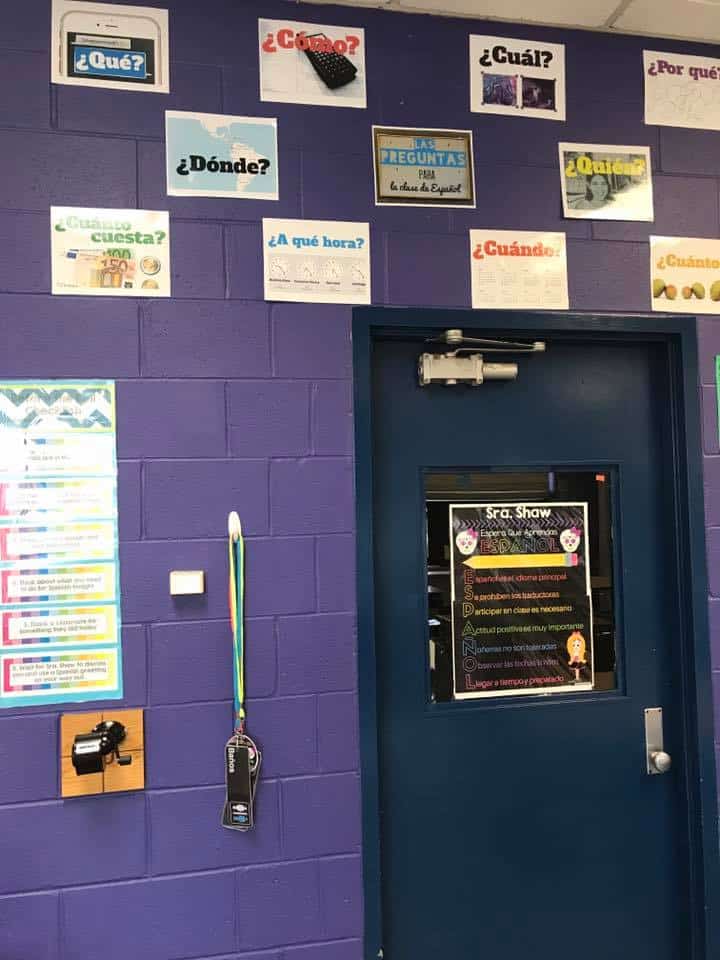 FLOOR ENVY
I don't know what I'm more in love with: the floors, or the bookshelves in this deskless classroom.

Profe: Mary Overton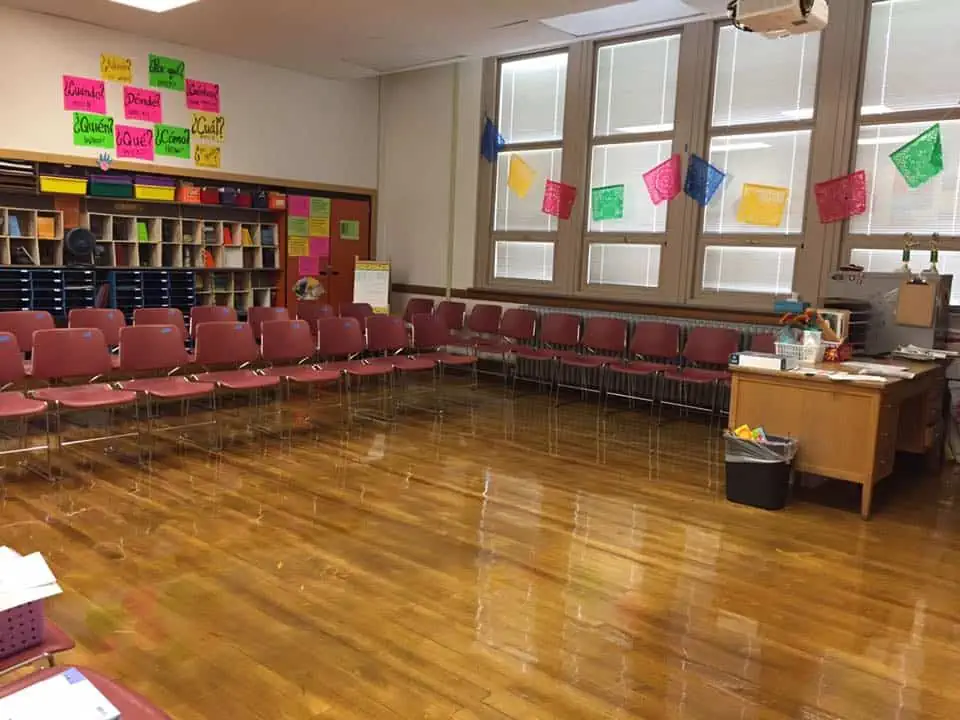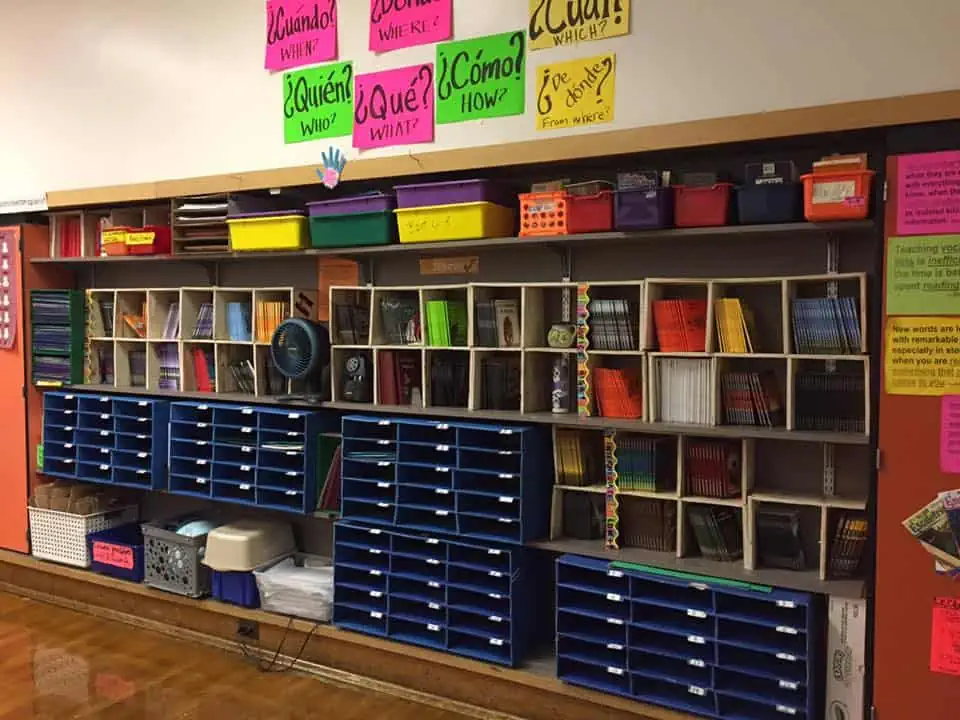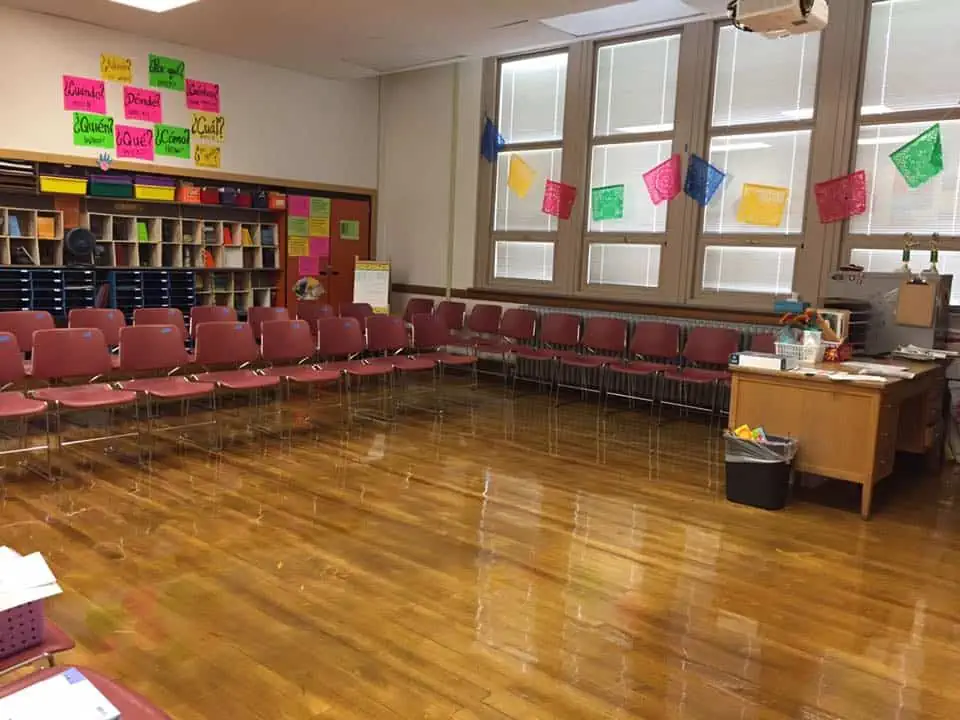 BRIGHT SPACES
I love the decor from Mexico here. Also, you must check out this organized teacher desk, coffee pot included. #yesplease

Profe: Carla Pelizarri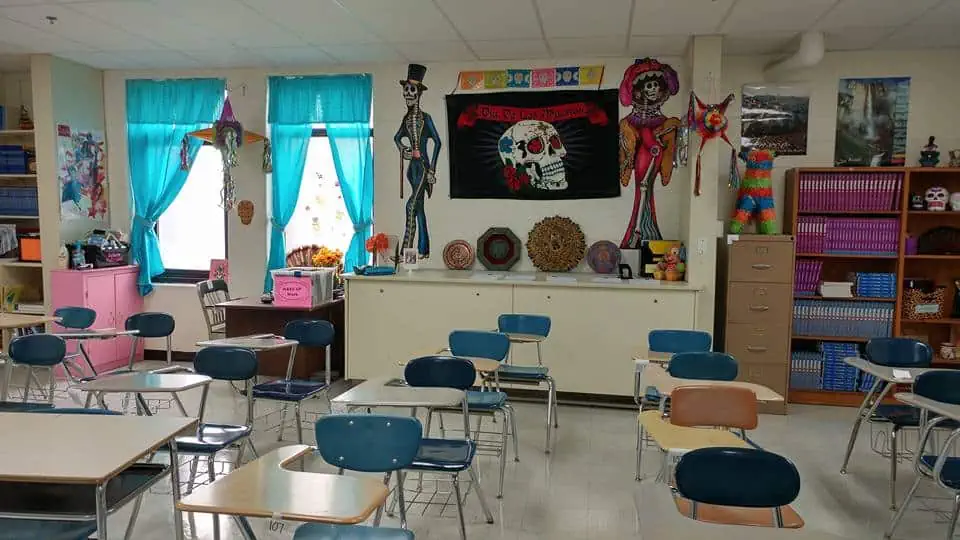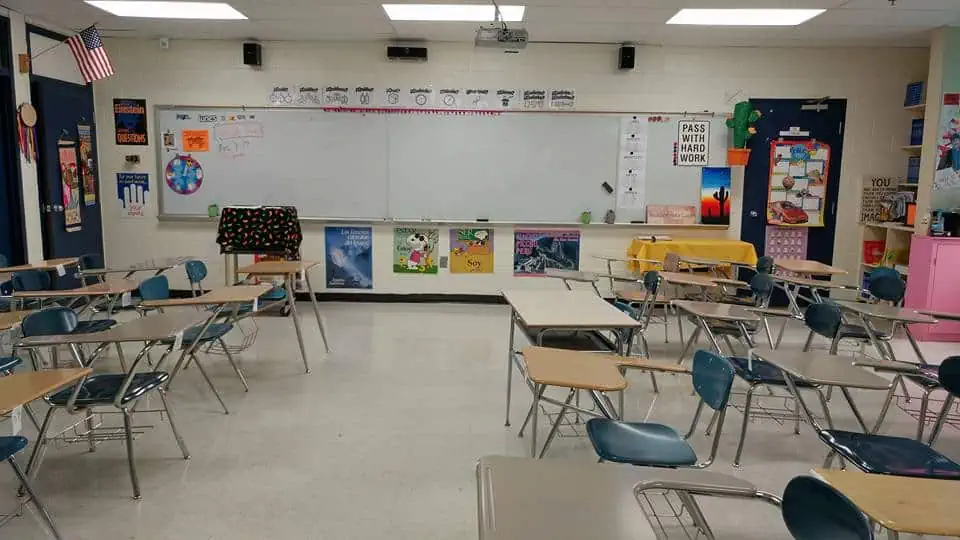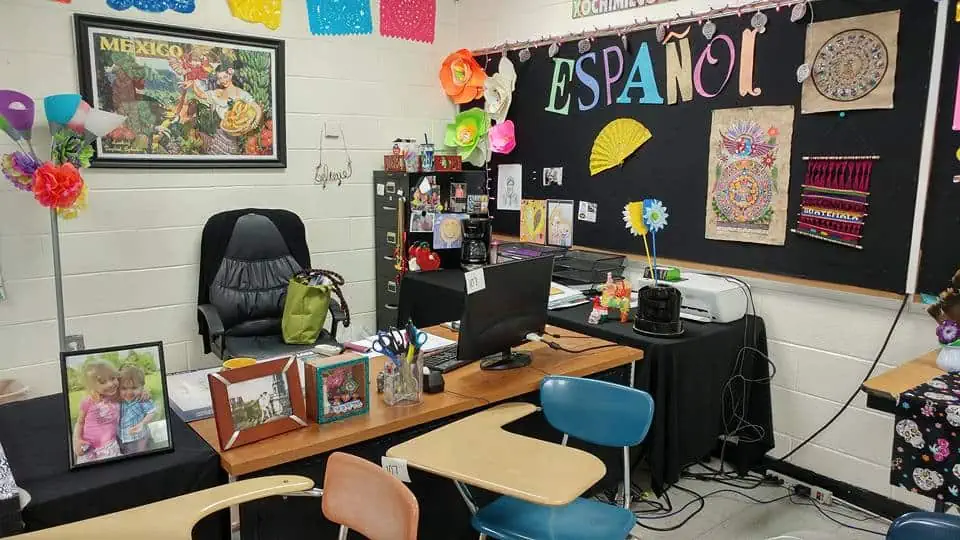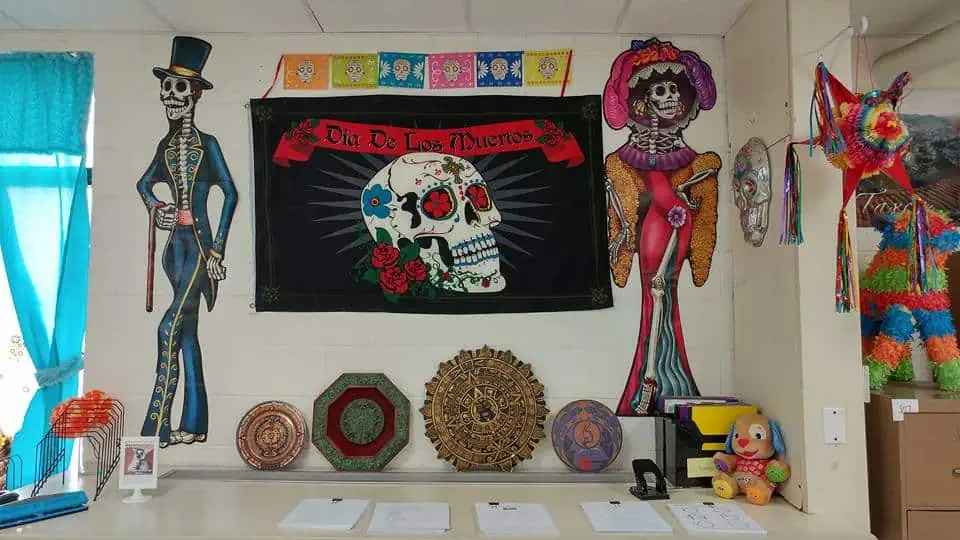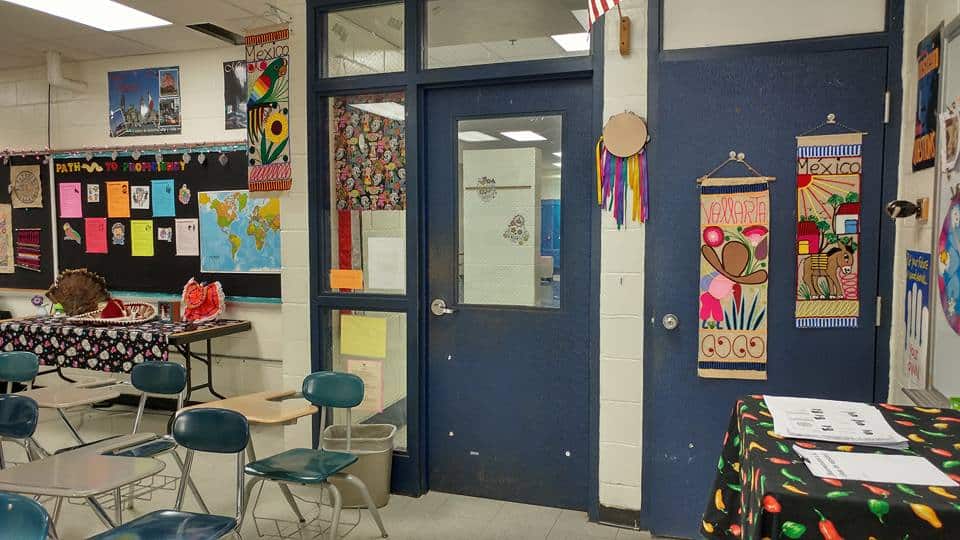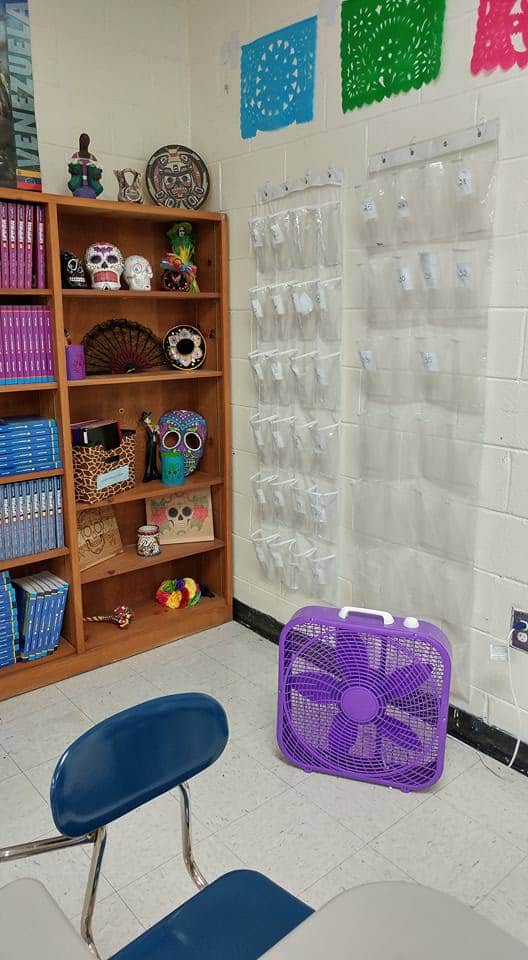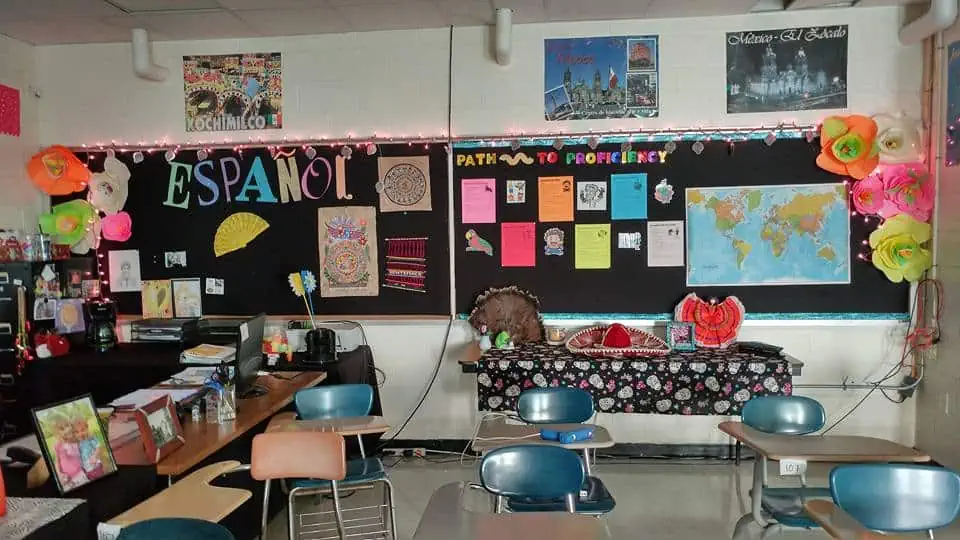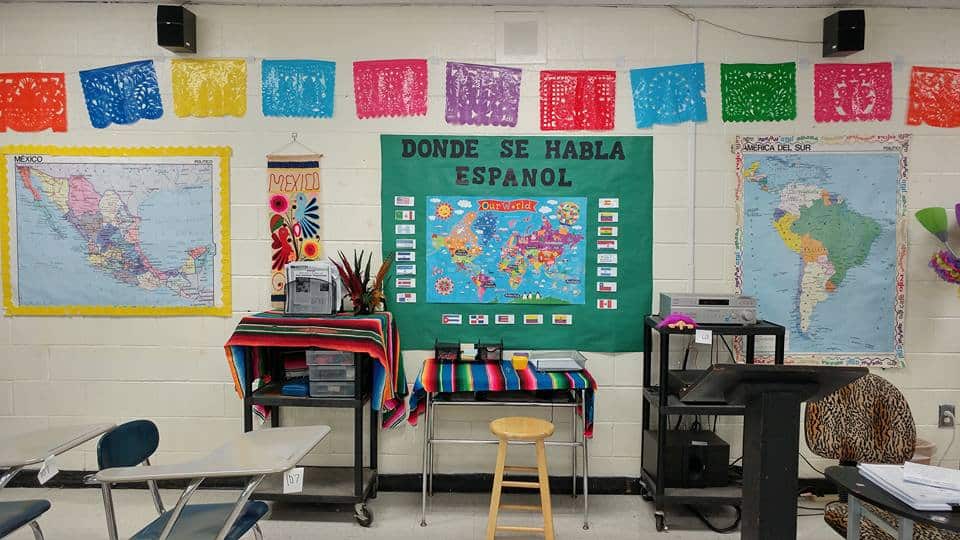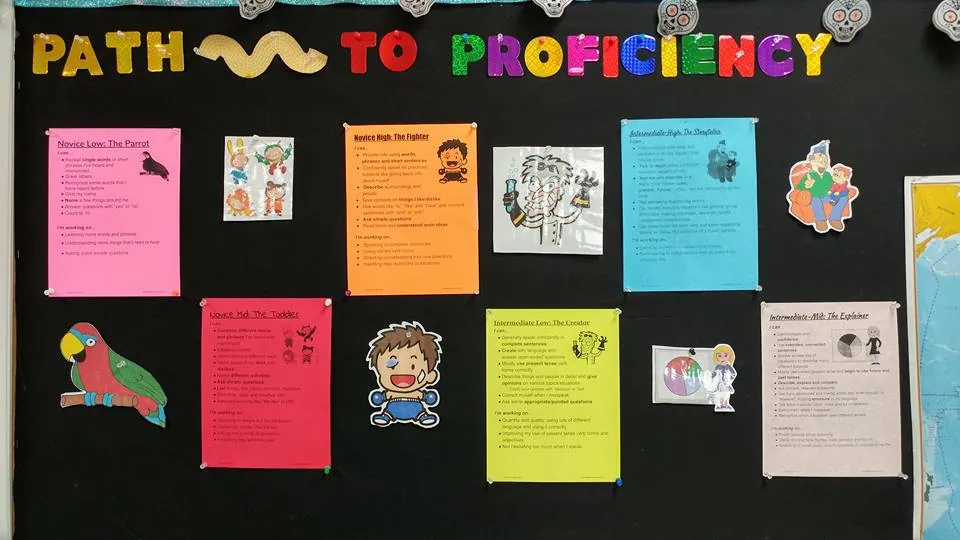 INstagram Boards
This room is packed with books and culture, but I have to say my favorite part are the Instagram boards featuring Spanish-speaking artists. So clever and pretty!
Profe: Sara Glasbrenner

Site: TPRS with Señorita Glasbrenner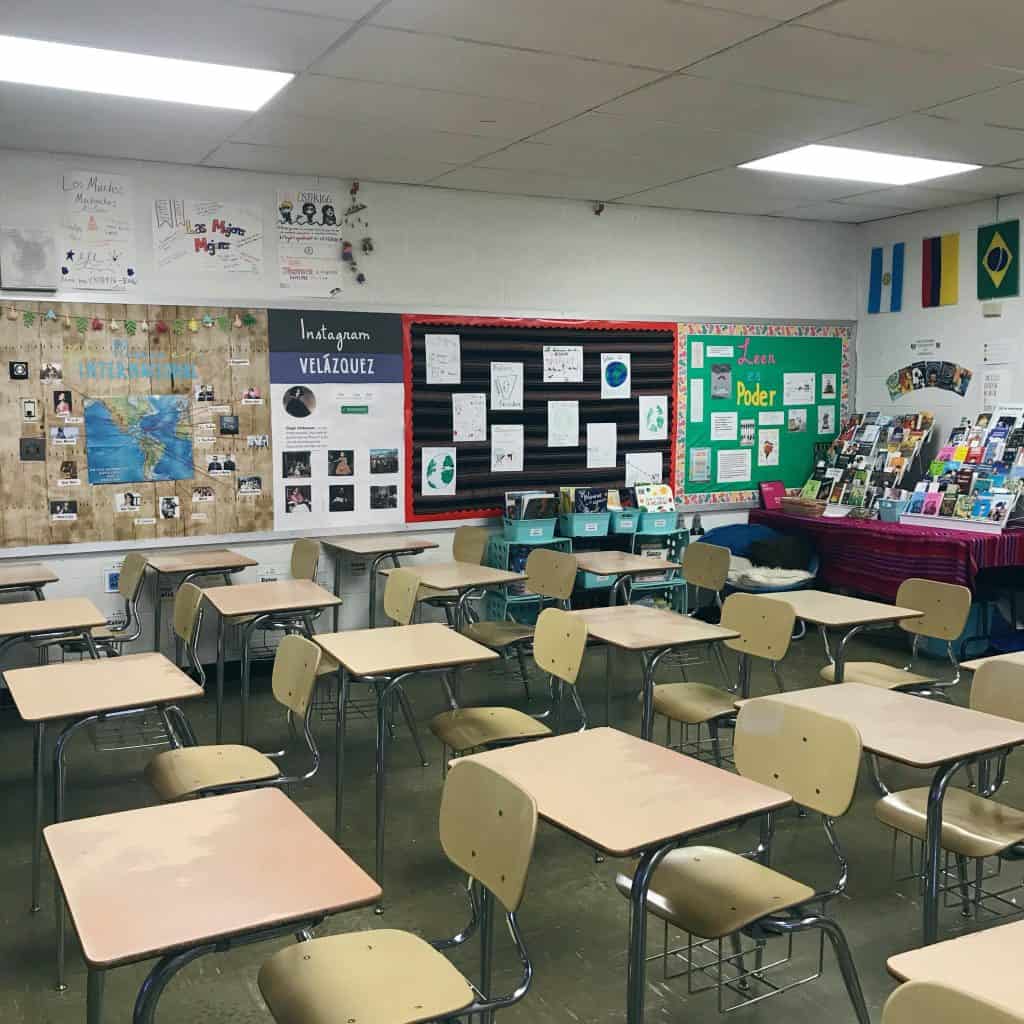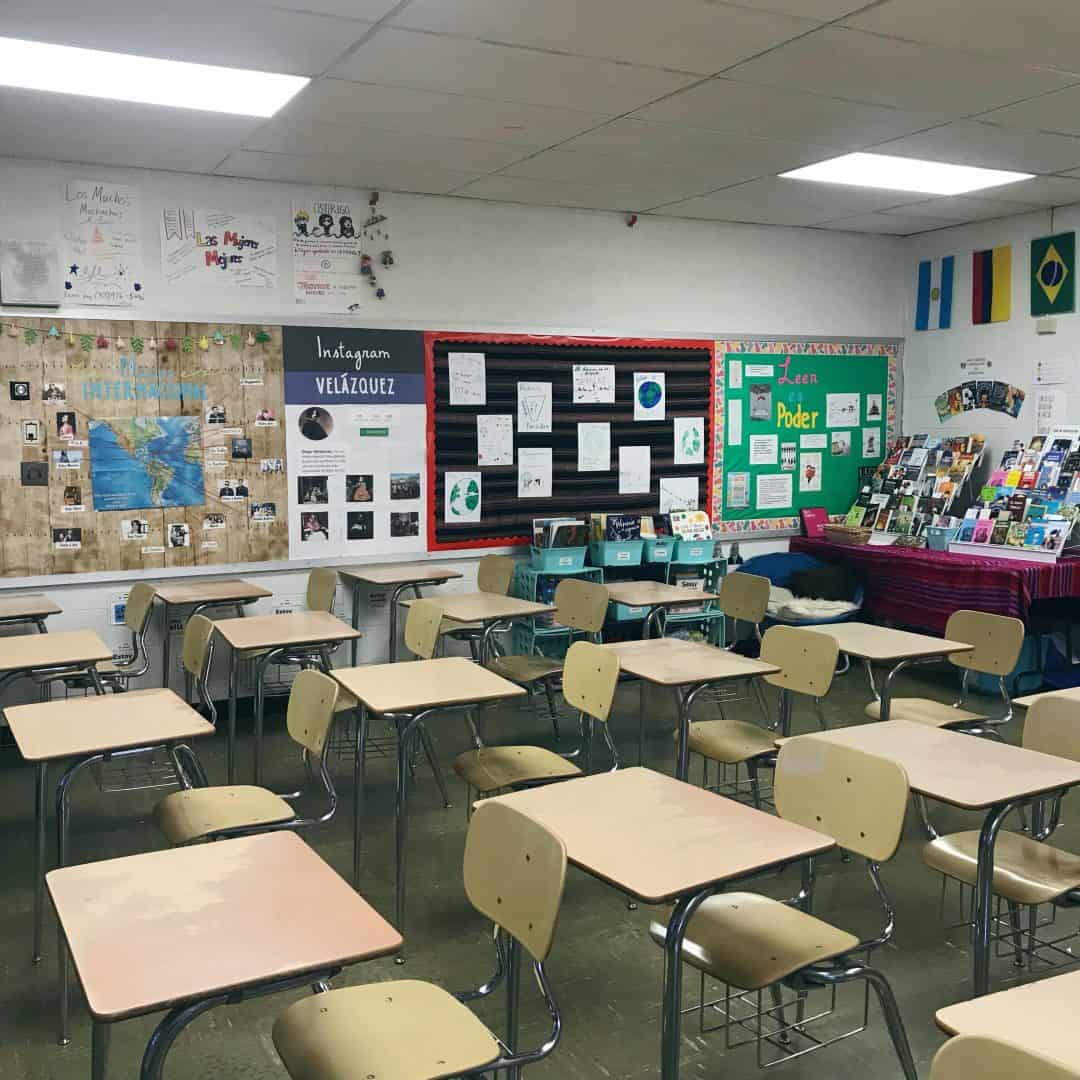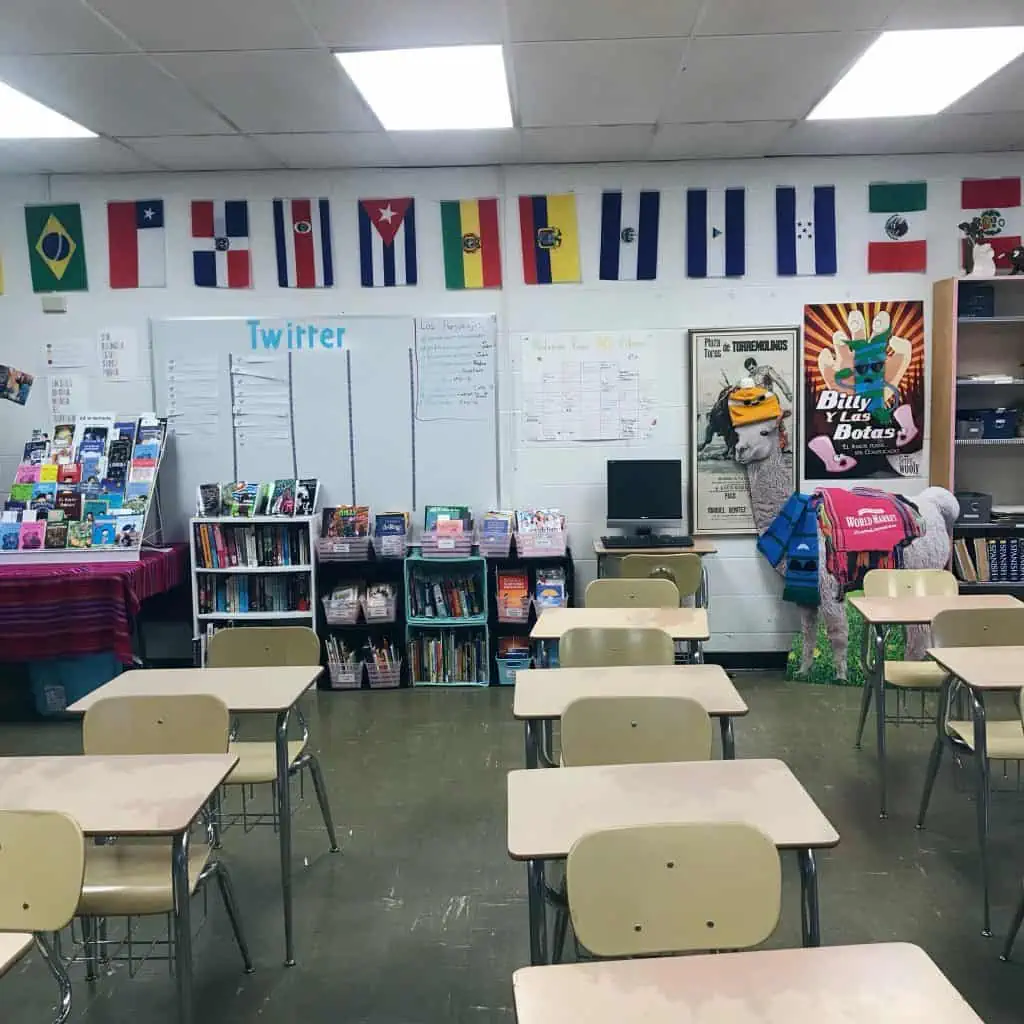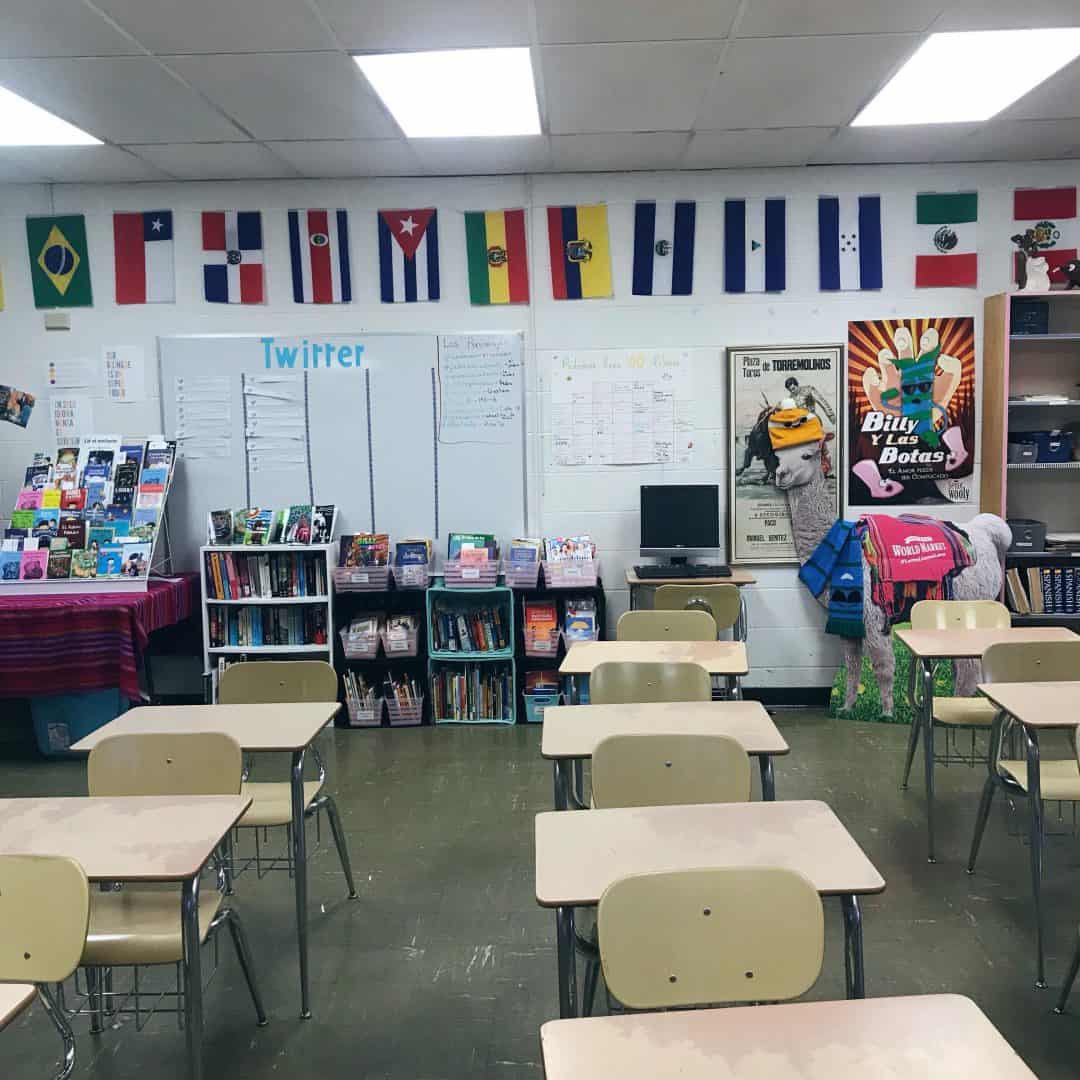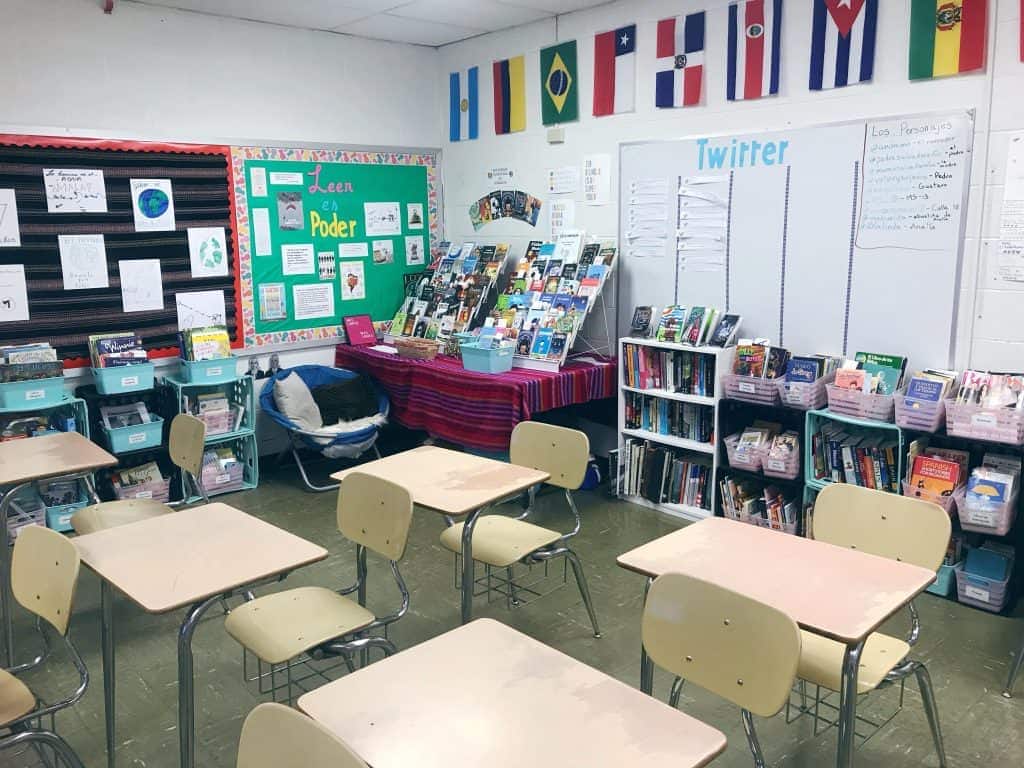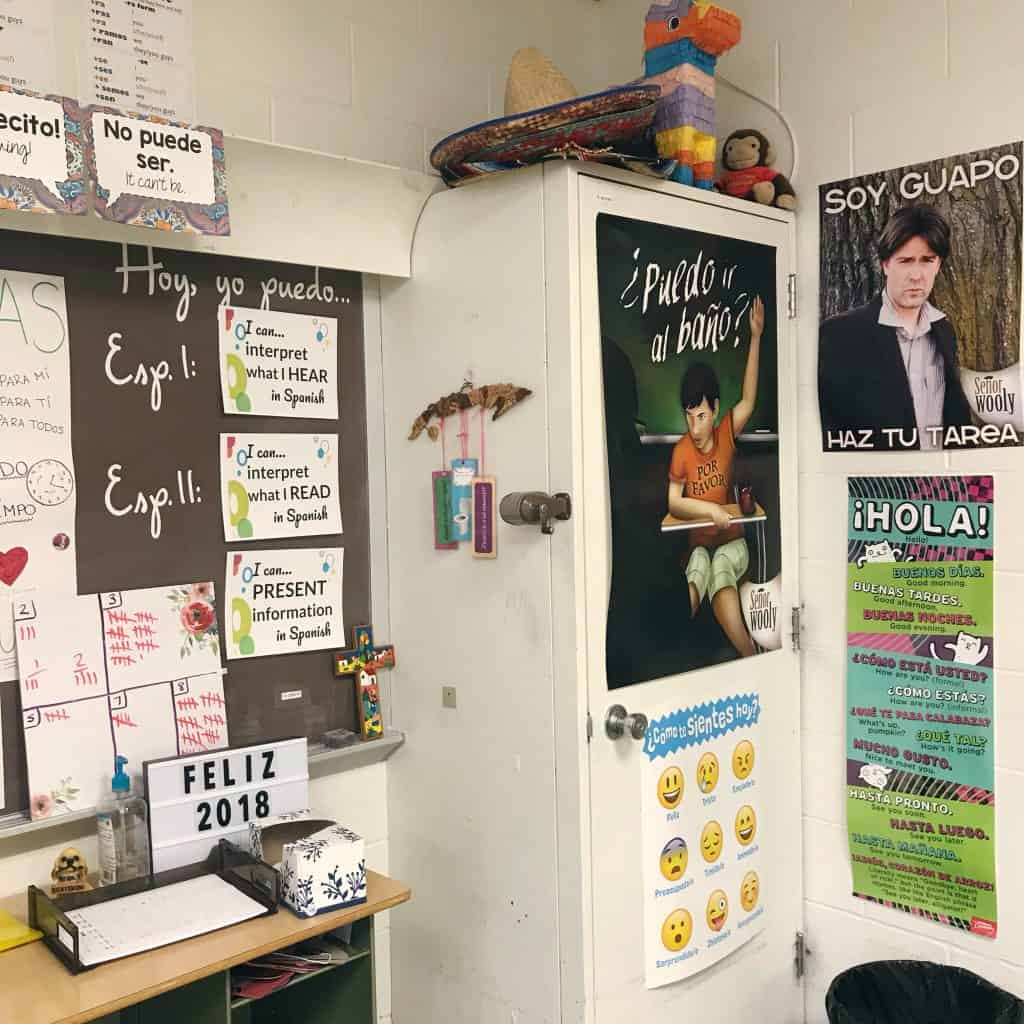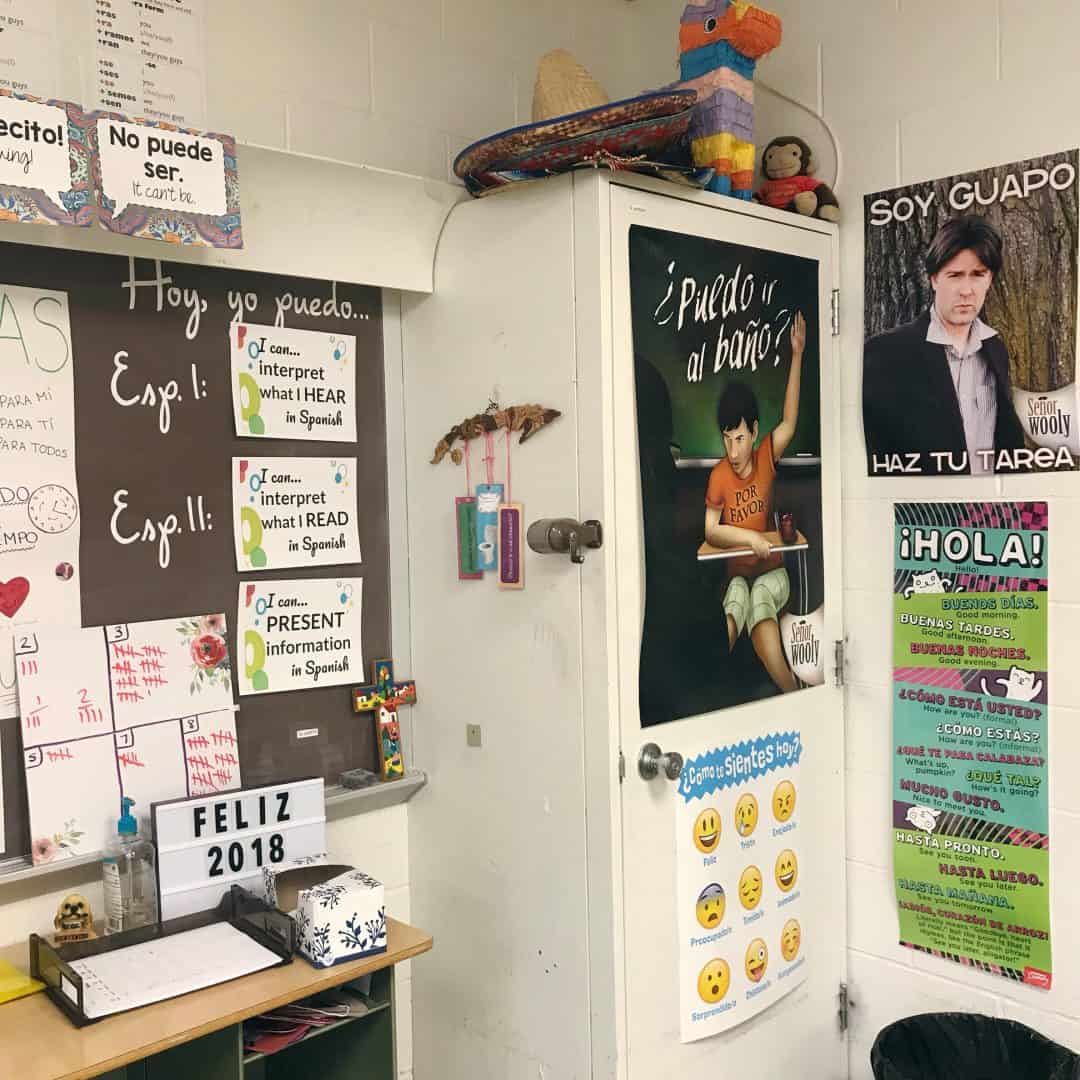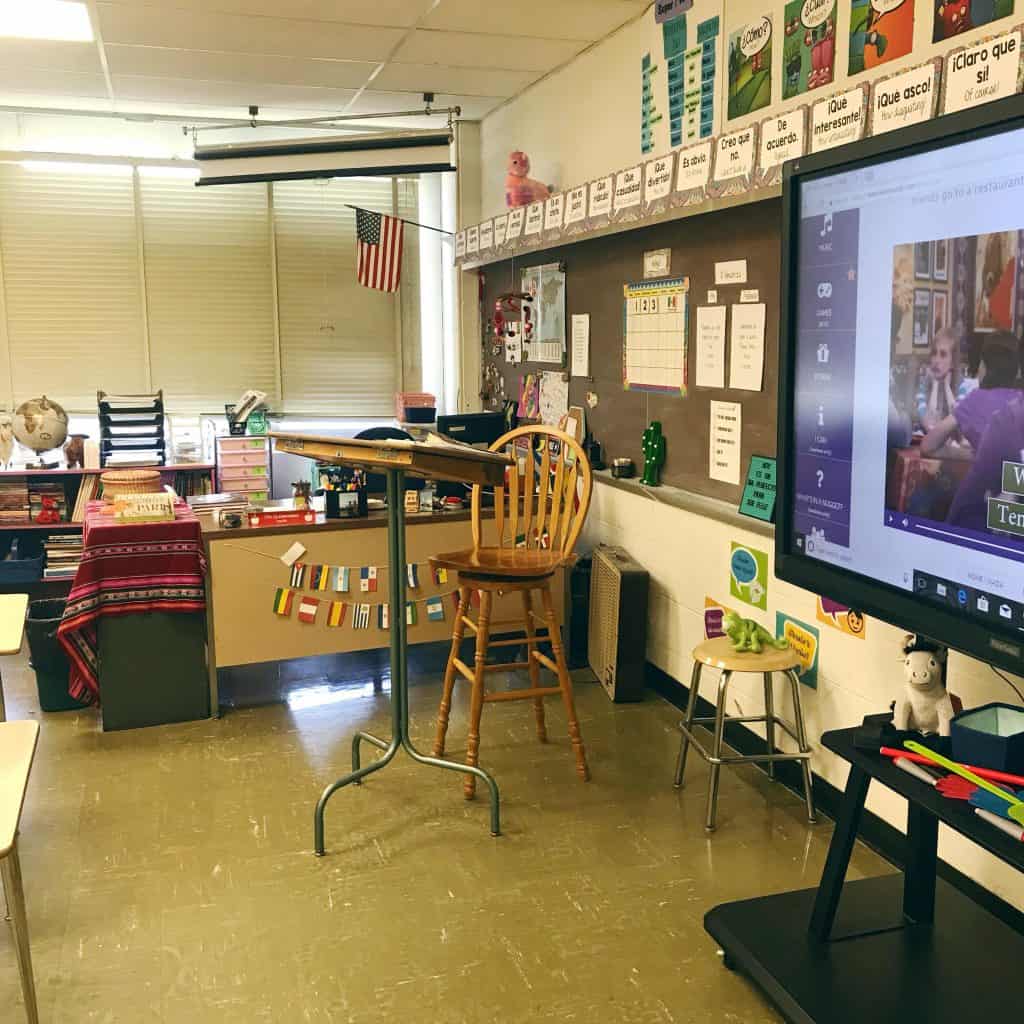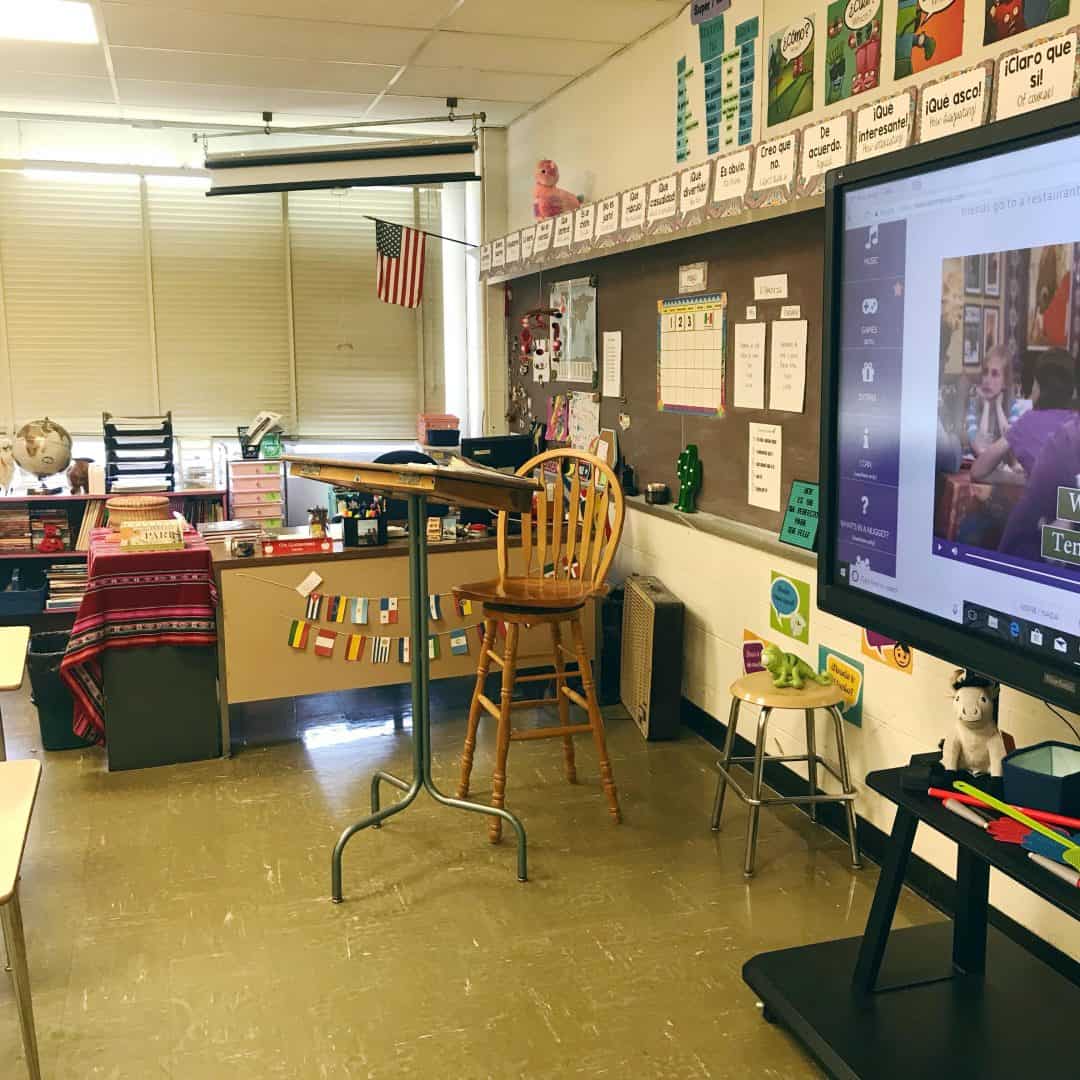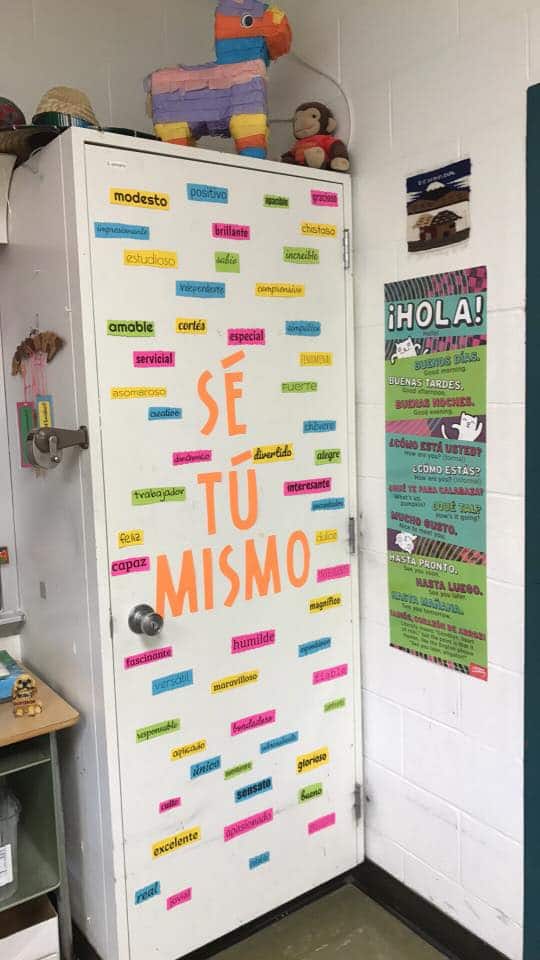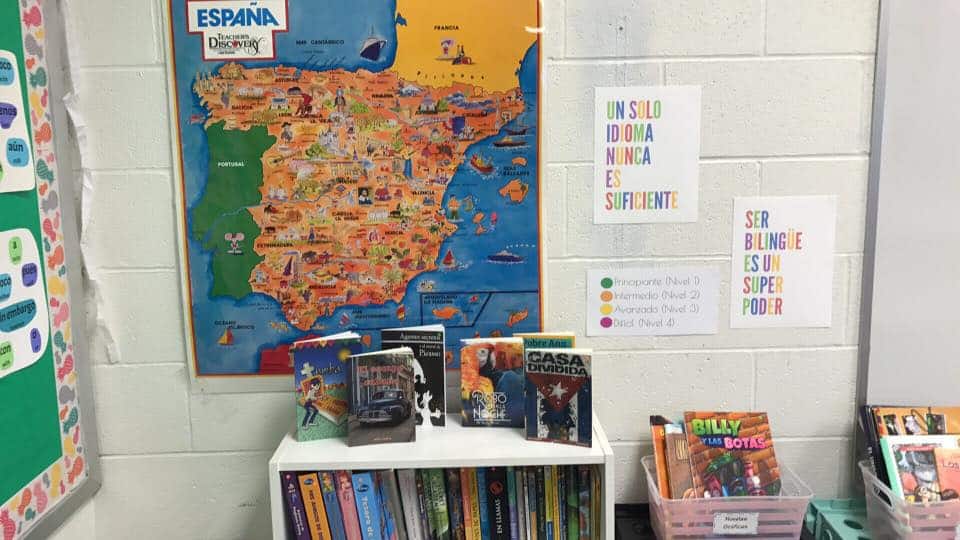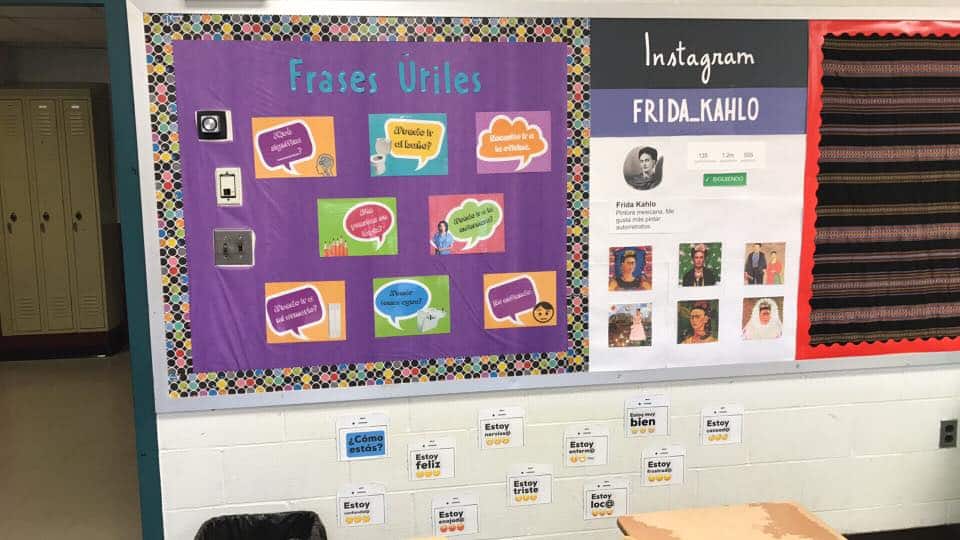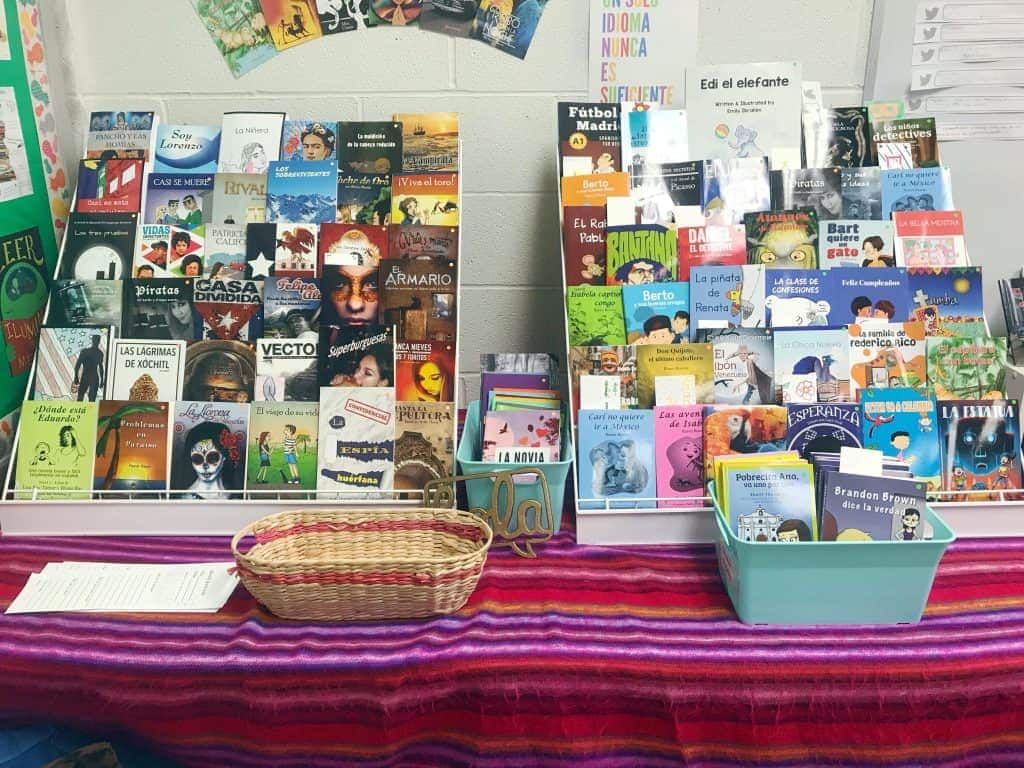 CACTUS + WATERCOLOR CLASSROOM
Adorable. Maestra_Cutshall says: "I am SO in love with my cactus-themed classroom this year! I was pretty sad about being in a portable classroom, but I'm now so cozy in our wood paneling, and I can't imagine how I lived without all the storage (in a non-functioning bathroom hidden behind the shower curtains 😂.)"

Profe: Maestra_Cutshall
Instagram: @maestra_cutshall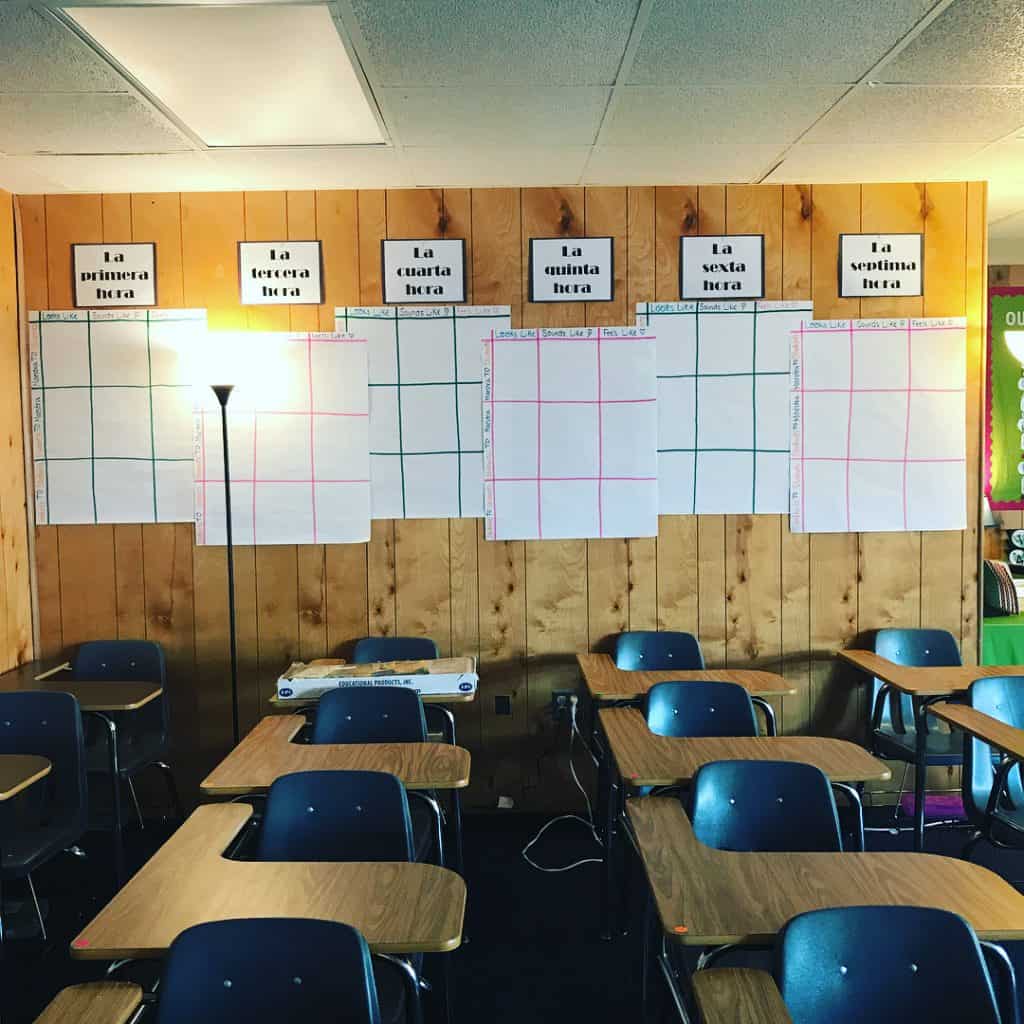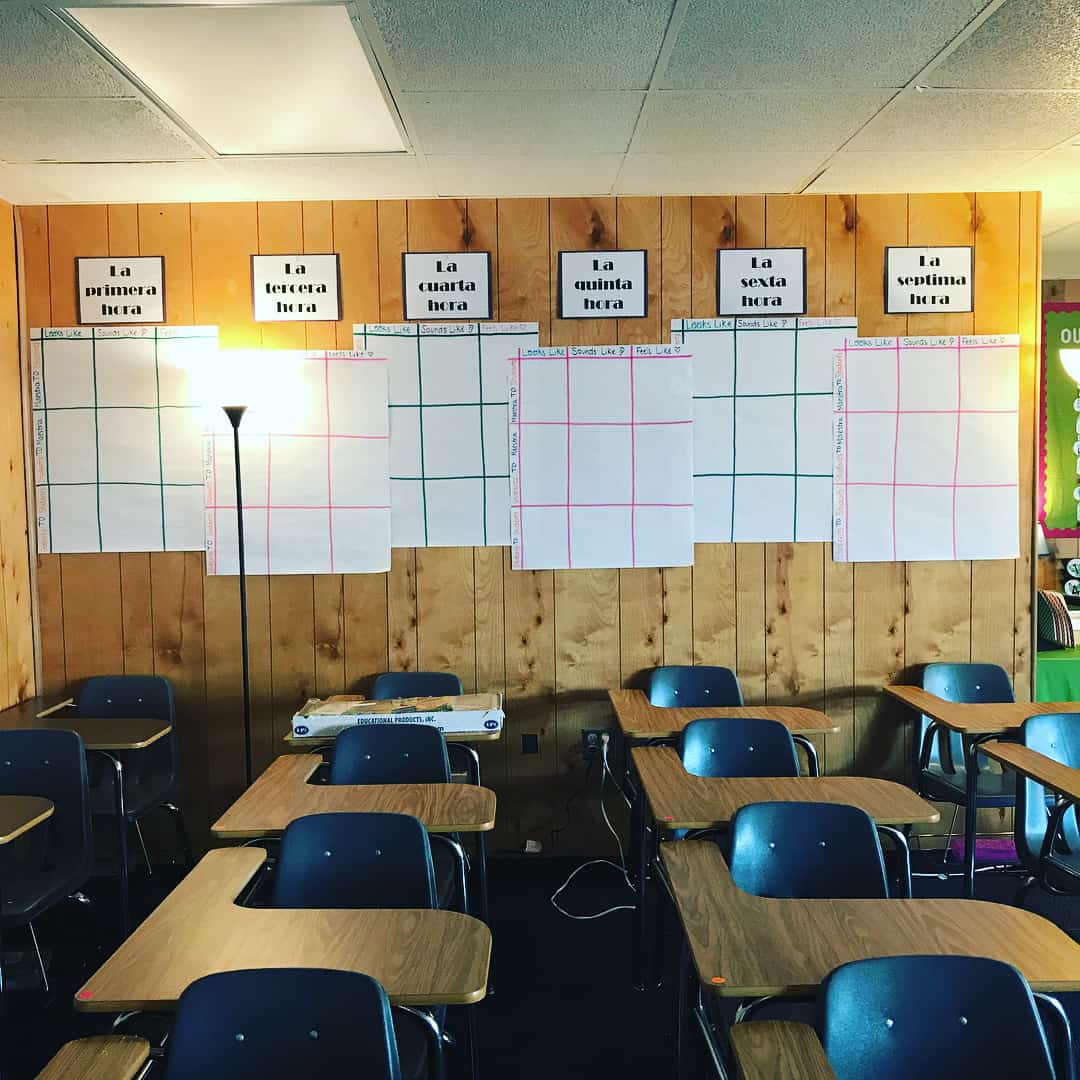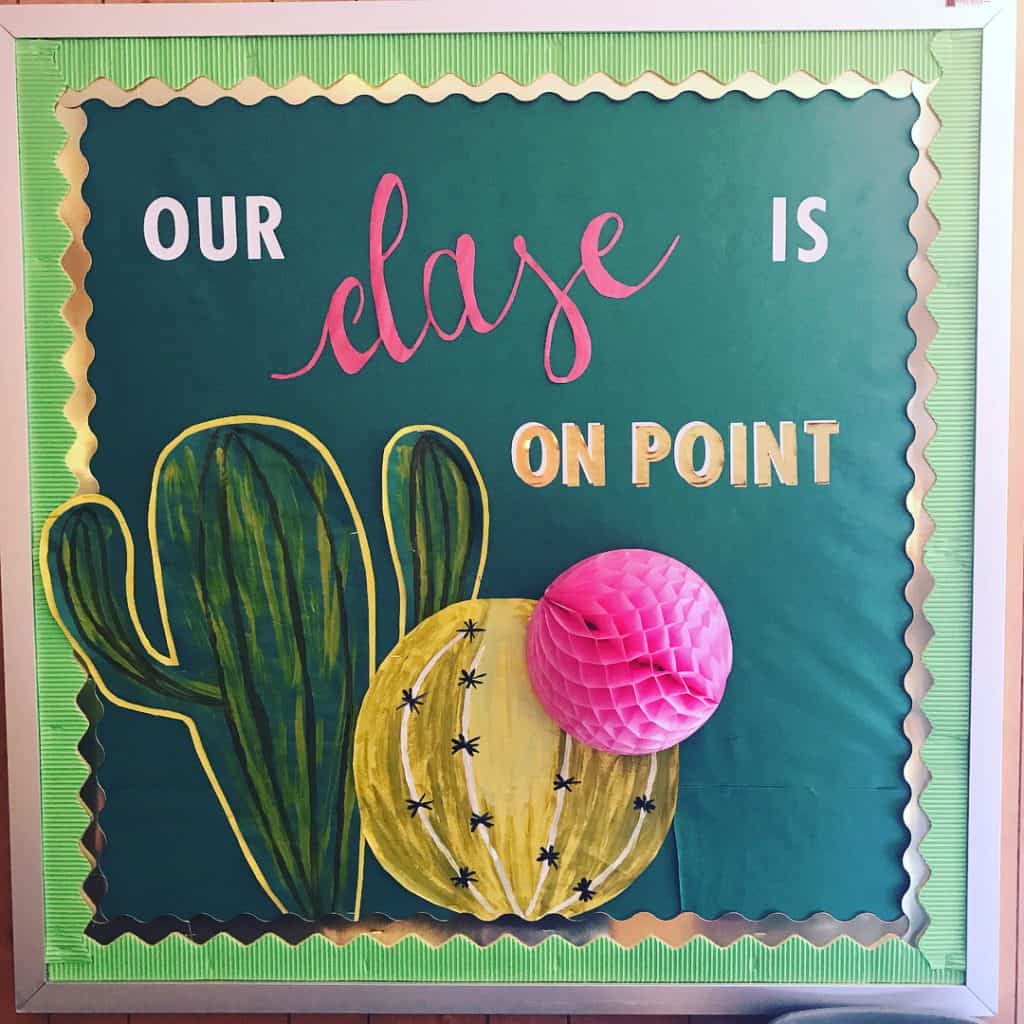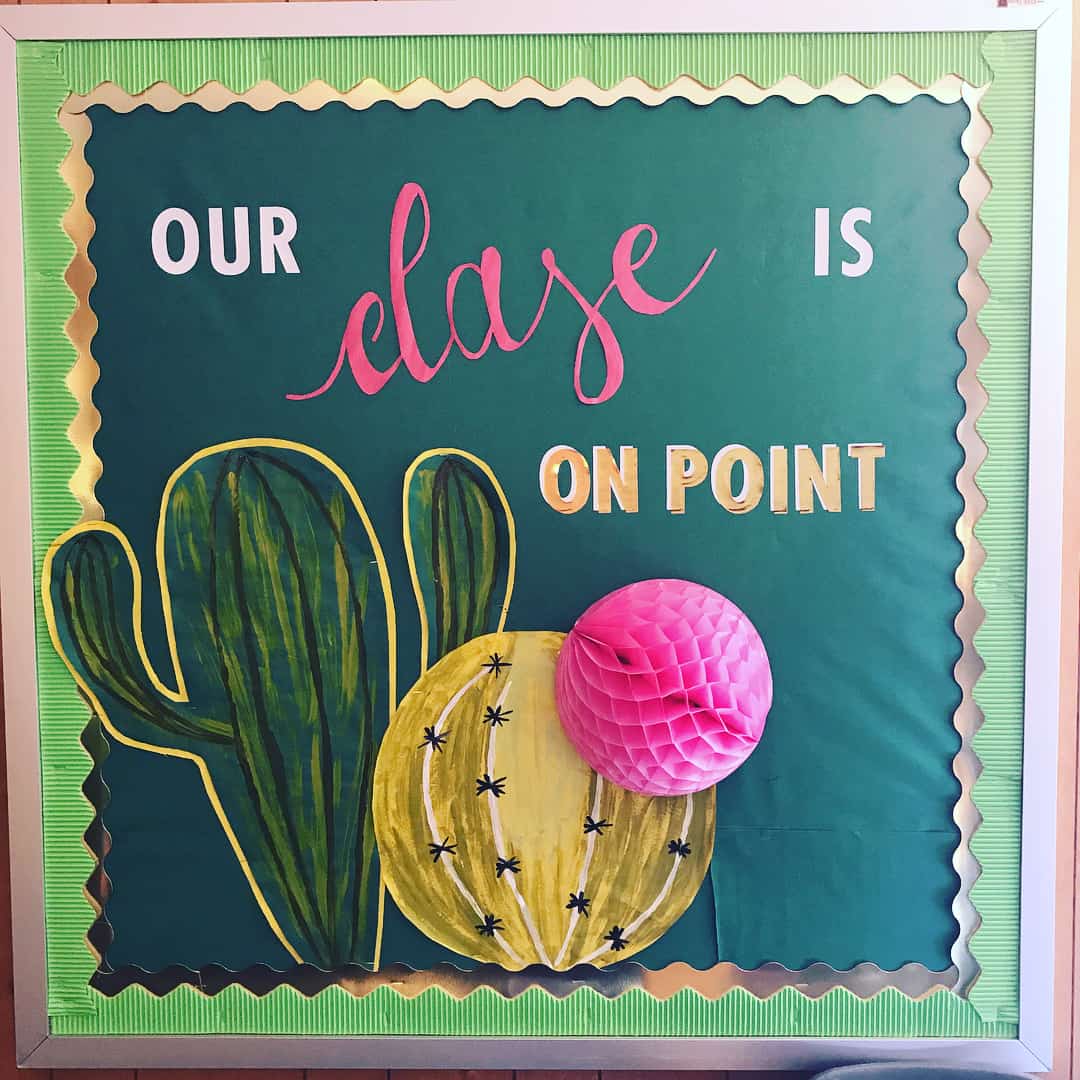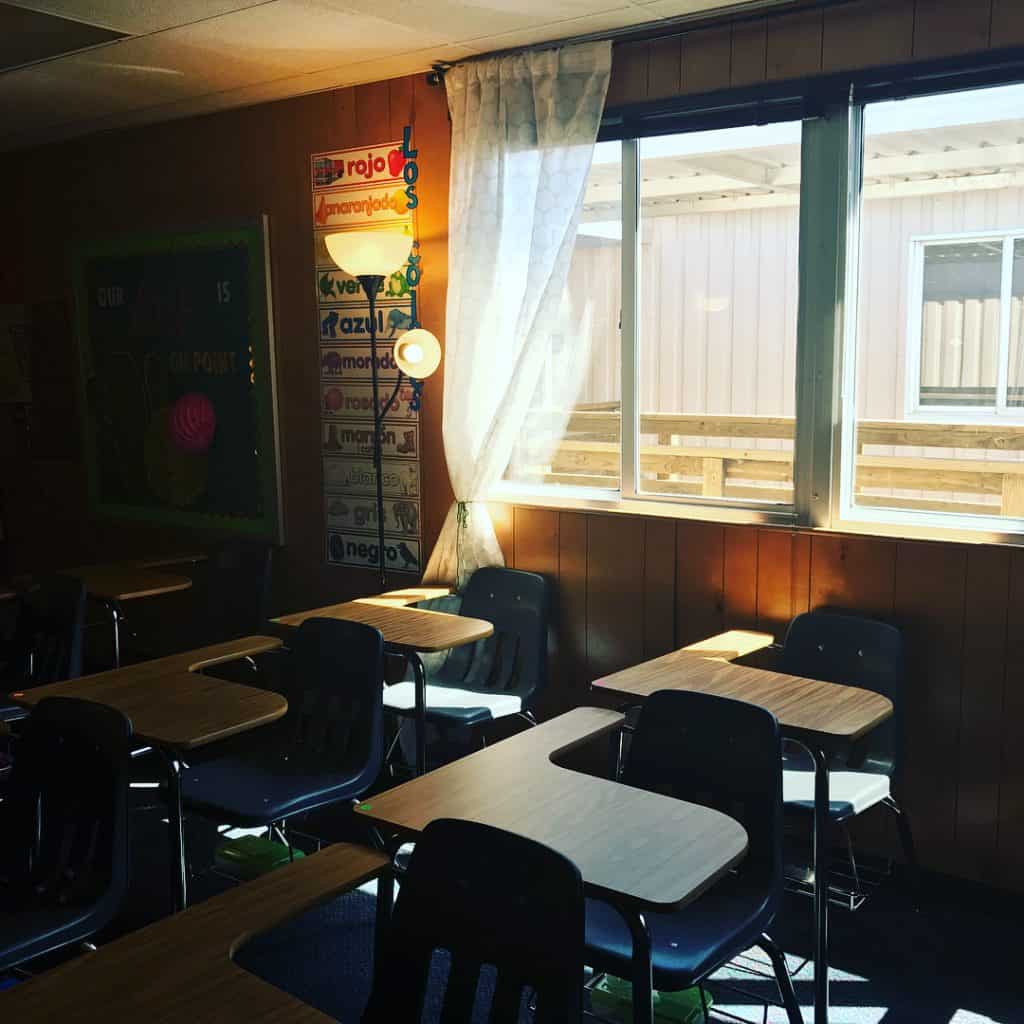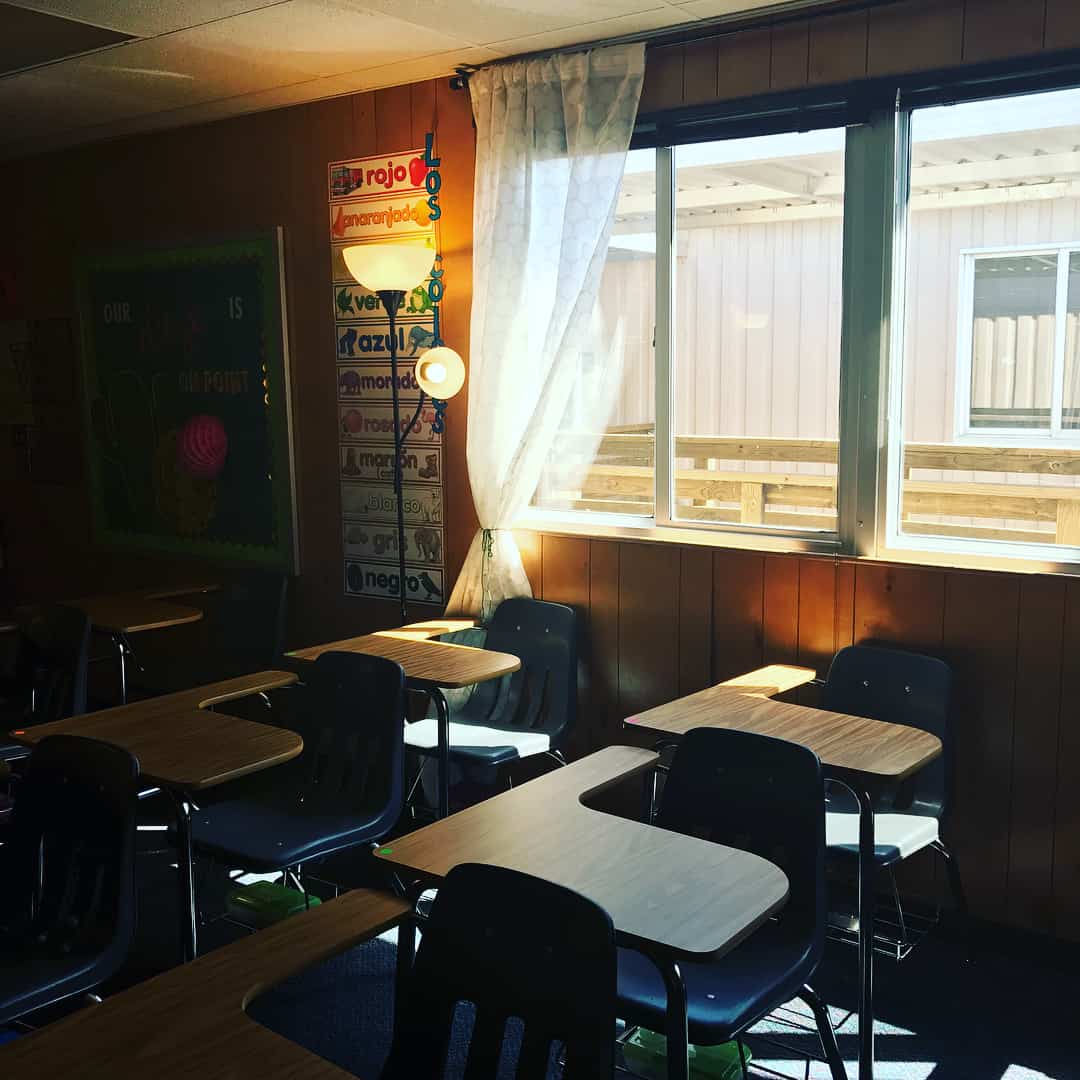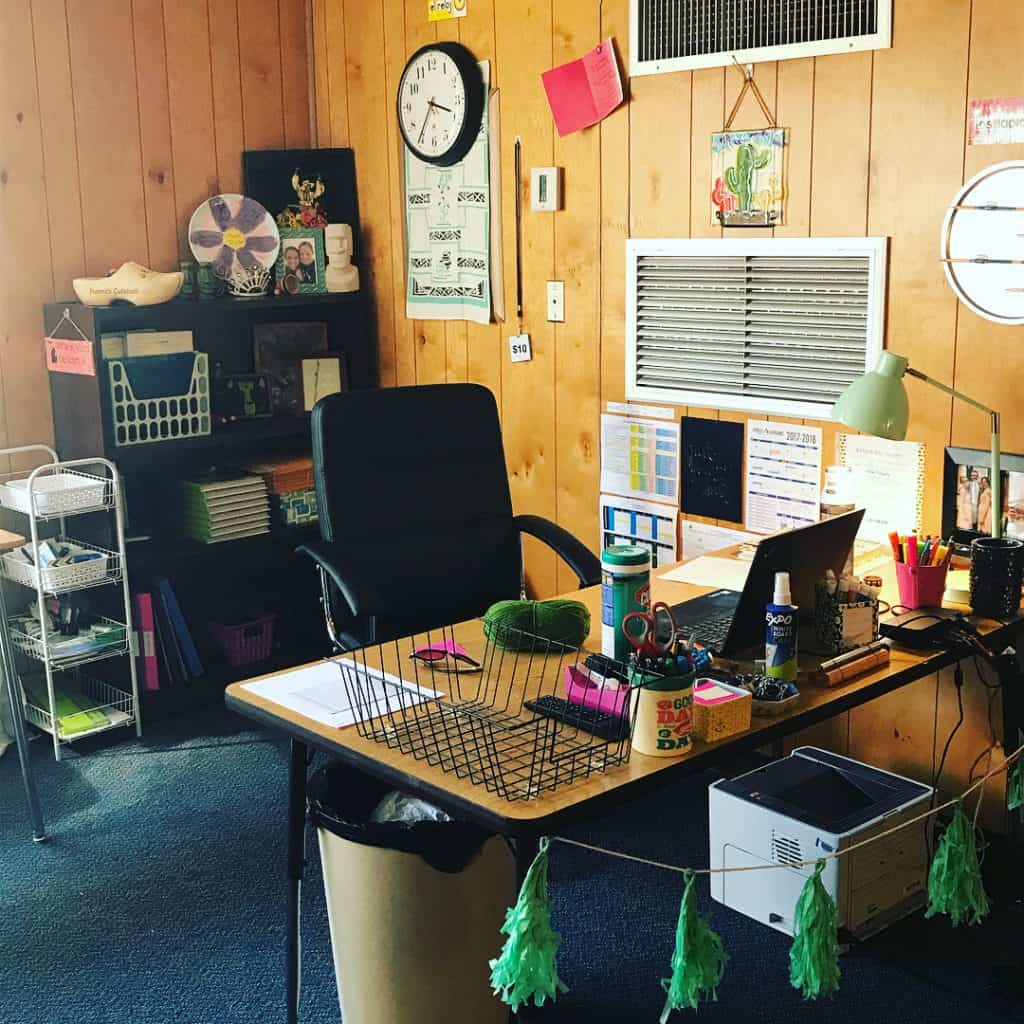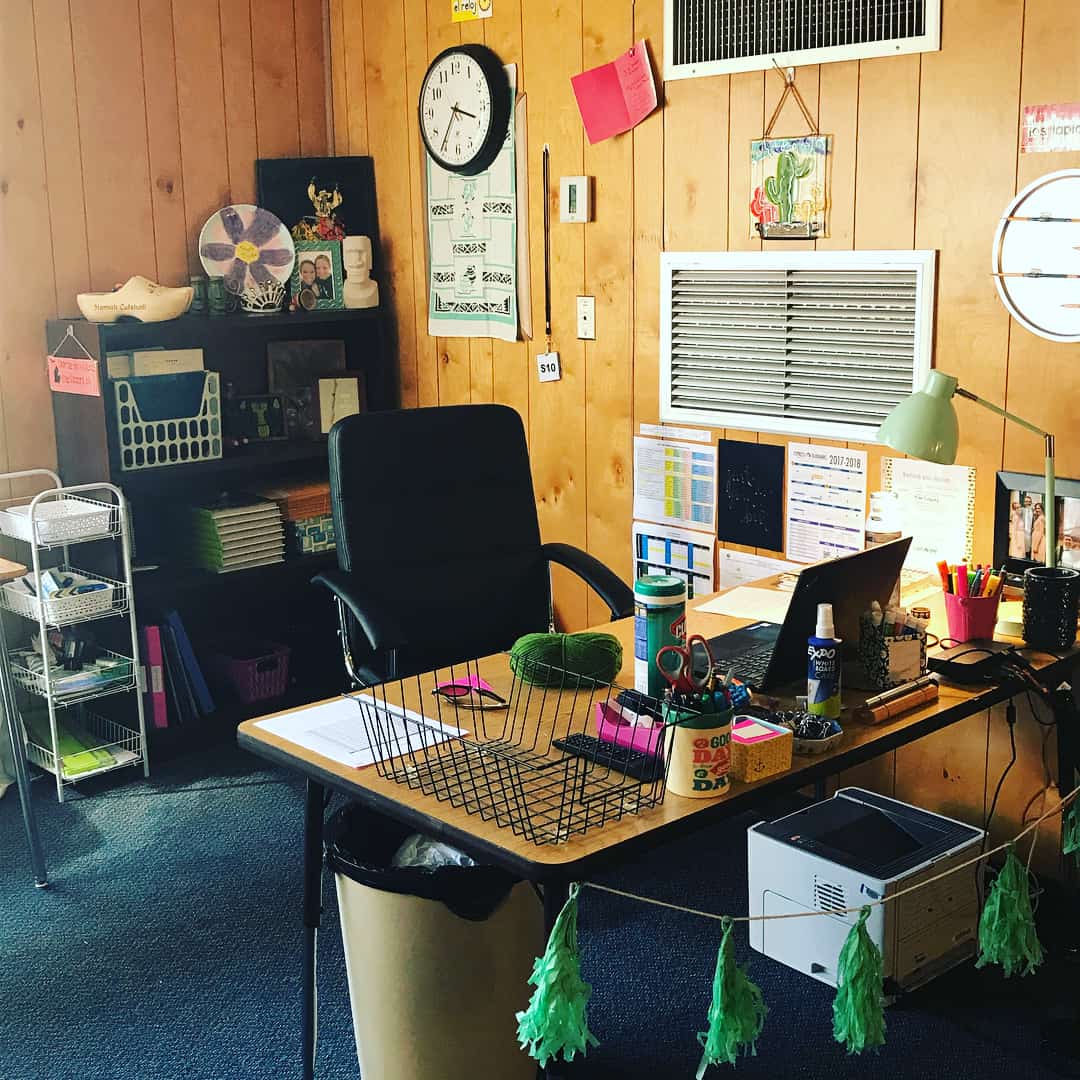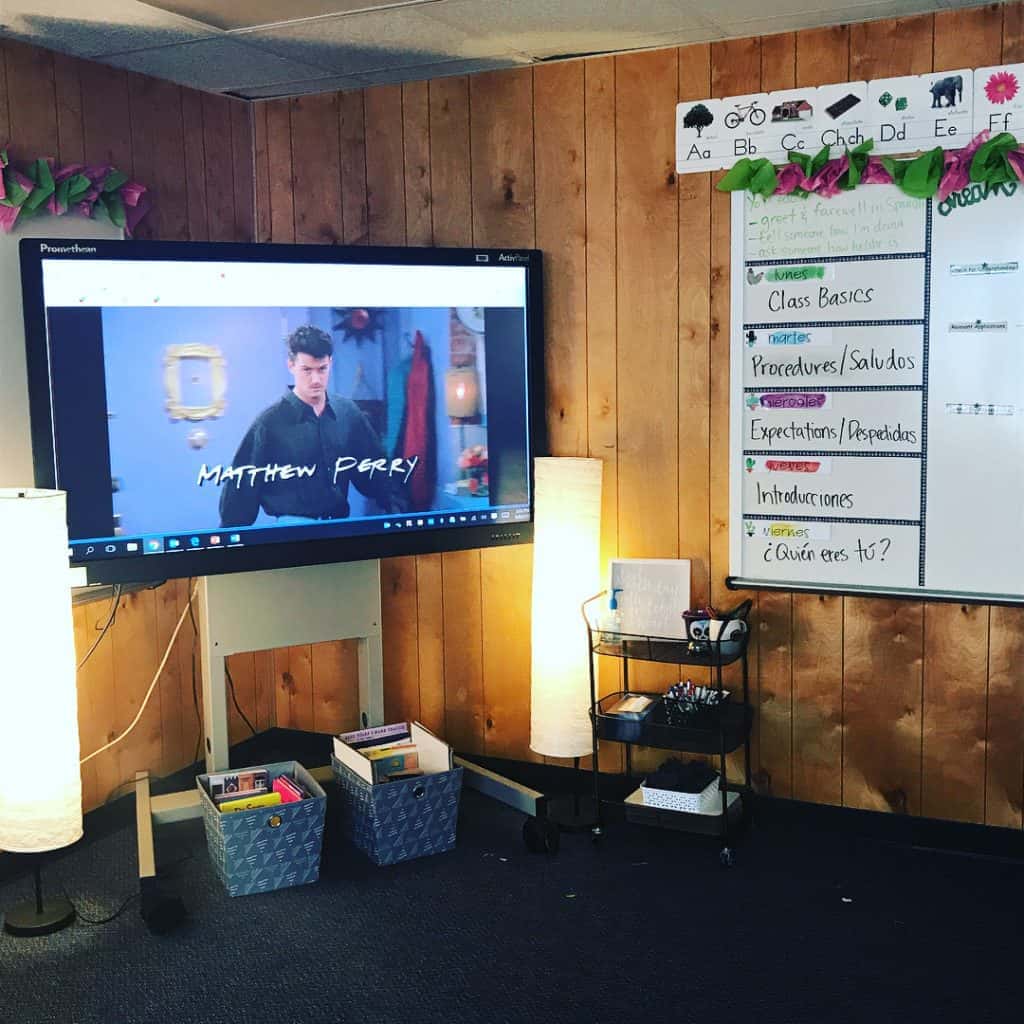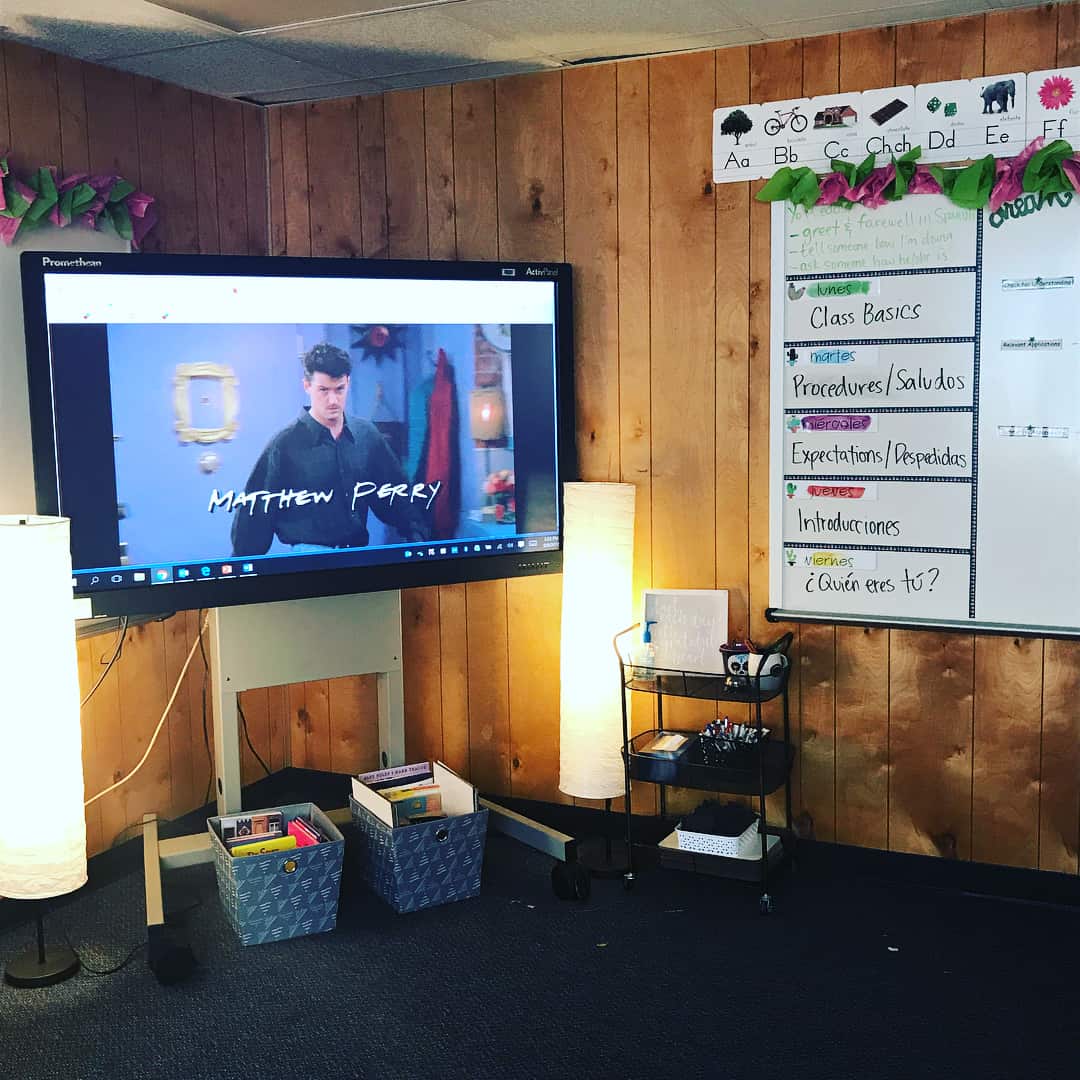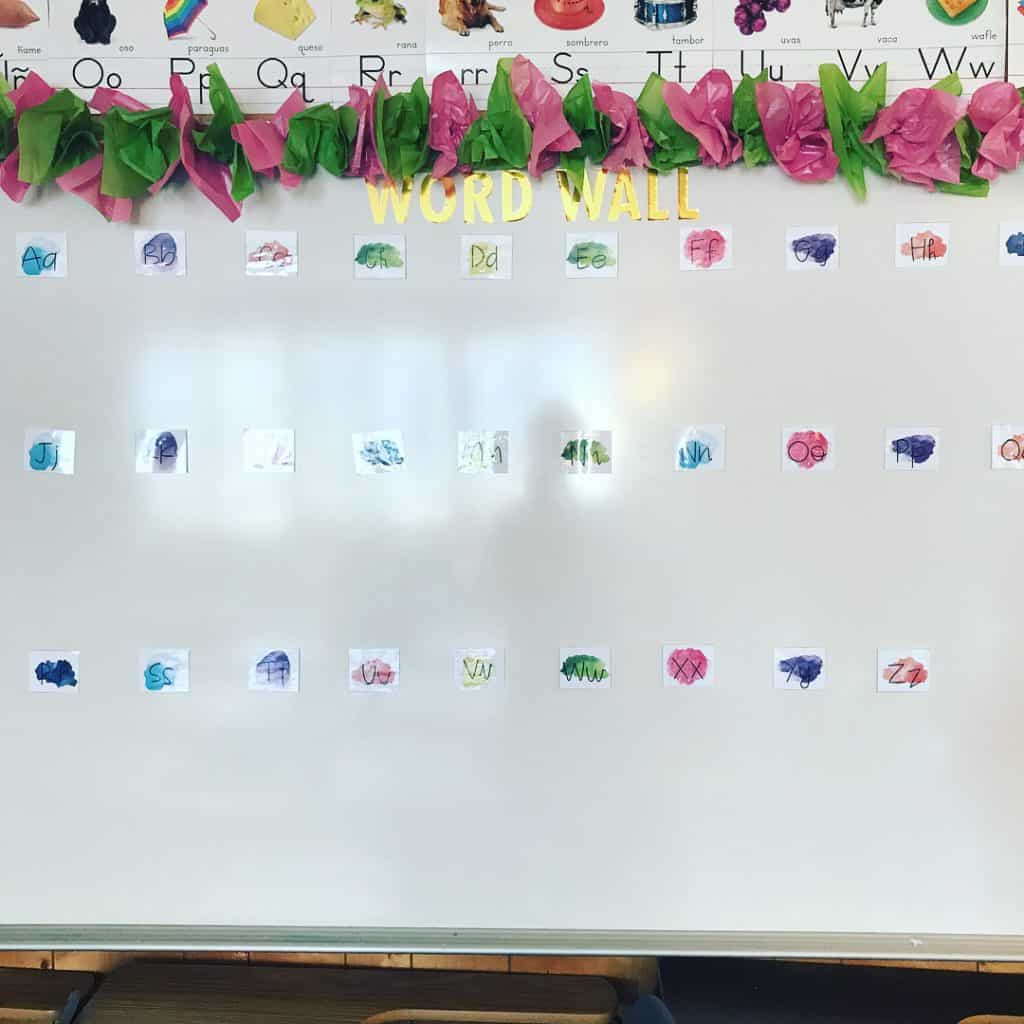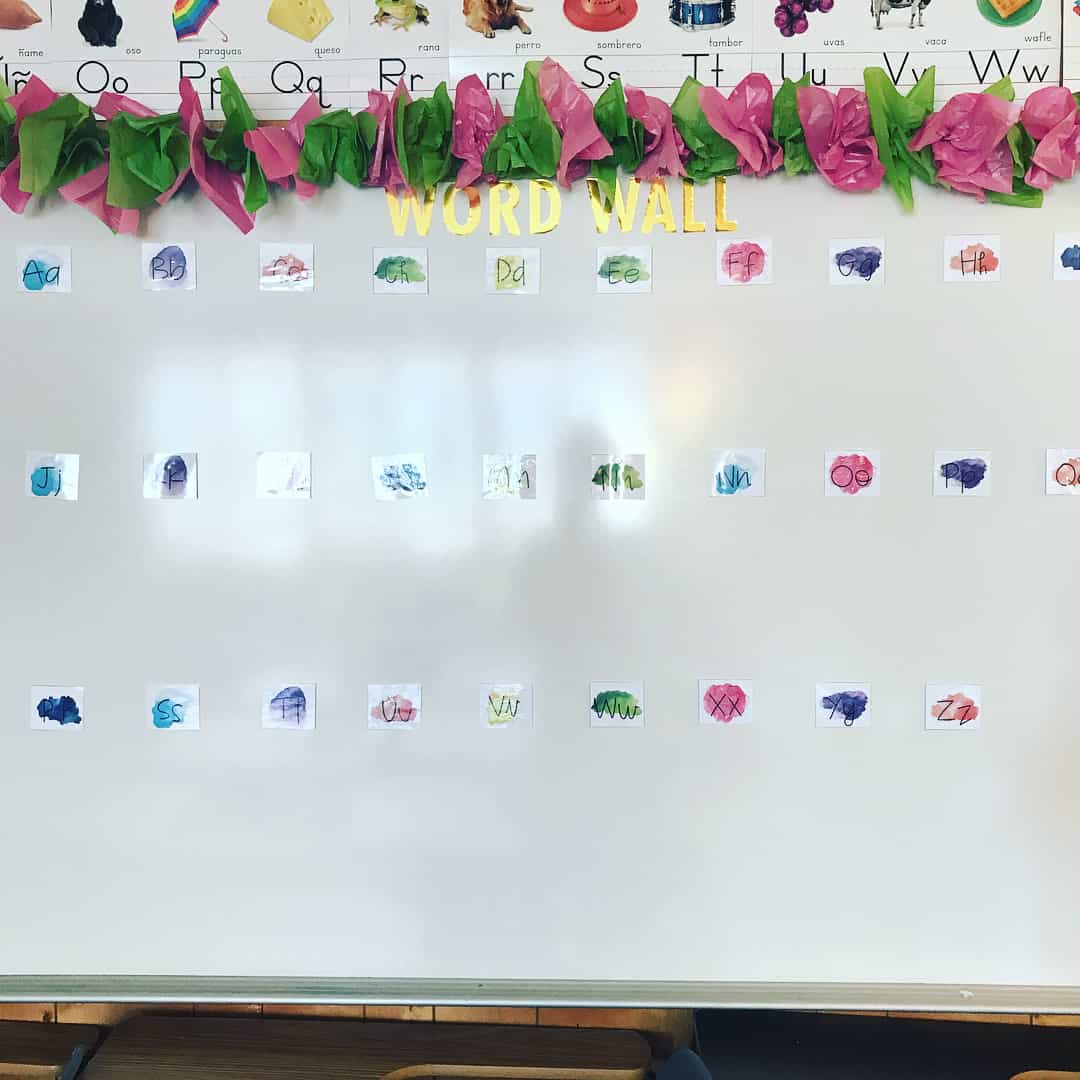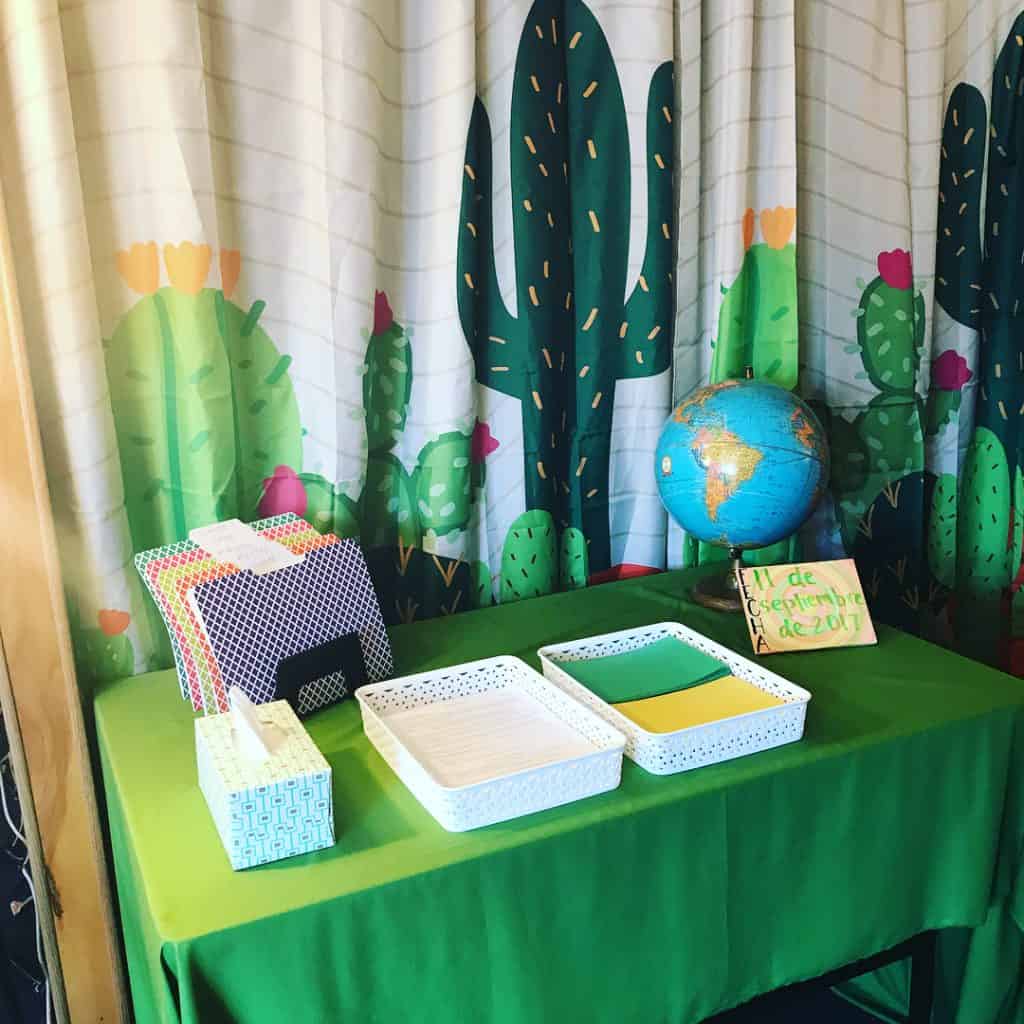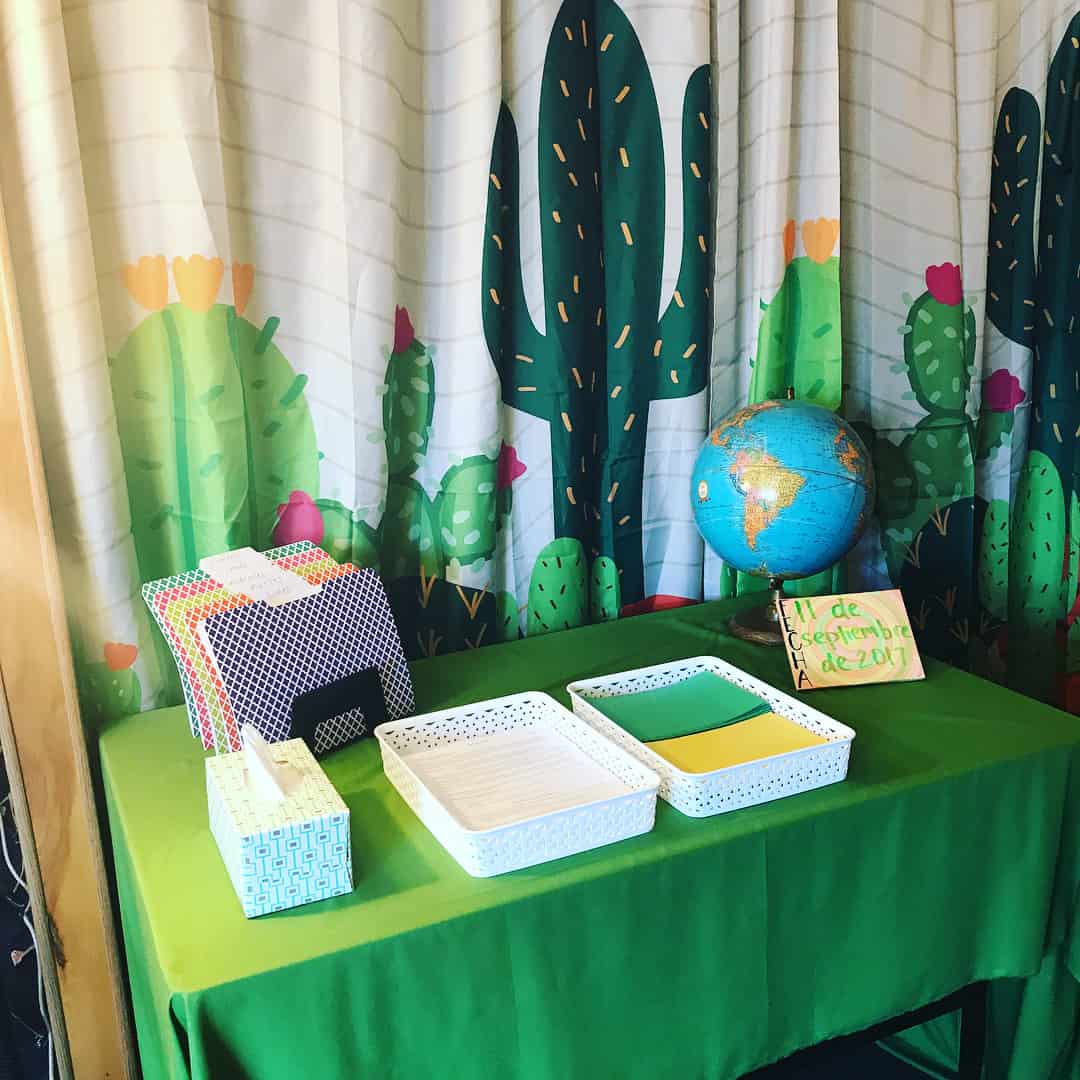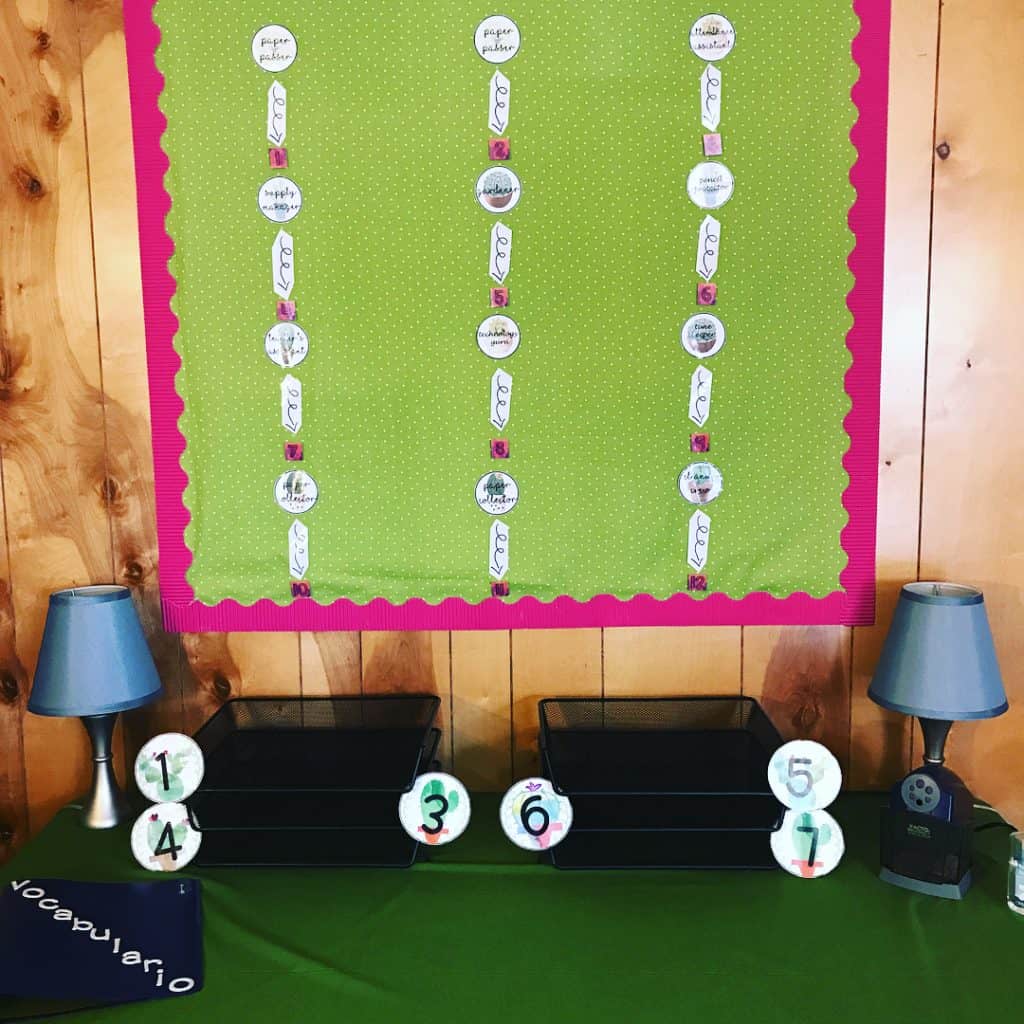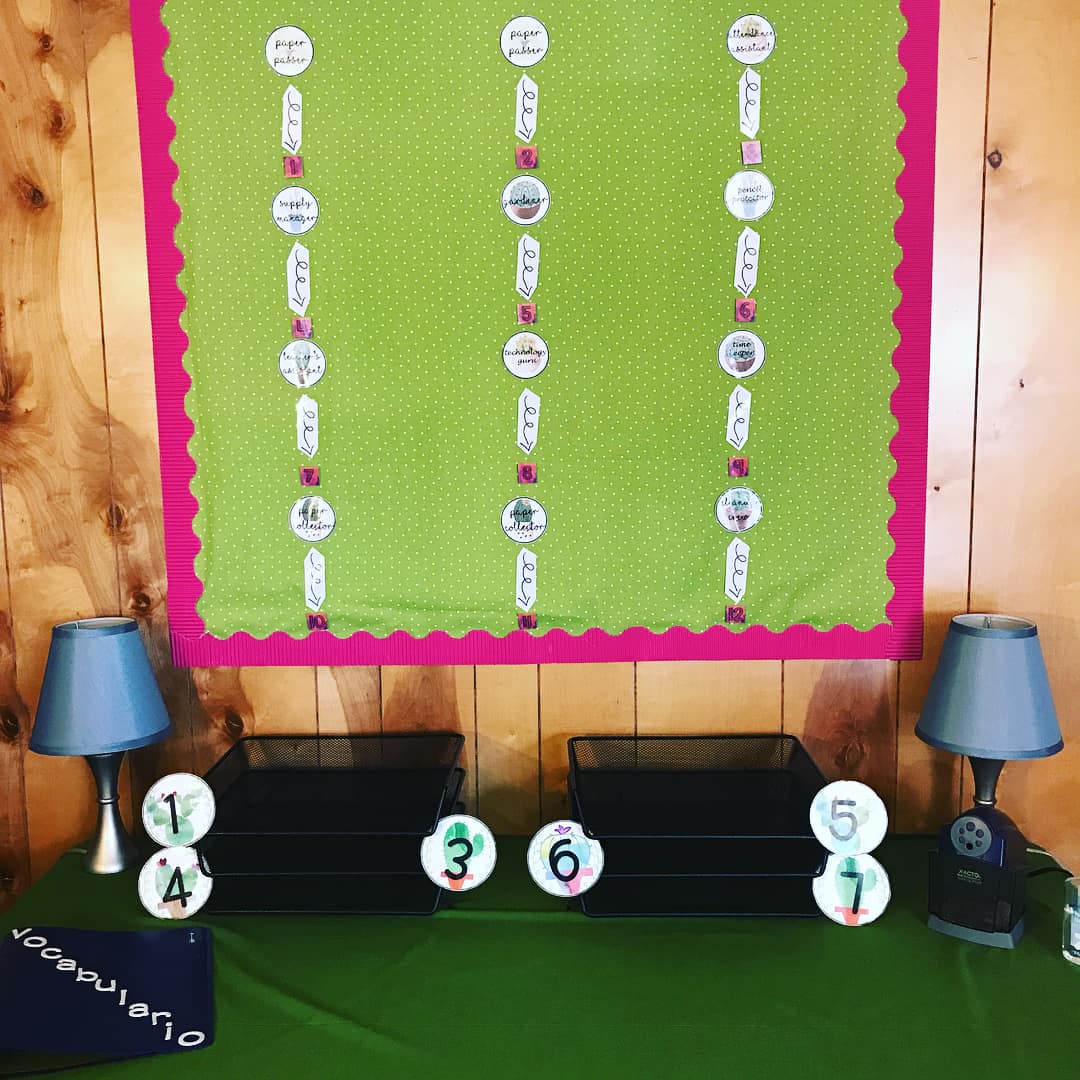 #MOOD
Though the tables have since been removed, you can still get the comfy vibe. I love the hanging flags and giant cushions.

Profe: Carrie Daniels Toth
Blog: Somewhere to Share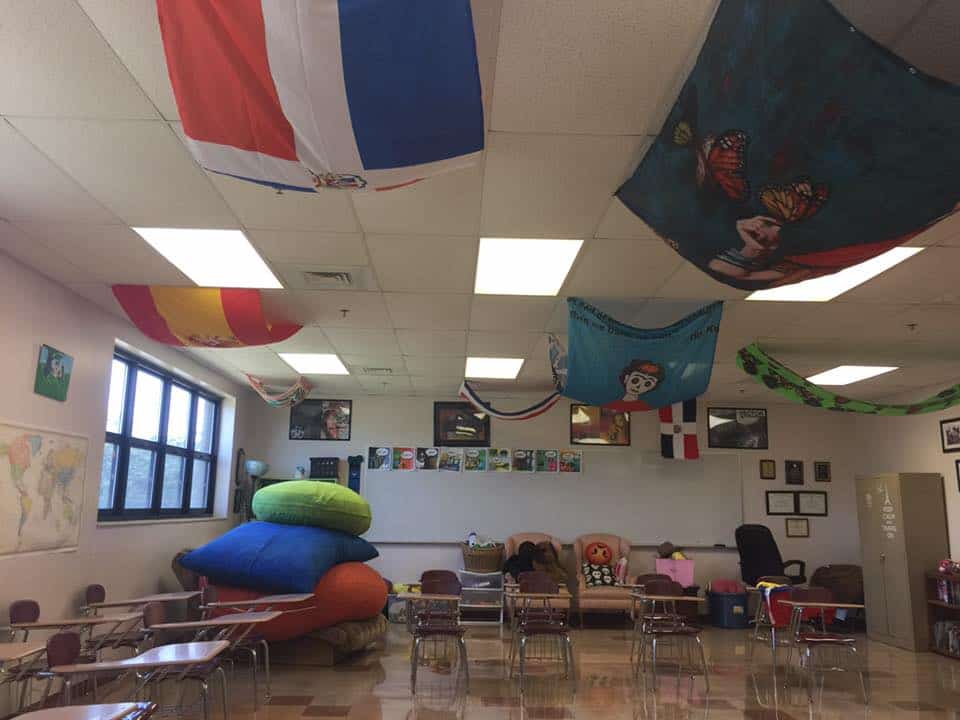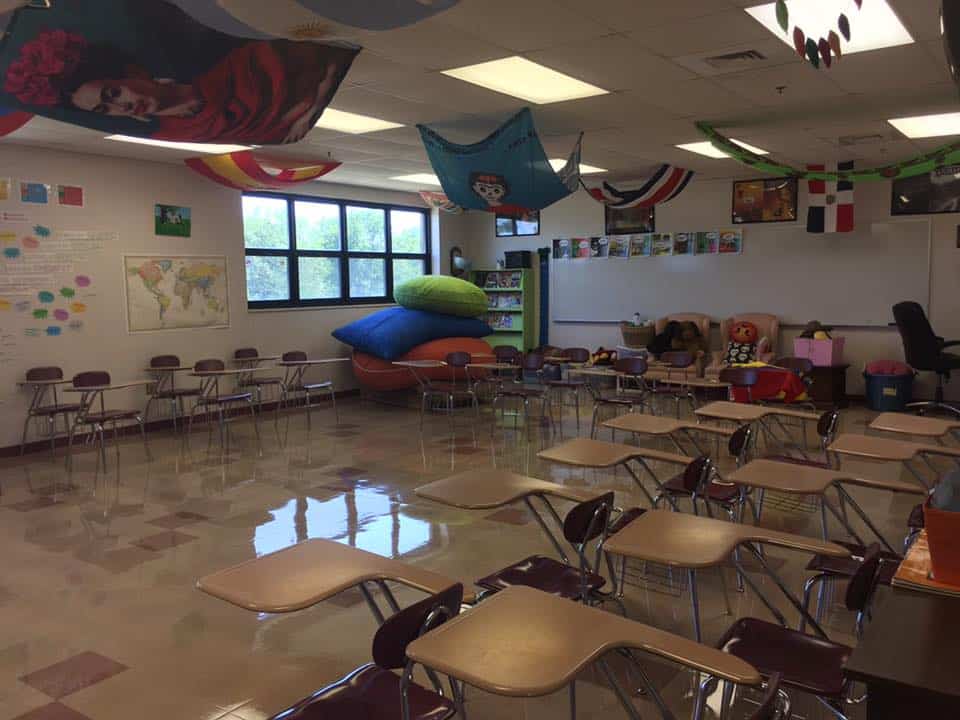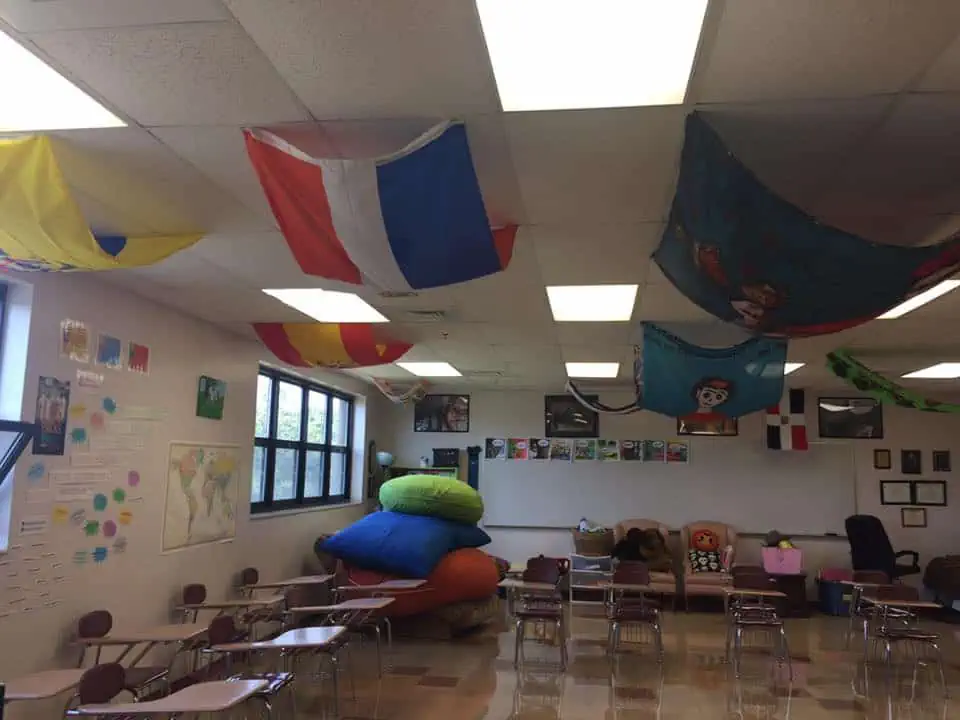 ROWS TO CIRCLE
Here's a small classroom that went from rows of tables to a circle of flexible seating. Make sure you see the posters on best work and the proficiency bulletin board.

Profe: Karen Skinner (on Twitter as @senoraskinner)
Blog: The Authentic Señora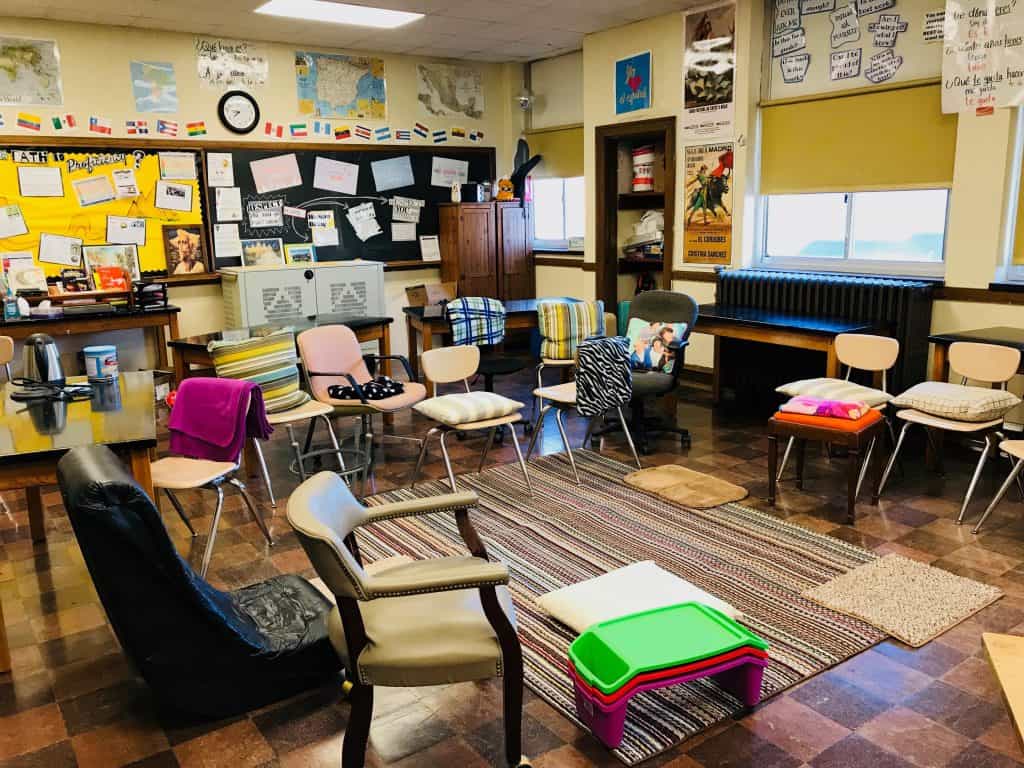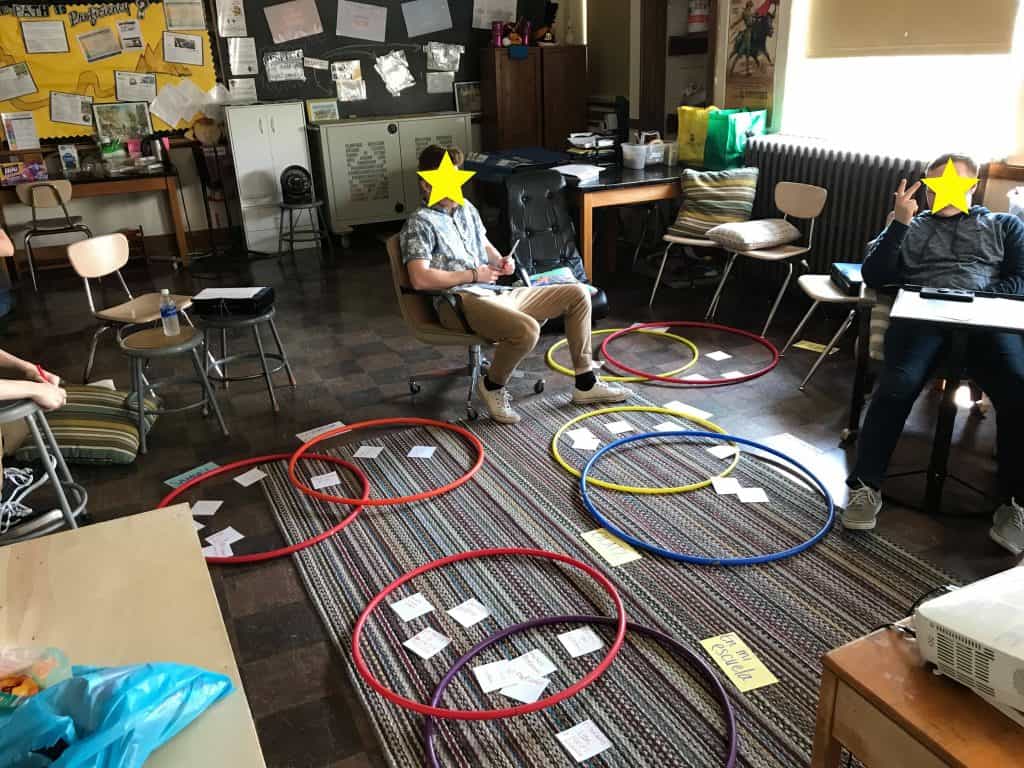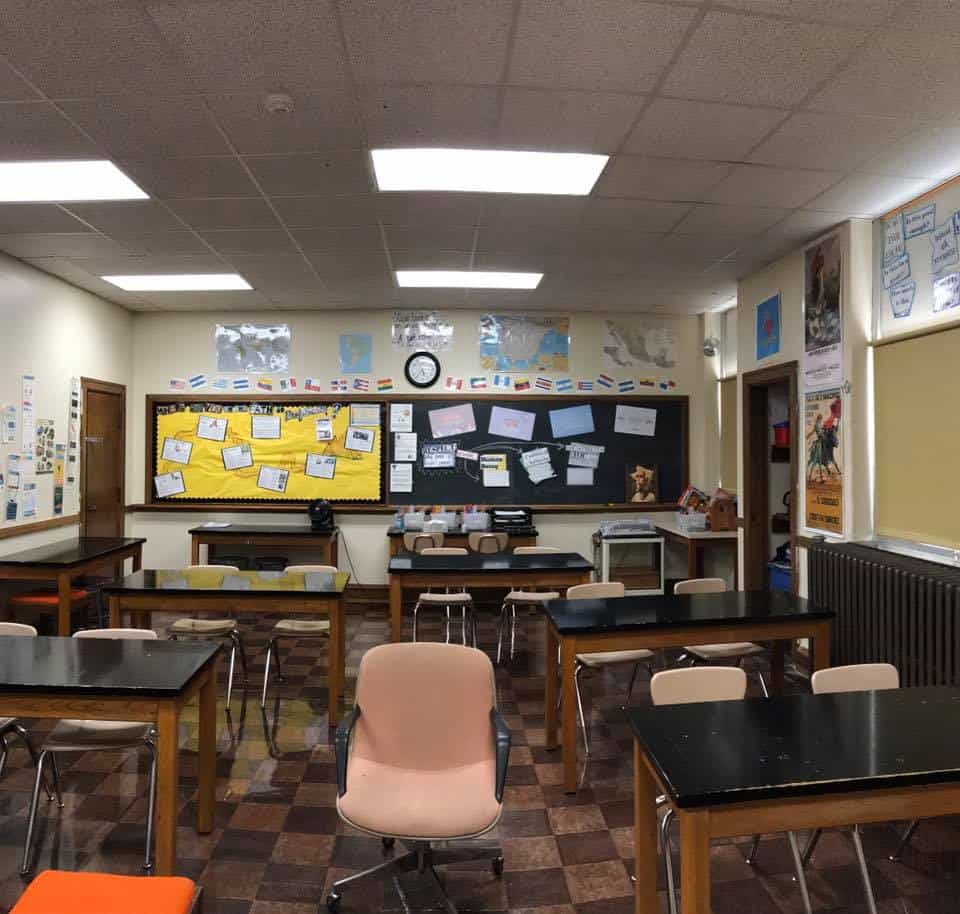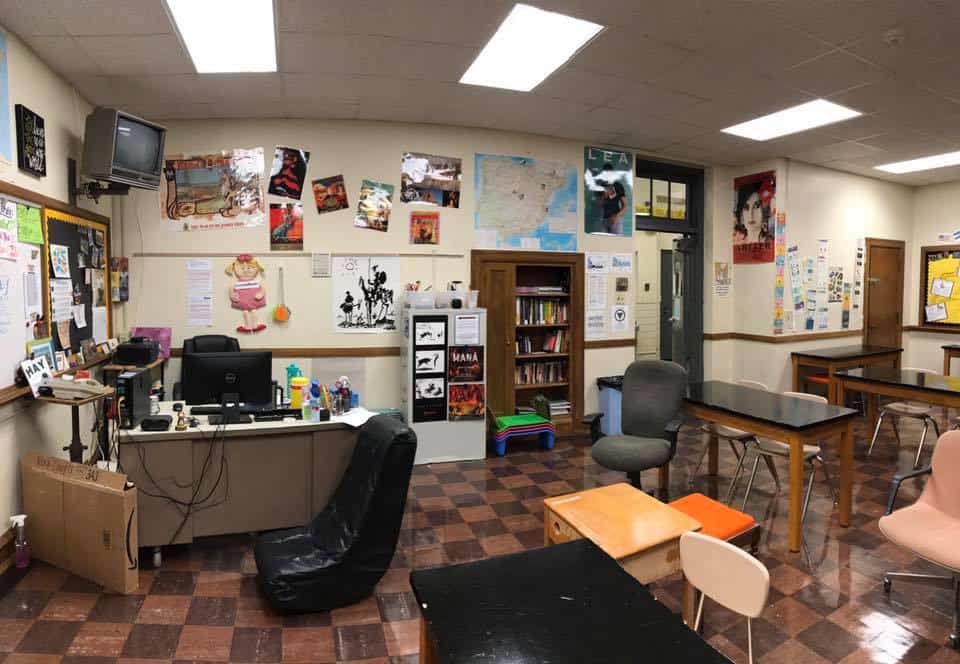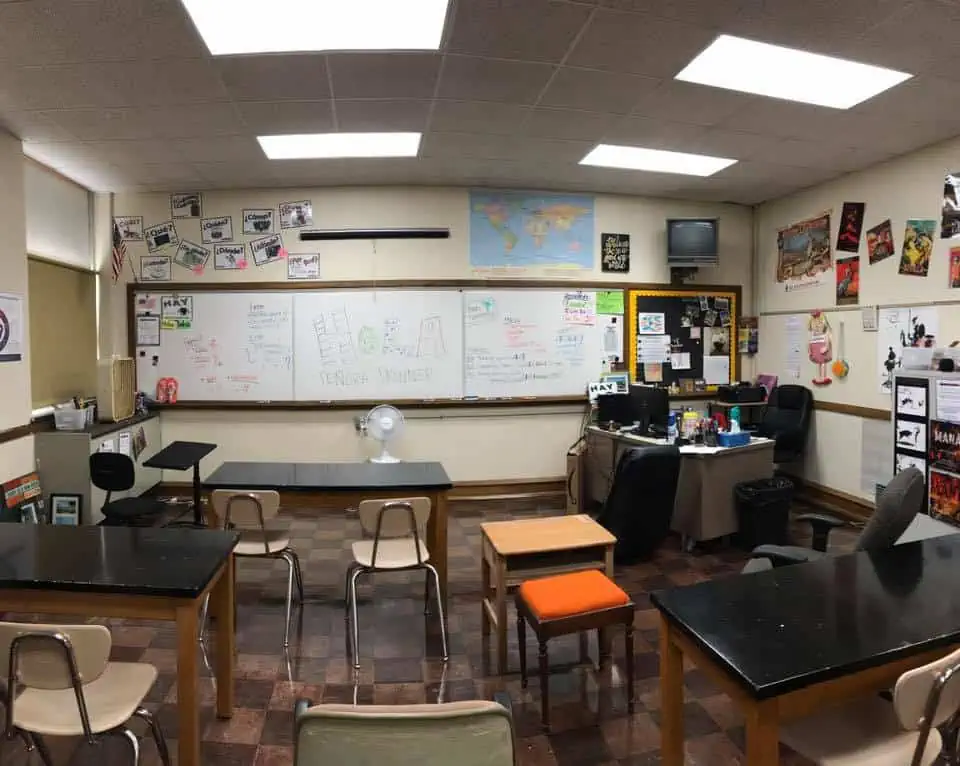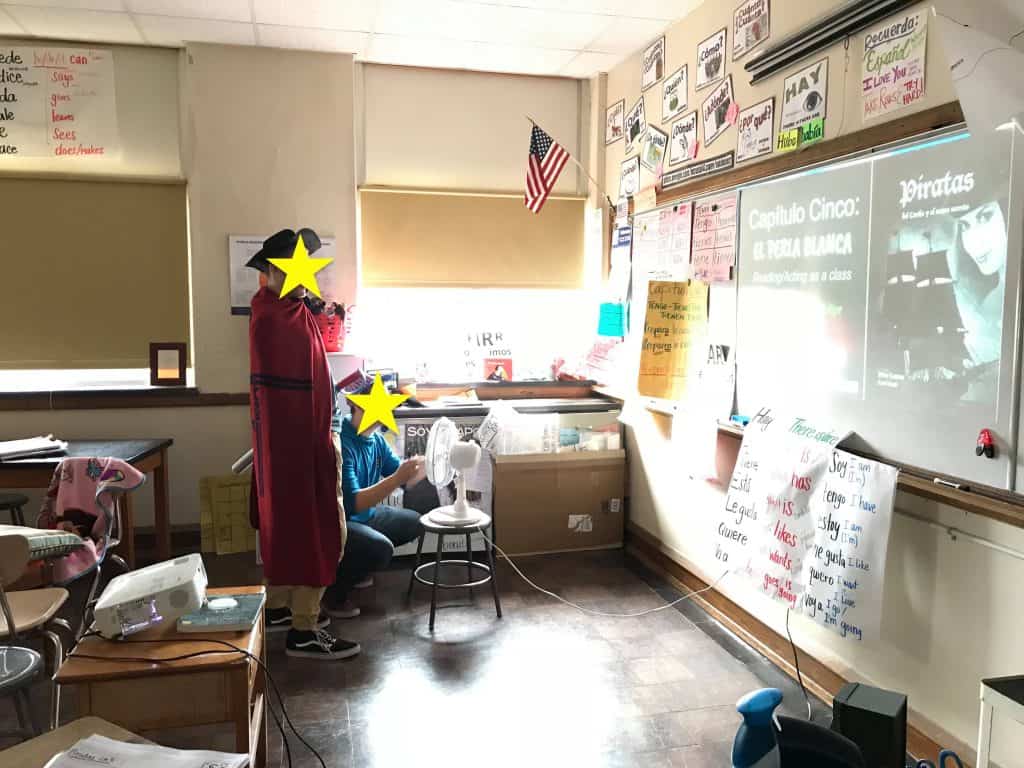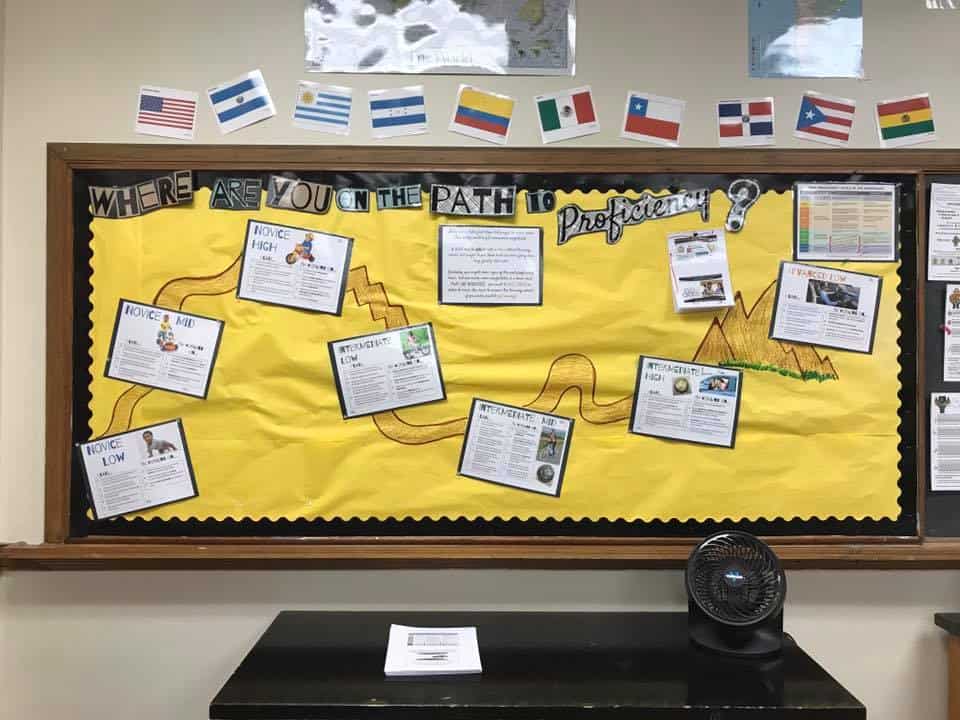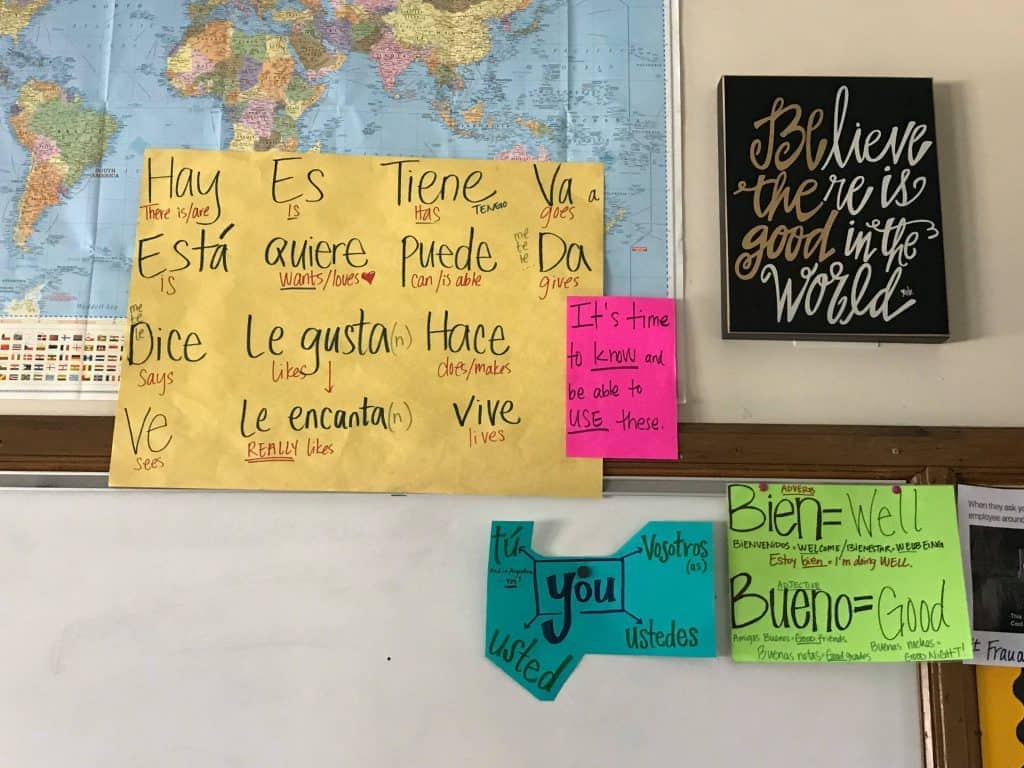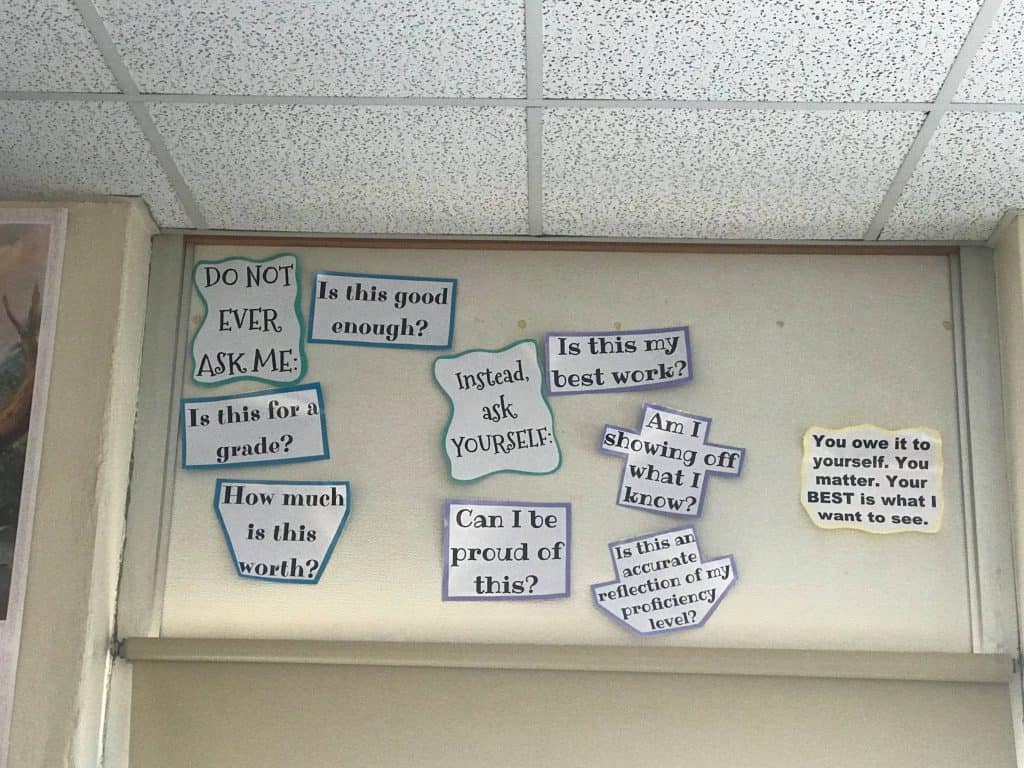 IMMERSED IN CULTURE
These amazing walls are filled with art and culture (and I'm particularly partial to the Peruvian and FC Barcelona themes!).

Profe: Nadia Charcap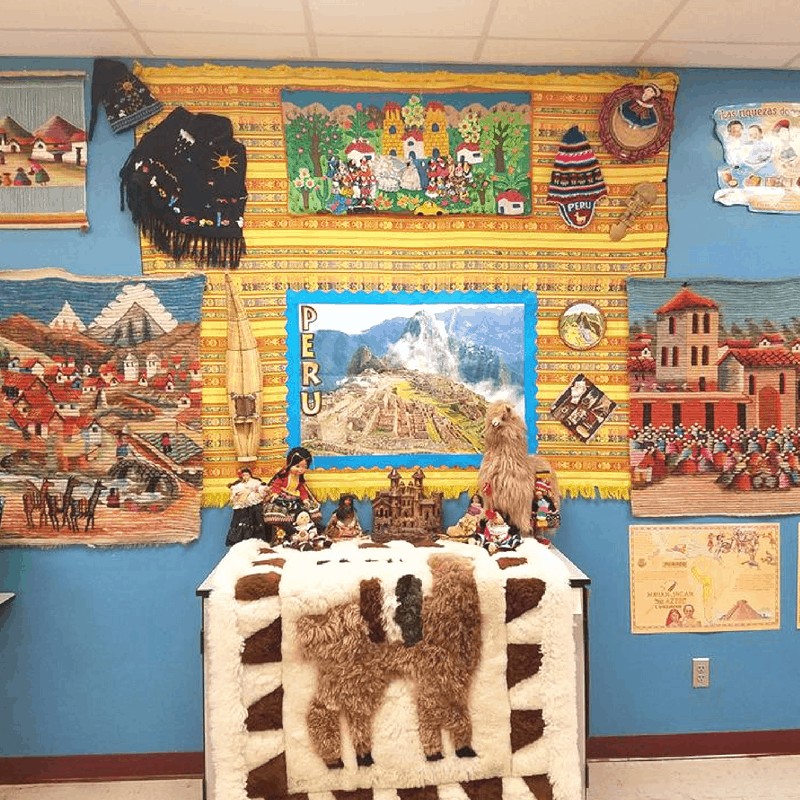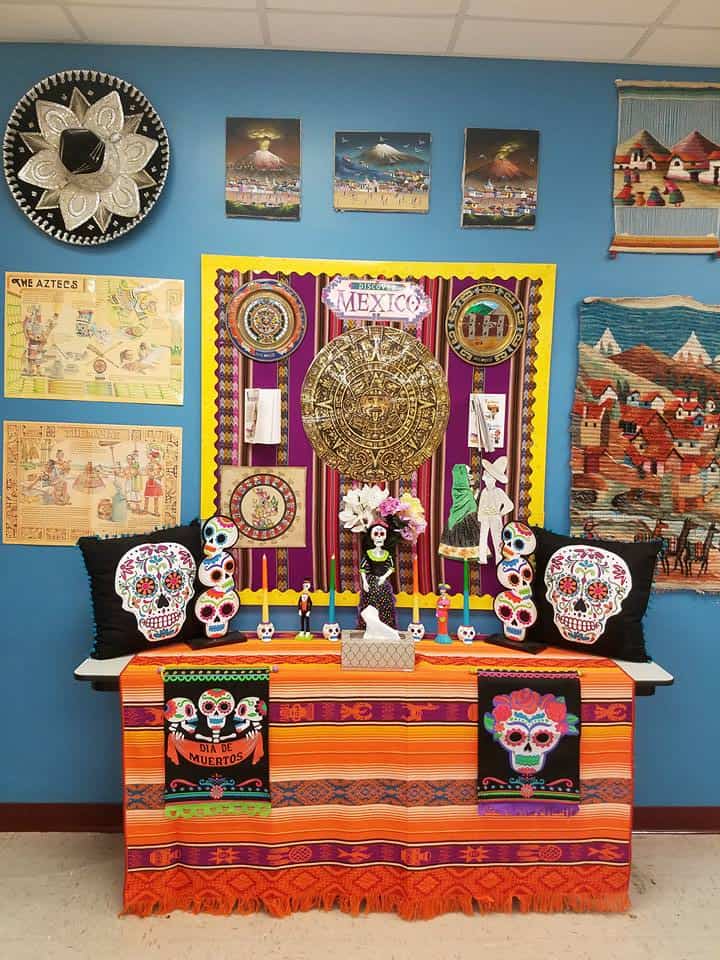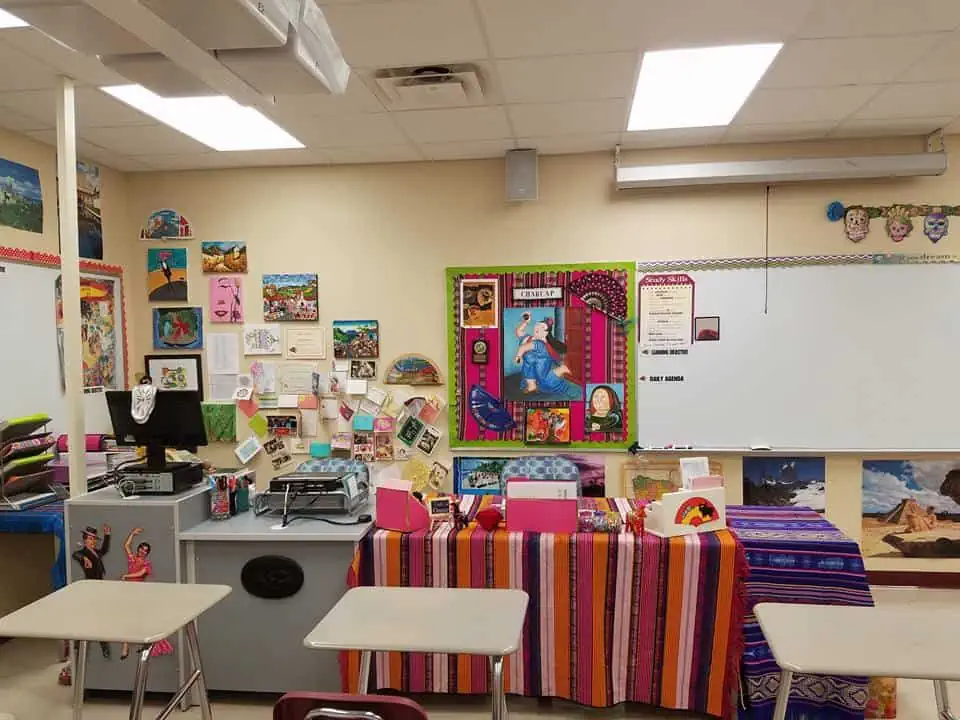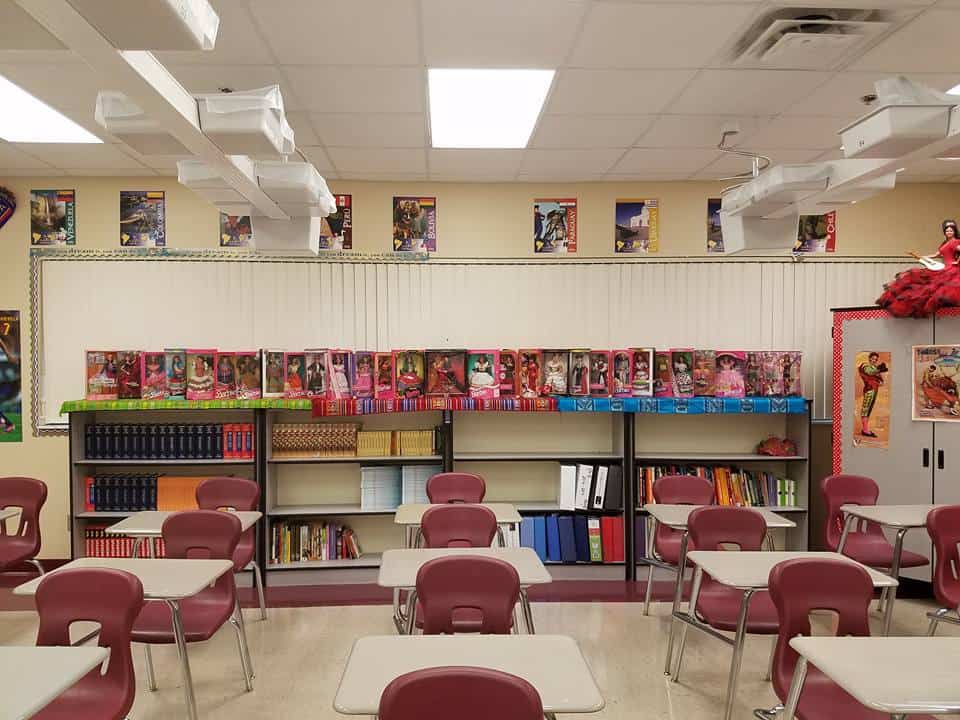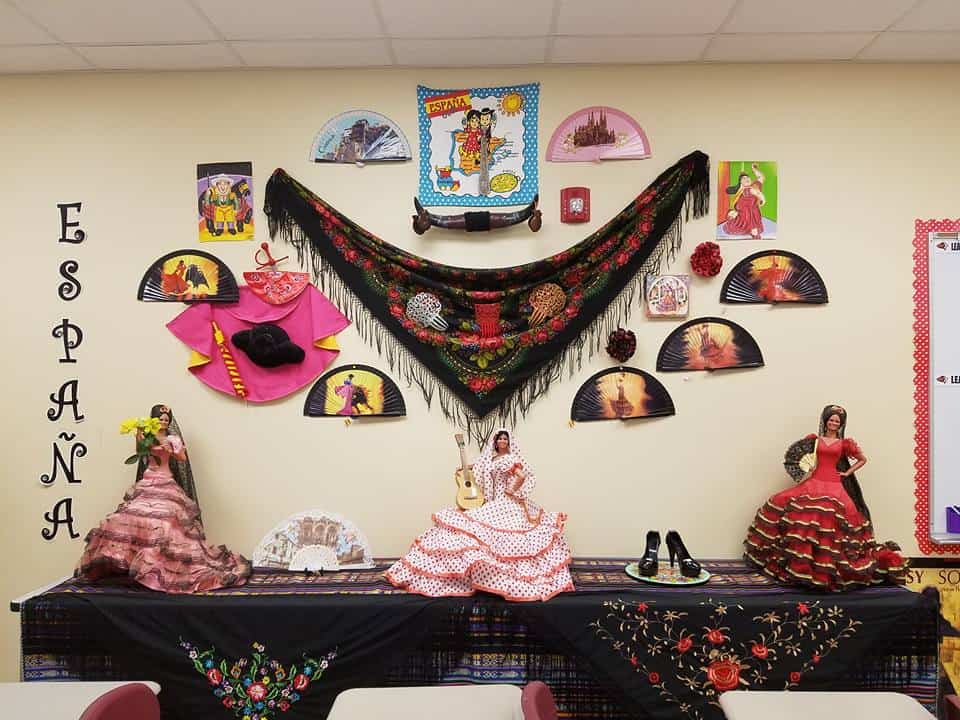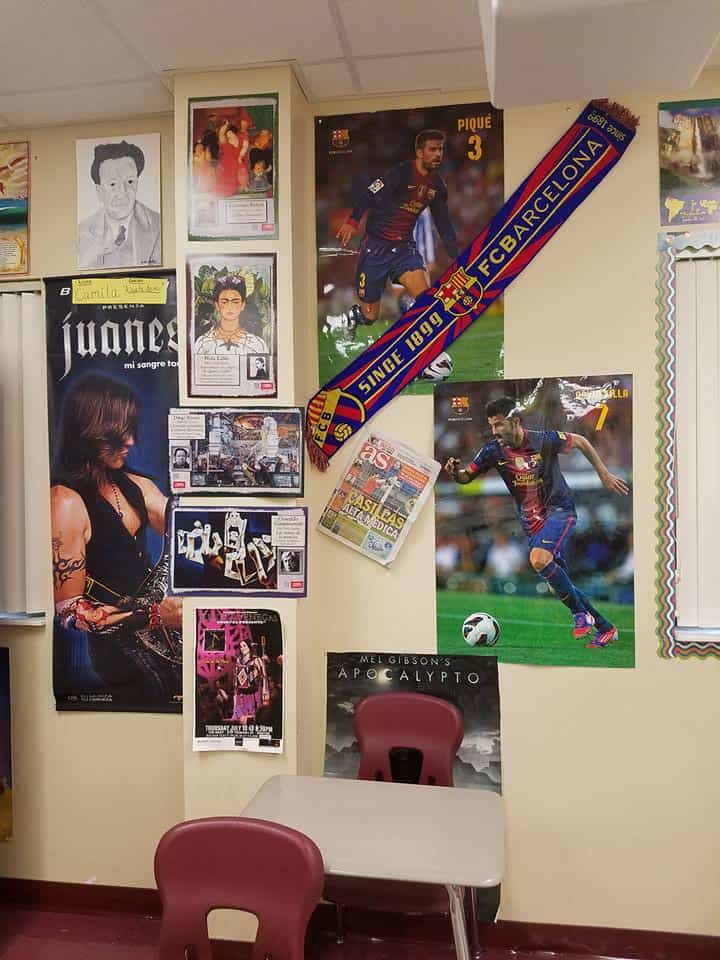 ACCENT WALL
If you are allowed to paint, a bold color like this blue (with a gray wall and black accent around) can really make your room feel more homey and less institutional.

Profe: Emma Jones Cox
Twitter and IG: @emmaindilemma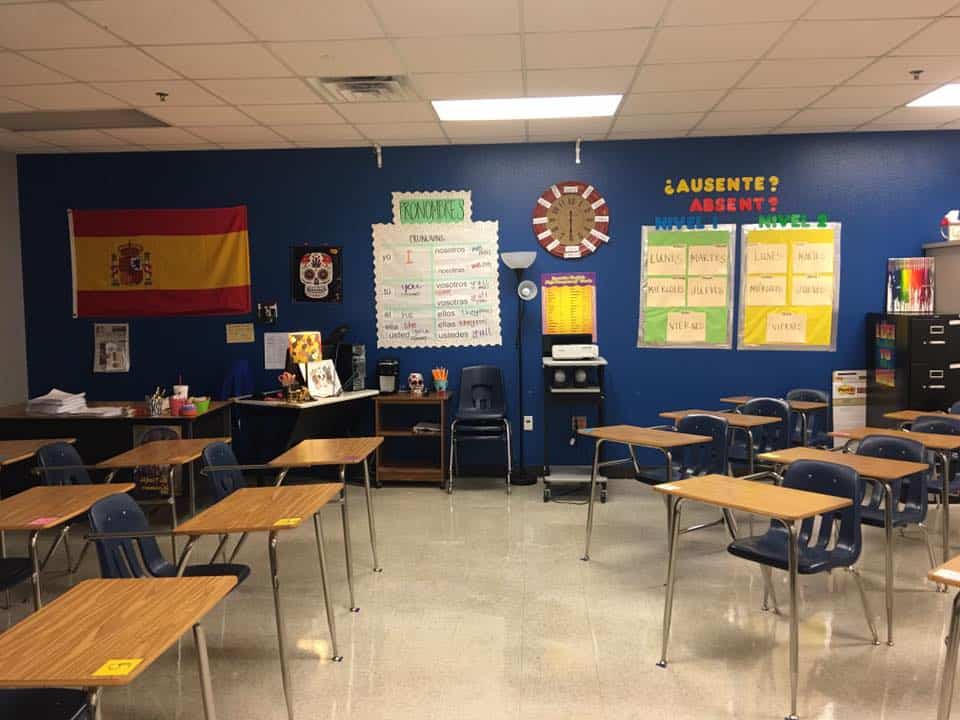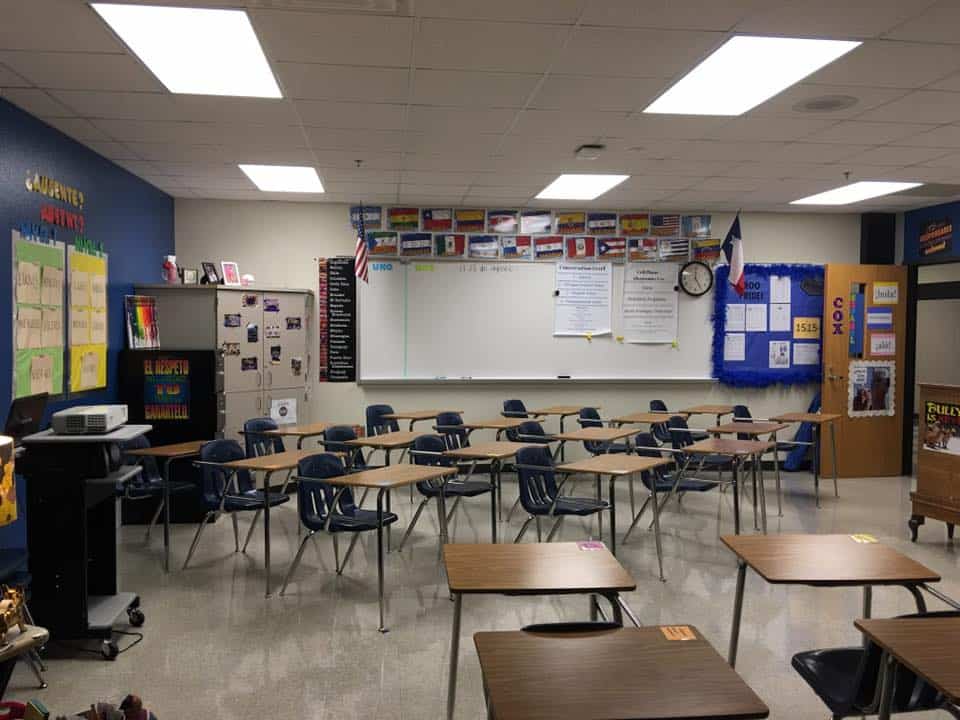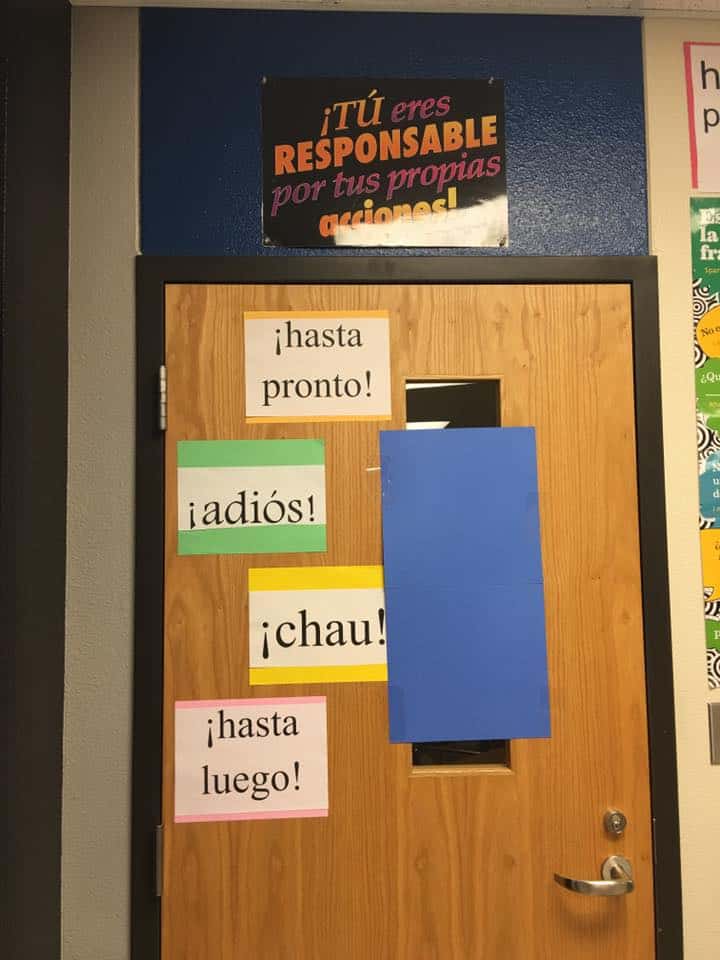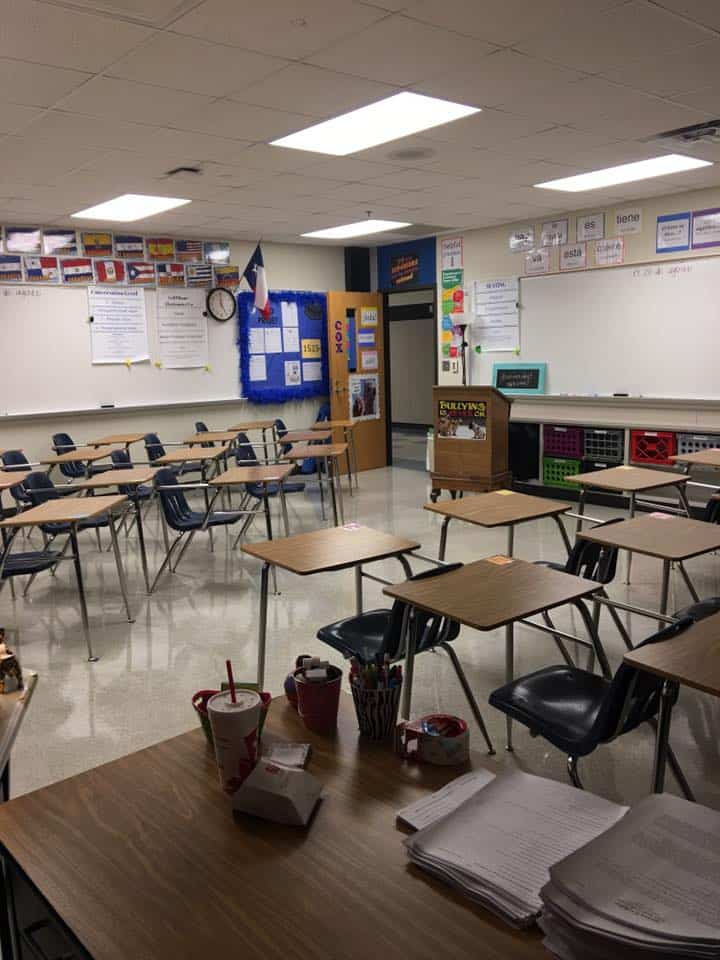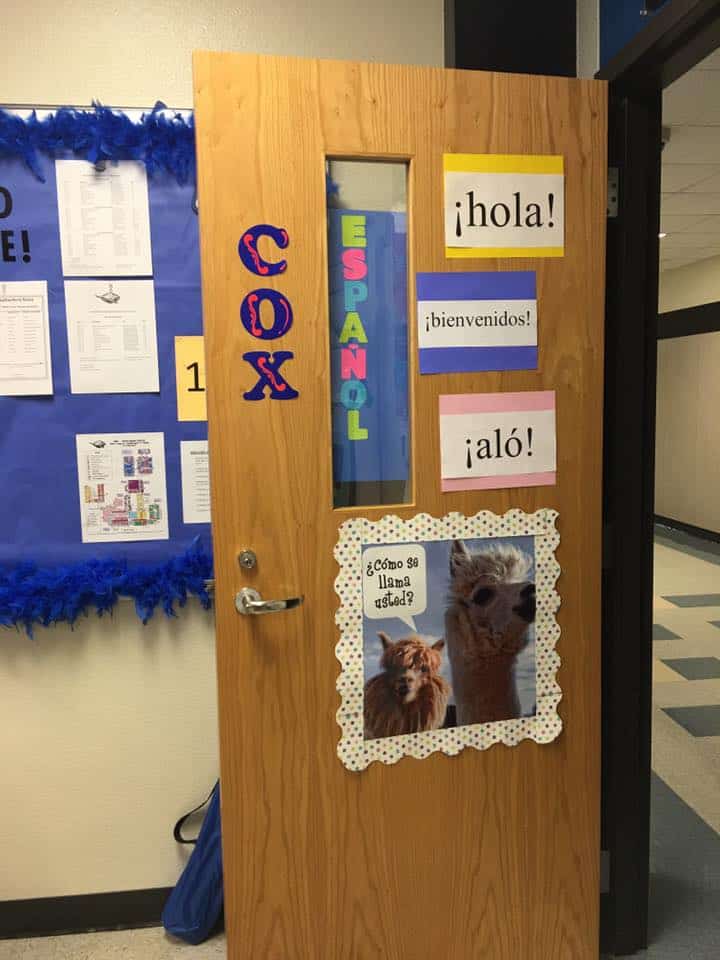 BRIGHT COLORS + REAL LIFE
Miss_maestra says, "Here are photos of my classroom from today (messes and all). I absolutely love my classroom and I always have fun decorating it each year. My classroom looked nothing like this my first year. It takes time to get to this point and I'm happy with it." It's nice for new teachers to hear that these things take time!

Profe: Miss_maestra
Instagram: @miss_maestra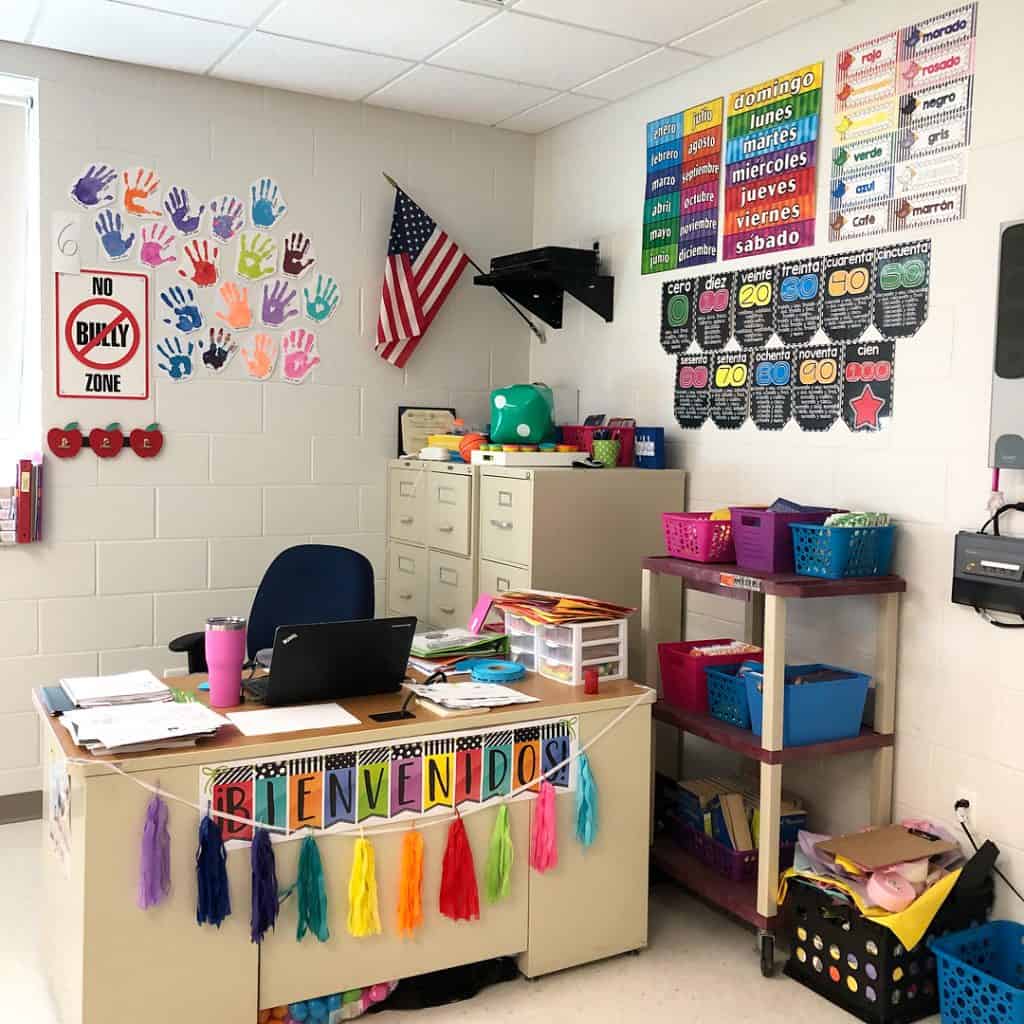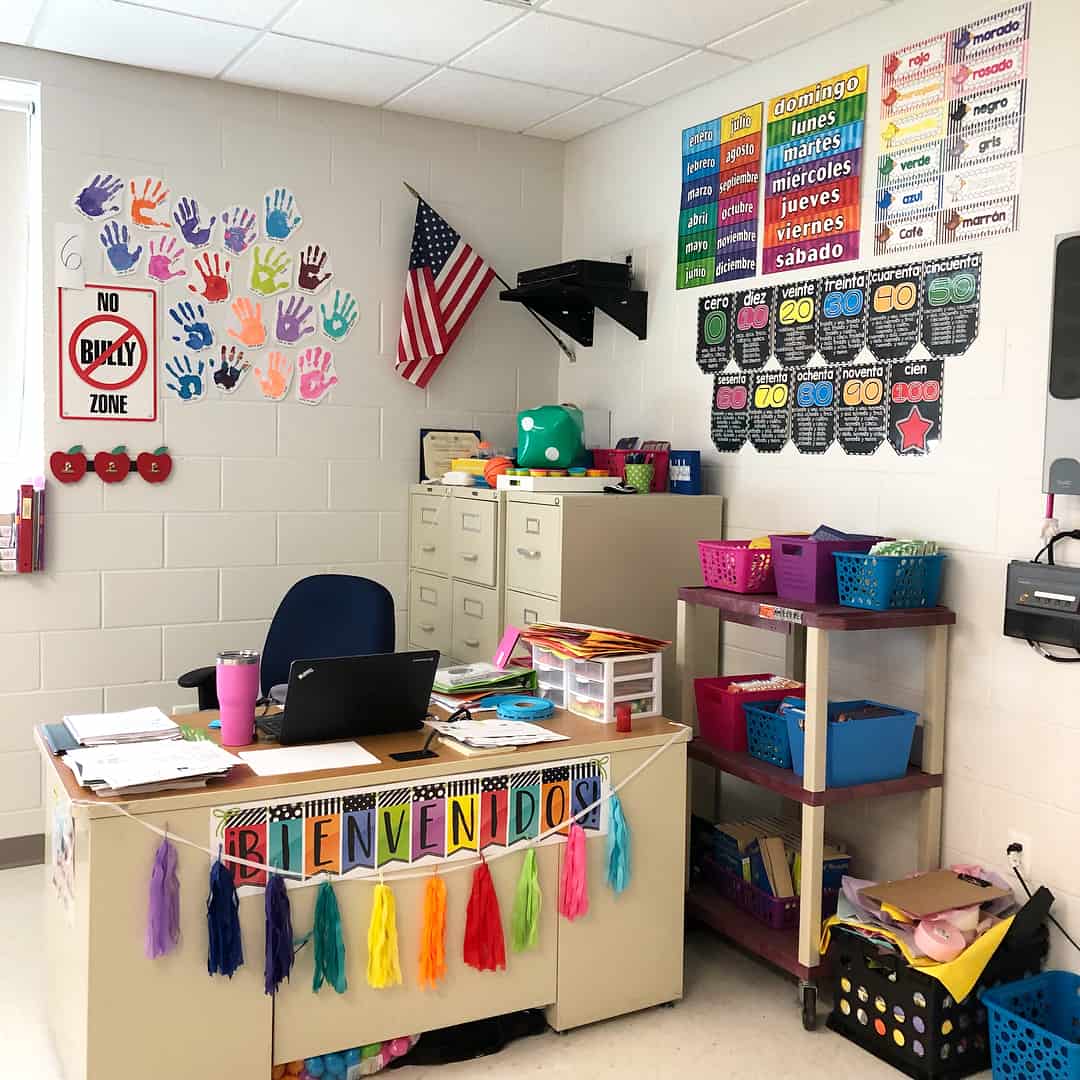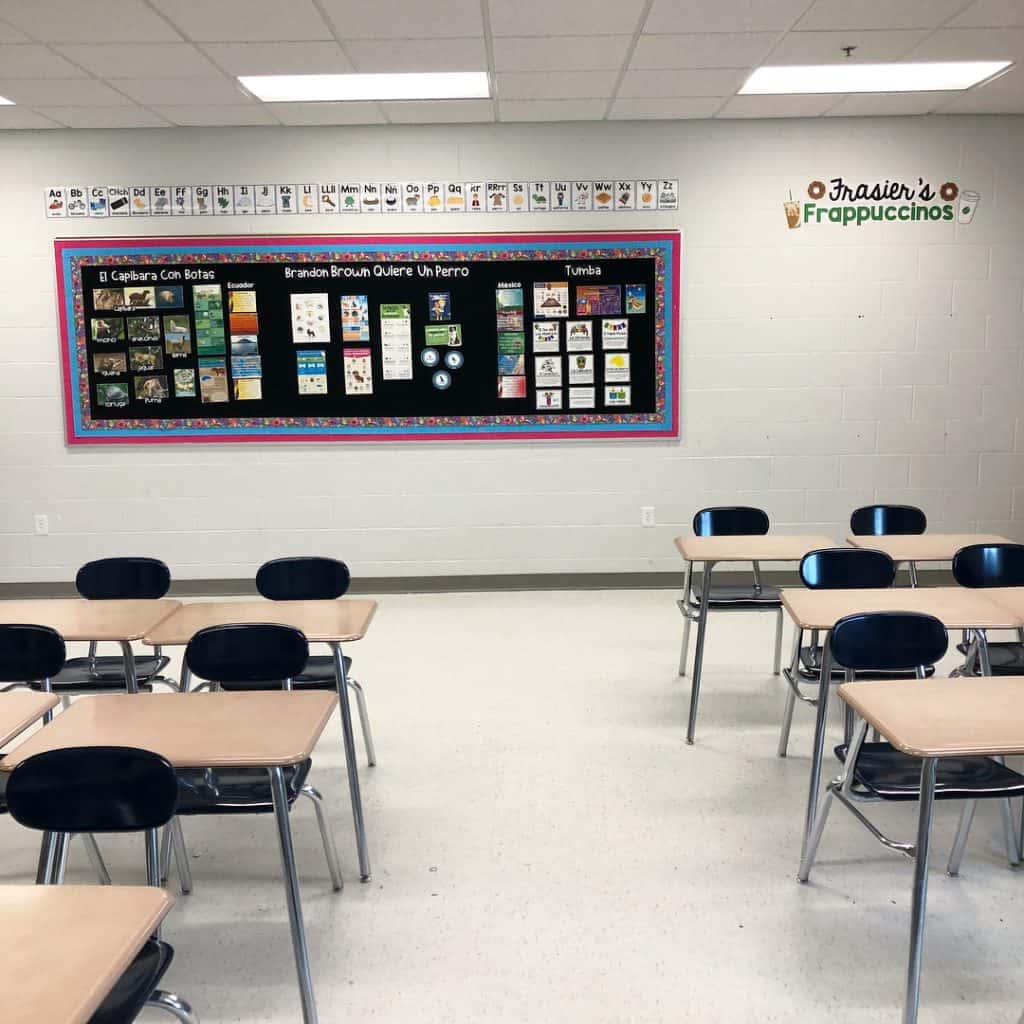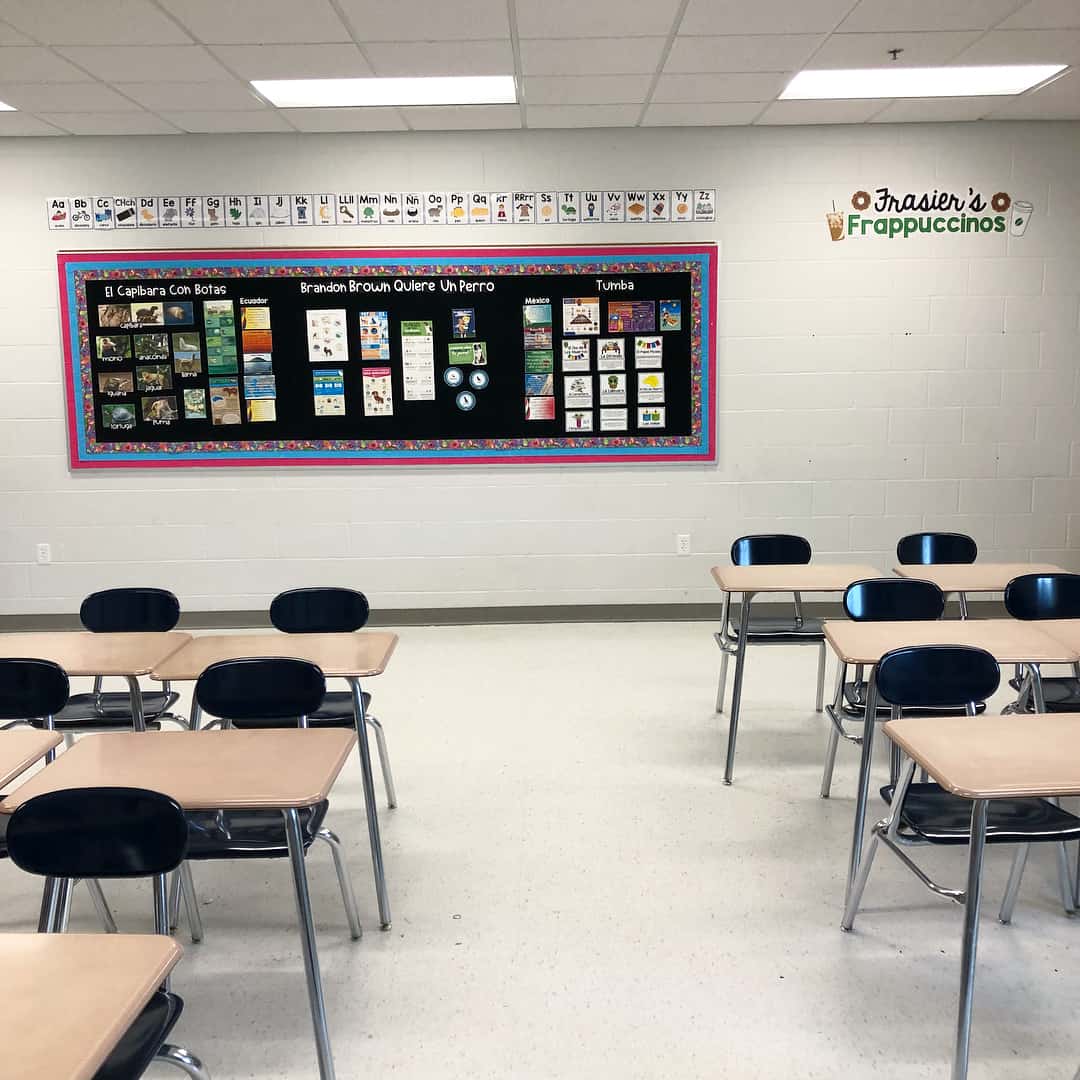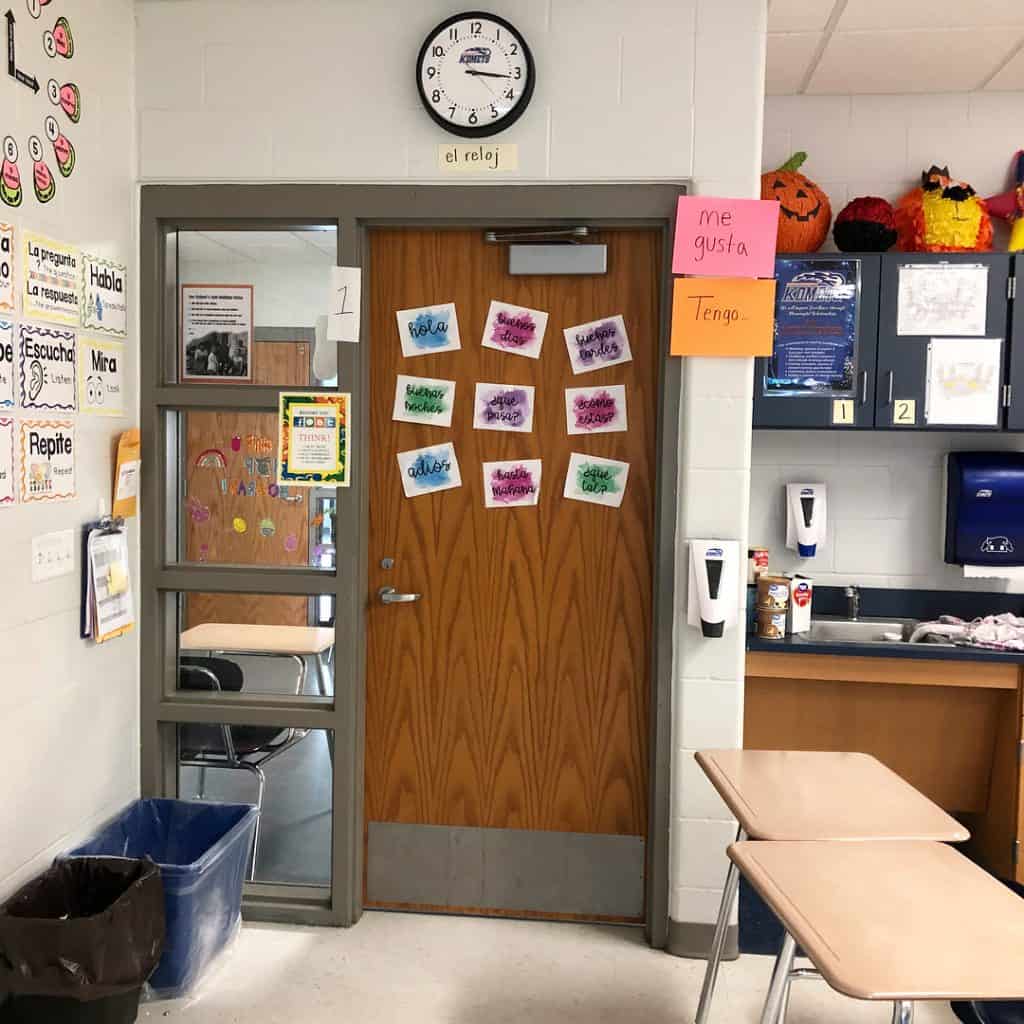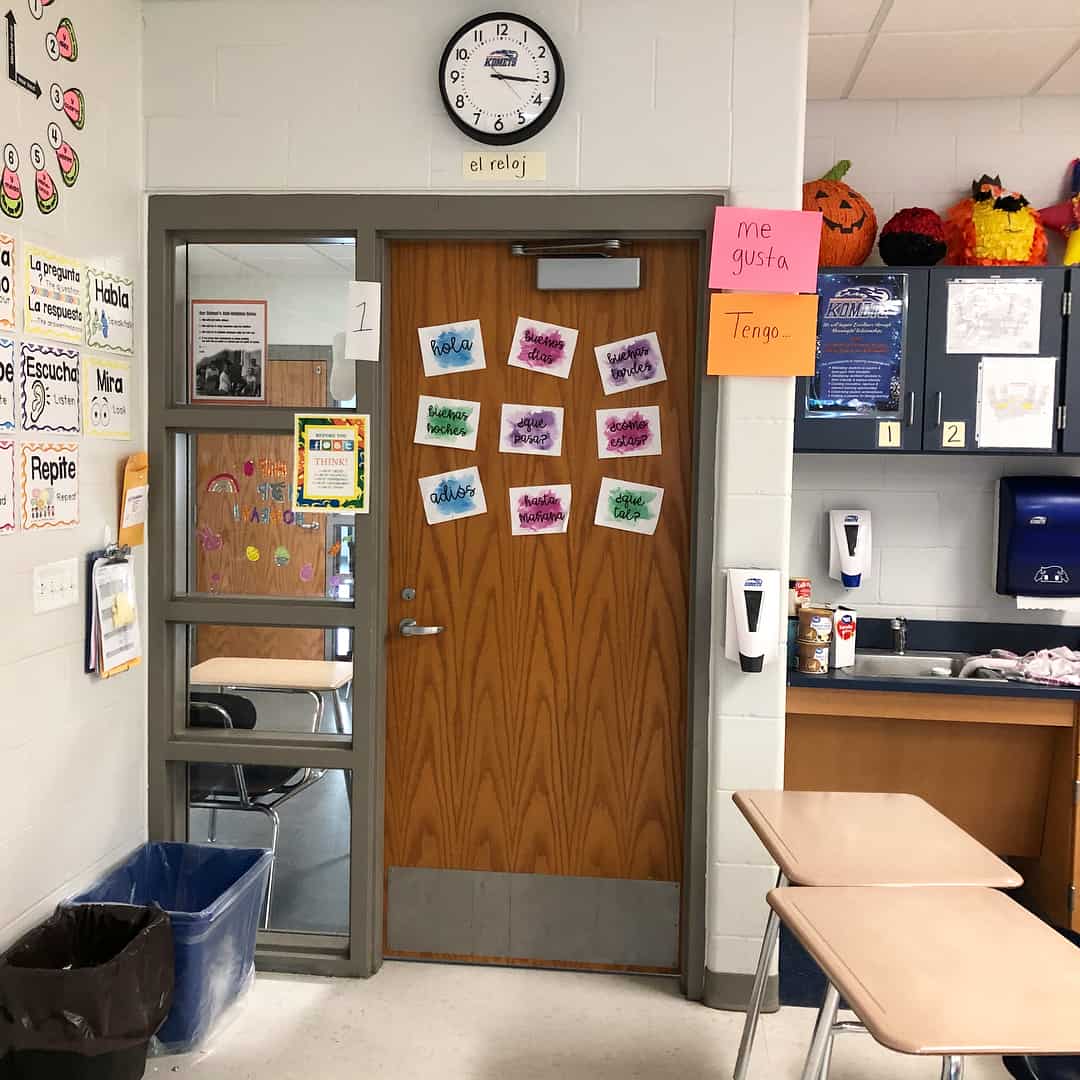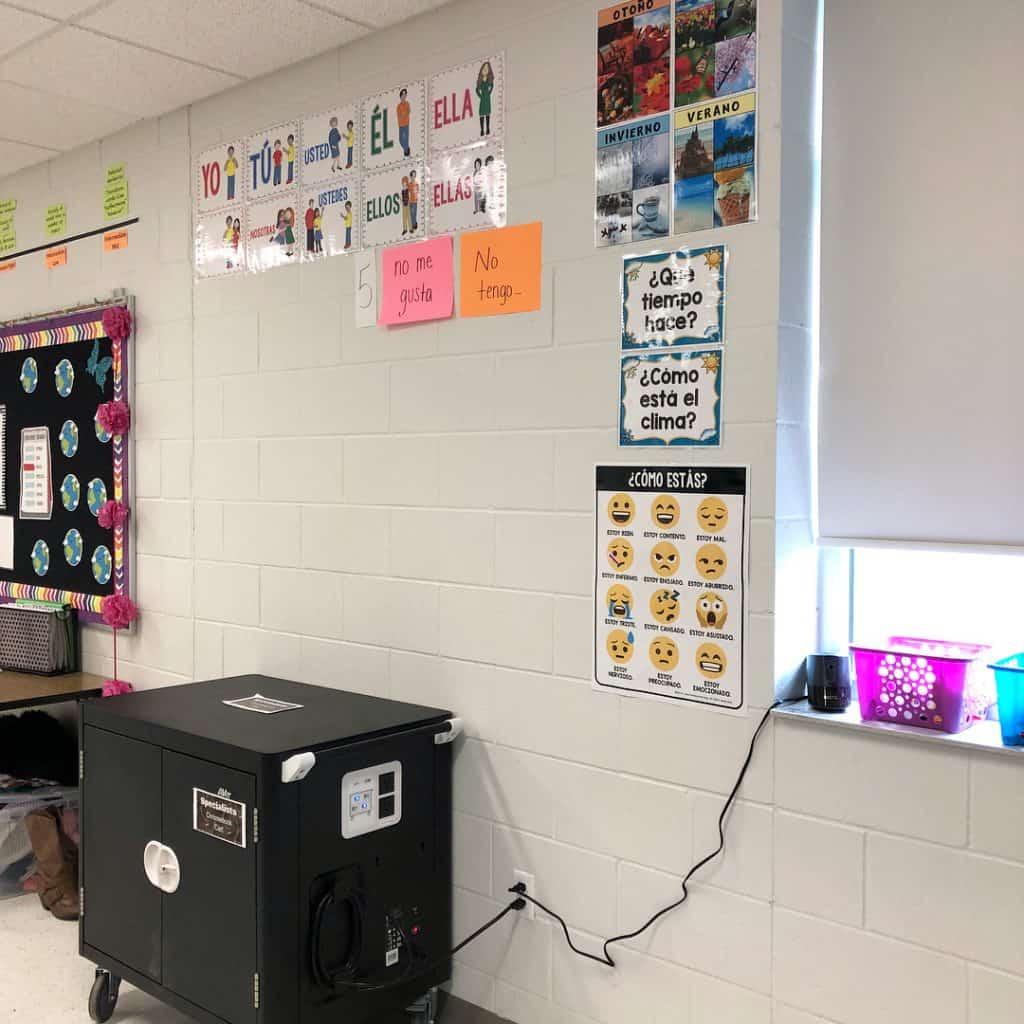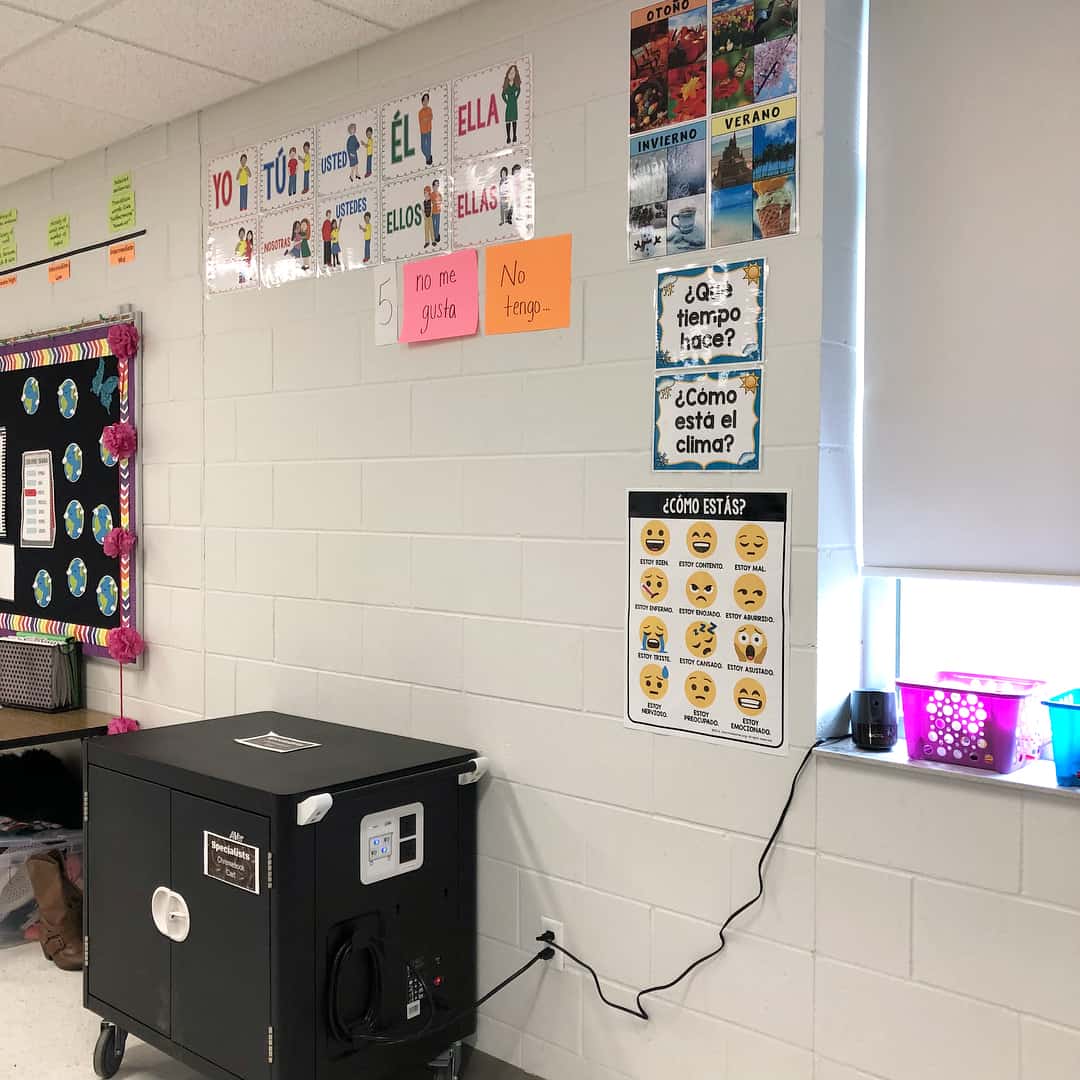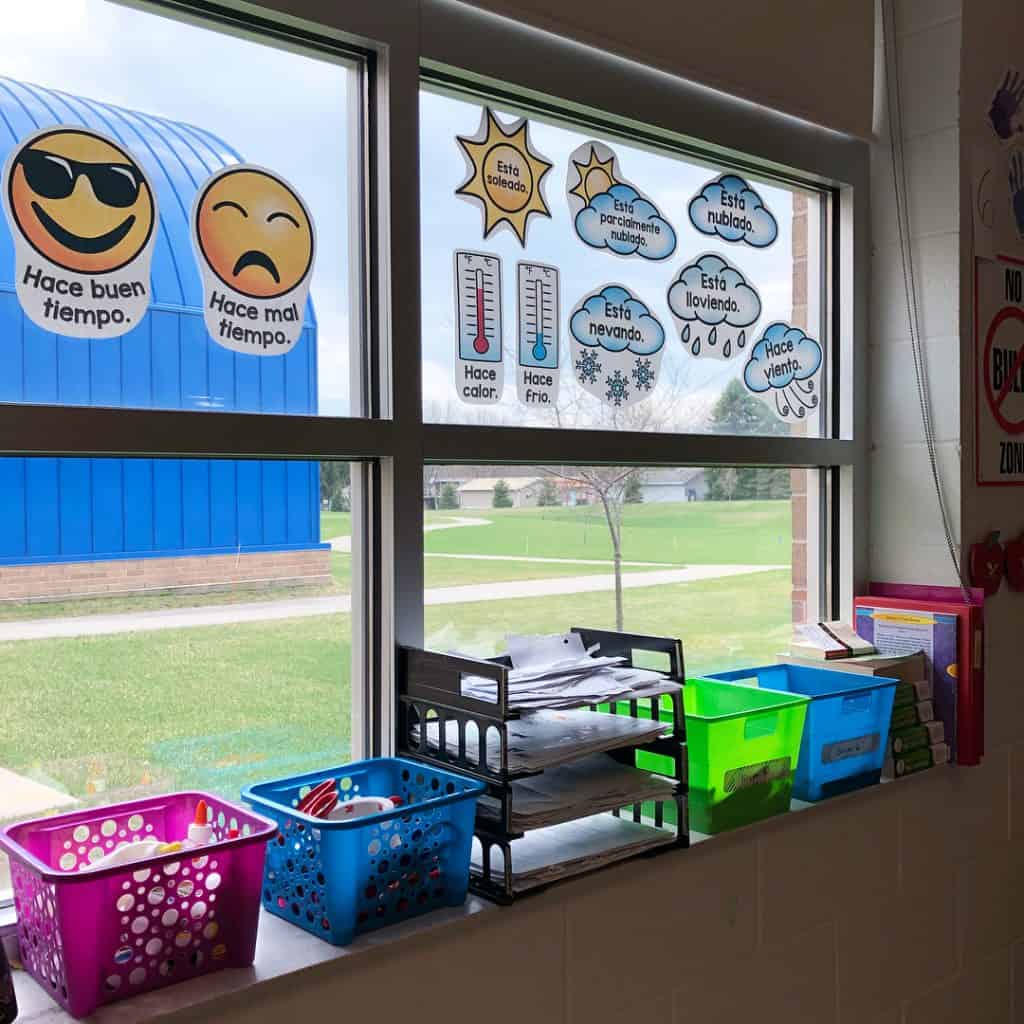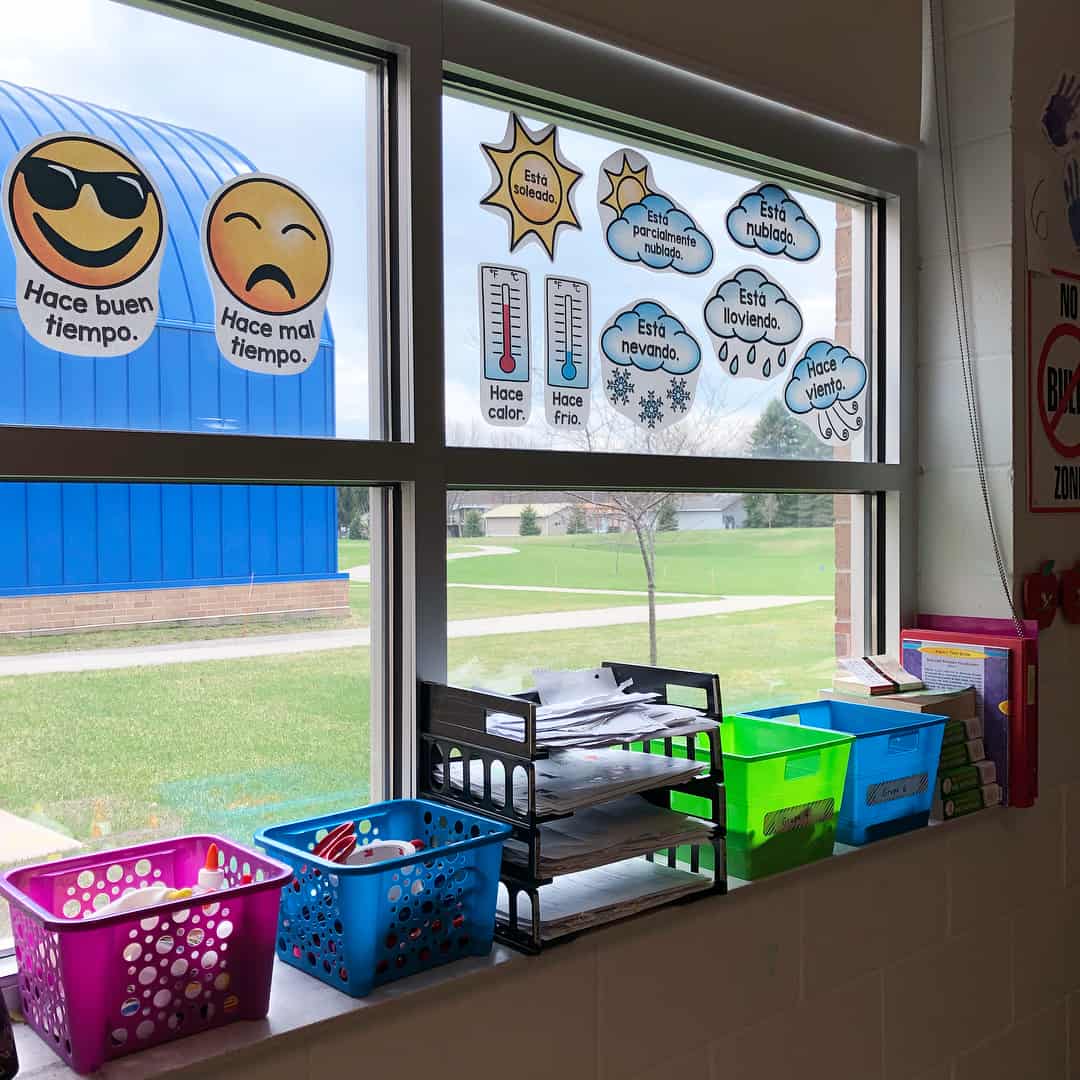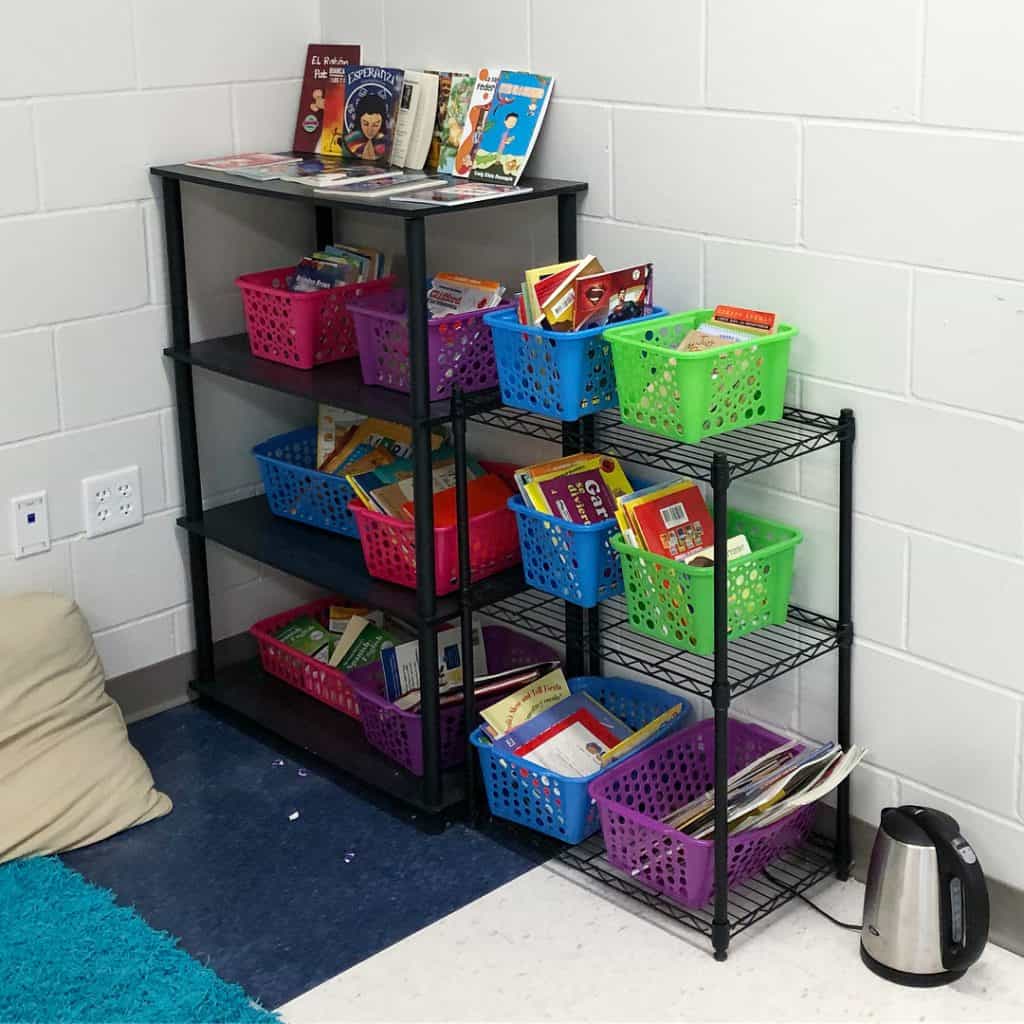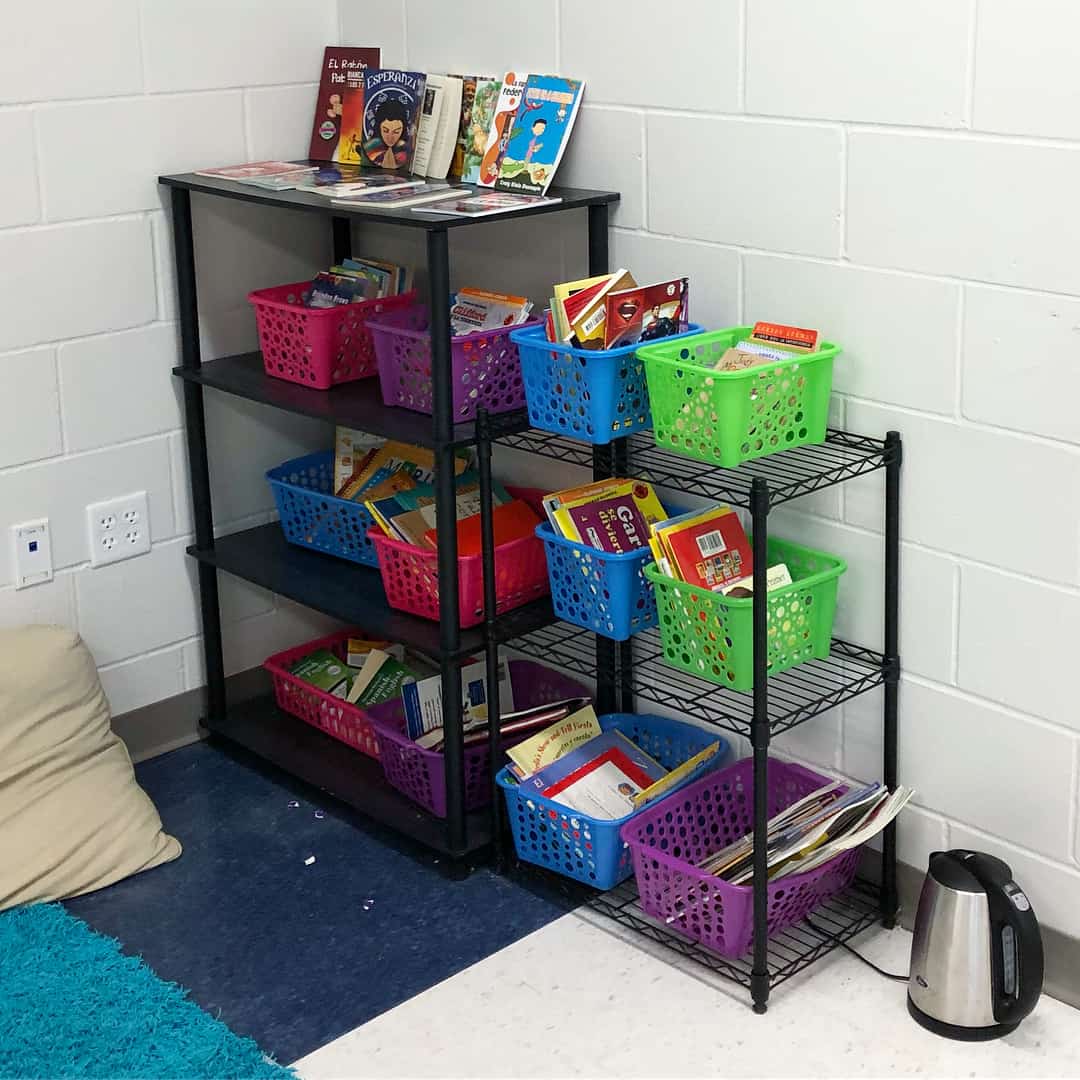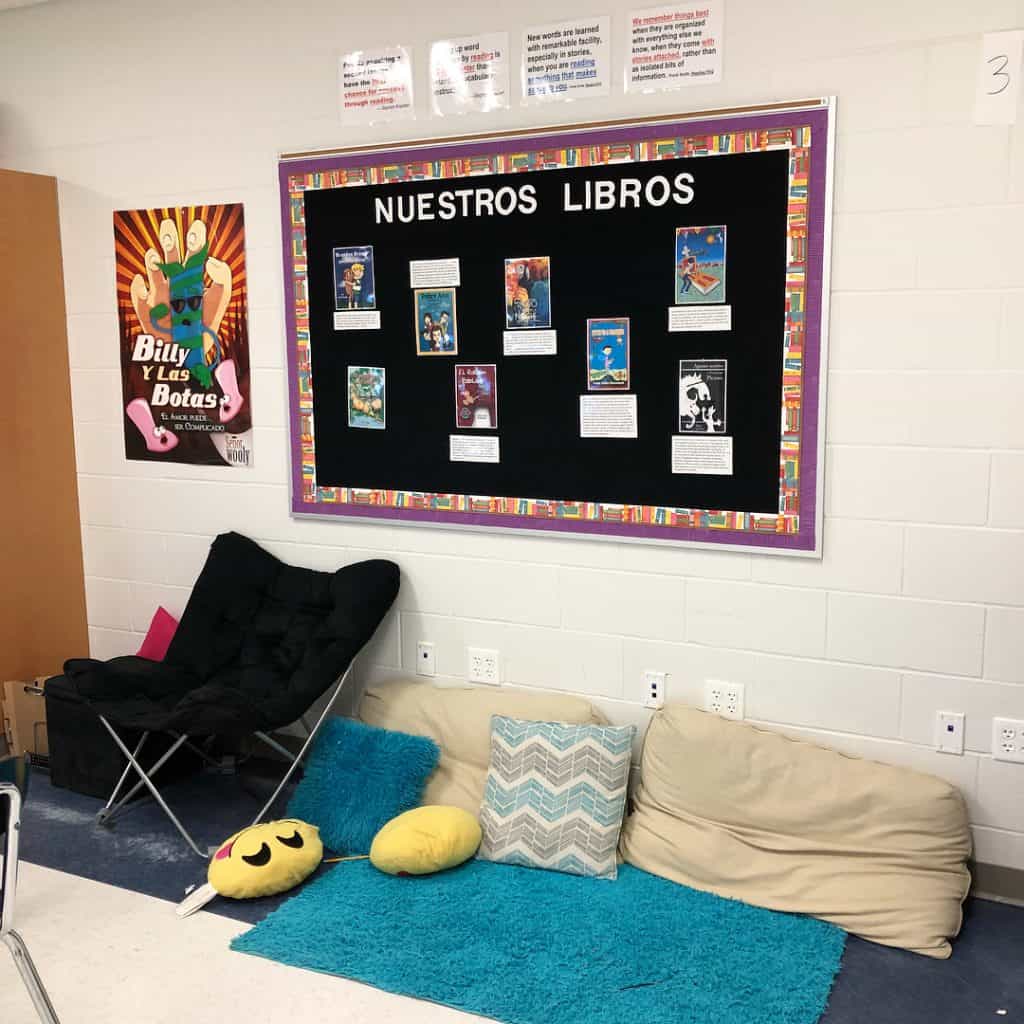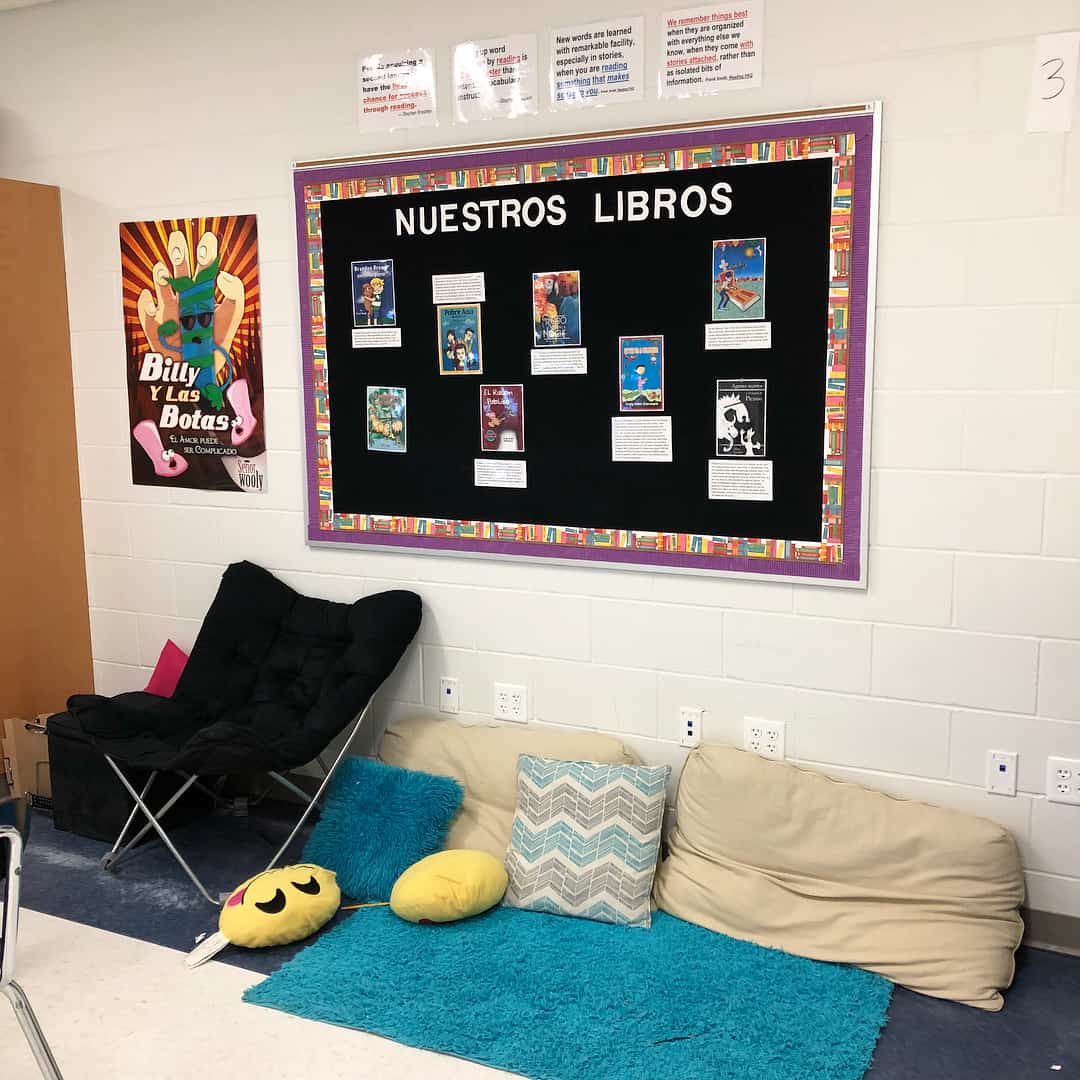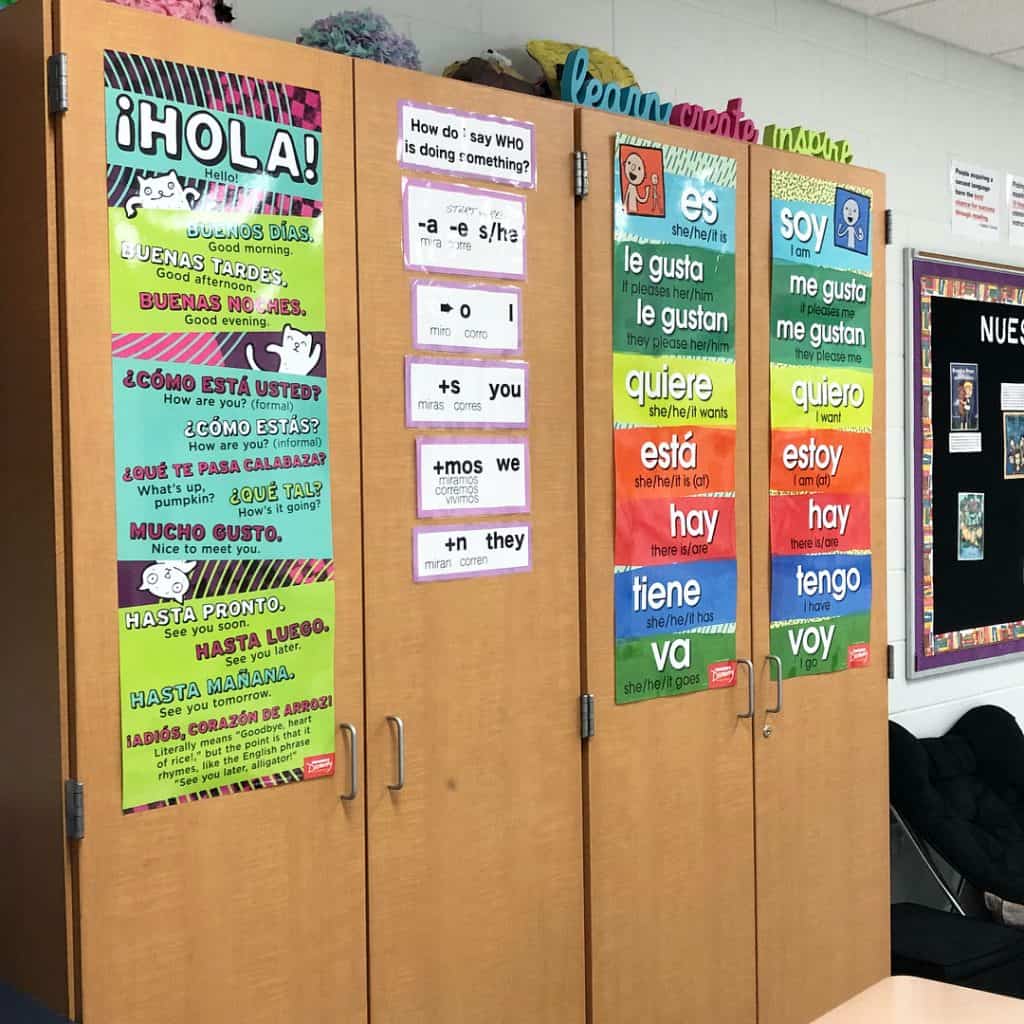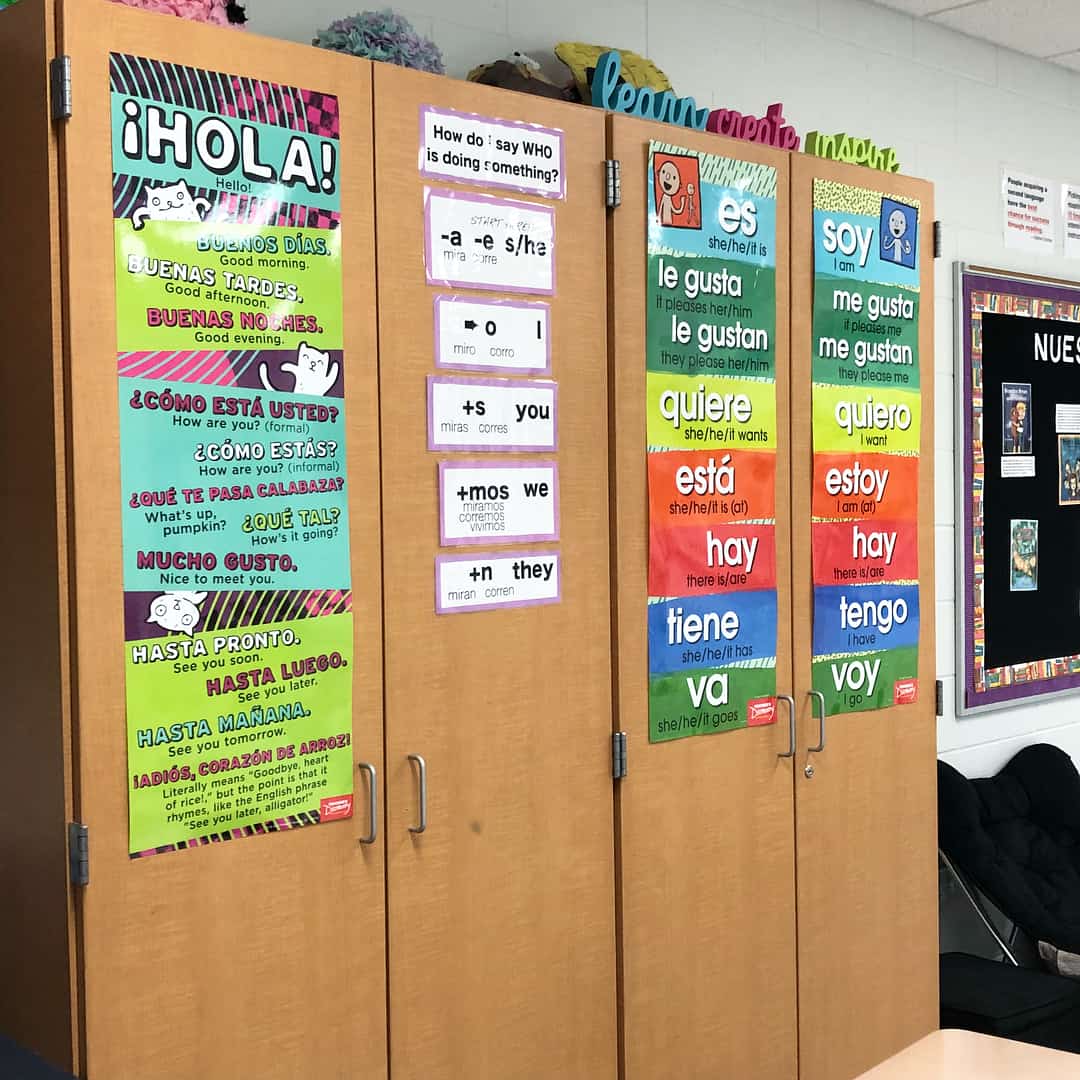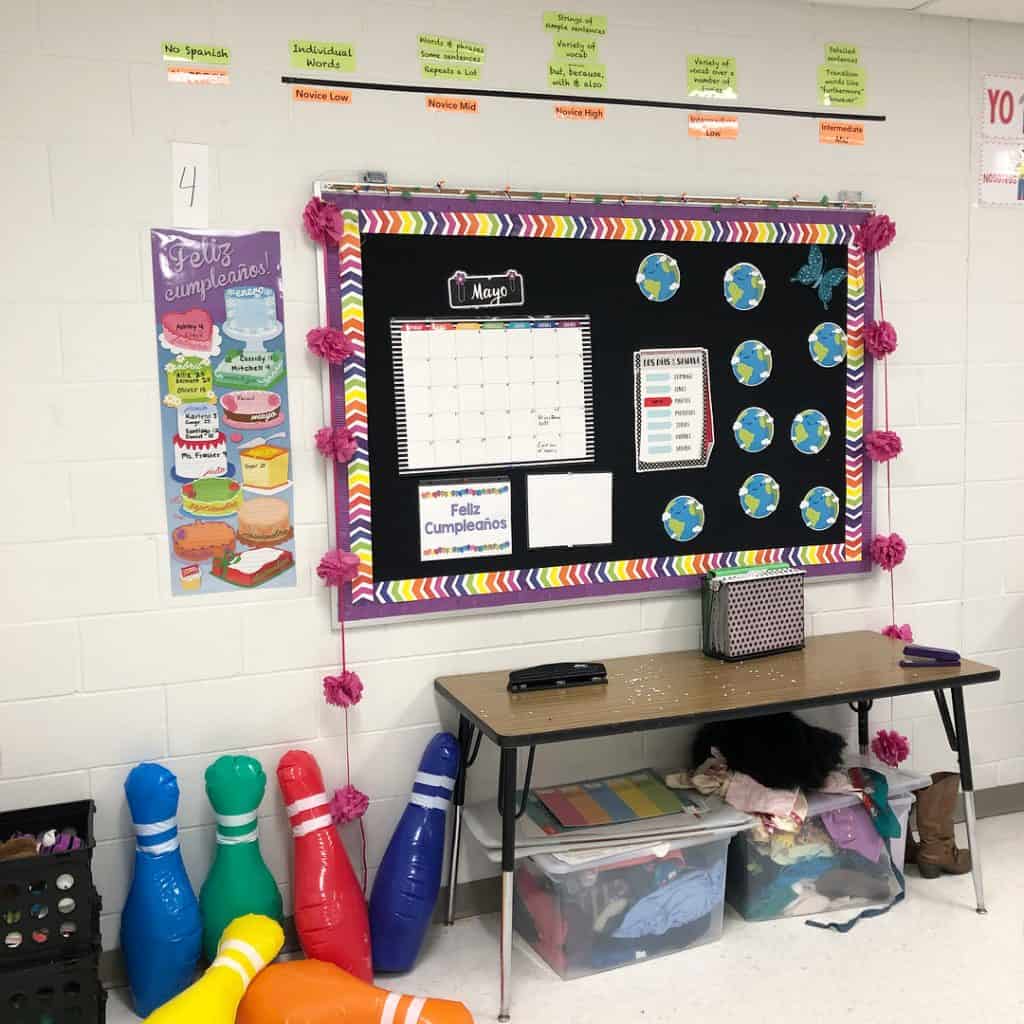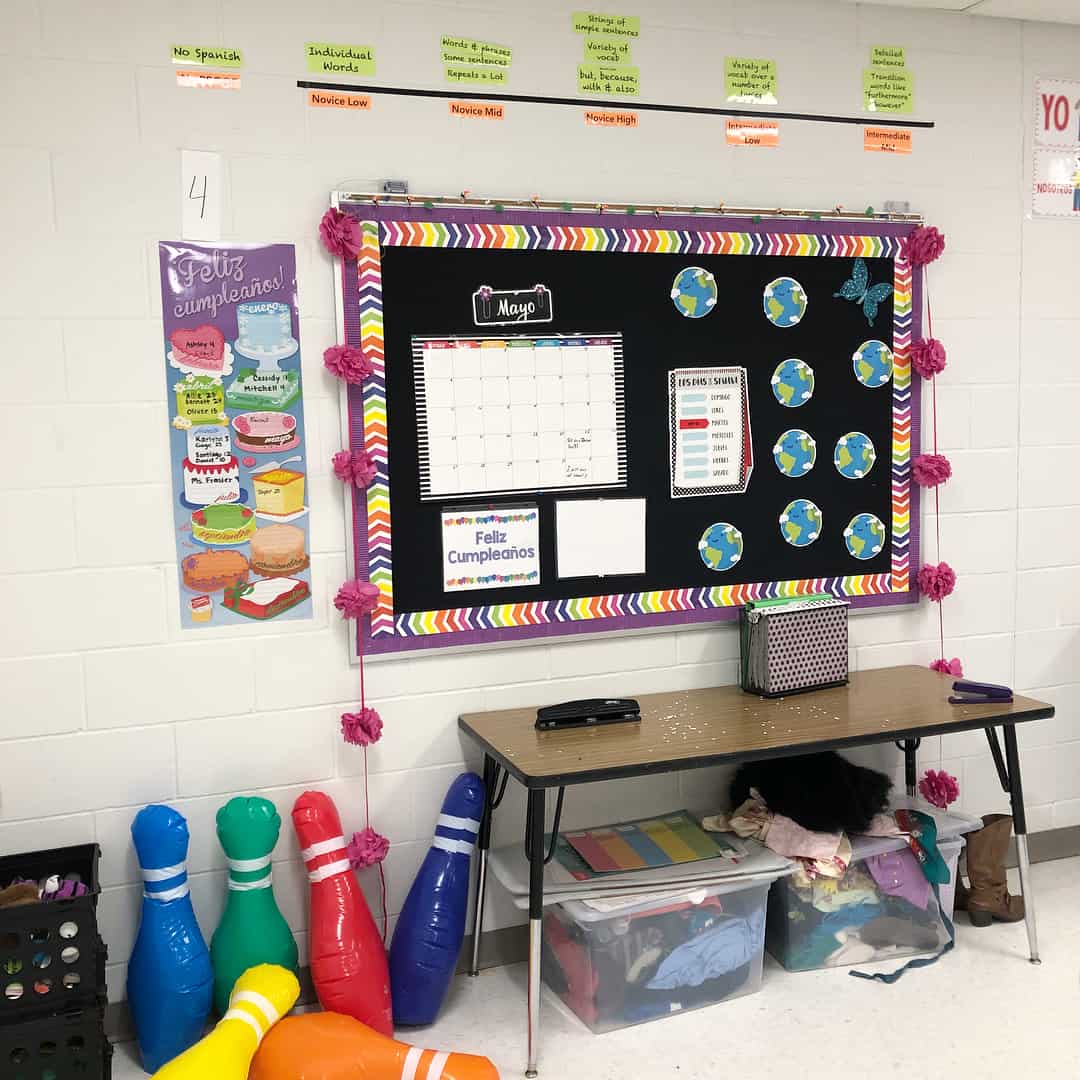 HOMEY + BRIGHT COLORS
"This is "mi cuevita" I love bright colors and to include things that makes me feel like HOME. I teach Exploratory Spanish (6th Grade) and Beg Spanish (7th and 8th) at Tampa, FL."

Profe: Mary Berrios
Instagram: @Mary_soirreb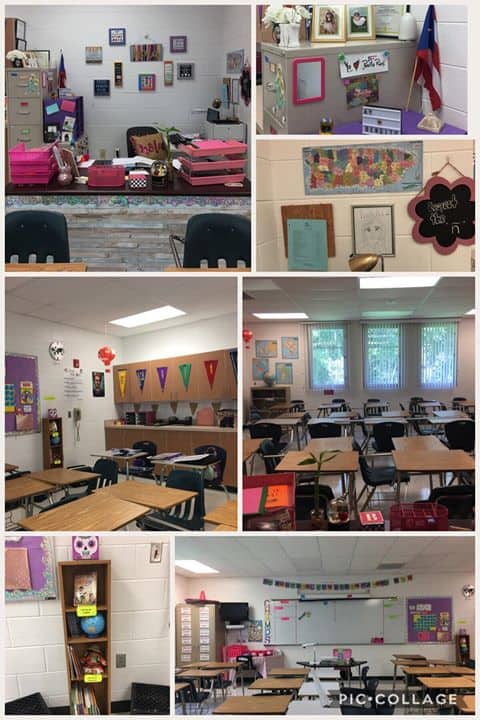 SILLAS, SILLAS
I really liked the set up of these chairs (I'm guessing the lounge-ish chairs are reserved as rewards) and the nice open space are perfect for storytelling and acting in this TPRS classroom. I feel like you would have everyone's attention with this set-up!

Profe: Michele Metcalfe
Twitter: @michellewestvan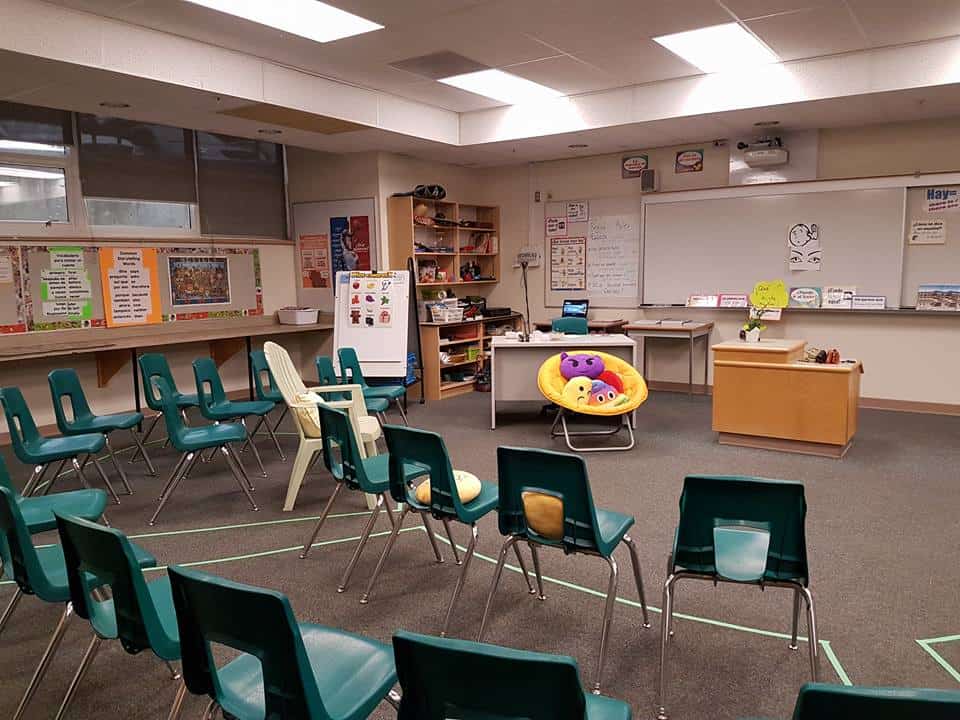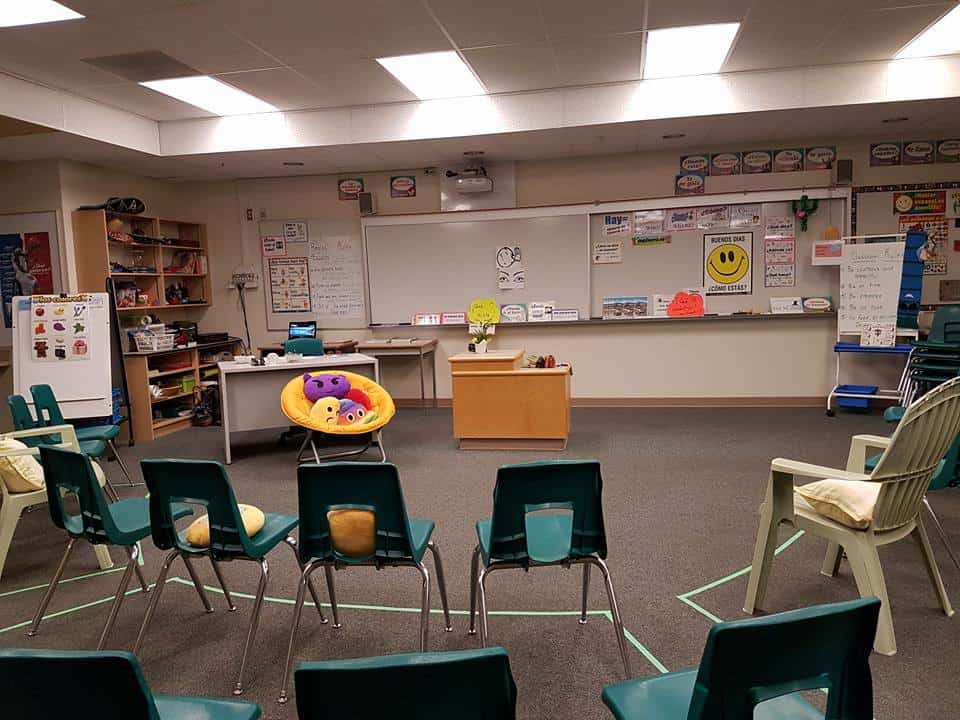 BOOK-CENTERED SPACE
Books take the center stage here, as well as eye-catching posters for high-frequency verbs and phrases. Don't miss the genius hoteléfono!

Profe: Matt Hotopp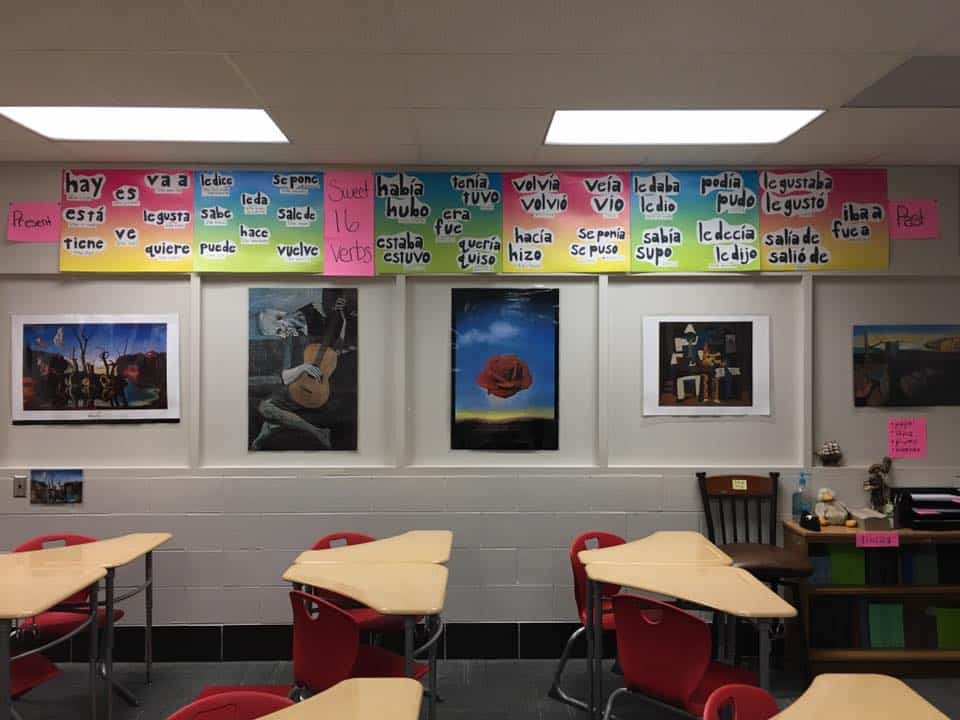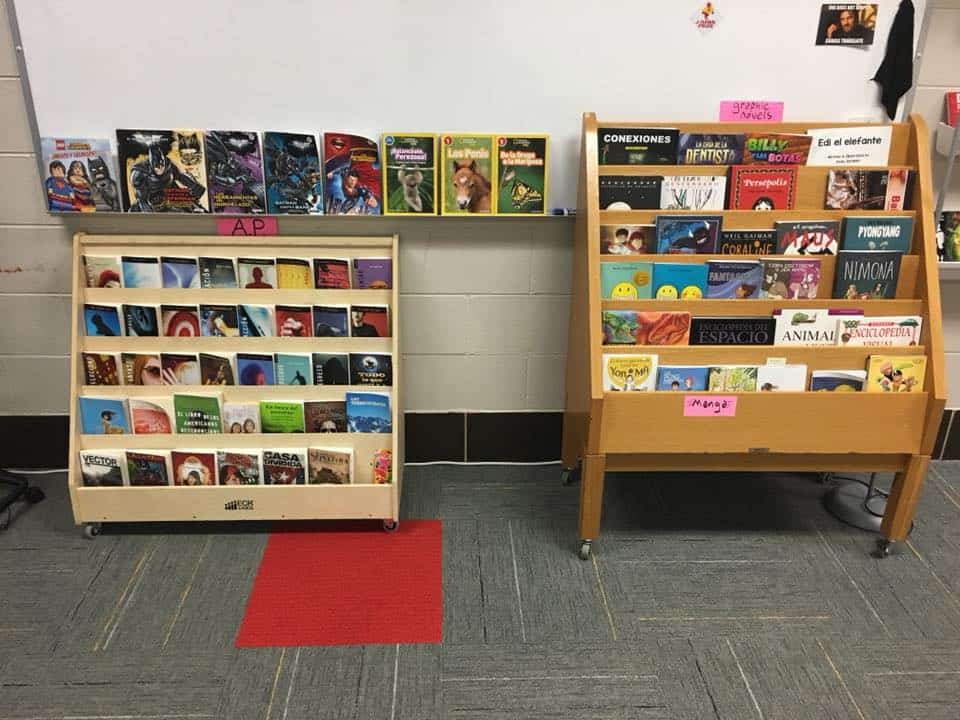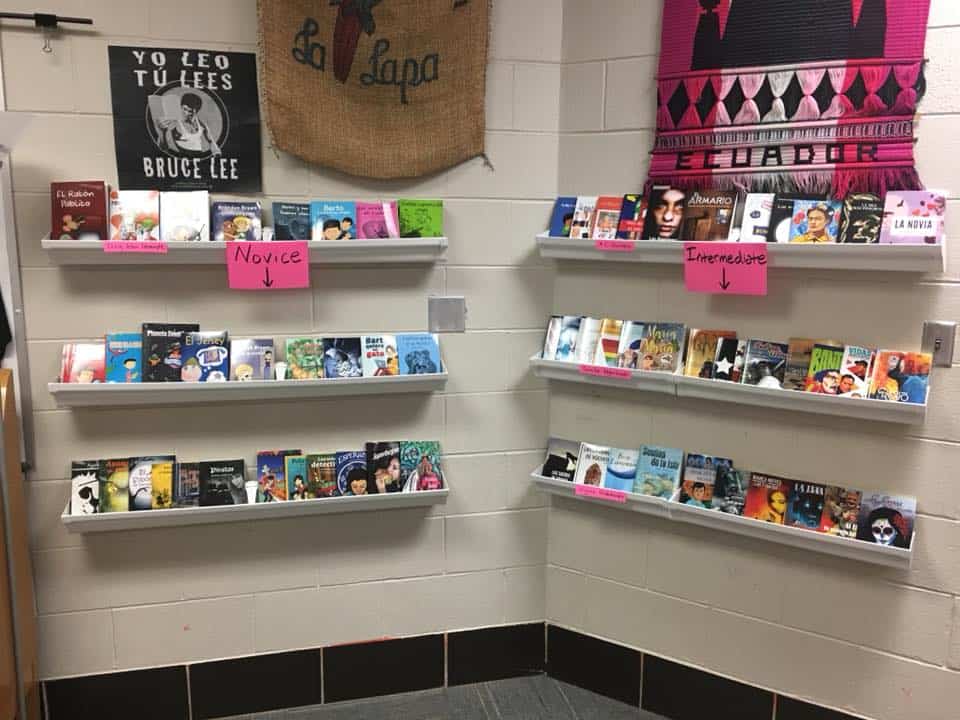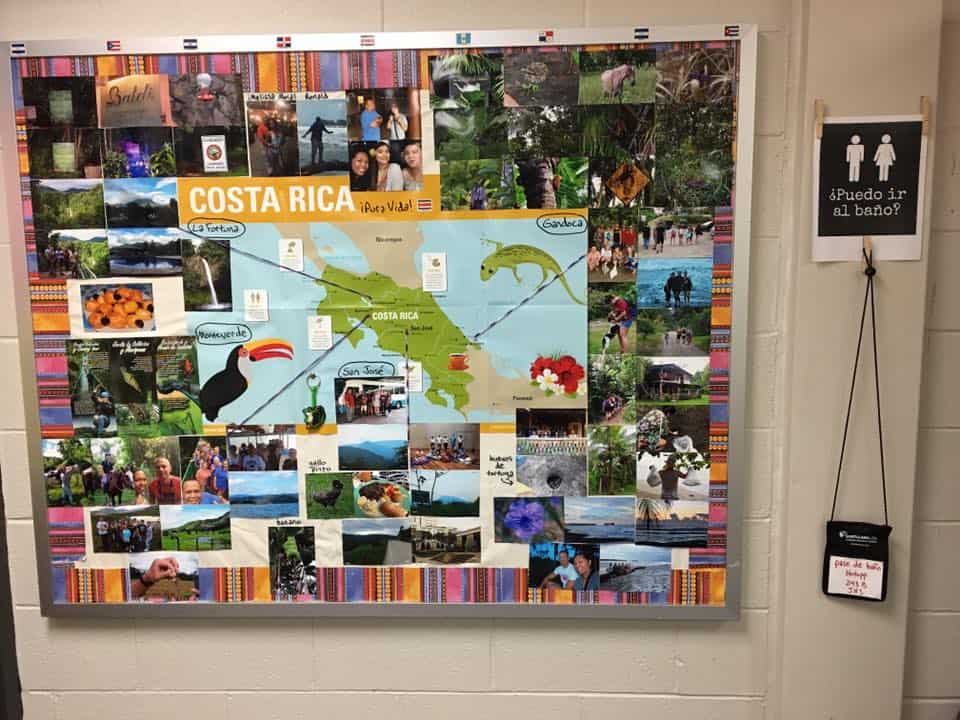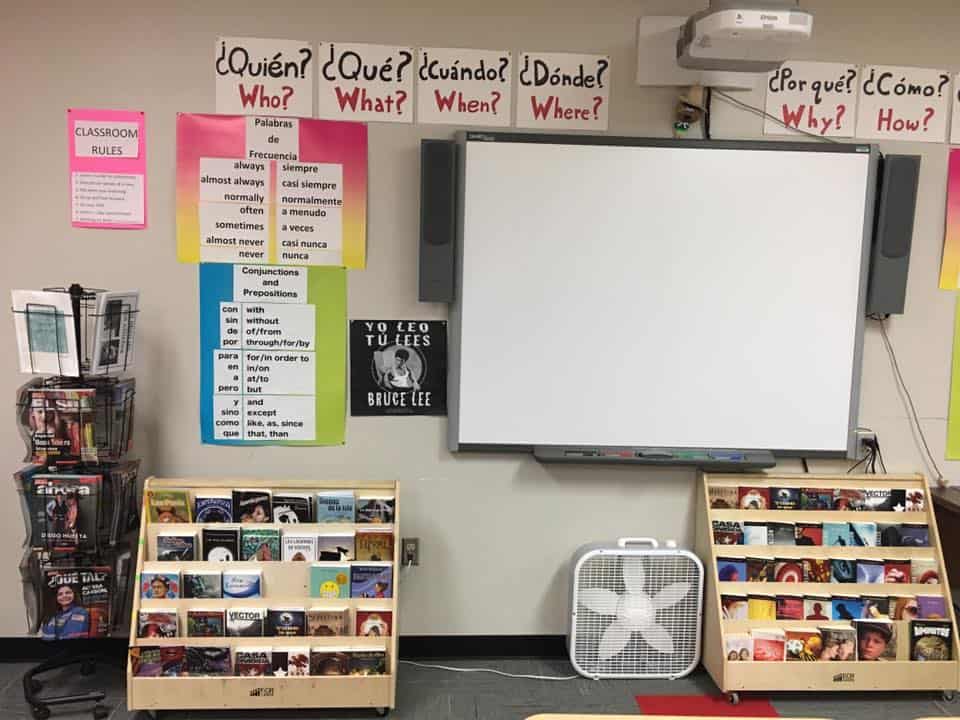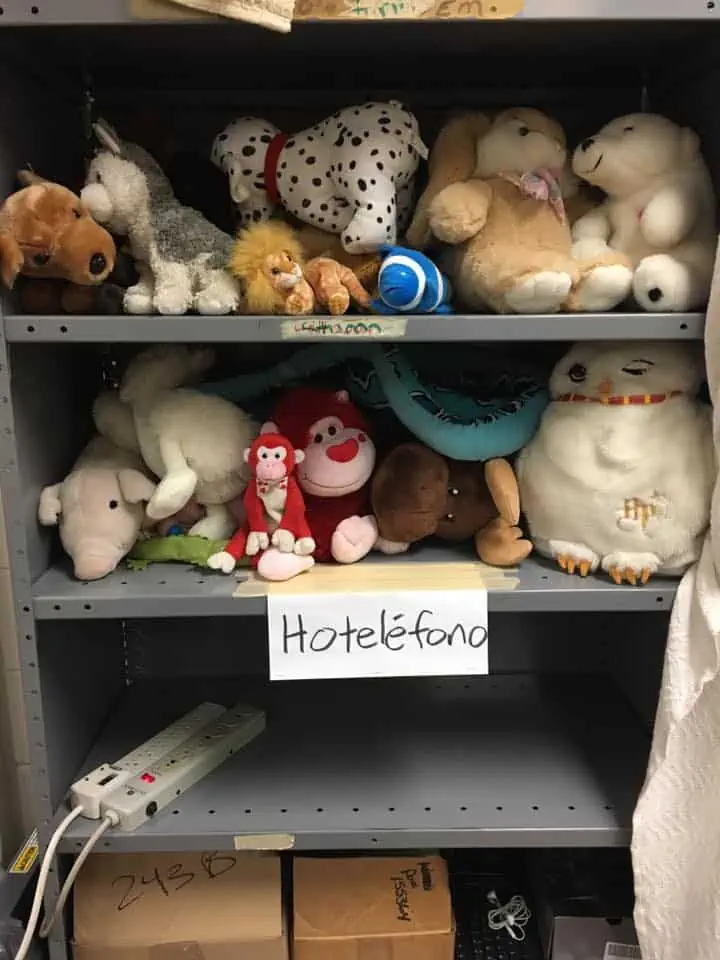 HIGH CEILINGS
I know some of us teach with low ceilings, so this feels like a breath of fresh air and posters take advantage of the extra space. I want the shower curtain (I think?) map on the wall too!

Profe: Tana Luptak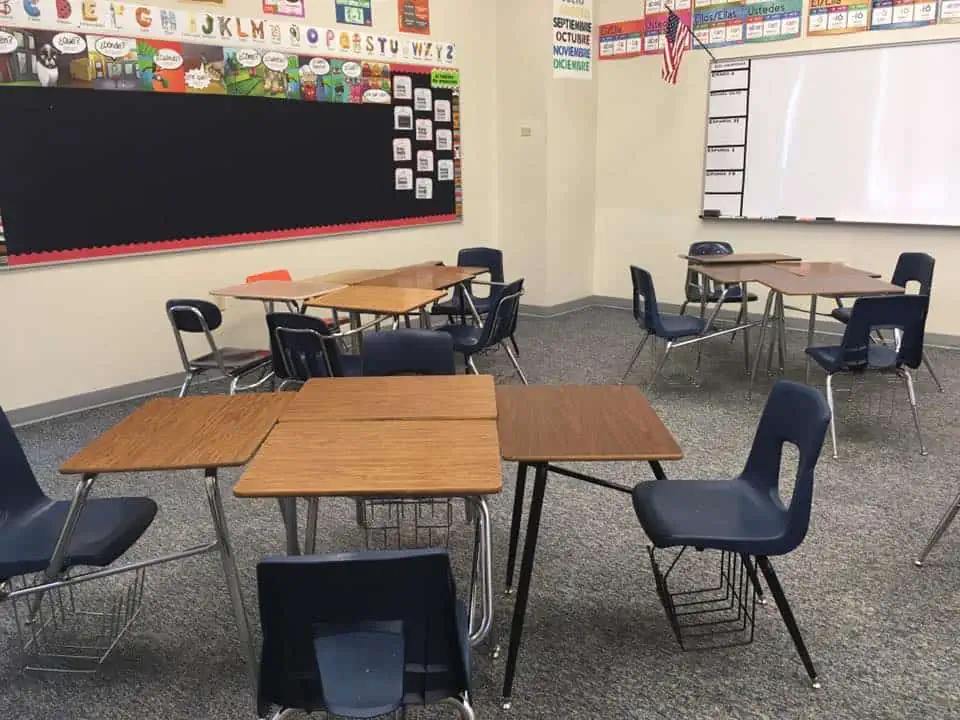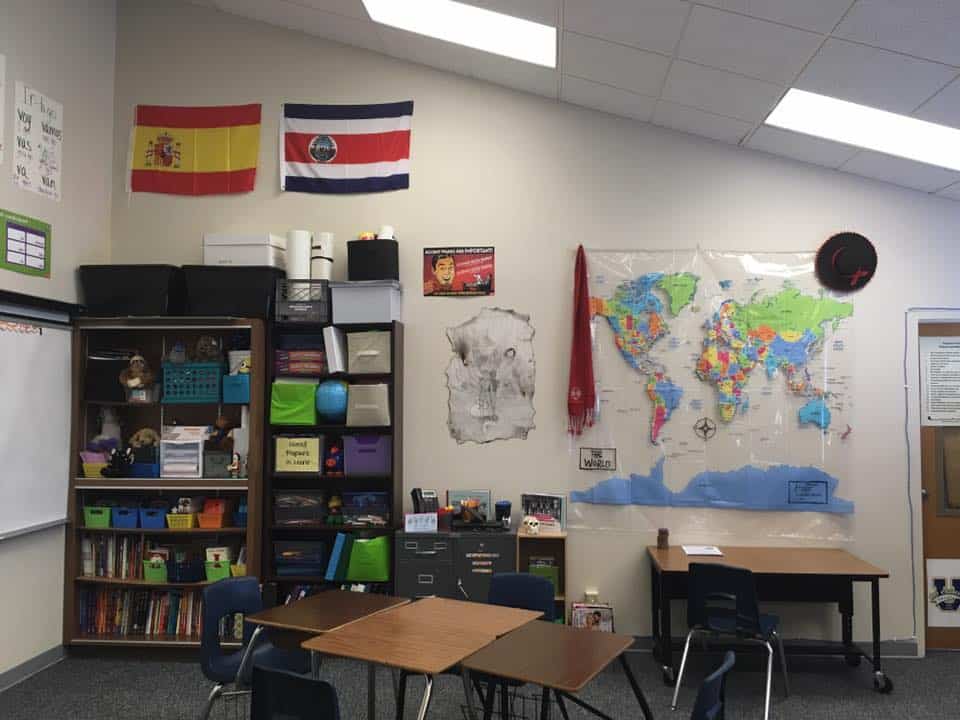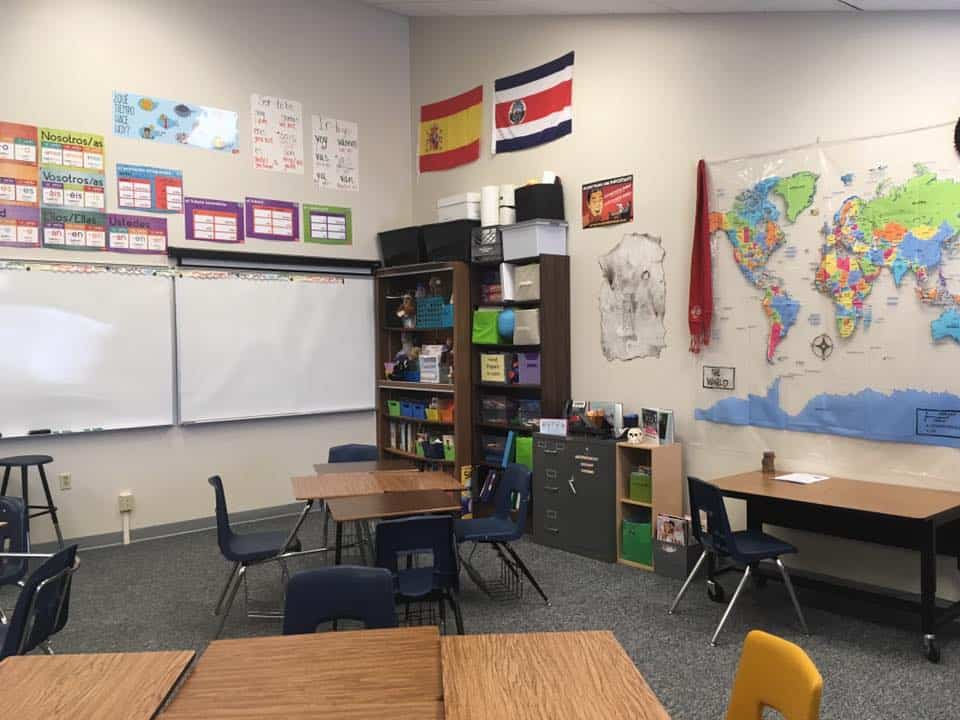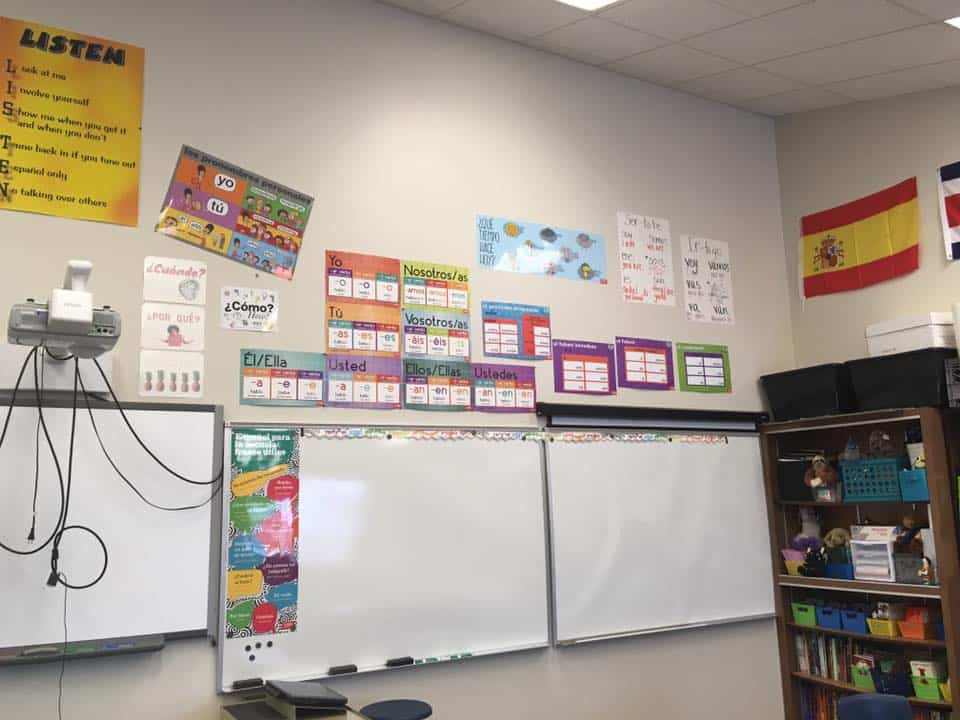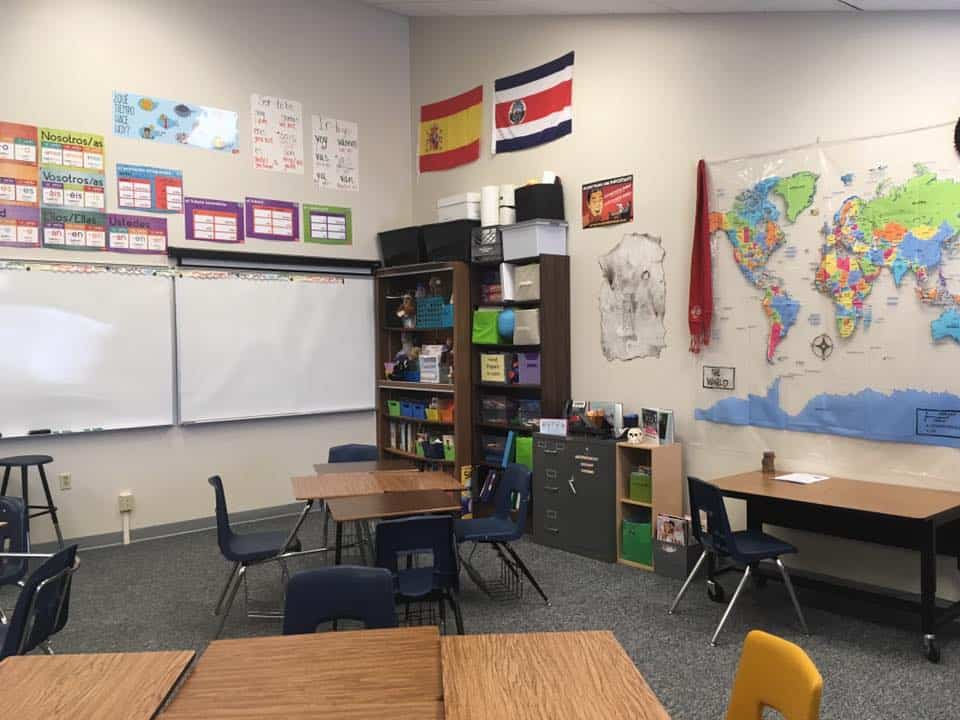 PAPEL PICADO
Have your students spend a period making papel picado, and you've got that festive and good-vibes feeling right away. (And check out the way some of the chairs are turned, so it's not all rows.)

Profe: Katrina Miller Cox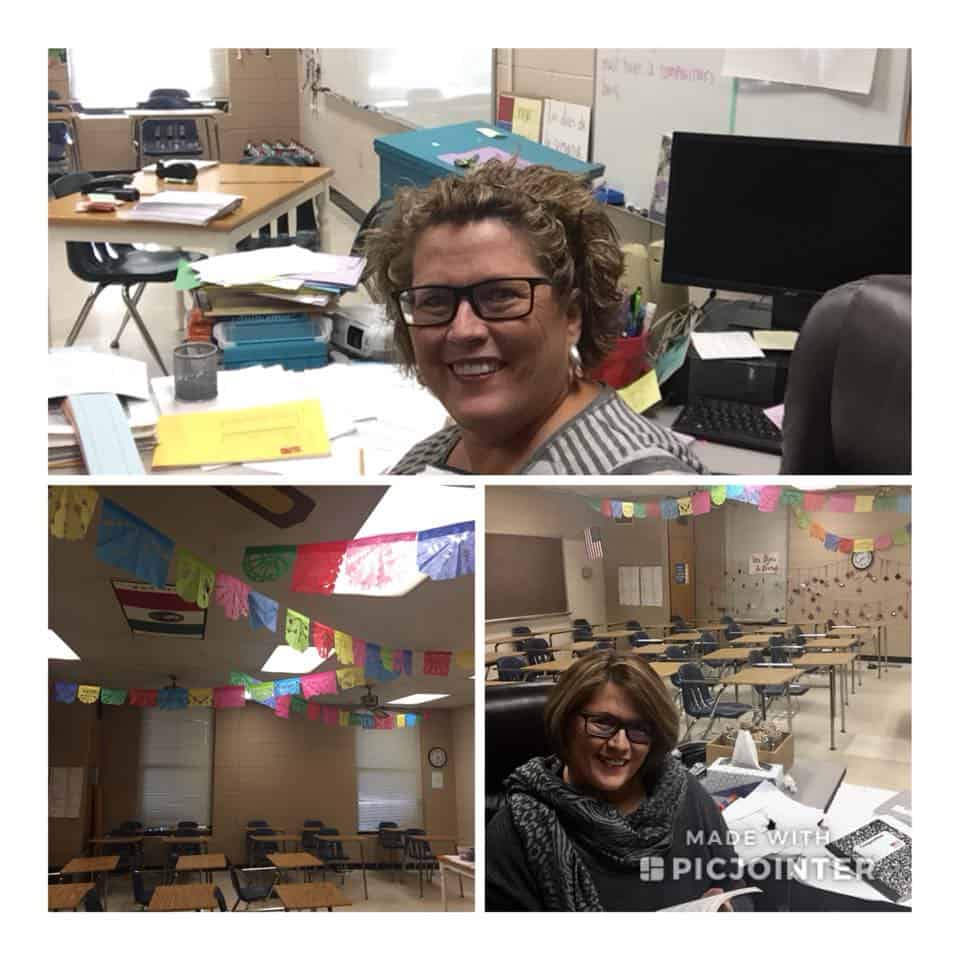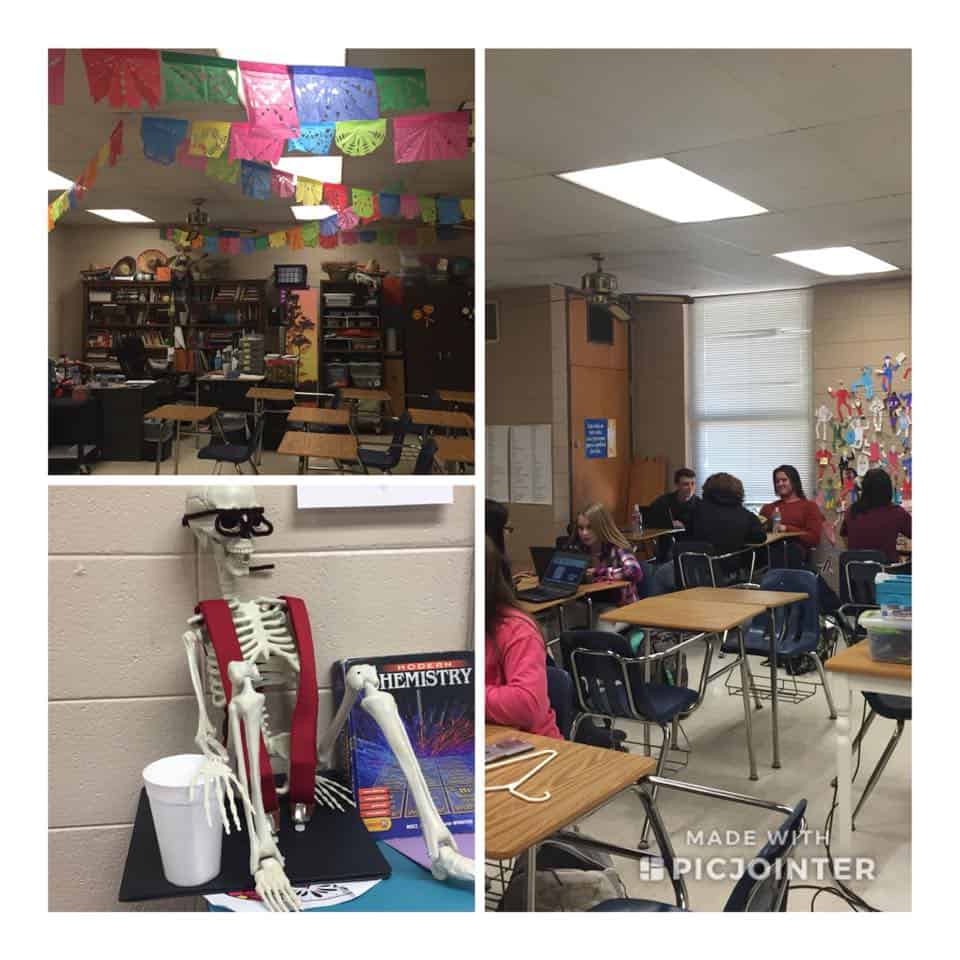 CHAIR HEAVEN
Talk about flexible seating: this room has a little of everything! The library corner is irresistible and I just want to see what it looks like with all the Christmas lights on.

Profe: Kristy Vernon (questions? [email protected])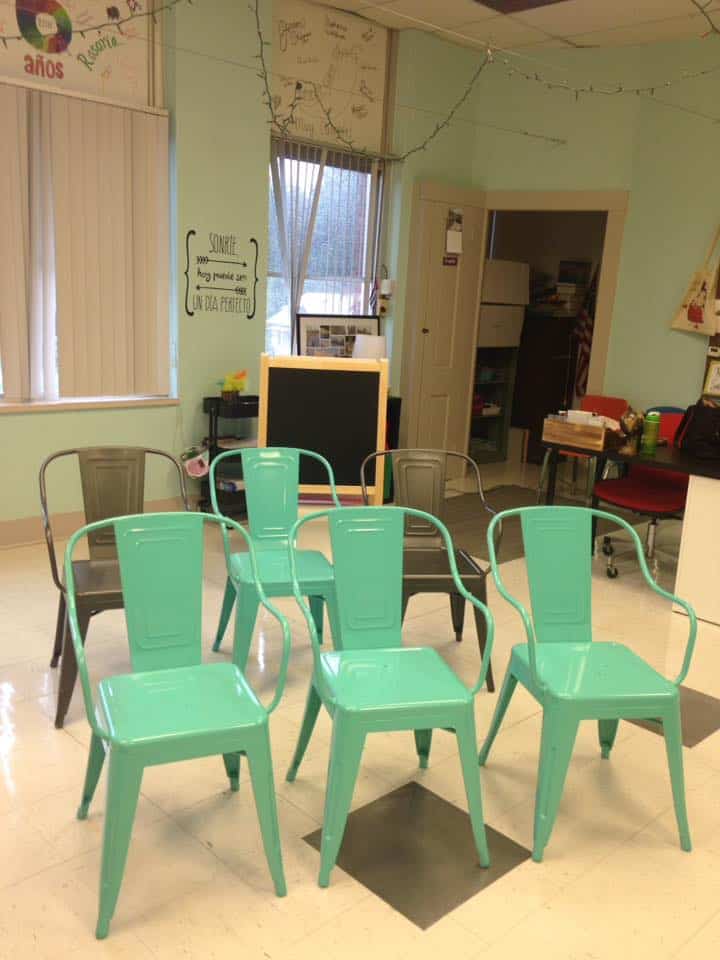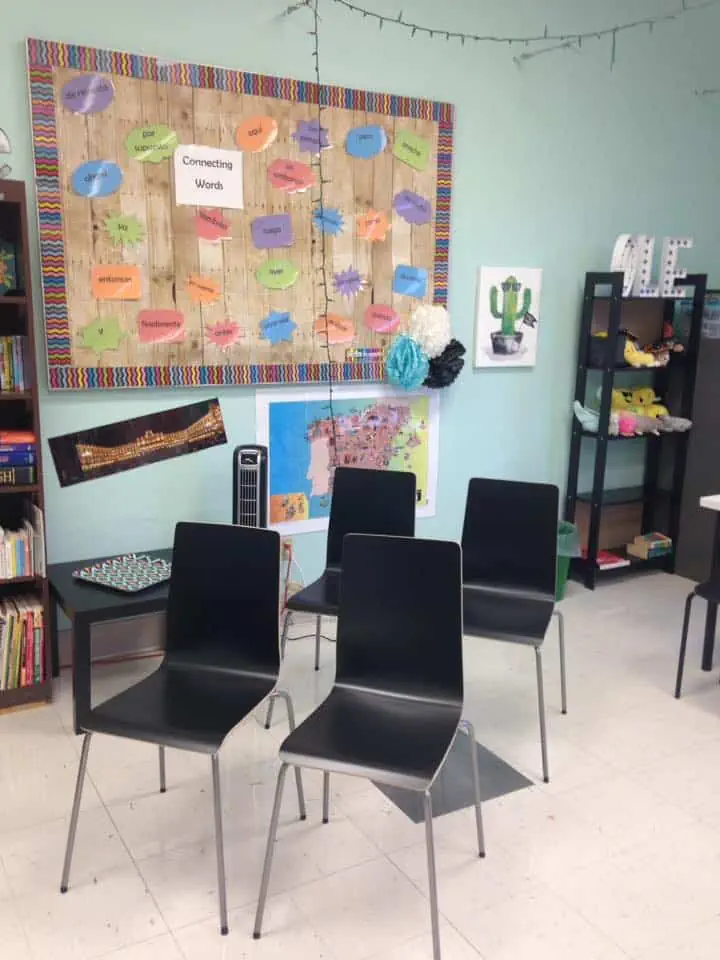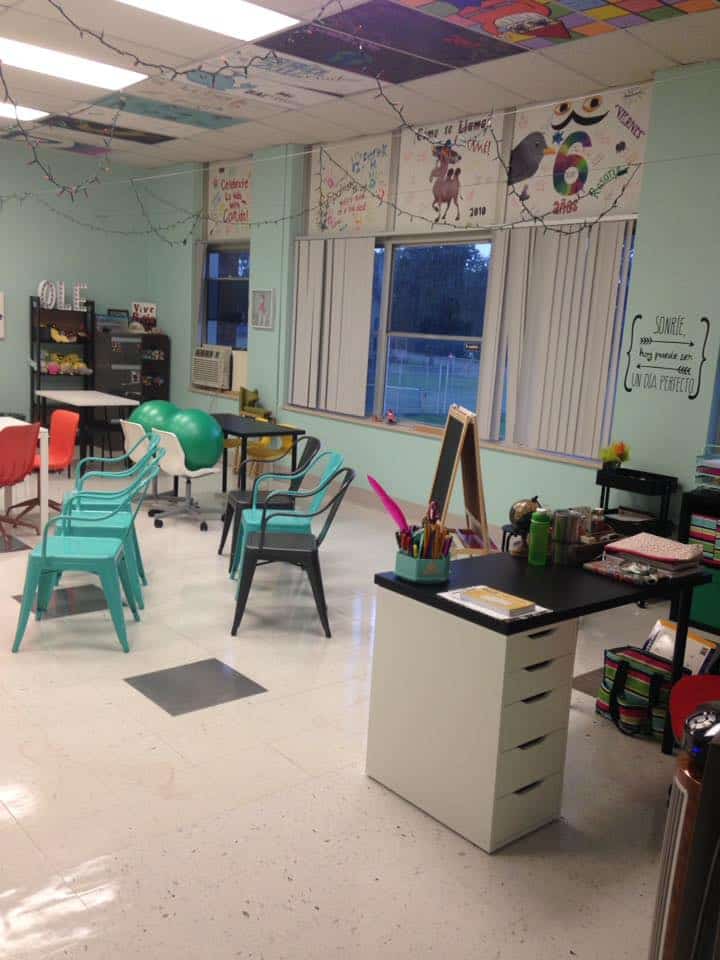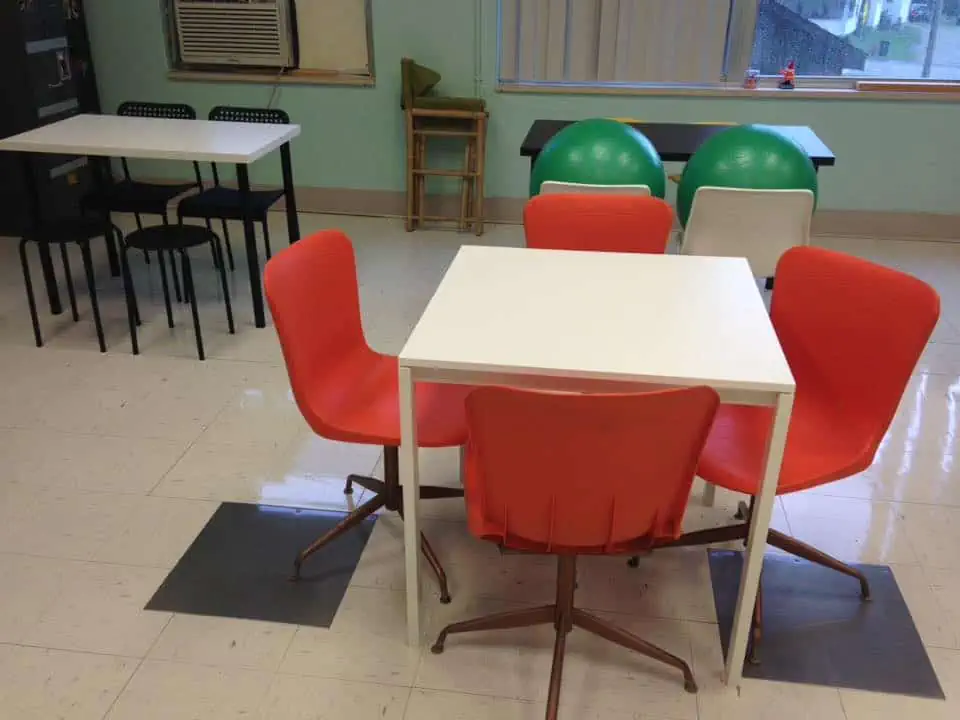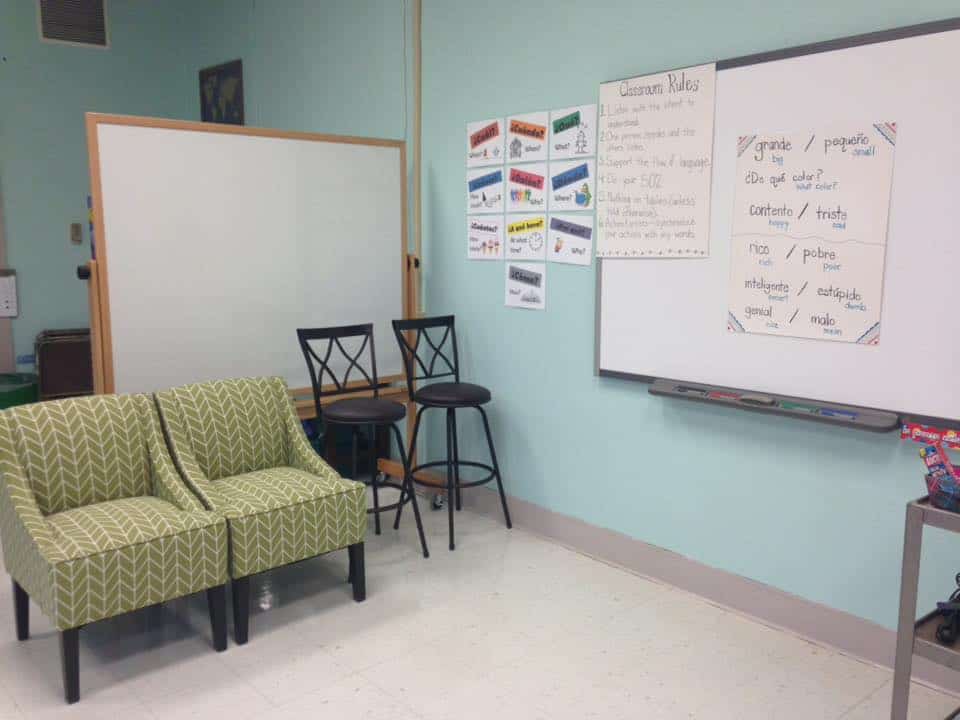 AN ITTY-BITTY SPACE
This is my room from a long time ago. Another class met in my room, so I never got to try deskless. The posters since got covered with high-frequency verbs too.
Profe: Elisabeth Alvarado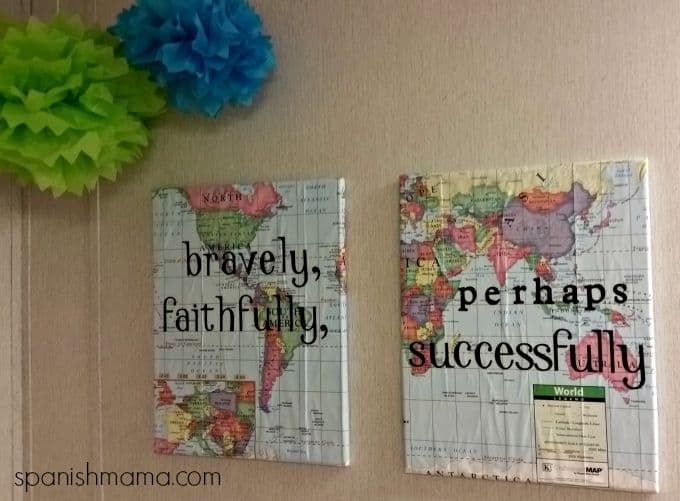 SEMI-CIRCLE GOODNESS
Sometimes, something simple like rearranging the chairs into a semi-circle instead of rows gives that feeling of community and communication. I really like those clean + pretty back bulletin boards too.

Profe: Mayra Cabrera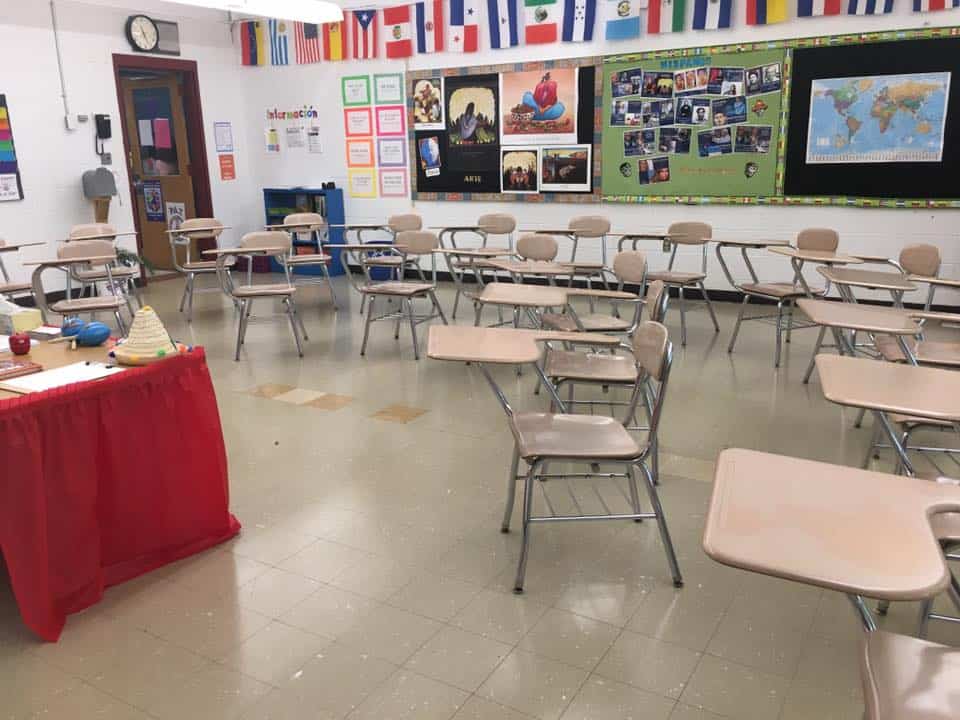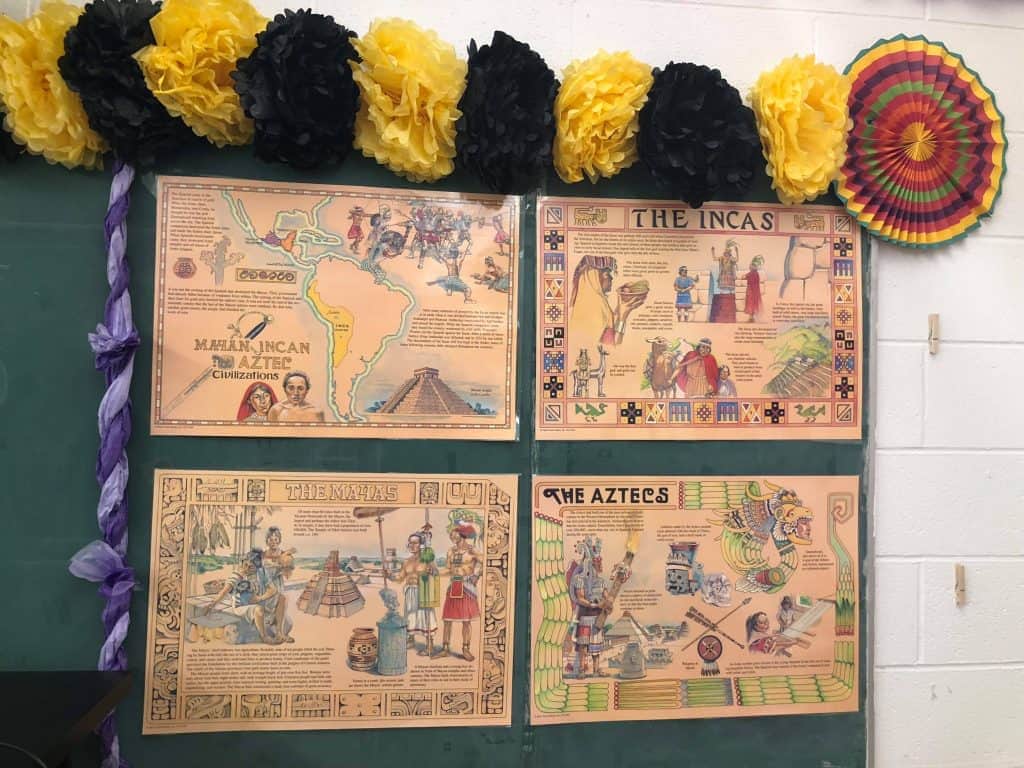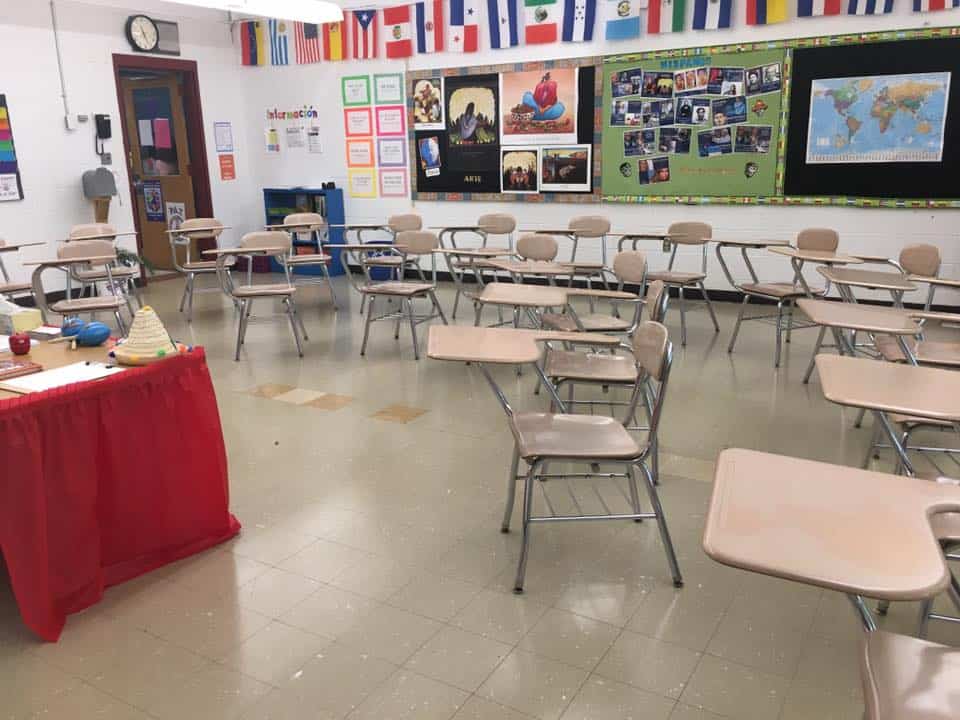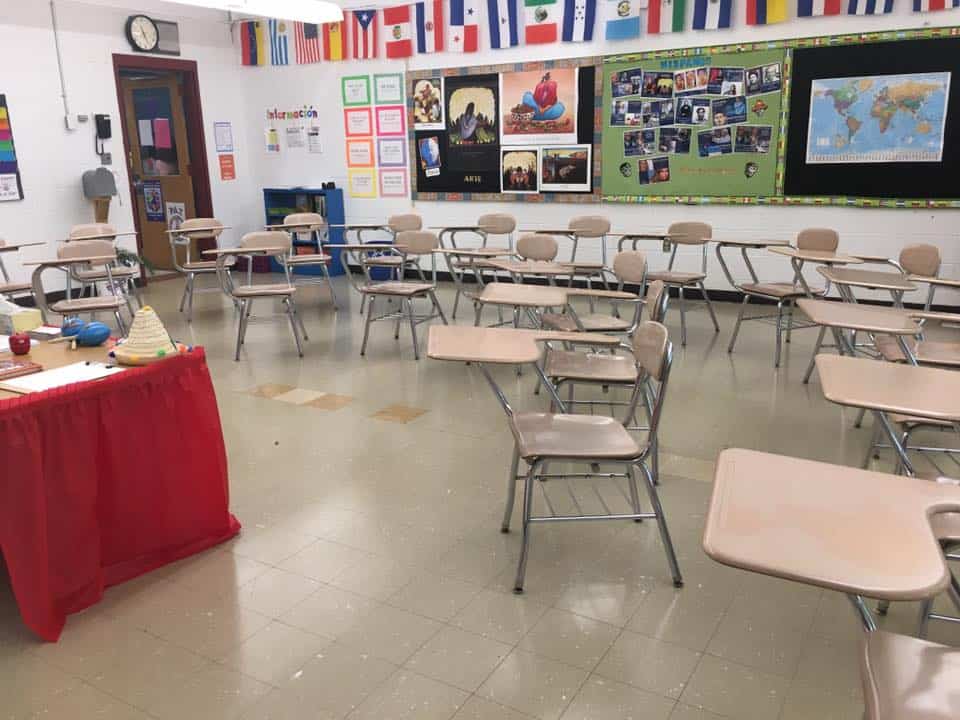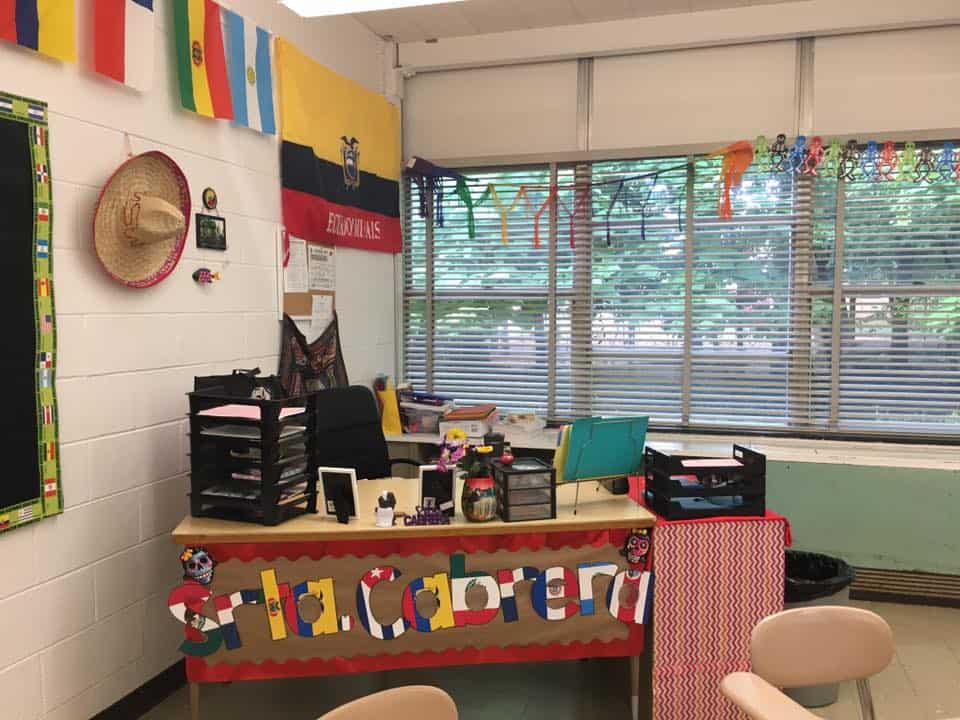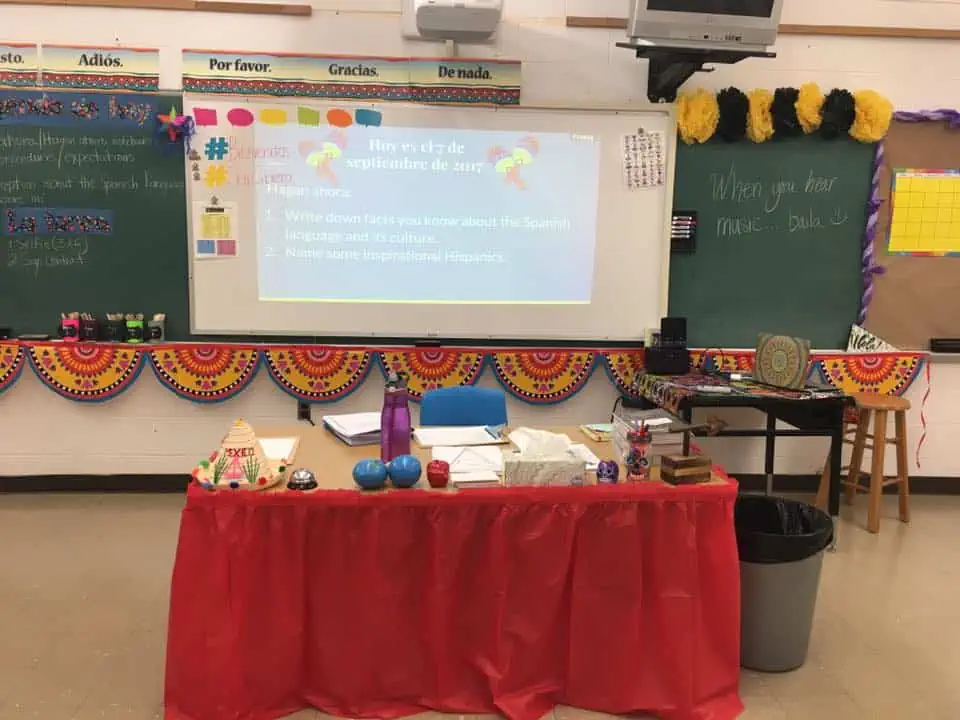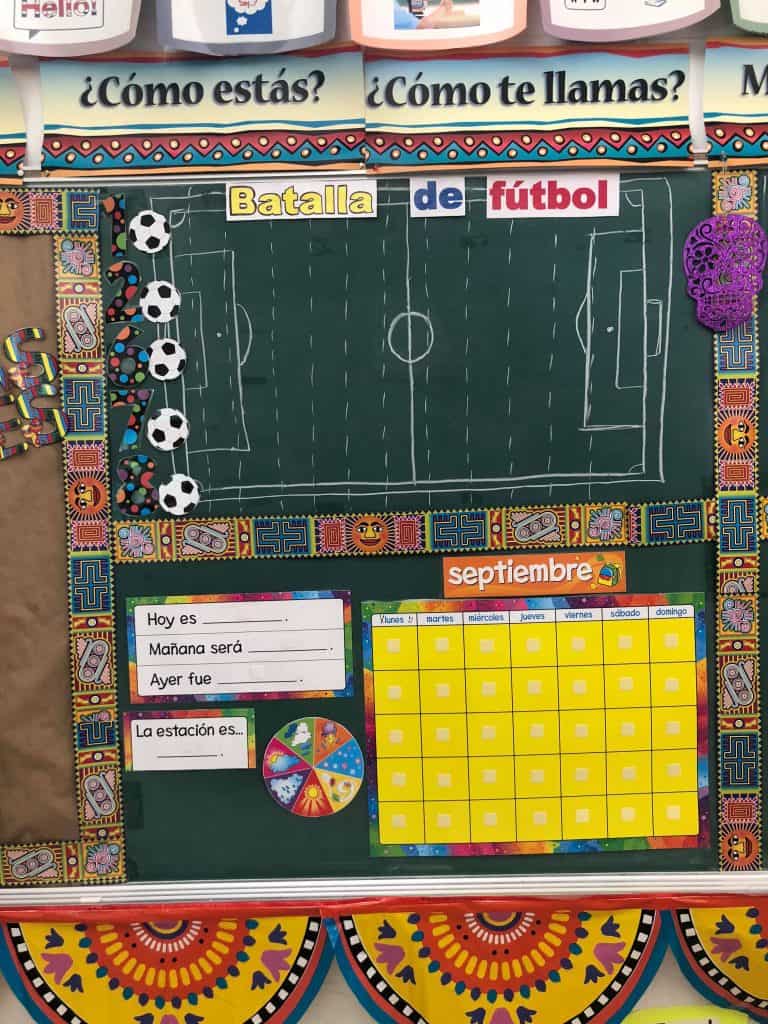 PRESCHOOL & ELEMENTARY SPANISH CLASSROOMS
Now we can start our tour of classrooms for younger crowds. I didn't get as many pictures for this category, so please send me more at [email protected], if you have more. 🙂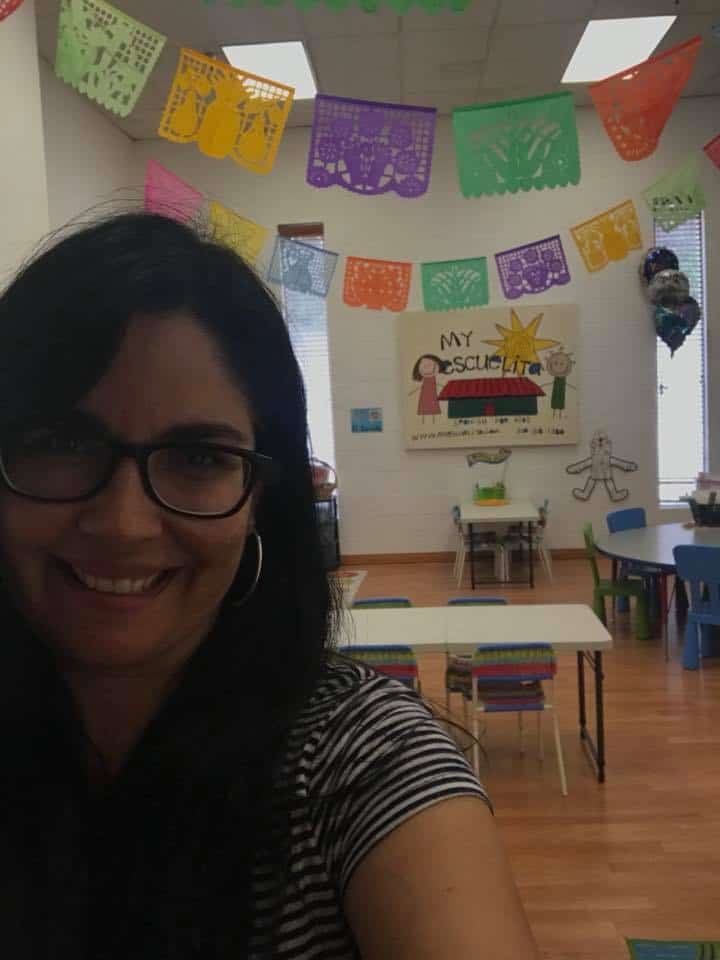 ROOM TO MOVE
I love these bags that go on the backs of the chairs so you don't need desks. There is so much room for movement here!

Profe: Carolina Gomez
Blog: Fun for Spanish Teachers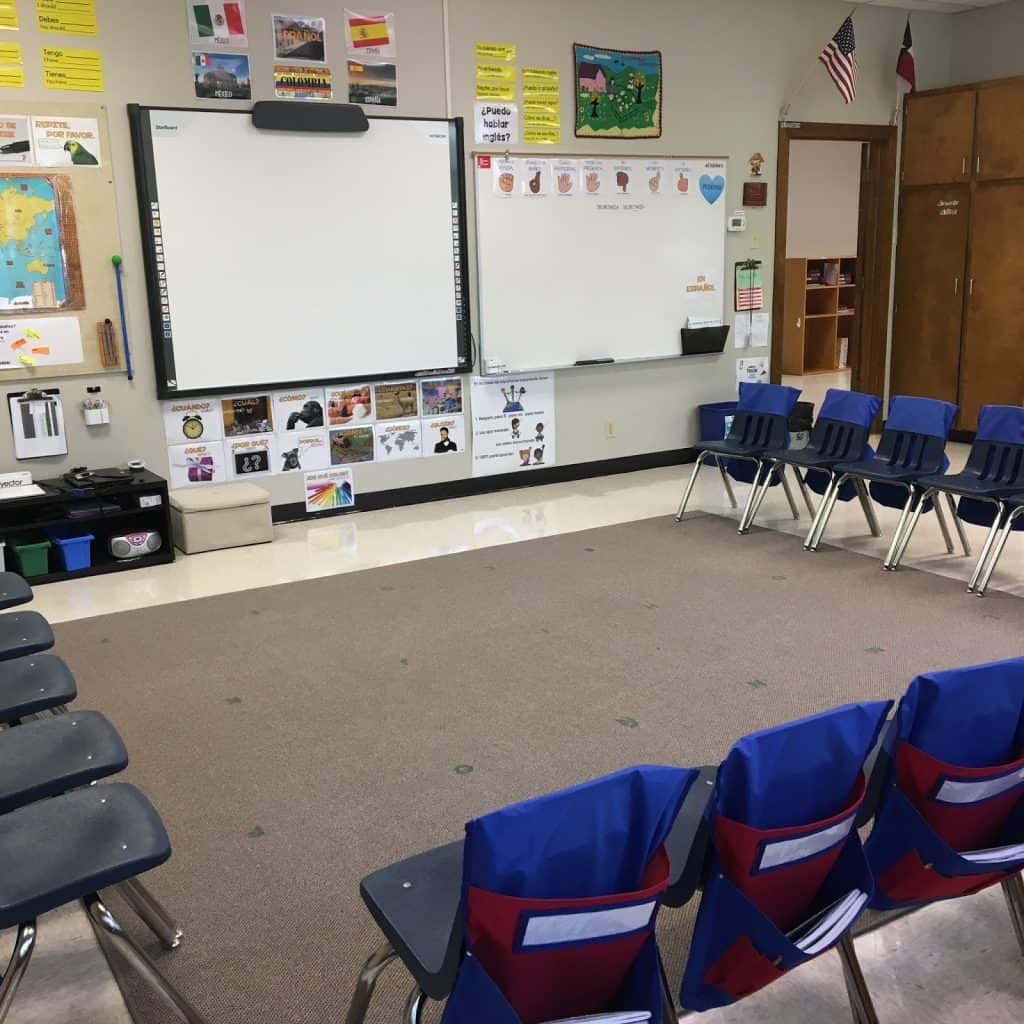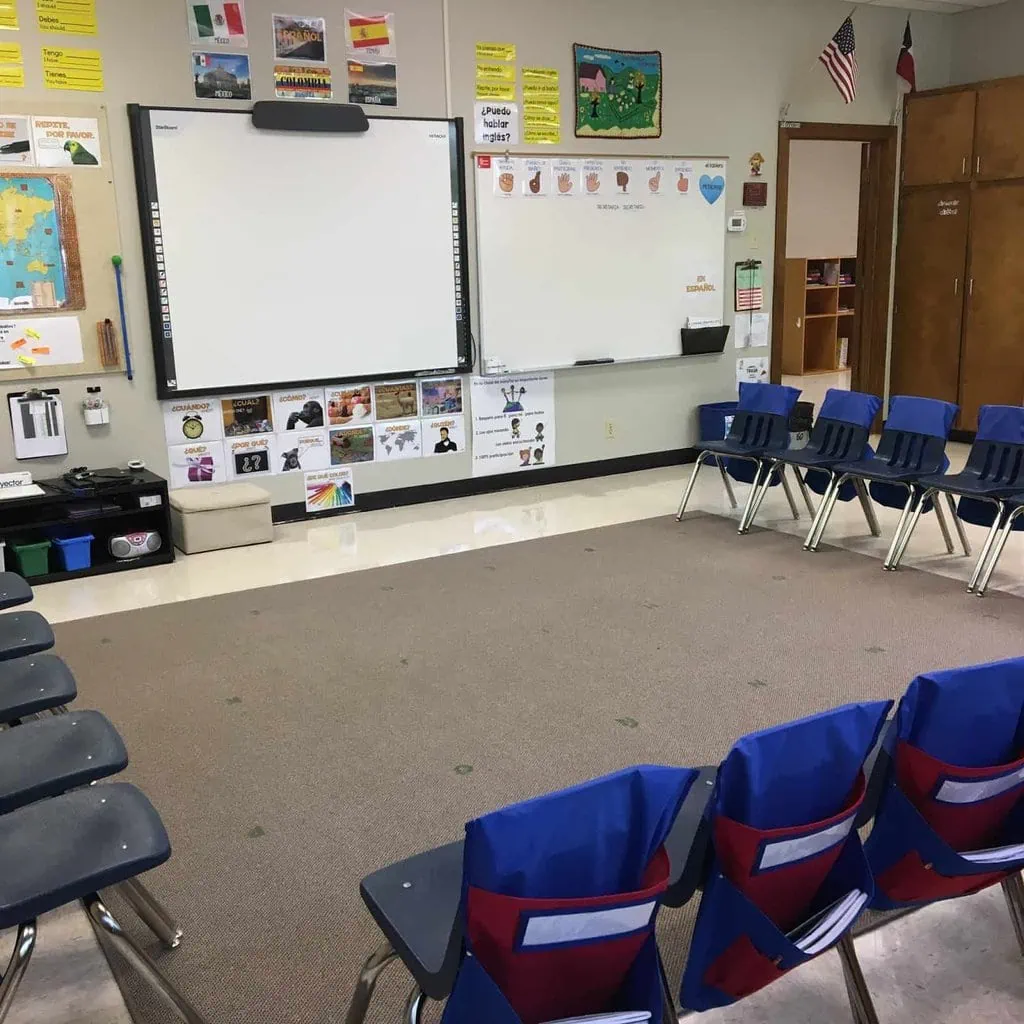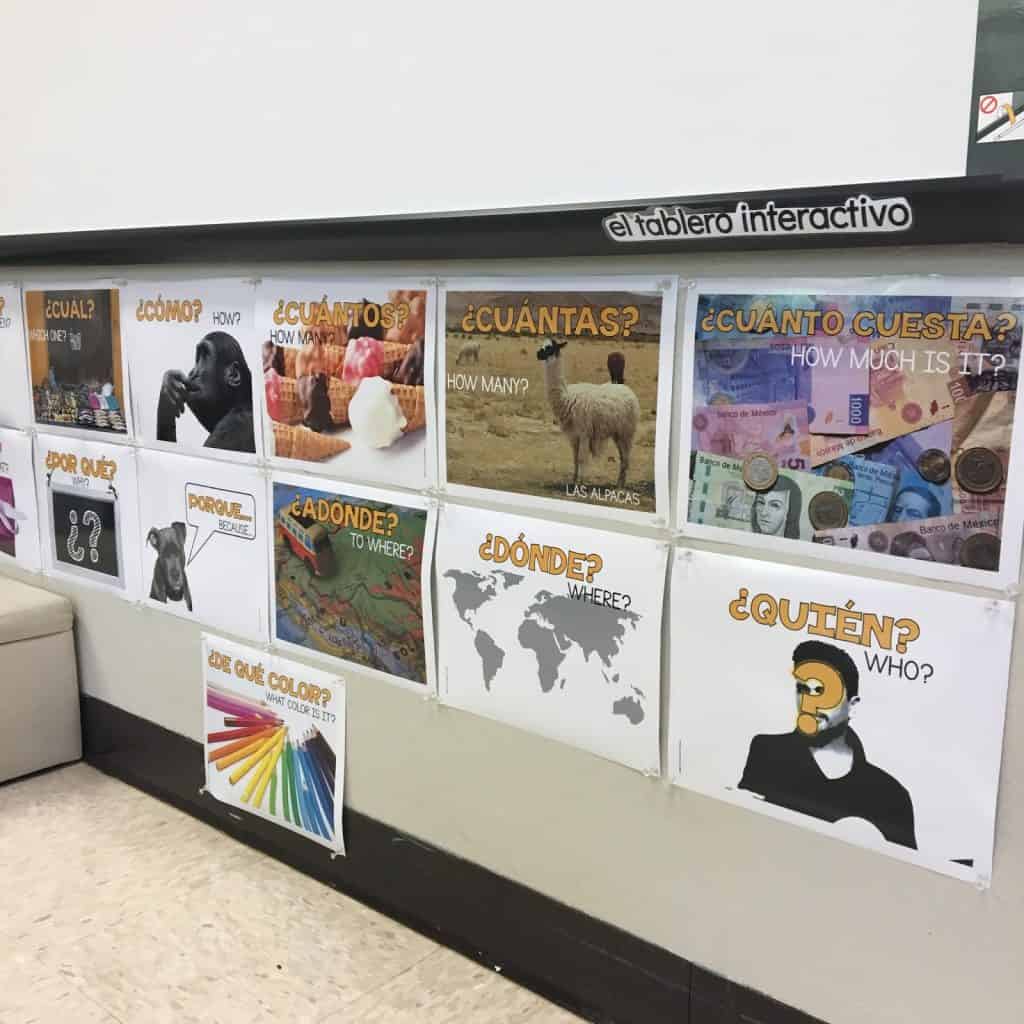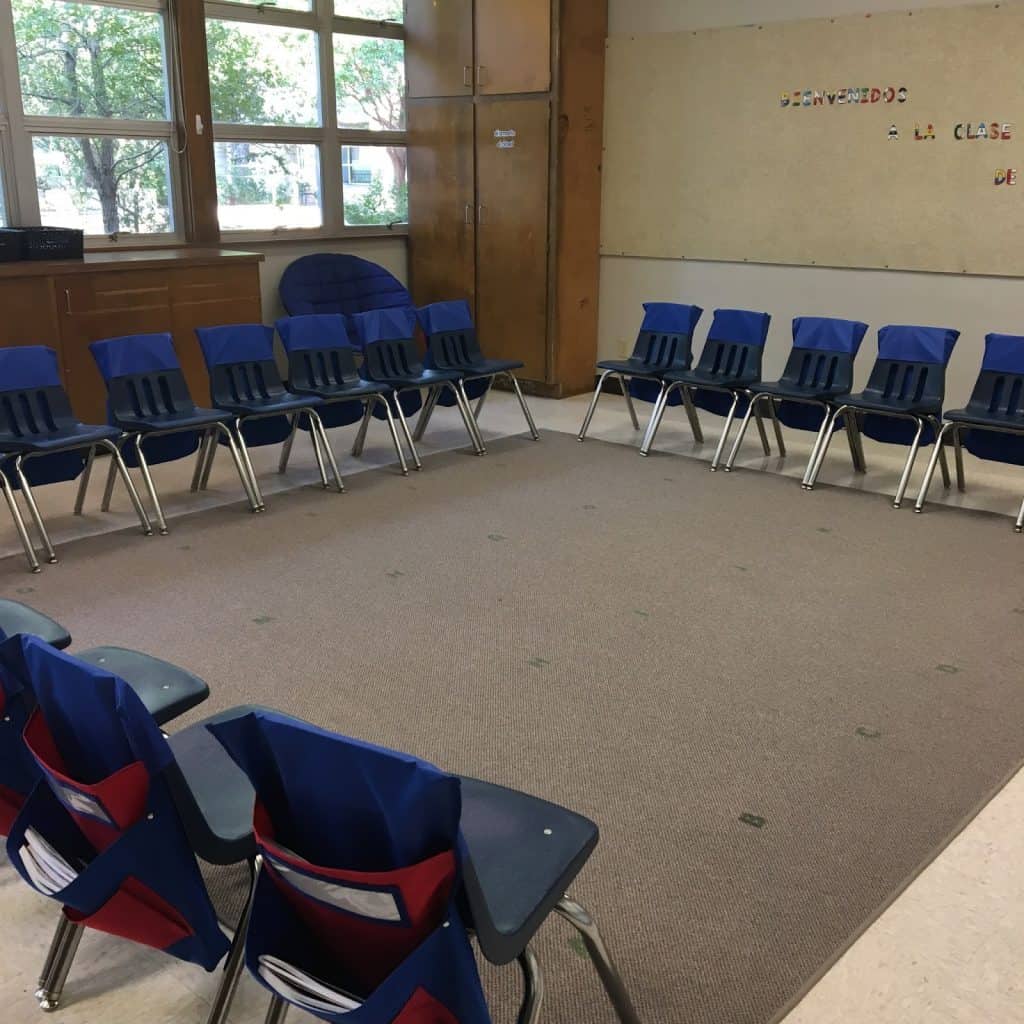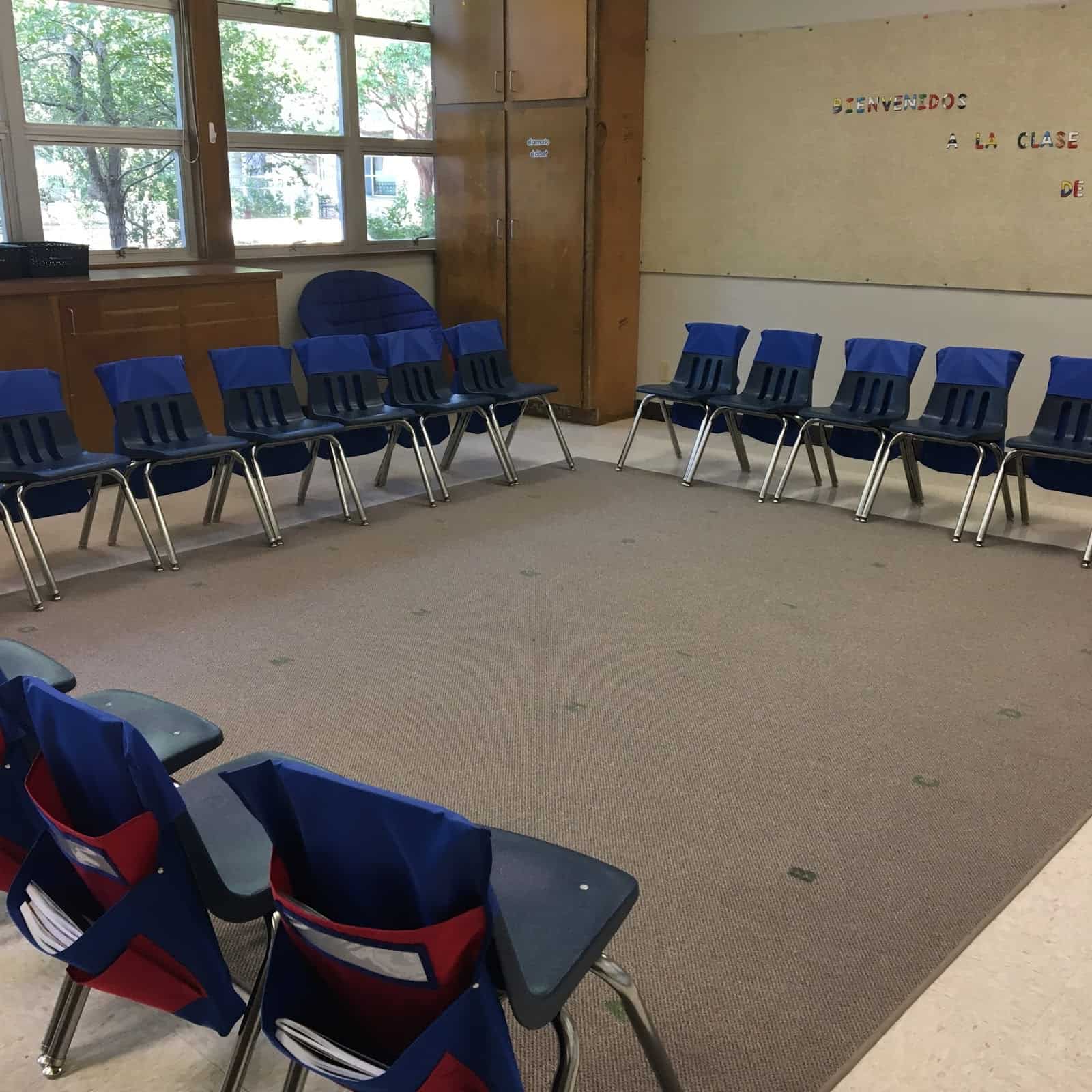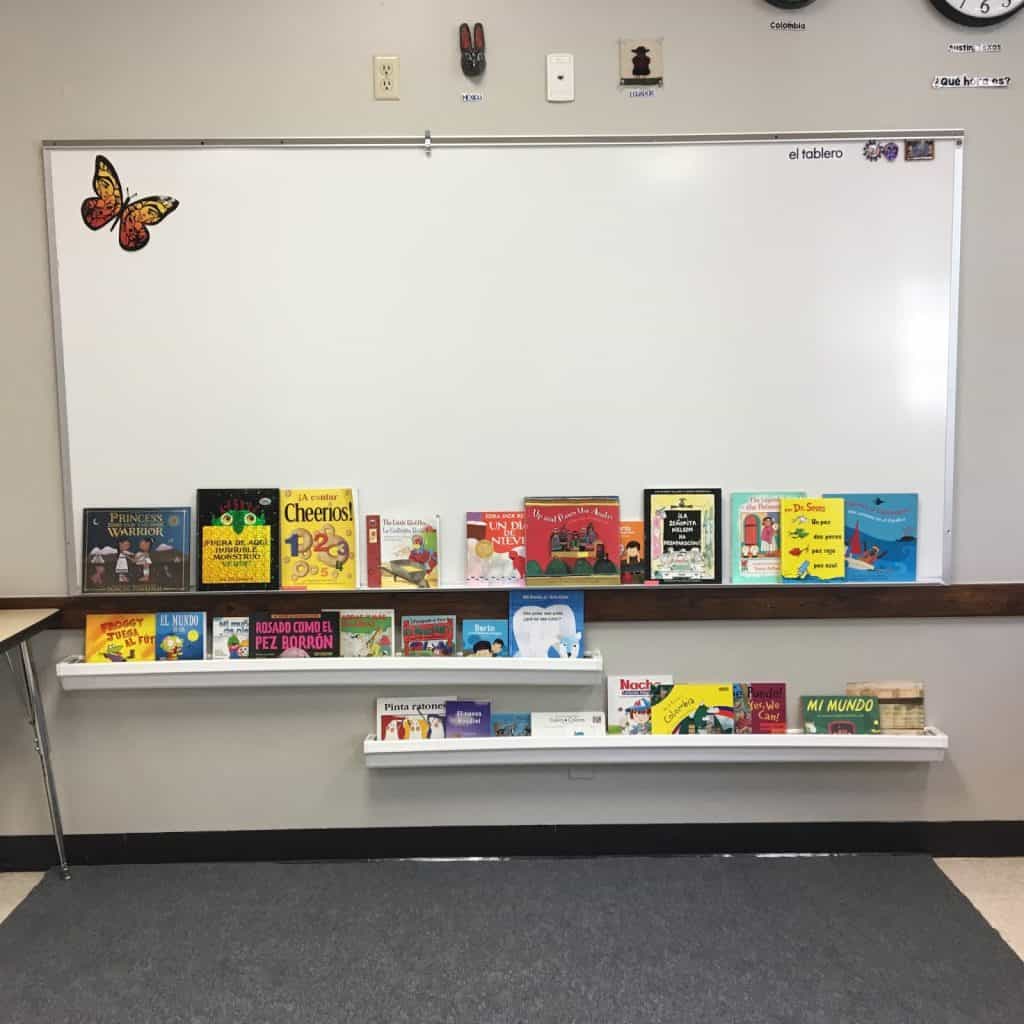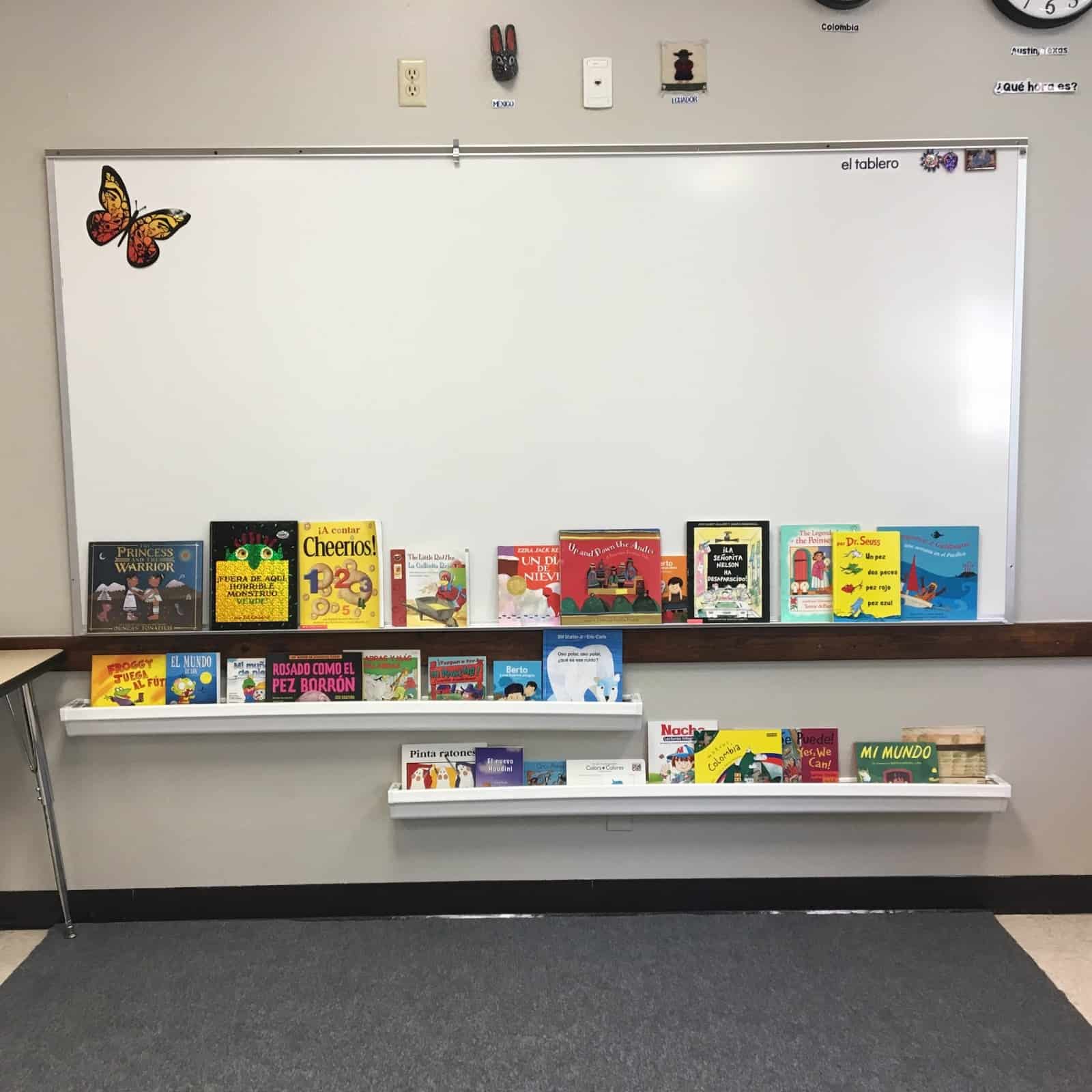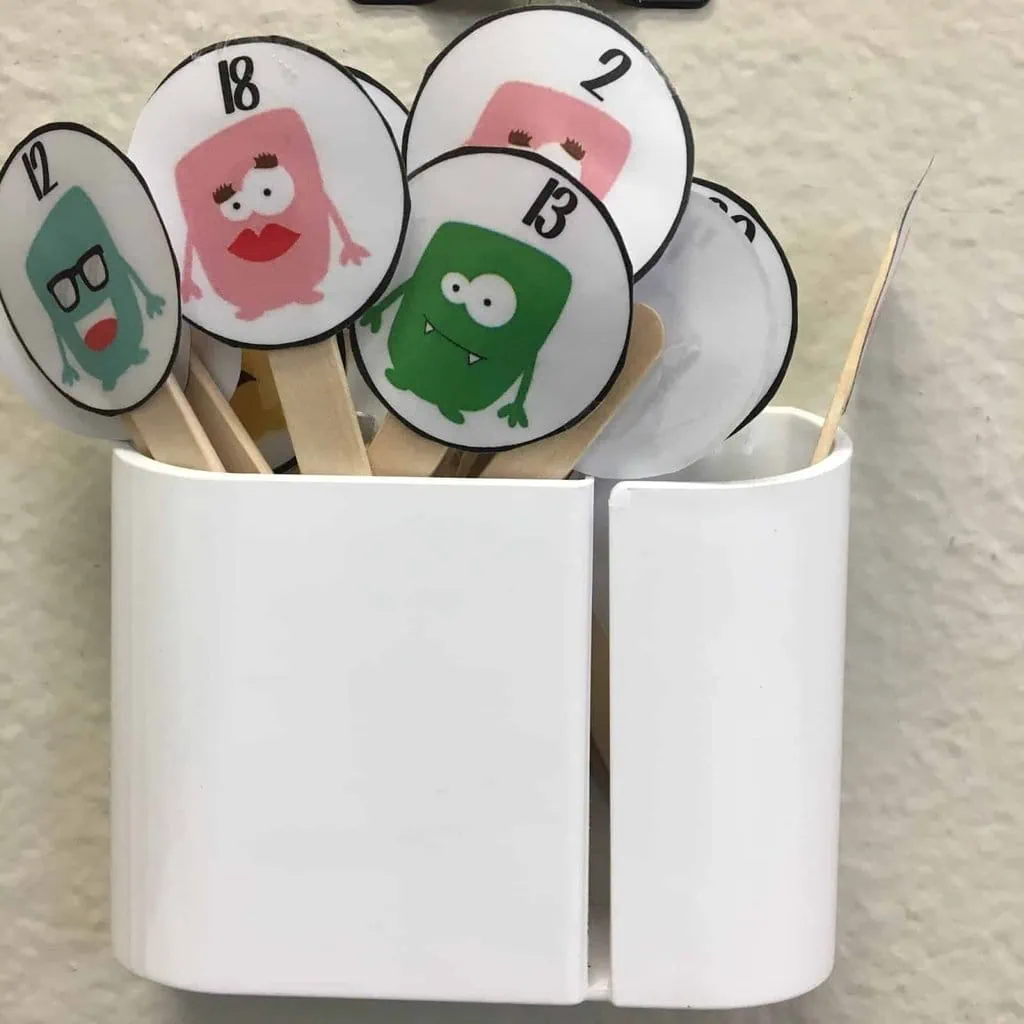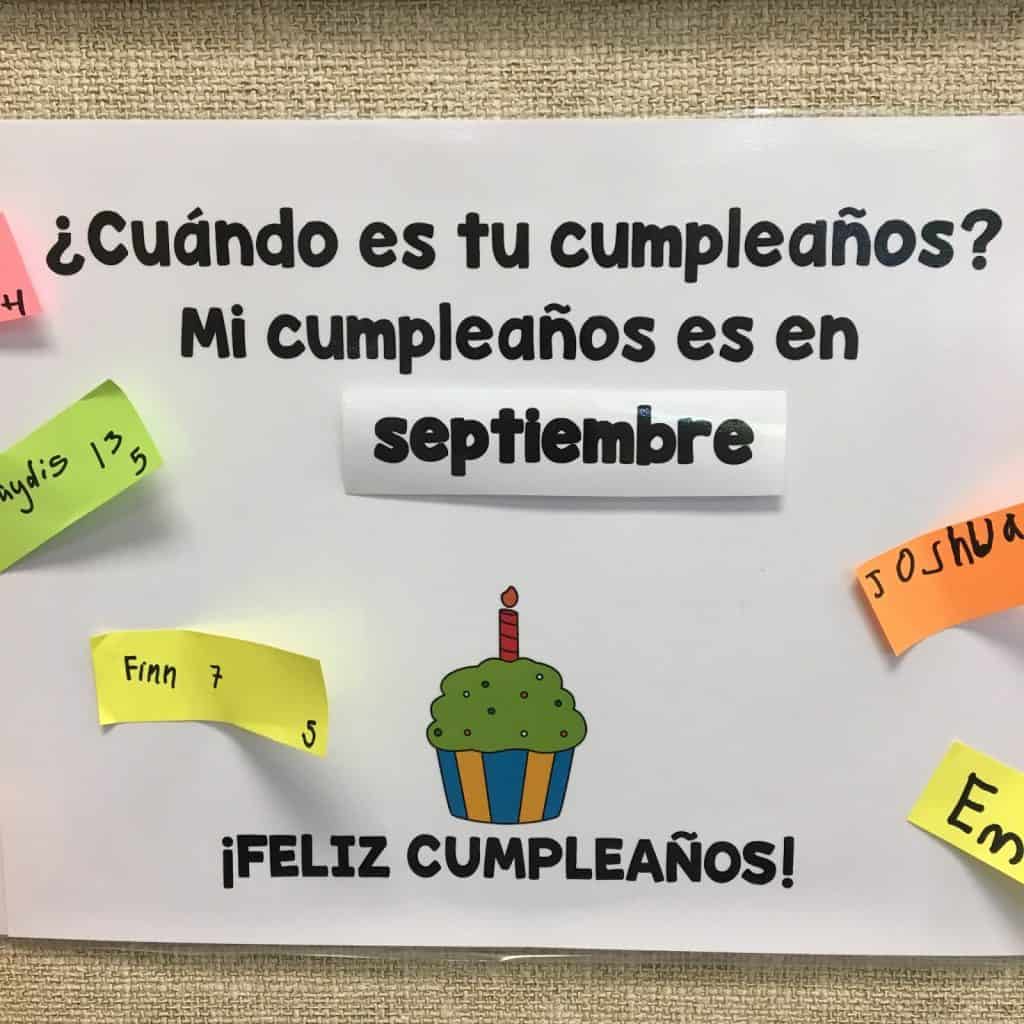 LA PLAYA + SPANISH IMMERSION
From a 5th Grade Spanish immersion classroom in Texas, Diana says, "All of my students learn Spanish as a second language through content. I am self-contained and that's why I always try to create a cozy and flexible environment for them."
Profe: Sra. Collado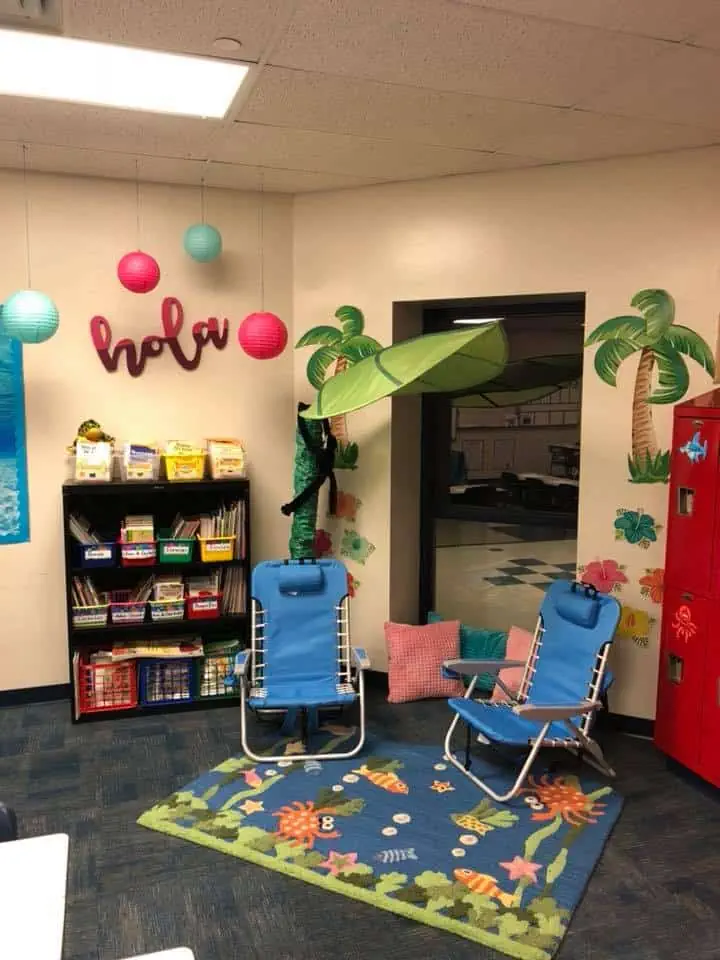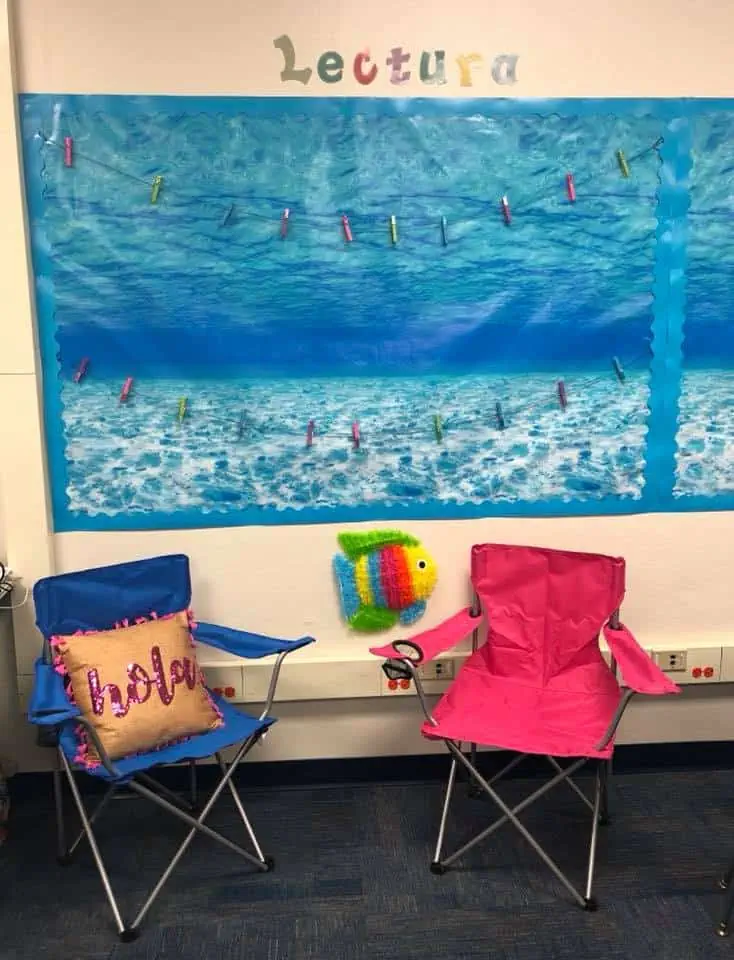 CALENDAR SPACE
I really like a bulletin board with a black background to make the calendar and posters pop!
Profe: Tina Richardson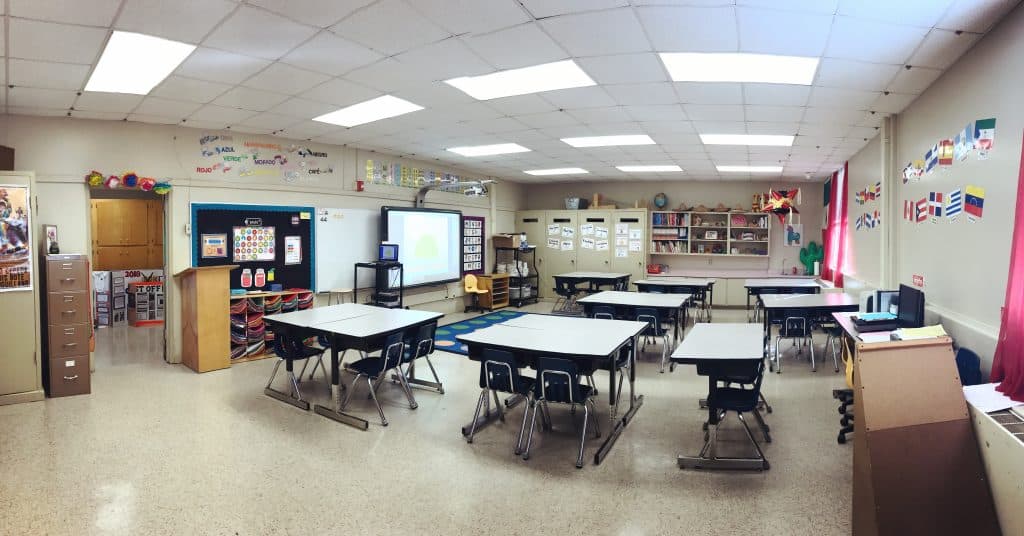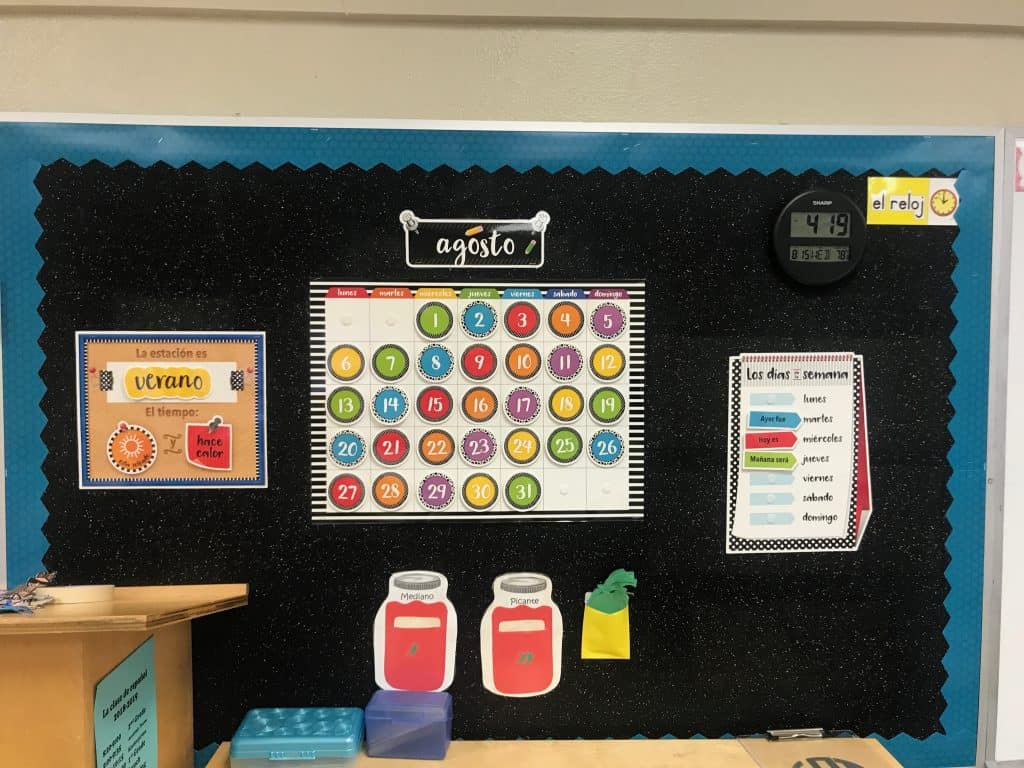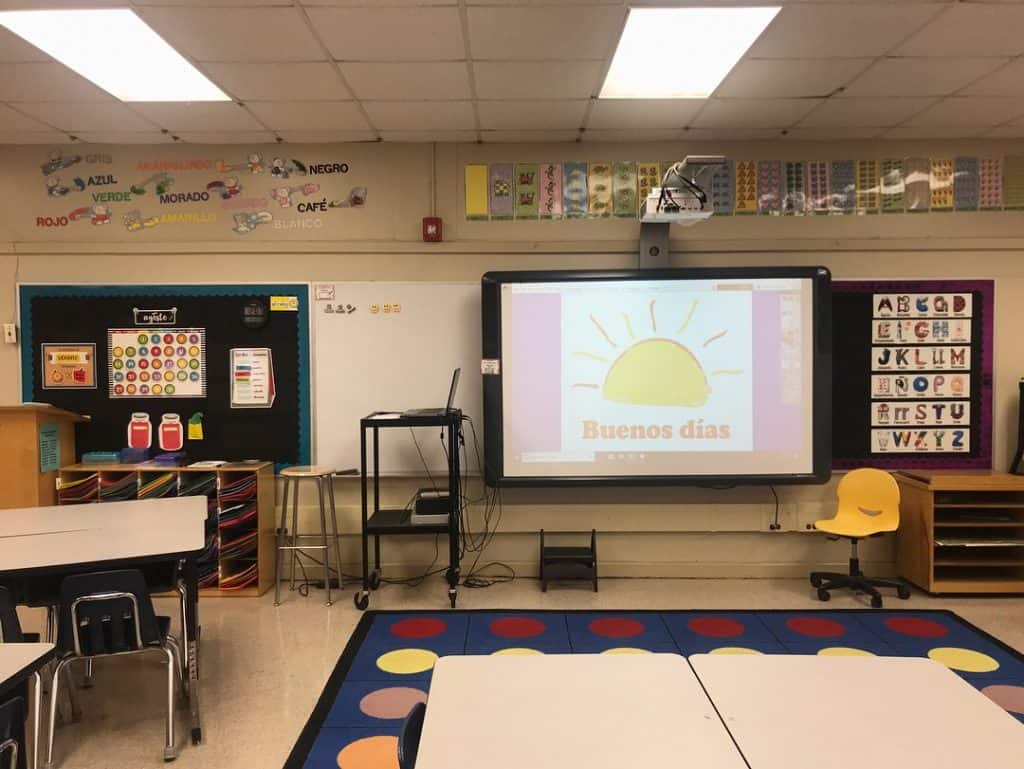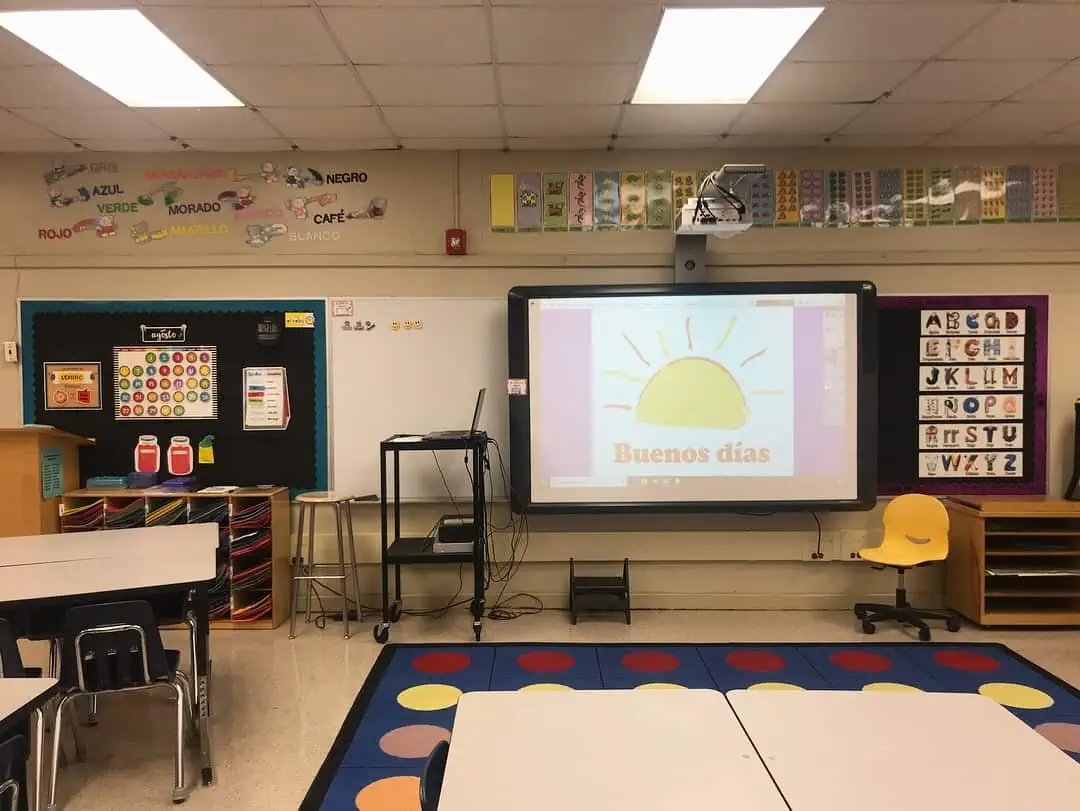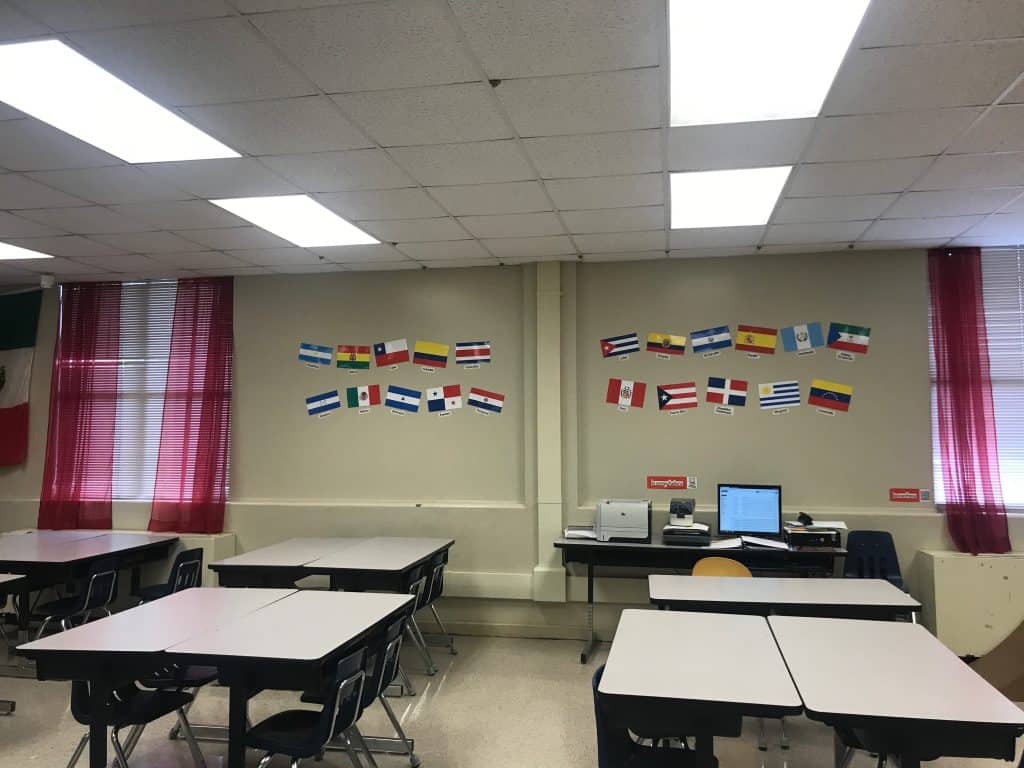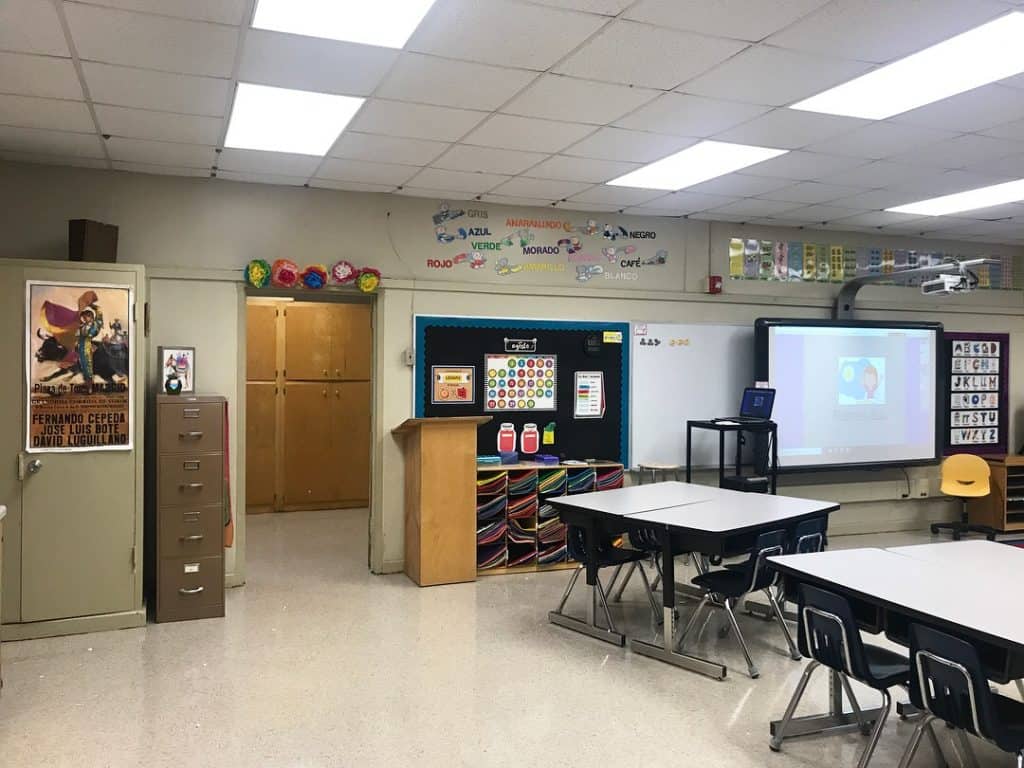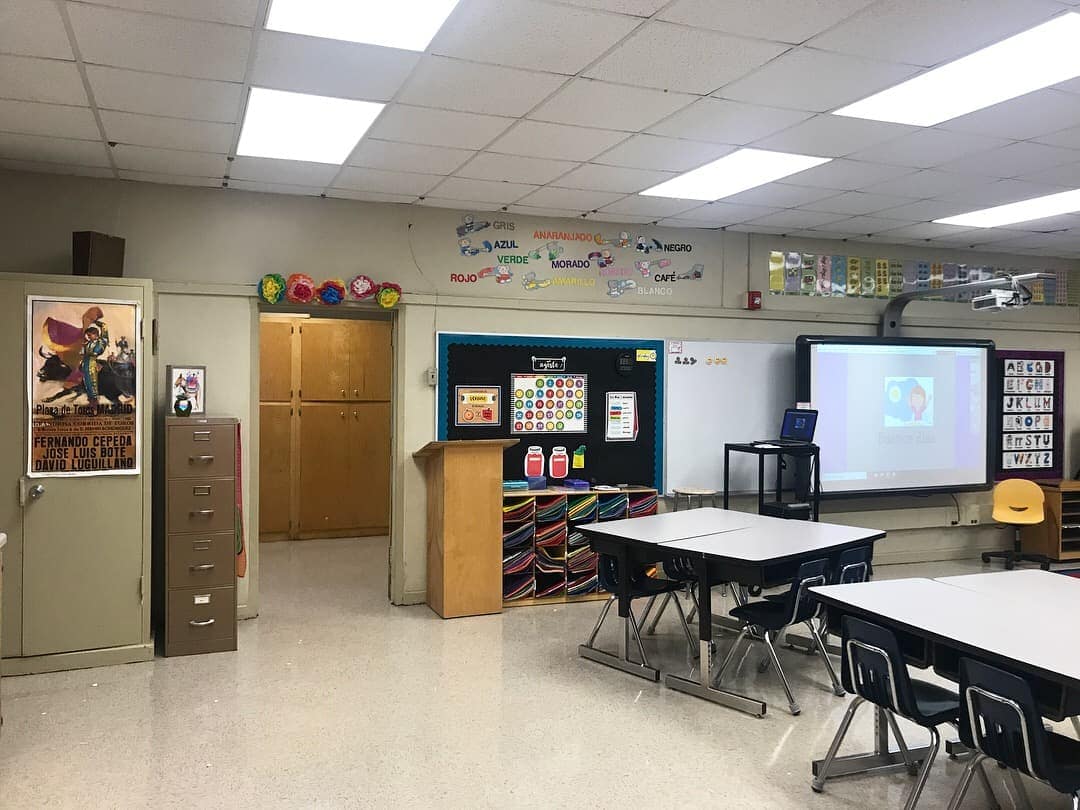 BLUES AND GREENS
These blue tables are adorable AND double as chalkboards!

Profe: Jeanette Miranda-Gould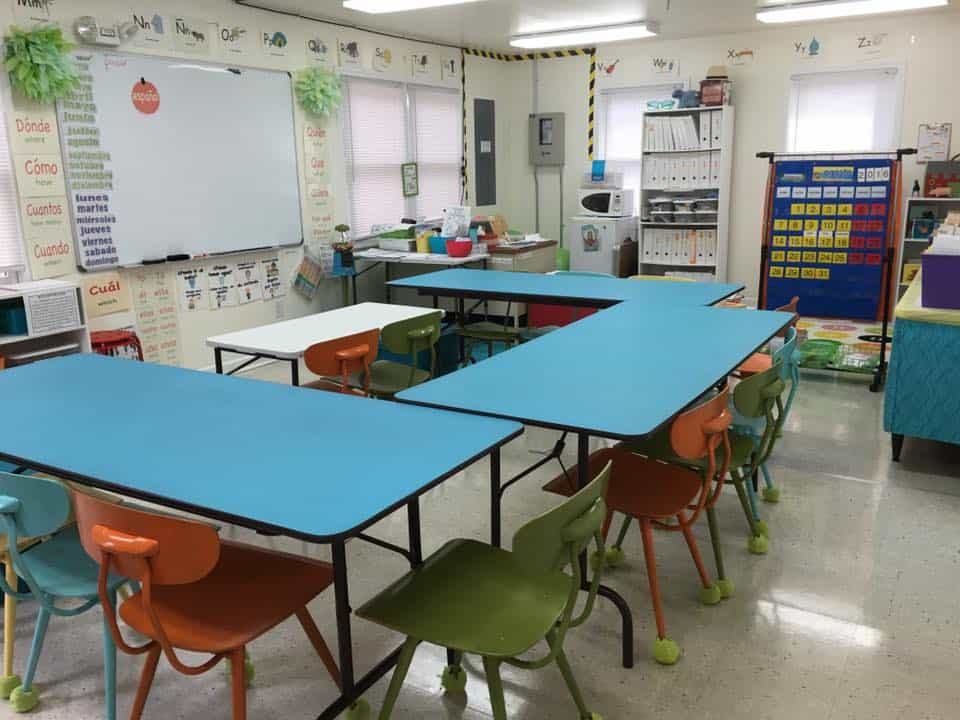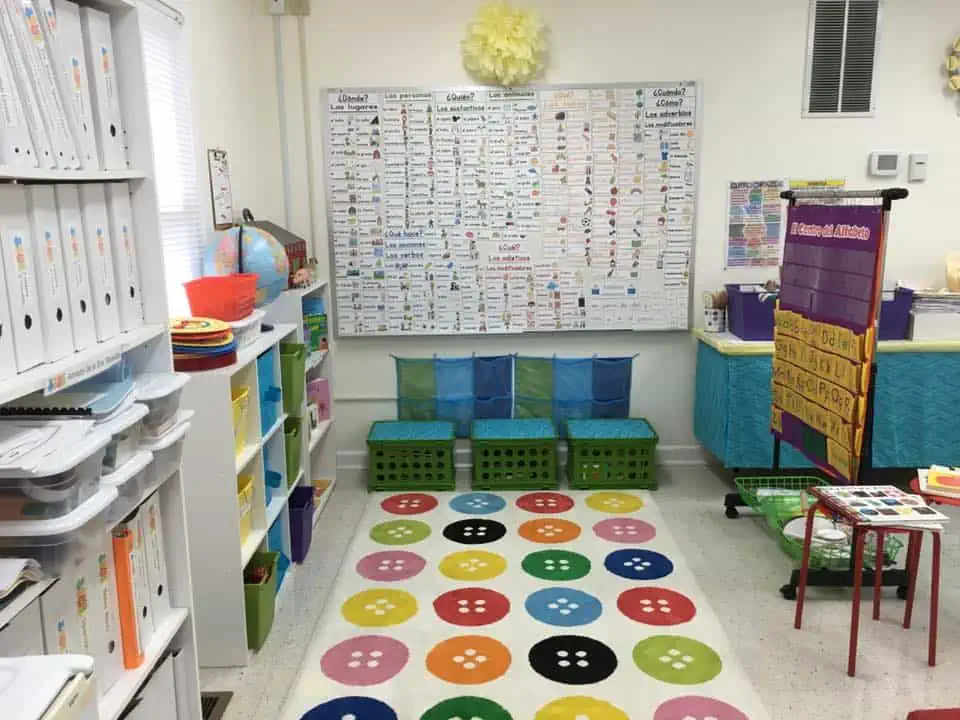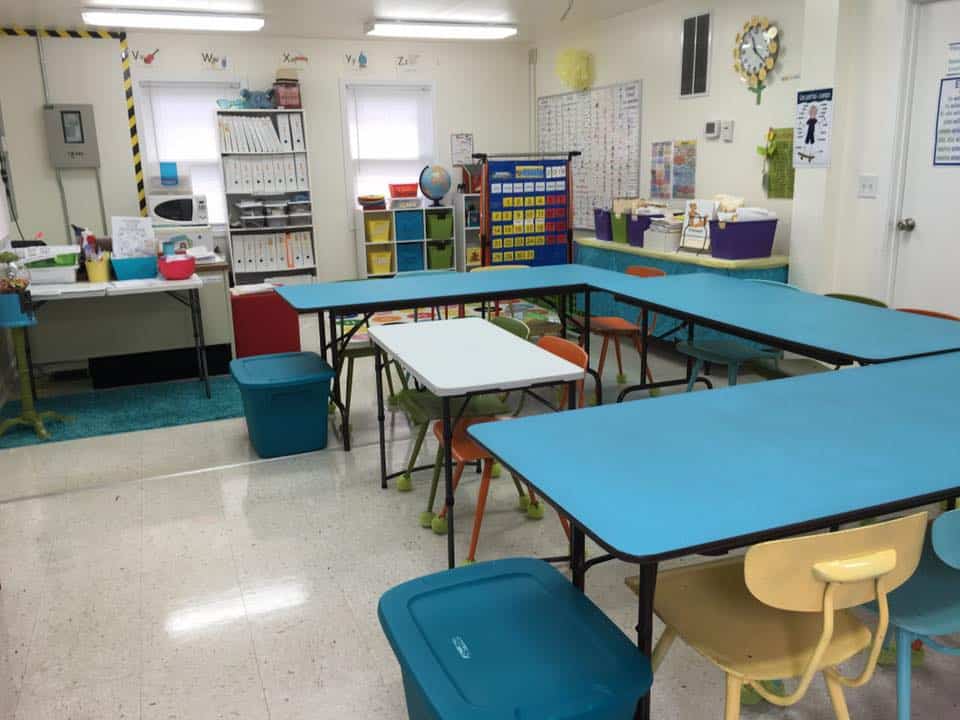 HAPPY PLACE
I love the cheerful yellow in this elementary classroom.

Profe: Karla Calvo-Piedra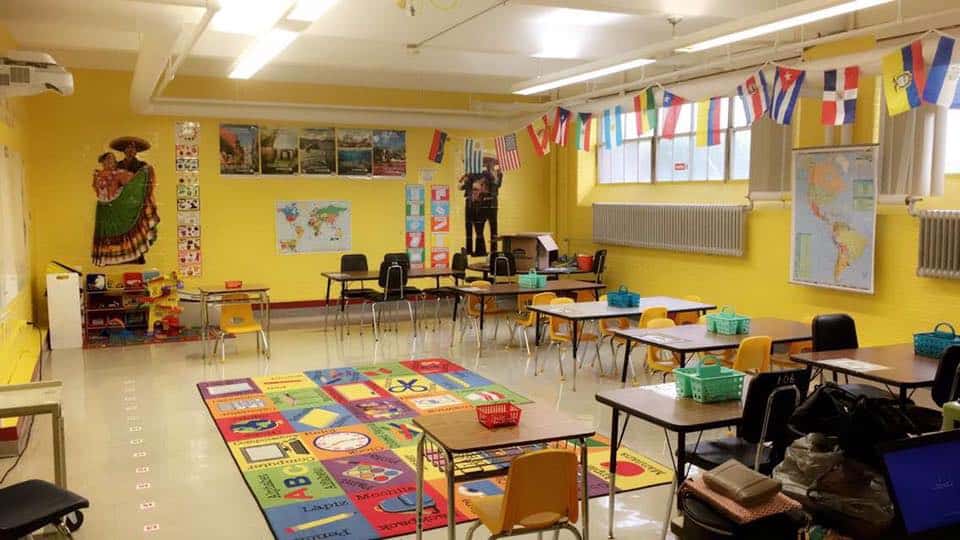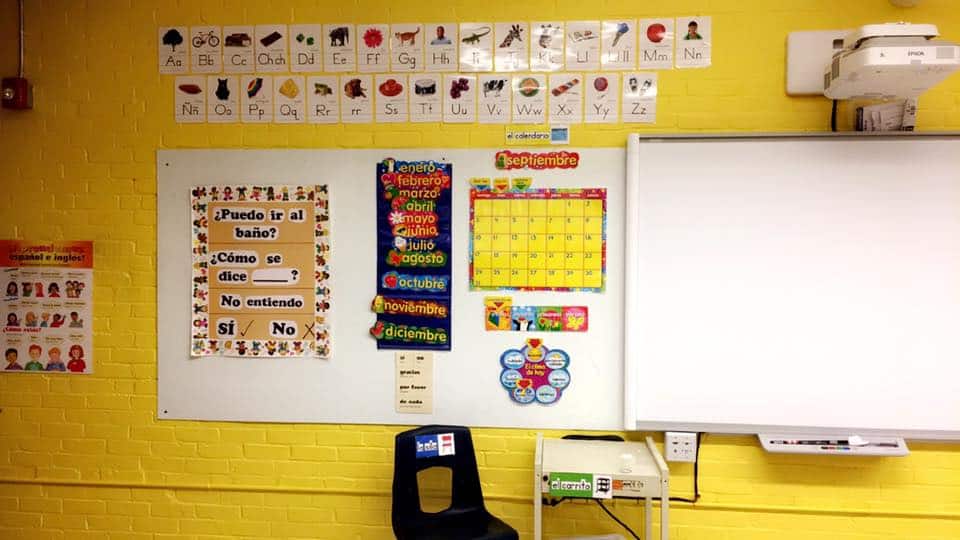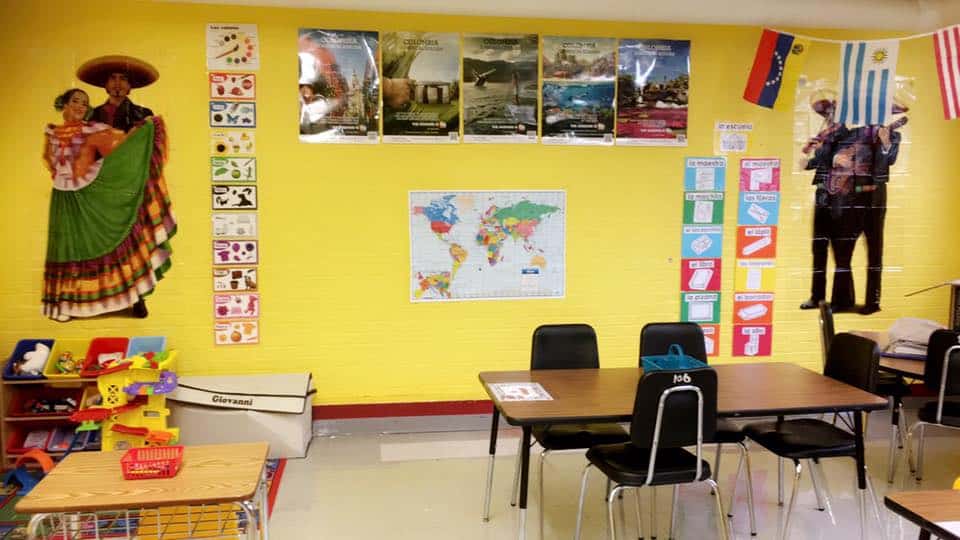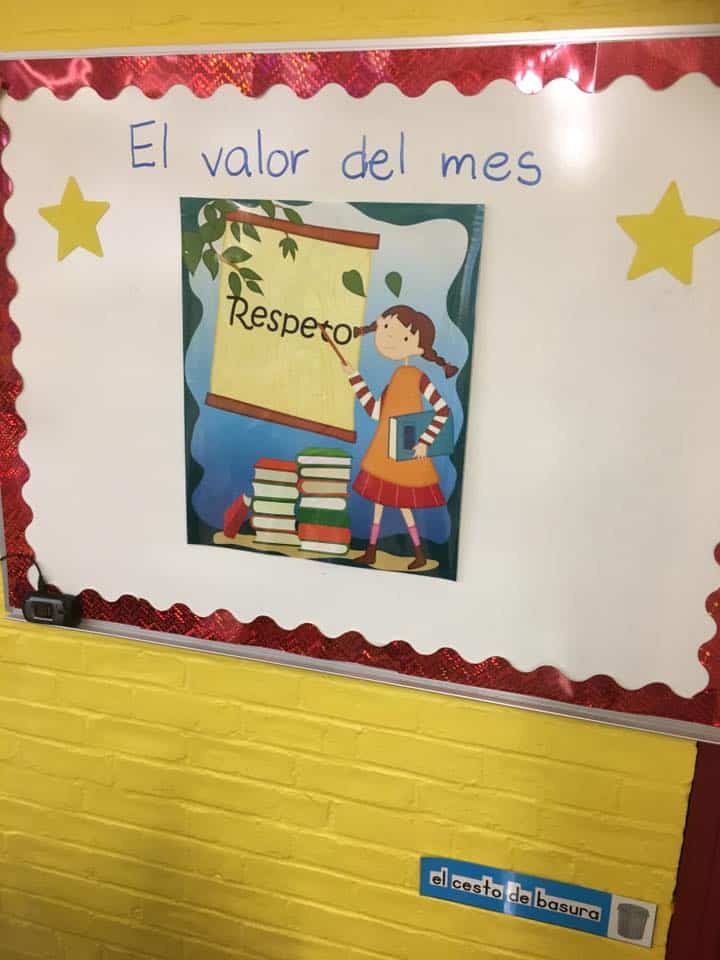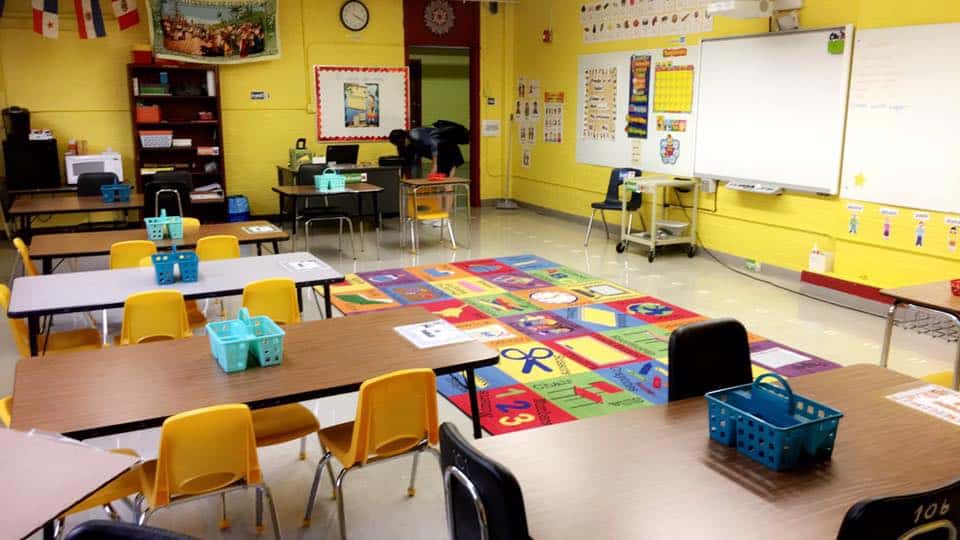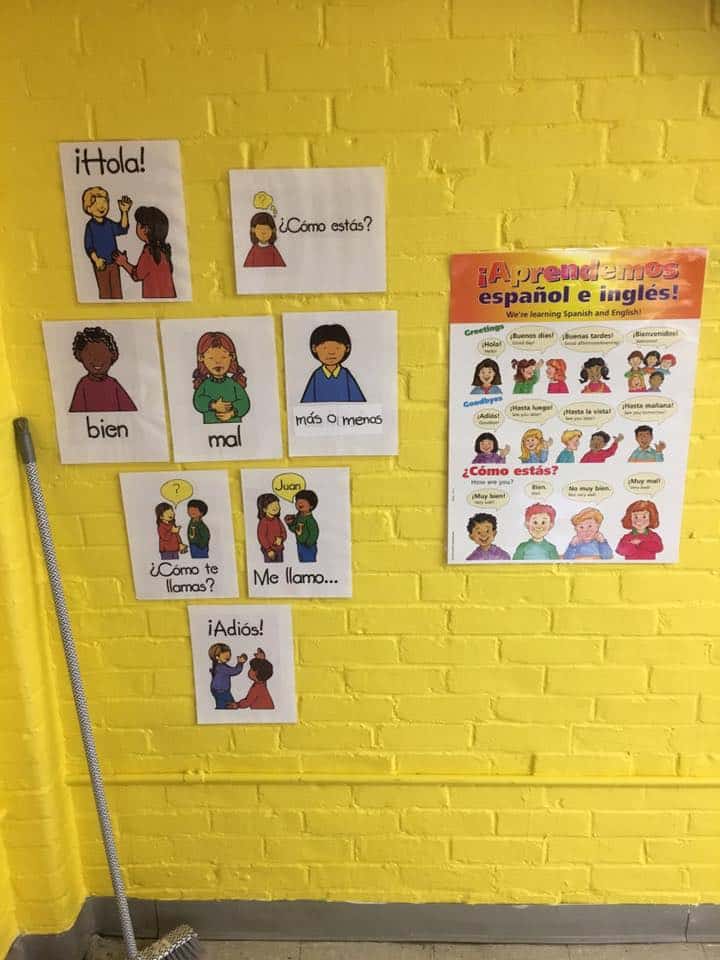 SNAPSHOTS
I also was sent photos of specific posters, bulletin boards, or parts of rooms. Browse these for more ideas!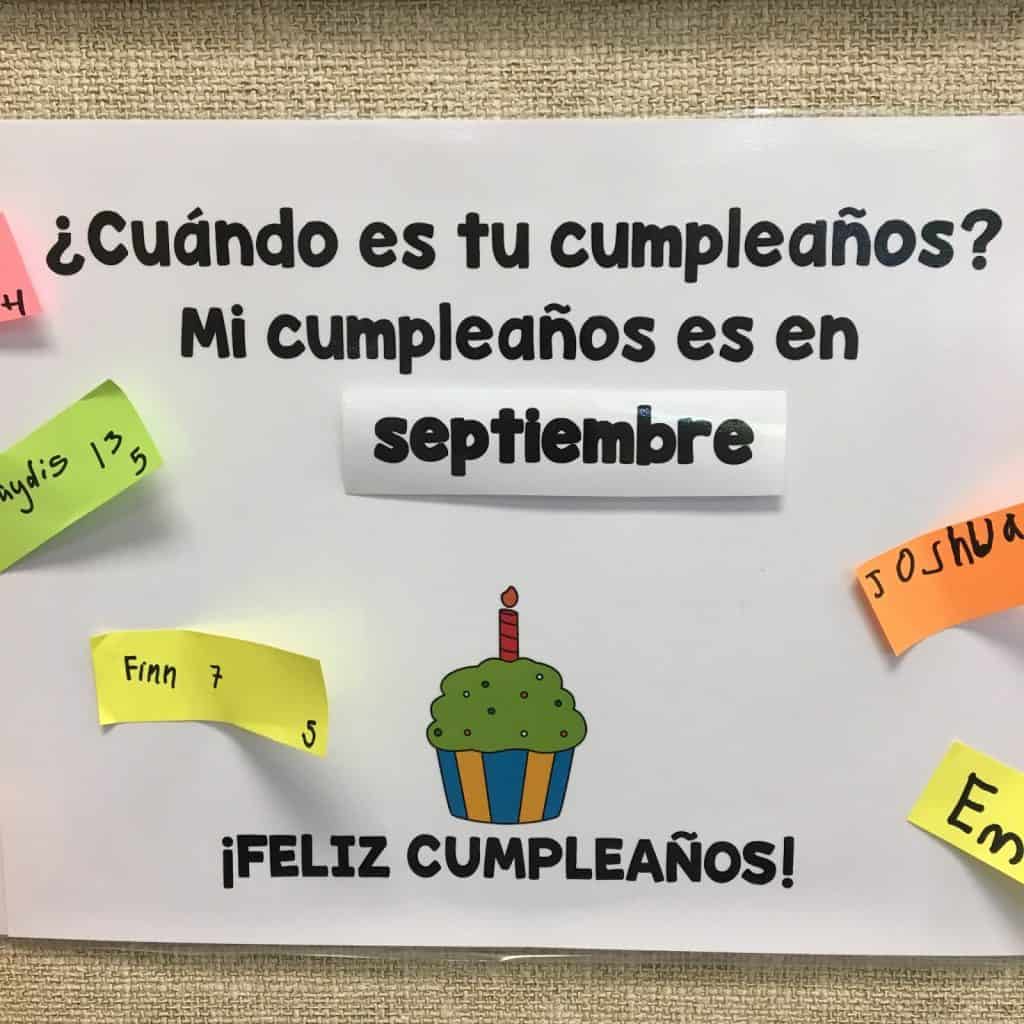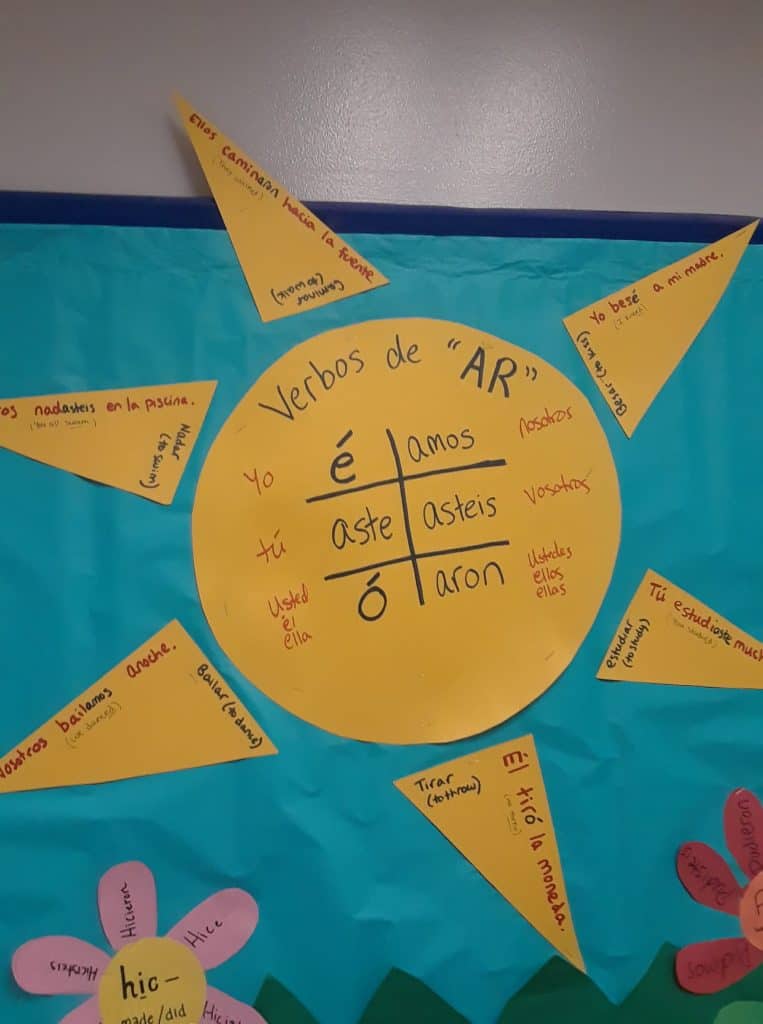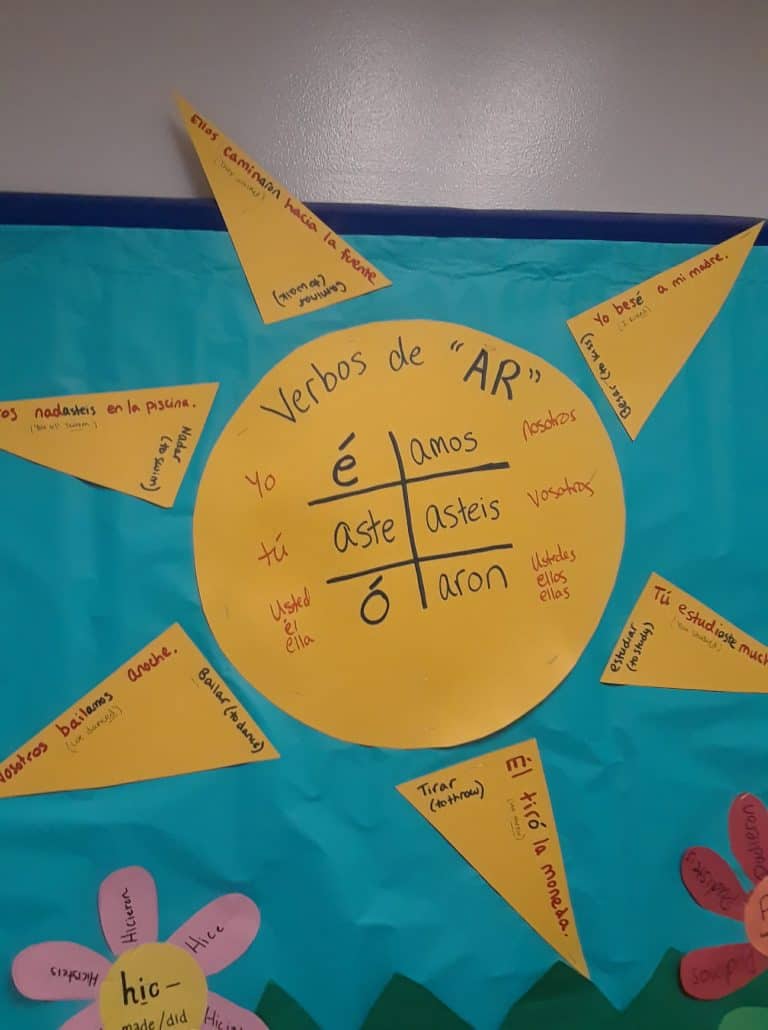 Like it? Pin it!