The Very Hungry Caterpillar in Spanish: Activities and Resources
Inside: Resources and ideas for teaching The Very Hungry Caterpillar in Spanish.
The Very Hungry Caterpillar has to be one of the most endearing picture books out there. Lucky for us, almost all of Eric Carle's iconic works are available in Spanish as well! My own kids truly never seem to tire of his books, and our copy of La oruga muy hambrienta is beyond well-worn.
In this post I'm gathering resources for teaching Spanish through La oruga muy hambrienta. It's the perfect book for covering numbers, colors, fruits, some foods, days of the week, and high-frequency words like come, es, tiene hambre, grande, pequeño, etc.
There are two directions you can with a book like this, and Spanish learners. You can teach them every single phrase so they understand the original language, or you can teach the words they need to understand the story. I usually choose the second option, focusing on the essential, high-frequency needed to narrate the story.
THE VERY HUNGRY CATERPILLAR IN SPANISH

LOS NÚMEROS
La oruga hambrienta focuses on numbers 1-5. Here is a great list of numbers songs in Spanish to get started.
The song Cinco monitos is a perfect tie-in as well. You can check out my freebies and post on activities for los Cinco monitos.
One of my favorite games for practicing any vocabulary is musical cards. For that one, pass out cards with 1-5 written on them. Play music, and have the students walk or dance around while holding their cards. When the music stops, call out a number. All the kids with that number sit down, and see which students stay in until the end.
LAS FRUTAS
I like to focus on the fruits in the book, since several of the other foods are not so high frequency. Besides using real fruit or play food to talk about them (how many? what color?), I like to do a graph of favorites. If you are working with a small group, you can have the students ask their family members or friends (¿Cuál fruta te gusta más?) and color in a graph.
Here is a video for learning the fruits:
LOS COLORES
The colors aren't directly part of the story, but they're an easy tie-in with each fruit being a different color. You can see my lesson and activities for colors in Spanish, or keep it simple with the same game described above for numbers.
Here's a freebie from my Orugas y Mariposas unit, too! You can work on both numbers and colors to add circles to the caterpillar (try using a bottle cap as a stamp for paint).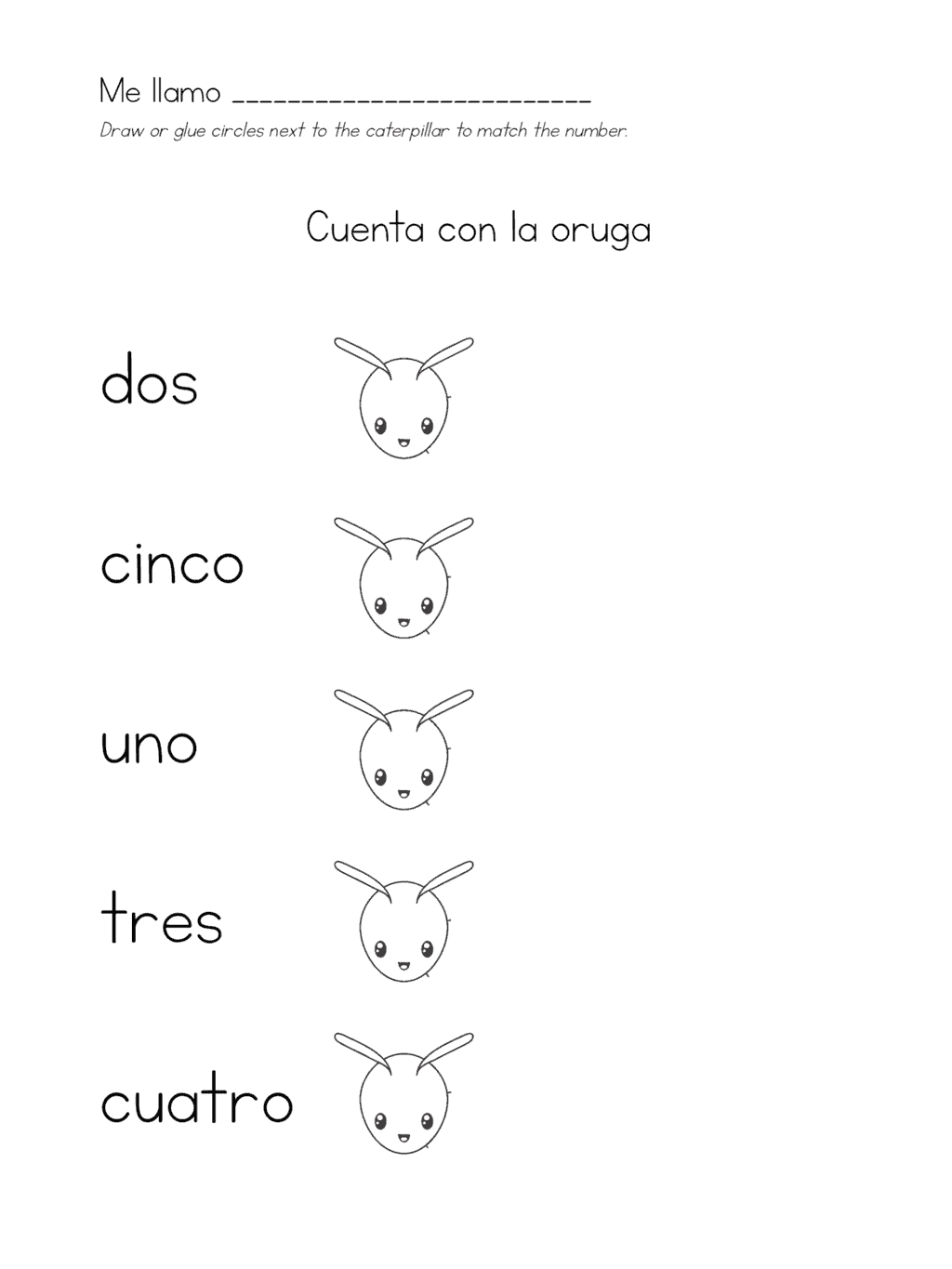 LOS DÍAS DE LA SEMANA
Of course, you can't teach this book without the days of the week! The days can be an abstract concept for very young kids, so keep that in mind. If you are working with K-2 students it will be a bit easier. I recommend starting with a días de la semana song. You can also display a calendar with the days of the week, and discuss what your students do on which day.
Once you have read the actual story, you can do some sequencing activities to show what the caterpillar ate on which day.

CICLO DE VIDA DE LA MARIPOSA
Once you have read the story (or before), it's fun to learn about the life cycle of butterflies. Here are two free PPTs I made to learn about caterpillars and butterflies (the life cycle PPT is part of the unit on TpT).
Once you've worked on caterpillar and butterfly facts, it's fun to do a simple wheel or craft to show each stage in the life cycle. There are sooo many ideas on Pinterest for this!
RELATED VIDEOS FOR THE VERY HUNGRY CATERPILLAR IN SPANISH
WANT TO SEE MY UNIT?
I've made picture cards, games, mini-books, printables, displays, stories, and PPTs all about Orugas and Mariposas. Teaching this unit will set your students up with the essential vocabulary they need to understand La oruga hambrienta.